This post may contain affiliate links. Read my disclosure policy.
A little spicy kick is added to my favorite healthier version of tater tots, just in time for easy, gluten-free Cinco de Mayo food. It's fiesta time with Mexican Pepper Jack Baked Cauli-Tots. Disclaimer: As a member of the Cabot Cheese Board, Cabot Creamery Cooperative provided me with samples of their cheese. I was under no obligation to write this post, and, as always, all opinions are my own.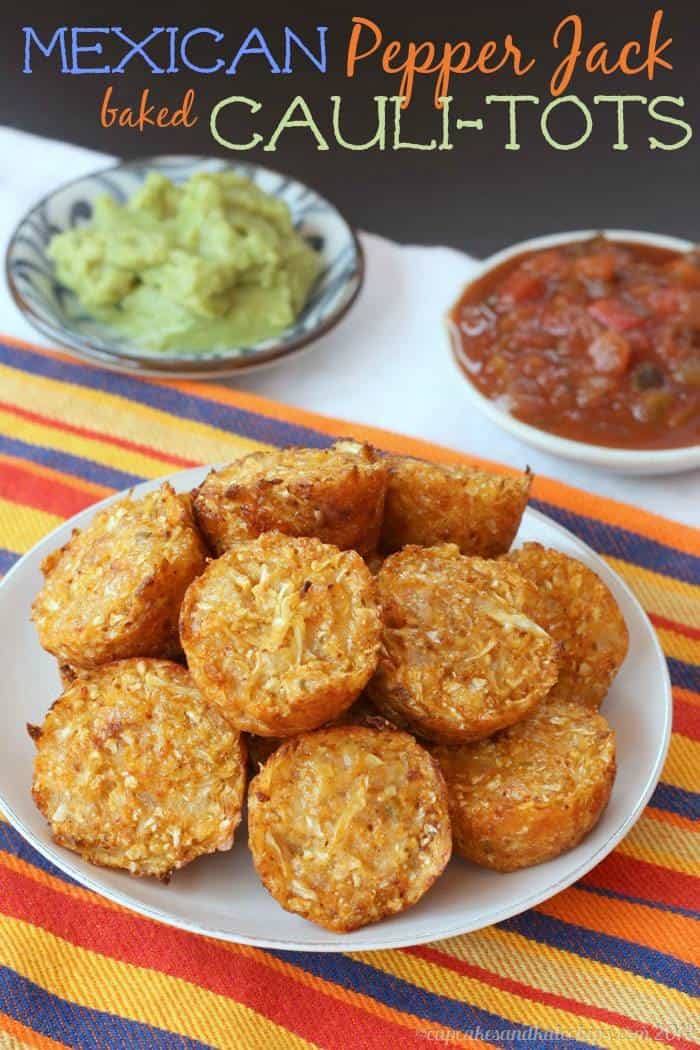 The Bug loves Mexican food. Well he used to. With the recent tomato sauce aversion, I'm not sure how much he digs it anymore. But boy oh boy, he use to shovel refried beans and guacamole in his mouth. So for his second birthday, we decided to go out for Mexican food. Bad idea. His birthday is May 4th – quatro de mayo. As in, the day before Cinco de Mayo. His birthday was on Friday, but the family wasn't going to be here till Saturday.
Bad move!
The first restaurant that we really wanted to goto did not take reservations and there was an hour and a half long wait. Standing in a bar. With a hungry two-year old. And lots of Cinco de Mayo partiers who were enjoying their Coronas and Margaritas.
Next restaurant, slightly shorter wait, slightly fewer fiesta folks, still cranky two-year old. The girl with the avocados couldn't gert to our table fast enough.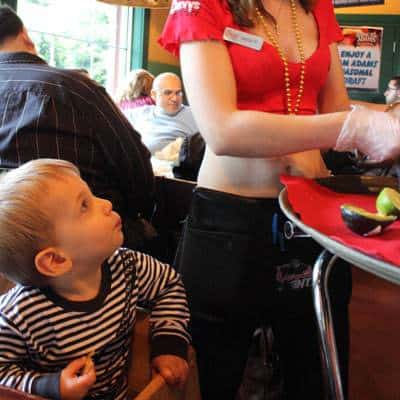 Hehe! Seriously, one of my all time favorite pictures. Let's just say that I am glad that he can now tell us what he wants to eat for his birthday, and this year he requested eggs, English muffins, and fruit salad. I can do that.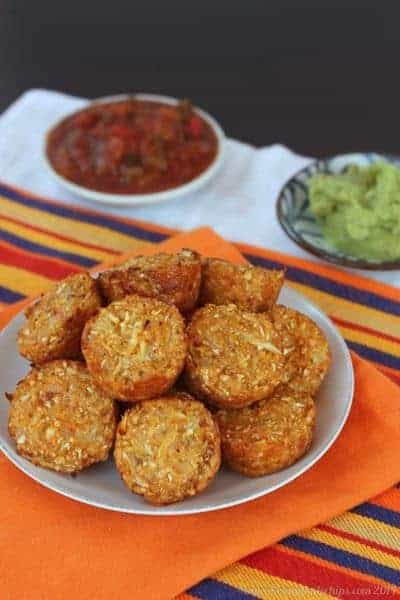 Nothing surprising here. You know I loves me some Cauli-Tots. I love them so much I had to make a pizza-inspired version. And now, of course with Cinco de Mayo right around the corner, it was time to go Mexican. Hmm, so Chipotle Cheddar (like in this grilled cheese) or Pepper Jack? I decided to go with the Cabot Pepper Jack, since I wanted more spice. Though honestly, it isn't too much spice as it is smokiness.
And pepper jack baked cauli-tots are such a fun twist on my original version. Check out the video and just swap the cheese and seasonings according to the recipe below…
Make a couple pans, set them out with some salsa and guacamole, and you have a totally fun party appetizer, or side dish for you favorite Mexican meal.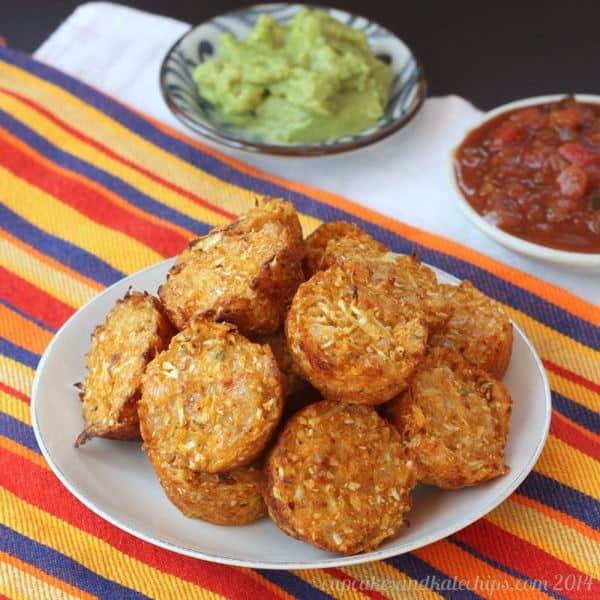 What is your favorite birthday meal?
Please let me know what you think of the pepper jack baked cauli-tots recipe!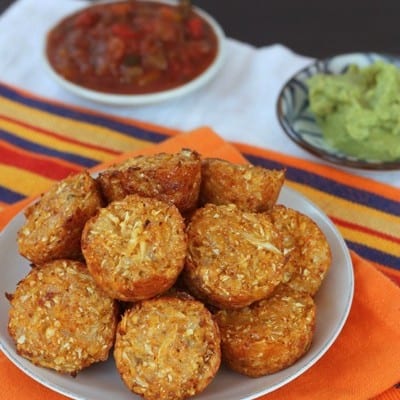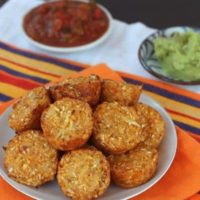 Mexican Pepper Jack Baked Cauli-Tots
A healthier version of tater tots with a little spicy kick.
Ingredients
3

cups

about half of a head shredded cauliflower (see Note)

4

oz.

about 1 cup shredded pepper jack cheese (I used Cabot Pepper Jack)

1

egg

¼

cup

cornmeal

1

tsp

kosher salt

2

tsp

chili powder

1

tsp

ground cumin

Salsa or guacamole for dipping
Instructions
Preheat your oven to 400°F. Spray a mini muffin tin with oil or coking spray.

Place the shredded cauliflower in a kitchen towel and squeeze out the excess moisture.

Combine all of the ingredients in a large bowl, and mix together thoroughly. I like to use a fork.

Using a spoon or scoop, divide the mixture between the muffin cups and press down firmly into the cups.

Bake at 400°F for 15-20 minutes, or until golden brown.

Serve with salsa or guacamole for dipping.
Notes
I use the shredding blade on my food processor to shred the cauliflower. You can use the stems as well, not just the florets, since it is all being shredded and mixed together.
Categories:
Enjoy!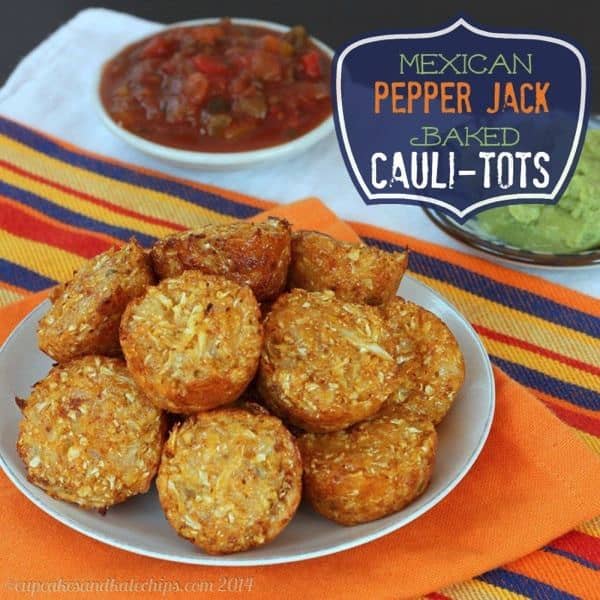 Need more Cinco de Mayo Snacks?
Plus a few from my friends…