This post may contain affiliate links. Read my disclosure policy.
You can enjoy thick, crisp and buttery homemade Texas Toast that's also gluten-free! This delicious garlic toast is easy to make at home (bread and all) and the perfect side for tons of family meals.
Garlicky Gluten-Free Texas Toast Made From Scratch
They say that everything is bigger in Texas, even the toast! As it happens, we're big fans of thick-cut and buttery, garlicky toast in my family. The bigger the toast, the closer to carb heaven, right? Finding affordable gluten-free versions of classic frozen Texas toast is sometimes a challenge, though. So, naturally, I set out to make my own.
I'll just go ahead and say it: this homemade Texas toast turned out amazing! Making Texas toast from scratch means all the comforting carbs, without the gluten. It doesn't get better than thick slices of bread smothered in butter and toasted with herbs! This recipe has become my go-to side dish for literally everything. Soups, Chili, saucy Barbeque… Heck, I'm even replacing the bread in my sandwiches with gluten-free garlic toast at this point. I'm obsessed.
You're going to love how easy this homemade sandwich loaf is to make. As for the garlicky Texas toast, it's even easier!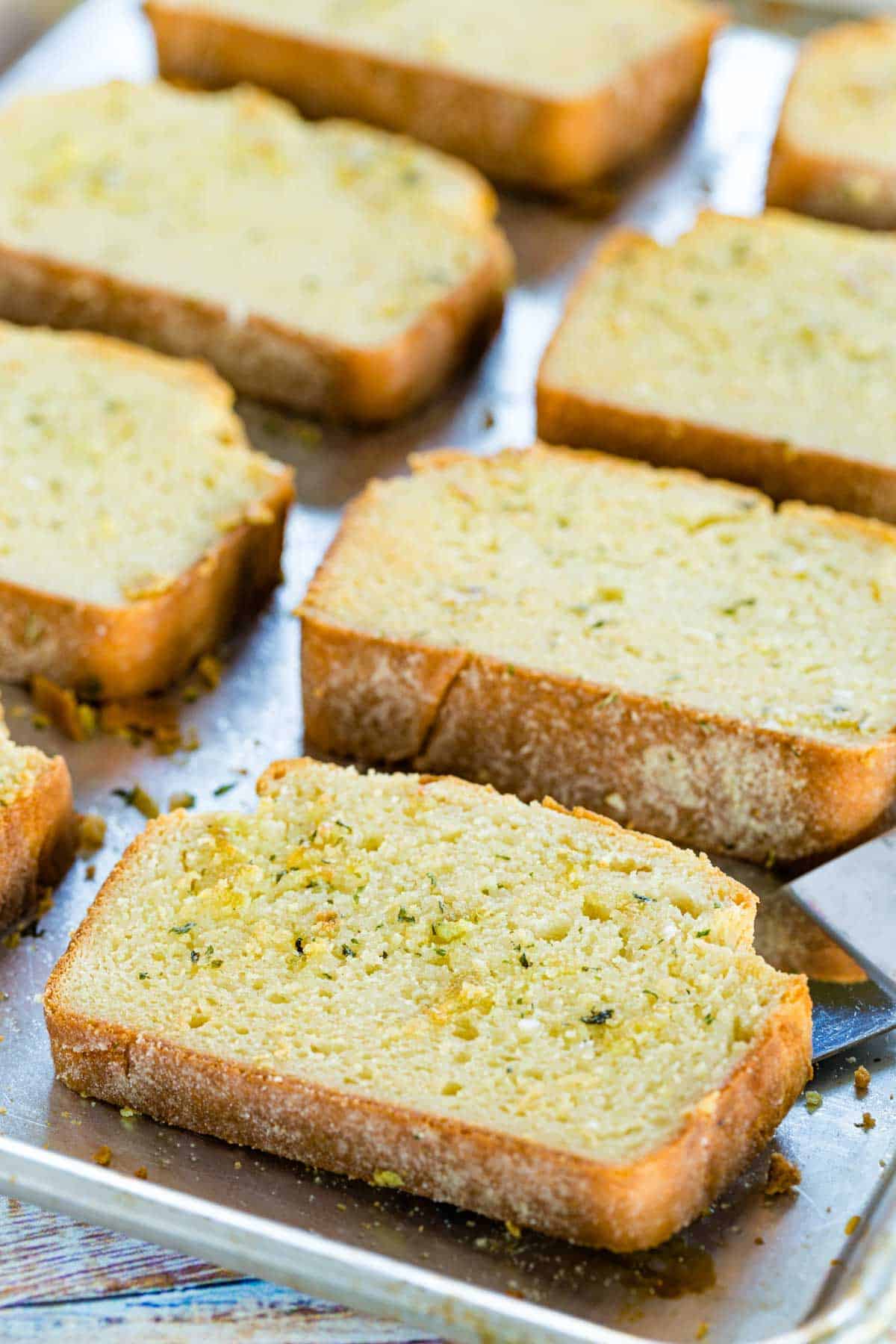 Is Texas Toast Just Garlic Bread?
Similar, but not the same. Texas toast can refer to both the thick-cut slices of the bread itself (found in the bread aisle), and Texas garlic toast (found pre-made in the frozen food section).
When it comes to garlic bread vs. Texas garlic toast, the main difference is in the kind of bread: Texas toast is usually square, made from thick sandwich bread that's toasted under a broiler or on the grill. Meanwhile, garlic bread is often made from French bread that's sliced and baked in the oven.
Another difference is that Texas toast is often seasoned with garlic powder, while classic garlic bread uses fresh garlic. My recipe takes its inspiration from the two, for a homemade gluten-free garlic toast that's the best of both worlds!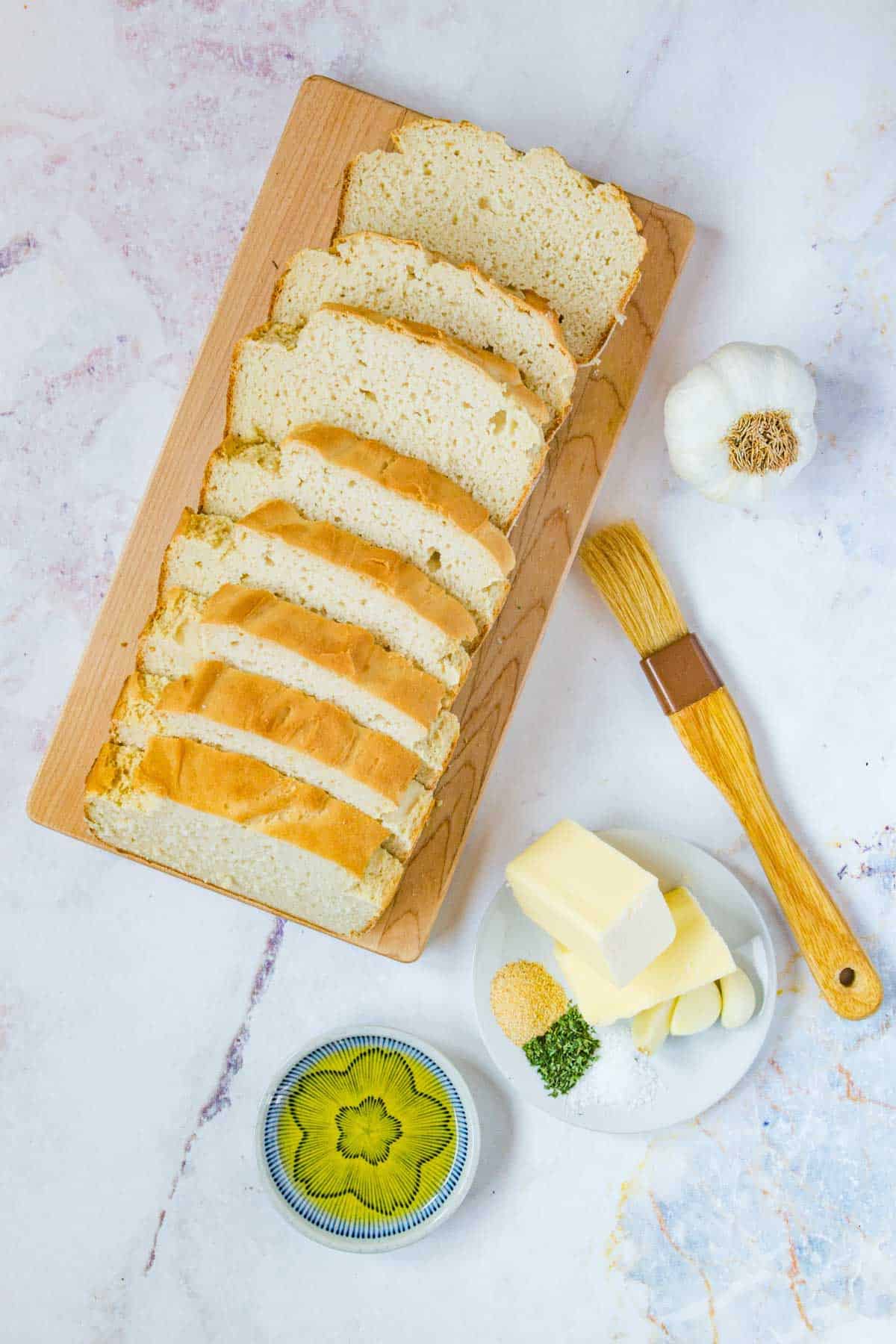 What You'll Need
This recipe comes in two parts: the homemade bread itself, and the recipe that transforms your gluten-free sandwich loaf into a delicious Texas garlic toast. Here's everything you'll need for both:
For the Homemade Sandwich Bread
Active Dry Yeast: Don't forget to check the expiration date!
Honey: I use honey in place of sugar when proofing the yeast.
Gluten-Free Flour: Your choice of gluten-free all-purpose flour blend (I used Pillsbury Multi-Purpose).
Xanthan Gum: Even if your flour blend already includes it, this recipe calls for additional xanthan gum to help thicken the dough.
Leavening: Baking powder to help the bread rise.
Apple Cider Vinegar: Adding apple cider vinegar to your bread dough gives it extra oomph and improves the overall rise, texture, and flavor.
Oil: A neutral oil like vegetable or canola oil, for added moisture in the crumb.
Eggs
Salt
For the Texas Toast
Gluten Free Bread: You'll need about one half to three-quarters of the loaf. If you're not making your own bread, you can use an unsliced, store bought loaf of gluten free sandwich bread.
Butter: One stick of unsalted butter.
Olive Oil: Gets the toast nice and crispy.
Garlic: Fresh cloves, finely minced, as well as garlic powder.
Seasoning: Dried parsley (or fresh if you have it), or Italian seasoning to give your toast the classic green flecks!
Salt
Can I Use Store-Bought Bread Instead?
The key to Texas toast is thick slices of bread. Extra-thick slices of gluten-free, traditional sandwich bread can be hard to come by, which is why I set out to make it myself! However, you can use store-bought bread if you can get your hands on the right kind.
When shopping for a bread loaf, aim for slices that are between ½ inch to 1 inch thick (otherwise, it's best if you can buy a loaf and cut it yourself – bakeries are helpful with this). The next best alternative is to use a loaf of French bread or Italian bread that can be cut to the right thickness – just don't tell the Texans.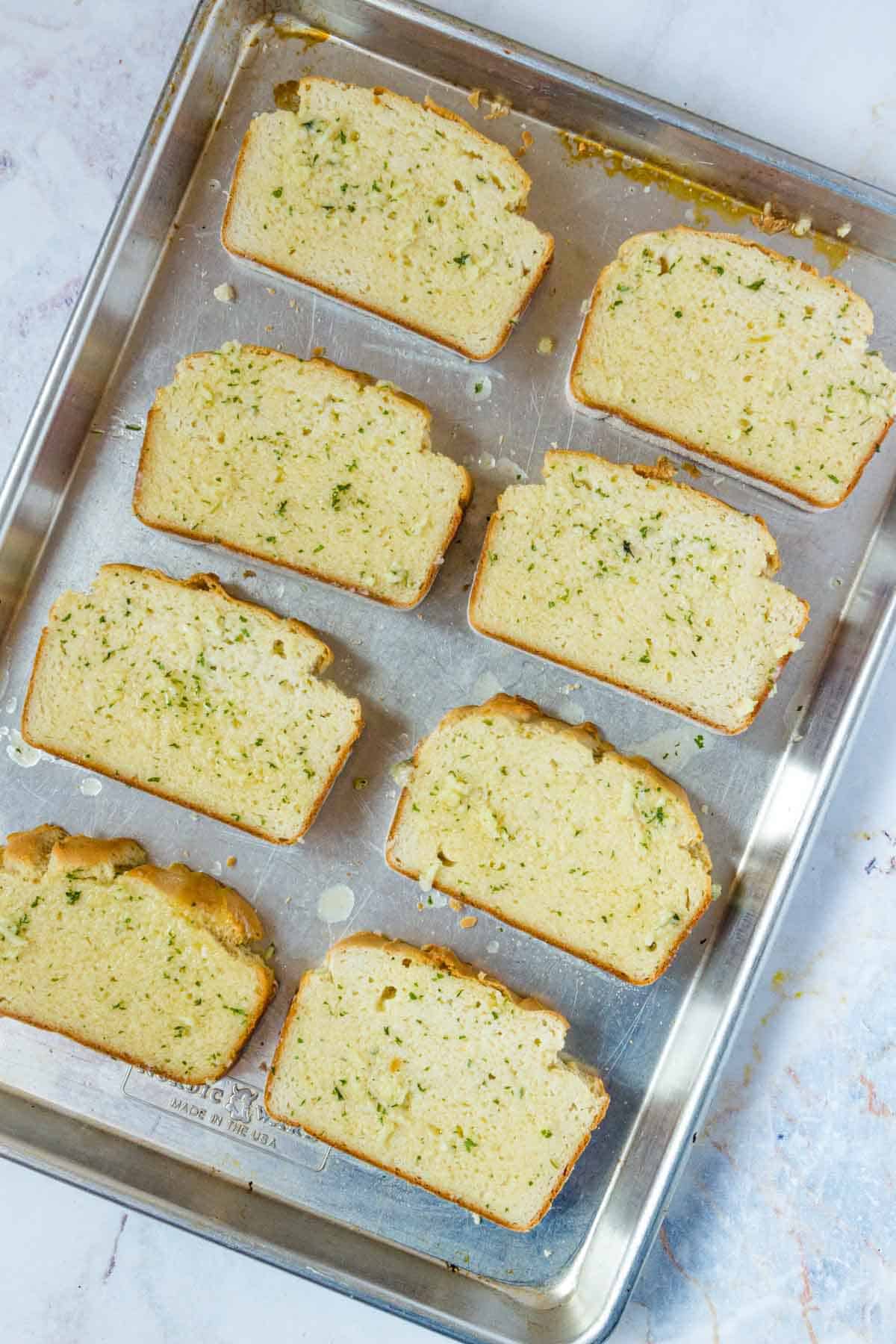 How to Make Gluten-Free Texas Toast
First thing's first, and that's making the gluten-free sandwich bread. Here's how to make your own quick and easy loaf:
Make the Dough: Proof the yeast in warm water with honey. In a mixing bowl, combine the flour and dry ingredients. Combine the wet ingredients in the bowl of your stand mixer. Add in the yeast followed by the dry ingredients and mix until the dough thickens.
Let the Dough Rise: While the oven preheats, pour the dough into a prepared loaf pan and leave it covered in a warm location to proof.
Bake: Bake the bread loaf, keeping an eye on the top. If you notice it browning too quickly, you may want to cover it with foil while it finishes baking. Once out of the oven, let the loaf rest for a couple of minutes before removing it from the pan. Leave it to cool completely before slicing it for the toast.
Now that you have your own fluffy, homemade loaf, it's time to make Texas garlic toast: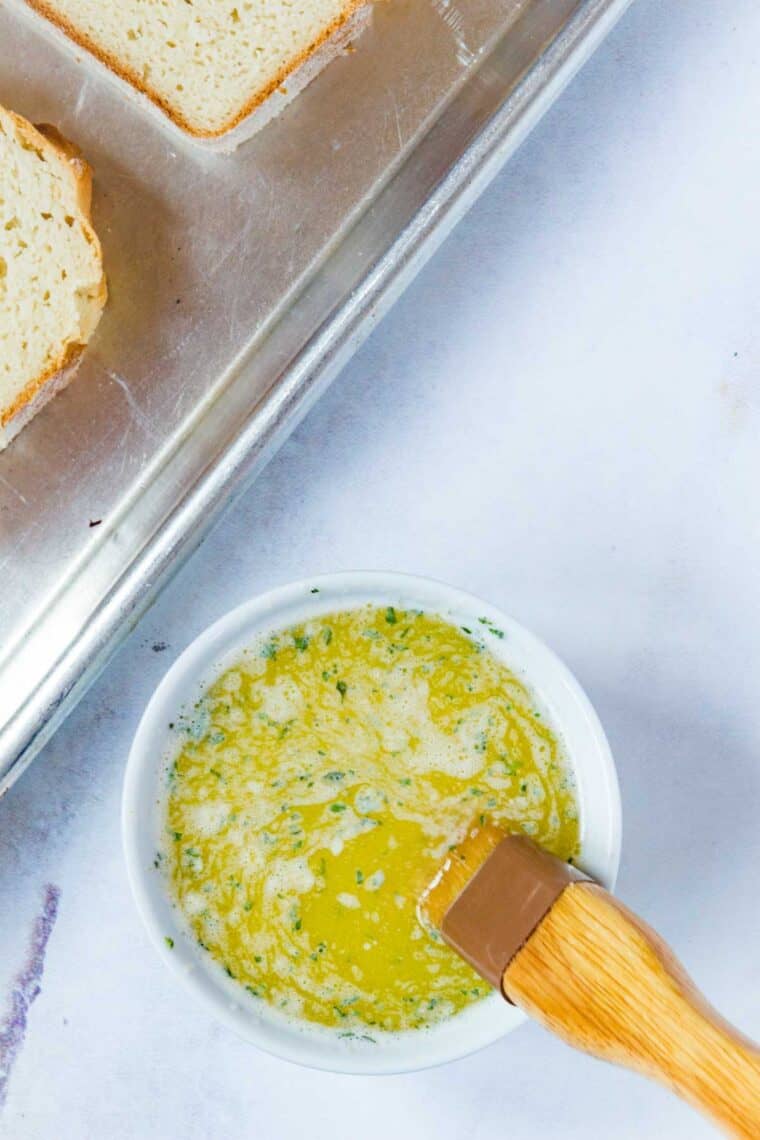 Slice the Bread: Slice your gluten-free bread into 8 slices, aiming for about a half-inch thick. Lay these out on a baking sheet.
Prepare the Garlic Butter: Melt the butter in the microwave or in a saucepan on the stove. Stir in the seasonings.
Brush: Brush the garlic butter over both sides of the bread.
Bake: Bake the bread in the oven, flipping about half way through, until the toast is golden brown on both sides.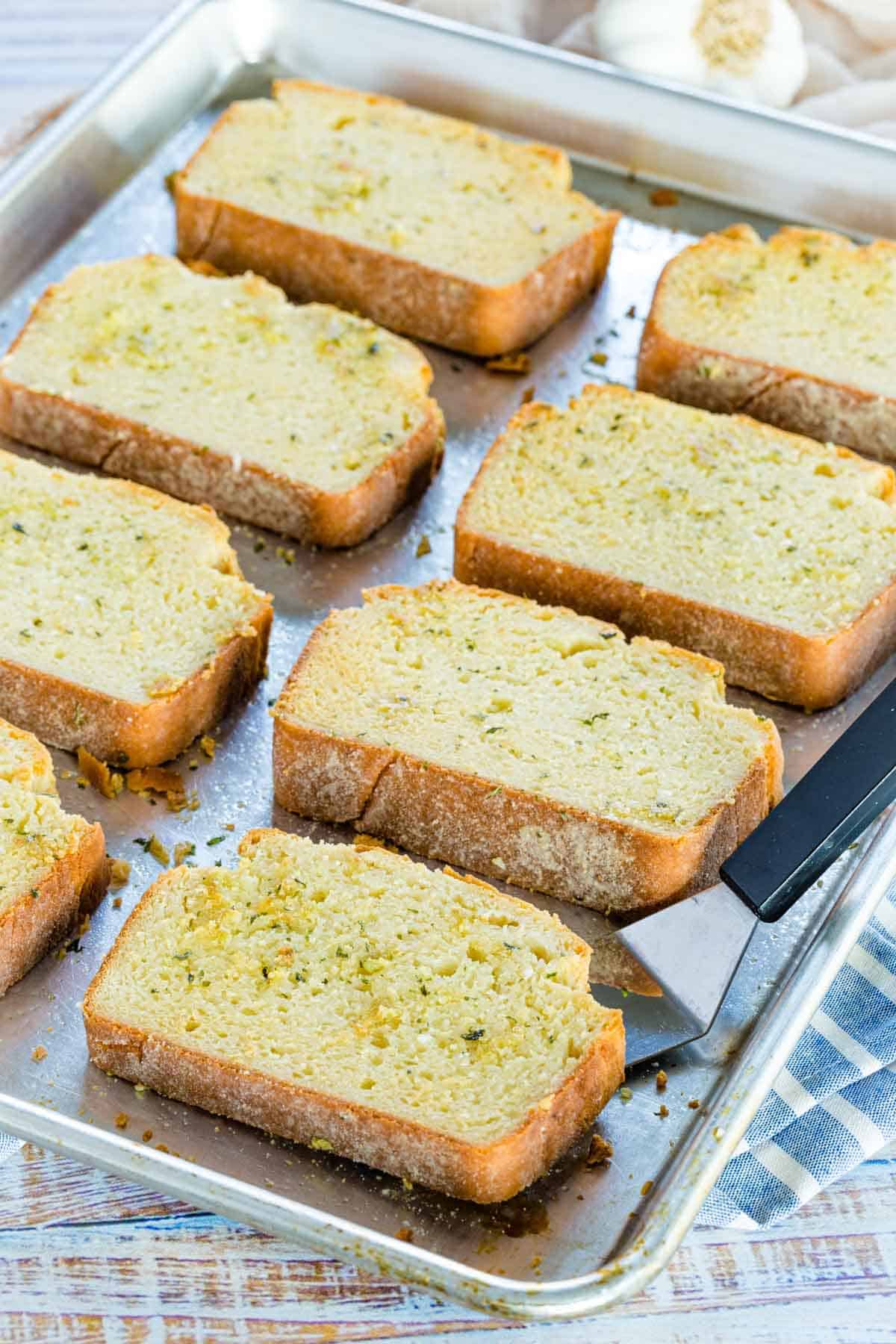 Tips for Success
Use Fresh Bread: For best results, use fresh bread when making your Texas toast! This will give it the best texture that's perfectly crisp on the outside and buttery and soft on the inside.
Use the Right Knife: A serrated knife, like a bread knife or similar, is ideal for slicing the bread loaf without squishing it.
Preheat the Baking Sheet: This will get the toast nice and crispy and evenly toasted on both sides. Don't forget to place the baking sheet in the oven while it preheats, and you get the garlic toast ready!
Variation Ideas
Use Different Herbs: Get creative with fresh and dried herbs. Rosemary, thyme, marjoram, sage, and oregano are all great alternatives – the list is endless!
Add in Other Seasonings: Dried onion flakes or onion powder can be brought into the mix for added flavor. You can even sprinkle in some crushed pepper flakes or cajun spice for something a little spicier!
Add Cheese: Make cheesy Texas toast! Add shredded cheese over top, and leave it under the broiler for a couple of minutes for deliciously gooey, cheesy toast.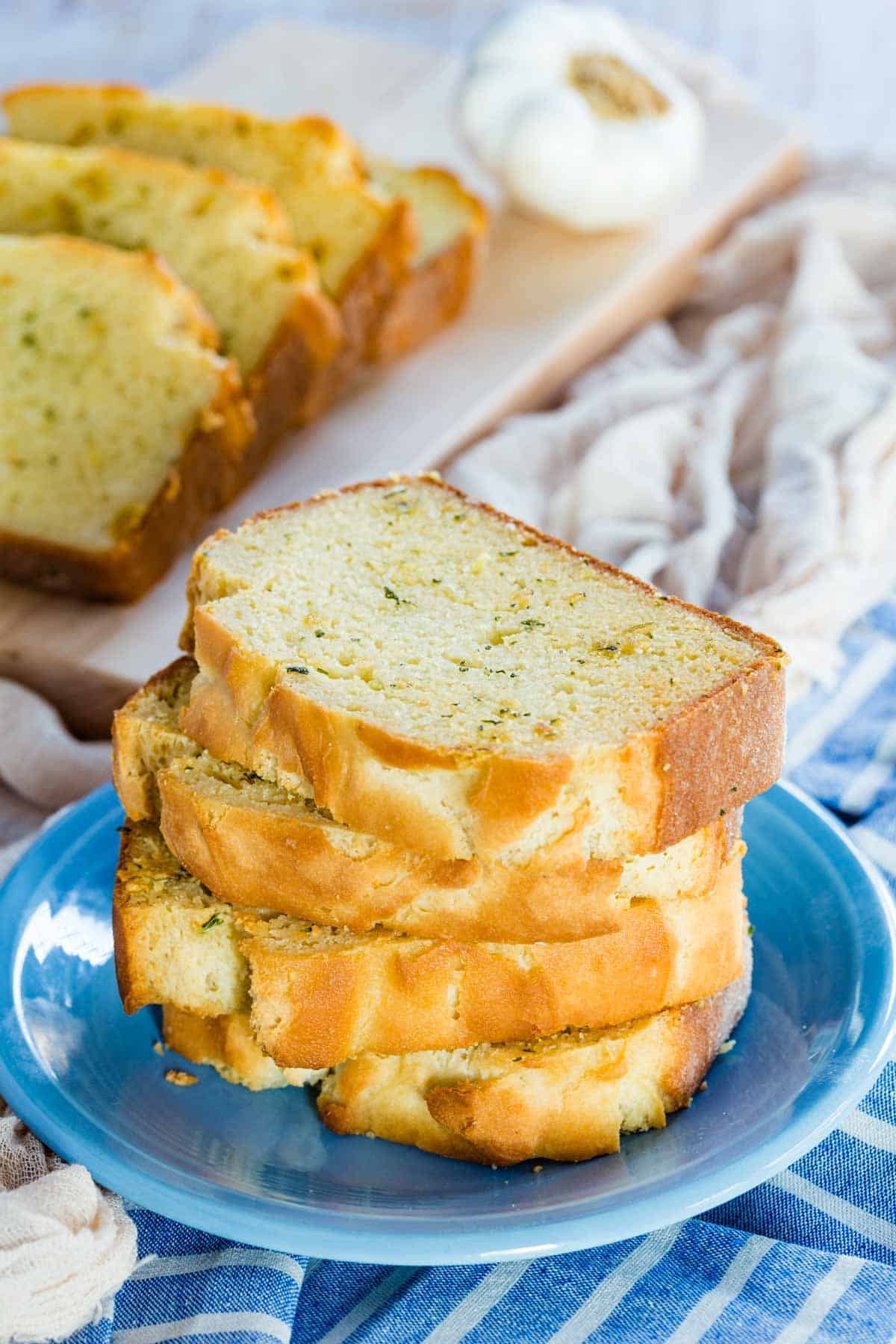 Make it a Meal
I can't think of a meal that wouldn't be made better by this amazing homemade Texas Toast! Buttery, garlicky, and delicious are three words that go with just about everything. Here are some ideas of what to serve with it: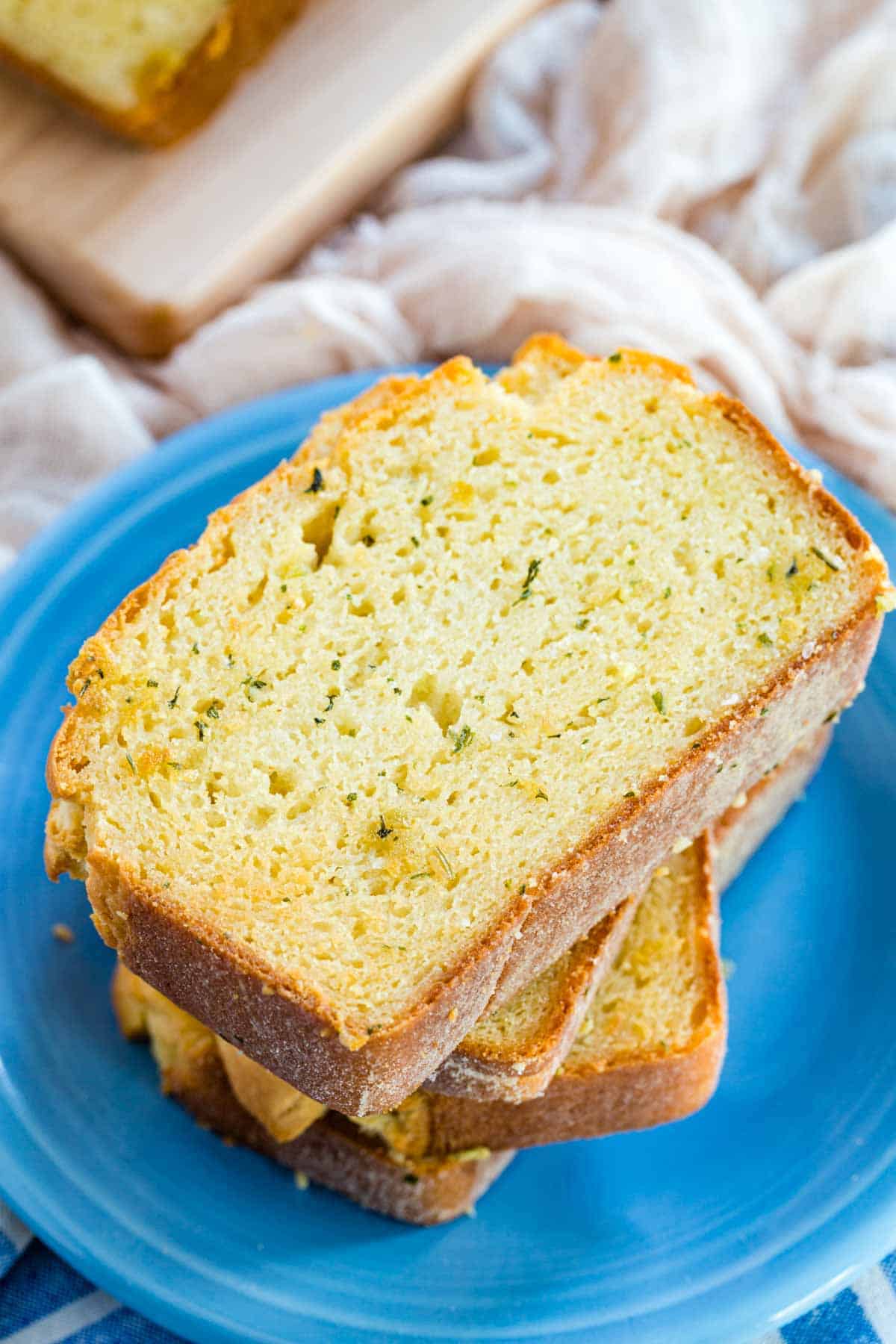 How to Store and Reheat Leftovers
Texas toast is best enjoyed fresh! Luckily, once you have the bread made, turning it into garlicky toast is so easy. If you do happen to have leftover Texas toast, keep the slices stored airtight, and reheat them in a pan on the stove top or in the oven.
I advise against freezing the toast, as the texture will be off once it's thawed.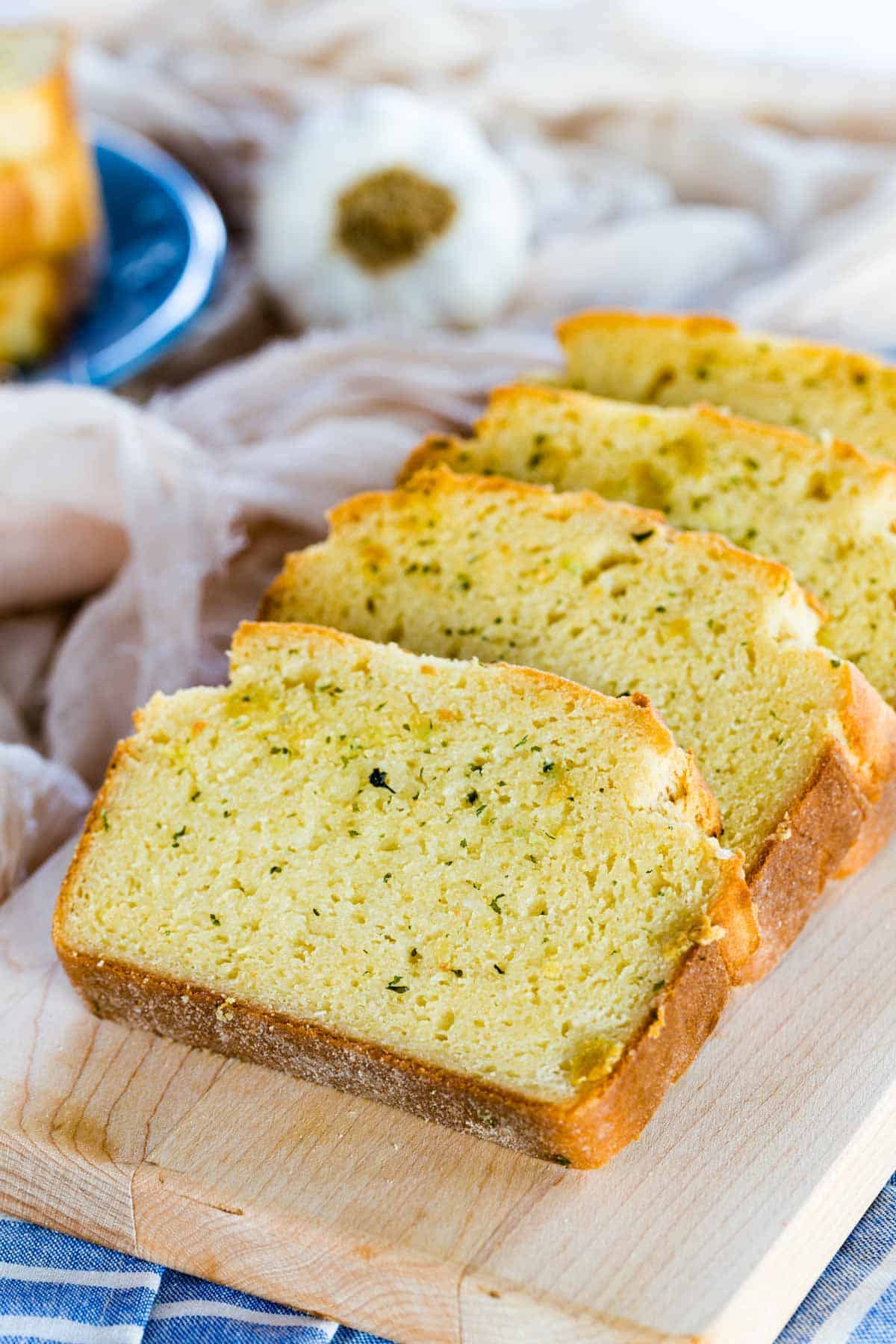 More Easy Gluten-Free Bread Recipes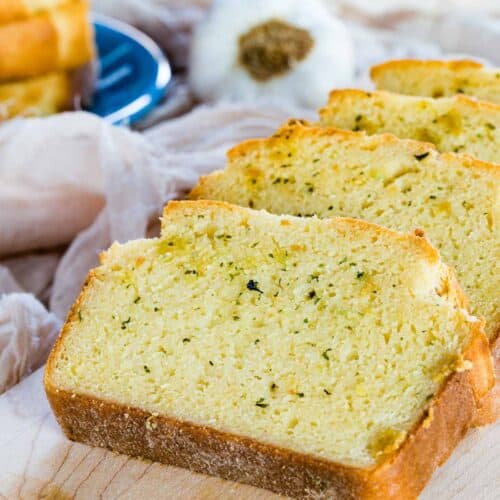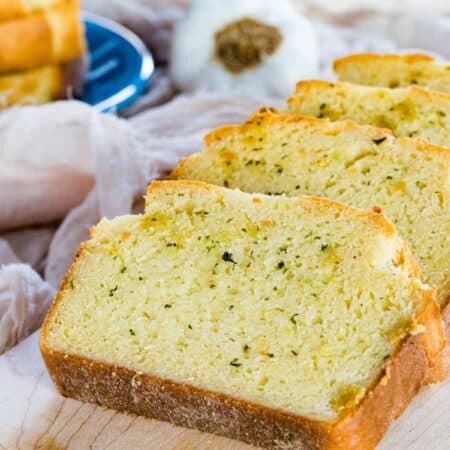 Homemade Gluten Free Texas Toast
The bigger the toast, the closer to carb heaven! Make your own thick and buttery, garlicky and gluten-free Texas toast, totally from scratch.
Ingredients
For the gluten free sandwich bread:
1 1/2

cups

water

3

tablespoons

honey

2 1/2

teaspoons

active dry yeast

3

cups

gluten-free all-purpose flour

(recommended: Pillsbury Multi-Purpose or King Arthur Measure for Measure)

1

teaspoon

xanthan gum

(in addition to what is in some blends)

4

teaspoons

baking powder

1

teaspoon

salt

2

teaspoons

apple cider vinegar

1/4

cup

oil

2

large eggs
For the gluten free Texas toast:
1

loaf

unsliced gluten free bread sandwich bread

(you'll need about half to three-quarters of the loaf)

1/2

cup

unsalted butter

(1 stick)

1

tablespoon

olive oil

3

cloves

garlic

finely minced

1/2

teaspoon

Kosher salt

1/2

teaspoon

garlic powder

1/2

teaspoon

dried parsley

or Italian seasoning
Instructions
To make the gluten free sandwich bread:
In a medium bowl, warm water until just warm. It should not be hot to the touch. Stir in honey until dissolved. Gently stir in yeast and set aside to proof for 10 minutes.

In a separate bowl, add the gluten free flour, xanthan gum, baking powder, and salt, and stir to combine. Set aside.

In a stand mixer or large mixing bowl, combine the apple cider vinegar, oil, and eggs. Add the paddle attachment and mix for 1 minute.

Add in the proofed yeast and mix for 10 seconds. Add the dry ingredients and beat on high for 3 minutes. The dough should be a sticky texture.

Preheat the oven to 375°F and prepare a loaf pan with cooking spray and gluten free flour.

Gently pour the dough into the prepared loaf pan and smooth out the top with a spatula.

Place the bread loaf lightly covered on the top of the stove or in another warm area for 20-25 minutes while the oven preheats. The warmth from the oven will help your loaf proof. It's important to not let your dough over-proof. It will continue to rise in the oven.

Bake in the preheated oven for 35-40 minutes. If the top browns too quickly, you may tent with a piece of foil.

Once removed from the oven, let the loaf rest for 2 minutes and remove from the pan promptly. Place on a cooling rack to completely cool before slicing.
To make the gluten free Texas toast:
Preheat the oven to 400°F. Place a baking sheet in the oven while it preheats.

In a microwave-safe bowl or small saucepan, melt the butter in the microwave or on the stove. Stir in the oil, minced garlic, salt, garlic powder, and parsley.

Slice the bread into 8 slices, about 1⁄2-inch thick. and lay out on the preheated baking sheet.

Brush the garlic butter mixture on both sides of the bread slices.

Bake at 400°F for 8 minutes. Flip and bake for another 6-10 minutes, until golden brown.
Nutrition Facts
Homemade Gluten Free Texas Toast
Amount Per Serving
Calories 669
Calories from Fat 270
% Daily Value*
Fat 30g46%
Cholesterol 90mg30%
Sodium 822mg34%
Potassium 270mg8%
Carbohydrates 88g29%
Protein 12g24%
Vitamin A 644IU13%
Vitamin C 1mg1%
Calcium 247mg25%
Iron 3mg17%
* Percent Daily Values are based on a 2000 calorie diet.
Categories: