This post may contain affiliate links. Read my disclosure policy.
When I saw Lauren, The Part Time House Wife (sadly her blog died), post Grilled Black & Bleu NY Strips, I knew I had to make them. I mean, put blue cheese on anything, and I'm in. And I had just the perfect occasion come up just a few days after I saw the recipe – The Hubby invited his friend Joe over for dinner. Joe is a food blogger's dream for a dinner guest. As long as he gets a good steak and good wine, he is willing to be a guinea pig for everything else. So we gave him wine and steak…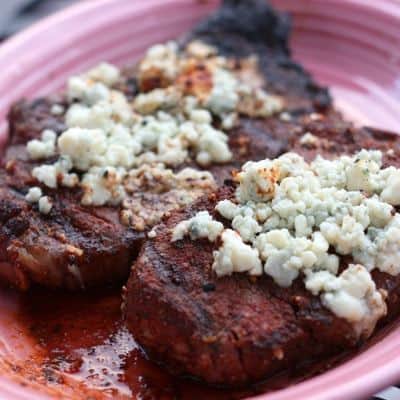 Wow! I really can't say any more than that. The meat was so flavorful from the rub (which I totally want to make to use on other things), and the blue cheese added that nice, creamy tanginess that is so awesome with steak. And, of course, my Grill-Master Hubby cooked them to perfection. As always, I provide the flavor and he provides the flame.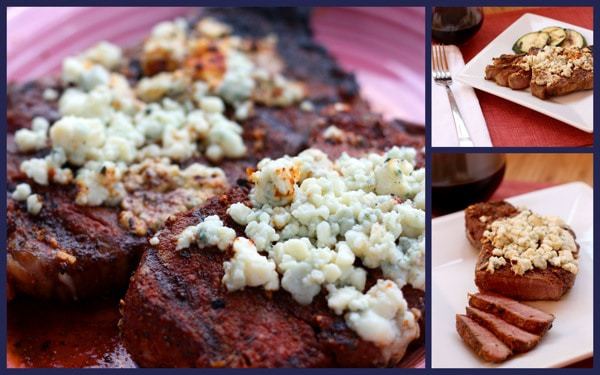 We decided to do both filets and strip steaks to make everyone happy. I love a good filet, but I tried a little of the strip steak, and that was amazing, as well.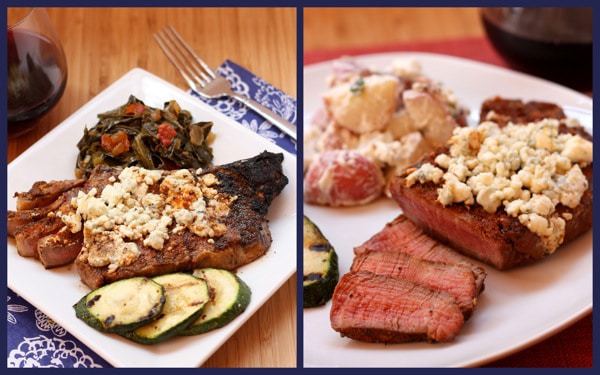 Everything got Joe's stamp of approval. Dinner is served!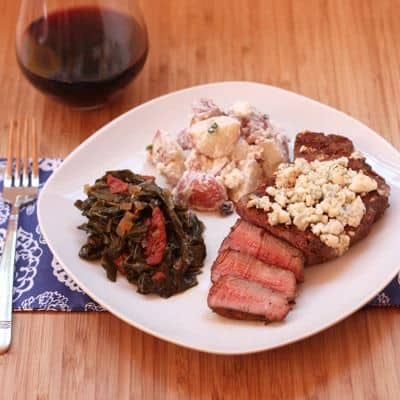 The Bug needed a little steak sauce on his meat, but really he was more interested in crashing his car (perhaps reliving our car accident) than eating.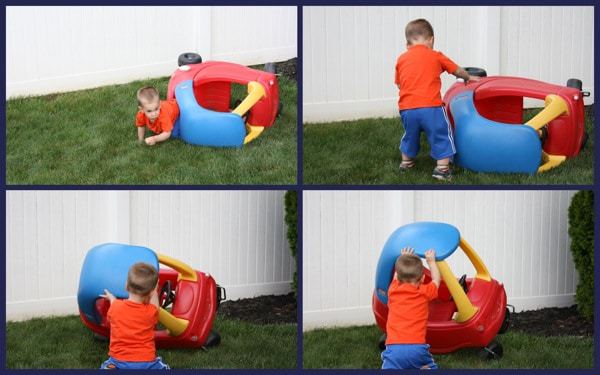 Do you give your recipes a trial run before serving them to guests, or do you use your guests as guinea pigs?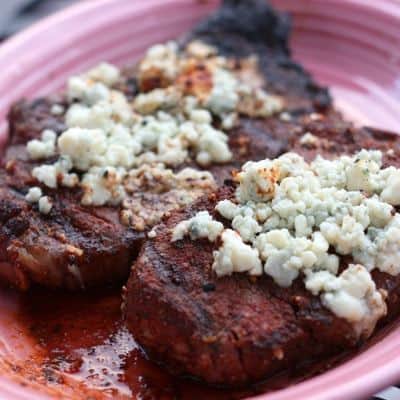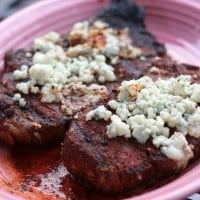 Black & Bleu Steaks
Spicy steaks on the grill, topped with tangy blue cheese.
Ingredients
1

Tbsp.

Paprika

½

Tbsp.

Garlic Powder

½

Tbsp.

Cayenne

½

Tbsp.

Onion Powder

1

tsp.

Cracked Black Pepper

½

tsp.

Dried Oregano

½

tsp.

Dried Basil

Steaks of choice. I used six filets and two strip steaks

1 8

oz.

container Crumbled Bleu Cheese
Instructions
Heat your grill on high.

Take your steaks out of the fridge and allow them to sit on the counter for about 15 minutes to bring to room temperature.

Meanwhile, in a small-medium bowl combine all spices.

Mix well with a fork and set aside.

Sprinkle generous amounts of the blackened seasoning mix on all sides of the steaks, and lightly press so that it sticks.

Grill each steak about 4 minutes (with grill lid closed) on each side for a Med-rare to Medium, flipping once, or cook to desired doneness. After the initial flip, sprinkle bleu cheese crumbles over the steaks and close the lid top the side with those pretty grill marks with bleu cheese crumbles and close the lid.

Once your steaks have reached desired doneness remove and allow to rest under tented foil for about 5 minutes. This gives the meat a chance to let its juices redistribute.
Enjoy!