This post may contain affiliate links. Read my disclosure policy.
Apple Cinnamon Energy Balls are quick and easy healthy no-bake snacks kids love with the flavor of a sweet and sticky caramel apple. You only need four ingredients and a few minutes to make this gluten free after school snack recipe. Since they are nut-free and peanut-free, these energy bites are a perfect allergy-friendly treat to pack in a lunchbox too!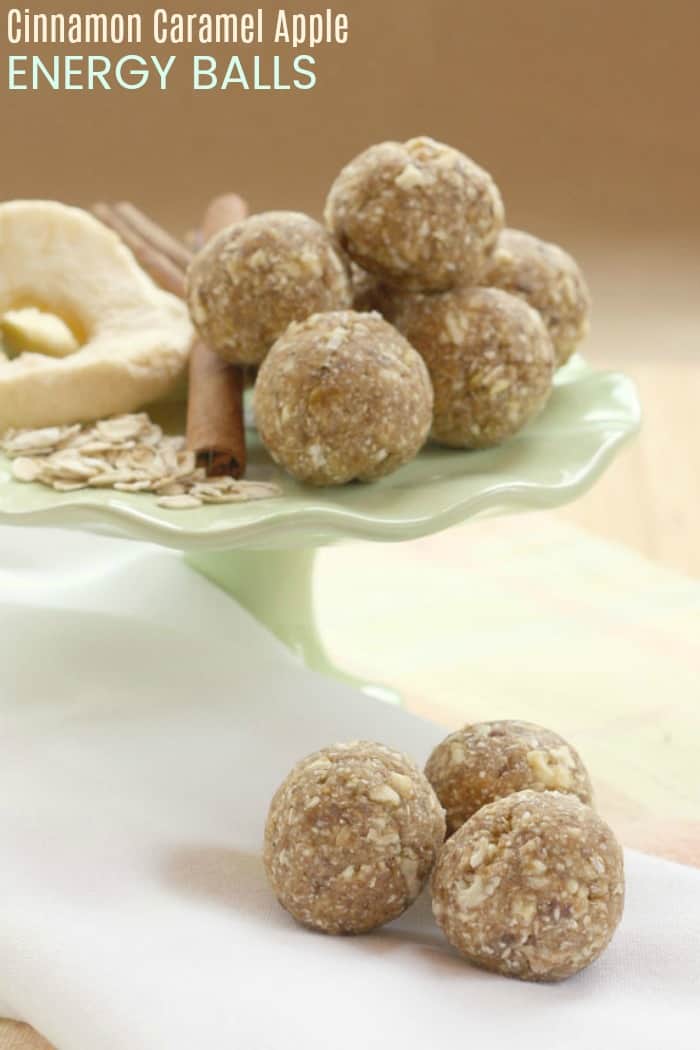 Originally published Aug 17, 2014. Several years later and the constant demands for snacks have not changed.
When they are home, all they want to do is EAT ALL THE THINGS. ALL THE TIME. When they were younger, this is pretty much how a typical day would go.
They finish their fruit and yogurt or healthy carrot zucchini muffins, and the big instantly starts wailing, "I'm still huuuunnngggrrryyyy!"
So I get him something else, like some yogurt stuffed apples or easy peanut butter banana snacks. But if the little guy sees his big brother eating, of course, he has to be shoving fistfuls of something in his mouth too.
Breakfast is done and an hour later, if I am within a 3-foot radius of the refrigerator, the little guy assumes that I am getting food for him. If I don't give him yet another thing to eat, it's meltdown-city. Lunch is usuall happening by 11:30, and at 1 or 2, the big guy needs a snack because I'm trying to finish my lunch, and obviously he is "starrrrrvvviiinnnngggg". The little guy wakes up from his nap at 3 or 3:30 looking for his snack, and if he is munching, the big guy has to be munching, too.
Since I am clearly starving my children, by dinnertime, the decibel level of whining and crying has reached the point that only dogs can hear. So I make up their plates first and sit them down at the table before I get food for The Hubby and I. This inevitably means that by the time I sit down and put a bite in my mouth, they NEED seconds.
Then practically the second the table is cleared, after just finishing three plates of food, they want another snack. And this is just because I am in the cabinet getting vitamins, and me being near the cabinets reminds them that there is food in them.
Human Garbage Disposals, I tell ya! And as they have gotten older, this hasn't changed. That's why I need easy grab-and-go snacks like these…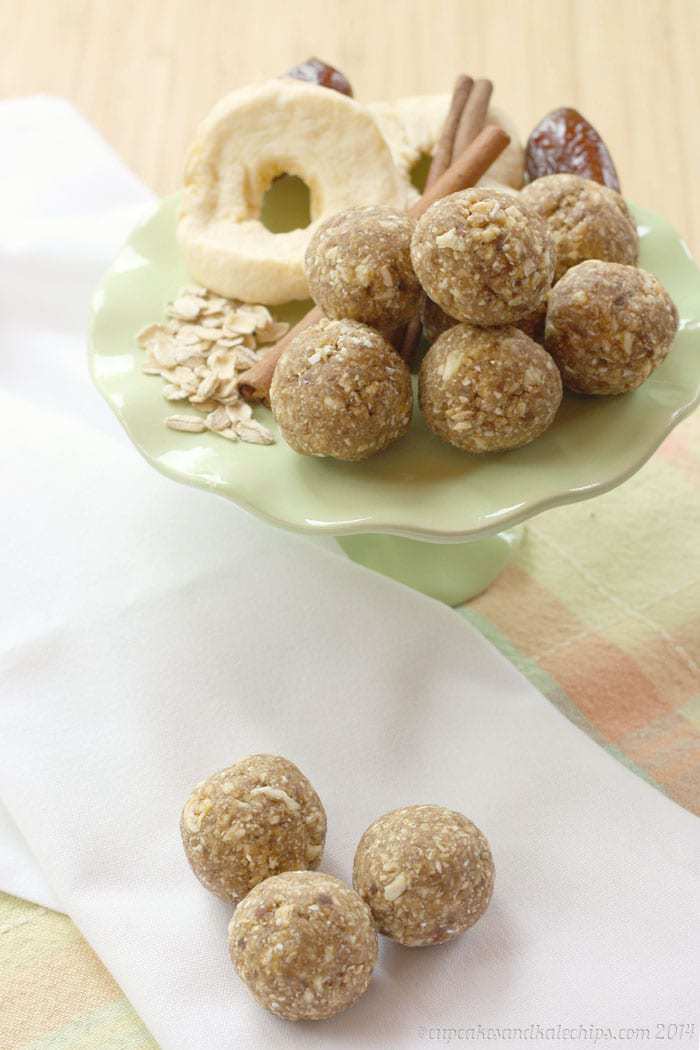 Cinnamon Caramel Apple Energy Bites
These easy snacks are one of my boys' favorite things to munch on. I have made several versions of no-bake energy balls, like these Funky Monkey Banana Chocolate Peanut Butter Energy Balls. But I wanted to make a variety without nuts or nut butter or any other major allergens. This way we could pack them on-the-go or share them with friends without having to worry about any kids with food allergies or sensitivities.
These are nut-free, vegan, have no added sugar, and are easy to make gluten-free. Plus, they take minutes to prepare, aren't messy, and are healthy. Even better, from the making to the eating, they are totally kid-friendly.
Here is a brief overview so you can see just how easy it is to make. Scroll down to the printable recipe card for the full quantities and details.
But don't skip my PRO TIPS below!
Ingredients
Other than that, all you need is a food processor or blender and a spatula.
BRIANNE'S FAVORITE BLENDER
You can also use a Blendtec blender with the Twister Jar which allows you to scrape down the sides while blending it. I am a Blendtec ambassador, and should you make any purchases through that link, I will receive a small commission, but that also means you can use the code CUPCAKESANDKALECHIPS to receive 20% off. 
For making energy balls, recommend a high-powered blender like the Blendtec blender with the Twister Jar which allows you to scrape down the sides while blending it.

I am a Blendtec ambassador, and should you make any purchases through my Blendtec Store link, I will receive a small commission, but that also means you can use the code CUPCAKESANDKALECHIPS to receive 25% off.
Directions
Toss all of the ingredients in the food processor.
Pulse until it forms a thick paste, adding a bit of water and scraping down the sides, if needed.
Scoop about a tablespoon of the mixture and roll into balls. You can use about 1/2 teaspoon if you want to make mini snack bites.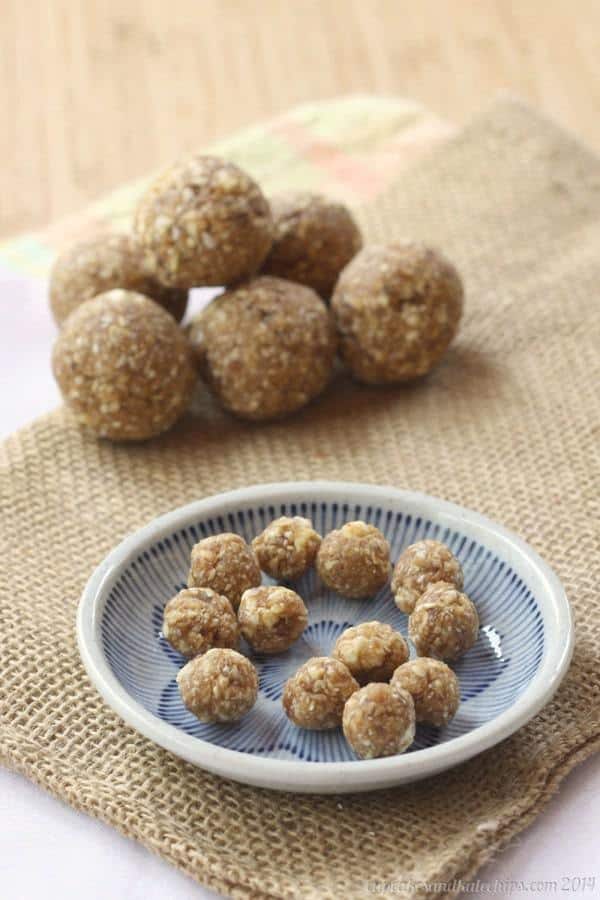 Brianne's pro tips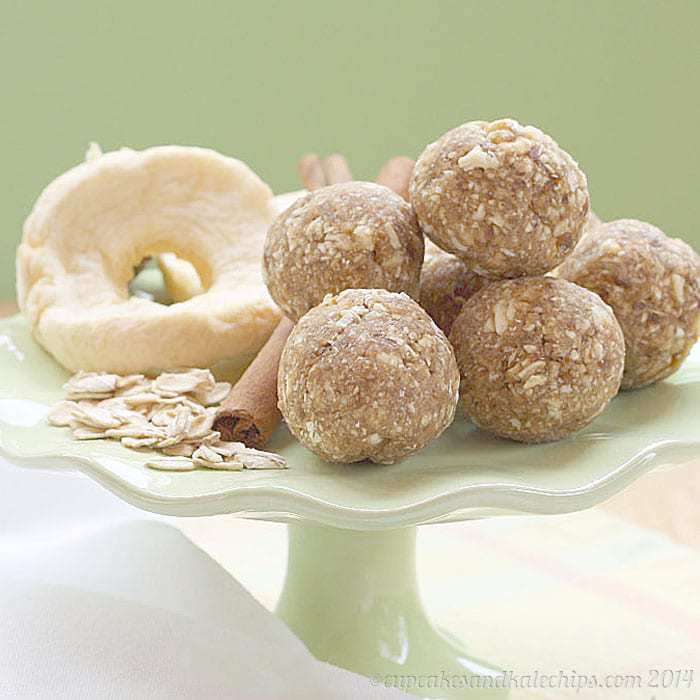 More easy nut-free snack recipes…
More energy ball recipes…
Apple Cinnamon No-Bake Energy Balls Recipe
These no-bake energy bites have the caramel apple flavor you love with the perfect hint of cinnamon. They are an easy snack recipe the kids love to make and eat. Perfectly portable and poppable, they have only four ingredients, and are gluten free, dairy free, nut- and peanut-free, and vegan. Made with only real, whole ingredients, so you can feel good about eating this healthy snack.
I hope you'll leave a comment and give it a FIVE STAR rating or share a review on Pinterest or photo on Instagram!
Tag me @cupcakekalechip and use #cupcakesandkalechips!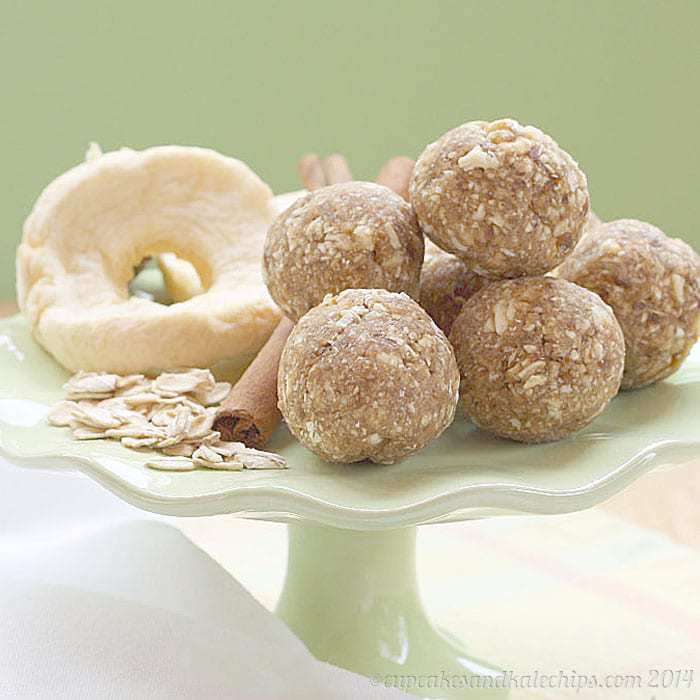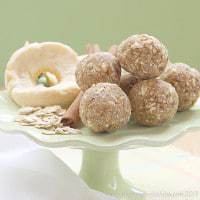 No-Bake Apple Cinnamon Energy Balls
Only four ingredients for the sweet flavor of a caramel apple in a healthy, gluten free, vegan, nut free snack perfect for lunchboxes or after school.
Ingredients
1/2

cup

pitted dates

1

cup

dried apples

not freeze dried, these are the chewy ones

1/2

cup

uncooked oats

gluten-free, if necessary

1/2

teaspoon

cinnamon
Instructions
Combine all of the ingredients in a food processor or high-powered blender and process until it forms a thick paste. You may have to stop the food processor a couple of times to press down the mixture with a spatula.

Using about a tablespoon of the mixture, roll into balls. If you want the little bites, use about 1/4 teaspoon each.
Nutrition Facts
No-Bake Apple Cinnamon Energy Balls
Amount Per Serving (1 energy ball)
Calories 47
% Daily Value*
Sodium 6mg0%
Potassium 84mg2%
Carbohydrates 11g4%
Vitamin C 0.2mg0%
Calcium 5mg1%
Iron 0.3mg2%
* Percent Daily Values are based on a 2000 calorie diet.
Enjoy!