Cinnamon Caramel Apple Energy Balls
Disclosure: This post may contain affiliate links. Cupcakes & Kale Chips is a participant in the Amazon Services LLC Associates Program, an affiliate advertising program designed to provide a means for us to earn fees by linking to Amazon.com and affiliated sites.
Cinnamon caramel apple energy balls are quick and easy, healthy no-bake snacks that kids love! They use just a few simple ingredients and are the perfect back to school snack.
Like all the kids out there, #SundaySupper is heading Back to School. One the way out the door, packed into a lunchbox, while working on homework, or getting ready to play after school, kids (and even adults) need fuel to get through busy days. For a quick and easy snack that the kids will love, grab a few ingredients and roll up a quick batch of Cinnamon Caramel Apple Energy Balls.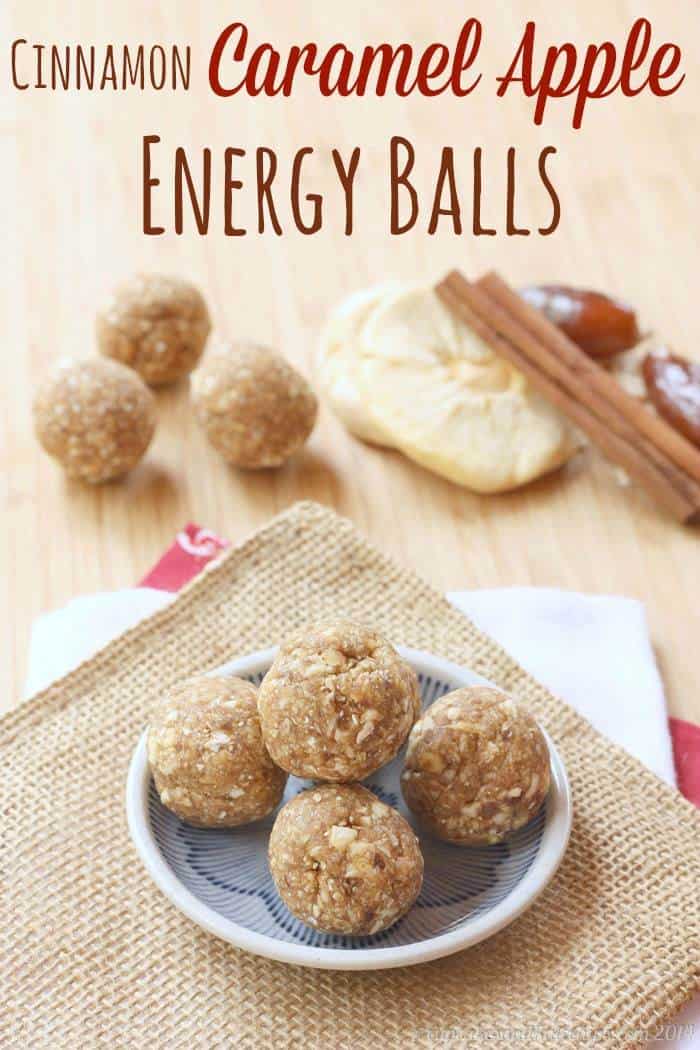 MY LATEST VIDEOS
You guys, I seriously can't wait till The Bug goes back to school. And at about the same time, King Stuff is gonna head to daycare a couple days of the week. With the big upcoming move, The Hubby busy with a new job, and me trying to get a house ready to put on the market, maintaining some semblance of order while the house is actually on the market without actually evicting my little boys during this period, packing years worth of crap, and keeping up the blogging gig, I really need some kid-free time to have a fighting chance of getting it all accomplished without completely losing my mind or sacrificing sleep entirely. So offloading them for a few hours at least a few days a week is pretty much a necessity.
But the main reason I need to get them out of the house? When they are home, all  they want to do is EAT ALL THE THINGS. ALL THE TIME. They finish their bowls of yogurt or overnight oats, and The Bug instantly starts wailing, "I'm still huuuunnngggrrryyyy!" So I get him something else, like a couple cinnamon caramel apple energy balls. But if King Stuff sees his big brother eating, of course he has to be shoving fistfulls of something in his mouth too.
Breakfast is done and an hour later, if I am within a 3 foot radius of the refrigerator, King Stuff assumes that I am getting food for him, and if I don't give him yet another thing to eat, it's meltdown-city. Lunch is inevitably happening by 11:30, and at 1 or 2, The Bug needs a snack because I'm trying to finish my lunch, and obviously he is "starrrrrvvviiinnnngggg". King Stuff wakes up from his nap at 3 or 3:30 looking for his snack, and if he is munching, The Bug has to be munching, too.
Since I am clearly starving my children, by dinnertime, the decibel level of whining and crying has reached the point that only dogs can hear. So I make up their plates first and sit them down at the table before I get food for The Hubby and I. Which inevitably means that by the time I sit down and put a bite in my mouth, they NEED seconds. And now King Stuff has learned such bad habits from his brother that the second the table is cleared, he is hanging on my legs looking for his nighttime snack, after he just finished three plates of food, just because I am in the cabinet getting vitamins, and me being near the cabinets reminds him that there is food in them.
Seriously, people, all I do is open and cut and peel and pour and put in bowls and get a spoon and cook and microwave and stir and serve and wipe faces and pick up crumbs. And, you know, dishes for dayssss! I love my kids and know that they are my responsibility, but sometimes I do have to actually get out of the kitchen. Maybe use the bathroom or something. So it's time for them go somewhere where they are distracted from food for at least a little while and when it is time to eat, someone else is taking care of it.
But when they are home, I need easy grab-and-go snacks like these cinnamon caramel apple energy balls…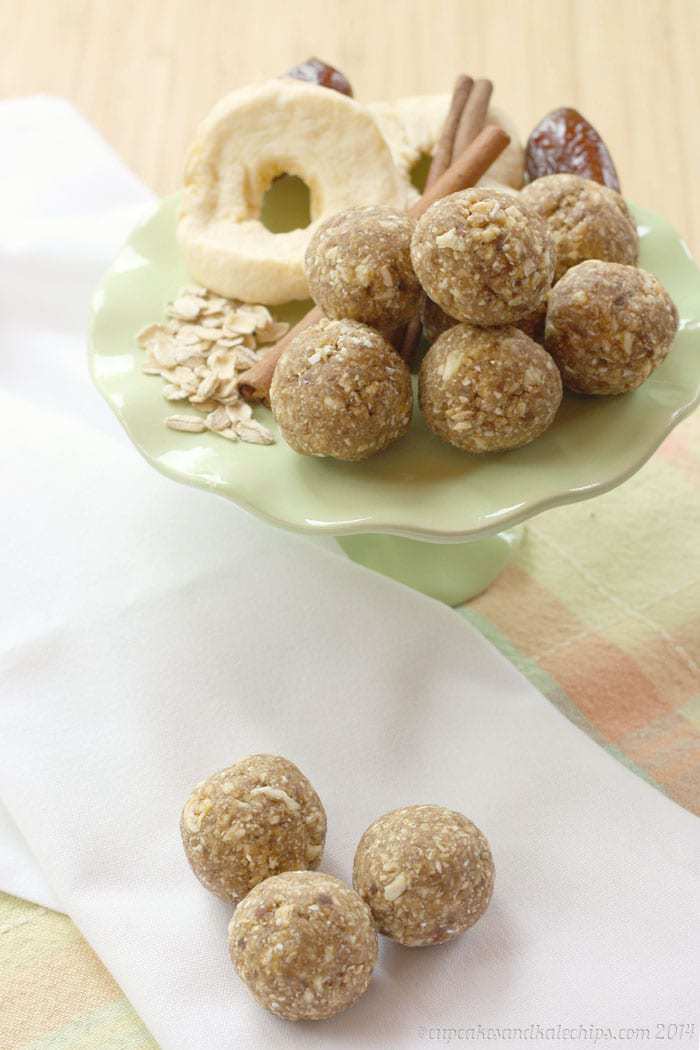 Energy balls, especially these Cinnamon Caramel Apple Energy Balls are one of my boys' favorite things to munch on. I have made several versions, but I wanted to make a variety without nuts or nut butters or any other major allergens, so that we could pack them on-the-go or share them with friends without having to worry about any kids with food allergies or sensitivities. These are nut-free, vegan, have no added sugar, and are easy to make gluten-free. Plus, they take minutes to prepare, aren't messy, and are healthy. Even better, from the making to the eating, they are totally kid-friendly. The Bug loves rolling up his own energy balls.
So how are they "caramel" without any sugar? Dates! Seriously, I didn't believe it when a fellow food blogger described them as "Nature's Caramel", but it is so true.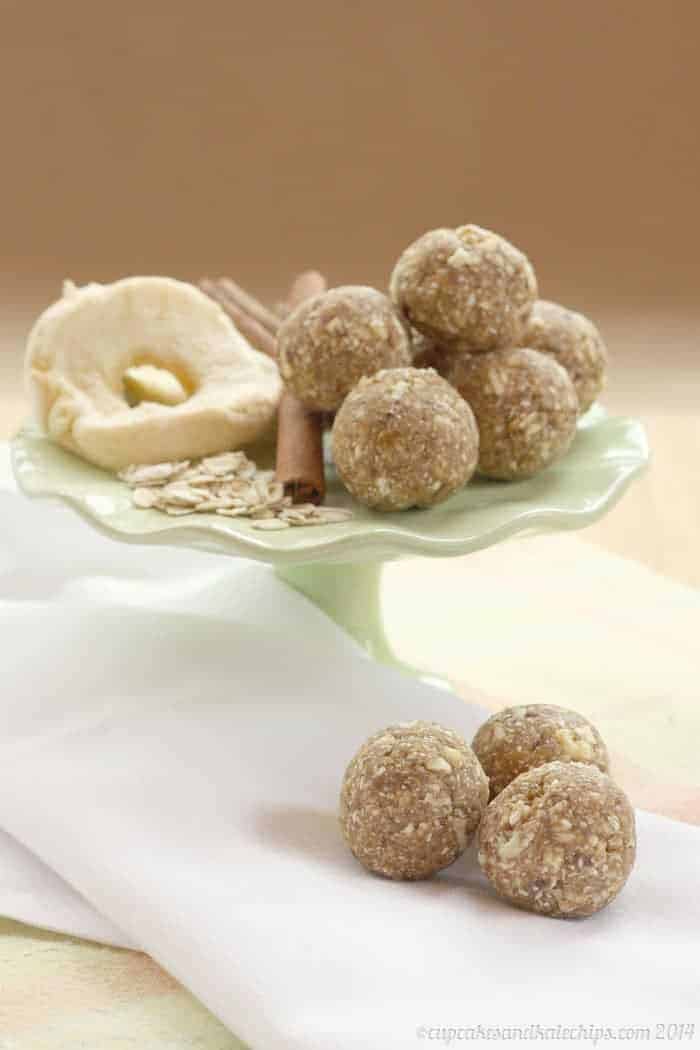 And if you have even littler ones, you can even make teensy little cinnamon caramel apple energy balls. I used about one-quarter teaspoon to make little energy bites for King Stuff.
Honestly, I made these awhile ago and at that time he was picking them up one at a time. Now, well, he would probably just shove a handful in his mouth.
Human Garbage Disposals, I tell ya!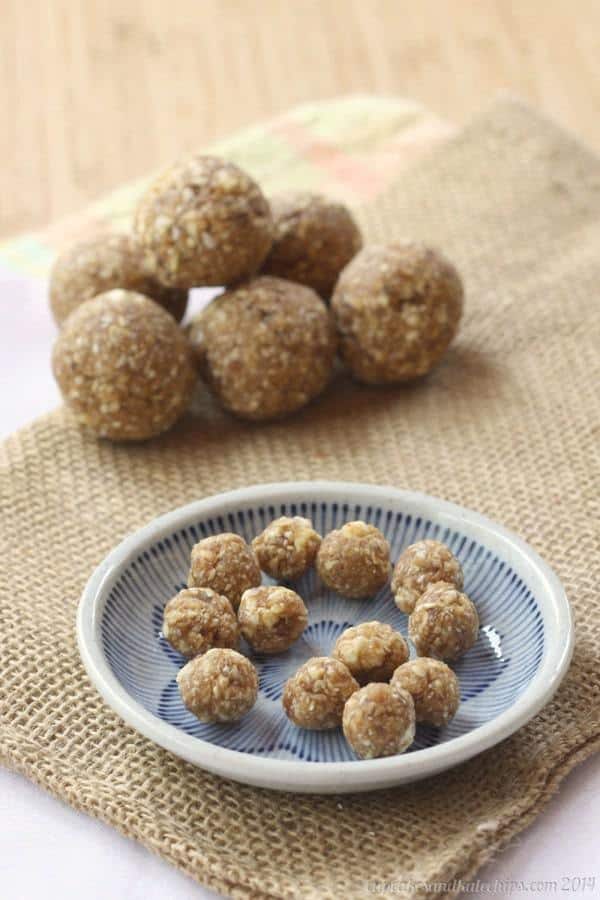 Join the #SundaySupper conversation on twitter on Sunday! We tweet throughout the day and share recipes from all over the world. Our weekly chat starts at 7:00 pm ET.  Follow the #SundaySupper hashtag and remember to include it in your tweets to join in the chat. To get more great Sunday Supper Recipes, visit our website or check out our Pinterest board.
Would you like to join the Sunday Supper Movement? It's easy. You can sign up by clicking here: Sunday Supper Movement.
Need more ideas for the busy days ahead? Whether it's nutritious breakfast, lunchbox ideas, satisfying snacks, or even a special treat or two check out the rest of today's #SundaySupper Back to School Menu at the bottom of this post for all kinds of inspiration.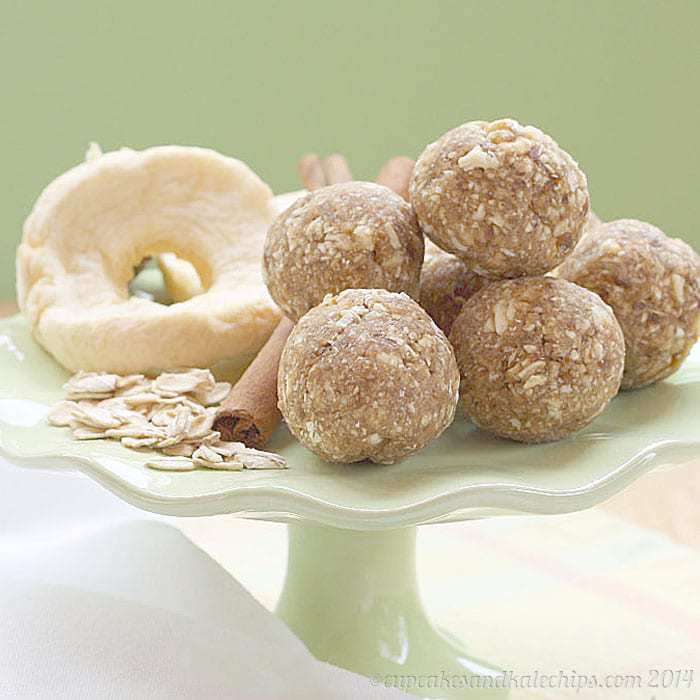 Are you excited for back to school time?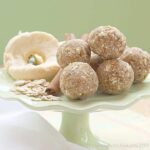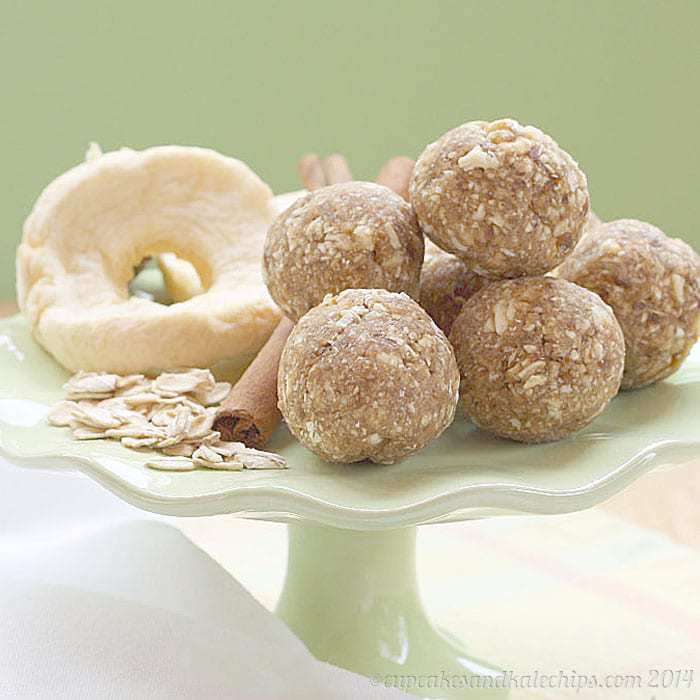 Cinnamon Caramel Apple Energy Balls (and Baby Bites)
Only four ingredients for the sweet flavor of a caramel apple in a healthy, gluten free, vegan, nut free snack perfect for lunchboxes or after school.
Ingredients
1/2

cup

pitted dates

1

cup

dried apples

not freeze dried, these are the chewy ones

1/2

cup

uncooked oats

gluten-free, if necessary

1/2

teaspoon

cinnamon
Instructions
Combine all of the ingredients in a food processor and process until it forms a thick paste.

Using about a tablespoon of the mixture, roll into balls. If you want the little bites, use about 1/4 teaspoon.
Enjoy!
Need some more lunchbox or after school snacks?
And here is the entire #SundaySupper Back to School menu…
Back to School Beginnings
Back to School Lunches and Simple Suppers
Back to School Sips
Back to School Super Snacks
Back to School Sweets and Treats