Crockpot Balsamic Beef Pot Roast with Mushrooms (Instant Pot directions too!)
Disclosure: This post may contain affiliate links. Cupcakes & Kale Chips is a participant in the Amazon Services LLC Associates Program, an affiliate advertising program designed to provide a means for us to earn fees by linking to Amazon.com and affiliated sites.
Slow Cooker Pot Roast with Mushrooms is hearty, comforting, and easy to make in a crockpot or even your Instant Pot. It's a classic recipe with an Italian-inspired twist. The melt-in-your-mouth beef and tender veggies are sure to be a family favorite. Toss everything in your crock pot for a comfort food dinner on a busy night, or enjoy this balsamic beef pot roast recipe as a classic Sunday supper.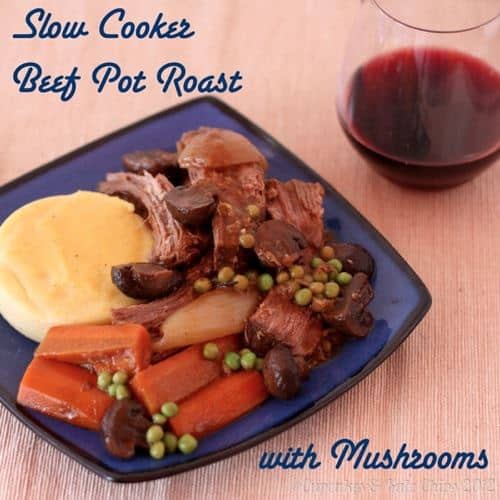 I should have known I'd be a foodie. Even back in the days when, in my world, fruit = banana, vegetable = corn, lunch = ham sandwich on potato roll, no mayo or mustard, I would go into my grandma's bedroom, gather all her bottle of perfume, boxes of jewelry, and knick knacks, and pretend they were my ingredients and kitchen gadgets while I watched The Frugal Gourmet. My destiny was clearly sealed.
In high school, after I finished my homework, I would sit in my room to watch Too Hot Tamales and How to Boil Water . Well, when Melrose Place, 90210, and Friends weren't on. Now, other than Glee, the only thing I set my DVR for is Top Chef, Cupcake Wars, Sweet Genius, and the like. When I travel, I do like to find little hole in the wall places, but I also get excited to try a restaurant owned by Emeril or Bobby or Wolfgang or whoever. Clearly I am caught up in the celebrity chef culture.
And while some people do solely watch for the entertainment value (which is fine, by the way), I have learned so many tricks and techniques, and I have made a number of the recipes I've seen on TV. Heck, The Bug's name was inspired by one of my favorite chefs. So naturally I was very excited about this week's #SundaySupper theme – Your Favorite Chef-Inspired Dishes. This week's event is hosted by Tammi from Momma's Meals, and is certain to be a ton of fun.
Giada is definitely one of my favorite TV chefs. Yes, she was born in Italy into a famous family, went to Le Cordon Bleu in Paris, lives in California, is gorgeous, has an adorable daughter, and a stylish husband, but I still think she and I could just chit-chat in the backyard with a few glasses of Pinot Grigio. Plus, many of her recipes strike that balance that I love to achieve – gourmet taste, but totally approachable and doable for the home cook. I regularly make a few of her dishes, including her Butternut Squash Gratin and Stracoto with Porcini Mushrooms.
Slow cooker beef pot roast is inspired by the Stracoto, but I wanted to make it even more accessible to the home cook. It calls for fresh mushrooms versus dried, and a slow cooker instead of a slow braise in the oven. Plus, no need to strain it all out and puree to make a gravy, and all the veggies cook right with the meat, for simplicity and flavor. Come home at the end of a long day, and all you need is some polenta, potatoes, pasta, or even just bread to soak up all the flavorful juices.
I actually made and posted about this slow cooker beef pot roast once before. But I really wanted to give it a revamp, using better photos and my better recipe plug-in to make it easier for you to save and print if you like. This includes a more Giada-inspired side dish (polenta instead of mashed potatoes), a better cut of meat, and a little more color in the form of more veggies! I was quite happy with the outcome, as were The Hubby and The Bug. It was a flavorful, comforting dinner on a cold Friday night that made the house smell incredible all day.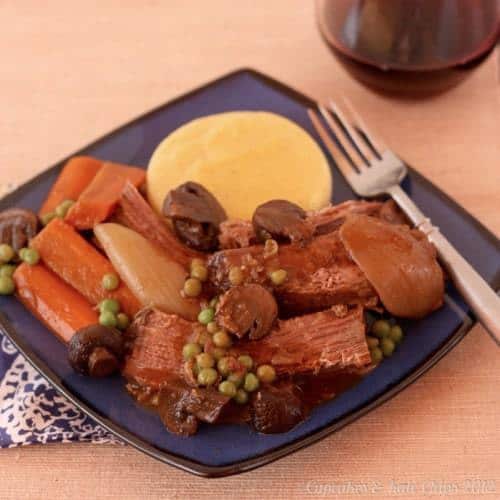 More slow cooker beef recipes:
Slow Cooker Balsamic Beef Pot Roast with Mushrooms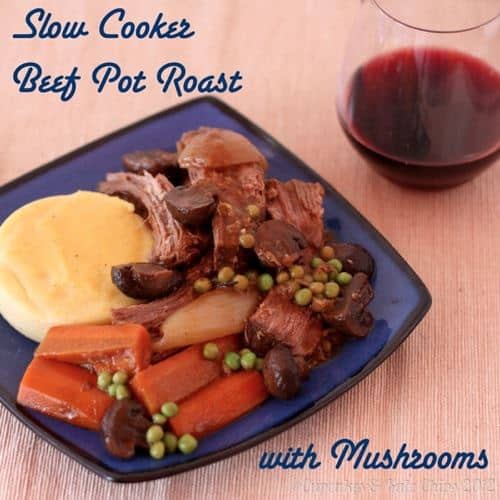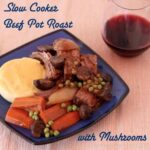 Print Recipe
Slow Cooker Beef Pot Roast with Mushrooms
Inspired by Giada, your slow cooker makes it easy to make a moist, flavorful, comforting pot roast with mushrooms, carrots, and peas.
Ingredients
1

2 to 3-pound or bigger beef eye round or top round roast (or another type of beef roast, such as chuck)

2

T

olive oil

1/4

c

cornstarch

1

t

kosher salt

1

c

beef broth/stock

1/4

c

balsamic vinegar

2

T

tomato paste

1

medium or 1/2 of a large onion

quartered

3

garlic cloves

smashed and peeled

1

c

dry red wine

I've used Merlot and Zinfandel

10

oz.

cremini

baby bella, or white button mushrooms, halved or quartered

1

c

baby carrots

or whole carrots, peeled and cut into "fingers"

1

large sprig of fresh rosemary

1/2

c

frozen peas

no need to thaw
Instructions
Heat the olive oil in a pan over medium-high heat.

Combine the corn starch, salt, and pepper in a shallow dish.

Roll the meat around in the cornstarch mixture until it is coated on all sides. Set aside the remaining cornstarch mixture.

Sear the meat in the pan for 2-3 minutes on each side, until it is nice and browned.

While the meat is searing, add the reserved cornstarch mixture, broth, balsamic vinegar, and tomato paste to the slow cooker, and stir to dissolve.

Remove the meat from the pan, and put it in the slow cooker.

Reduce the heat to low and pour the wine into the pan. Scrape up any of the brown bits with a wooden spoon, and pour everything into the crockpot.

Arrange the onion, garlic, mushrooms, carrots, and rosemary around the roast.

Cook on low for 6-8 hours, or until the meat is cooked through. Add the peas during the last few minutes of cooking.

Remove the meat, carrots, and mushrooms from the slow cooker. Ladle out or strain the liquid from the crockpot, and serve on the side as a gravy.
Now that you have the recipe for my slow cooker beef pot roast, check out these Sunday Supper recipes:
Starters or Snacks :
Martin at ENOFYLZ Wine Blog – Oyster and Brie Soup and Wine Pairings for Celebrity Chef #SundaySupper
Linda at The Urban Mrs. – Inspired by Bobby Flay, Lobster Chowder with Roasted Corn Salsa
Erin from Dinners, Dishes and Desserts – Rachael Ray's Cinnamon Popcorn
Cindy over at Cindy's Recipes and Writings – Jamie Oliver's Bread and Tomato Soup
Jeff at The Catholic Foodie – Drop Biscuits – Breakfast with Chef John Besh
Renee over at Kudos Kitchen By Renee – Giada De Laurentiis' Garlic Toasts With Red Pepper Aioli
The Main Dish:
Sheila at Cooking Underwriter – Paula Deen's Chicken in a Crock Pot w/ Sauerkraut and Apples
Laura over at Small Wallet Big Appetite – Martin Yan's Beef Chow Fun
Sarah over at Crispy Bits & Burnt Ends – Michael Symon's Lola burger with crab tater tots
Susan at The Girl in the Little Red Kitchen – Ina Garten's Baked Shrimp Scampi
Tammi at Momma's Meals – Lee Drummond's Sloppy Joe's
Lane over at Supper for a Steal – Bobby Flay's Rosemary Bricked Chicken
Tara from Noshing with the Nolands – Michael Symon's Pork and Apple Scallopini
Shannon at Country Girl in the Village – Simple Red Sauce over Rigatoni. Inspired by, Debi Mazar and Gabriele Corcos
Kris over at In the Kitchen with Audrey and Maurene – Rachael Ray's Muffin Tin Meatloaf
Nicole from The Daily Dish Recipes – Paula Deen's Slow Cooker Pulled Pickled Pork Sandwiches
Becca from It's Yummi – Ina Garten's Grown Up Bacon Mac & Cheese
Alice at Hip Foodie Mom – Sunday Pot Roast with Risotto Cakes from Kelsey Nixon
Jen over at Juanita's Cocina – The Neely's White Turkey Chili
Brianne from Cupcakes & Kale Chips – Slow Cooker Beef Pot Roast with Mushrooms, inspired by Giada DeLaurentiis
Isabel at Family Foodie – Polenta with Garlicky Shrimp inspired by Chef Todd English
Wendy from The Weekend Gourmet – Shrimp Penne in Pesto Cream Sauce, From Emeril Lagasse
Bobbi over at Bobbi's Kozy Kitchen – Cheesy Poblano Chicken
Patti at Comfy Cuisine – Tyler Florence's Chicken Francese
Roxanne over at The Roxx Box – Jambalaya Pasta with Penne, Chicken, Shrimp and Andouille
Sue from Sue's Nutrition Buzz – Rachael Ray's Spicy Corn Chowdah Mac 'n' Cheese
Jamie at Mama Mommy Mom – Penne with Asparagus, Smoked Gouda and Prosciutto. Adapted from, Giada De Laurentiis'
Tora over at Tora's Real Food – Pork and beans with Alton Brown's pickled pork
Elisabeth over at The Hand That Rocks The Ladle – Emeril's New Orleans Style Red Beans & Rice
Amazing Sides:
Megan from I Run For Wine – Curtis Stone's Acorn Squash Roasted with Thyme
Sandi over at Midlife Road Trip – Gabriele Corcos's Gnocchi di Patate
Shelby at Diabetic Foodie – Orange Pecan Black Rice, adapted from Ina Garten
Katie from She likes Ruffles, He likes Truffles – Chef Fabio Viviani's Spinach and Artichoke Risotto
Sweet Endings:
Renee over at Magnolia Days – Brownie Tart
Conni at The Foodie Army Wife – Inspired by Ree Drummond – Scrumptious Apple Coffee Cake
Paula over at Vintage Kitchen Notes – Bill Granger´s Cherry Tart
Pam from The Meltaways – Savannah Sheet Cake
Katy over at Happy Baking Days – Mary Berry's Treacle Tart
Jaime over at Mom's Test Kitchen – Southern Tea Cakes
Amy over at Kimchi MOM – Crack Pie, I Can't Quit You
Wine Pairings:
Martin at ENOFYLZ Wine Blog