This post may contain affiliate links. Read my disclosure policy.
An easy Gluten-Free Green Bean Casserole made for your holiday table! I prepare this classic and tasty casserole recipe with fresh tender-crisp green beans, baked in creamy gluten-free mushroom sauce. It's the best vegetable side to round out your Thanksgiving or Christmas dinner!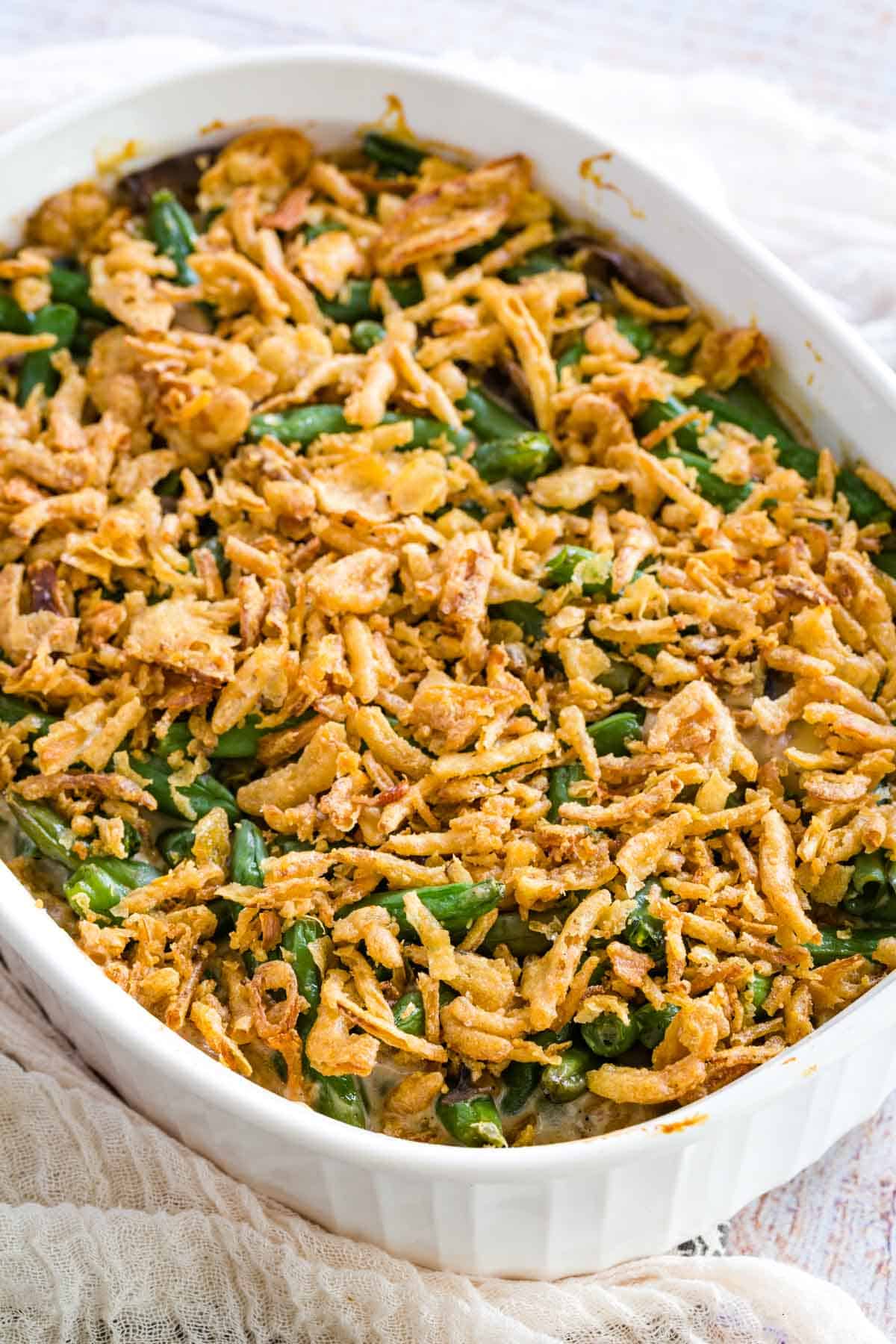 An Easy Gluten-Free Green Bean Casserole, Perfect for the Holidays
If your fam is anything like mine, no holiday meal is complete without a classic green bean casserole. Especially Thanksgiving, where it's one of our most beloved vegetable side dishes (right up there with my gluten-free sweet potato casserole!).
I make this classic green bean casserole with fresh green beans, plus a few minor tweaks that make this version totally gluten-free. It starts with my very own creamy, savory mushroom sauce and ends with a flavorful layer of gluten-free crispy fried onions. It's a simple, cozy, and healthy recipe for a perfect side dish.
This homemade green bean casserole is so easy to make from scratch, that it's sure to become a fixture at your holiday table, too!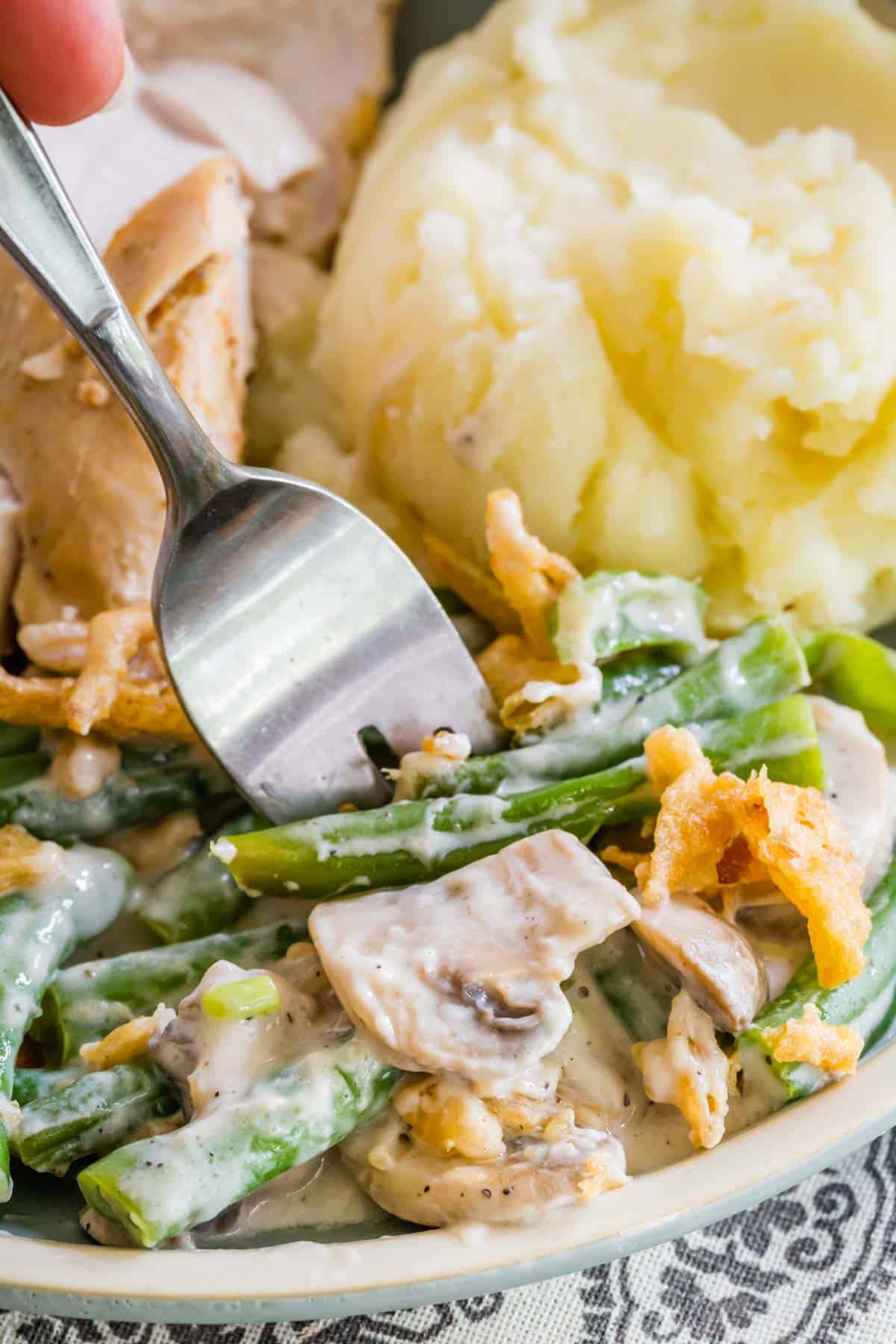 Ingredients
With a couple of easy trade-ups, you can make a delicious and classic green bean casserole that's 100% gluten-free. Below is what you'll need, with the actual amounts and details available in the recipe card:
Green Beans: Wash and trim your fresh green beans, then chop them into even-sized 1 to 1½-inch pieces.
Butter: I prefer to use unsalted butter when cooking. It gives more control over the overall saltiness of the dish.
Onion: Yellow onion or a similar mild, sweet onion variety (like Vidalia or brown onion).
Mushrooms: Sliced white, brown, or button mushrooms.
Salt and Pepper
Milk: Whole milk or 2% milk to make the base for the gluten-free mushroom sauce.
Cornstarch: To thicken the sauce (I find cornstarch is the best alternative to wheat flour when it comes to thickening sauces).
Cream Cheese: You can use light or regular cream cheese for this recipe. Whichever you choose, I recommend buying the cream cheese that comes in blocks vs. the kind that comes in a tub.
Topping: Your choice of gluten-free casserole topping. Gluten-free French fried onions, cracker crumbs, or shredded cheddar cheese are good options.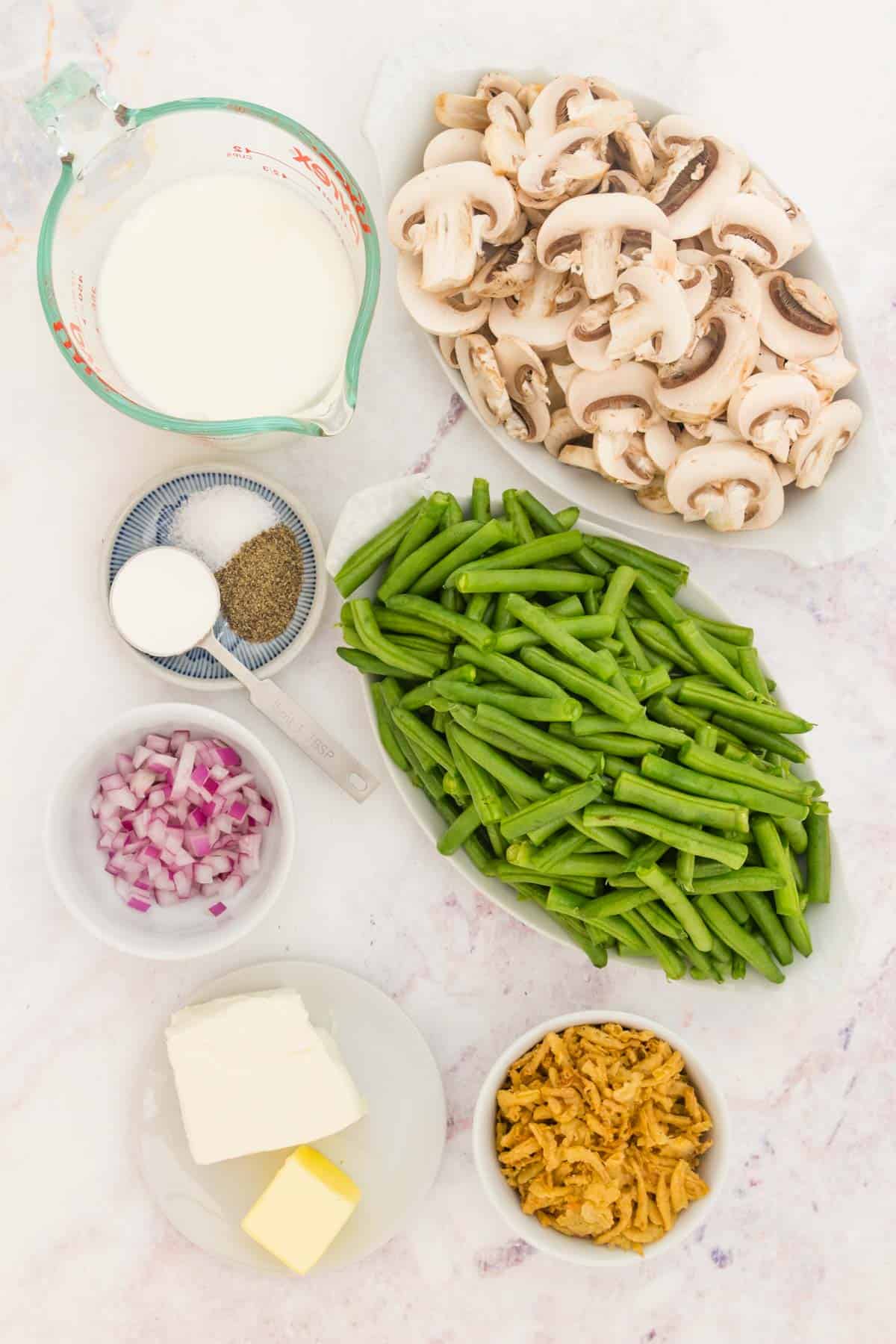 Is There a Mushroom Soup that Is Gluten-Free?
Most canned soups (like Campbell's) and packaged soup mixes are sadly not gluten-free. That's why I make my own! Thickening alternatives to flour, like cornstarch and cream cheese, fit the bill perfectly and yield a creamy, stable sauce.
This way everyone rests assured that the mushroom sauce for this casserole is 100% safe for gluten intolerances, AND it tastes delicious!
Let's Make Green Bean Casserole!
Grease up a casserole dish and preheat your oven to 350°F. It's time to make the best green bean casserole! Here's how:
Cook the Veggies: First, steam your washed and trimmed green beans over simmering water until they're tender-crisp (or to your liking). If you're using frozen or packaged green beans, you can go by the directions on the package. Meanwhile, sauté the onions and mushrooms in a skillet with butter and a pinch of salt and pepper.
Make the Sauce: Once the onions are translucent and the mushrooms are browned, stir in a cup of milk, followed by cream cheese. When the sauce is smooth and bubbling, whisk together a slurry of cornstarch and the remaining milk, then add this to the mushroom sauce. Now you'll let it simmer to thicken before adding the beans.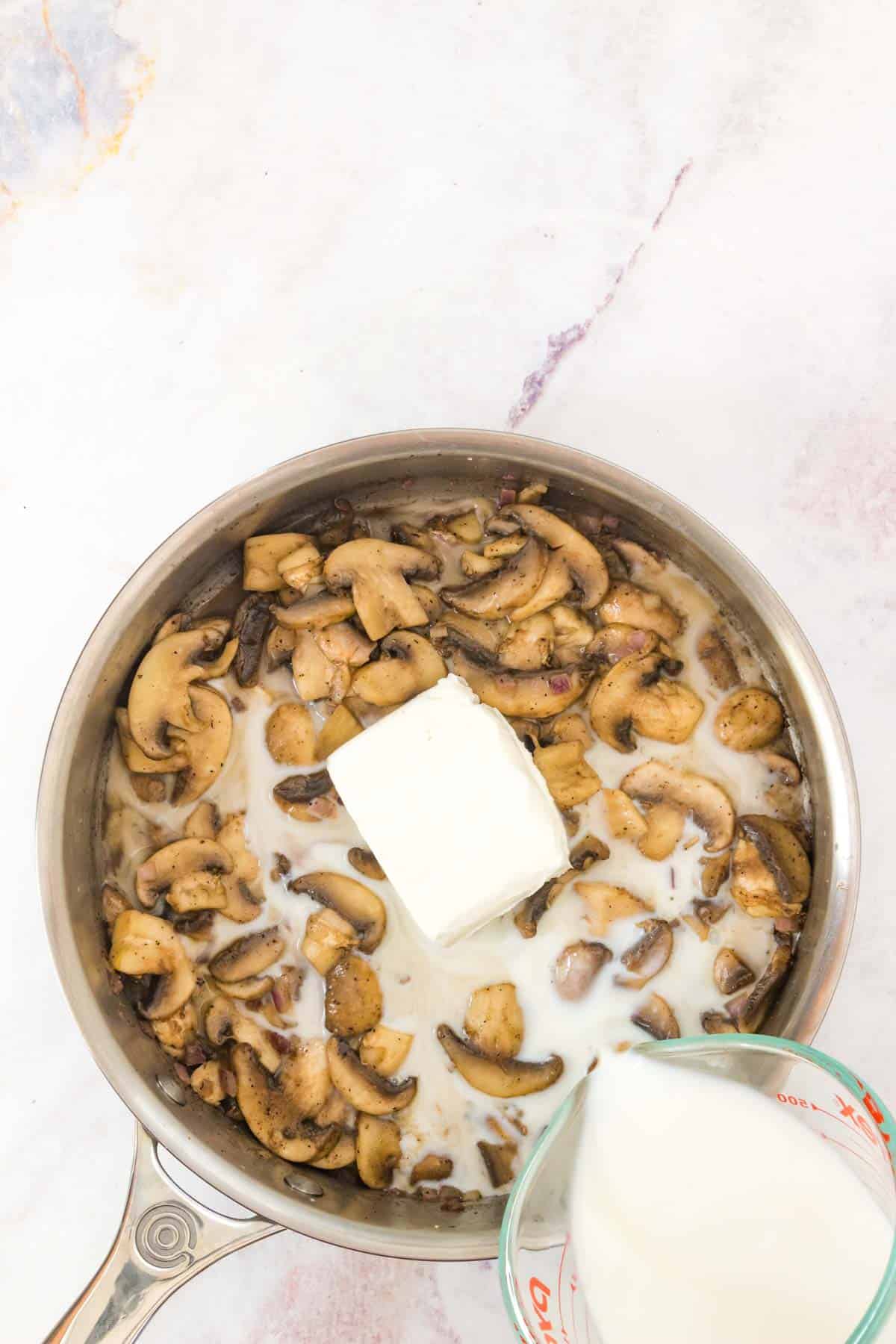 Combine and Bake: Stir the drained green beans into the thickened sauce. When the beans are well coated, dump the mixture into your prepared baking dish. Bake until the casserole is hot and bubbly. Finally, add your topping and return the casserole to the oven for another couple of minutes, until golden.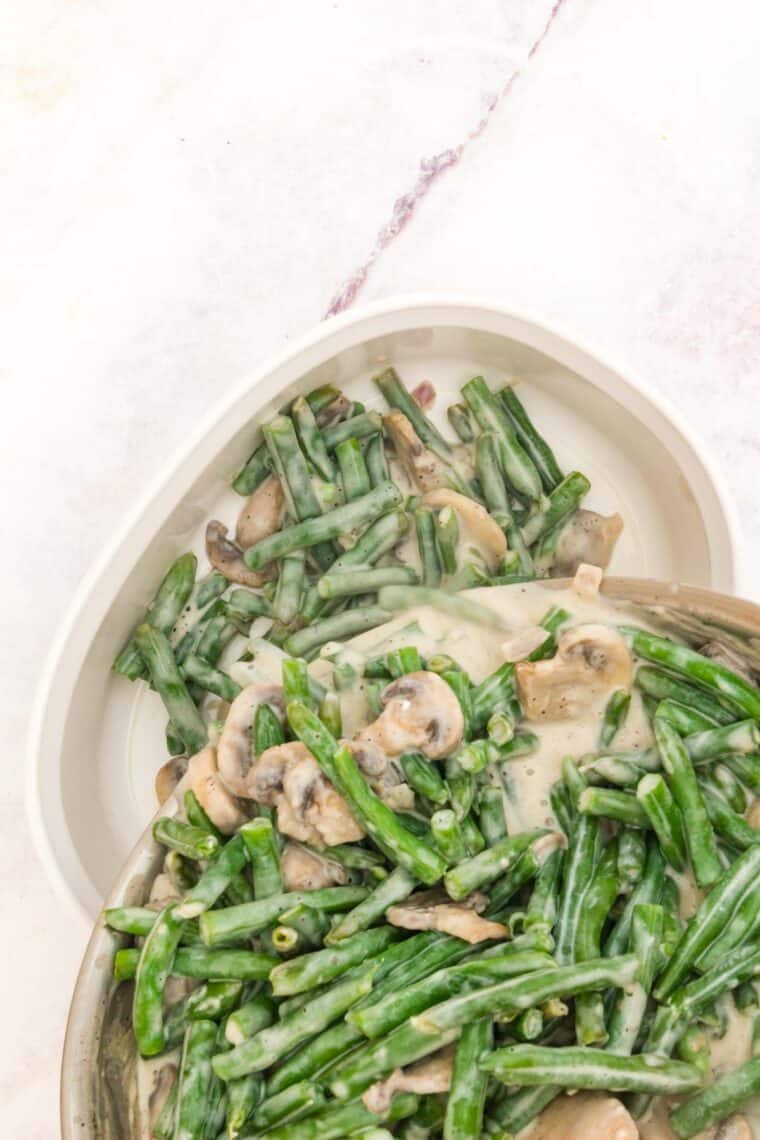 How Do You Keep Green Bean Casserole from Getting Mushy?
There are a few ways that you can avoid a mushy green bean casserole:
Be sure that you don't overcook the green beans at the steaming stage, keeping in mind that the beans will still go into the oven afterward.
A mushy topping could mean that your casserole is too watery. Avoid undercooking the green beans, which can cause them to leak excess moisture while the casserole bakes. Steam your green beans to the sweet spot of "fork-tender" for best results.
Lastly, cornstarch is your friend! Add enough cornstarch so that the filling is thick enough to support the topping, and not soupy. If you do end up with a watery casserole, see the recipe notes below for tips on how to fix it.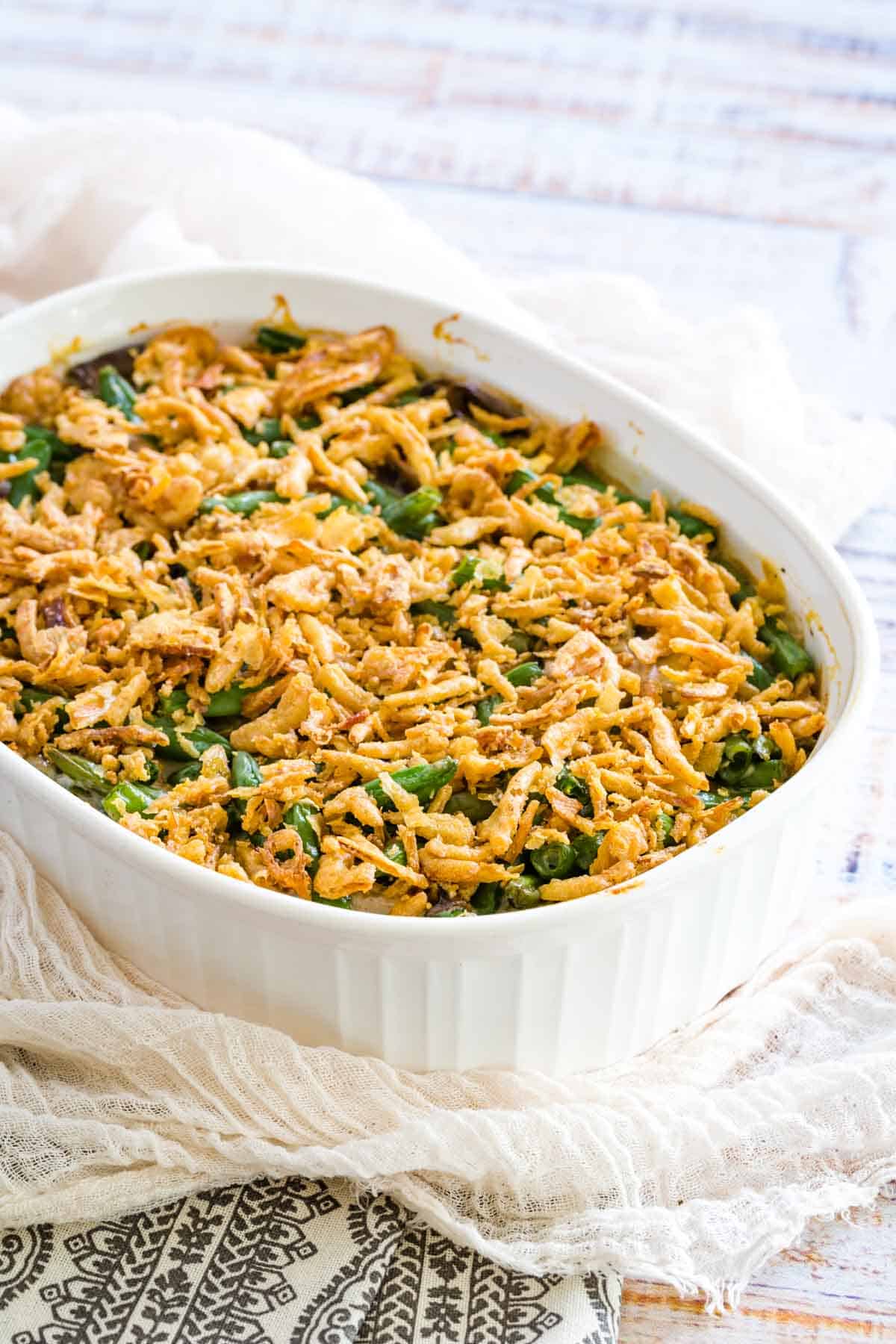 Recipe Notes
Some tips when preparing the perfect gluten-free green bean casserole:
How To Fix a Watery Casserole: If your casserole comes out of the oven looking… er… soup-ish, all isn't lost. Remove the topping, then return the green bean mixture to your skillet to simmer a bit longer. You can also scoop out a little of the cream sauce, whisk it with another spoonful of cornstarch, then add it back in.
Avoid Burning the Topping: Only add the casserole topping towards the very end of the cooking time. Adding the topping too soon or baking it in an oven that's too hot will cause the topping to brown quicker than expected.
Can I Use Canned Green Beans?: I wouldn't recommend it. This recipe turns out amazing with fresh green beans, and it also works well with frozen beans. However, canned green beans tend to lose their texture after baking.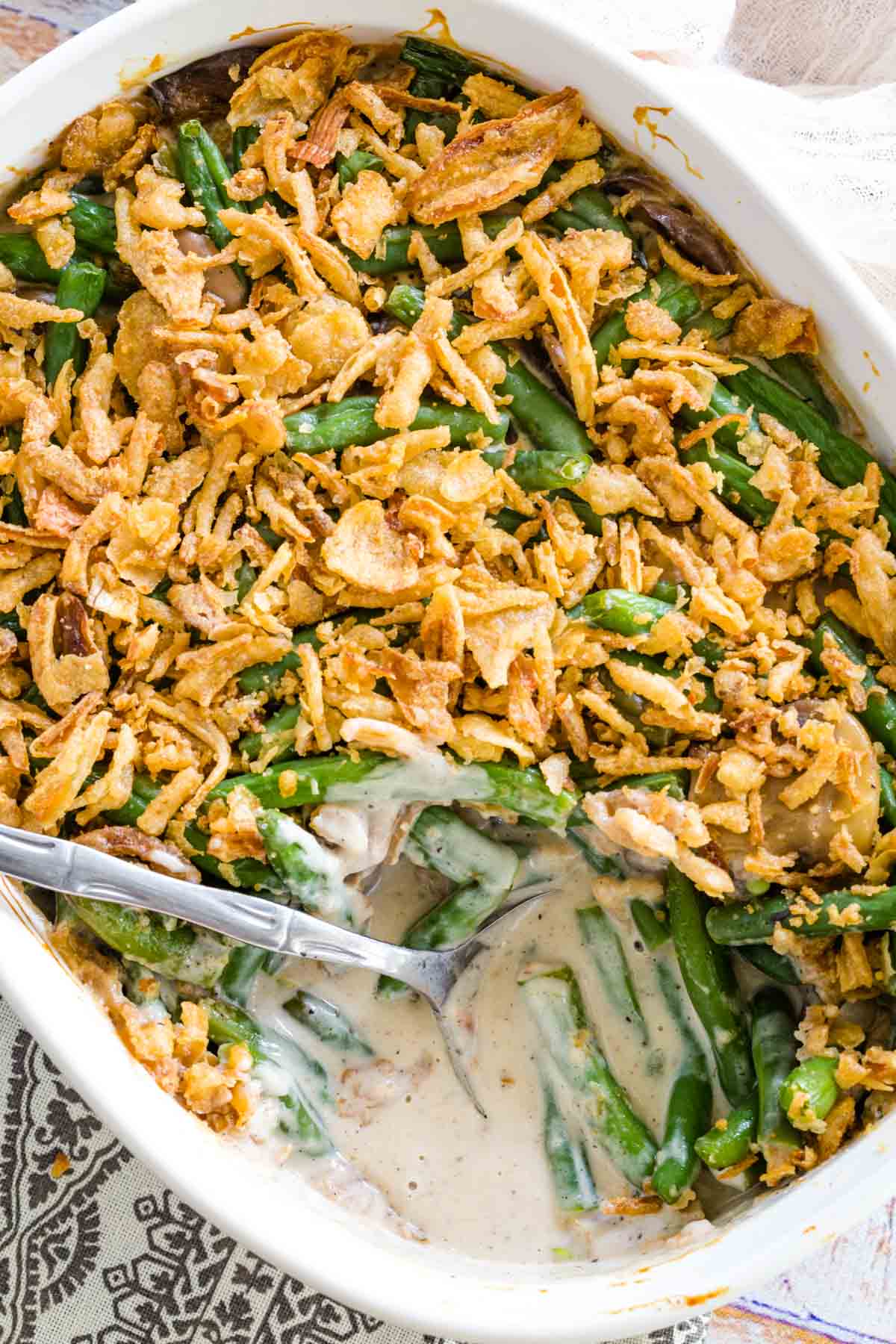 Festive Serving Suggestions
Thanksgiving, Christmas, Easter – whatever holiday is around the corner, this gluten-free casserole is a constant crowd-pleaser. Here are some of my favorite ways to serve it: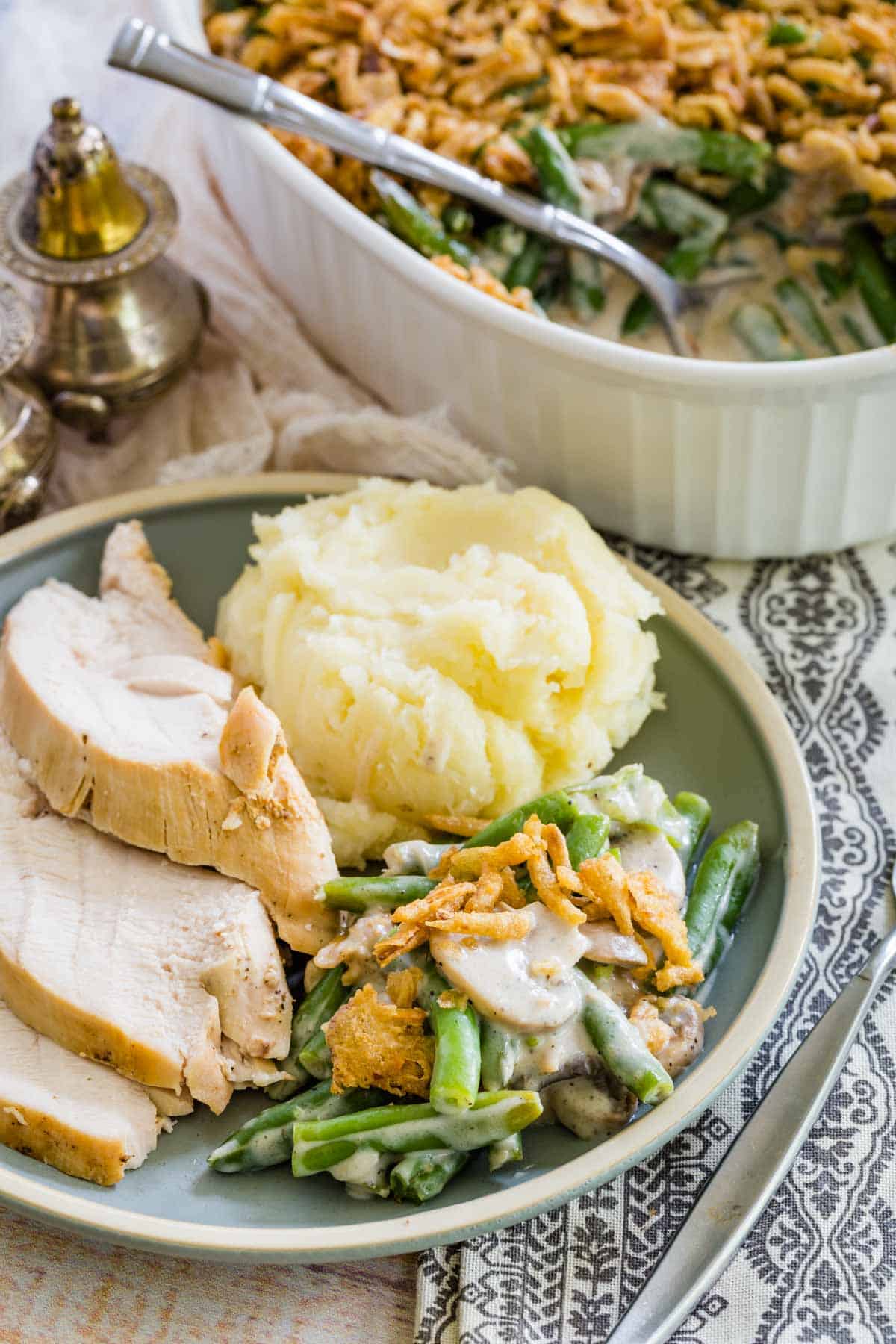 How to Store and Reheat This Dish
If you're making it ahead, this green bean casserole is best stored before you add on the topping. Once the green beans are in the baking dish, store the cooled casserole tightly covered in the fridge for up to 3 days.
When you're ready to bake it, take the green bean casserole out about a half hour before and then bake/add the topping as directed.
If you're storing leftovers, you can always sprinkle on some additional crispy onions or the like. I recommend reheating the green bean casserole at 350ºF until it's warmed through, adding the extra onions towards the end.
Does Gluten-Free Green Bean Casserole Freeze Well?
Yes! Green bean casserole can be stored frozen for up to one month. Once the casserole is cool, wrap it tightly with plastic wrap plus a layer of foil before freezing. Reheat in the oven at 350ºF right from frozen, and don't forget to add the topping!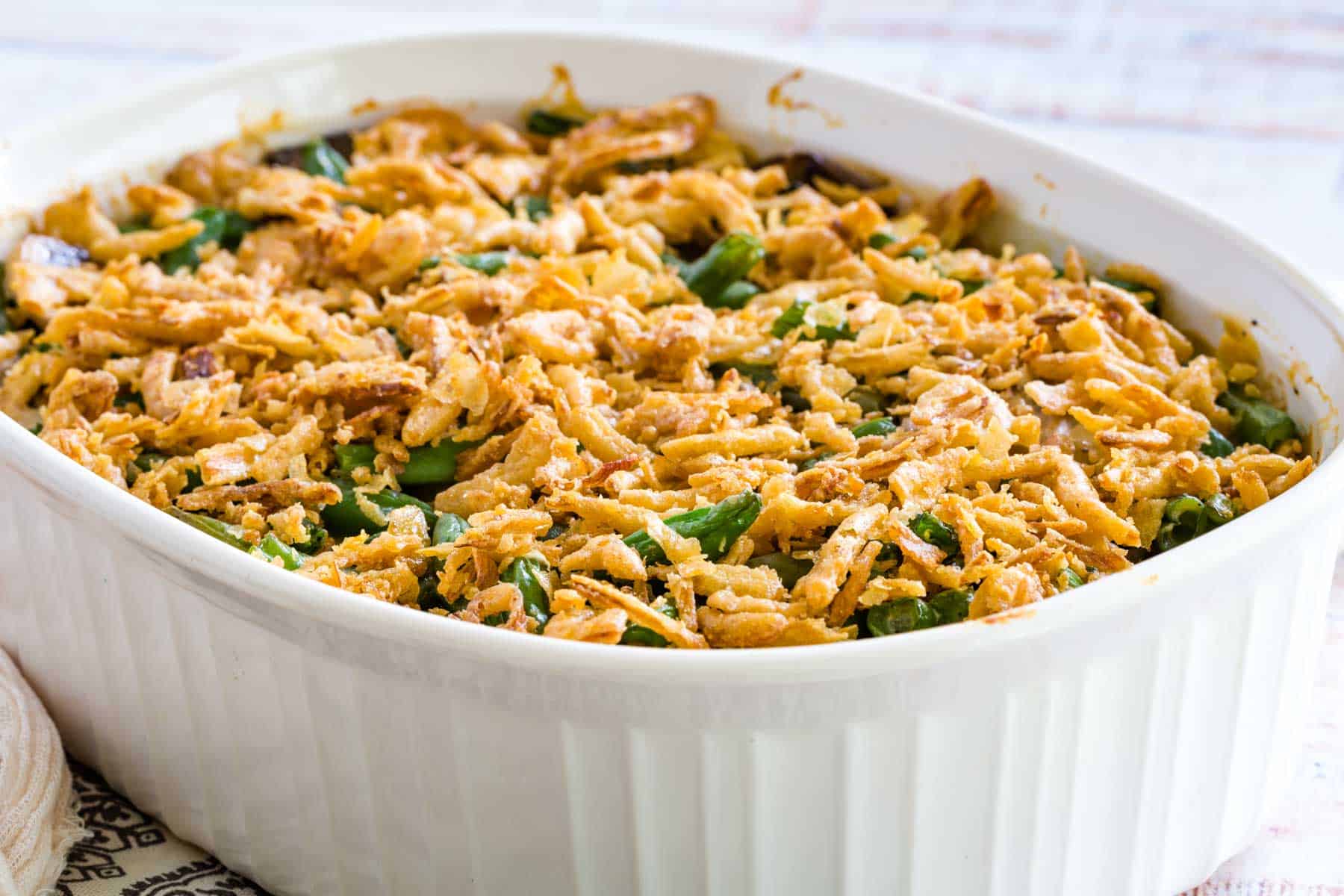 My Favorite Casserole Dishes
Brianne Recommends
You'll see, I love making gluten free casseroles. And the one thing that is essential for all of these is the right baking dish. I am a big fan of CorningWare French White casserole dishes. They distribute the heat evenly, are easy to clean, are durable enough for everyday, but also look elegant. You can get the 1.5 quart baking dish you need for this recipe in this set of dishes that you will use all the time.
$122.46
$136.67
in stock
29 new from $112.45
as of September 29, 2023 9:27 am
Last updated on September 29, 2023 9:27 am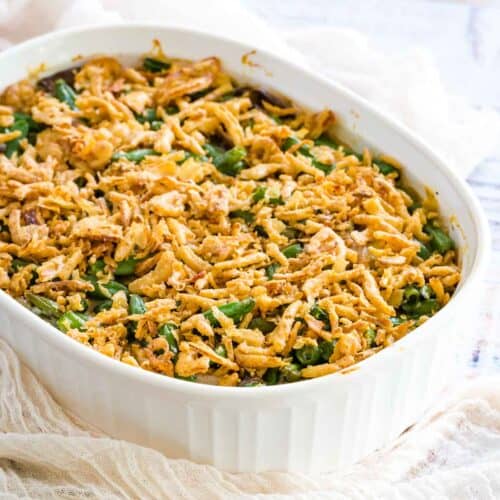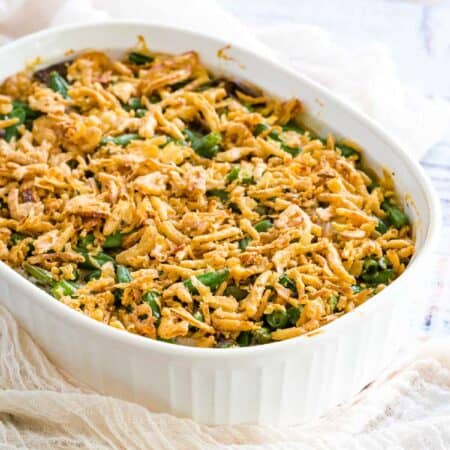 Gluten-Free Green Bean Casserole
An easy Gluten-Free Green Bean Casserole made for your holiday table! Prepared with tender-crisp green beans baked in creamy gluten-free mushroom sauce.
Ingredients
1 ½

lbs

green beans

washed, ends snipped off, and cut into 1-1 ½-inch pieces

2

tbsp

unsalted butter

¼

cup

onion

minced

12

oz

white mushrooms

sliced

1

tsp

kosher salt

1

tso

black pepper

1 ½

cups

milk

divided

1

tbsp

cornstarch

4

oz.

cream cheese,

regular or light

⅔

cup

gluten-free French fried onions

OR cracker crumbs OR cheddar cheese
Instructions
Preheat the oven to 350°F. Coat a 1 1⁄2 quart casserole dish with nonstick cooking spray.

Rinse the green beans thoroughly and snip off the ends. Place green beans in a steamer basket over simmering water and steam to the desired doneness. Or cook according to package directions if using fresh green beans in a microwave bag or frozen beans.

Melt the butter in a skillet over medium heat and add the onions and mushrooms. Season with salt and pepper. Saute until the onions are translucent and the mushrooms are browned and tender.

Add 1 cup milk and cream cheese to the skillet and stir until smooth and heat until bubbling. Whist the cornstarch into the remaining 1⁄2 cup milk and stir into the creamy mushroom mixture. Bring to a boil and simmer for about 5 minutes until thickened.

Add the green beans to the pan and stir to coat thoroughly.

Transfer the green bean mixture to the prepared casserole dish and bake at 350°F for 10-15 minutes until hot and bubbly. Sprinkle the onions or other topping over the top and bake for another 3-5 minutes until golden brown.
Nutrition Facts
Gluten-Free Green Bean Casserole
Amount Per Serving
Calories 79
Calories from Fat 36
% Daily Value*
Fat 4g6%
Cholesterol 7mg2%
Sodium 239mg10%
Potassium 258mg7%
Carbohydrates 9g3%
Protein 3g6%
Vitamin A 480IU10%
Vitamin C 8mg10%
Calcium 59mg6%
Iron 1mg6%
* Percent Daily Values are based on a 2000 calorie diet.
Categories:
More Easy Holiday Sides