This post may contain affiliate links. Read my disclosure policy.
This Crockpot Turkey Breast recipe is ridiculously simple and flavorful. BBQ-rubbed with a simple blend of seasonings and spices then tossed in the slow cooker, it's perfect for a holiday meal when you need to feed a smaller crowd. Let your crock pot do all the work for a busy weeknight meal, or make it on the weekend and use the leftovers for quick and easy dinners all week!
I've made no secret about the fact that I am the queen of "repurposing" leftovers. Sometimes it is as simple as an omelet or egg muffins using whatever I have in the fridge. Or just pulling out all the odd and ends, then shaking up some creamy balsamic dressing for Salad Bar Night.
Other times, though, I do make a meal with the intention of having leftovers to use during the week, especially on busy nights.
One thing I like to do is to buy a chicken or turkey breast that is larger than I actually need. Or I will even buy two, since, whether you are roasting chicken, smoking a turkey breast, or even buying a pre-cooked rotisserie chicken at Costco, once you are cooking and carving one, it is only a teensy bit more work to cook a second one at the same time.
Especially when you are making something as simple as this slow cooker turkey breast recipe.
How to make turkey breast in crockpot
Here is a brief overview so you can see just how easy it is to make. Scroll down to the printable recipe card for the full quantities and details.
But don't skip my PRO TIPS below!
This BBQ-Rubbed Slow Cooker Turkey Breast recipe seriously could not be any easier. All you need is:
One turkey breast – bone in, and about 4 to 7 pounds with any giblets removed
Your favorite barbecue rub – this can be store-bought or homemade. In the recipe below I'll share the one I used. Make a big batch so you can sprinkle it on any meat, seafood, or vegetables before grilling or roasting.
Onion – cut into chunks that you can place underneath and inside the turkey breast.
And you'll need a crock pot, obviously.
I like to use my Hamilton Beach 6 Quart Slow Cooker. It is large enough for a nice-sized turkey breast, and it comes with a temperature probe that I cam use to make sure the meat is fully cooked through to 165°F, but doesn't overcook and dry out.
What to do
Coat the turkey breast inside and outside and even under the skin with the rub.
Place some pieces of onion inside the cavity and on the bottom of the slowcooker.
Set the bird inside, cover, and cook on low for 5 to 7 hours.
The flavor of the rub just infuses through the meat, and it creates all of its own moisture. You don't get the crispy skin, so if that's your thing, then you'll need to roast it. But if you are like me and toss the skin out regardless, this is totally the way to go.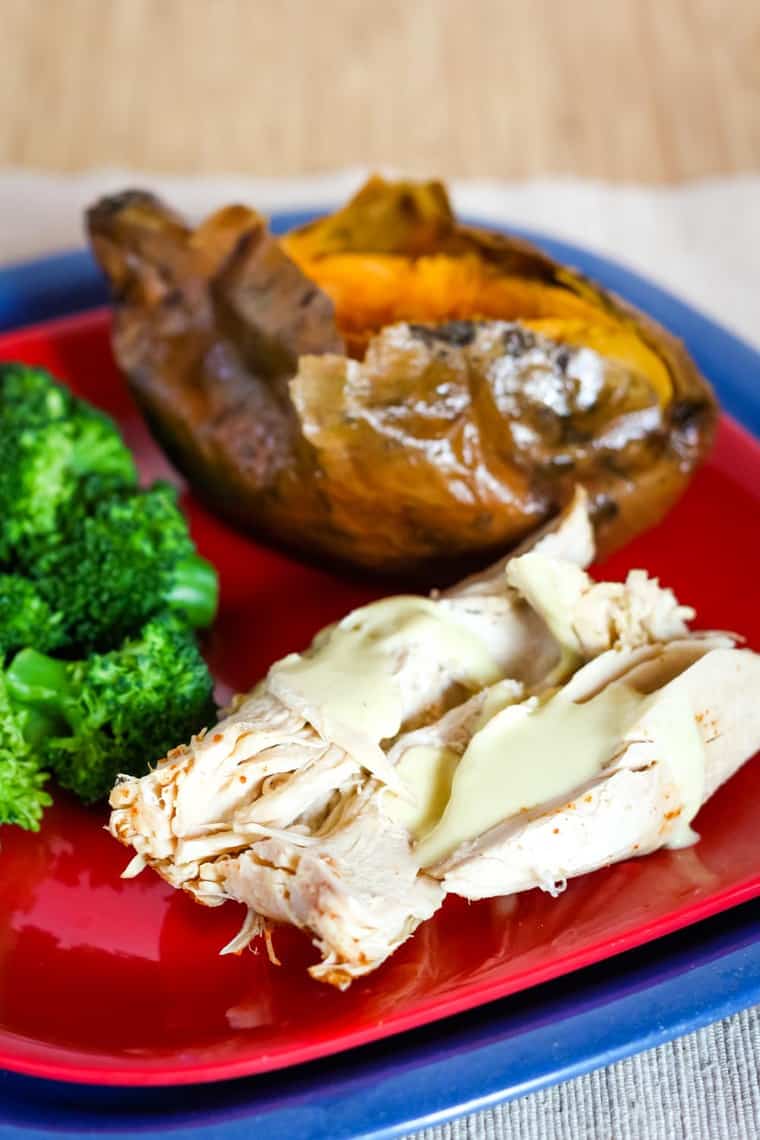 What can you make with leftover turkey?
Remember how I mentioned being a Leftovers Queen? Here's my tip. If you have a family that claims to hate leftovers, turn them into something completely different!
Sure, reliving Thanksgiving dinner a few times over the holiday weekend is fun, but on a regular basis, do you really want to have the same meal on Tuesday that you had on Sunday?
No! So switch it up – put the meat in a soup or pasta sauce, make some paninis or fancy pants grilled cheese, add it to pasta, or toss it into a frittata There are endless leftover turkey recipes and even recipes for leftover chicken that totally work if you swap in turkey breast instead.
Here are some ideas for leftover crock pot turkey breast:
How do you make crockpot turkey stock?
Whether you've made a slow cooker chicken or this turkey breast recipe, you can make poultry stock right in the same crockpot.
After carving the bird, toss all the boned back in the slow cooker.
Add carrots, celery, onion, and ant fresh or dried herbs you have around.
Cover with water
Set it on low and cook for 6-12 hours.
Let cool, strain out the bones and other bits. Use a spoon to skim off some of the excess grease, then use as desired.
If you turn it on at night after dinner, the next morning your whole house will have the aroma of the most incredible stock. You can then freeze in 1 cup portions for use in other recipes. It makes cooked brown rice or quinoa more flavorful. And you can use it in soups like: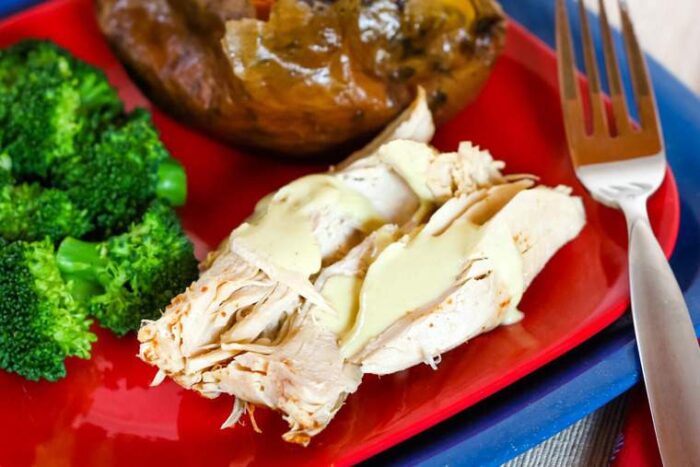 Make it a meal
Busy weeknight
Sunday supper
Small Thanksgiving dinner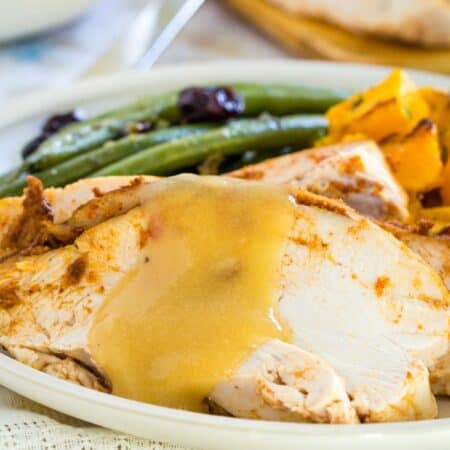 Slow Cooker Turkey Breast
Dry-rubbed with a simple but flavorful blend of spices, this juicy slow cooker turkey breast brings bold BBQ flair to a beloved dish. The tender meat practically falls off the bone, and the seasoning blend packs flavor into every bite.
Ingredients
For the turkey breast:
One 4 to 7 lb turkey breast,

thawed and giblets (if any) and excess fat removed

About 1/2 cup of All-Purpose Red Rub, or your favorite store-bought or homemade barbecue rub

One large onion,

cut into chunks

Gravy,

Creamy Maple Dijon Dressing, or Barbecue Sauce for serving
For the All-Purpose Red Rub:
Instructions
Coat the turkey breast thoroughly with the barbecue rub, inside and out, pressing it to stick it to the meat and pushing some under the skin.

Place the onion chunks inside the cavity and place the turkey skin side up in your slow cooker.

Cook on Low for 5-7 hours, or until it reaches 165°F internal temperature.

Serve with gravy, maple Dijon or honey mustard sauce, or barbecue sauce.
Notes
To Store: Keep in the fridge covered tightly with plastic or sealed in an airtight container for up to 3 days. 
To Freeze: Remove from the bone and seal tightly in a double-lock freezer bag for up to 3 months.
Nutrition Facts
Slow Cooker Turkey Breast
Amount Per Serving (3 oz., cooked)
Calories 258
Calories from Fat 36
% Daily Value*
Fat 4g6%
Cholesterol 138mg46%
Sodium 526mg22%
Potassium 617mg18%
Protein 55g110%
Vitamin A 51IU1%
Calcium 36mg4%
Iron 1mg6%
* Percent Daily Values are based on a 2000 calorie diet.
Categories:
Enjoy!
More amazing meals with built-in leftovers: