This post may contain affiliate links. Read my disclosure policy.
American Family Insurance is inspiring all of us to #ChooseDreams, and that means sitting down not only to #SundaySupper with our families, but also throughout the week. So we are also bringing you a month of #WeekdaySupper recipes for a Family Healthy Fit Lifestyle. For comfort food flavors in a healthy, satisfying dish that is easy to make ahead for busy days, toss together a big bowl of Bacon Ranch Quinoa Chicken Salad.
Bacon Ranch Quinoa Chicken Salad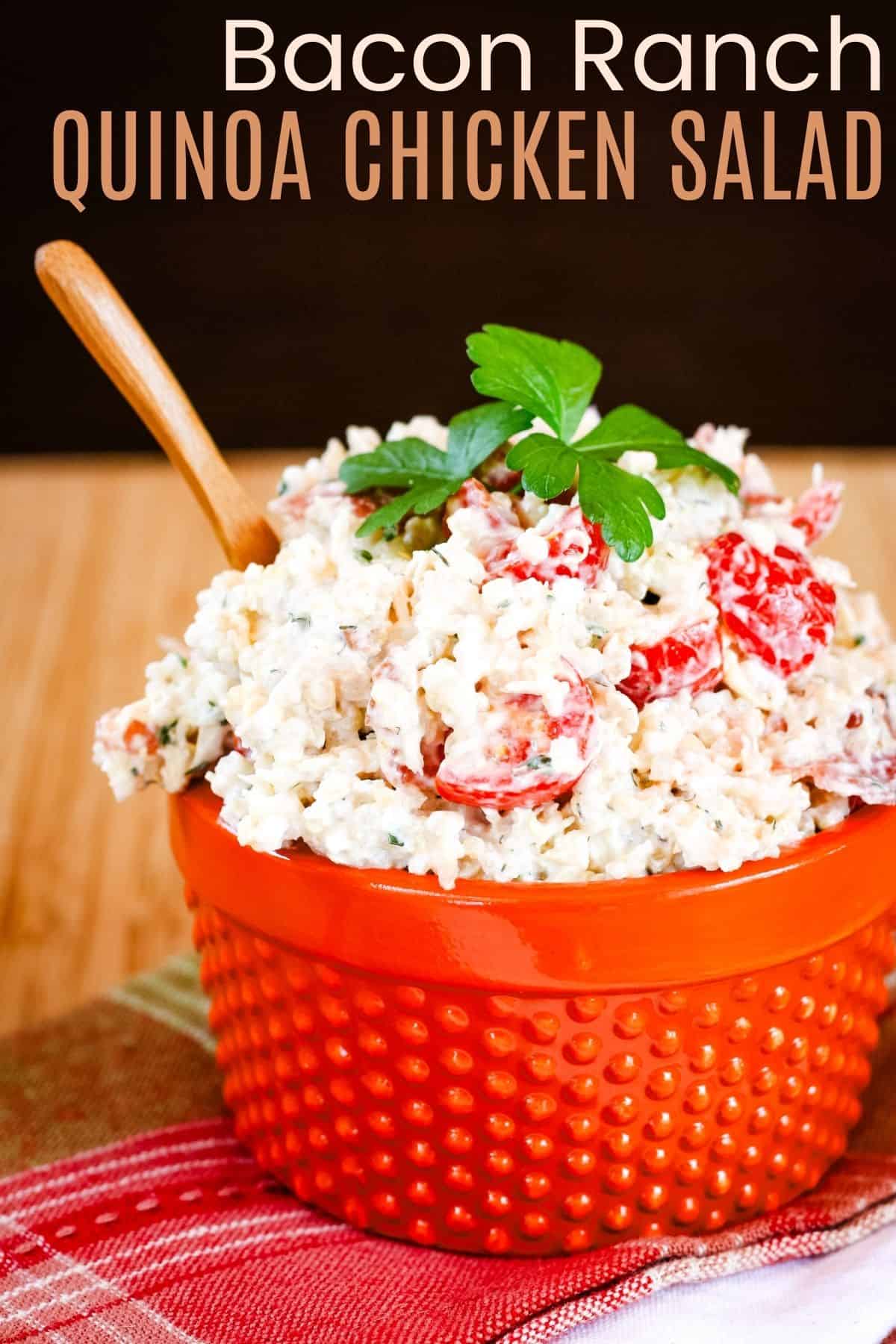 Disclosure: This post is sponsored by American Family Insurance. All opinions are my own.
Ah, summertime! Sun, fun, playing at the park, going to the beach, swimming in the pool, riding bikes, going for walks. It's definitely the time of year when we are all trying to get outside and be more active. It keeps us and our families heathy, fit, and happy. I know my boys love being out in the backyard, and they are even happier when we are at Grandma's and spend our days splashing around in the ocean or pool. SO. MUCH. FUN.
Yeah, till we have been outside so long that the boys are exhausted and cranky. They are covered in sweat and sunscreen, which is basically like superglue for sand, dirt, mulch, or whatever else they have gotten themselves into. This then necessitates a double bath, or at least a preliminary hose-down to remove all of that gunk, lest they be sitting in it once I am actually able to wrestle their overtired, strong-willed little bodies into the tub.
It's not a pretty scene. But it's the price we pay for trying to help the little guys expend some of their boundless energy.
And the craziness doesn't end when back-to-school time is upon us. Those early days of they year when there are parent meetings, sports practices, orientations, shopping for the school supplies you forgot or didn't know you needed. And everything takes longer than usual because we are all tying to settle back into our school-year routine.
So summer or fall, it's always helpful to have a nutritious and delicious, healthy and satisfying dinner that you can make ahead, even the night before, and then just grab and go on those busy evenings. I've got one here for you, filled with all the flavors you and your kids love…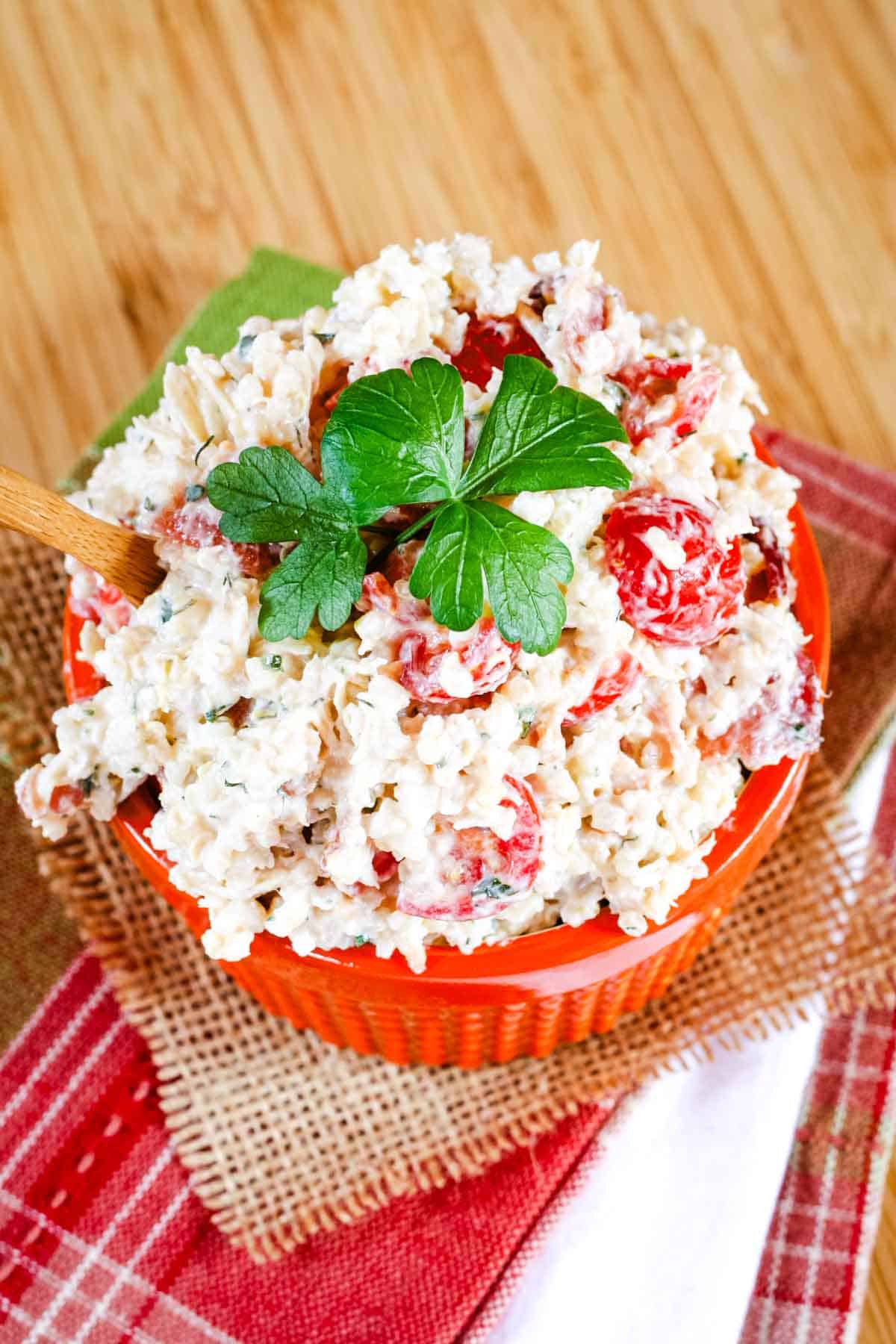 Bacon… check! Ranch… check! Chicken… check! Quinoa… ??? OK, bear with me on this one. You may know I've been on a kick with these quinoa chicken salads after my Hubby and boys surprisingly devoured Strawberry Mango Lime Quinoa Chicken Salad and Mango Avocado Quinoa Chicken Salad. Once cooked and cooled, the quinoa takes on a completely different texture that is much more appealing to my guys, and combined with chicken and tons of other flavors and favorite ingredients, and these recipes have now become staples in our household.
I bet you can convert the most quinoa-resistant folks in your house. Especially when you bring in some comfort food flavors, like Bacon Ranch Quinoa Chicken Salad.
Wait, aren't we supposed to be talking about healthy recipes? Why yes, yes we are! You see, in this entire batch of salad, there are only four slices of bacon that have been cooked and drained well. Just enough to add that smoky, salty flavor. You could even go with turkey bacon! And while you could really use any Ranch dressing or dip that you like, my Pantry Greek Yogurt Ranch Dip adds in tons of protein and calcium, takes out all the funky stuff, and can easily be made with ingredients you always have on hand. Serve it over salad greens, in a wrap, or just alongside some cucumber sliced or steamed carrots or broccoli, and it doesn't get much easier or better for you.
American Family Insurance not only wants to inspire everyone to #ChooseDreams, they also want to help you pursue those dreams. Throughout their social media communities, they will be providing tips and tools, inspiration, statistics and encouragement for dreamers on various topics, and encouraging you to share your stories as we grow this community of dreamers.
That is where Sunday Supper (and Weekday Supper) comes in. Together with American Family, we are giving you recipes and ideas for a Family Healthy Fit Lifestyle, whether this means getting the family outside together, making healthy recipes for performance or families on the go, or being healthy on a budget. So I hope you'll try this and many of the other nutritious and delicious recipes on the Family Health and Fitness #ChooseDreams Pinterest board. We will be pinning lots of amazing Sunday Supper and Weekday Supper recipes, from appetizers and salads to main dishes and desserts, all summer long!
Follow along with American Family on Linkedin, Youtube, Google+, Twitter, Facebook, and Pinterest, and #ChooseDreams!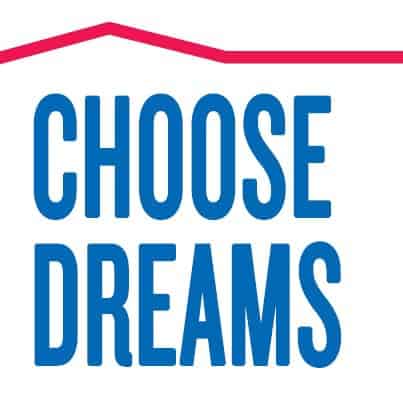 And make sure you check out all of this week's Family Favorites Turned Healthy at the bottom of this post.
How have you been trying to feed your family healthy foods while you've been on-the-go?
Bacon Ranch Quinoa Chicken Salad
Toss together this Bacon Ranch Quinoa Chicken Salad for a healthy, satisfying dish that's easy to make ahead and full of creamy, comforting flavors!
Ingredients
2

cups

cooked and cooled quinoa

previously prepared as per package instructions

1

cup

shredded cooked and cooled chicken

1

cup

Ranch dip/dressing

recommend using Pantry Greek Yogurt Ranch Dip

4

slices

cooked

crumbled bacon

1

cup

chopped tomatoes or halved grape or cherry tomatoes

salt & pepper to taste
Instructions
Combine the quinoa, chicken, and dressing in a large bowl and toss to coat evenly.

Add the bacon and tomatoes, and toss to combine. Add salt and pepper, to taste.

Serve over salad greens or in a sandwich with additional Ranch dip/dressing, if desired.
Categories:
Enjoy!
Looking for some more healthy, easy, make-ahead meals?
And check out the rest of this weeks fast, fresh, healthy #ChooseDreams #WeekdaySupper recipes:
Monday – Grilled Pork Tenderloin with Couscous & Heirloom Tomato Salad by Foxes Love Lemons
Tuesday – Chick Pea Tabbouleh with Grilled Chicken and Artichokes by Bobbi's Kozy Kitchen
Wednesday – Black Bean Lettuce Wraps with Grilled Corn Salsa and Cilantro Lime Rice by Ruffles & Truffles
Thursday – Bacon Ranch Quinoa Chicken Salad by Cupcakes & Kale Chips
Friday – Summer Veggie Medley on Polenta by The Not So Cheesy Kitchen