This post may contain affiliate links. Read my disclosure policy.
While I am wrapped up with feeding an infant, changing diapers, feeding an always ravenous preschooler, putting in a Toy Story DVD, chasing the aforementioned preschooler while holding the aforementioned infant, and all the other insanity that comes along with a new baby, my foodie friends are taking turns in the Cupcakes & Kale Chips kitchen. Make sure you head on over to Pinterest, too, where I will be pinning all of these awesome recipes on my Guest Posts board, plus my Inspiration boards!
Today I'd like to introduce Carrie from Carrie's Experimental Kitchen, who is bringing Avocado Quinoa Salad!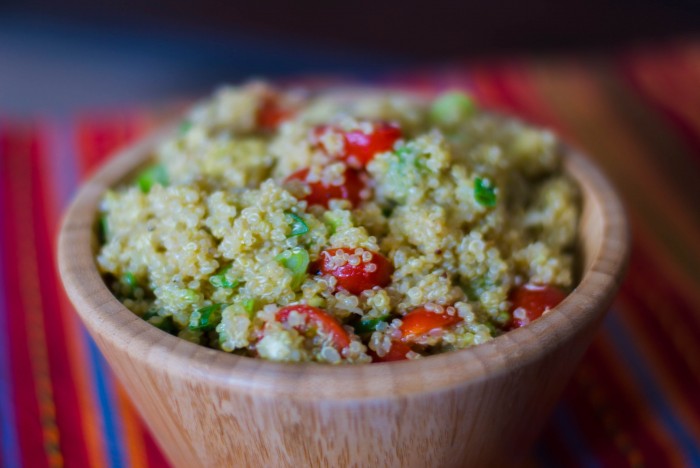 Oh boy, she said two magic words there – avocado and quinoa! I can't wait to try this! You can find Carrie on Google+, Facebook, Twitter, and Pinterest.
Take it away, Carrie…

Hello everyone and thank you for allowing me to share a little piece of myself here at Cupcakes and Kale Chips, it truly is an honor! My name is Carrie Palladino Farias and I am the home chef and photographer behind Carrie's Experimental Kitchen; as well as a recipe contributor to Kitchen Daily, a food sharing website owned by AOL. I am a wife and mother of two girls living in Northwestern New Jersey along with my most recent title as Author to my first cookbook Carrie's Experimental Kitchen: A Collection of Mediterranean Inspired Family Meals (Tate Publishing).
In Carrie's Experimental Kitchen you'll find recipes crafted by experimenting with what I happen have on hand that particular day or what I find during my weekly jaunts to the market. I love the freshness of Mediterranean-style cooking so most of my recipes incorporate those fresh, aromatic flavors. My recipes are easy to recreate at home and are simple to follow, whether you're a kitchen novice or an experienced chef.
I know Brianne cooks a lot of Gluten Free meals so in keeping with her theme, I thought I'd share my recipe for Avocado Quinoa Salad with you today. I only started using quinoa in my cooking about a year ago and so far, I've been able to get my family to eat it in salads, as they seem to prefer it cold. I love the crunchy, nutty texture of quinoa and how it takes on whatever flavors are added to it beautifully and this salad was no exception. I had originally set out to make some pico de gallo to be mixed with the quinoa, but then realized my jalapeño pepper had seen better days and I was out of cilantro, so I came up with this recipe instead.
That day, I had also seen an episode of the Rachael Ray show, where her guest was preparing a recipe that contained cherry tomatoes. While he was cutting them one by one, she said she had a much faster way to do that and it sure was.
Wash your cherry or grape tomatoes.
Get two plastic lids and place the tomatoes in between the two tops. I used the tops from my Rubbermaid plastic containers inverted.
Take a sharp knife and holding the top lid, slide the knife through the two tops horizontally; cutting through the tomatoes.
It really did save some time and this salad was incredibly light and delicious. Enjoy!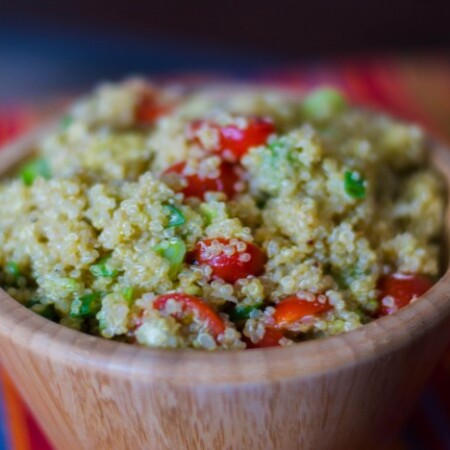 Avocado Quinoa Salad
Avocado Quinoa Salad is an incredibly light and delicious dish with nutty quinoa, creamy avocado, and the zesty flavor of garlic and lime.
Servings:
8
-1/2 cup servings
Ingredients
2

c.

Water

1

c.

Quinoa

rinsed

1

Avocado

peeled and chopped

1

Garlic Clove

minced

1

c.

Grape Tomatoes

halved

1

Lime

juice and zest

¼

c.

Canola Oil

Kosher Salt

to taste

Fresh Ground Black Pepper

to taste
Instructions
Add water to a medium saucepan and bring to a boil; then stir in the quinoa.

Reduce heat to low and cover for approximately 10-15 minutes or until the water has evaporated; then allow quinoa to cool.

Place the cooked quinoa in a bowl and add the avocado, garlic, tomatoes, lime zest and juice and canola oil. Season with salt and pepper.
Notes
*Nutritional Information: Calories 175, Carbs 17g, Fat 11.1 g, Protein 3.7g, Fiber 3.2g, Sugar .5g, Sodium 4mg
*Calculations based on ingredients entered into CalorieCount and may not be 100% accurate
Categories: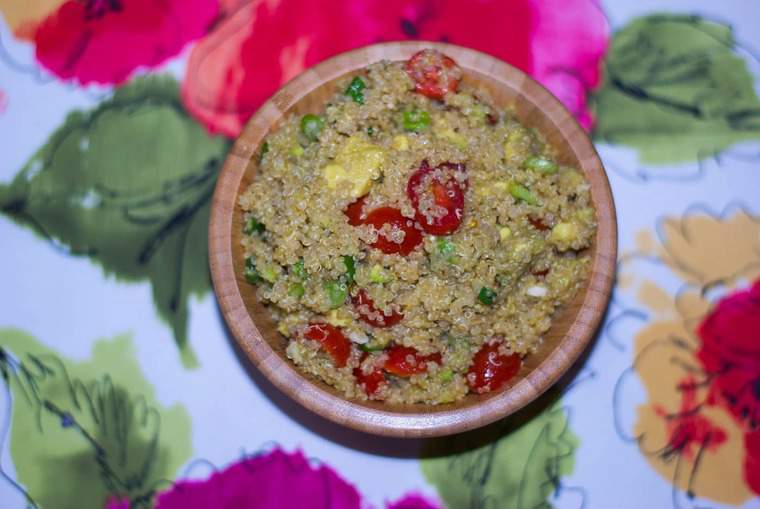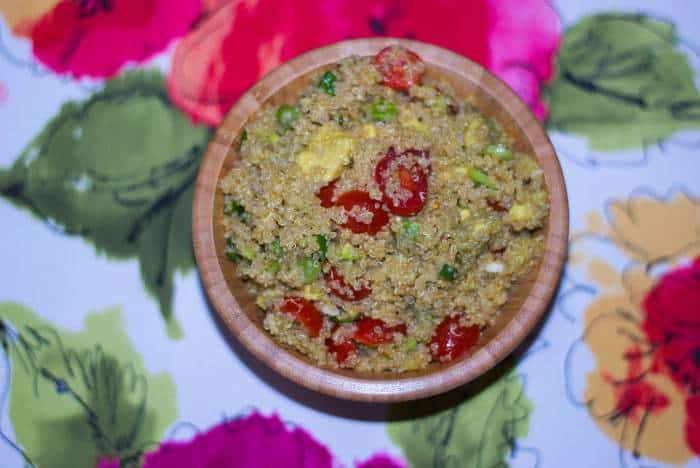 Thanks Carrie! Sounds and looks super-yummy!

Want to see lots more yummy food from me and my friends, and cute pictures of my kid?
Follow me!
Or have Cupcakes & Kale Chips delivered to your Inbox by entering your email in the box on the left sidebar.