This post may contain affiliate links. Read my disclosure policy.
Sweet and tender Air Fryer Butternut Squash is the best versatile side dish! Round out all your fall meals, from weeknights to holiday dinners, with this delicious and easy air fryer recipe. And there are endless ways to change up the flavors!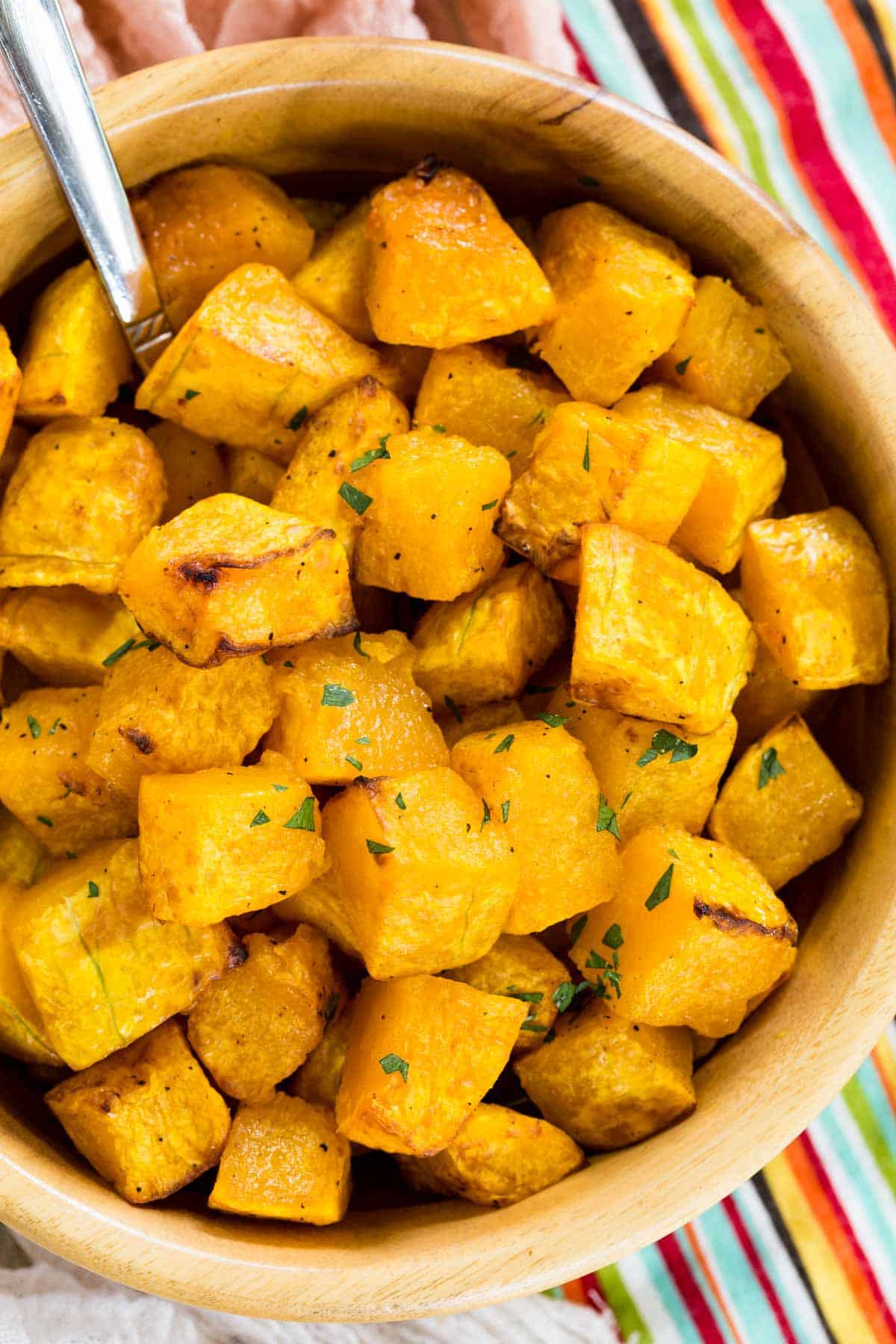 An Easy, Versatile Side Dish with the Flavors of Fall
I don't know what it is about butternut squash that makes it such a perfect fall side dish. But I do know that when the weather cools down, I love to enjoy my favorite winter squash recipes!
It could be that the sweetness pairs deliciously with fall spices, like cinnamon and nutmeg. Or maybe it's because no Thanksgiving or Christmas spread is ever without a platter of perfectly roasted squash around here!
This air fryer butternut squash is one of my favorite things to roast up and customize. Of course, it helps that butternut squash is naturally gluten-free, healthy, and easily "glows up" into the best versatile side dish.
And during the festive season, I'm always planning how to free up valuable oven space. As it turns out, the air fryer may just be the best way to cook butternut squash. It's certainly the quickest! This squash recipe is tender, crisp at the edges, and ready for garnishing in 20 minutes or less.
Is Butternut Squash Good for You?
Yes! Butternut squash is low in calories while being extra high in fiber, vitamins, minerals, and antioxidants. It's a winter squash loaded with disease-fighting benefits, that also happens to taste delicious!
The Ingredients You'll Need
Butternut squash is a simple side dish with boundless potential! Below is what you'll need for roasting squash in the air fryer, with the full amounts further down in the recipe card:
Butternut Squash: You'll need to peel and seed your squash, then cut it into half-inch cubes.
Olive Oil: Use a good quality extra virgin olive oil to coat your squash cubes.
Salt & Pepper
Pecans: Optional, but pecans do add a nice, moreish crunch. Other options are pumpkin seeds, sliced almonds, or chopped walnuts.
Optional Garnish: You can garnish your air fryer roasted butternut with fresh herbs, grated parmesan, lime zest, or crumbled bacon. Or, enjoy your squash as is – totally up to you! See below as well as the recipe card for seasoning variations.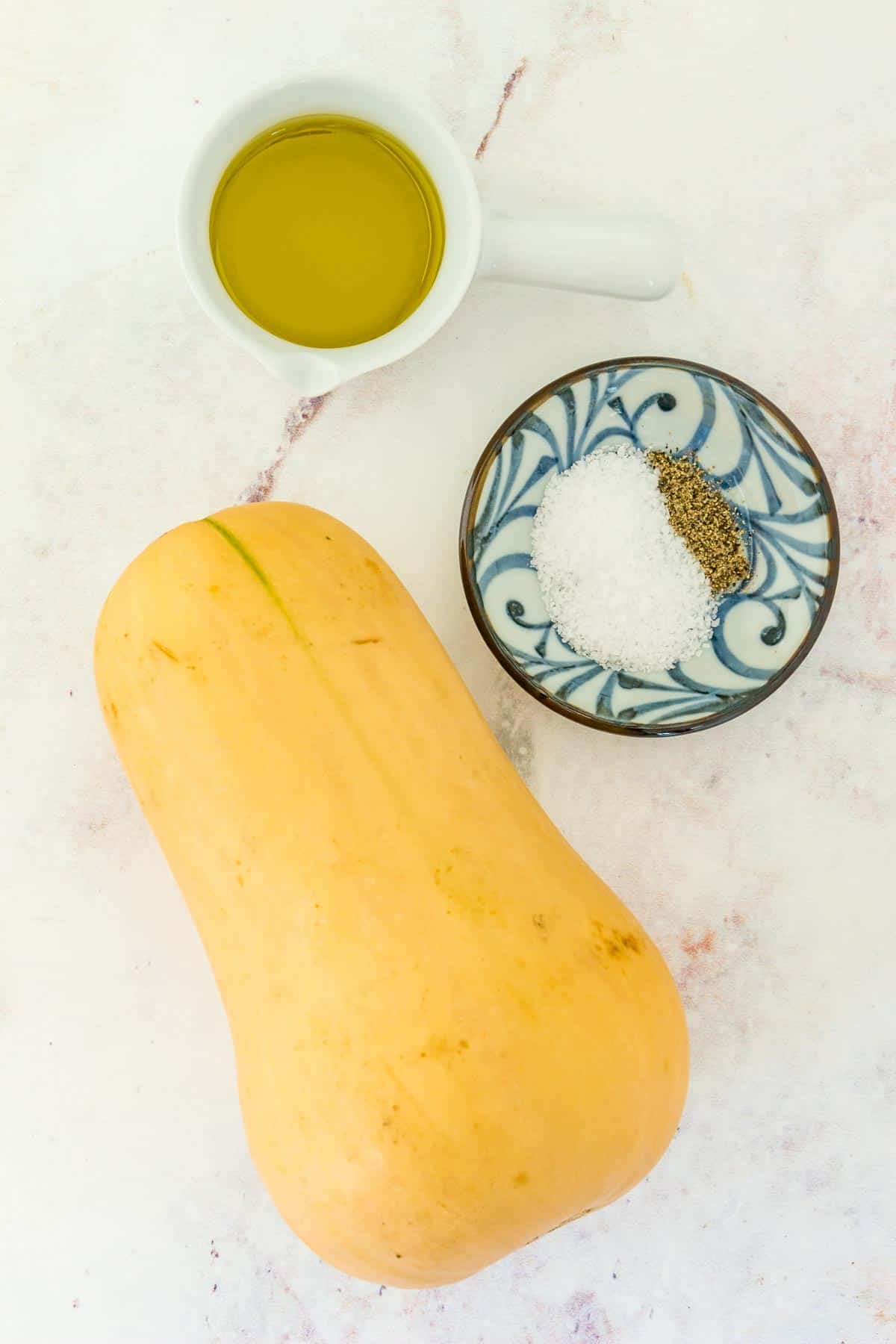 Seasoning Options
Here are just some of my favorite ingredients and combos to dress up this butternut squash recipe:
Variation 1: Maple syrup and cinnamon tossed before cooking, with chopped pecans added later. Or, maple syrup and pumpkin pie spice.
Variation 2: Tossed in lime juice, chili powder, and ground cumin, then sprinkled with lime zest.
Variation 3: Dried herbs (parsley, Italian seasoning, sage, thyme) tossed with grated parmesan cheese before cooking, with an extra sprinkle of cheese and herbs before serving.
Variation 4: Tossed with regular or smoked paprika along with crumbled bacon before serving.
Onion powder, garlic powder, or a combination
How to Make Air Fryer Butternut Squash
Alright, let's roast some squash! First, you'll need to wash, peel, and chop your butternut squash into small pieces. I like to do this while the air fryer preheats.
Once the fryer is heated to 400ºF and the squash is prepped, here's how to cook squash in the air fryer:
Prep the Squash: Combine the butternut squash cubes in a bowl along with a pinch of salt and pepper, plus any other seasonings you'd like. Add olive oil and toss to coat.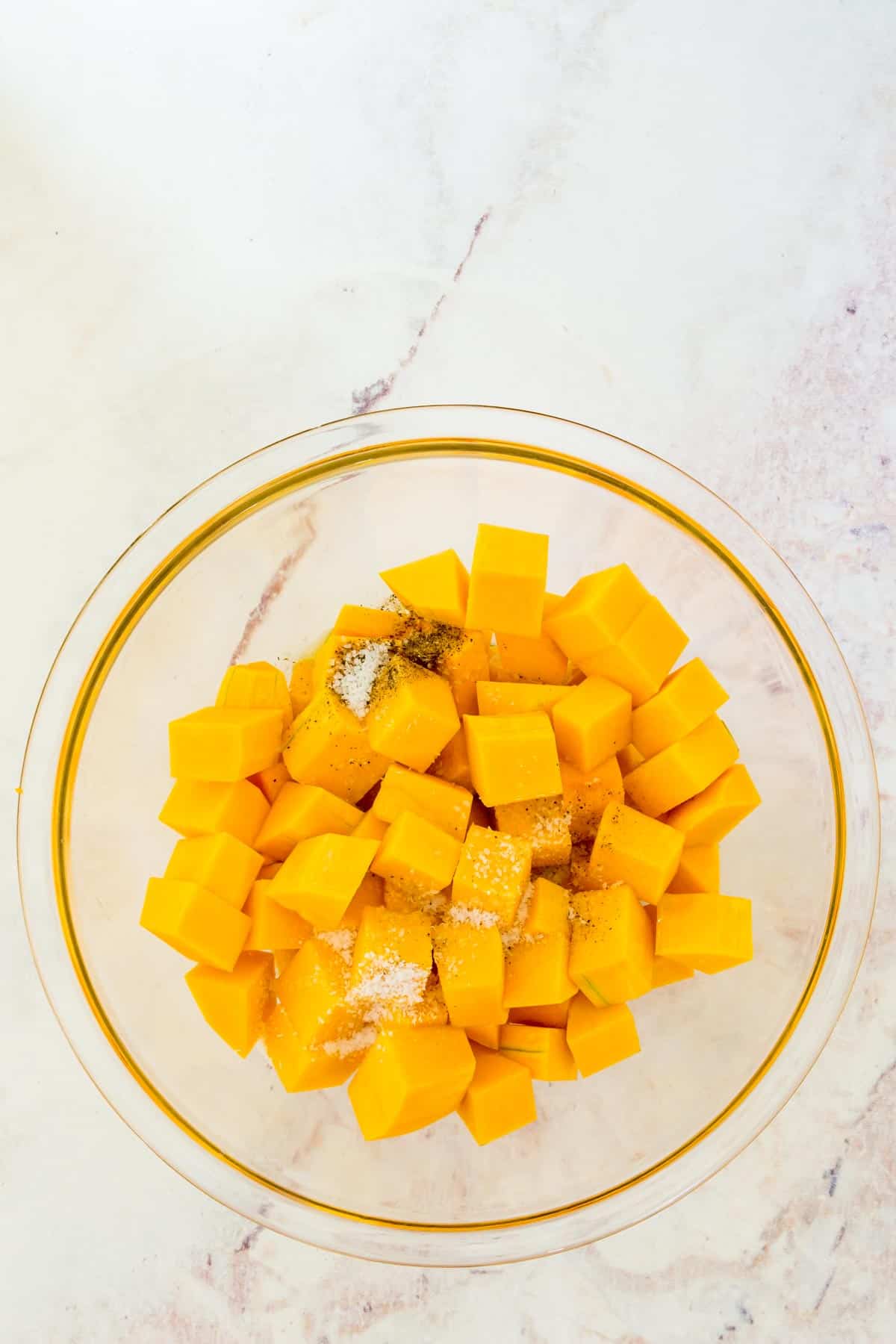 Cook: Give the basket of your preheated air fryer a spritz with oil cooking spray. Avoid non-stick aerosol sprays like PAM (see the tips below). Next, you'll add the seasoned squash into the basket and cook for 16 to 20 minutes. Give the basket a shake about halfway through.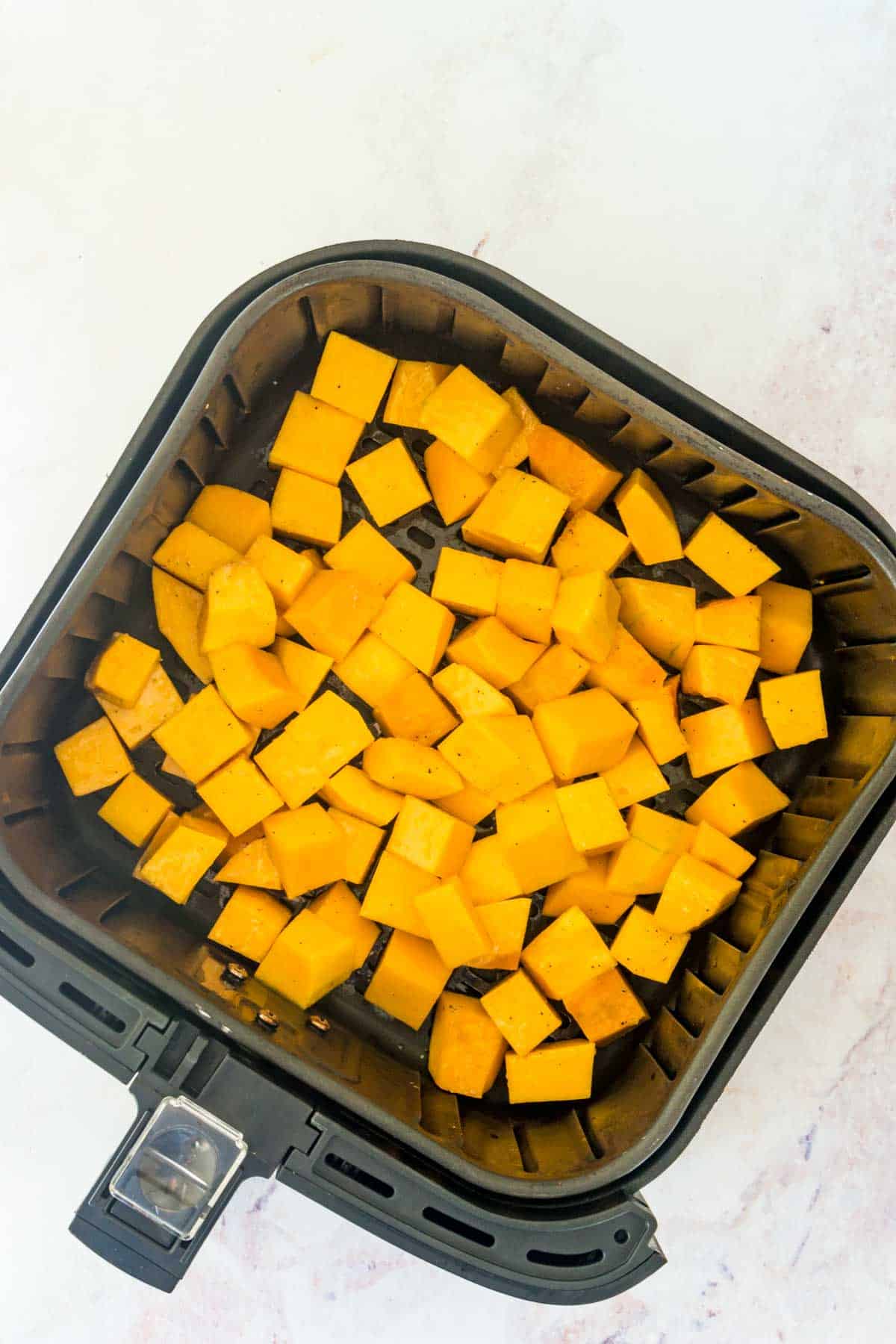 Serve: If you're adding nuts to this recipe, add them towards the end of the cooking time. The butternut squash is ready to serve when the insides are fork tender and the outsides are crispy and golden.
Serve your butternut squash hot from the air fryer, garnished with any herbs, cheese, or add-ins to your family's taste.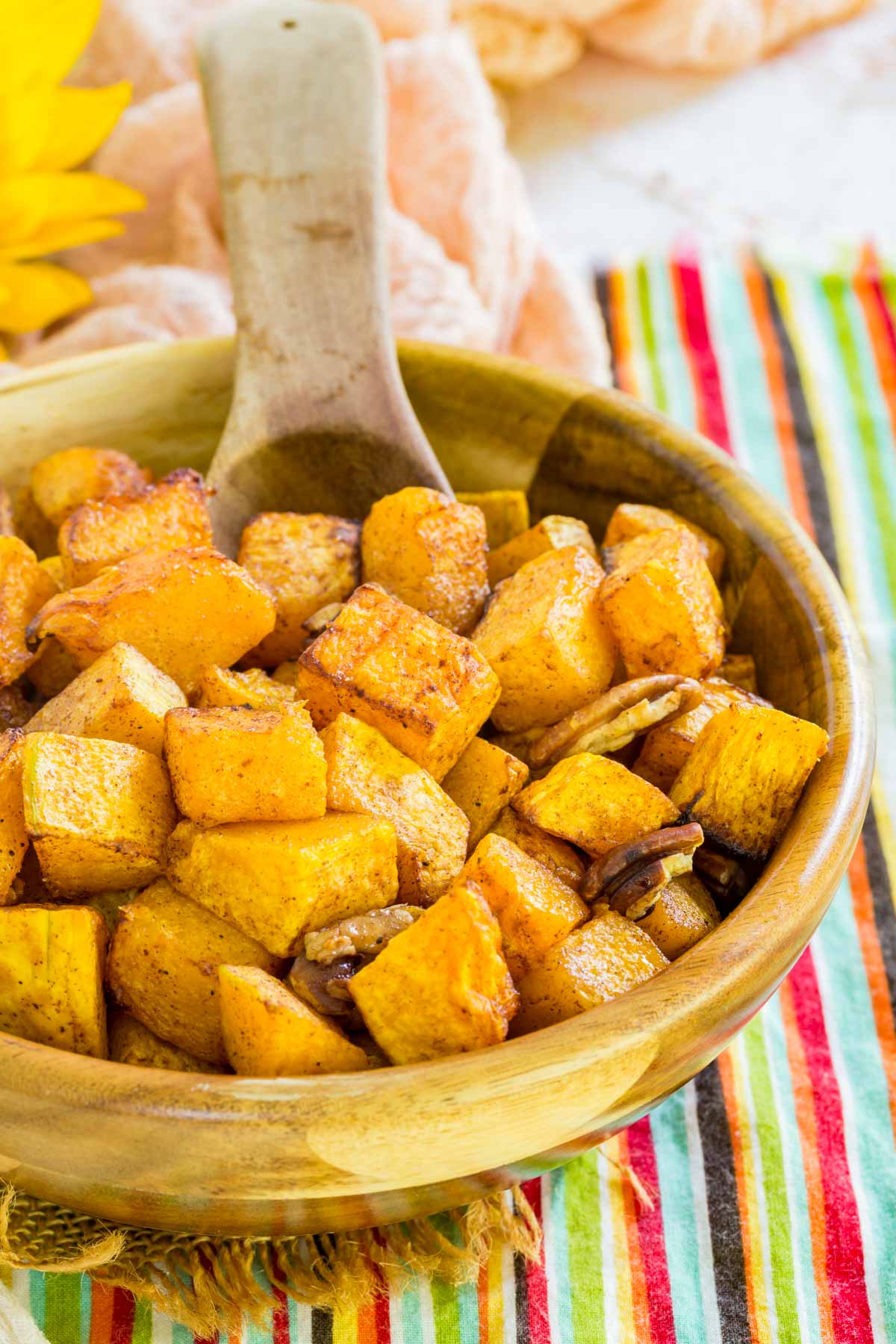 Tips and Tricks
Here are some additional tips to keep in mind when cooking butternut squash in the air fryer:
Never Use Non-Stick Sprays: Aerosol cooking sprays like PAM will damage the non-stick coating on your air fryer basket. In fact, these non-stick sprays shouldn't be used on any non-stick surfaces! When air frying, be sure to use a cooking oil spray instead (such as olive oil or vegetable oil in a spray bottle).
Keep An Eye While Cooking: Not all air fryers are the same. The exact cooking times will vary depending on your model (and also the size of your squash cubes). Begin checking your butternut squash starting around the 15-minute mark to ensure it doesn't overcook.
Oven-Roasted Butternut Squash: If you'd prefer to roast your squash the old-fashioned way in an oven, try my Easy Roasted Butternut Squash recipe.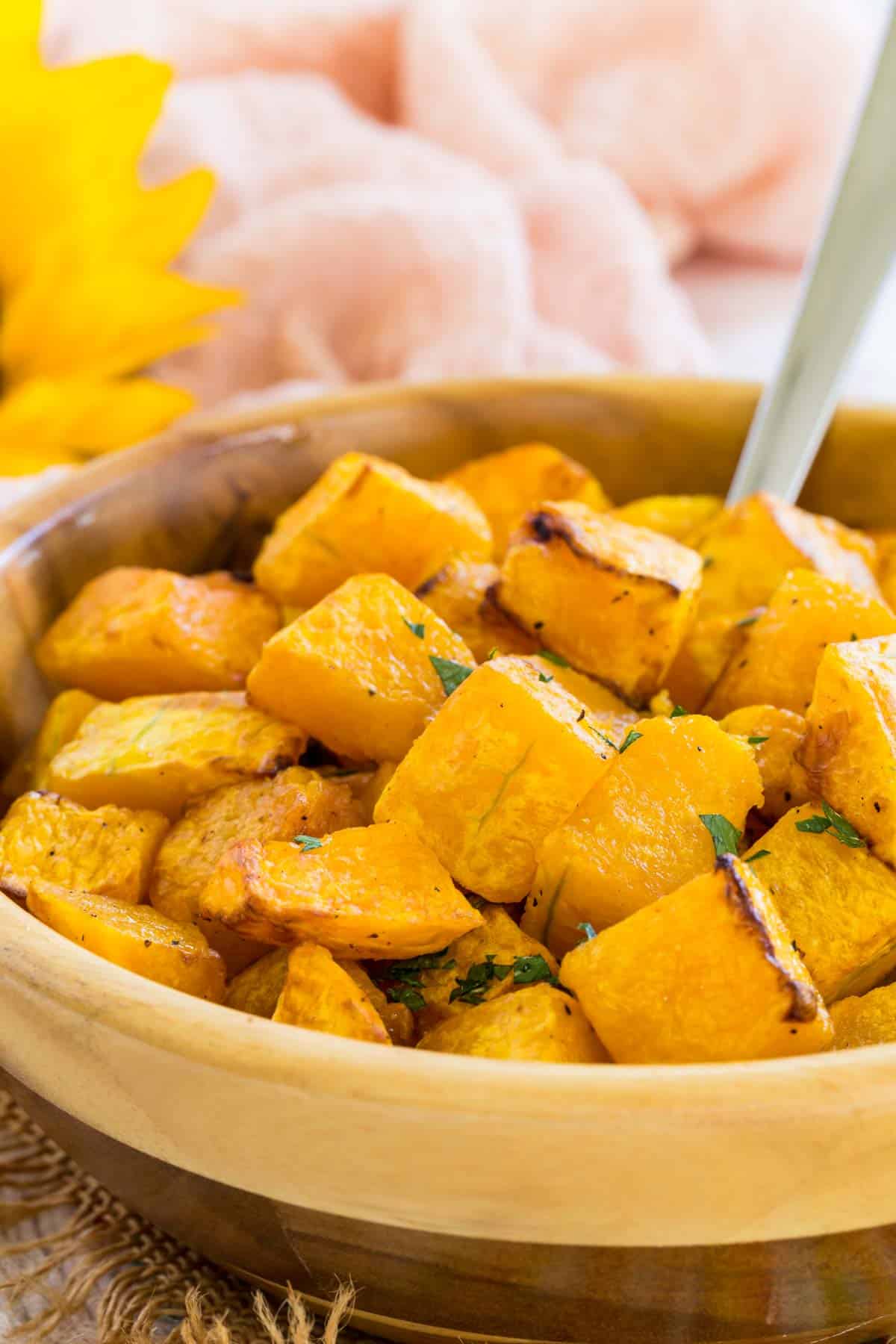 Make It a Meal
This easy air fryer recipe turns out perfectly cooked butternut squash that's ready for any occasion. These delicious and savory squash cubes make a wonderful, zero-fuss veggie side dish to your Thanksgiving Turkey.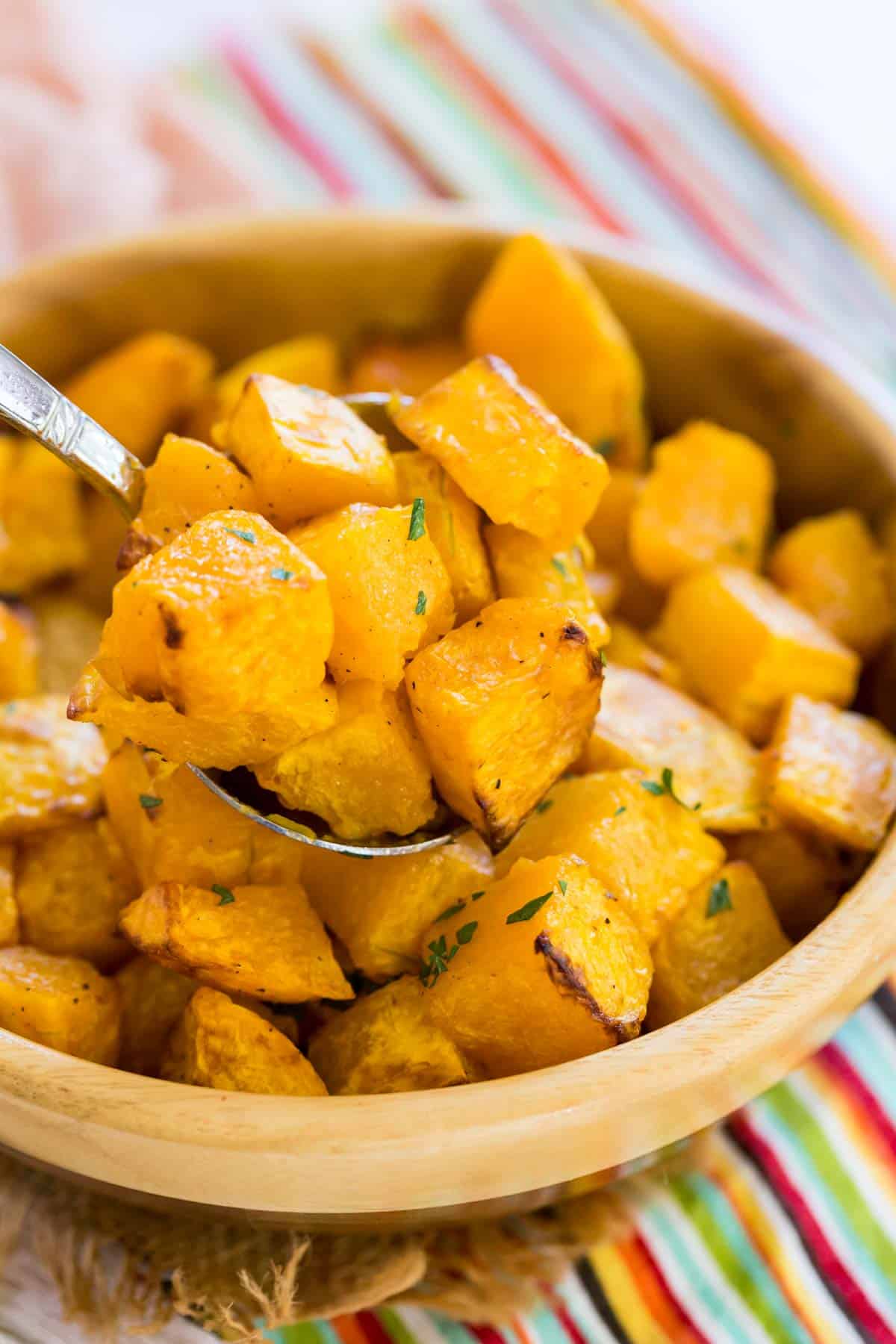 Storing and Reheating
Store the cooled butternut squash airtight in the fridge for up to 4-5 days. Reheat leftover squash by returning it to the air fryer, or heating it in the oven at 350ºF until warmed through. Alternatively, you can warm it in the microwave in a pinch.
The cold butternut squash cubes are great to throw over a fresh green salad. Or, turn your leftover air fryer butternut squash into savory Butternut Squash Soup or Butternut Squash Macaroni and Cheese!
Can I Freeze Air Fryer Butternut Squash?
You can absolutely freeze your air fryer butternut squash for longer-term storage. Store the squash cubes in a freezer-safe airtight container, or resealable freezer bag with the air pressed out. Frozen butternut squash can be thawed in the fridge, or reheated straight from frozen.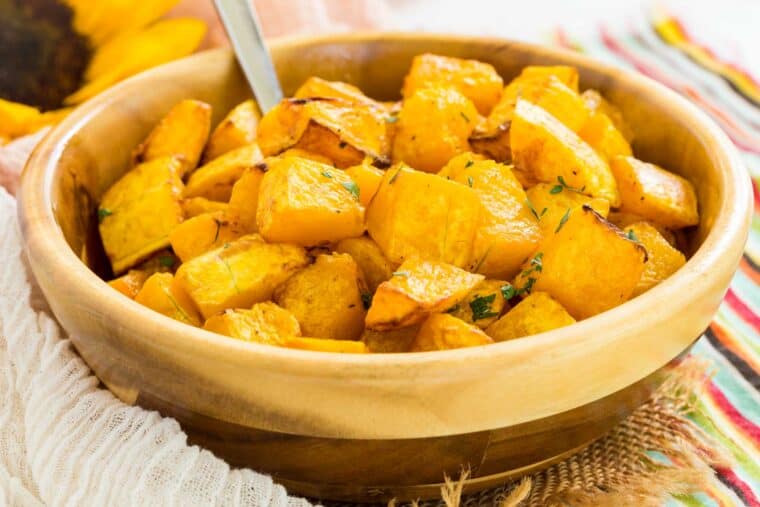 What Air Fryer Should I Buy?
I may not have a lot of extra counter space, but the Cosori 5.8 Qt air fryer has earned a spot on my countertop. I use it all the time for roasting veggies like this, making appetizers like pizza rolls, cooking a whole chicken, or just heating up frozen fries.
$247.00
in stock
1 used from $103.13
as of September 23, 2023 10:10 am
Last updated on September 23, 2023 10:10 am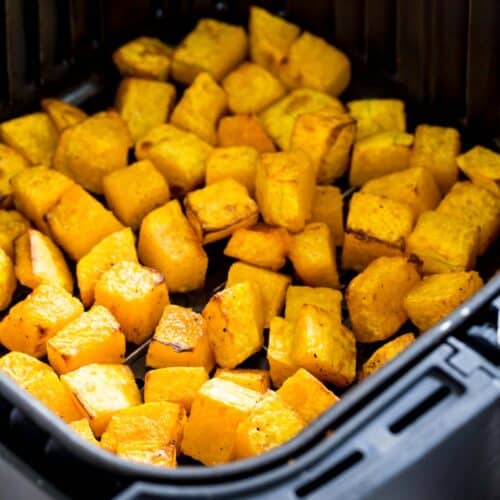 Air Fryer Butternut Squash
Quick and easy Air Fryer Butternut Squash is the best veggie side to round out all of your fall meals, from weeknights to holiday dinners.
Ingredients
2

lb

butternut squash

peeled and cut into half-inch cubes

2

tbsp

olive oil

1

tsp

salt

¼

tsp

pepper

¼

cup

pecans

or pumpkin seeds, sliced almonds, chopped walnuts, etc. (optional)

Fresh herbs, freshly grated parmesan cheese, lime zest, cooked and crumbled bacon, etc. for garnish

(optional)
Instructions
Preheat the air fryer to 400°F. Wash and dry the butternut squash, peel it, and cut it into ½-inch cubes, discarding the seeds.

In a large bowl, toss the squash with olive oil, salt, and pepper, plus any additional seasonings, to coat it thoroughly.

Spread the preheated air fryer basket with an oil cooking spray (Pam is not recommended). Add the butternut squash to the air fryer basket.

Cook at 400°F for 16-20 minutes, tossing after about 10 minutes. Let it air fry until tender, golden brown, and as crispy as you like it. Add nuts during the last 3-5 minutes of cooking, if desired.

Remove from the air fryer and serve hot. If adding fresh citrus zest, fresh herbs, cheese, or cooked bacon, toss it with the cooked butternut squash before serving.
Notes
Seasoning Options:
1 Tablespoon maple syrup or honey + 1 teaspoon cinnamon + ⅛ teaspoon
cayenne pepper (optional)
1 Tablespoon maple syrup or honey + 1 teaspoon pumpkin pie spice
Juice of 1 lime + 1/2 teaspoon chili powder + 1/4 teaspoon ground cumin
1 teaspoon dried herbs such as parsley, Italian seasoning, sage, thyme, or a combination
1 teaspoon regular or smoked paprika
1 teaspoon Blackened seasoning
1 teaspoon onion powder or garlic powder, or a combination
Variation 1: 1 Tablespoon maple syrup + 1 teaspoon cinnamon tossed before cooking, ¼ cup chopped pecans added during the last 3-5 minutes of cooking time.
Variation 2: Juice of one lime + 1/2 teaspoon chili powder + 1/4 teaspoon cumin tossed before cooking, sprinkled with lime zest before serving.
Variation 3: 1 teaspoon + 1 Tablespoon grated parmesan cheese tossed before cooking, sprinkle with fresh parsley and a little more cheese before serving.
Variation 4: 1 teaspoon smoked paprika + 1-2 slices of cooked crumbled bacon, tossed before serving.
Nutrition Facts
Air Fryer Butternut Squash
Amount Per Serving
Calories 138
Calories from Fat 72
% Daily Value*
Fat 8g12%
Sodium 394mg16%
Potassium 550mg16%
Carbohydrates 18g6%
Protein 2g4%
Vitamin A 16075IU322%
Vitamin C 32mg39%
Calcium 76mg8%
Iron 1mg6%
* Percent Daily Values are based on a 2000 calorie diet.
Categories:
More Easy Air Fryer Recipes