This post may contain affiliate links. Read my disclosure policy.
As the temperature drops, you may think that most fresh veggies are out of season. But this is the time of year to enjoy all of your favorite Winter Squash Recipes. From butternut squash to kabocha, spaghetti squash to acorn, and yes, even pumpkin, there is an abundance of savory dishes to enjoy with these cold-weather vegetables.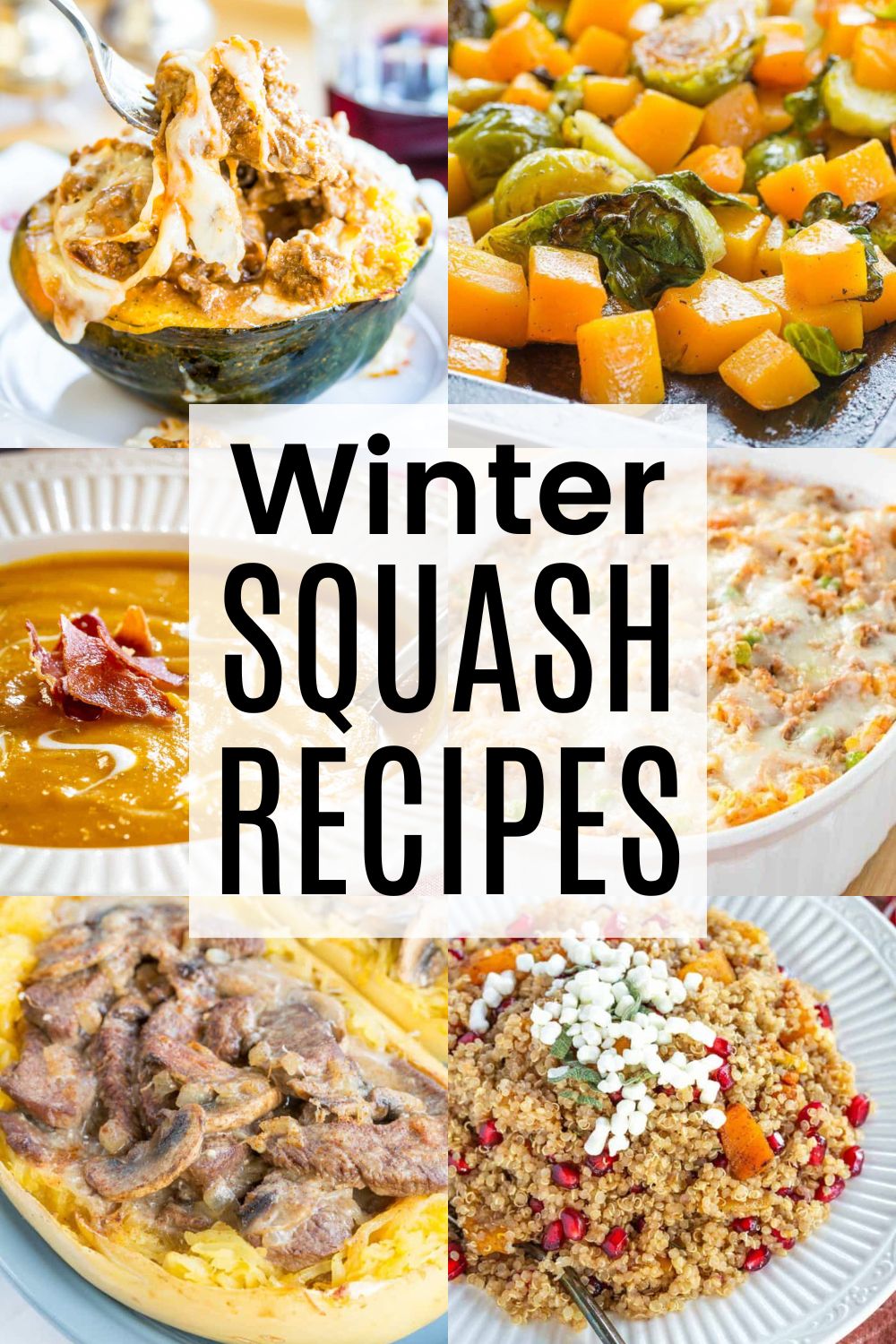 What is considered a winter squash?
Harvested in the fall, but hardy enough to be stored through the winter, the oddly-shaped, thick-skinned fruits (yes, botanically a fruit, though often treated as a vegetable in cooking) that you see in the colder weather months are known as winter squash.
Winter squash are very nutritious and naturally gluten free. They are low in fat and relatively low in calories, but are nutrient-dense and filling with a low glycemic load. These squash are also rich in beta-carotene and Vitamin A, as well as good sources of Vitamin C, potassium, and fiber.
And they come in a number of different colorful varieties for you to enjoy in so many delicious winter squash recipes.
Varieties of winter squash
Butternut Squash: Has tan skin and orange flesh with a long neck and bulbous bottom that contains the seeds. They have a somewhat sweet flavor.
Pumpkin: The ones you eat are typically smaller than a traditional Halloween pumpkin, and these have a thick layer of flesh and orange skin. They are sweet with an earthy flavor.
Acorn Squash: Known for its acorn shape and deep ridges, you want to eat the orange flesh while the skin is still green. They have a mild, slightly sweet flavor.
Spaghetti Squash: This squash usually has a yellow color with pale flesh that comes apart in noodle-like strings when cooked (check out five ways to cook spaghetti squash). It has a very neutral flavor.
Delicata Squash: This long, cylindrical squash is yellow with green stripes in the ridges, and pale orange flesh. The flavor and texture is similar to a sweet potato.
Kabocha Squash: These look similar to a knobby, green pumpkin and have bright yellow-orange flesh. They taste sweeter than butternut squash and nutty.
Buttercup Squash: Has a similar appearance to kabocha squash but with a flatter top and a circular ridge on the bottom, and yellow-orange flesh. It is sweet but with a dry texture compared to other winter squash.
These are the most common varieties for cooking, but others include carnival squash, sweet dumpling squash, hubbard squash, red kuri squash, and more. Check out your local farm stands and markets to explore all of these different types.
Do you peel winter squash before cooking?
Winter squash generally has a thick rind. While it is technically edible and does usually soften some during the cooking process, it is quite tough. So most people do not eat it. However, whether you peel it or not before cooking depends on the winter squash recipes you are making and how you will be using it in the dish.
It can be hard to peel, so make sure you have a strong, sharp peeler. You can also microwave the squash for a few minutes to start to soften the skin and make it easier to peel.
Savory Winter Squash Recipes
You are sure to enjoy all of these savory dishes featuring the slightly sweet and earthy flavor of winter squash. The mild flavor pairs well with so many different dishes. While you will often find them seasoned with warm spices like cinnamon and ginger, they are also complemented by many different seasonings and spices. This collection of recipes will show you the versatility of the different varieties.