Baked Spaghetti Squash with Spicy Sausage Tomato Cream Sauce
Disclosure: This post may contain affiliate links. Cupcakes & Kale Chips is a participant in the Amazon Services LLC Associates Program, an affiliate advertising program designed to provide a means for us to earn fees by linking to Amazon.com and affiliated sites.
Baked Spaghetti Squash with Spicy Sausage Tomato Cream Sauce is healthier and veggie-packed comfort food. This creamy and cheesy spaghetti squash casserole is an easy dinner recipe that's also low carb and gluten free. It's a great gluten free casserole recipe any night of the week!


MY LATEST VIDEOS
Baked Spaghetti Squash Casserole with Spicy Sausage Tomato Cream Sauce
I've gotten a few people intrigued by spaghetti squash, and some who haven't had it in awhile are looking for new ways to use it. Sometimes I am happy to just eat it with basic tomato sauce, Vegan Vegetable Tomato Sauce with Chickpeas, or even Classic Vodka Sauce. And the other day, when I was craving fall flavors, I poured over Pumpkin Cauliflower Alfredo.
But other times I want a change from just topping it with a sauce. This recipe has been a favorite of several friends over the years, plus my family as well.
Although I must say, I do have a love-hate relationship with spaghetti squash. Yes, it's a great pasta alternative for people like me who have to avoid gluten, or those that have to watch their carb intake. Plus it's delicious. I'd actually take spaghetti squash over noodles any day. But seriously, I'm afraid I'm going to lose a finger every time I try to hack into one.
Yes, I know you can bake it without cutting it in half, but I find that it retains a little too much moisture, especially when you are putting it into a spaghetti squash casserole like this recipe. And extricating the seeds and the fine stringy things from the squash "noodles" is definitely harder than just scraping them out of a raw spaghetti squash.
I just continue to put my life on the line so I can make deliciousness like this…
Baked Spaghetti Squash with Spicy Sausage Tomato Cream Sauce is a healthy, low carb, gluten free dinner even the biggest pasta-lovers will enjoy!
Here's what you need to do:
Cook your spaghetti squash (I'll tell you more about how to do that below) and scrape out the "noodles" with a fork.
Brown the sausage in a pan, then add onion and cook till soft and translucent. I like to use turkey sausage, but traditional hot pork sausage will work. I suppose you could even use ground beef and then add a little red pepper flakes for that kick.
Next you'll add wine, a can of crushed tomatoes, and some seasonings.
Let it simmer a bit before stirring in heavy cream, parmesan cheese, and frozen peas.
You'll then pour the sauce over your spaghetti squash. If there's too much, just save the extra to pour over later or to use for something else.
Transfer the saucy squash noodles to a baking dish, top with mozzarella cheese and parmesan cheese, then bake until hot, melty, and golden.
You really don't need anything else, but you can serve it with a simple side salad with Greek Yogurt Creamy Balsamic Vinaigrette or an Italian Style Wedge Salad.
Maybe you haven't tried spaghetti squash yet. This is a great recipe to make to start out because it is super easy and absolutely delicious. But if you aren't quite ready to make the spaghetti squash leap, at least try the sauce over some spaghetti or penne or whatever pasta shape you prefer. With the little bit of kick from the spicy sausage smoothed out by the bit of cream that makes the sauce rich and velvety, you are going to want to pour it over everything. I added few peas for a pop of texture and color, and of course we all know that no pasta (or fake pasta) casserole is complete without some cheese on top. You guys, I know this is the most cliche and overused word to describe a dish, but seriously, it is really yummy! I hope you'll try it soon!
In order to make this recipe, you need the "noodles" from a cooked spaghetti squash, so here are some tips.
How to Bake Spaghetti Squash:
Preheat your oven to 400ºF.
Wash your spaghetti squash.
Cut it in half lengthwise with a large knife.
Scrape out the seeds and the fine strings. A large soup spoon is helpful for this.
Place both halves cut side down on a cookie sheet that has been sprayed with olive oil or cooking spray.
Put the baking pan into the preheated oven.
Bake for 30-45 minutes (depending on the size of your squash, maybe a bit longer if you have a really big one), or until the outside is slight browned, and the flesh is soft enough to be scraped out easily with a fork.  I usually start poke it with a fork around 30 minutes, and then keep an eye on it if it isn't ready.
Scrape out the spaghetti squash strands with a fork (or two).
Alternatively you can bake the squash whole after pricking it with a fork a few times. It may take up to an hour. Cutting the spaghetti squash in half is then easier because the skin is softer. Just discard the seeds and fine strands and scrape out the "noodles"
You can also check out how to cook spaghetti squash in rings which requires more cutting but cooks faster.
Besides Baking, How to Cook Spaghetti Squash
What else can you make with spaghetti squash?
And how about 12 of the Best Spaghetti Squash Recipes!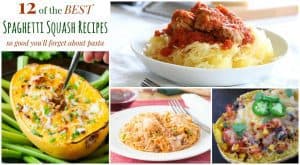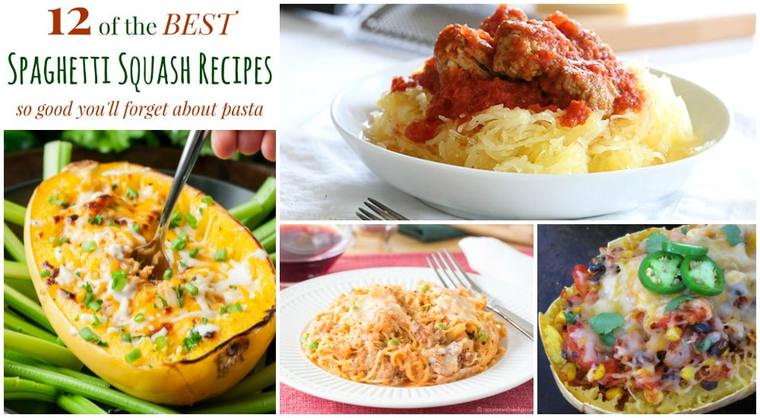 My friends also have some other amazing spaghetti squash recipes. Turn your favorite dip into dinner with Spinach Artichoke Spaghetti Squash from Taste and Tell. Proving simplest is best is this Cacio e Pepe Spaghetti Squash from A Family Feast. And a classic gets lightened up with Chicken Cacciatore Stuffed Spaghetti Squash from Sugar Free Mom.
For more yumminess from me and my foodie friends, keep up with me on…
Or sign up to have Cupcakes & Kale Chips delivered straight to your Inbox!
Baked Spaghetti Squash Recipe with Spicy Sausage Tomato Cream Sauce
This spaghetti squash casserole is a healthy, gluten free, low carb comfort food that's just as creamy, cheesy, and delicious as any pasta casserole recipe. It's hearty and satisfying with just a bit of heat from a few links of spicy sausage to add the perfect amount of kick.
I hope you'll leave a comment and give it a FIVE STAR rating or share a photo on this pin on Pinterest!

Print Recipe
Baked Spaghetti Squash with Spicy Sausage Tomato Cream Sauce
A healthy, gluten free, low carb comfort food that's just as creamy, cheesy, and delicious as any pasta casserole recipe.
Ingredients
1

spaghetti squash

3

sausage links

I like to use hot turkey sausages, but you can use the meat of your choice, and mild or hot

1/2

large

sweet onion,

chopped

1/4

cup

red wine

15

oz

crushed tomatoes

(I typically use Tuttorosso when I am using crushed tomatoes. It has a little basil in it, so if you use a brand without basil, you may want to add a little fresh or dried)

1/2

teaspoon

dried oregano

1/2

teaspoon

kosher salt

freshly ground pepper

1/4

cup

heavy cream

1/4

cup

grated parmesan cheese

1

Tablespoon

fresh parsley

or 1 teaspoon dried parsley

1/2

cup

frozen peas

optional

1/4

cup

shredded mozzarella cheese

3

Tablespoons

grated parmesan cheese

for topping
Instructions
Cook the spaghetti squash in your desired manner (se post for tips) and scrape out the "noodles". Preheat or keep your oven set at 400ºF.

Heat a pan over medium heat, and spray with olive oil or cooking spray.

Squeeze the sausage out of the casings into the pan, and cook until is starts to get nice and brown.

Add the onions and saute until translucent and soft.

Add the wine, tomatoes, oregano, salt, and pepper, and simmer until it is hot and the onions are fully cooked.

Stir in the heavy cream, parsley, ¼ cup parmesan cheese, and frozen peas.

Pour enough sauce over the squash noodles (or pasta) until it is as saucy as you like (I like mine less saucy as my husband, so there may be some extra sauce, which you can serve on the side).

Pour the mixture into a glass baking pan or casserole dish (I use the 1½ qt. oval Corningware) that has been sprayed with olive oil or cooking spray.

Sprinkle the mozzarella cheese evenly across the top of the casserole.

Bake for about 10-15 minutes, or until hot and bubbly, and the cheese is golden brown.
Nutrition
Serving:
1
g
|
Calories:
298
kcal
|
Carbohydrates:
28
g
|
Protein:
12
g
|
Fat:
15
g
|
Saturated Fat:
7
g
|
Cholesterol:
45
mg
|
Sodium:
772
mg
|
Potassium:
683
mg
|
Fiber:
6
g
|
Sugar:
12
g
|
Vitamin A:
21.9
%
|
Vitamin C:
28.4
%
|
Calcium:
25.6
%
|
Iron:
15.8
%
Enjoy!
Originally published on March 10, 2012. Photos updated on March 28, 2016.