This post may contain affiliate links. Read my disclosure policy.
This is the easiest recipe for Gluten-Free Gnocchi! A classic Italian dish made with only 4 ingredients, you can whip up a batch of tender potato gnocchi, top it with your favorite pasta sauce, and dig in for an easy family dinner.
Looking for more pasta recipes? Try my World's Best Lasagna Recipe or this Gluten-Free Lasagna!
Easy 4-Ingredient Potato Gnocchi Recipe
Gnocchi is just one of those dishes that never fails to satisfy. You can dress it up, or keep it simple, and it's always delicious! There's just something about these tender potato pasta pillows that we'll never tire of in our household.
This recipe for gluten-free gnocchi is basically foolproof, and so fun to make. The prep work is quick and easy, and the recipe calls for only four pantry ingredients! The end result is light and fluffy gnocchi that you can cook and serve with your favorite sauces, from garlic and sage butter to bolognese, and more! Homemade gnocchi is a wholesome meal all on it's own, or perfect to enjoy with other Italian-inspired dishes.
What is Gnocchi?
Not quite a traditional pasta, gnocchi (pronounced "noh-kee") is an Italian "dumpling" made from potato, flour, and egg. These soft, pillowy dough nuggets are about the size of a wine cork and are boiled, then tossed in butter or sauces. Gnocchi doesn't have much flavor on its own since potatoes are fairly bland, but that's exactly why they are so fantastic – they take on the flavor of whatever pasta sauce you add to them.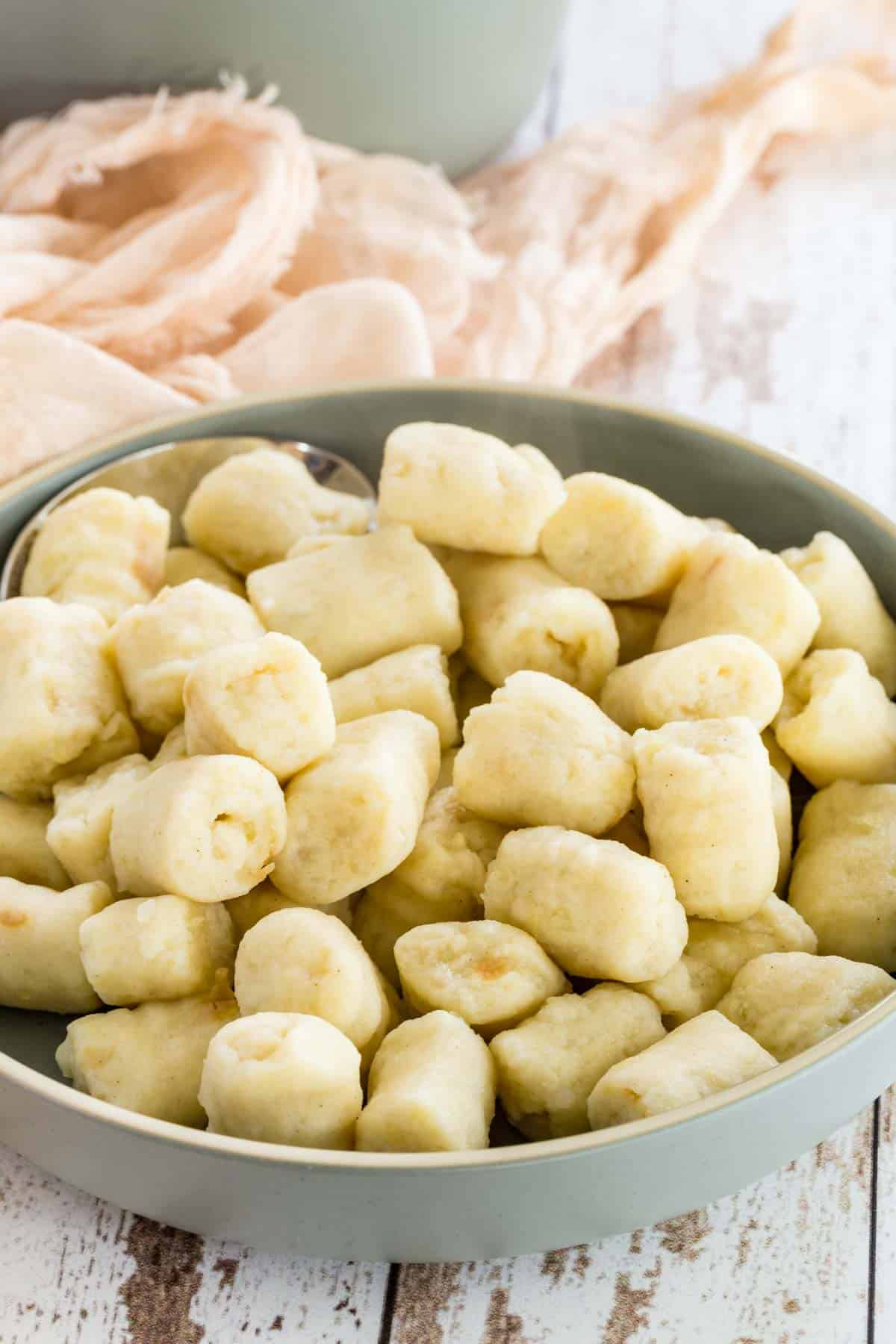 Ingredients You'll Need
Oftentimes it's the simplest recipes that taste the best! Here are the 4 ingredients you need to make your own homemade gnocchi:
Potatoes: I use Russet or Idaho potatoes, though Yukon gold potatoes are also great for making the best, fluffy gnocchi.
Gluten-Free Flour: I always turn to King Arthur Measure-for-Measure when making this gnocchi, and the texture comes out perfect!
Eggs
Salt
What Kind of Potatoes Are Best?
As mentioned, russet, Yukon gold, and Idaho potatoes are all starchy varieties that work well for this gnocchi recipe. When choosing your potatoes, aim for older ones, as newer potatoes hold too much water (and will absorb more flour as a result).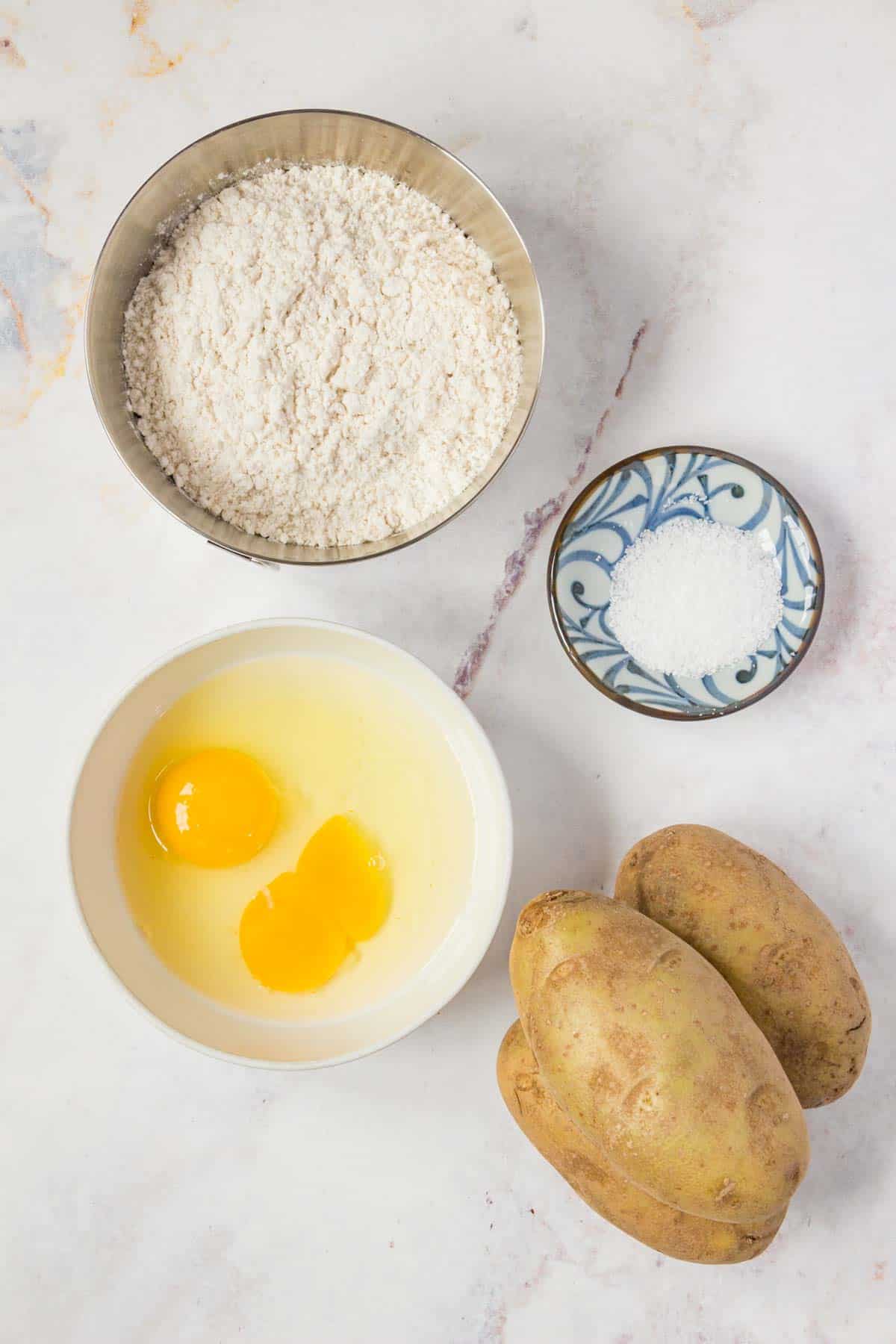 How to Make Gluten-Free Gnocchi
Making gluten-free gnocchi at home is so easy. There's also something so satisfying about rolling your own pasta! Here's how to do it:
Roast the Potatoes: Roast the potatoes until they're fully cooked and tender, then let them cool before removing the skins.
Make the Dough: Place the cooked and peeled potatoes in a bowl and mash them, along with the salt and eggs. Slowly add in the flour to form the dough.
Roll the Dough: Divide the dough and roll the pieces into half-inch logs. Next, cut the logs into gnocchi. If you'd like, you can gently roll the gnocchi pieces down a gnocchi board or the tines of a fork to create the classic indents.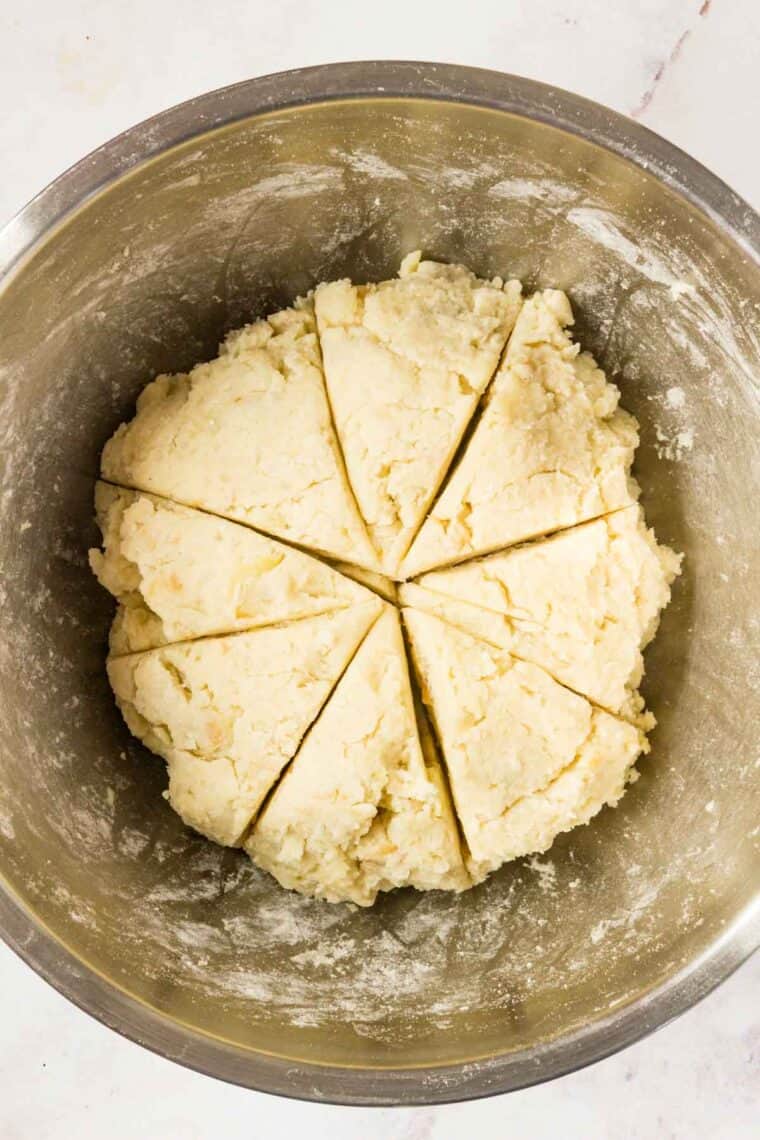 Boil the Gnocchi: Transfer the gnocchi to a large pot of salted boiling water. Cook the dumplings just until they start to float to the top of the water, then scoop them out or drain them.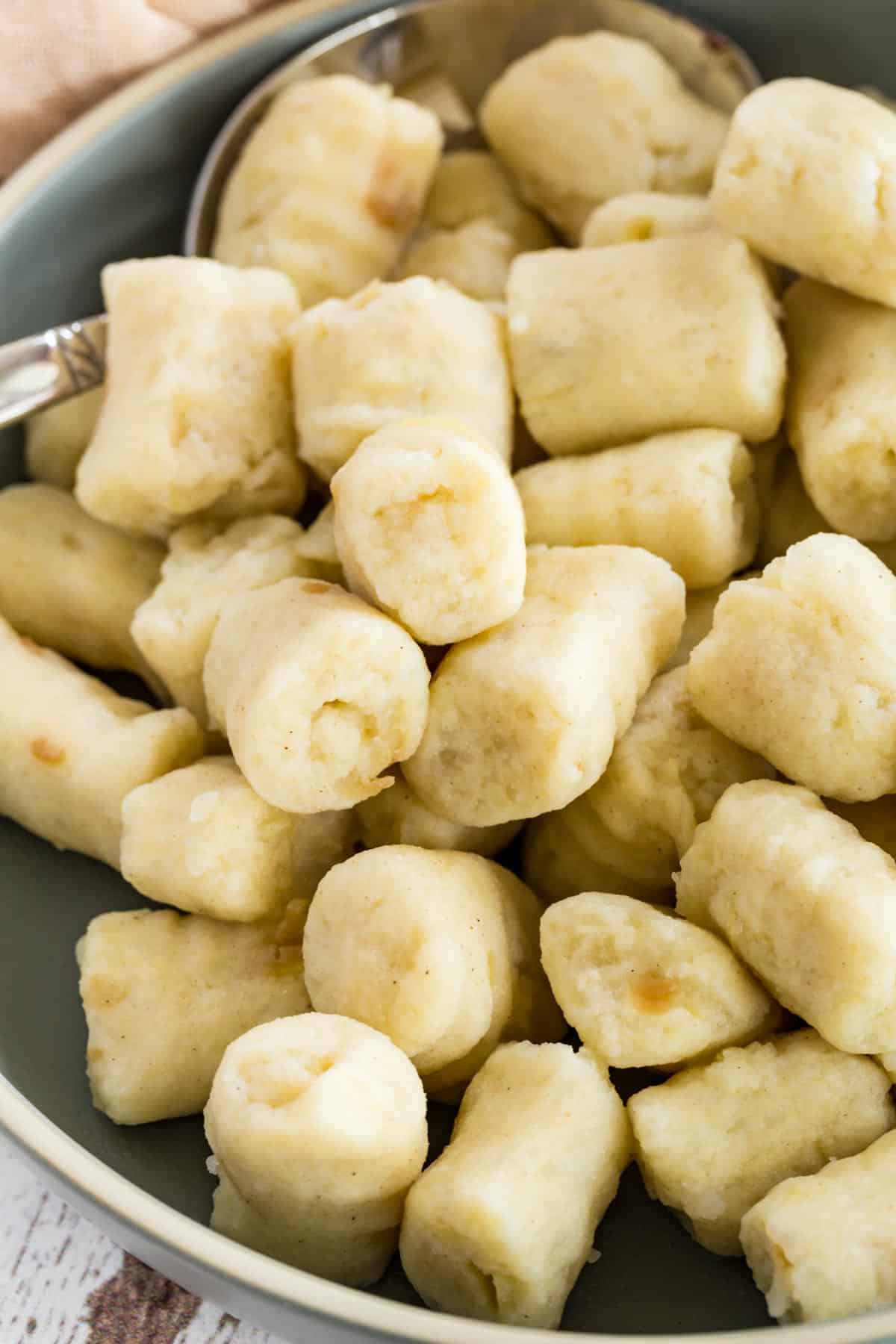 You can serve your potato gnocchi right away, or lightly cook them in a skillet with butter to brown them a bit. Toss them in your favorite sauce, and enjoy!
What kind of sauce goes with gnocchi?
There really isn't an Italian sauce that doesn't go with gnocchi. Try it with any of your favorites.
Herb Butter
Pesto
Arrabiata Sauce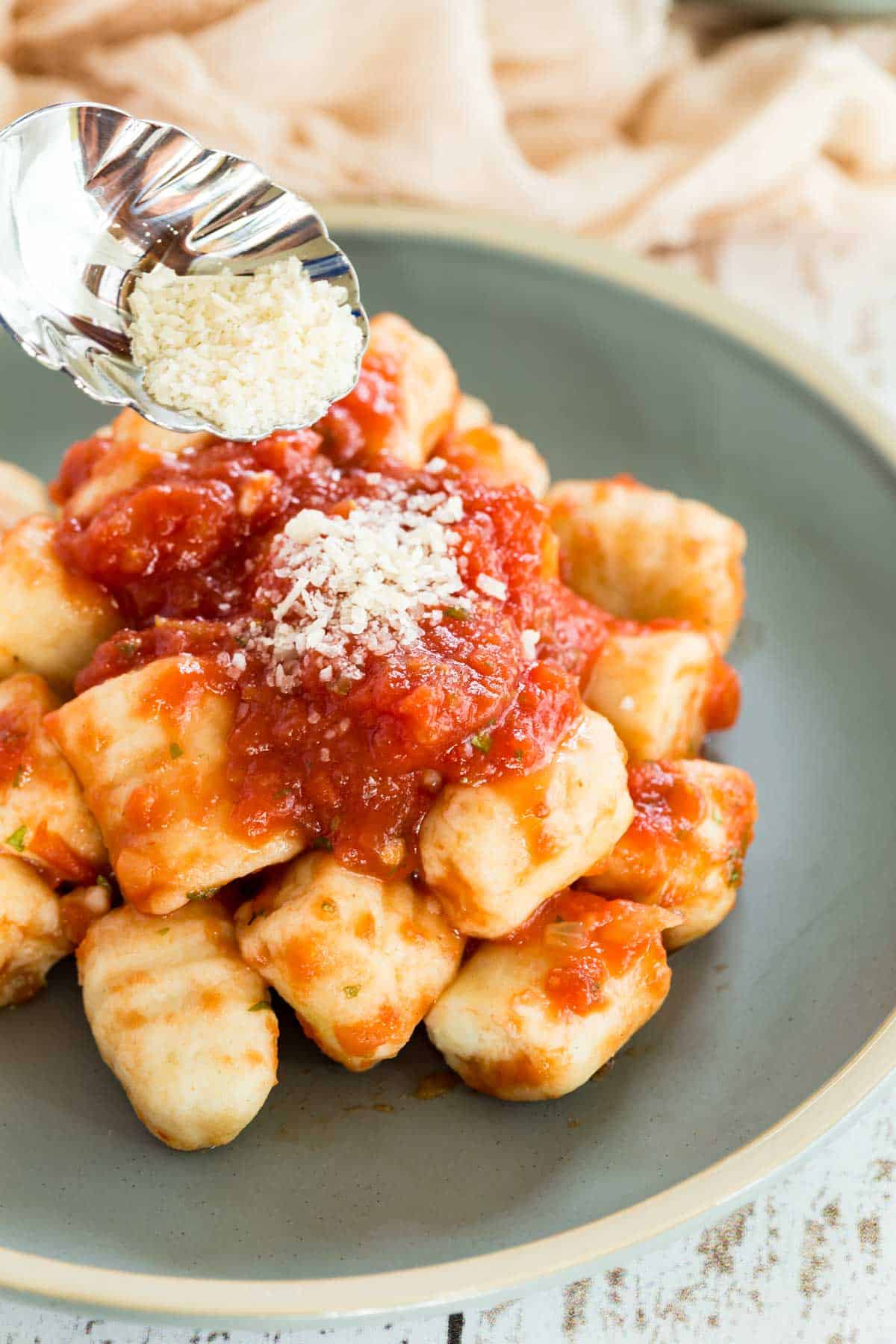 Tips for Success
Add the Flour Slowly: Work slowly when incorporating the flour into your gnocchi dough. Too much flour will result in gnocchi that are tough and chewy!
If Your Dough is Crumbling: If you find the potato mixture is lumpy or crumbly (or both), try mixing in a bit of water. You can also use a fork to give it an extra mashing as needed to do away with any remaining lumps.
When Cooking Frozen Gnocchi: Add less of the frozen dumplings to the boiling water. Too many frozen gnocchi at once will lower the water temperature, and you'll end up with mushy potato pasta.
Beware of Overcooking: Gnocchi will overcook quickly, so it's important to watch closely and get them out of the boiling water within seconds of them beginning to float.
Fry After Boiling: Gently frying the dumplings after they're boiled gives them a nice crispy exterior. You can also use this opportunity to coat them in melted butter and sage! Just be careful that they don't overcook.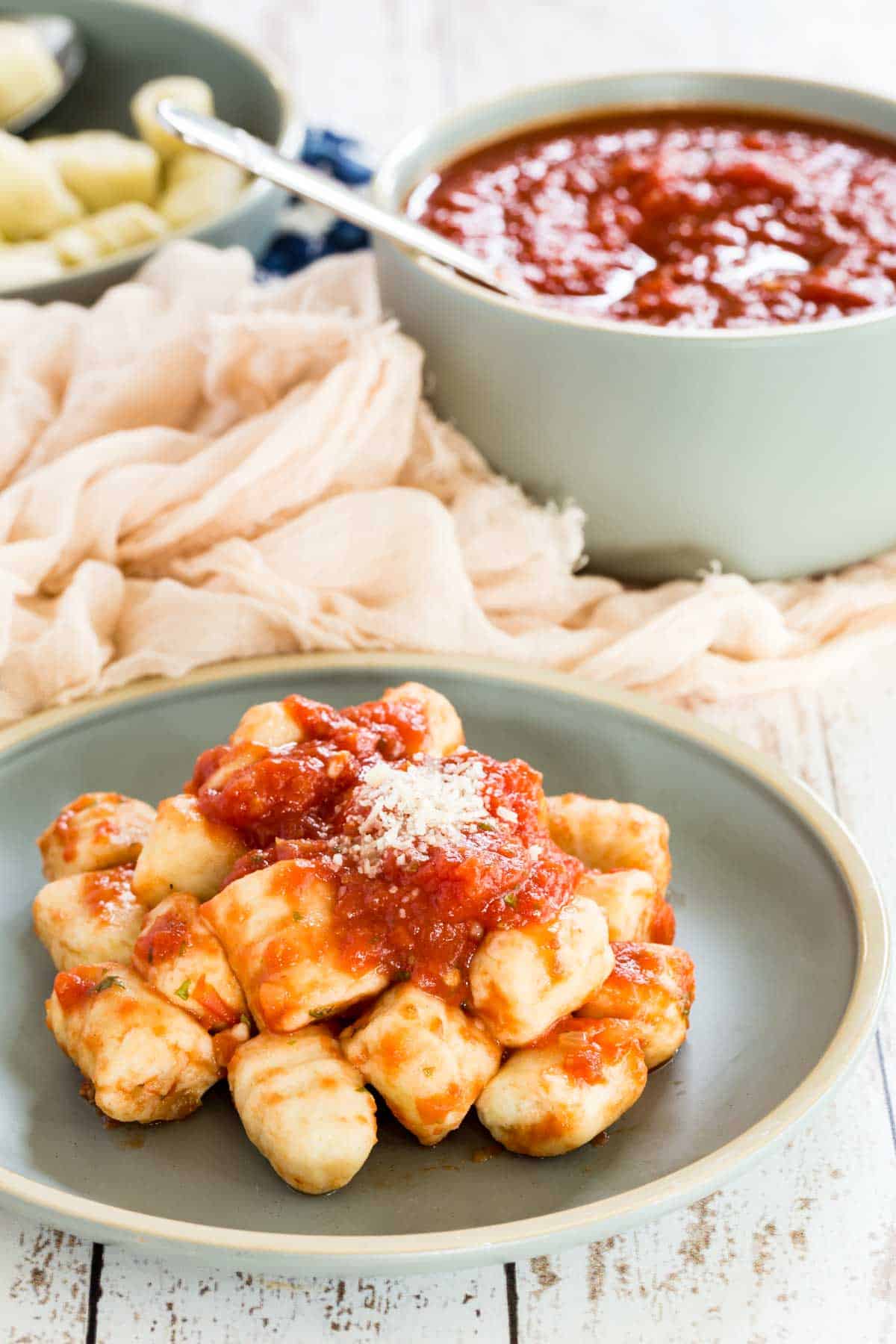 Make it a Meal
You can toss this gnocchi in a traditional tomato sauce, a light herb butter, or serve it with something more hearty like the meat sauce from my gluten free lasagna. You can even add these Italian dumplings into homemade soups!
When it comes to making it a meal, this easy homemade gnocchi makes a wonderful main dish. Here are some ideas for easy side dishes:
Or, serve this gluten-free gnocchi as a side with any of the following mains: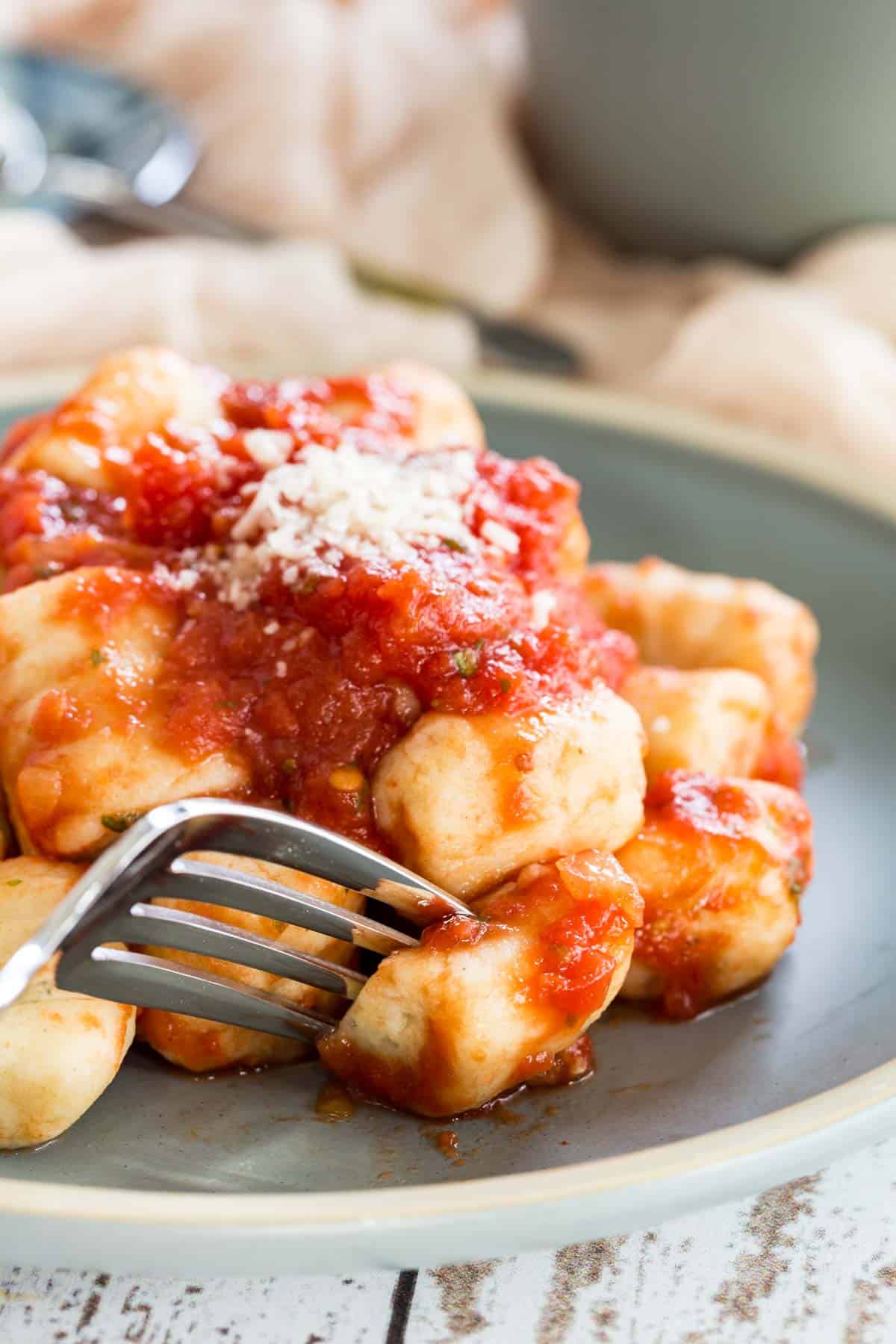 Can I Make This in Advance?
Uncooked gnocchi can be prepared and stored in the fridge before you cook them, but only for a few hours at most. You can also dust the potato gnocchi lightly with flour and leave them covered at room temperature for up to 2 hours, but any longer than this and the texture will be off.
If you plan on making this homemade gnocchi well in advance, I'd highly recommend preparing the gnocchi and then freezing it. Read the tips below on how to freeze!
Storing and Reheating Leftovers
Leftover cooked gnocchi can be stored airtight in the fridge for up to 2 days. Reheat gnocchi in a skillet with a bit of sauce, stirring until warmed through.
Is Potato Gnocchi Freezer-Friendly?
I wouldn't recommend freezing gnocchi that's been cooked. The pasta tends to get overly mushy once reheated! You can, however, freeze uncooked gnocchi for up to 2 months for easy storage and reheating.
Prepare and pre-freeze your gnocchi pieces by placing them on a baking sheet and into the freezer until solid. Transfer to an airtight container or freezer bag and place them back in the freezer. Boil gnocchi directly from frozen.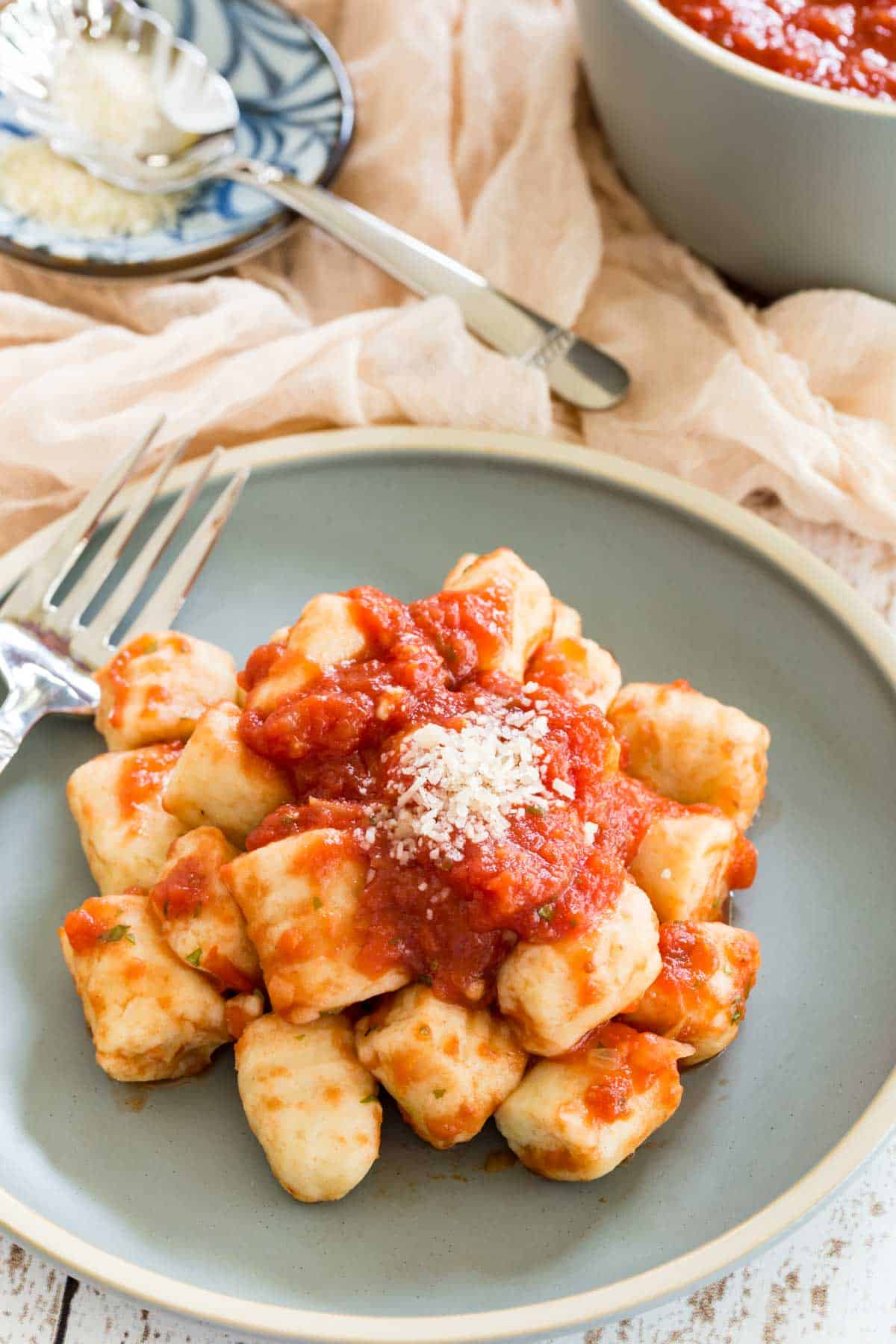 More Classic Italian Dishes to Try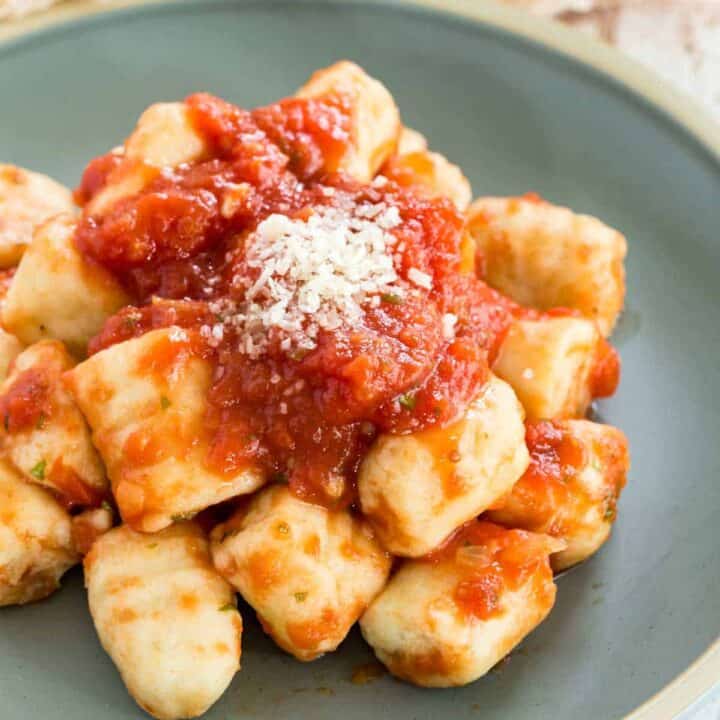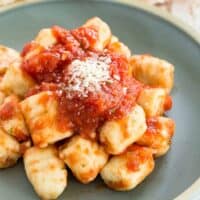 Gluten Free Gnocchi
The best Gluten Free Gnocchi recipe, made with only 4 ingredients! Whip up a batch of satisfying homemade gnocchi as a fun and easy dinner.
Ingredients
2

large russet potatoes or Idaho potatoes

(about 2 pounds)

2

eggs

beaten

1 1/2

tsp

salt

1-1 1/2

cups

gluten-free all-purpose flour

(King Arthur Measure-for-Measure)
Instructions
Preheat the oven to 400°F.

Pierce the potatoes all over with a fork. Place them directly on the oven rack and roast for 45-60 minutes, until tender. Let the potatoes cool fully.

Remove the potato skins and place the potato flesh into a mixing bowl. Use a large fork to mash the potatoes.

Add the salt and eggs and gently work the eggs into the potatoes until uniform. Add 1 cup of flour and work it into the dough until all of the flour is incorporated and the dough sticks together. Add more flour as necessary until the dough holds its shape when pinched.

Divide the dough into 8 pieces (they don't have to be exact).

Working with one piece at a time, roll the dough into a log about 1⁄2-inch thick. Cut the log into 1⁄2-inch gnocchi pieces. If you like, you can gently indent the gnocchi with your thumb or roll the gnocchi down the back of a fork to make indents.

Meanwhile, bring a large pot of salted water to a boil. Add the gnocchi and cook for about 4 minutes, until they float. Drain the gnocchi and serve with your desired sauce.
Notes
Freeze uncooked gnocchi by placing them on a baking sheet in the freezer for an hour. Then transfer to an airtight container and freeze for up to 2 months. Cook directly from frozen.
Nutrition Facts
Gluten Free Gnocchi
Amount Per Serving
Calories 266
Calories from Fat 36
% Daily Value*
Fat 4g6%
Cholesterol 82mg27%
Sodium 909mg38%
Potassium 475mg14%
Carbohydrates 52g17%
Protein 10g20%
Vitamin A 120IU2%
Vitamin C 6mg7%
Calcium 57mg6%
Iron 3mg17%
* Percent Daily Values are based on a 2000 calorie diet.