Eggplant Parmesan Stuffed Eggplant
Disclosure: This post may contain affiliate links. Cupcakes & Kale Chips is a participant in the Amazon Services LLC Associates Program, an affiliate advertising program designed to provide a means for us to earn fees by linking to Amazon.com and affiliated sites.
Eggplant Parmesan Stuffed Eggplant has everything you love about a traditional eggplant parmesan recipe, and none of the stuff you don't. There's still all the veggie goodness of eggplant, a flavorful sauce, and plenty of cheese, but none of the work and calories of breading and frying. Enjoy this as a naturally gluten free and low carb vegetarian dinner recipe that is light and fresh-tasting, or serve it with pasta or bread for something more hearty and comforting. Either way, this stuffed eggplant recipe with its rich meatless eggplant bolognese sauce is sure to be a new family favorite for Meatless Monday or any day of the week.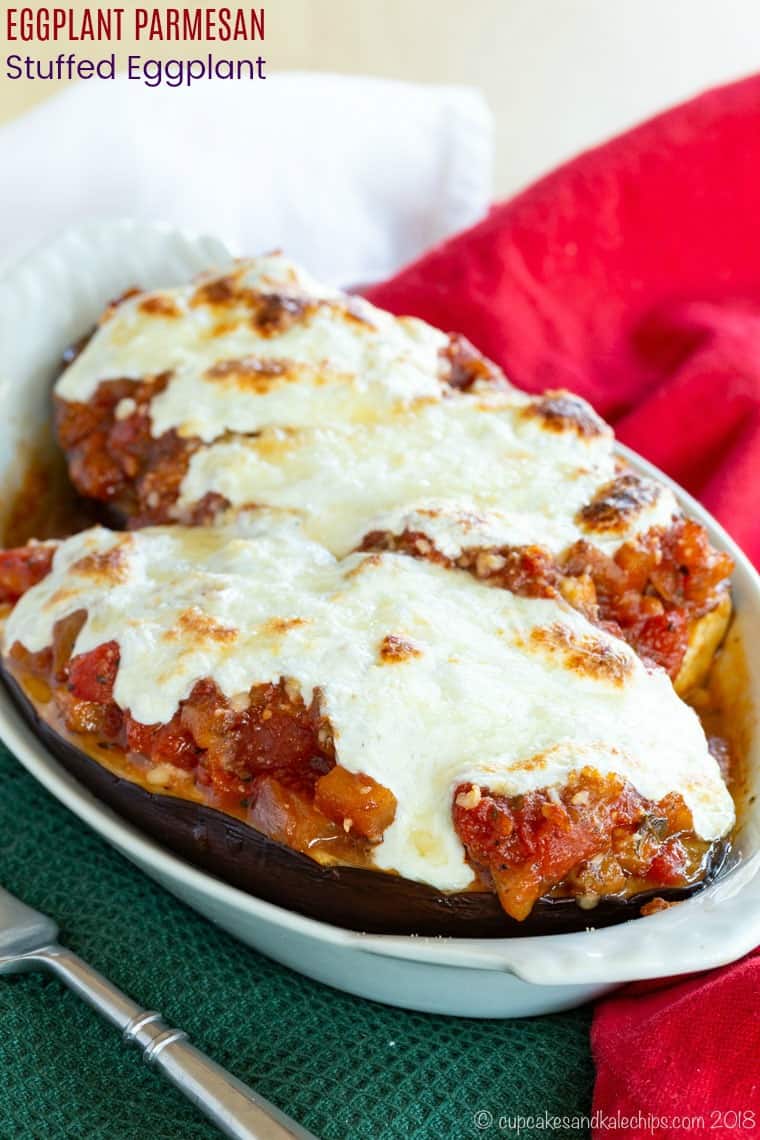 Mozzarella and Ricotta Cheese Stuffed Eggplant Parmesan Recipe
You may or may not know that this is an old recipe from the blog. A really old recipe. Like 2012. That's old in food blog world, especially my food blog, which was literally, like, a week old when I published it. So it's funny to look back on what I wrote and where I was at the time.
Let's go back, back, wayyyyy back…
I am definitely a newbie when it comes to writing a blog. Really, I am even a newbie when it comes to recording my recipes. Yes, I am a scientist, and in the lab I was always very exact with my measurements. I think that is why I love baking – formulas, measurements, acids, bases, heat, reactions, solids, liquids, and gases. It truly is a science. Cooking is definitely more of an art. I am not an artist, but when I cook, it is more of a little of this, a little of that, unless I am following someone else's recipe. So I decided to start making cooking like a science experiment, and my spiral notebook of recipes is my new laboratory notebook. Just now it says salt and baking soda, instead of sodium chloride and sodium bicarbonate.
But I am also a newbie with really, seriously reading blogs. I had a couple I checked out pretty frequently in the past. Mainly Weelicious and Fix Me a Snack, trying to come up with healthy meals and snacks (and even healthier spins on treats) for The Bug. For awhile, I was determined that no cracker from a box shall cross his lips. And, while I have made a fair share of homemade crackers, my delusions did not last long. Especially when we go to the playgroup at my church, and my kid steals Goldfish from all of the other kids. And that's after he has already eaten his entire bowl of Cheerios, raisins, and freeze dried apples.
But I digress. So as I have been reading blogs, chatting on Facebook with other bloggers, I stumbled upon a recipe at Pink Parsley for Lasagna-Stuffed Portabellos, and immediately began drooling and planning when I would make this amazing-sounding recipe. Lasagna without pasta – I'm in!
Plus I love mushrooms. I was visiting my mom and Mom loves mushrooms. My sister loves mushrooms. My stepfather… uhhh… hates mushrooms. Grrr! But I still wanted lasagna, so I decide to change it up a bit to a version that we would all enjoy.
You see, we all love eggplant parmesan, but since I don't like the work of eggplant parmesan, I used eggplant instead of portabellos. Just like Eggplant Parmigiana Pasta Casserole, this is so much easier than breading and frying eggplant slices.
And we all loved it!
None of us were in a pasta mood that night, so we just scooped up the sauce and cheese with some bread. But this would go fabulously with some pasta (regular or gluten-free), or even some spaghetti squash or zoodles. Or even make just the sauce to go with your noodles.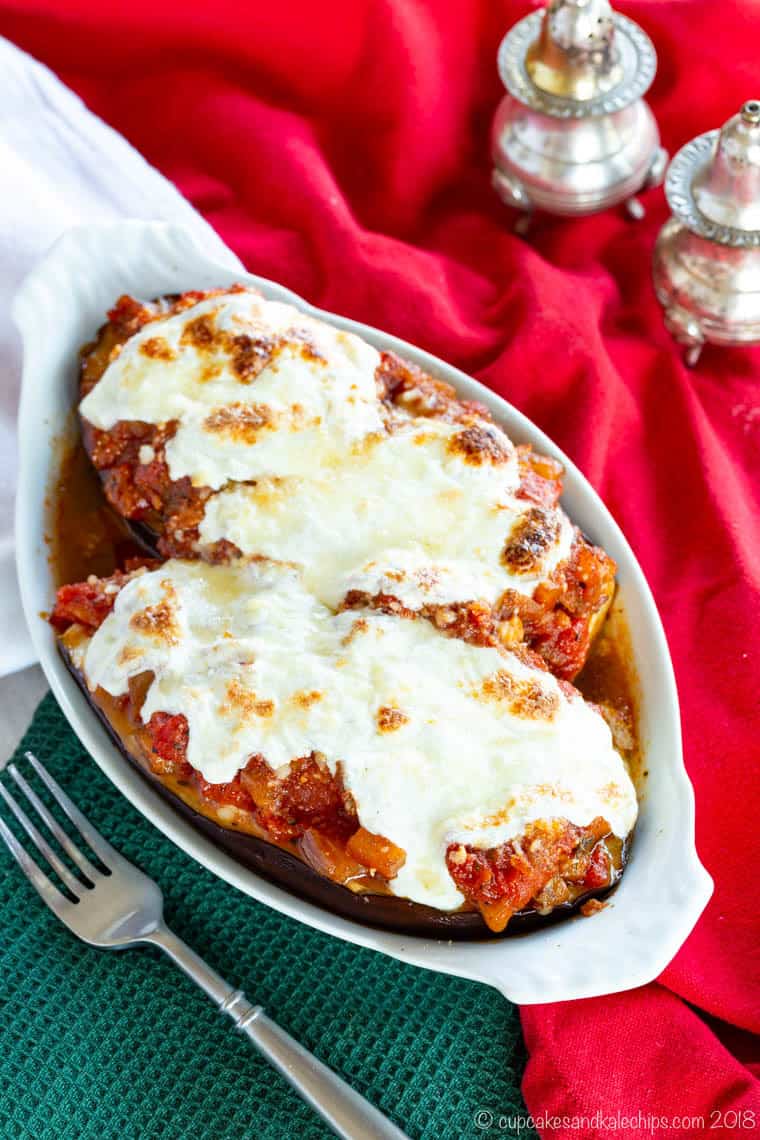 How to Make Eggplant Parmesan Stuffed Eggplant:
You'll start by cutting your eggplant in half and scooping out the flesh to leave a shell. Take the stuff you scooped out, cut it into cubes and set aside.
The shells get salted to drain the excess moisture then baked to soften them up.
While it bakes, whip up a simple and hearty faux "bolognese" sauce using the reserved eggplant.
Layer the sauce and a ricotta cheese mixture in the eggplant shells and top with fresh mozzarella and parmesan cheese.
Bake till bubbly and serve with more of the sauce if desired.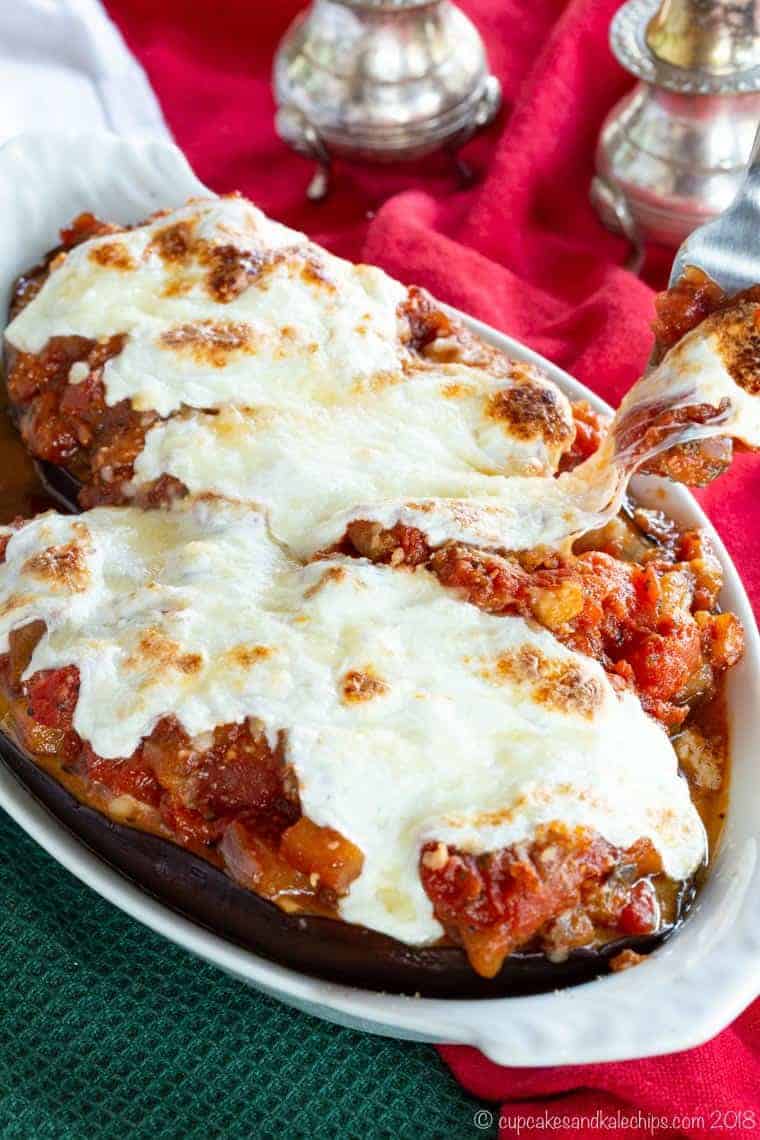 What do you serve with Eggplant Parmesan Stuffed Eggplant?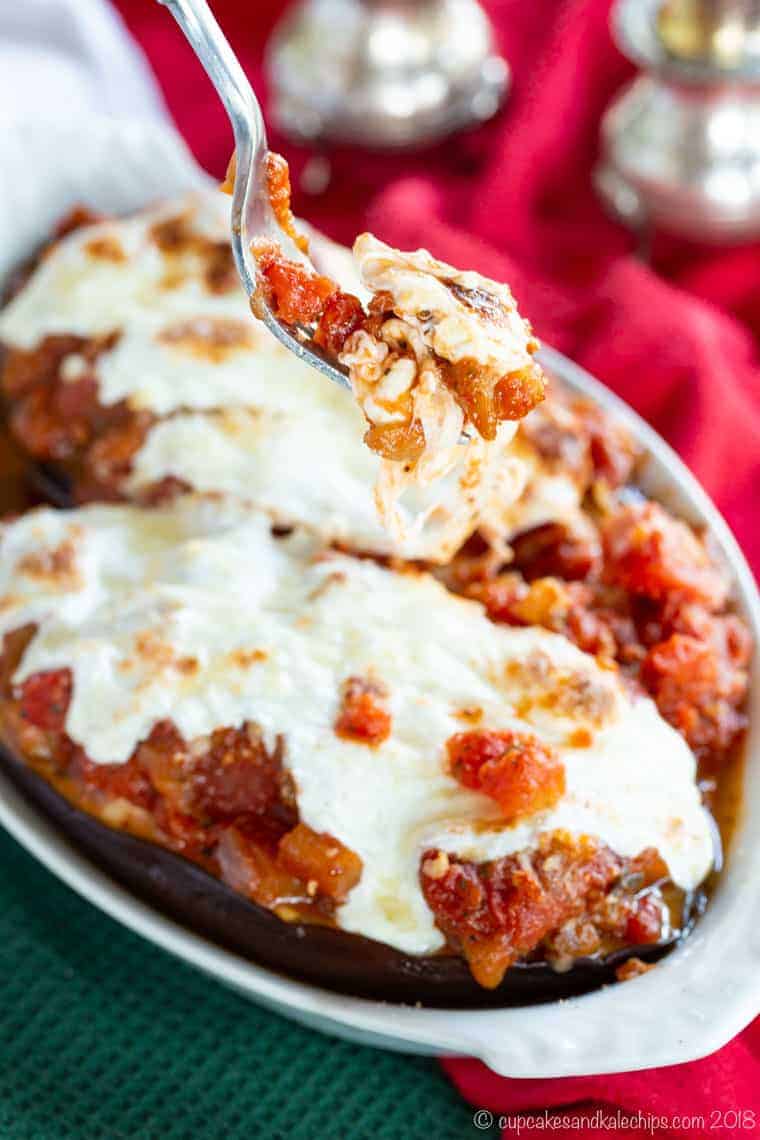 For more yumminess from me and my foodie friends, keep up with me on…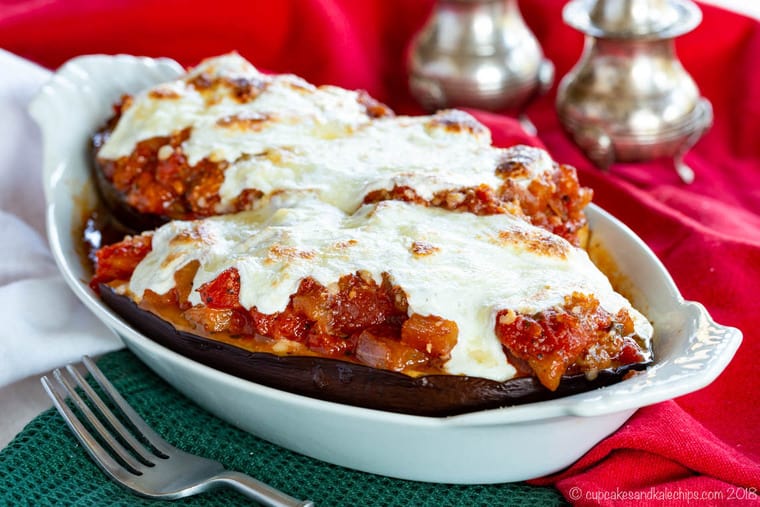 Some things you might need to make this Mozzarella and Ricotta Cheese Stuffed Eggplant Recipe…
[amazon_link asins='B006FL1MV4,B072FRJCH3,B001GHYO44,B00GHX5HGG' template='ProductCarousel' store='cupkalchi-20′ marketplace='US' link_id='9247426b-7978-11e8-9218-191ed3953ce1′]
Eggplant Parmesan Stuffed Eggplant
This stuffed eggplant recipe makes a great vegetarian meal or side dish. Ditch the breading and frying and calories and carbs of traditional eggplant parmesan, but take the hearty sauce and blend of three typed of cheese and stuff it in an eggplant shell for a new twist on the classic that is sure to be a new favorite.
I hope you'll leave a comment and give it a FIVE STAR rating or share a photo on this pin on Pinterest!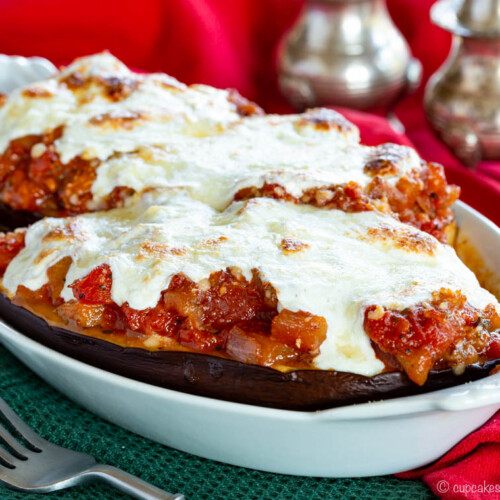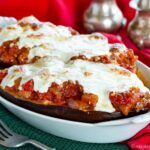 Print Recipe
Eggplant Parmesan Stuffed Eggplant
All the best parts of eggplant parm without the work and calories for a meatless dinner or vegetarian side dish.
Ingredients
2

medium eggplants

1

Tablespoons

olive oil

1/2

cup

chopped onion

1 1/4

teaspoons

Italian seasoning

, divided

1/2

teaspoon

Kosher salt

1/4

teaspoon

black pepper

28

oz. can

canned Chopped Tomatoes in Puree or Crushed Tomatoes

1

cup

ricotta cheese

1/4

cup

grated parmesan cheese,

plus 2 Tablespoons for topping

4

oz.

fresh mozzarella

, cut in thin slices
Instructions
Preheat your oven to 400ºF.

Slice each eggplant in half lengthwise and scoop out the flesh from the eggplant, leaving approximately a half-inch thick "shell". Cut the scooped out flesh into approximately 1/4 inch cubes and set aside.

Sprinkle a little salt inside the eggplant shells, and flip them upside down on a paper towel to draw out some of the water for about 5-10 minutes. Blot out some of the water from the shell, and place them cut side down in a glass baking dish sprayed with olive oil or cooking spray. Bake for about 15 minutes, or until eggplant starts to become soft.

While the eggplant drains and bakes, heat olive oil in a pan over medium heat. Add the onion and saute for 2-3 minutes until translucent and tender.

Add the reserved chopped eggplant, 1 teaspoon Italian seasoning, 1/2 Kosher salt, and 1/4 teaspoon pepper, to taste. Cook until the eggplant is browned and tender, approximately five minutes.


Add canned tomatoes and simmer for 5-10 minutes, until heated through. Season to taste with salt and pepper.

While it simmers, make the cheese mixture by combining the ricotta cheese, 1/4 teaspoon Italian seasoning, parmesan cheese, and salt and pepper, to taste, in a small bowl.

After the eggplant shells are done baking, remove fro the oven and spoon about 2 Tablespoons of the sauce into the bottom of each eggplant half. Divide the ricotta cheese mixture evenly between the shells, and top each with another 2 Tablespoons sauce. Reserve extra sauce for serving.

Lay the mozzarella on top of the stuffed eggplants, and sprinkle with the 2 Tablespoons parmesan cheese.

Baked for 15-20 minutes at 400ºF, or until heated through and the cheese is bubbly and browned.
Nutrition
Serving:
1
half eggplant
|
Calories:
350
kcal
|
Carbohydrates:
26
g
|
Protein:
19
g
|
Fat:
20
g
|
Saturated Fat:
10
g
|
Cholesterol:
59
mg
|
Sodium:
905
mg
|
Potassium:
1012
mg
|
Fiber:
9
g
|
Sugar:
14
g
|
Vitamin A:
805
IU
|
Vitamin C:
25
mg
|
Calcium:
436
mg
|
Iron:
3.1
mg
Enjoy!
Originally published on Mar 8, 2012. These photos are such gems!