This post may contain affiliate links. Read my disclosure policy.
Stretchy pull-apart Gluten-Free Garlic Knots are so easy to make and taste just like the ones from your favorite pizza joint! Soft, fluffy, and smothered in a garlicky parmesan butter topping, these are delicious dipped in marinara sauce or dunked into soups.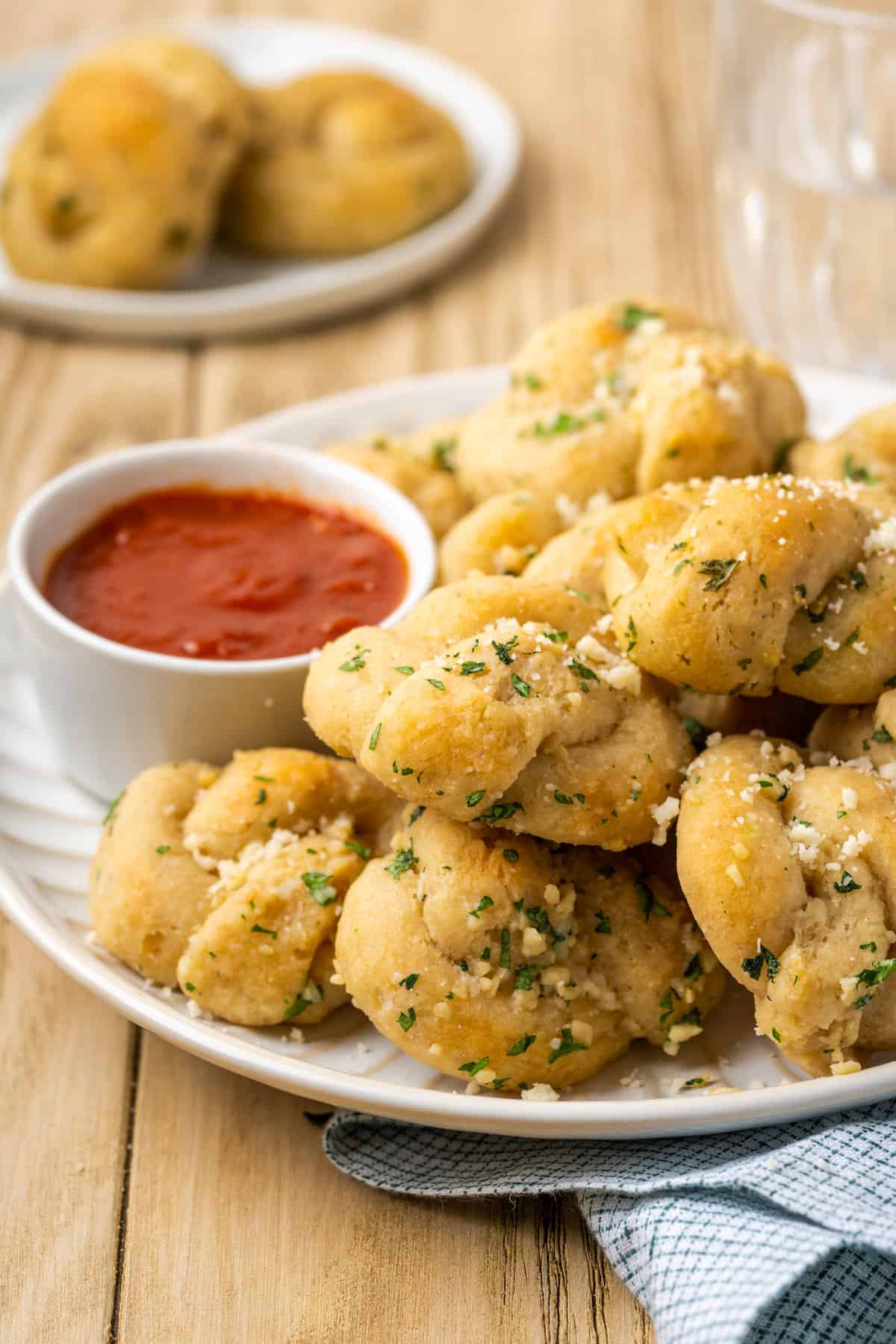 Soft Pull-Apart Gluten Free Garlic Knots
I'll be honest, there aren't a lot of things I miss since going gluten-free. Mostly because I've learned how to make my own bready favorites from scratch, from Gluten-Free Garlic Dinner Rolls to Gluten Free Breadsticks.
One thing I had a craving for lately, though, was soft, flaky, buttery, melt-in-your-mouth pizza joint garlic knots. So, I'm sharing my homemade gluten-free version that is just as good, if not better, than the original.
Consider these soft and stretchy gluten-free garlic knots a major hit. They're just as puffed up and pull-apart delicious as the ones I remember from our favorite pizza place. Dip them in sauces, dunk them in soups, or use them to sop up pasta sauce. Name a meal that isn't improved by a fluffy, garlicky bread knot!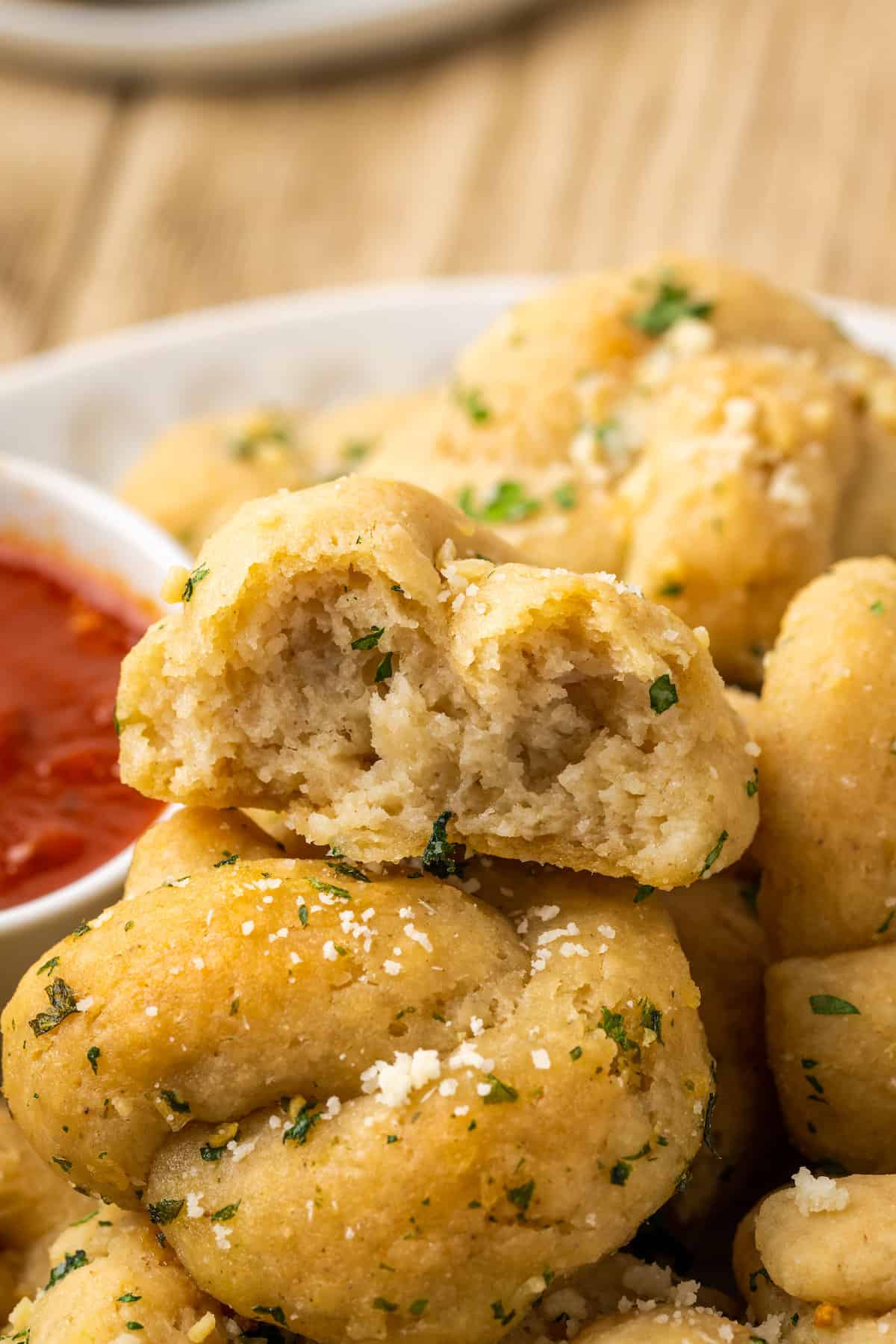 Why You'll Love This Recipe
Who doesn't love garlic knots, honestly? Here's why this gluten-free recipe is the absolute best:
Restaurant-style. These homemade gluten-free garlic knots are just as flavorful and pull-apart-soft as the ones you'll find at your local pizza shop.
Gluten-free. Why miss out on the joy of a freshly baked garlic knot just because you're gluten-free? This recipe uses a handful of gluten-free ingredients to achieve that fluffy, authentic texture and irresistible garlicky flavor.
Versatile. Looking for a game-day snack, party appetizer, holiday side dish, or after-school snack? Gluten-free garlic knots is the answer.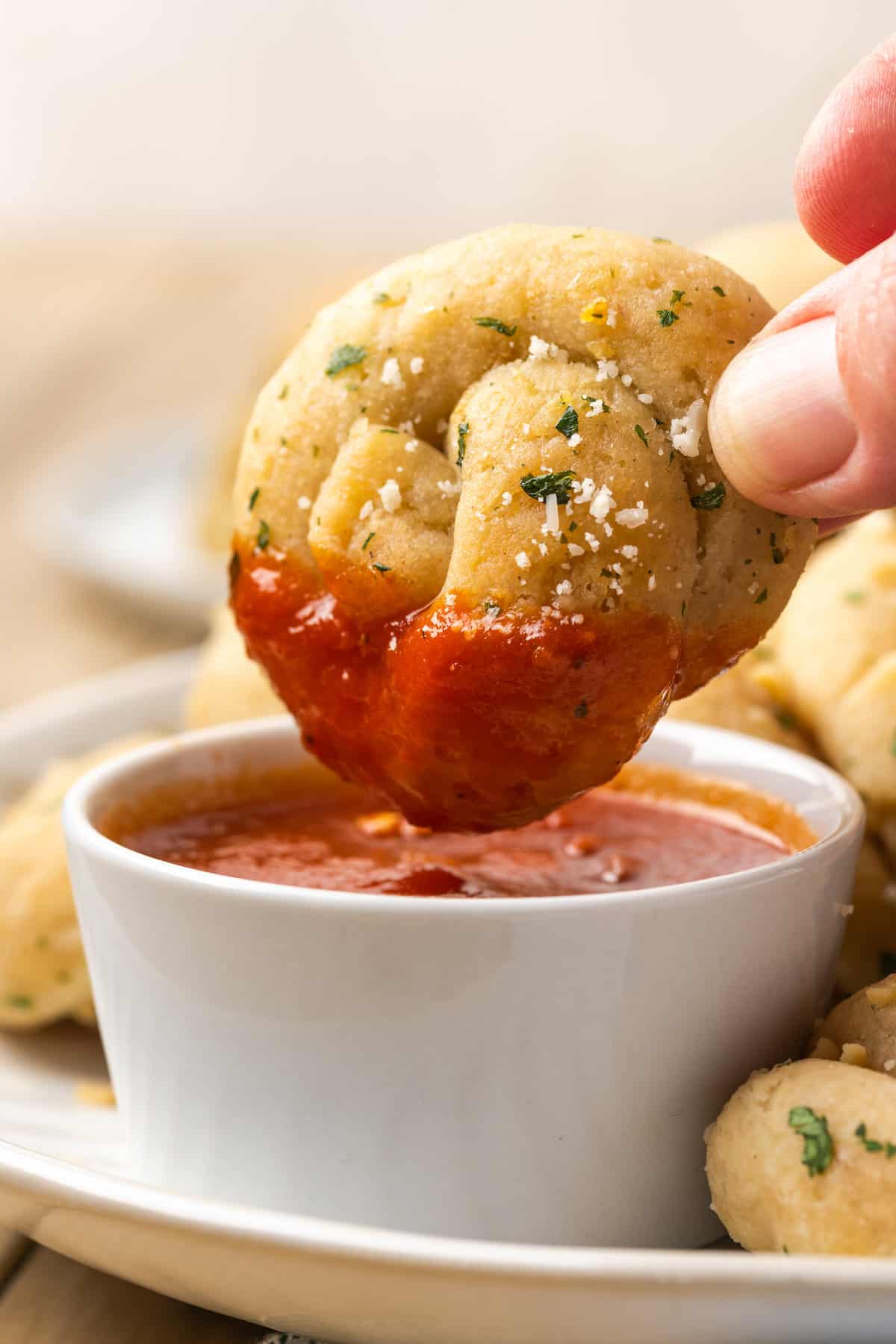 What You'll Need
It took a few tweaks, but it wasn't too hard to recreate the softness and chew of a classic garlic knot using gluten-free ingredients. Below is a short overview of what you'll need, with the full ingredient amounts available in the recipe card.
For the Homemade Garlic Knots
Gluten-Free Flour: I made these rolls with King Arthur Measure-for-Measure gluten-free flour.
Instant Yeast: This type of yeast doesn't require any activating beforehand. It can be mixed right into the dry ingredients.
Honey: I love honey as a natural sweetener, and the sugars also help to activate the yeast.
Xanthan Gum and Psyllium Powder: Added to gluten-free baking recipes to enhance the texture and recreate the elasticity in the dough that would normally come from gluten.
Baking Powder: For additional leavening.
Garlic Powder: These are garlic knots, after all. Garlic powder adds a hint of savory, garlicky flavor throughout the bread dough. You'll also need a pinch of salt to enhance the flavors.
Olive Oil: For greasing the bowl that the dough will rise in. Oil is also handy to have throughout the kneading process, to help with sticking.
For the Garlic Butter Topping
Butter and Olive Oil: I like the combination of the two in my garlicky topping. Feel free to use all butter or all olive oil if you prefer.
Garlic: Freshly minced garlic will have the best flavor. In a pinch, garlic powder can be substituted instead.
Parmesan Cheese: Any variety of grated or pre-grated parmesan will work here. I recommend grating parmesan cheese fresh from a block.
Fresh Parsley: For extra flavor and garnish. You can also use Italian seasoning.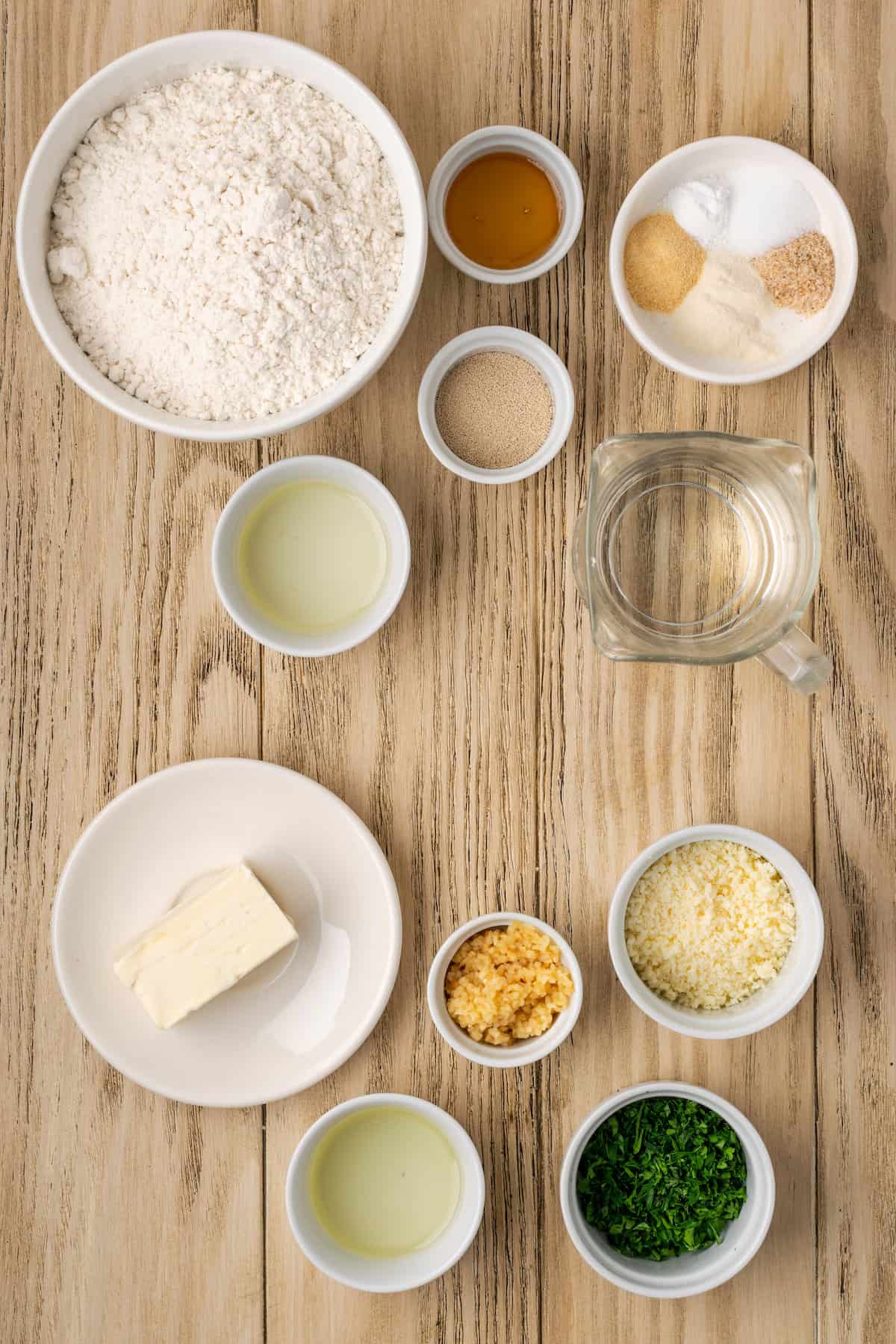 How to Make Gluten Free Garlic Knots
With your ingredients ready, it's time to make the dough. This bread dough recipe is quite simple and comes together in just a few steps (with minimal rising time, too!).
Make the Dough: Whisk together the dry ingredients, and slowly stream in warm (110ºF) water. When the ingredients are mostly combined, add the olive oil and keep mixing until you reach a shaggy dough. Knead the dough for about 5 minutes.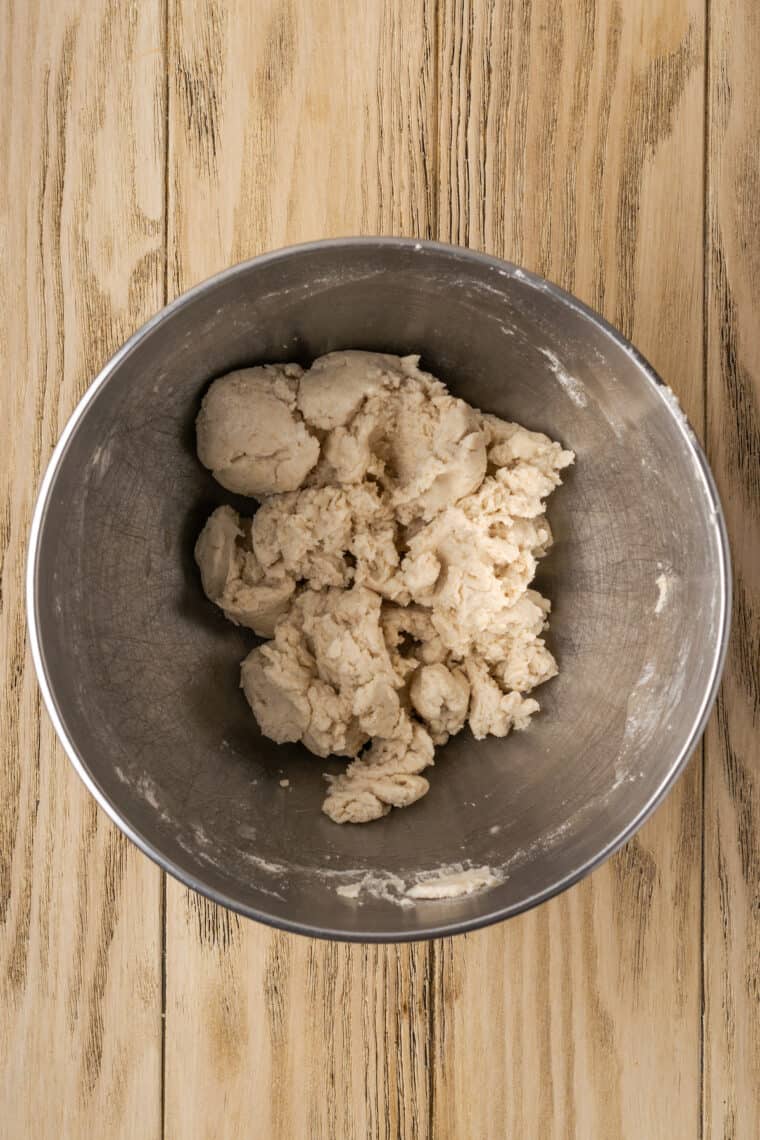 First Rise: Afterward, place the dough ball in an oiled bowl and leave it to rise, covered, for about one hour.
Portion Out the Dough: When the dough has doubled in size, turn it out and divvy it up into 12 equal-sized pieces.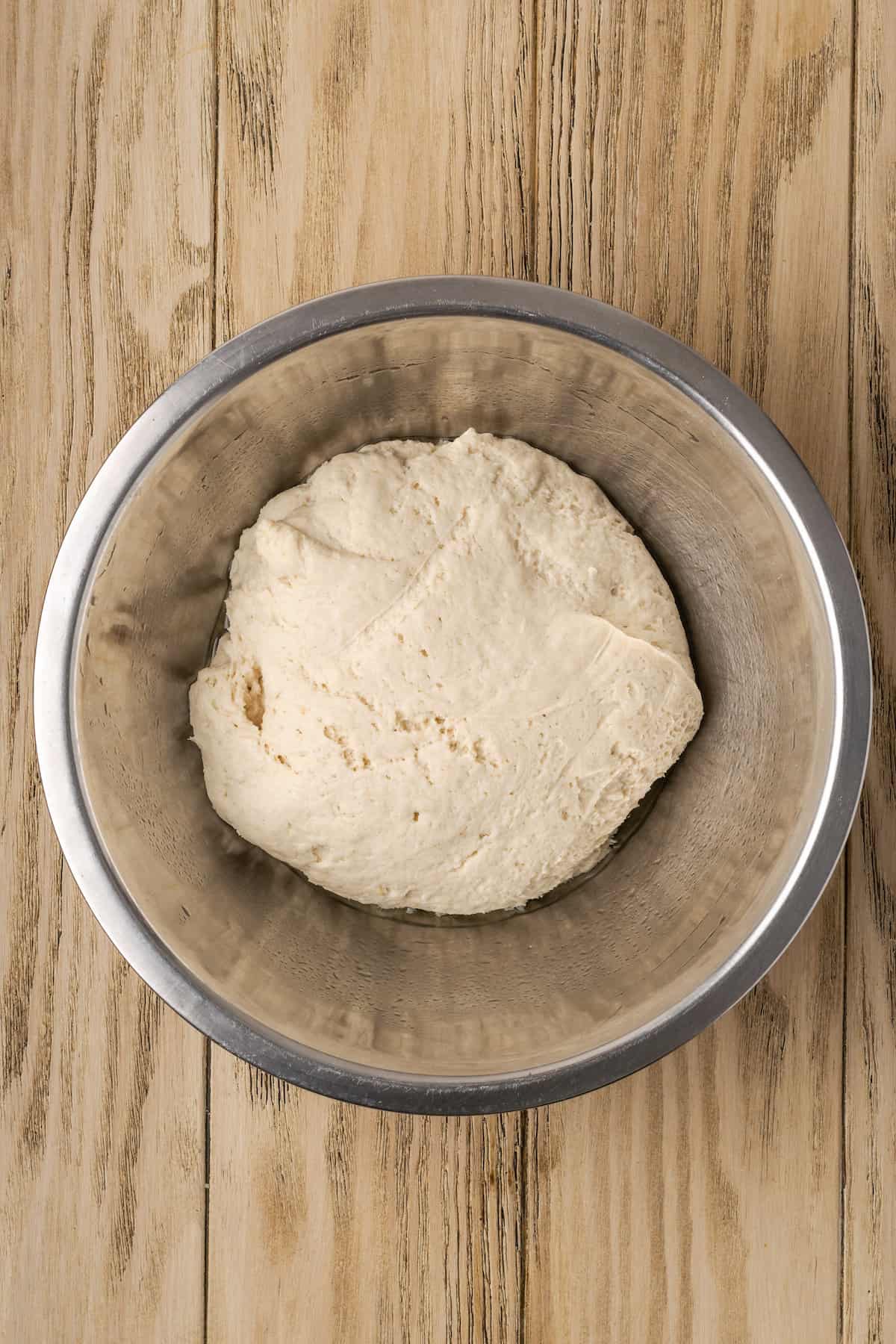 Roll and Shape: Roll the pieces of dough into ropes about 8 or 9 inches long. Next, you'll tie each rope into a knot (see photos), and place them onto a parchment-lined baking sheet.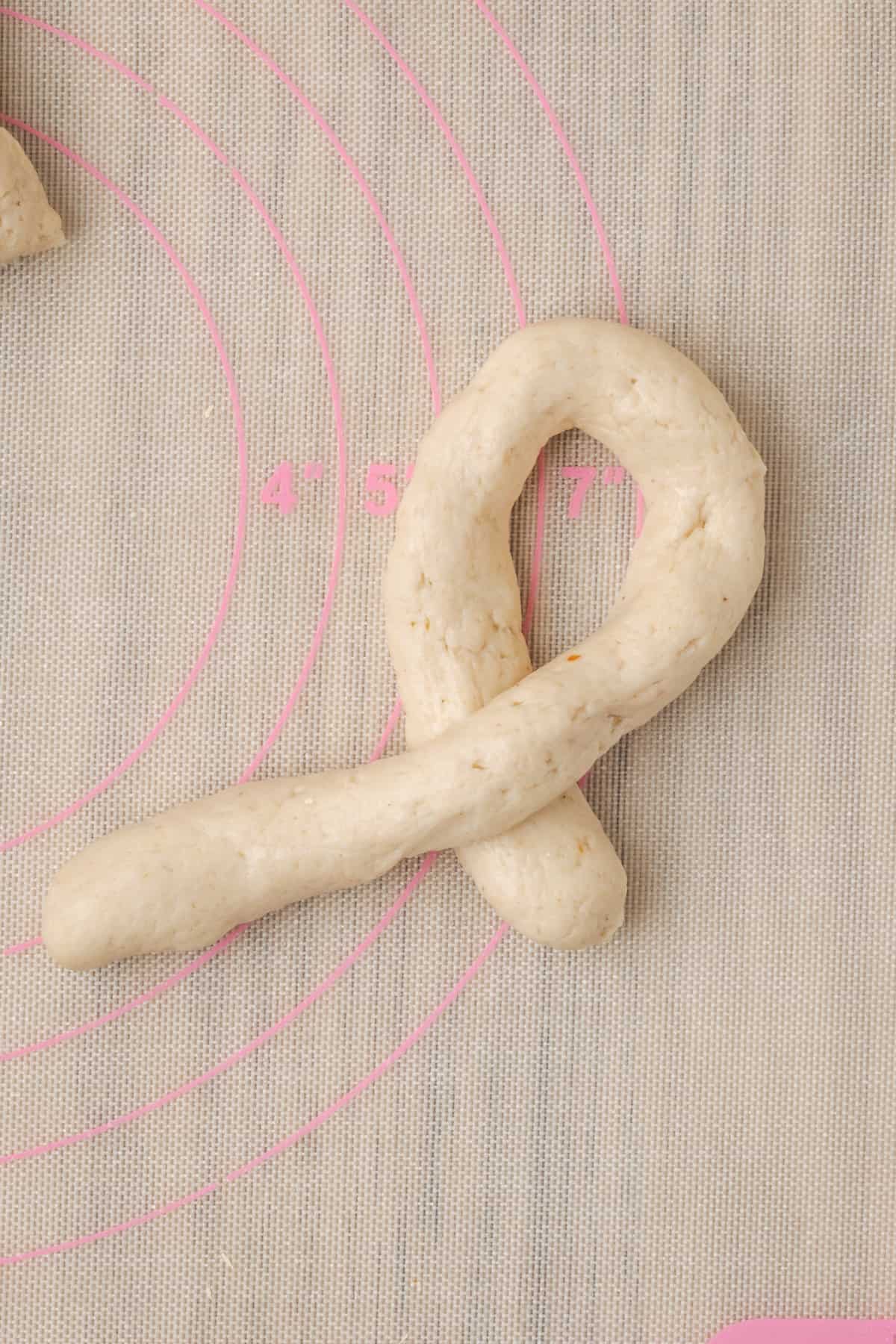 Second Rise: Cover the knots with plastic wrap and leave them to rise for another 20 minutes.
Bake: Before placing the knots in the oven, brush the tops with a bit of melted butter. Bake them at 425ºF for about 18 minutes. You want to take them out when they're just barely browned.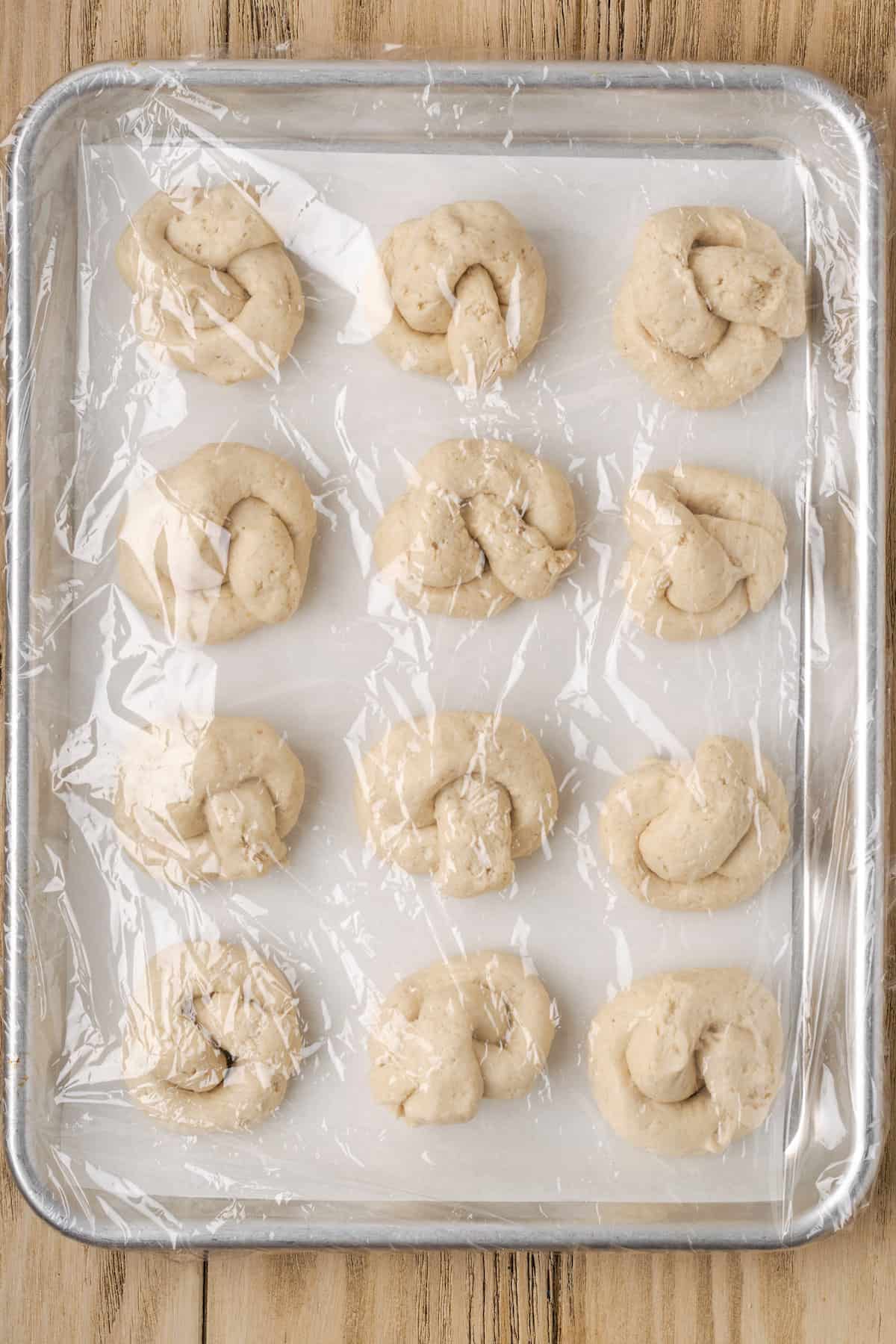 Preparing the Parmesan and Garlic Topping
While your gluten-free garlic knots are baking in the oven, you'll have plenty of time to prepare the garlic butter topping:
Melt: First, add butter to a pan with some olive oil and minced garlic. Heat just until the butter is melted and the garlic becomes fragrant.
Coat: When your bread knots are baked, add them to a large bowl. Pour over the melted garlic butter, then sprinkle on parmesan, parsley, and salt. Toss to coat. Then, it's time to serve! We love our garlic knots served warm with a side of Marinara Sauce for dipping. See below for more easy serving ideas.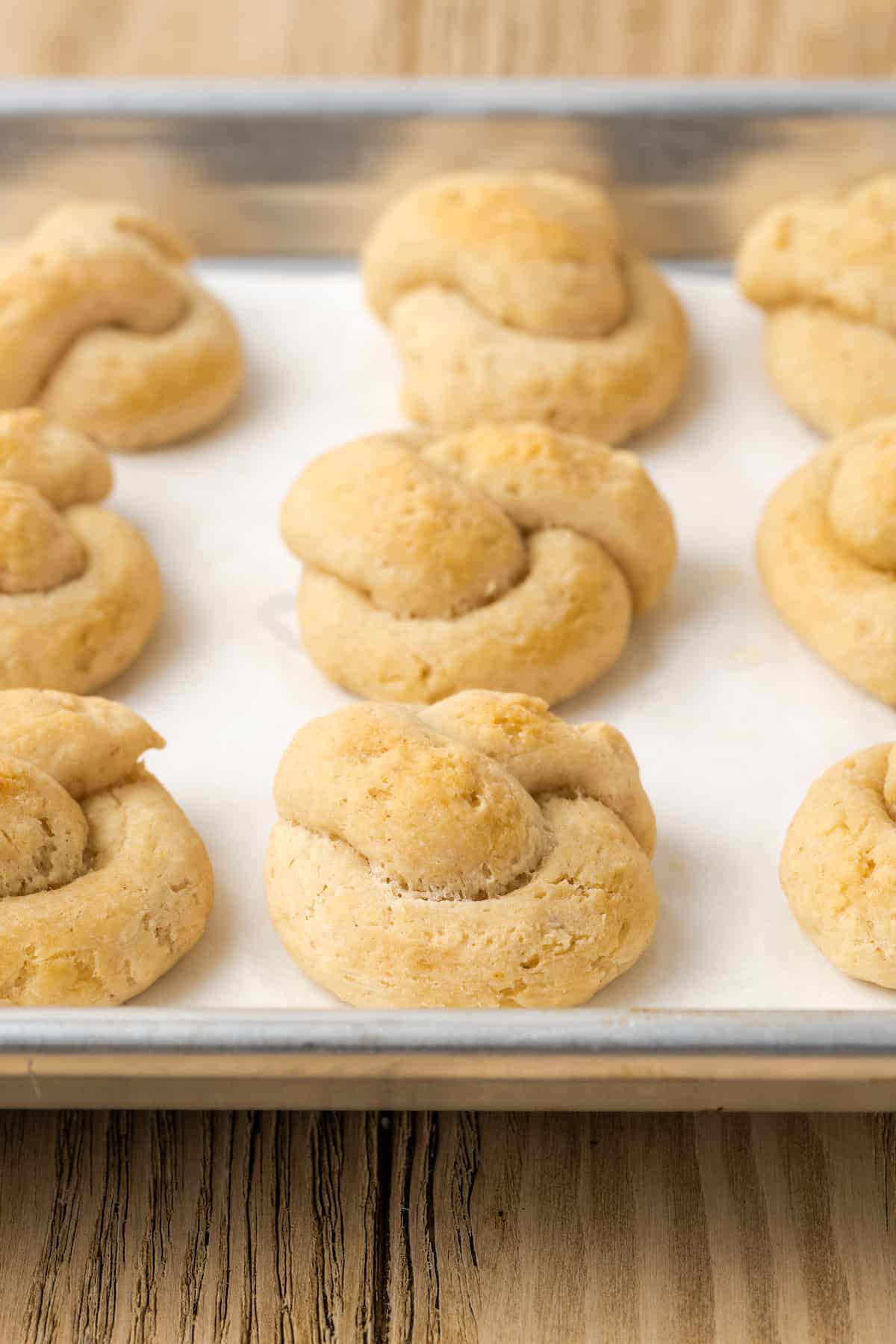 Tips for Success
Here are some final tips for the best homemade gluten-free garlic knots:
Use a kitchen scale. Accurate measuring is super important in this recipe, so I highly recommend using a kitchen scale to weigh out the flour and water. Even the slightest variance can change the outcome of the dough.
If the dough is sticky, grease your hands with a bit of olive oil. You shouldn't use additional flour when kneading and rolling out the dough.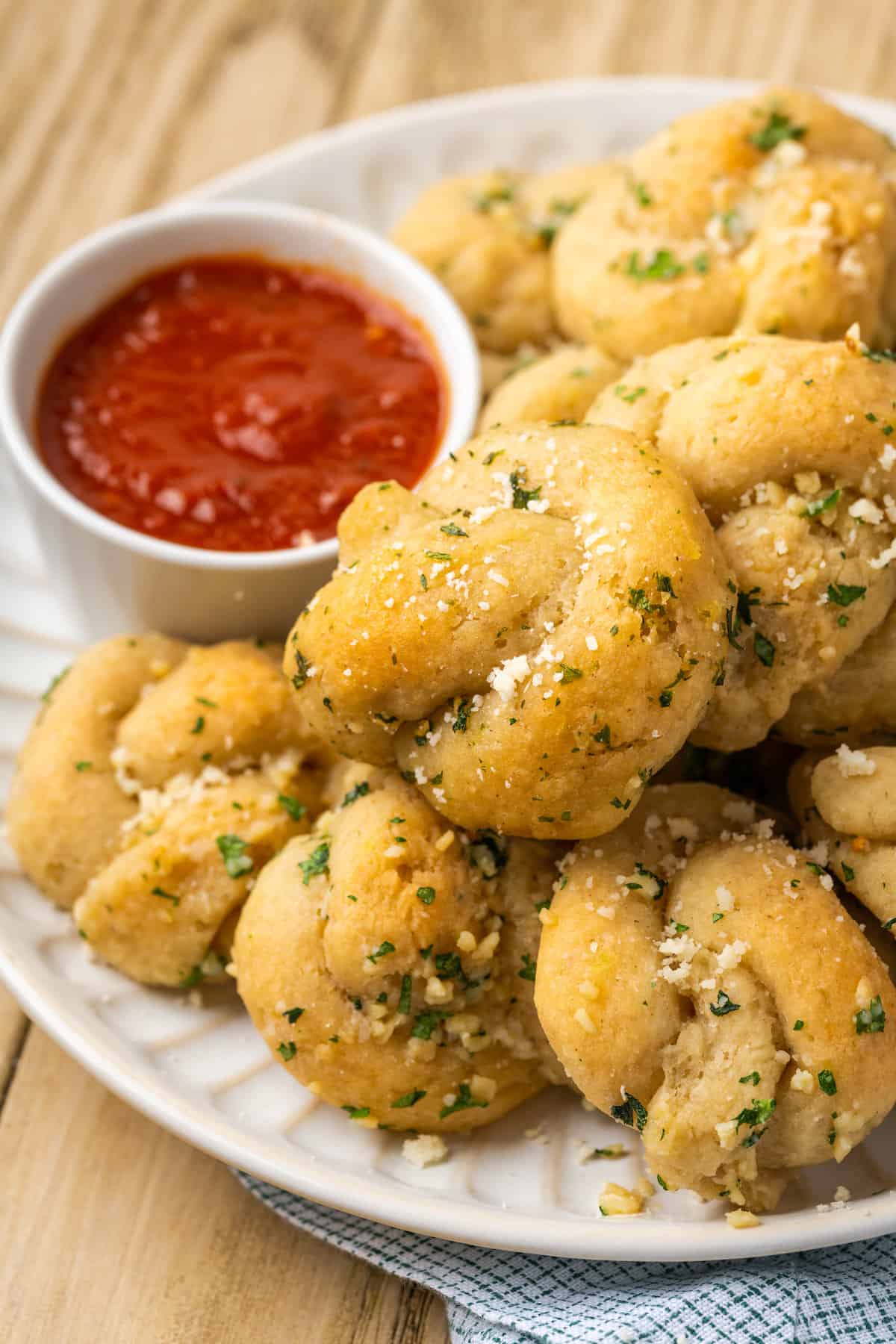 Make It a Meal
No pizza night is complete at our house without buttery, soft garlic knots served with Homemade Marinara Sauce for dipping. We'll lighten things up with a side of Tomato Cucumber Salad or an Easy Greek Salad. (If you're looking for more pizza night inspiration, check out my favorite Gluten Free Pizza Recipes.)
For a hearty Italian-style dinner, we'll serve these fluffy garlic knots next to a big plate of saucy Gluten-Free Spaghetti and Meatballs or Gluten Free Chicken Parmesan.
Gluten-free garlic knots are also the perfect side dish for cozy soups, stews, and chilis. Dunk them into a warm bowl of Crockpot Beef Stew, Creamy Tomato Soup, or the Best Chili Ever.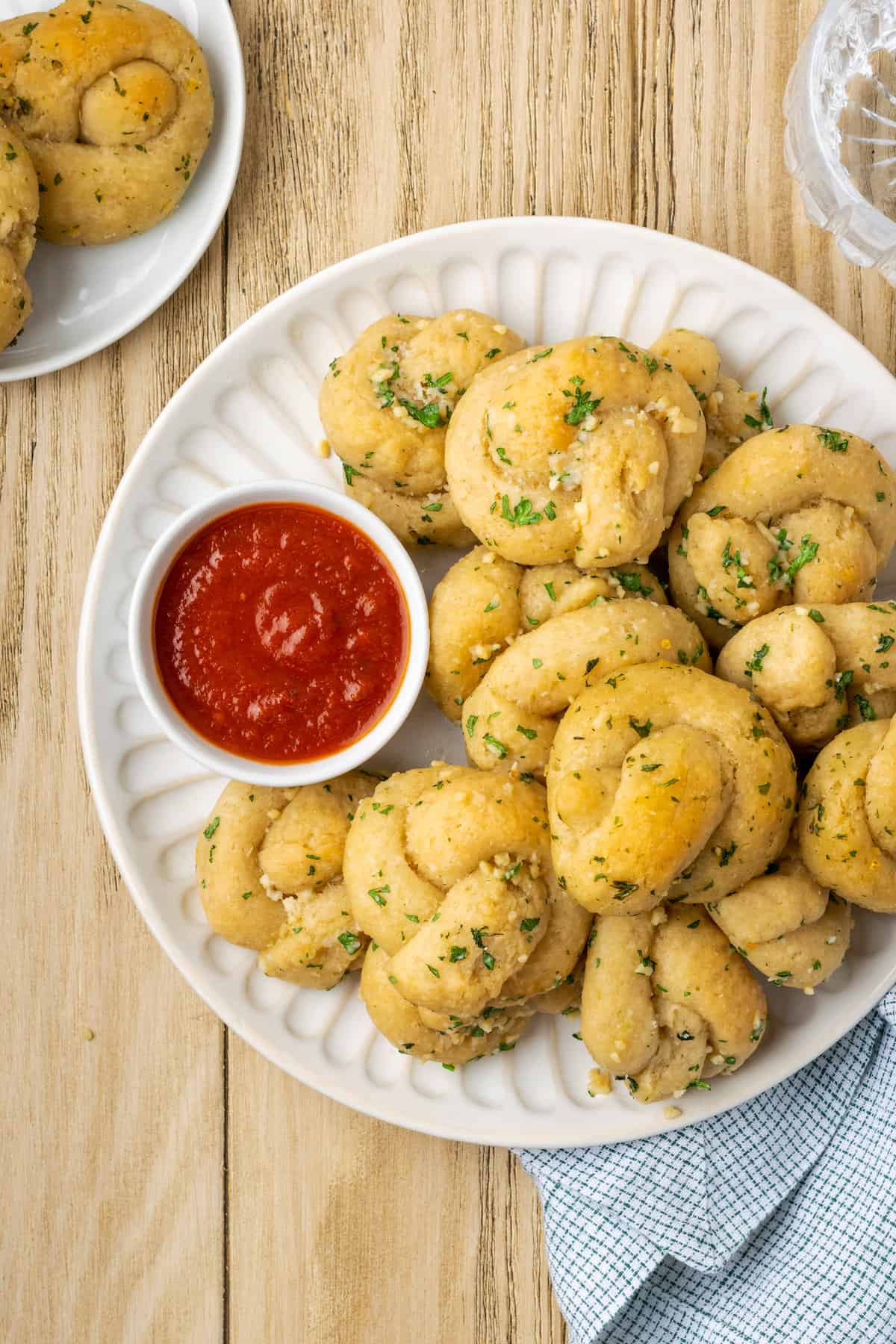 How to Store and Reheat Garlic Knots
Leftover garlic knots can be stored airtight in the fridge for up to 3-4 days. Reheat the knots in the oven or in the microwave.
Can I Freeze Gluten-Free Garlic Knots?
Yes! Gluten-free garlic knots freeze great. Though I do recommend freezing them before tossing them in the garlic butter.
Once the knots cool to room temperature, pre-freeze them on a parchment-lined baking sheet. Transfer the frozen garlic knots to an airtight container or seal them in a freezer bag. Keep the garlic knots frozen for up to 2 months, and thaw them in the fridge.
Whenever you're ready to serve them, warm the knots in the oven or microwave and then toss them in a fresh batch of garlic butter.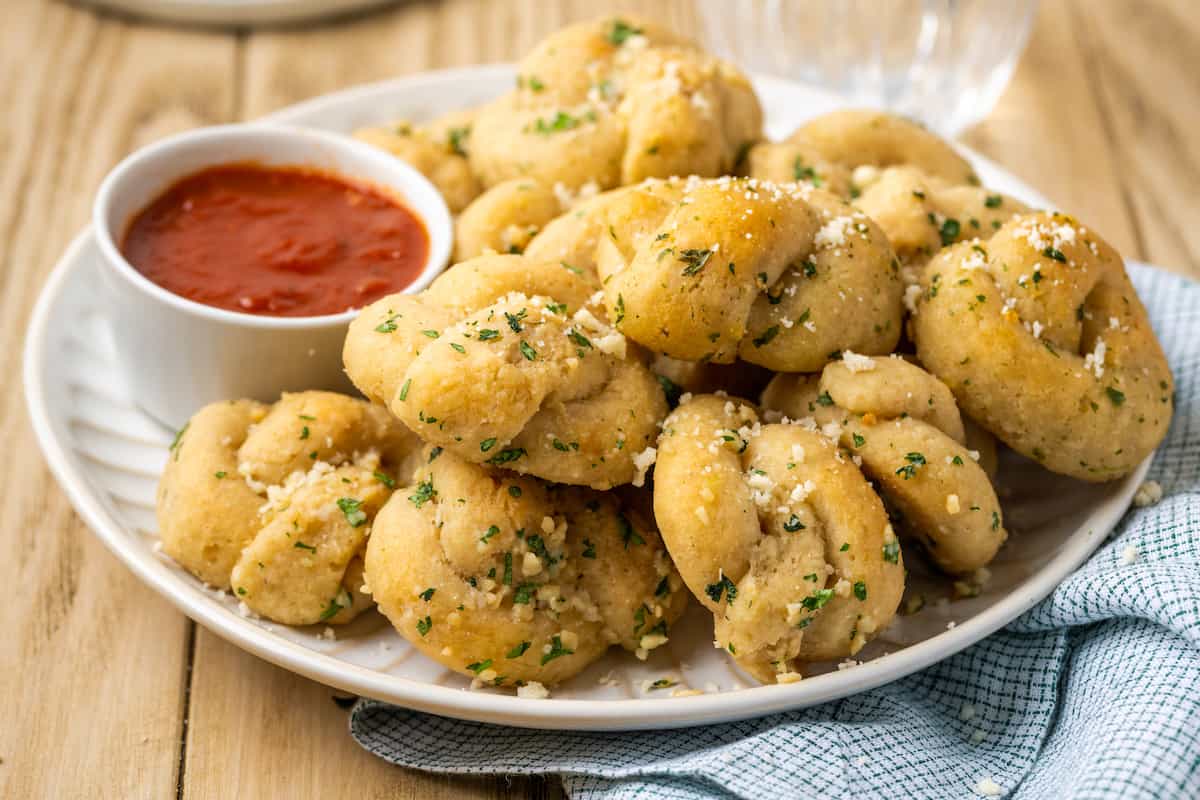 What You'll Need
As mentioned, one of the most important tools for making this recipe perfectly every time is a kitchen scale to measure the flour. For flour, I recommend King Arthur Measure for Measure. A silicone mat is a good option for rolling the rough so you don't have to add extra flour to keep it form sticking. And I don't do any baking without my Nordicware sheet pans.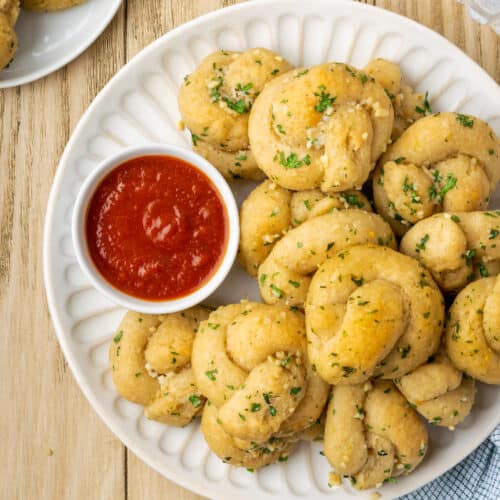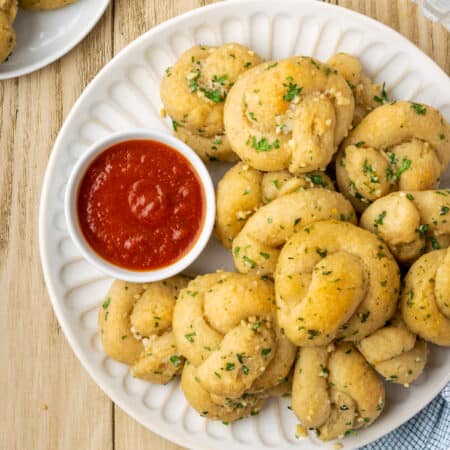 Gluten Free Garlic Knots
These easy homemade Gluten-Free Garlic Knots are so soft and flavorful! Serve them as a pizza night side dish or party appetizer dipped in zesty marinara sauce.
Servings:
12
garlic knots
Ingredients
2

Cup

Gluten Free Flour

(248 grams – King Arthur Measure for Measure)

2

teaspoons

Honey

1 1/2

teaspoon

Instant Yeast

1/2

teaspoon

Xanthan Gum

1/2

teaspoon

Psyllium Powder

1/4

teaspoon

Baking Powder

1/2

teaspoon

Garlic Powder

3/4

teaspoon

Salt

3/4

Cup

+ 1 Tablespoon Warm Water (110 degrees)

(188 grams)

1 1/2

Tablespoons

Olive Oil
For the Topping:
4

Tablespoons

Melted Butter

2

Tablespoons

Olive Oil

4

clove

Garlic

, minced

1/4

Cup

Grated Parmesan Cheese

1/4

Cup

Fresh Parsley

, finely chopped Pinch of Salt

Marinara Sauce

for dipping (try my recipe for Homemade Marinara Sauce)
Instructions
Combine dry ingredients in the bowl of a stand mixer fitted with the hook attachment.

Turn the mixer on low. While the mixer is running, slowly add the warm water.

Mix until most of the dry ingredients have been incorporated. Use a rubber spatula to scrape down the sides of the bowl as needed.

Add the olive oil and continue to mix until a shaggy dough forms.

Knead the dough with the mixer on low speed for 5 minutes.

Lightly oil a second bowl. Transfer the dough ball to the oiled bowl. Cover and allow to rise in a warm place for one hour or until doubled in size.

Line a baking sheet with parchment paper. Preheat the oven to 425 degrees.

Punch down the risen dough and turn it out onto a work surface. I used a silpat. You should not add any flour. If you have trouble with the dough sticking to your hands, spread a little olive oil on your hands.

Cut the dough into 12 equal pieces and roll them out into long ropes about 8-9 inches in length.

Tie the dough into a knot, tucking the end pieces underneath. Place them on the prepared baking sheet.

Loosely cover the knots with plastic wrap and allow them to rise again for 20 minutes.

Brush the tops of the dough with a little melted butter or oil. Bake in the preheated oven for 18 minutes or until barely golden brown.

While the garlic knots are baking, prepare the garlic butter. Add the butter, olive oil, and garlic to a shallow saute pan. Cook over medium heat until melted and the garlic is fragrant.

Once the garlic knots are done baking, dump them into a large bowl. Add the garlic butter mixture, parsley, parmesan cheese, and a pinch of salt. Toss together until the knots are well coated.

Transfer knots to a plate and serve with marinara sauce for dipping.
Notes
I highly recommend weighing the flour and water for this recipe as even 1 tablespoon variance of either will completely change the outcome of the dough.
Nutrition Facts
Gluten Free Garlic Knots
Amount Per Serving (1 garlic knot)
Calories 157
Calories from Fat 81
% Daily Value*
Fat 9g14%
Cholesterol 12mg4%
Sodium 218mg9%
Potassium 41mg1%
Carbohydrates 17g6%
Protein 3g6%
Vitamin A 240IU5%
Vitamin C 2mg2%
Calcium 41mg4%
Iron 1mg6%
* Percent Daily Values are based on a 2000 calorie diet.
Categories:
More Gluten-Free Bread Recipes