This post may contain affiliate links. Read my disclosure policy.
This easy Italian Meatballs recipe is a crowd-pleasing and gluten-free dinner that the whole gang will love! A plate of extra juicy, melt-in-your-mouth meatballs cooked in zesty marinara sauce and tossed with spaghetti is the ultimate year-round comfort food.
Tender and Juicy Gluten-Free Italian Meatballs
Spaghetti and meatballs are the perfect comfort food. One plateful really checks all the boxes: filling, heavy on protein, with a daily dose of veggies in the flavorful tomato sauce. Especially during the winter months, you'll find a pot of these Italian meatballs simmering on my stovetop almost weekly!
These savory meatballs are so tasty. Plus, the recipe makes a whole big batch. I always have enough to feed the table AND send takeaways home with family or friends, and even then I'll have some meatballs leftover to freeze! Needless to say, you can halve the recipe if you want, but who ever said no to a freezer full of juicy homemade meatballs?
Not this family. And I'm sure once you've made just one batch of gluten-free Italian sausage meatballs, your gang will feel the same. Be sure to check out further down in the post where I share my tips for storing and reheating your meatballs – you're going to need it!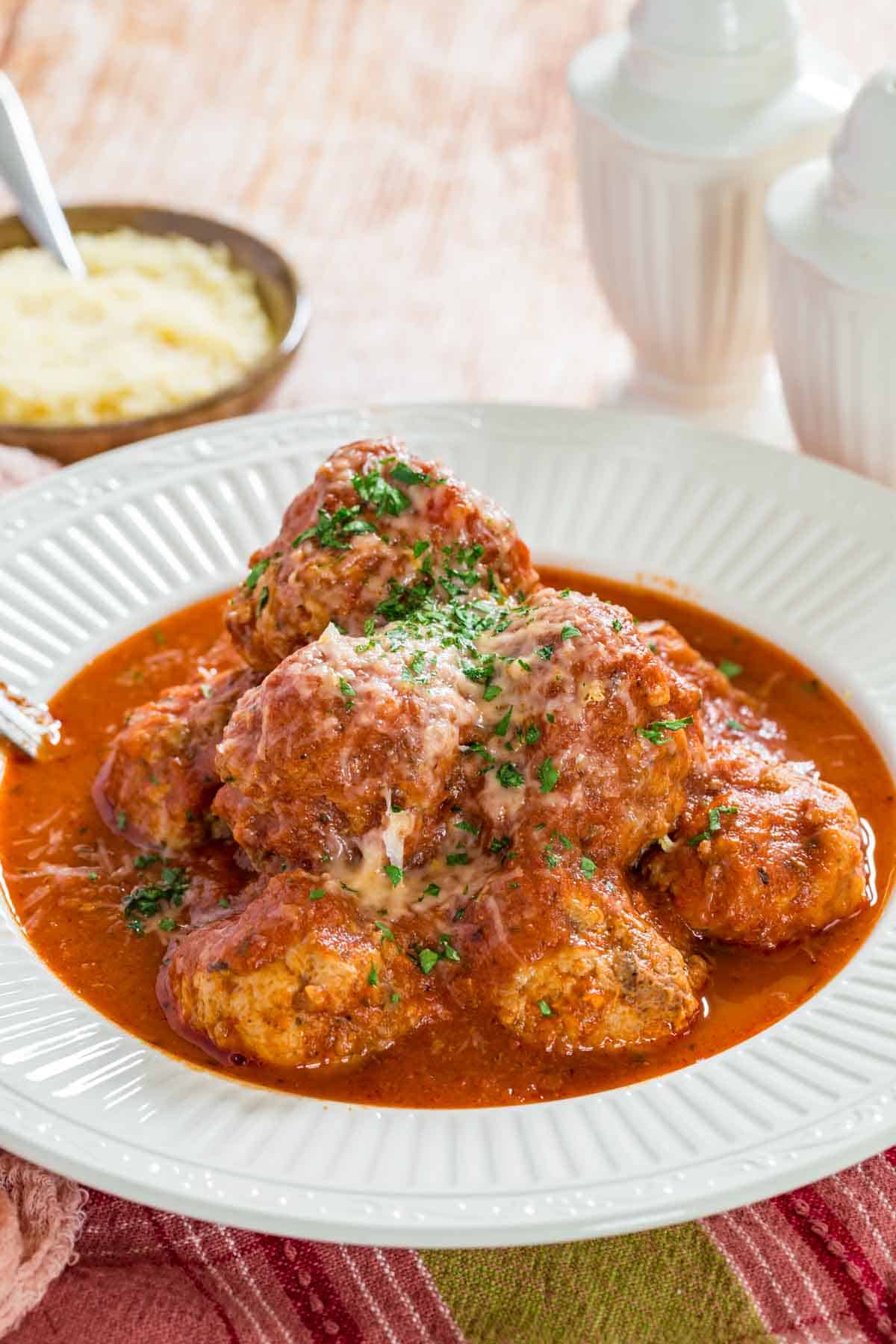 How Are Italian Meatballs Different?
Traditional Italian meatballs, or "polpettes", are usually quite a bit smaller than the ones I'm sharing here. In different parts of Italy, they're made with pork, chicken, fish, or vegetables, and not always cooked in sauce. In many ways, they're more like croquettes.
Some polpettes recipes are similar to Italian-​​American meatballs like these ones, though they're usually made with breadcrumbs. For the sake of keeping this recipe gluten-free, I've taken a few creative liberties with my homemade version. We'll call these "Italian-inspired," and they're just as delicious!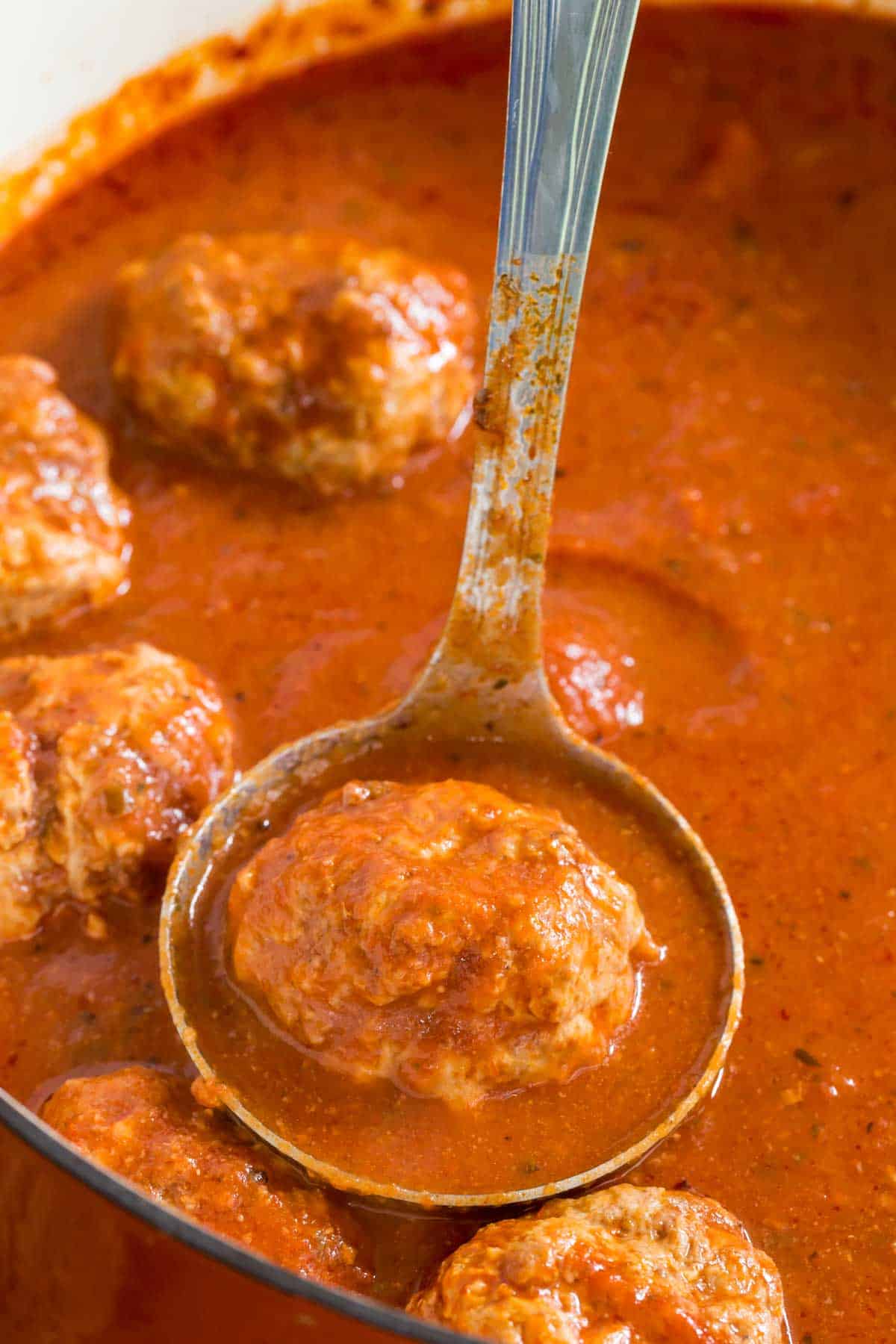 What You'll Need
Below is a short list of what you'll need to make the best homemade Italian meatballs! Be sure to check the recipe card for the full ingredient amounts.
Ground Meat: This Italian meatballs recipe calls for lean ground beef, along with a blend of both sweet and hot Italian pork sausage, removed from its casings. If your family is like mine and can't eat a lot of pork, feel free to use turkey sausage to make turkey meatballs instead.
Garlic: I minced up 4 cloves of fresh garlic, however, you can use more or less to taste.
Eggs: Since these gluten-free meatballs don't include breadcrumbs, eggs bind the ingredients together and help the meatballs hold their shape.
Seasoning: You'll need your favorite Italian seasoning blend, along with salt and pepper. I like to toss a pinch of crushed red pepper flakes into the mix for a bit of kick, but feel free to omit it if spice isn't your thing.
Marinara Sauce: This recipe makes a lot of meatballs! As a result, you'll need about two jars of marinara sauce if you're going the store-bought route. If you have the time, however, I highly recommend making your own Homemade Marinara Sauce. It's easy, and the freshness is 100% worth it.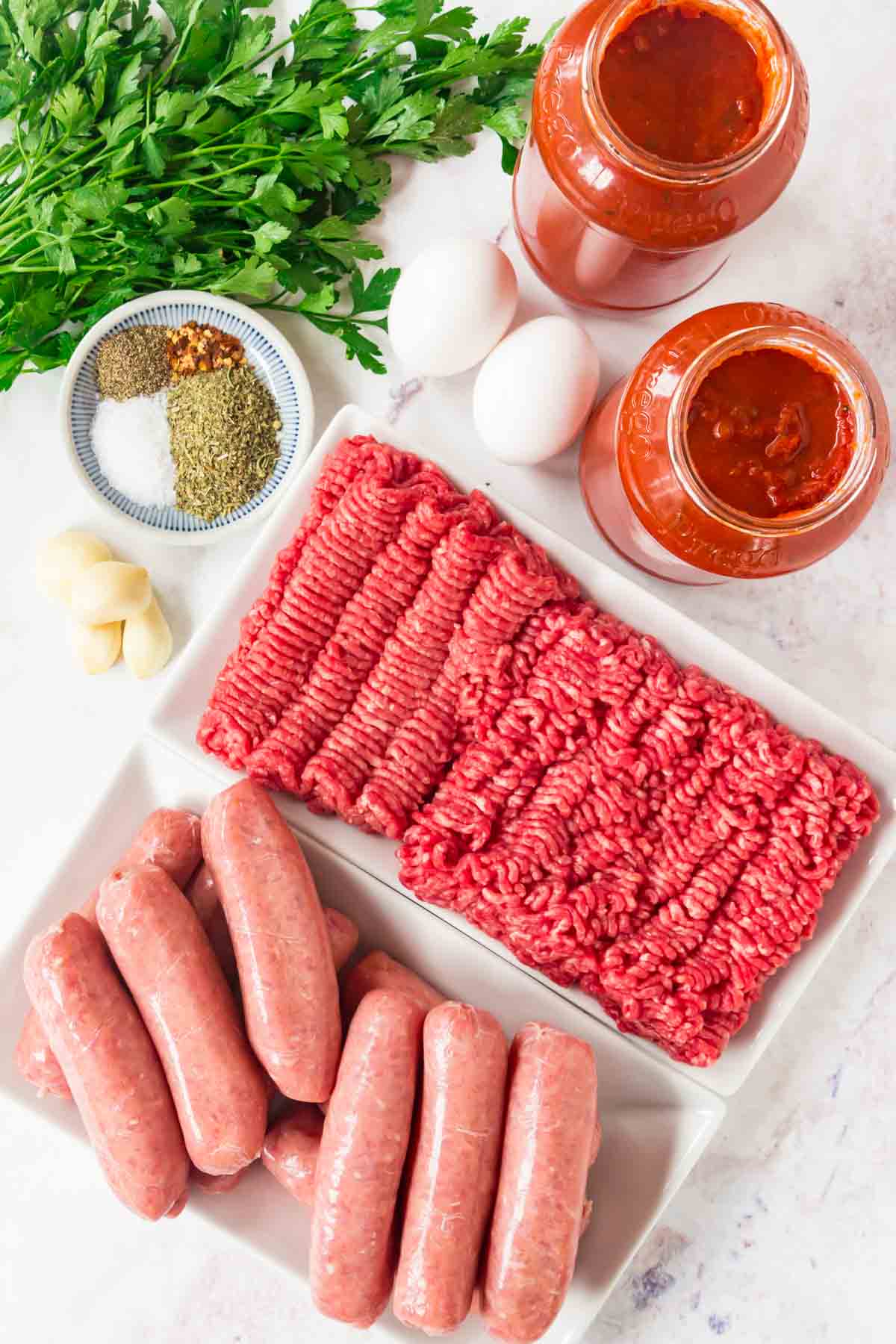 How to Make Italian Meatballs From Scratch
This is the easiest recipe for Italian meatballs. Here's how to prepare the meat mixture quickly from scratch, and how to cook meatballs in sauce on the stovetop:
Combine the Ingredients: Add the ground meat along with the rest of the meatball ingredients to a large bowl. Give everything a quick mix, making sure the seasonings are evenly distributed.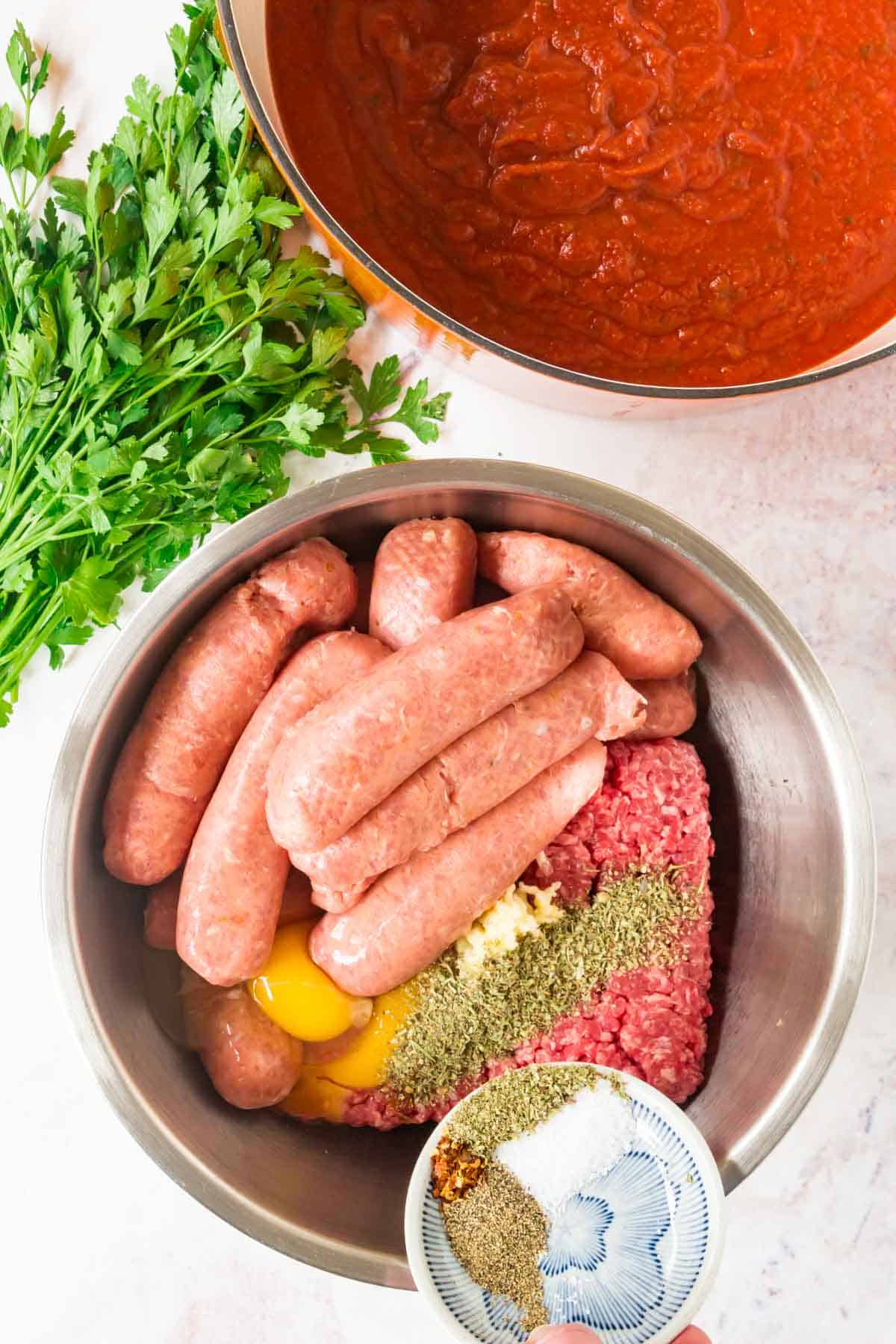 Shape: Once combined, shape portions of the meat mixture into round balls. I like my meatballs on the larger side, so I usually average about a ¼ cup of mixture per meatball. Next, you'll place the shaped meatballs onto a baking sheet to chill in the fridge.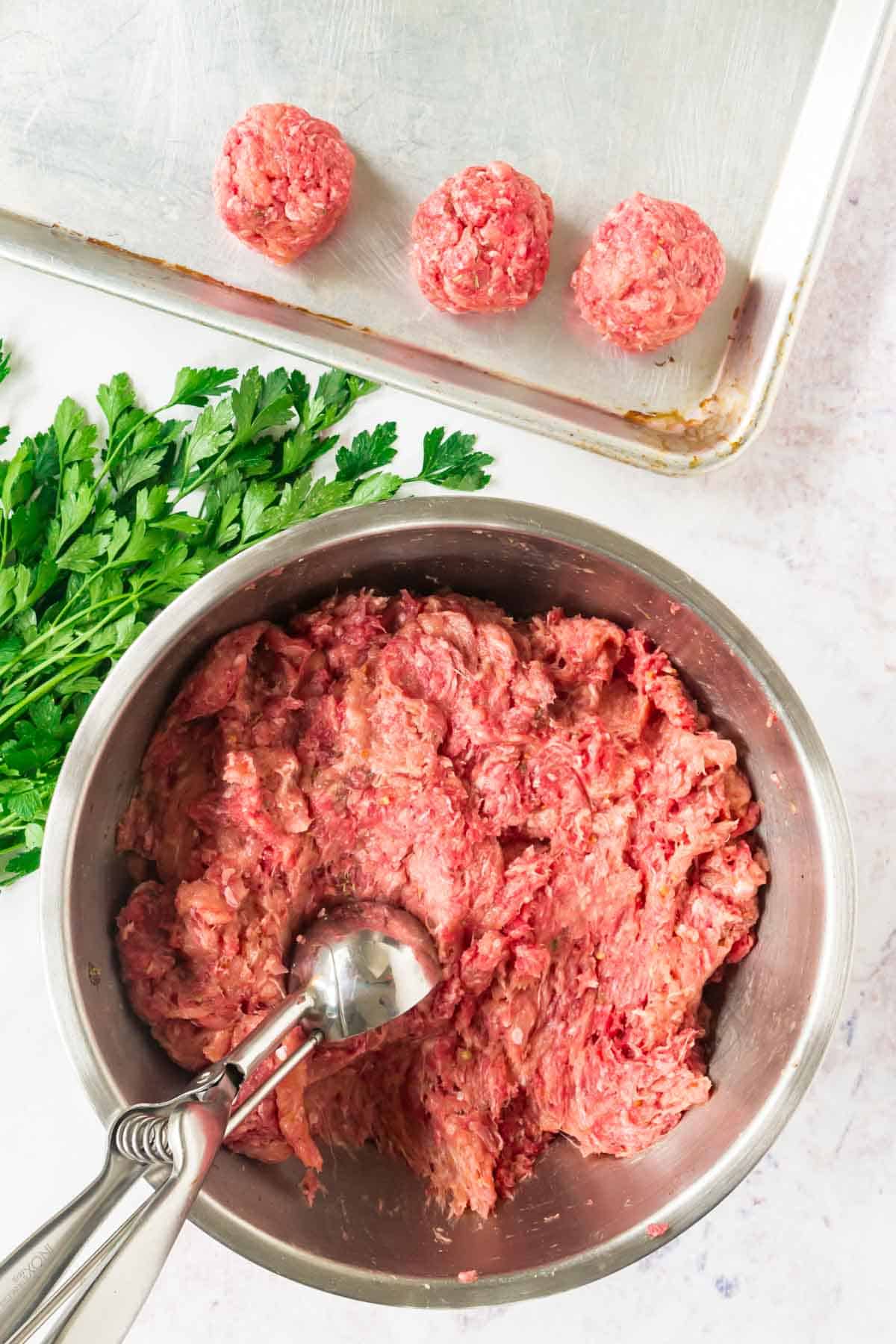 Add to the Sauce: After about 30 minutes, heat the marinara sauce in a big Dutch oven on the stovetop. When it's simmering, take your meatballs out of the fridge and add them to the sauce. Don't stir right away – wait until the meatballs begin to float to the surface, about 10 minutes or so.
Cook: Now, give the meatballs a stir and continue to simmer for another half hour. Stir them again every so often. If you notice any fat sitting on top of the sauce, you can skim it off using a spoon. Once your Italian-style meatballs are cooked through, it's time to serve! See the section further on for our favorite ways to serve homemade meatballs.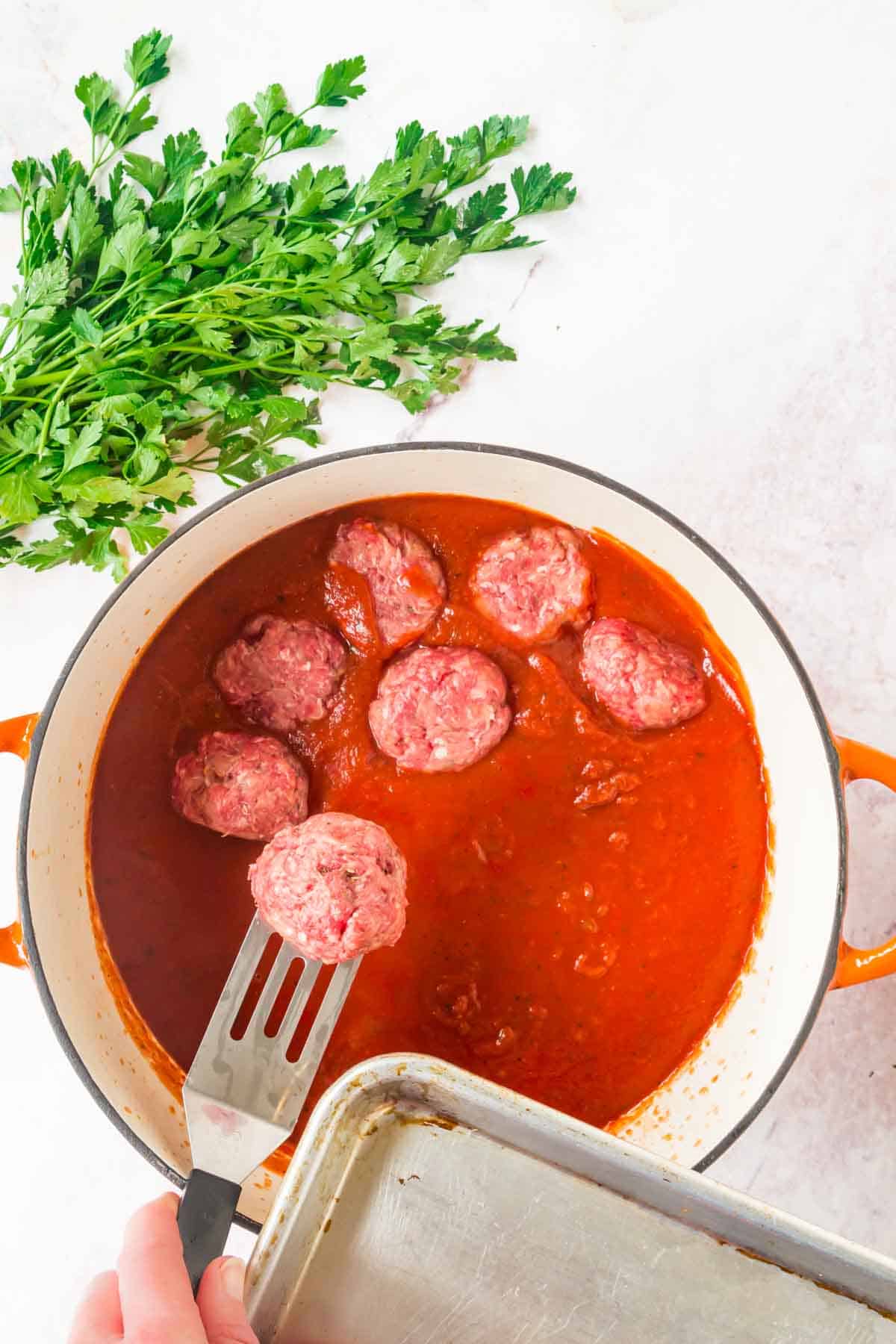 Can I Make These Meatballs in Advance?
I actually love making these Italian meatballs in the days leading up to holidays like Thanksgiving and Christmas. With all the other cooking going on, they're perfect to make ahead for easy dinners:
To Refrigerate: The raw meatballs can be prepped the day before and refrigerated overnight.
To Freeze: You can also freeze them on a parchment-lined baking sheet and then transfer the meatballs to a freezer bag, to keep frozen for up to 3 months. Thaw the uncooked meatballs in the fridge, then cook in the sauce and serve as usual.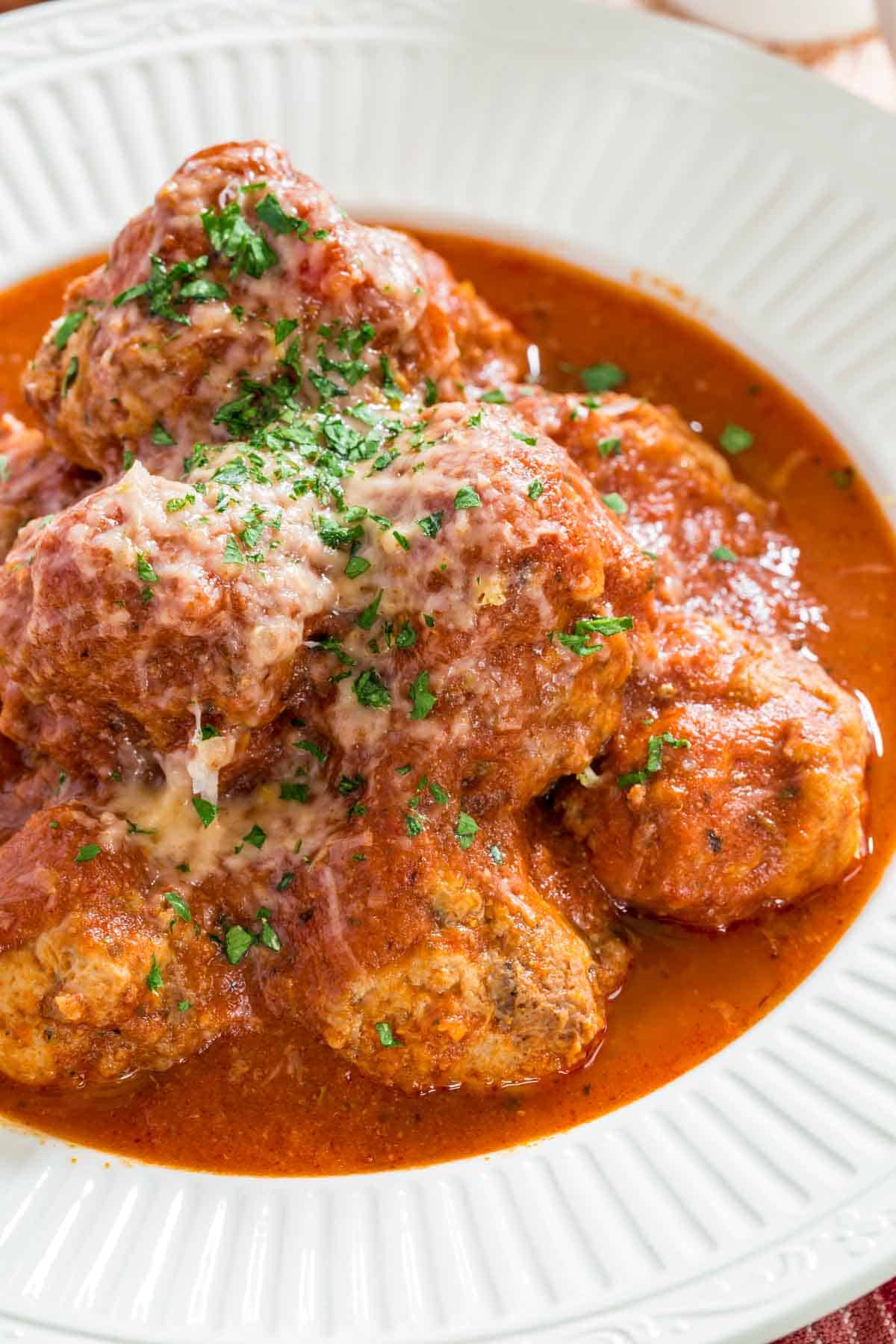 Tips for Success
Here are some bonus tips when making gluten-free Italian meatballs:
How to tell when meatballs are done: When the meatballs are near the end of their cooking time, use a thermometer to check the internal temperature. The meatballs are ready when the temperature reaches 160ºF.
What keeps meatballs from falling apart? The egg is what binds the ingredients in this gluten-free recipe, and keeps the meatballs from crumbling as they cook. Don't skip it!
For tender meatballs, avoid overmixing the meat. I find the easiest way to thoroughly combine the meatball ingredients is to use my hands. It's worth getting a little messy for meatballs that are juicy and tender, and not dense and tough!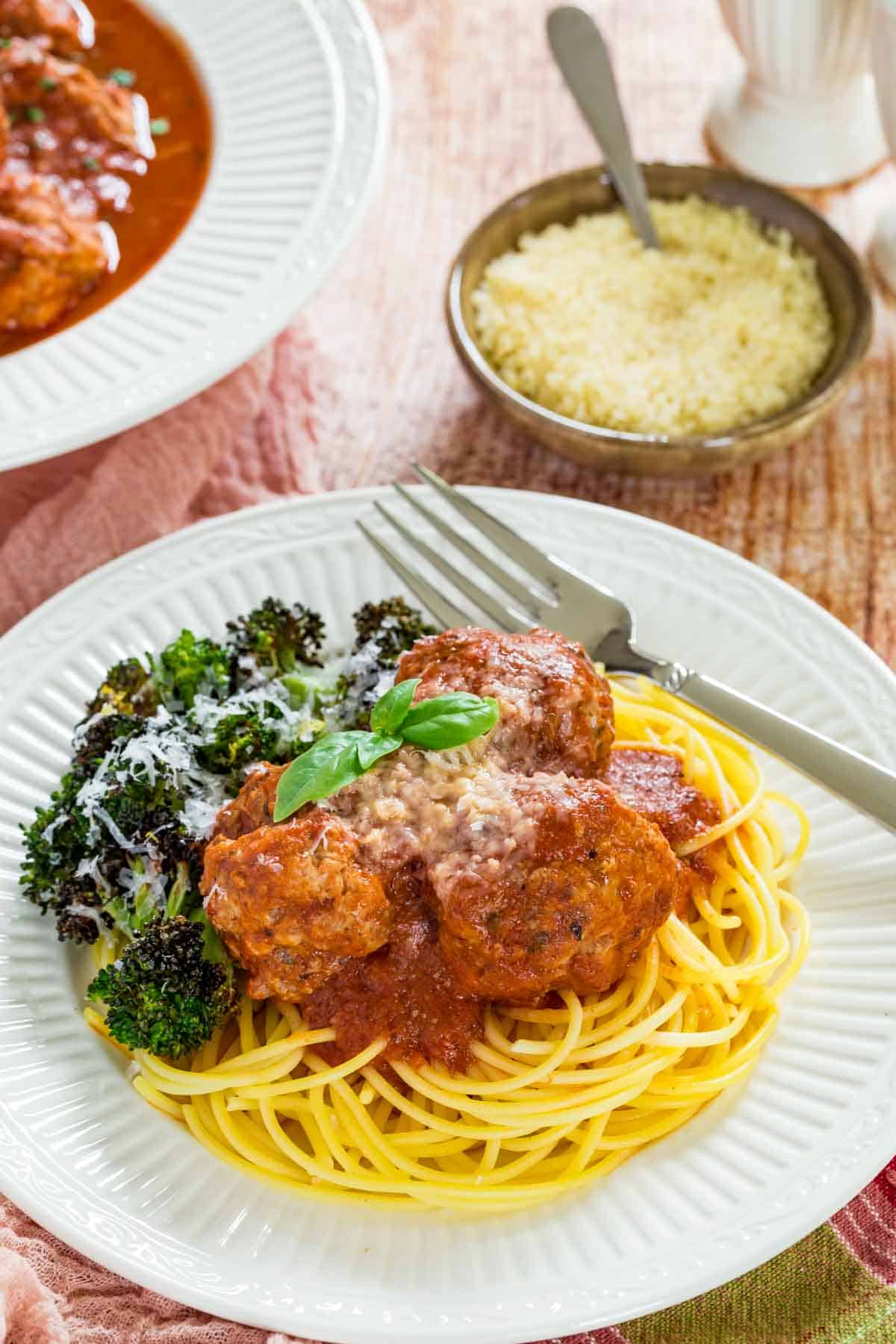 Make It a Meal
These saucy meatballs are perfect for dishing up over gluten-free spaghetti for classic spaghetti and meatballs, topped with freshly grated parmesan. We love ours with a healthy side of Lemon Parmesan Roasted Broccoli or braised spinach or kale.
These meatballs are also delicious to serve over Gluten Free Hot Dog Rolls or a Gluten Free French Baguette, topped with melted provolone for easy homemade Italian meatball subs.
Whichever way you serve them, meatballs and marinara sauce make a great family-friendly meal with one or more easy sides: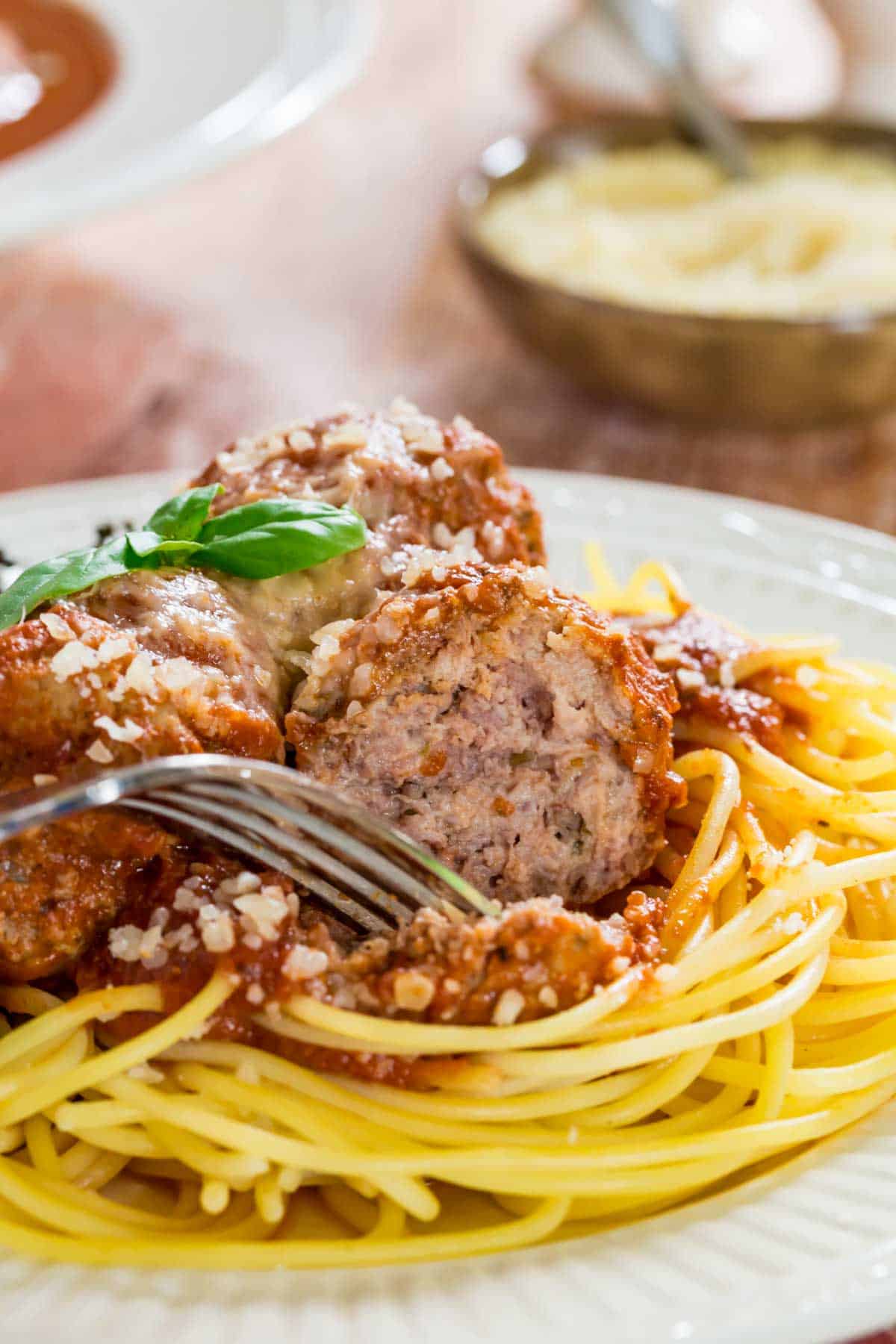 Storing and Reheating Leftovers
Store any leftover meatballs and marinara sauce airtight in a container, or covered in foil or plastic wrap. Both the meatballs and the sauce can be refrigerated for up to 3-5 days.
I prefer to reheat the meatballs with a bit of sauce on the stovetop. Alternatively, you can warm meatballs in the microwave at 50% power, until heated through.
How to Freeze Homemade Meatballs
The cooked Italian meatballs can be frozen along with the marinara sauce for up to 2-3 months. To do so, wait until the meatballs have cooled, then transfer them with the sauce to an airtight container or freezer bag. Thaw the meatballs in the fridge, then reheat as directed.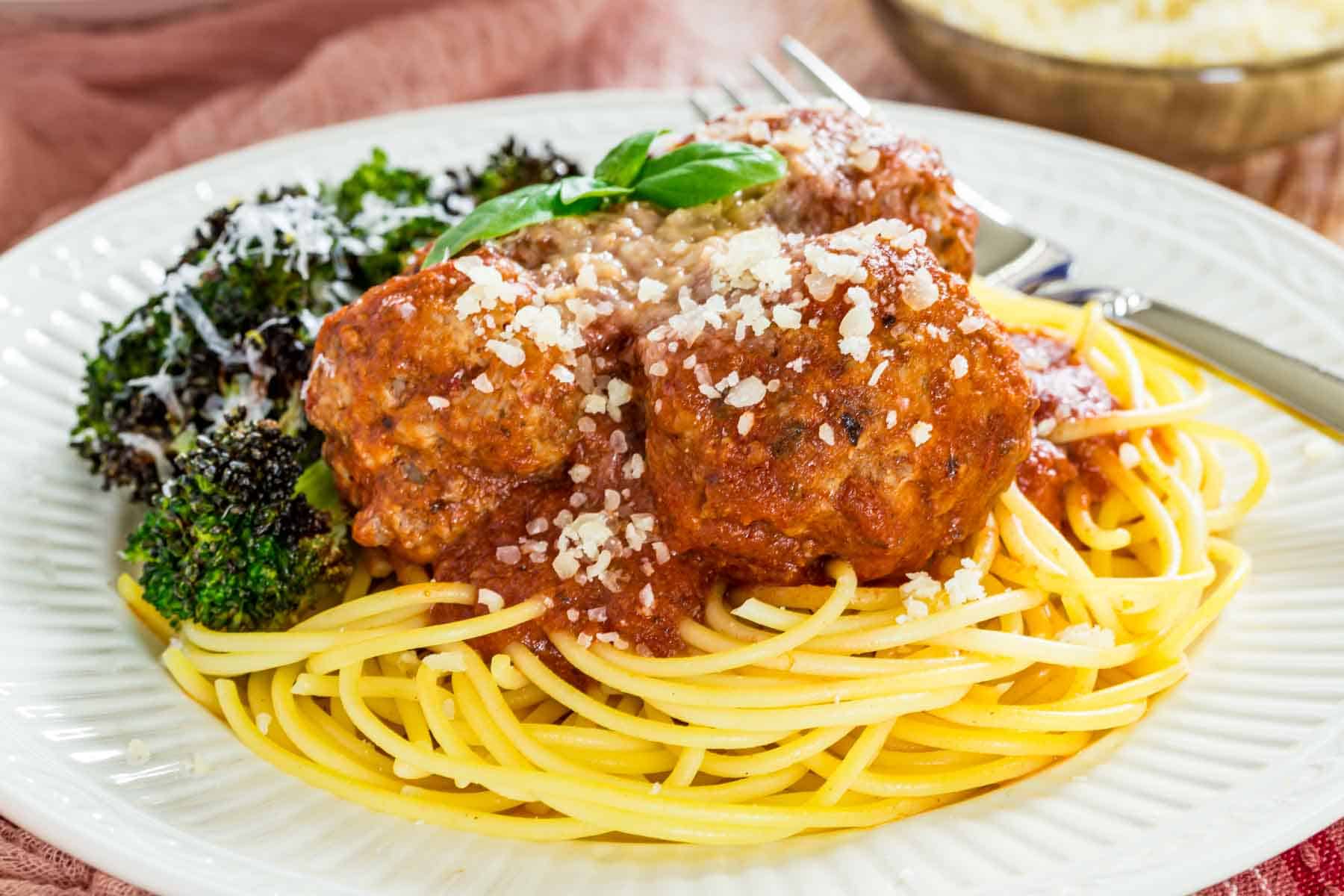 Things You'll Need
Last updated on Dec 7, 2023 1:57 am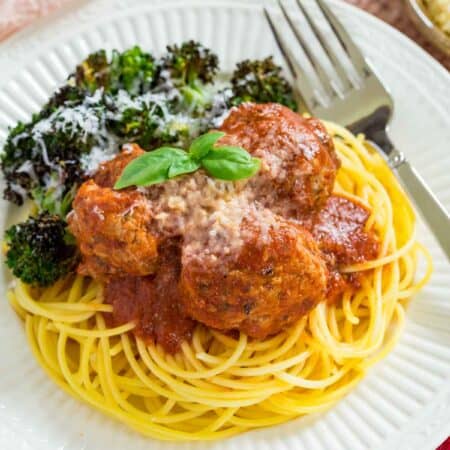 Gluten-Free Italian Meatballs
This is an easy recipe for large, delicious Italian Meatballs cooked in a flavorful sauce! Perfect for serving over gluten-free pasta or in a meatball sandwich.
Ingredients
1 1/2

pounds

lean ground beef

1 1/4

pounds

sweet Italian turkey or pork sausage,

removed from casings

1 1/4

pound

hot Italian turkey or pork sausage,

removed from casings

4

cloves

garlic

minced

2

large

eggs

1

Tablespoon

Italian seasoning

1

teaspoon

kosher salt

1/2

teaspoon

freshly ground black pepper

1/4

teaspoon

crushed red pepper flakes,

optional

4

cups

marinara sauce

(two 24-26 oz jars)

1

pound

gluten free spaghetti,

cooked according to package directions for serving, if desired

grated Parmesan cheese

for serving, if desired
Instructions
In a large bowl, combine the ground beef, sweet Italian sausage, hot Italian sausage, garlic, eggs, Italian seasoning, salt, black pepper, and red pepper flakes. Mix briefly but thoroughly to distribute the seasonings.

Using about 1/4 cup of the mixture for each, shape into about 30 large meatballs and place them on a baking sheet. Chill in the refrigerator for at least 30 minutes.

In a very large Dutch oven, bring the sauce to a simmer.

Add the meatballs to the sauce and do not stir until the meatballs float to the surface, about 10 to 12 minutes. Stir well and simmer the meatballs in the sauce for 30 minutes, stirring occasionally, and skimming off any fat that rises to the surface. The meatballs are done when they reach an internal temperature of 160°F.

Serve over hot pasta sprinkled with grated parmesan.
Notes
Nutritional information is just for the meatballs and does not include optional spaghetti and parmesan cheese.
Recipe adapted from Emeril Lagasse, Emeril's Potluck, William Morrow Publishers, New York, 2004
Nutrition Facts
Gluten-Free Italian Meatballs
Amount Per Serving (1 serving (about 3 meatballs))
Calories 340
Calories from Fat 162
% Daily Value*
Fat 18g28%
Cholesterol 142mg47%
Sodium 1810mg75%
Potassium 760mg22%
Carbohydrates 11g4%
Protein 33g66%
Vitamin A 666IU13%
Vitamin C 42mg51%
Calcium 62mg6%
Iron 14mg78%
* Percent Daily Values are based on a 2000 calorie diet.
More Easy Family Dinner Ideas