This post may contain affiliate links. Read my disclosure policy.
This easy and healthy Lasagna Stuffed Acorn Squash recipe has everything you love about your favorite Italian comfort food, but it's ready in about 30 minutes. The family will love the savory ground beef and sauce, plus three kinds of cheese. And you'll cut the carbs when you swap out the pasta from classic homemade lasagna to make it a veggie-packed and budget-friendly quick and easy dinner.
Stuffed Acorn Squash with Ground Beef and Cheese
[adthrive-in-post-video-player video-id="29SufsgE" upload-date="Thu Jan 10 2019 00:00:00 GMT+0000 (Coordinated Universal Time)" name="Lasagna Stuffed Acorn Squash" description="Lasagna Stuffed Acorn Squash is filled with the best parts of lasagna for an easy, cheesy dinner that will be one of your favorite acorn squash recipes."]
For many people, the pasta is the comfort food element they love most about classic lasagna. But if you are all about the sauce, meat, and cheese, this is the meal for you.
Especially if you might crave a gluten-free lasagna but don't want to go through the work of making all those layers! And even more so if you just love fall veggies like roasted squash.
This Italian-inspired recipe has all that ground beef and ricotta and mozzarella cheese. But it is stuffed into roasted acorn squash for a bowl you can eat. And that bowl is a vegetable. That means your protein and your veggies all in one dish. Plus it's an inexpensive meal to make and doesn't take a ton of time or effort.
Why You'll Love This Recipe
Everyone is always looking for easy dinners for busy nights. And if it's budget-friendly, that's a bonus, too. Acorn squash recipes can be a very frugal choice, especially in the fall and winter when it is in season. Ground beef recipes are also economical options, and the only other things you need are tomato sauce and cheese. 
One of my best budget tips is to just use a simple 8 oz. can of tomato sauce. You don't need anything fancy, and that small can is just enough so the rest of the jar won't go to waste. Or use leftovers the next time you make a big batch of marinara sauce.
And when it comes to time savings, this one can't be beaten. Take a few minutes to prep your squash, and while it is roasting, prepare the fillings. Then just stuff it all in and give it another few minutes in the oven to get melty and delicious. Plus the kids think it's fun to be able to eat their bowl, like this Turkey Chili in an Acorn Squash Bowl.
What does acorn squash taste like?
Acorn squash has a slightly sweet and mild flavor and an almost buttery texture. It is not as strong of a flavor as butternut squash or pumpkin, which means it pairs well with a wide variety of foods.
It is often roasted with warm spices and flavors like maple syrup and cinnamon or ginger. But it also contrasts nicely with the kick of chili or cayenne pepper.
You'll often see squash recipes with meats like chicken and pork. Sometimes it is even stuffed with Italian sausage.
And it can be served or stuffed with grains like wild rice or quinoa, sweet flavors like apples or dried cranberries, and earthy herbs such as sage and thyme. These options are perfect to serve alongside a Thanksgiving turkey.
However, in this recipe, that mild sweetness and creamy texture also pair well with the creaminess of the ricotta cheese, the rich flavors of tomato, oregano, garlic, and onion in the sauce, and the toasty flavors of the melted mozzarella and parmesan cheese.
Is acorn squash gluten free?
Yes, acorn squash is gluten free, making this a great alternative with all the same flavors as a traditional gluten free lasagna.
Is acorn squash a carb?
Acorn squash is definitely a higher carb veggie, so it may not fit into a keto or very low carb diet. However, compared to pasta, this is a lower-carb alternative to lasagna. In addition, these are natural carbs and sugars from the vegetable. This is definitely a better option for a good source of carbohydrates compared to processed foods and refined sugars.
What You'll Need
Acorn squash: You will need two that you cut in half lengthwise and scoop out the seeds.
Olive oil
Salt and pepper
Onion
Ground beef: I usually use 93% lean, but go with what you like best.
Tomato sauce: Use your favorite store bought or homemade sauce, or simply a small 8 oz. can of sauce.
Ricotta cheese: Whole milk or part skim are both fine.
Mozzarella cheese: You'll want it shredded, but for the best melting, I always recommend buying a block and shredding it yourself.
Parmesan cheese: Buy it grated or freshly grate it yourself. Try to get fresh parmesan and not the stuff in the green canister.
How to Roast Acorn Squash
The first step in this recipe is cutting and roasting acorn squash. Here is what you need to do.
How to cut acorn squash
Be very careful when cutting acorn squash. Make sure to cut it on a stable surface, such as a large wooden cutting board with a damp kitchen towel underneath. This helps to prevent the cutting board from moving around. Using a very sharp knife, cut the squash in half from top to bottom and scoop out the seeds.
How to roast acorn squash
After cutting your acorn squash, place the halves on a baking sheet and brush the insides with olive oil. Sprinkle with salt and pepper, flip them over, and bake cut side down at 400°F for about 20 minutes.
You can then proceed with the rest of this recipe. If you are not filling your squash and just eating it roasted, you may want to give it another 5 to 10 minutes in the oven with the cut side up. Trying giving it a sprinkle of your favorite dried herbs or spices.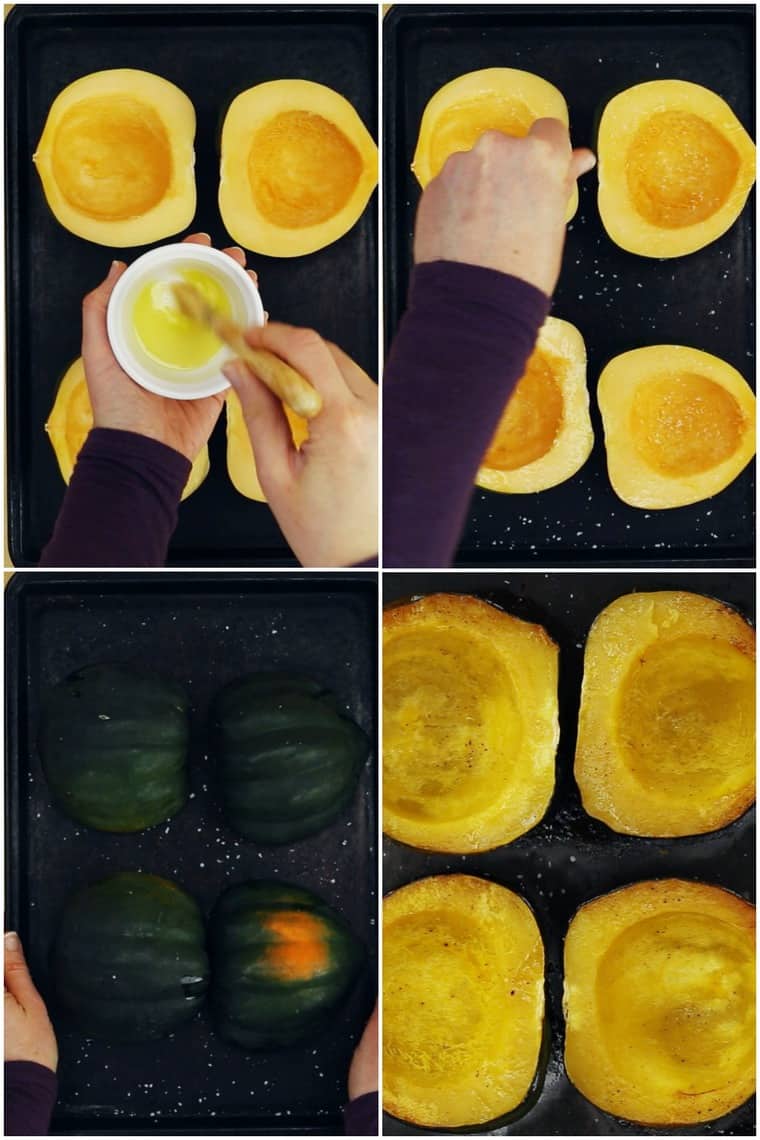 How to Make Stuffed Acorn Squash
While the acorn squash roasts, make the meat sauce. Heat a bit of olive oil in a skillet over medium heat. Add the ground beef and onions, plus a pinch of salt and pepper. Then saute, breaking up the ground beef while it is cooking until it is no longer pink. Stir in the tomato sauce, and adjust seasonings to taste.
Remove the squash from the oven, flip each side over, and fill the squash halves with ricotta cheese and the meat sauce mixture. Top with mozzarella and parmesan cheese and pop back the stuffed squash in the oven just until the cheese melts and browns slightly.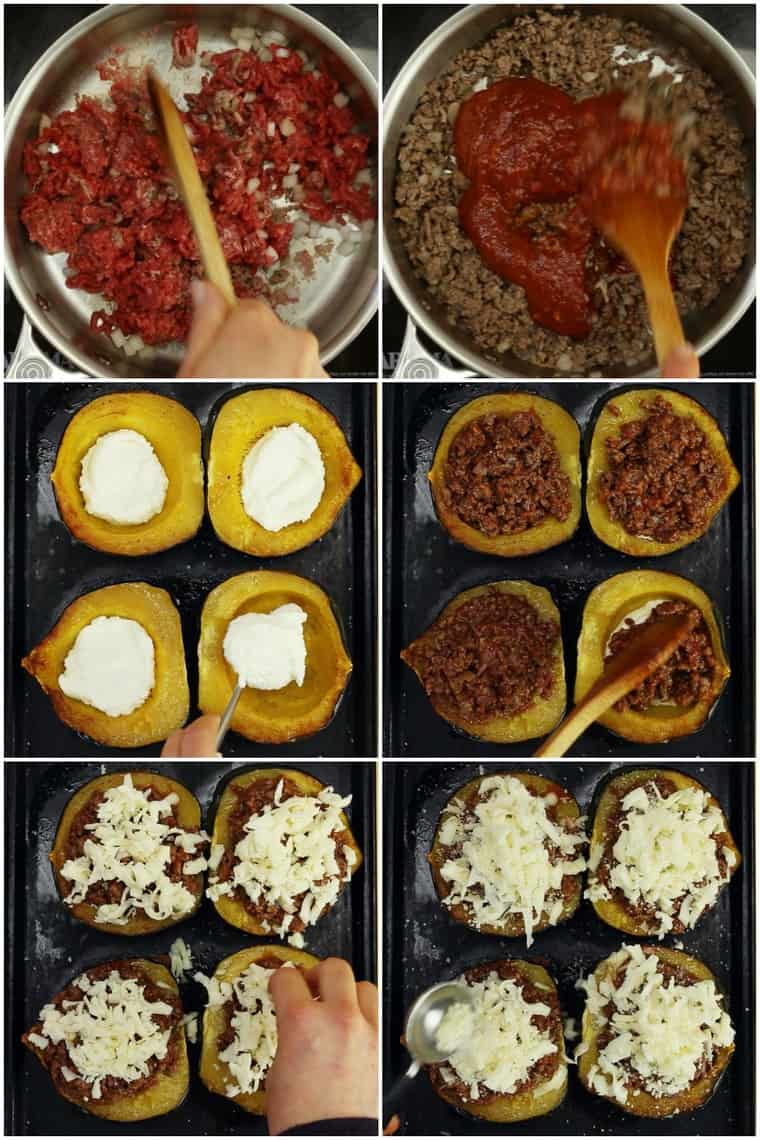 Variations
In this stuffed squash recipe, I used ground beef in the meat sauce. However, you could substitute ground chicken or turkey for a leaner option. You can also use ground pork or Italian sausage removed from its casings to add additional flavor. You could even skip the meat altogether or add some chopped mushrooms or chickpeas for a vegetarian option.
Can you eat the skin of acorn squash?
After roasting, the skin of acorn squash typically becomes quite tender, so yes, you can eat it if you like. However, if you prefer not to eat the skin, the flesh does separate from the skin quite easily. That is why it is recommended to roas acorn squash with the skin on. Due to the thickness of the skin and the grooves, it is very difficult to peel before baking.
Storing Leftovers
If wrapped or sealed well, your stuffed acorn squash can be refrigerated for 2 or 3 days. You can reheat it in the microwave for 2-4 minutes until heated through. Or pop it back in a 400°F oven for 5-10 minutes, until hot.
You can also freeze it for up to two months. Just be sure to thaw overnight in the refrigerator before reheating.
What to Serve with Stuffed Acorn Squash
You can take inspiration from your favorite Italian dinners for side dishes to serve with this meal.
Lasagna Stuffed Acorn Squash
Roasted acorn squash filled with hearty ground beef and tomato sauce, plus three kinds of cheese is a veggie-packed dinner recipe inspired by your favorite Italian comfort food. Cheesy and delicious. Lower carb and gluten free.
Ingredients
2

small

acorn squash

cut in half and seeds removed

2

teaspoons

olive oil,

divided

salt and pepper

1/2

medium

onion

1

pound

lean ground beef

1

cup

tomato sauce,

plus additional for serving if desired (can use any type from a can or jar, or homemade)

1

cup

ricotta cheese

1

cup

shredded mozzarella cheese

1

Tablespoon

grated parmesan cheese
Instructions
Preheat oven to 400°F. Coat a baking sheet with olive oil; set aside.

Brush each squash cut half with ¼ teaspoon olive oil, then sprinkle with salt and pepper. Roast the squash cut side down until tender, about 20-25 minutes.

While the squash is baking, heat a teaspoon of olive oil in a skillet over medium heat. Add the onion and ground beef, season with salt and pepper, brown the ground beef, breaking up as it cooks.

Darin any excess grease, then stir in the tomato sauce and cook until heated through.

Remove the squash from the oven and flip them over. Place a quarter cup of ricotta cheese in the bottom of each of the squash. Divide the meat mixture between the squash and top each with a quarter cup of mozzarella and about a teaspoon of parmesan cheese.

Return squash to the oven and baked for about another ten minutes until the squash is tender and the cheese is melted and slightly browned.
Nutrition Facts
Lasagna Stuffed Acorn Squash
Amount Per Serving (0.5 squash)
Calories 458
Calories from Fat 180
% Daily Value*
Fat 20g31%
Cholesterol 124mg41%
Sodium 649mg27%
Potassium 1448mg41%
Carbohydrates 29g10%
Protein 40g80%
Vitamin A 1520IU30%
Vitamin C 29mg35%
Calcium 375mg38%
Iron 5.2mg29%
* Percent Daily Values are based on a 2000 calorie diet.
Categories:
More stuffed vegetable recipes
You could also try stuffing your lasagna goodness inside a Cheesy Mozzarella Stuffed Meatloaf!