This post may contain affiliate links. Read my disclosure policy.
Apple Cider Gravy with dried cranberries adds amazing fall flavors to chicken or pork chops. It's also an easy make ahead gravy recipe for your Thanksgiving turkey. With the perfect balance of sweet and savory, plus a pop of tart cranberry, this is a delicious addition to a weeknight dinner or a holiday meal. Plus Cranberry Apple Cider Gravy is also a tasty gluten free gravy recipe.
I know this is almost un-American, but typically, I am just not a gravy girl. Maybe it is because nobody in my family really makes gravy. For Thanksgiving, we just buy a bunch of jars of that gloppy excuse for turkey gravy.
I'd rather smear some Cinnamon Orange Cranberry Sauce on my turkey. Or even dip it in the Corn Pudding. Somehow this side dish made from canned creamed corn is acceptable to me, but gravy from a jar is not. I am not going to explain myself.
And truthfully, homemade gravy kinda bugs me a bit, too. It always looks so greasy and heavy, and sometimes lumpy. And it isn't even my family's lack of skill in this area – I don't typically order anything with gravy, even when I am eating out.
But l started playing around with using apple cider as a base for a gravy, and I love the results. I actually was eating this stuff by the spoonful, and I'm totally sorry, not sorry.
You can even make it in advance and reheat it for your Thanksgiving turkey. And as an added bonus, this is also a gluten free gravy recipe that is vegan as well if you want to serve it over a meatless main dish alternative.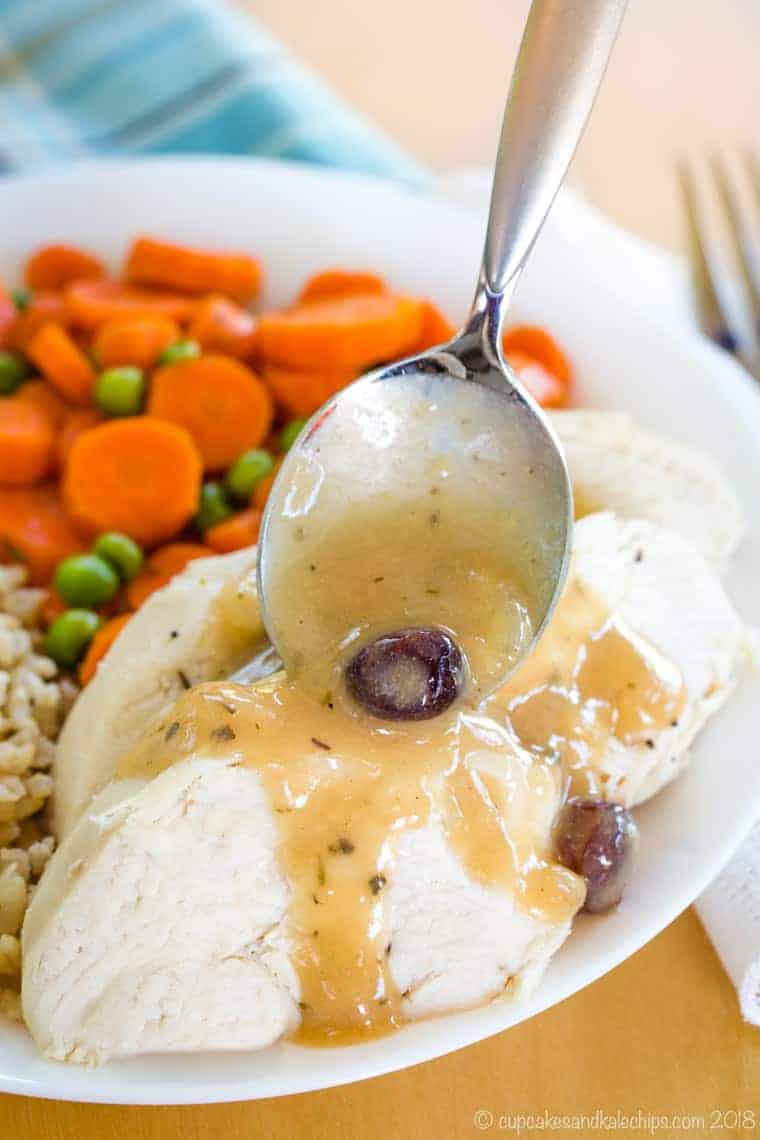 Apple Cider Gluten Free Gravy Recipe
This might not be a traditional gravy recipe, but I guarantee you are going to love the sweet and savory balance of flavors for all of your fall meals.
The savory tang of the dijon mustard balanced with the sweetness of the cider, the seasonal herbal flavors of sage and thyme, and the pop of sweet-tart cranberries make this the perfect fall gravy recipe for chicken or pork chops.
Here is a brief overview so you can see just how easy it is to make. Scroll down to the printable recipe card for the full quantities and details.
But don't skip my PRO TIPS below!
What do you need for apple cider gravy?
Do not be confused. You need apple cider, NOT apple cider vinegar. That will be way too tart and harsh.
I like to use fresh apple cider for the most apple-y flavor, but apple juice works as well. You can substitute up to half with stock or the juices/dripping from roasting a bird.
Oftentimes people thicken gravy by making a roux where the combine butter and flour and cook until it is golden before adding the pan juices. This is a gluten free gravy recipe that is thickened with a cornstarch slurry, so it is completely gluten free.
In addition, this gravy recipe is flavored with Dijon mustard, salt and pepper, fresh sage and thyme, as well as a shallot sauteed in olive oil.
Dried cranberries are added and plump up while it simmers to add little bursts of sweet-tart flavors and a gorgeous bejeweled appearance.
How to make gluten free gravy?
First, whisk together apple cider, mustard, cornstarch, salt, pepper, sage, and thyme in a small bowl.
Then in a small pot or skillet, saute a little shallot or onion in a bit of olive oil.
While whisking constantly, slowly pour in the apple cider mixture and add the dried cranberries.
Bring the mixture to a simmer and cook for ten to fifteen minutes or until thickened.
Season to taste with salt and pepper.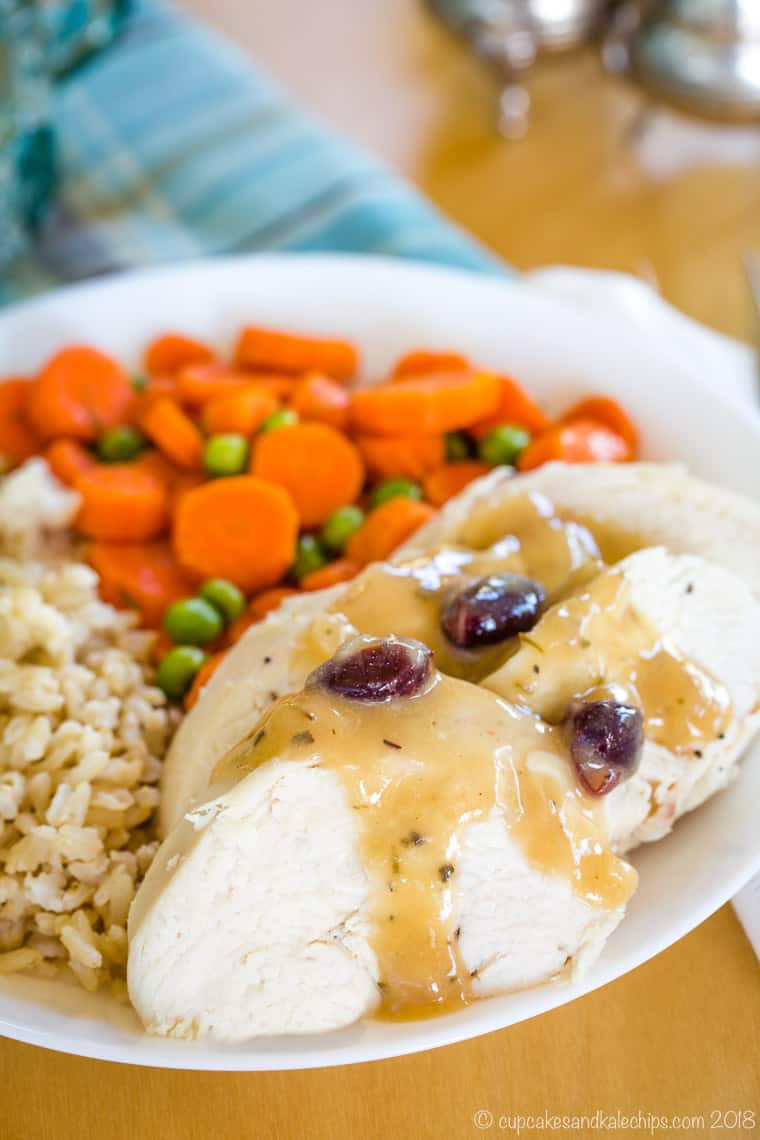 Can you make gravy ahead of time?
Making homemade gravy, especially on a holiday where there is so much food happening and timing is kind of crazy, is always a challenge. The last thing you want to do is worry about making gravy AFTER the turkey comes out of my oven.
This can be made in advance. You can definitely make it right before your meal and replace some of the apple cider with your roast chicken or turkey drippings. That does give it a more rich and savory flavor.
But it was originally made with just apple cider, meaning you can make it while you roast the turkey or even the night before you plan to serve it. When you reheat it, do it over low heat, and add a little chicken or vegetable to thin it out if needed.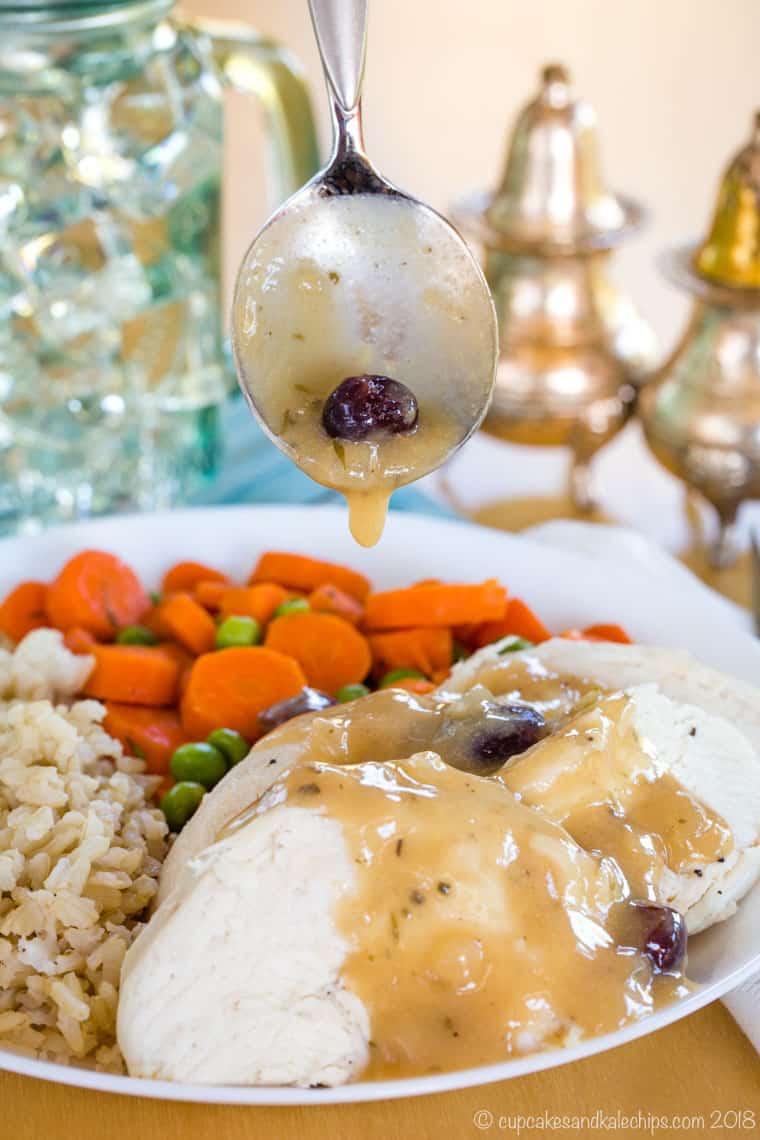 Make it a Meal
What to serve with apple cider gravy
Roast chicken
Pork chops
Thanksgiving feast
Smaller holiday dinner
Guess what? Coincidentally this recipe is also vegan, so if you have any meatless family or friends on your guest list they can enjoy this gravy over tofurkey or another vegetarian main dish.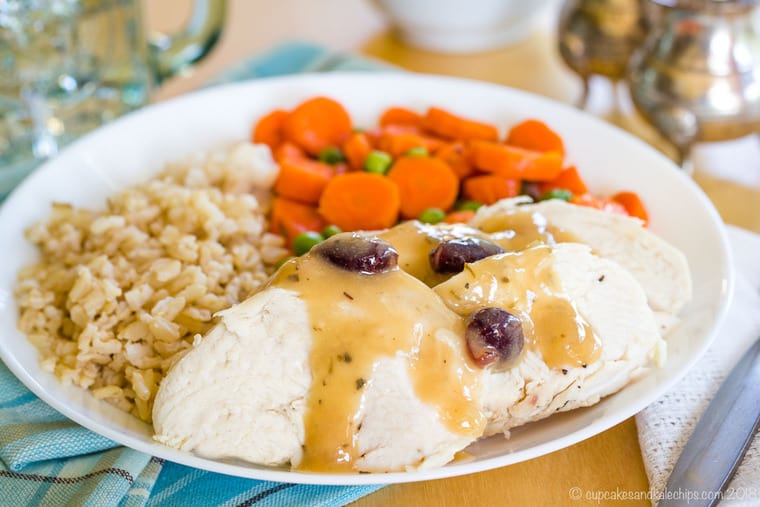 More gluten free Thanksgiving recipes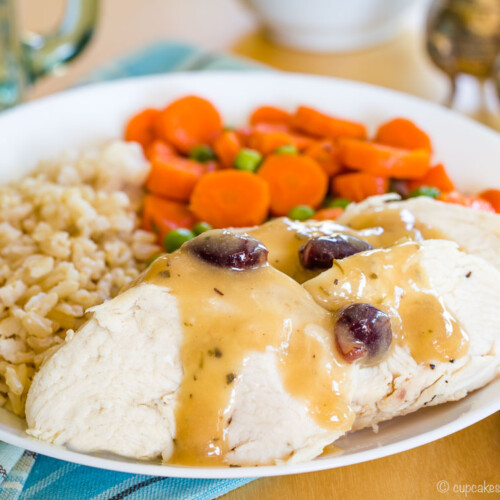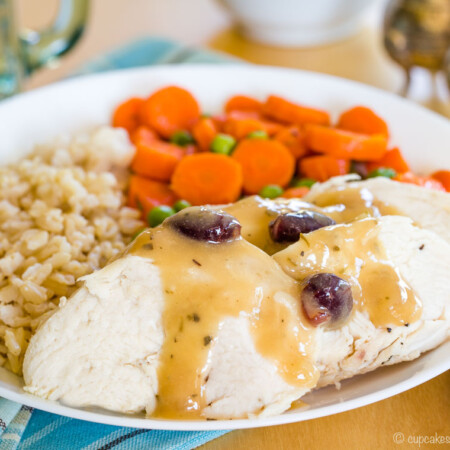 Cranberry Apple Cider Gravy
A sweet and tangy twist on gravy that works equally well on pork, chicken, or turkey. It's vegan, so you can even put it on your tofurkey.
Ingredients
2

cups

apple cider

can substitute up to half with stock or the juices/dripping from roasting a bird

1/4

cup

dijon mustard

2

Tablespoons

cornstarch

1

teaspoon

kosher salt

1

Tablespoon

finely chopped fresh sage

1

tsp

chopped fresh thyme

1

teaspoon

olive oil

1

small

shallot

or about 1/4 cup sweet onion, finely minced

1/4

cup

dried cranberries

Kosher salt & freshly ground pepper
Instructions
In a bowl or large measuring cup, combine apple cider, mustard, cornstarch, salt, pepper, sage, and thyme. Whisk to combine.

In a small saucepan or skillet, heat olive oil over medium heat. Add shallot or onion and cook for a minute or two, or until it starts to soften.

While whisking constantly, add the cider mixture and dried cranberries, bring to a simmer, and cook for 10-15 minutes, or until thickened.

Serve gravy over roasted or baked chicken, turkey, pork, etc.
Notes
You can also sear four chicken breasts or pork chops in a pan for about 3 minutes per side, remove them and make the gravy in the same pan, then return the chicken or pork to the pan to simmer until it is cooked through.
This gravy reheats nicely, but you may need to add a little stock or broth to thin it out.
Nutrition Facts
Cranberry Apple Cider Gravy
Amount Per Serving
Calories 56
% Daily Value*
Sodium 381mg16%
Potassium 70mg2%
Carbohydrates 12g4%
Vitamin C 0.8mg1%
Calcium 9mg1%
Iron 0.2mg1%
* Percent Daily Values are based on a 2000 calorie diet.
Enjoy!