This post may contain affiliate links. Read my disclosure policy.
Tender and flaky, these Gluten Free Crescent Rolls are easy to make with the most deliciously buttery, melt-in-your-mouth flavor. Lightly brushed with milk and honey for a hint of sweetness, they really are the perfect homemade dinner rolls! Serve them as a side during the holidays, and year-round with all your favorite family meals.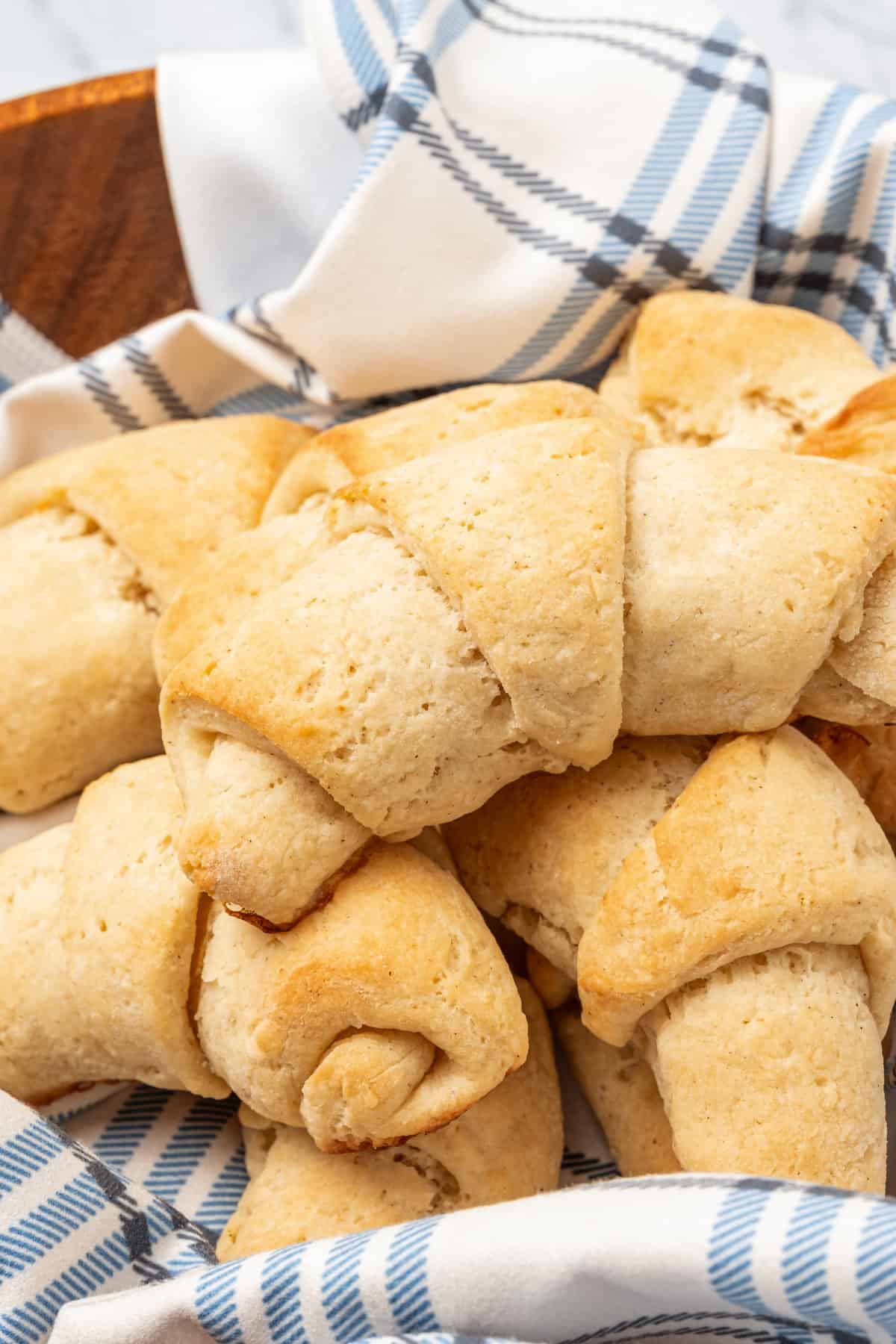 Buttery Homemade Crescent Rolls
I don't think any holiday meal is complete without a tender, buttery dinner roll. That being said, I can't really imagine any meal that wouldn't be improved by a basket of these warm, fresh-from-the-oven gluten free crescent rolls!
The delicious scale is off the charts with this recipe. I can only attempt to describe how melt-in-your-mouth and buttery these tender and flaky gluten free rolls are! Your family is going to love them. They rival just about anything I've ever purchased from the store.
These crescent rolls are an easy side for family dinners, holidays, or whenever we entertain. They're perfect when smothered with butter, and the light and fluffy, doughy texture soaks up any sauce, gravy, soup, or chili it meets along the way!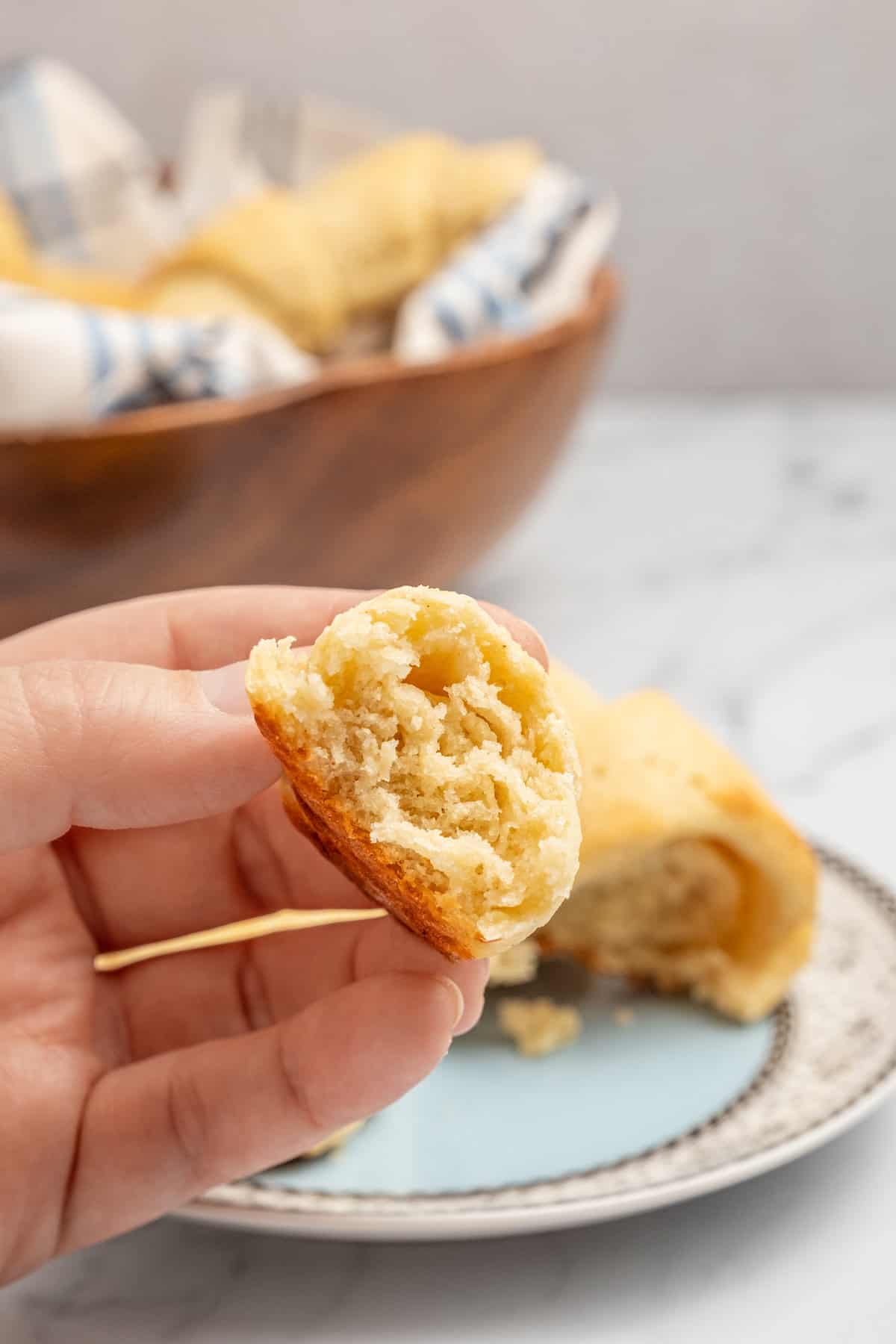 Is Crescent Dough the Same as Croissant Dough?
The end result may be similar in shape, but the doughs themselves aren't quite the same. Croissant dough is a puff pastry dough, with lots of thin, airy layers. Meanwhile, crescent rolls are made from bread dough that's more rustic and dense, with an inner texture like a soft and fluffy dinner roll.
Often the first picture that comes to mind when people think of crescent rolls is the iconic Pillsbury kind that comes in tubes. With this recipe, I've wrangled the essence of a classic, buttery ready-to-bake crescent roll into a delicious homemade, gluten-free version.
What You'll Need
These soft and golden gluten free rolls come together with under 10 ingredients! Below you'll find an outline of everything you'll need, with the full ingredient amounts available in the recipe card further on.
Gluten Free Flour: These rolls turned out wonderfully with Bob's Red Mill Gluten Free 1:1 Baking Flour.
Xanthan Gum: In place of gluten, xanthan gum lends structure and texture to the dough.
Sugar
Instant Yeast: Also called "fast rising yeast," this type of yeast doesn't require proofing.
Baking Powder: For leavening. Be sure to check the dates on the packaging to ensure that ingredients like the yeast and baking powder you're using aren't expired.
Salt
Butter: You'll need cold, unsalted butter from the fridge, cut into cubes.
Egg
Whole Milk: Whole milk adds creaminess and moisture to the dough.
Honey: I like to combine honey with a bit of additional milk to make a sweet wash for the crescent rolls before baking them in the oven.
Last updated on September 29, 2023 12:42 pm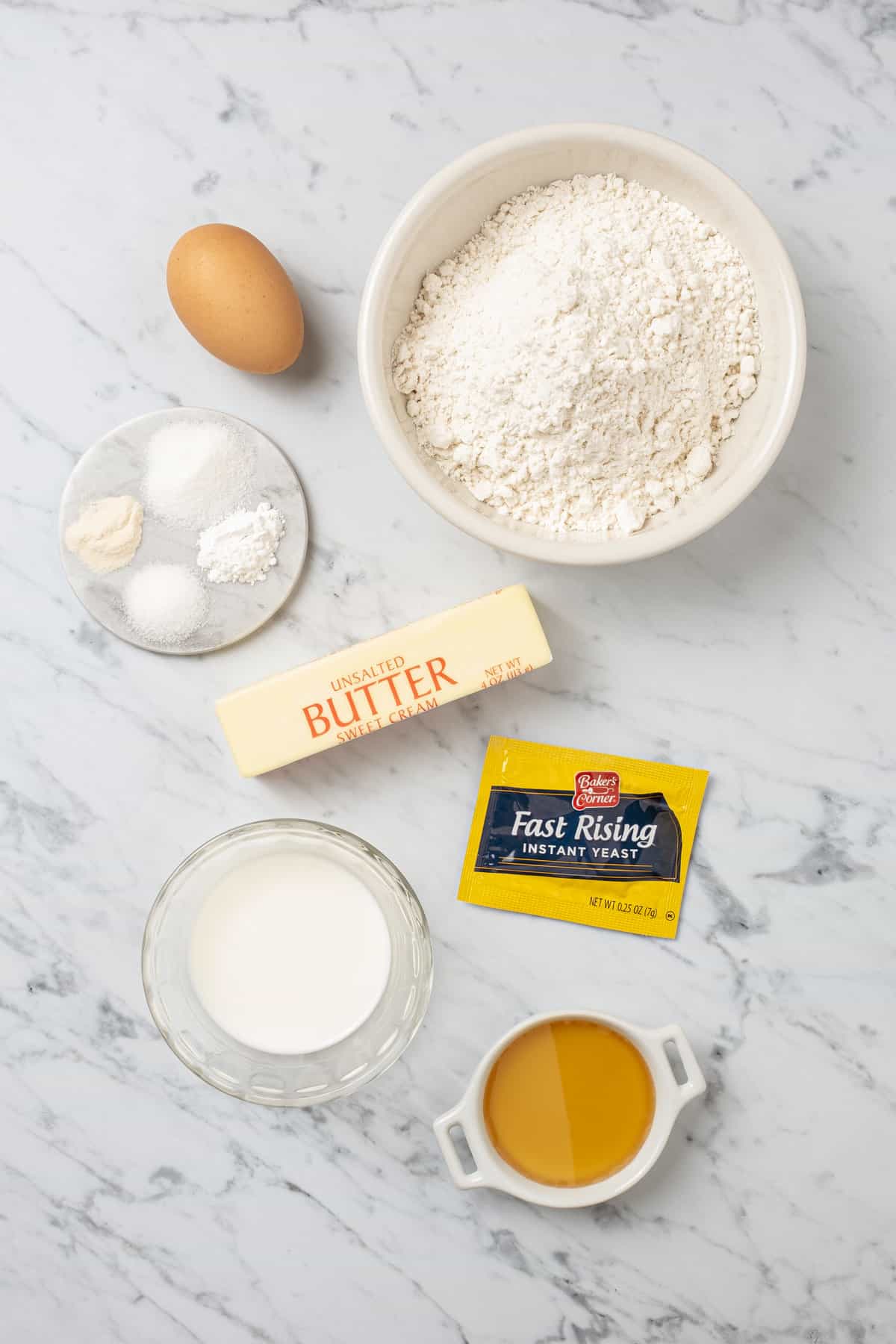 How to Make Gluten-Free Crescent Rolls
There's just a bit of prep, a bit of chilling, and then some rolling involved to make these tender homemade crescent rolls. Follow these steps:
Make the Dough: In a mixing bowl, whisk together the gluten free flour and dry ingredients. Use a pastry blender to cut in the cold butter cubes. In a separate bowl, whisk together the milk and egg. Add this mixture into the dry ingredients and stir to combine. The dough should come together in a sticky ball. Wrap the dough and place it in the fridge to chill for about a half hour.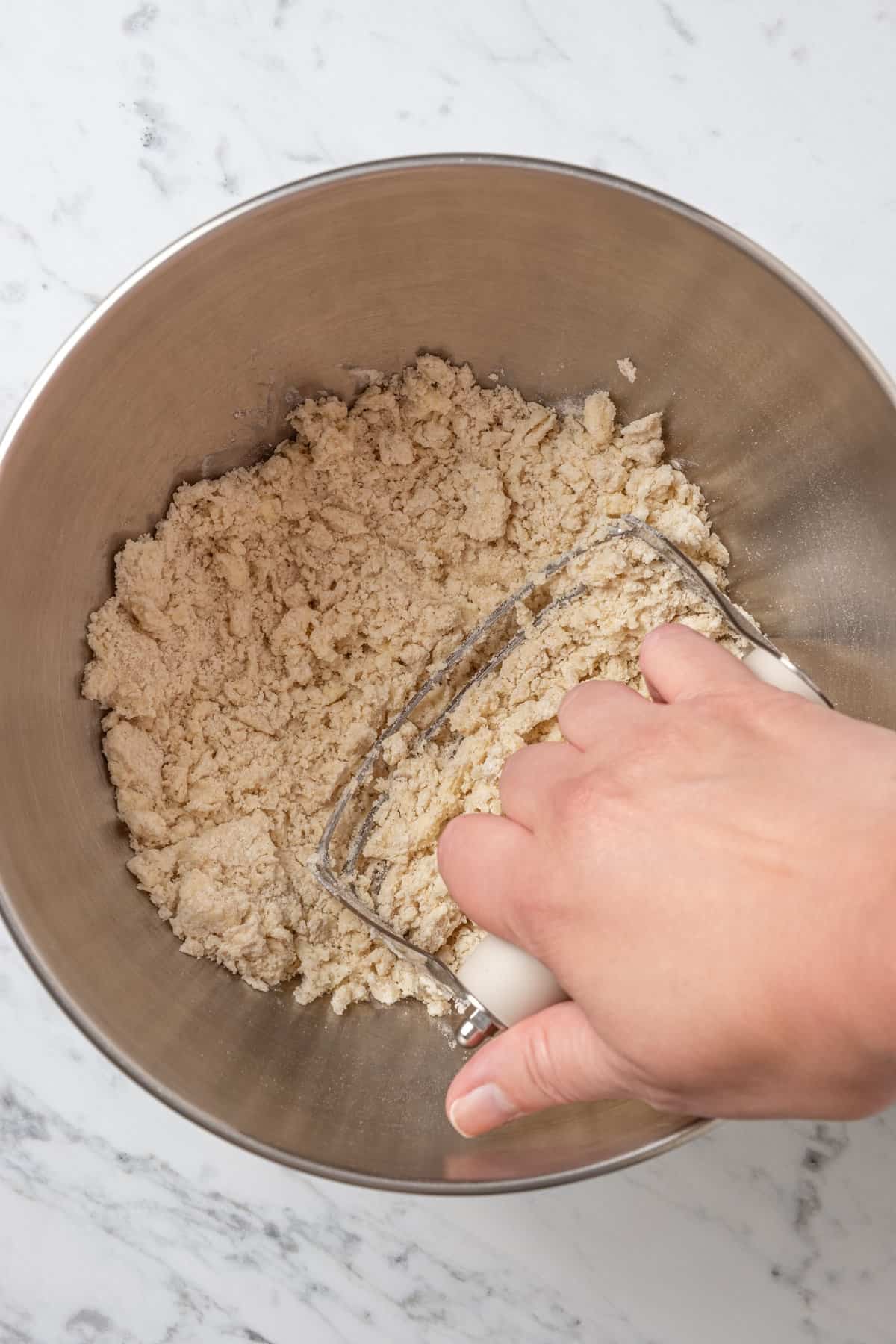 Shape the Dough: On a floured work surface, roll the dough out into a rectangle, then fold into thirds. Rotate the dough and roll it out again, then fold and repeat. After 3 more times, wrap up the dough again to chill for another half hour.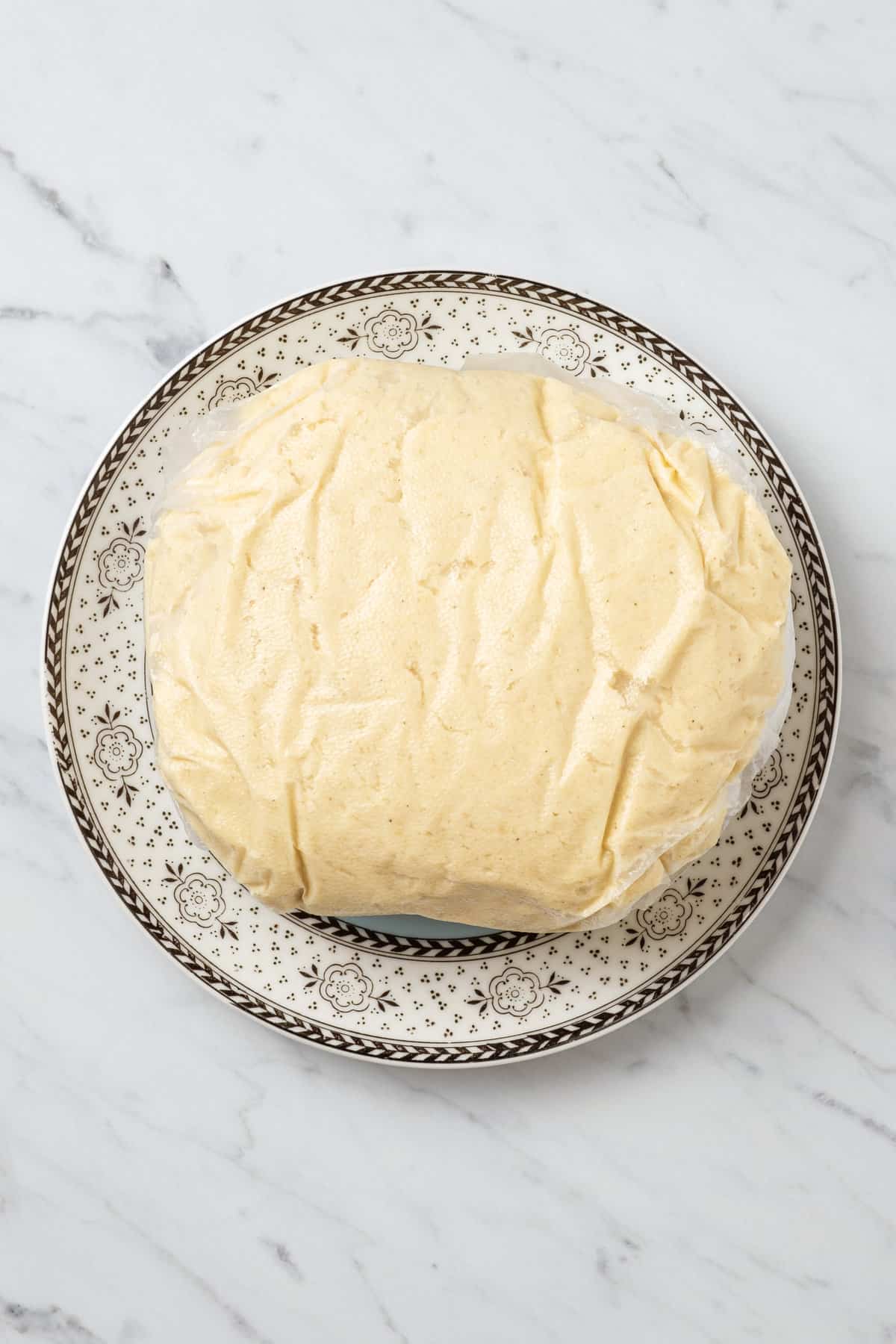 Cut Into Triangles: While your oven preheats to 400ºF, give your workstation another dusting with flour. Roll the chilled dough out into a circle. Next, slice the dough into 8 triangles, like a pizza (a pizza cutter actually works great for this if you have one!).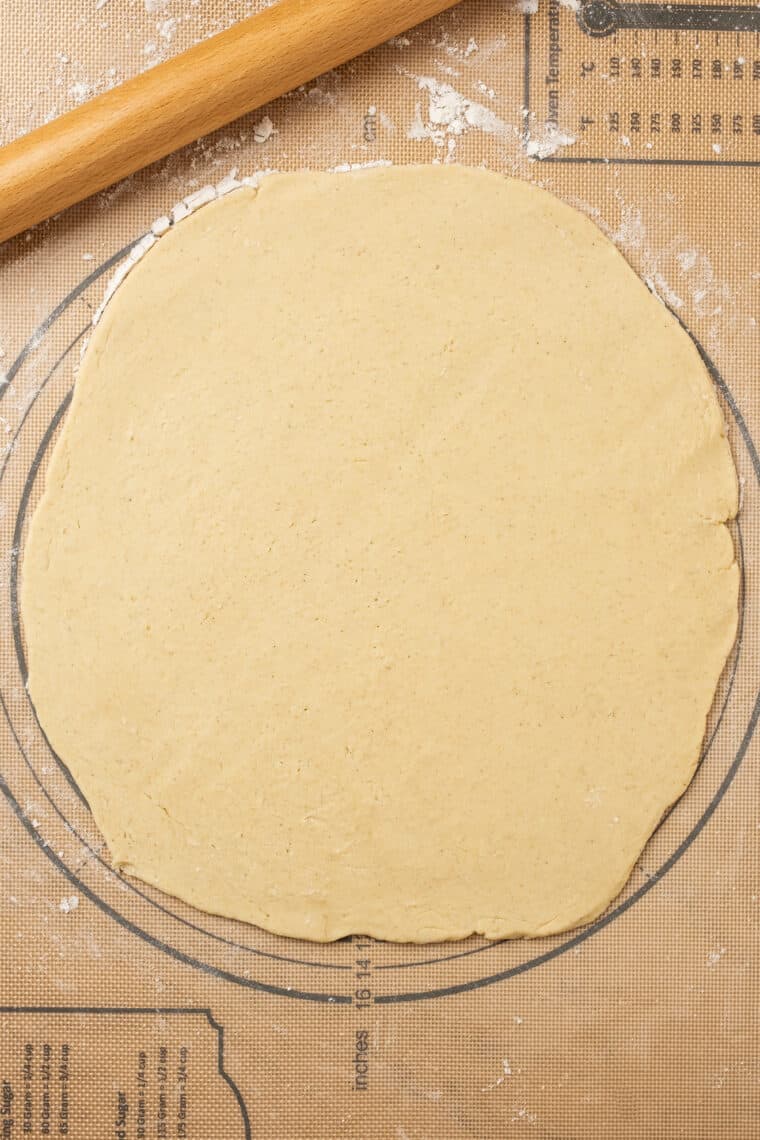 Roll and Wash: Roll each triangle into a crescent shape one at a time, beginning at the wide end and ending with the point. Move the finished rolls to a parchment-lined baking sheet. Lastly, whisk some milk with a bit of honey for the wash and brush this over the crescent rolls.
Bake: Bake these gluten free crescent rolls in the oven for about 12 minutes or so, until puffed up and golden.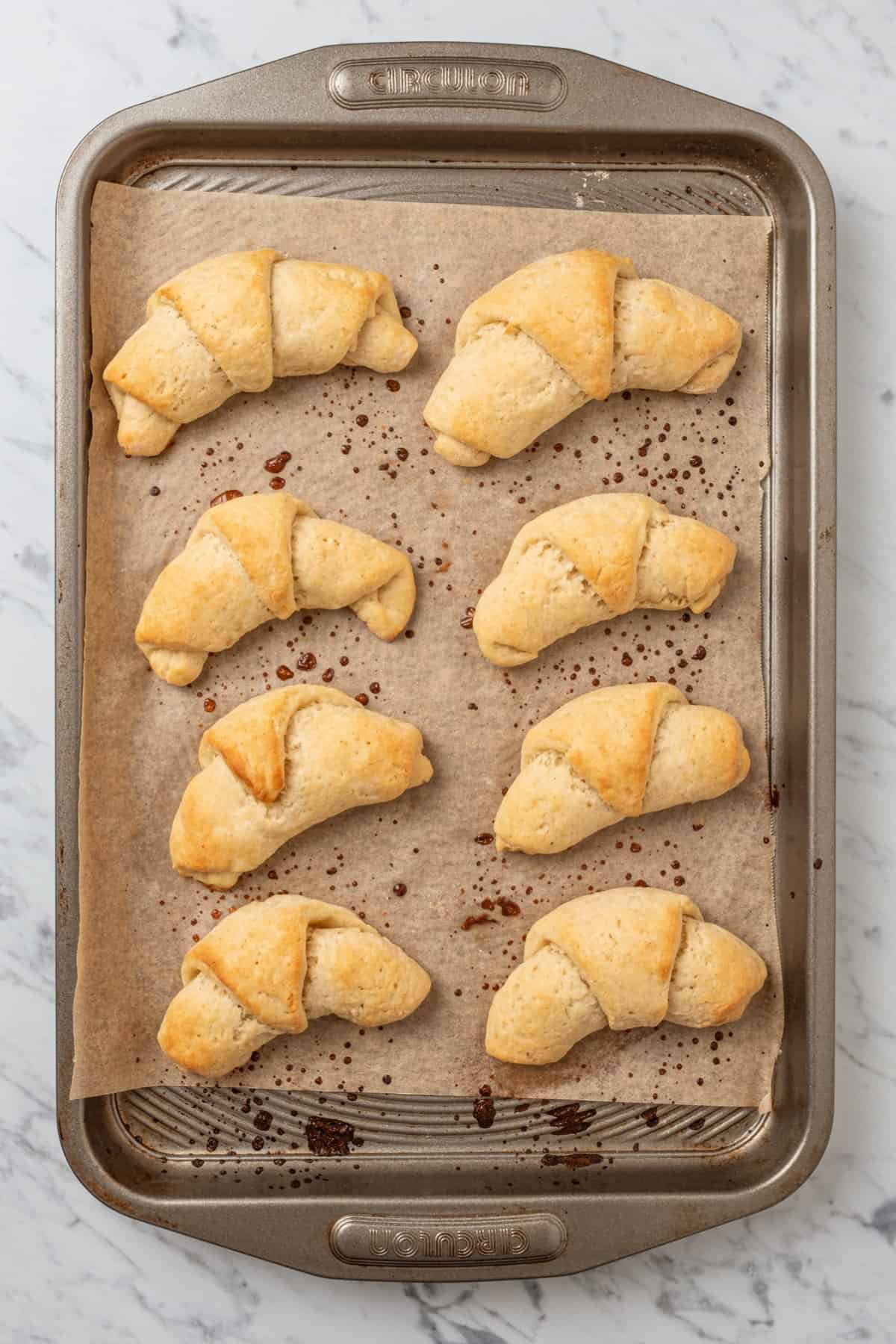 Can I Make the Dough in Advance?
Yes! Go ahead and prepare the crescent dough up to a day or two in advance, to keep in the fridge. Just roll out and roll up the dough to bake whenever you're ready to serve your crescent rolls. You can also easily freeze these homemade crescent rolls once they're baked. See the section further down for more freezing and storing tips!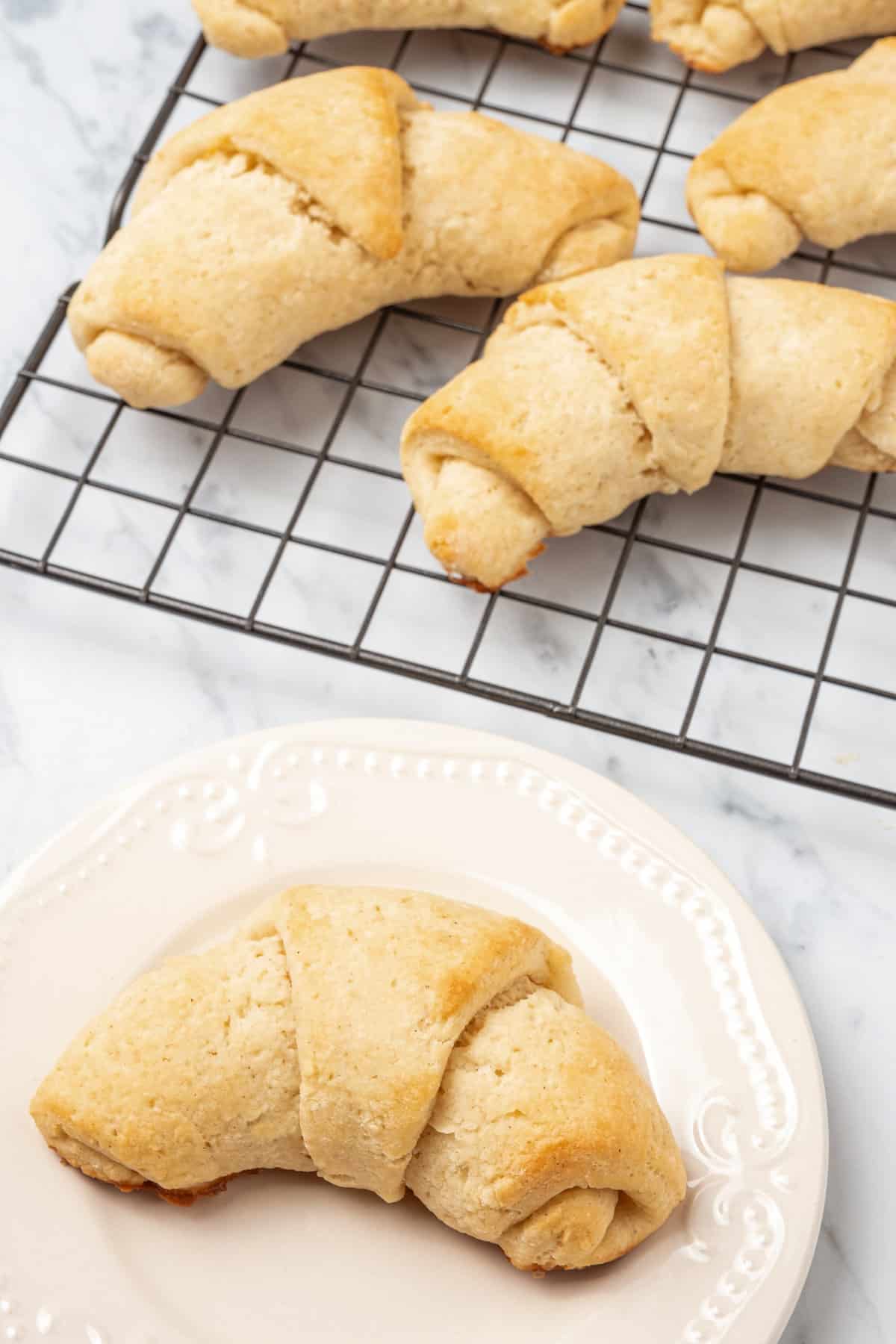 Tips for Success
Use Fast Rising Yeast: Also called instant yeast, this type of yeast allows you to skip the proofing stage. It really gives the best results with this recipe and makes it extra speedy!
Prevent the Dough From Sticking: The gluten free crescent roll dough will be a bit sticky, and that's normal. Be sure to flour your work station as well as your rolling pin (and even your hands if needed!) to keep the dough from sticking too much as you work with it.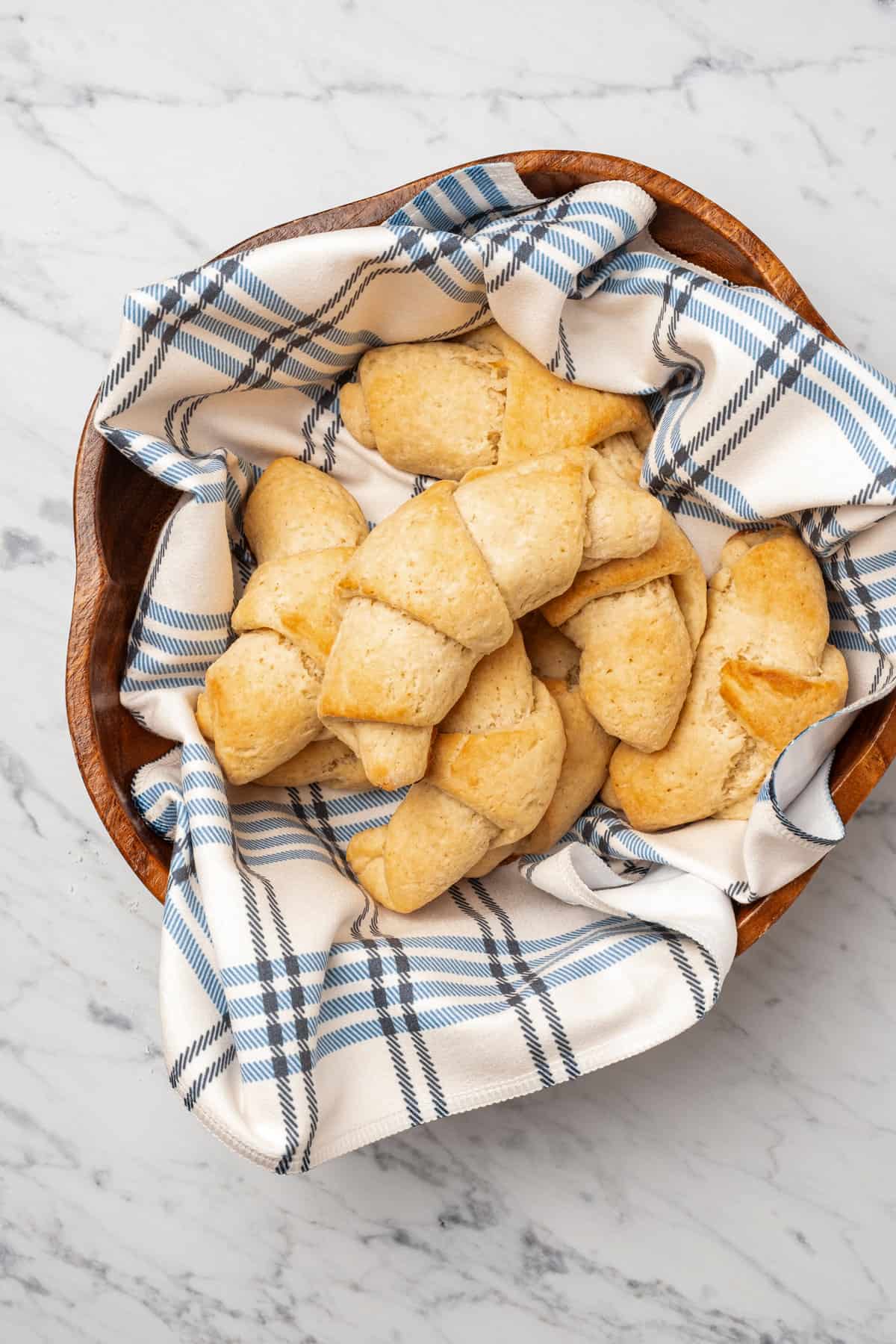 Ways to Use Crescent Rolls
A tender crescent roll fresh from the oven is my go-to versatile dinner roll. The soft, rich texture is seriously the best for soaking up everything from Gluten Free Gravy to the Best Chili Recipe Ever. For this reason, these rolls are just as perfect to serve with a holiday dinner as they are with a cozy weeknight meal! Here are more easy dinner ideas to pair them with:
This dough can also be used in all your favorite crescent roll recipes! My kids love rolling the dough triangles up around hot dogs prior to baking for quick gluten free pigs in a blanket. Or spoon some sauce and mozzarella cheese over the dough and then roll it up for easy homemade pizza rolls. You can even make these Mini Eggnog Cream Pies or Nutella Cream Cheese Danish with the dough.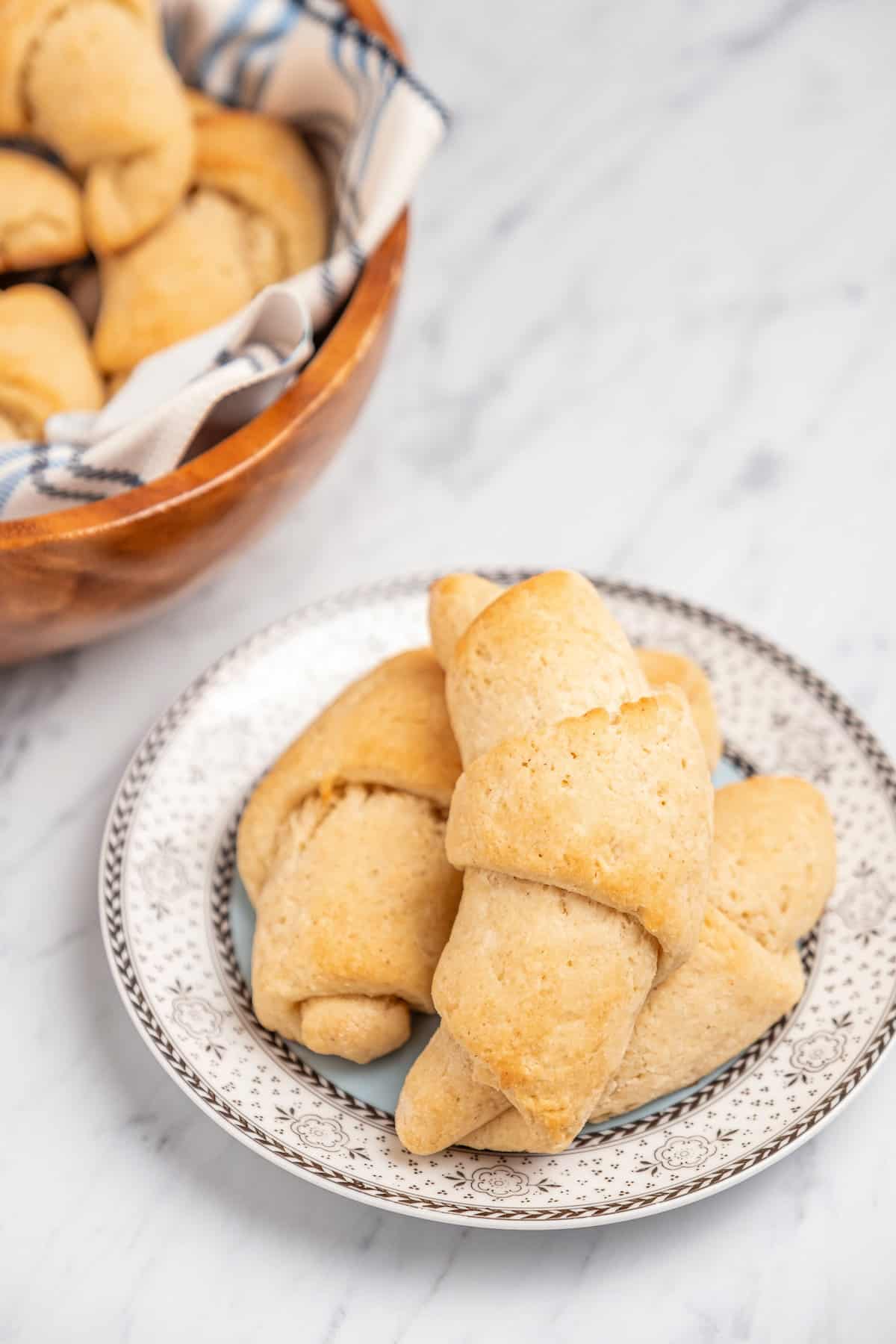 How to Store and Reheat Extras
Gluten free crescent rolls are at their freshest just after they're baked! However, leftover rolls will keep well enough when stored airtight on the countertop for 3-5 days. They're easy to reheat in the microwave for a few seconds, or in the oven wrapped in foil until warmed through.
If you're planning on storing your crescent rolls for the longer term, I recommend following the freezing directions below.
Do These Freeze Well?
Yes! The baked crescent rolls are great to freeze and defrost for easy reheating whenever the need arises. To freeze the rolls, let them cool completely. I recommend pre-freezing them in a single layer on a baking sheet, then transferring them to an airtight container or freezer bag.
Store your crescents frozen for up to 2 months. They can be reheated in the oven right from the freezer, on low heat for 10-15 minutes or until warmed through.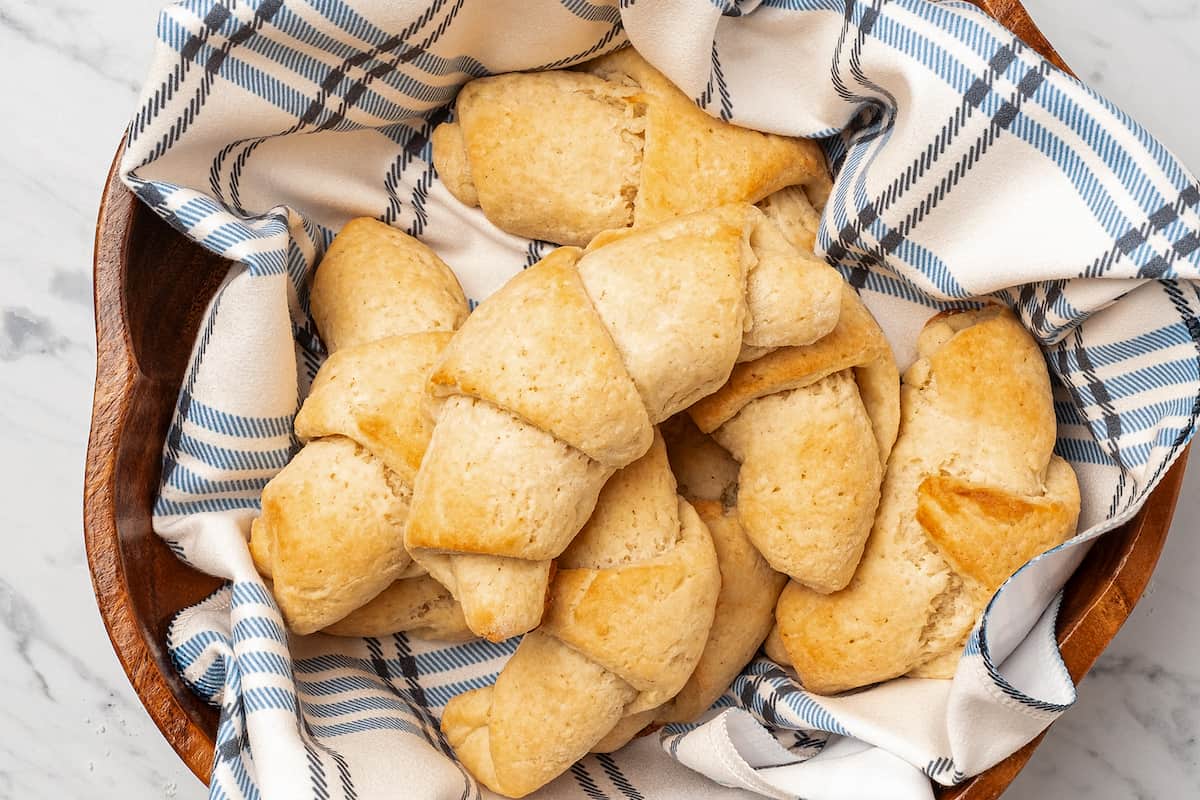 More Easy Gluten-Free Bread Recipes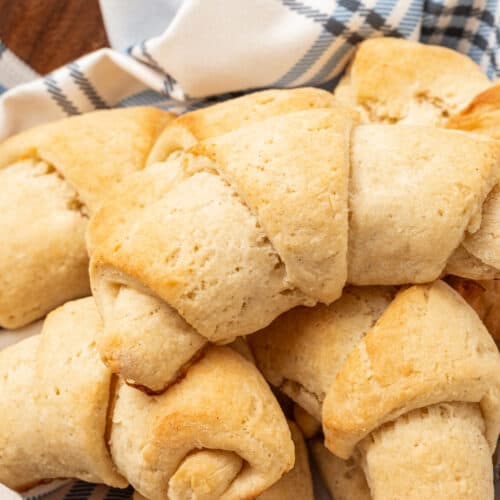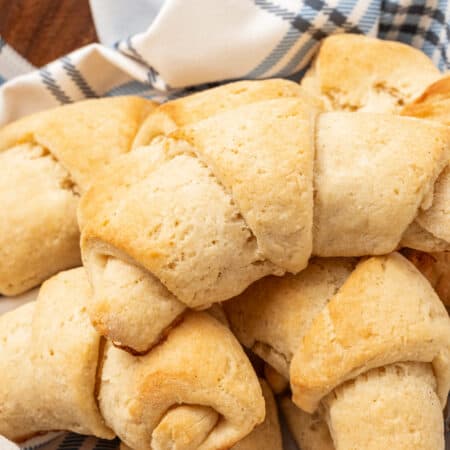 Gluten Free Crescent Rolls
Tender and flaky, Gluten Free Crescent Rolls have the most deliciously buttery, melt-in-your-mouth flavor with just a hint of honey sweetness. These are the perfect easy gluten free dinner rolls!
Ingredients
1 1/2

cups

gluten free flour

(I use Bob's Red Mill)

1/16

tsp

xanthan gum

1 1/2

tbsp

granulated sugar

1

tsp

fast rising yeast

1/3

tsp

baking powder

1/2

tsp

kosher salt

1/2

cup

unsalted butter

cold and cut into pieces

1/2

cup

whole milk

1

egg
For the milk and honey wash:
1/4

cup

whole milk

1/2

tsp

honey
Instructions
Place the flour, xanthan gum, sugar, yeast, baking powder and salt into a large mixing bowl and whisk to combine. Add in the cold pieces of butter. Use a pastry blender to cut in the butter until only small pieces remain.

In a small bowl, whisk together 1/2 cup of milk and 1 egg. Add egg mixture to the flour. Use a spatula or wooden spoon to stir the mixture until the dough begins to form a ball. Be sure the dough is well combined. The dough will feel sticky.

Wrap the dough in plastic wrap and place in fridge for 30 minutes.

Dust your work surface with flour and roll the dough out to form a rectangle shape, about a half and inch thick. Fold the dough into thirds. Turn the dough 90° and roll out again. Fold and repeat this process 3 more times. Wrap the dough again in plastic wrap and chill for another 30 minutes.

Preheat your oven to 400°F.

Dust your work surface with flour and roll your dough into a 15 inch circle. Cut the dough into 8 triangles. Roll each triangle, starting at the wide end until you have created a crescent roll.

Move the finished rolls to a parchment-lined baking sheet. Whisk the milk and honey in a small bowl and brush this over the crescent rolls.

Bake at 400°F for 12-14 minutes until puffed and golden brown.
Notes
The dough will be a little sticky. Use flour on the work surface and also on your rolling pin to prevent the dough from sticking when you roll it out.
Be sure to use fast rising yeast. This will allow you to skip the proofing step.
Nutrition Facts
Gluten Free Crescent Rolls
Amount Per Serving
Calories 417
Calories from Fat 243
% Daily Value*
Fat 27g42%
Cholesterol 107mg36%
Sodium 329mg14%
Potassium 125mg4%
Carbohydrates 40g13%
Protein 8g16%
Vitamin A 843IU17%
Vitamin C 0.01mg0%
Calcium 114mg11%
Iron 2mg11%
* Percent Daily Values are based on a 2000 calorie diet.
Categories: