This post may contain affiliate links. Read my disclosure policy.
Spring Vegetable Recipes highlight the best of the season, like asparagus and carrots, leeks and peas, and everything else you love. Say goodbye to cold and snow and cabin fever, and hello to grass and sun and parks. And, of course, all of your favorite seasonal veggies dishes, like these ideas for sides, salads, mains, and more!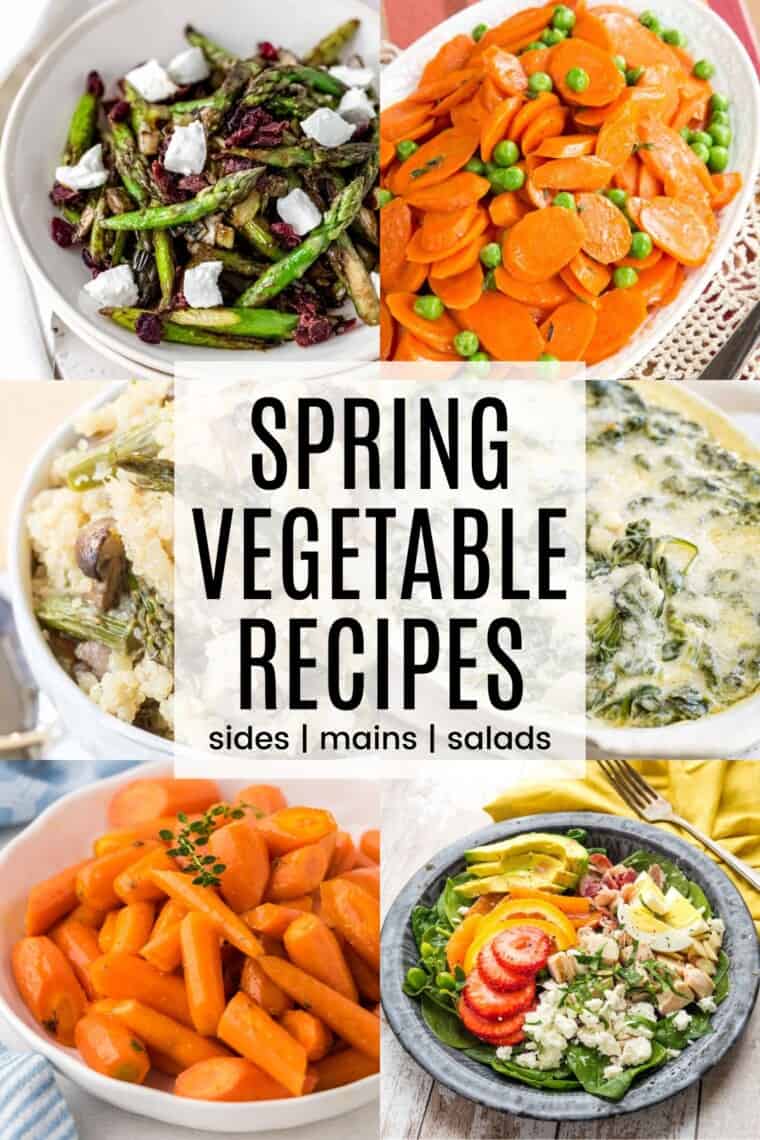 What vegetables are in season in spring?
While you might think of summer as the time when produce is in abundance, you don't want to forget about all of the amazing veggies that are at their peak during the springtime. While some of them are still delicious into the warmer months, others are only available during a short window about March through May or that's when they have their best flavor.
As the weather warms up, you'll be craving lighter, fresher meals, especially those that feature these vegetables:
Asparagus: Probably the first thing you think about when it comes to spring veggies because their season in the United States is short, but it is certainly in abundance during this time. These green stalks are full of fiber, vitamin C, and beta carotene, and they can be grilled, roasted, sauteed, and more.
Carrots (and other root vegetables): Everyone's favorite orange vegetable does well in cool weather, which means it starts to pop up in the spring, along with radishes, beets, and even potatoes. From raw for snacking and salads, to a multitude of ways to prepare them, there are endless recipes you can make.
Spinach: This leafy green, as well as many others, are at their tender baby stage in the spring. So it's the perfect time to bulk up on fiber, iron, and magnesium whether you add it to smoothies, salads, or egg dishes.
Leeks, garlic scapes, and herbs: These aromatics are ready to add all kinds of incredible flavor to your dishes. Combine them with your other favorite spring vegetables for a true taste of the season.
Artichokes, Peas, and More: It doesn't end there. Now's the time for all kinds of peas. Artichokes may be available canned year-round, but they are freshest in season. And of course, you can add rhubarb, ramps, morel mushrooms, and even cabbage to the mix.
Now that you know what's the freshest at the farmer's market or even in your local grocery store, let's get on to what you can make with them. Here you'll find spring vegetable dishes to serve for any meal of the day, whether it's a veggie side dish or a produce-packed meal on its own.
Spring Vegetable Recipes
CLICK ON THE TITLES TO GET THE RECIPES
Key to finding gluten free recipes:
GF – gluten free recipe
GFO – recipe with gluten free option
Asparagus Recipes
A quick and easy way to enjoy this favorite spring vegetable with fewer calories and fat than roasting. No need to heat up the oven to make roasted asparagus. You can get perfectly crisp tender results using the air fry method. Keep it plain and simple, or add the optional gluten free parmesan crust for more flavor and texture.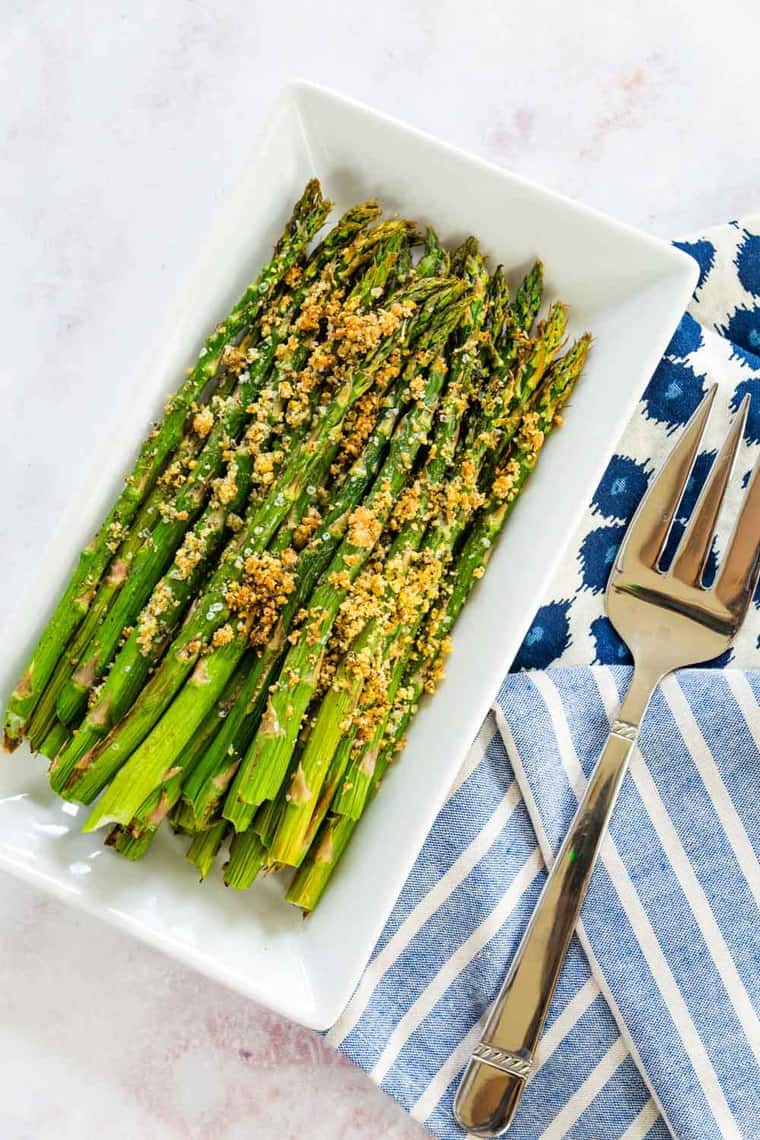 A healthy, satisfying side dish, or meatless main meal. You can make this easy recipe in less than thirty minutes! It celebrates the flavors and ingredients of the season, making it the perfect addition to any springtime menu.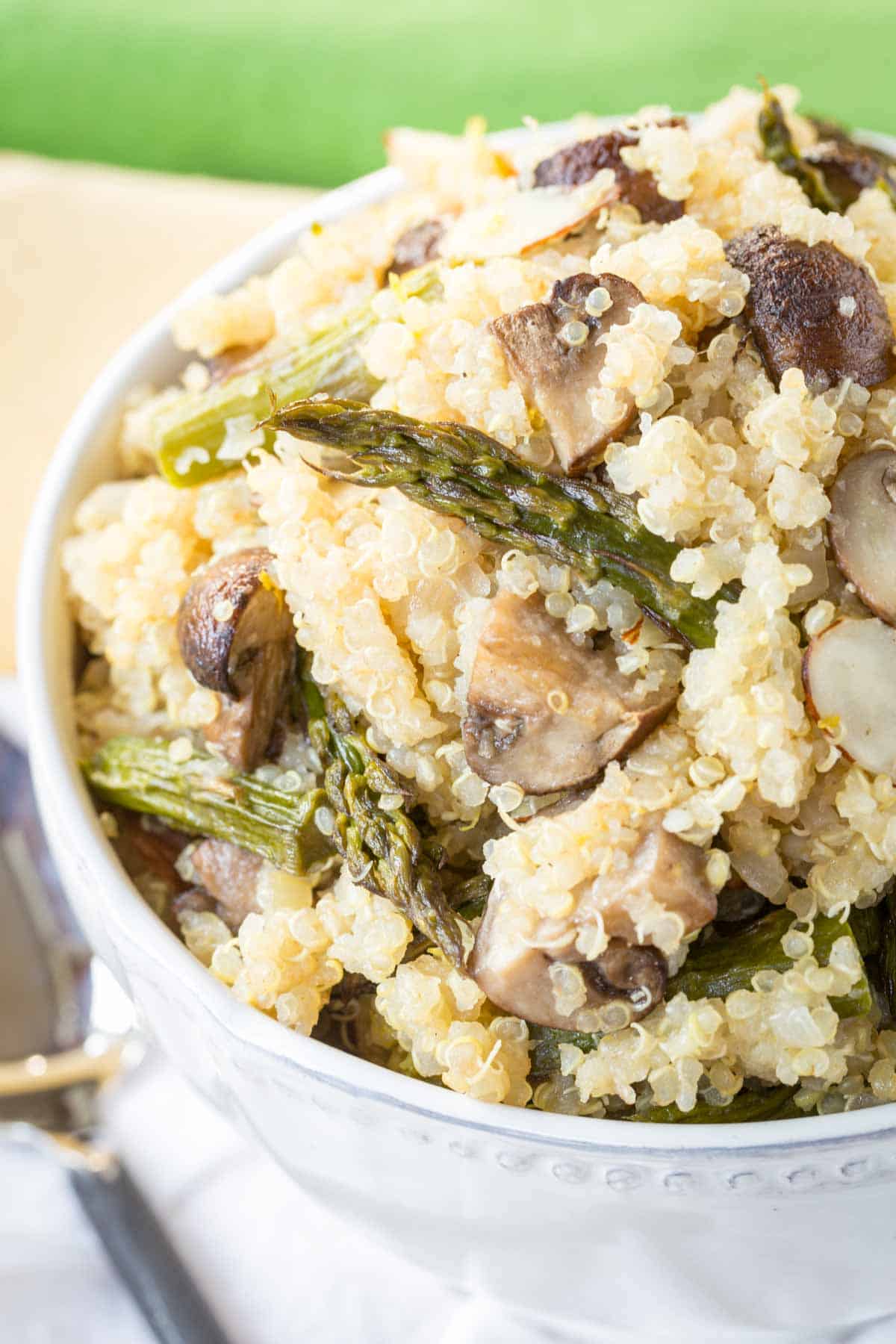 A light and fluffy addition to any spring brunch menu, especially with the tangy addition of goat cheese. Make this mini crustless quiche recipe for Easter or Mother's Day. Or use up leftover ham and add them to your meal prep plans as an easy make-ahead breakfast.
More recipes for asparagus:
Carrot Recipes (plus Beets, Radishes, and other Root Vegetables)
Tossed in a simple sweet glaze, then baked in the oven to crisp-tender caramelized perfection, this classic family-friendly side dish will have everyone wanting more. Only a few ingredients and so easy to prepare that you can serve them for a busy weeknight, Sunday dinner, or a holiday meal.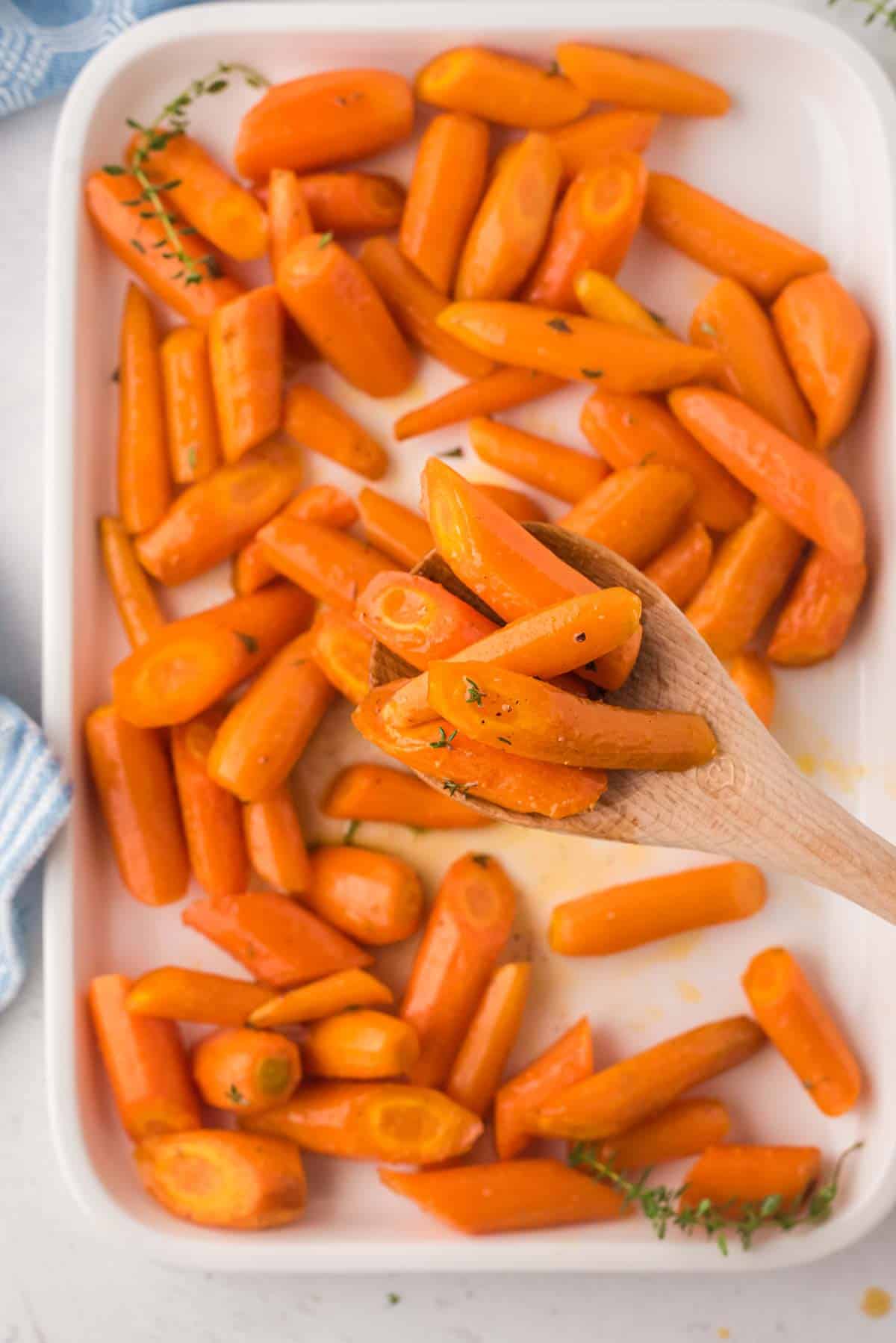 A classic staple on many dinner tables. Now give the veggies a simple flavor upgrade by tossing them in browned butter and nobody will be able to resist them. It is a quick and easy way to take an easy vegetable side dish to the next level in just minutes and with only a few ingredients and just a bit of deliciously nutty brown butter.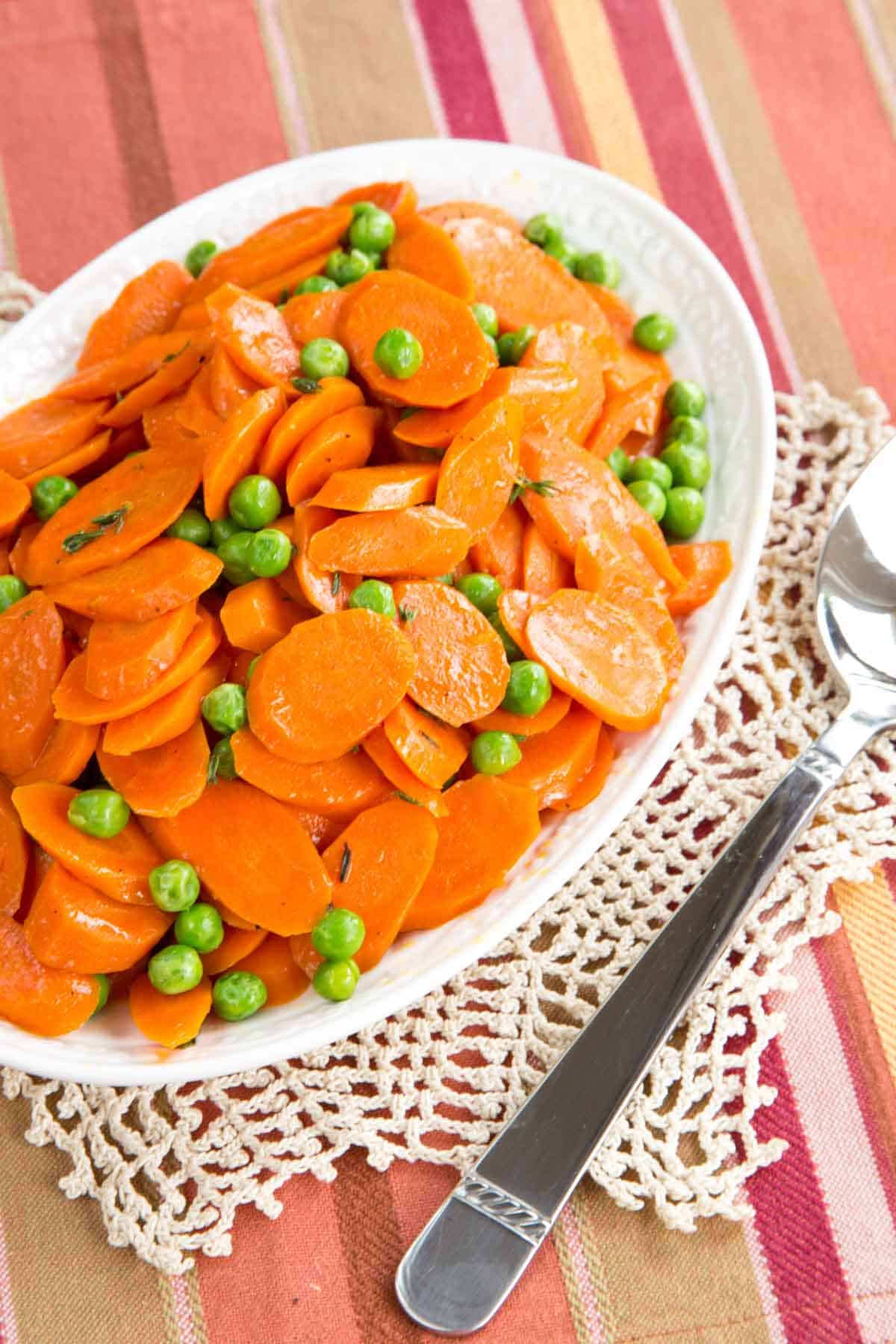 Topped with hearty ingredients like tender-crisp asparagus, sautéed chicken, chickpeas, and sharp cheddar cheese, plus a light citrus vinaigrette, this salad will become a springtime staple. It's definitely so satisfying that is can be considered dinner-worthy.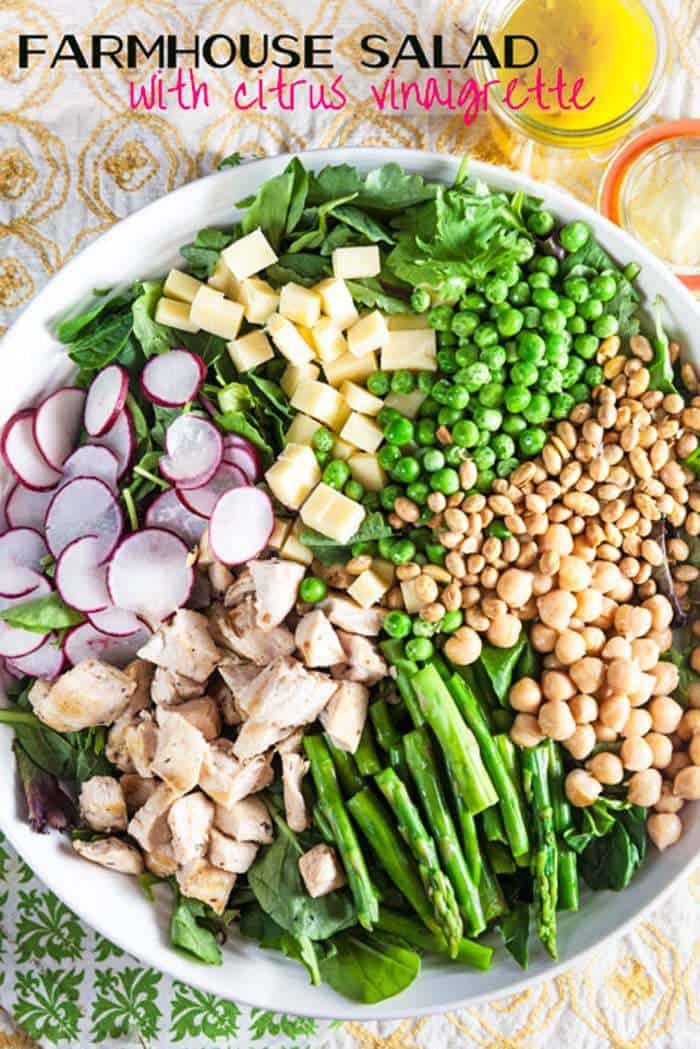 More recipes for root vegetables:
Spinach Recipes
A seasonal version of the classic Cobb salad. It has the traditional chicken, bacon, avocado, and egg, but adds the bright flavors of strawberries and oranges. Pull it all together with your favorite store-bought or homemade poppyseed dressing for a fresh and satisfying lunch or dinner.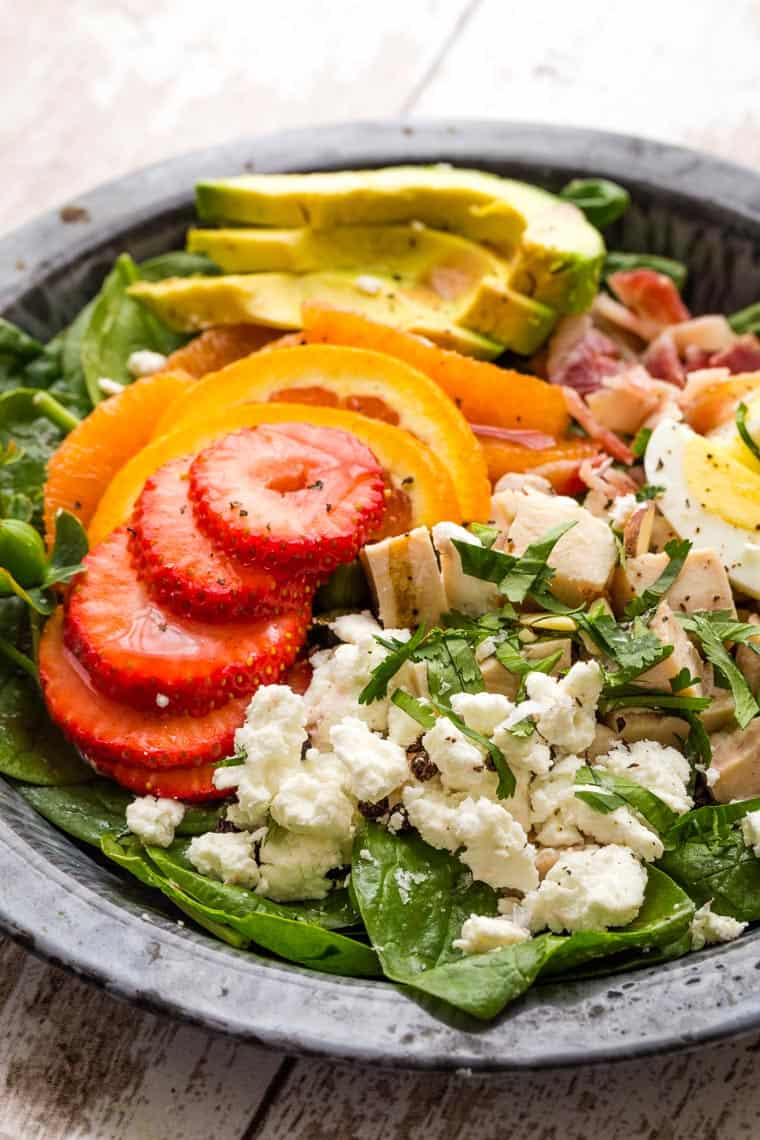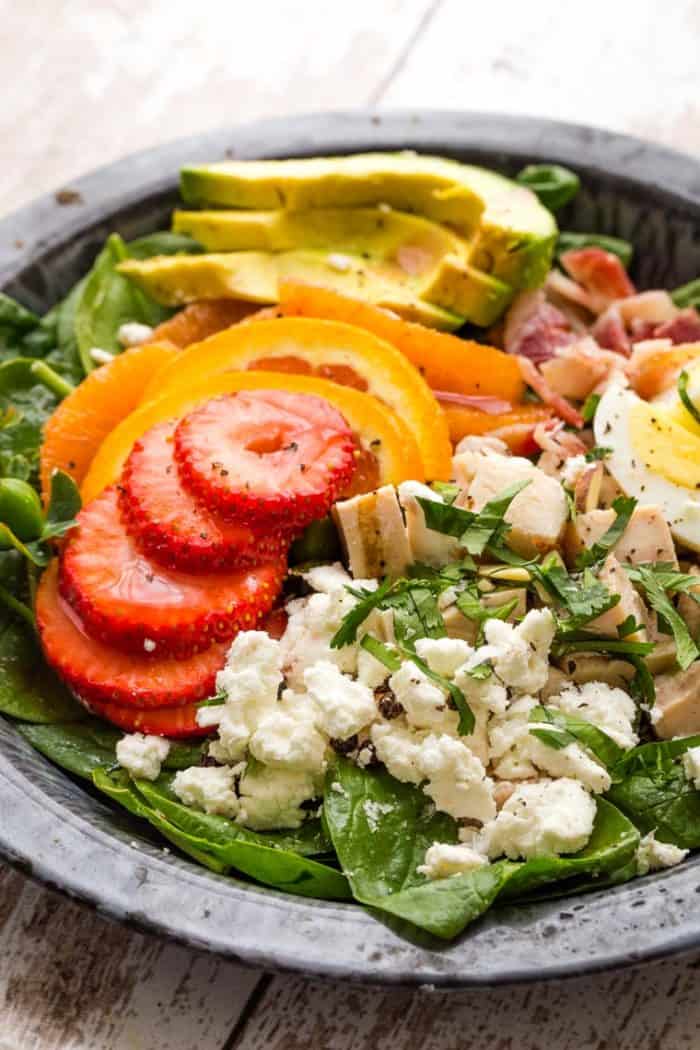 Light and fluffy with bright, fresh flavors. Totoally fuss-free with only four ingredients, you can make it for any meal of the day, or even add it to your meal prep plans to reheat all week long.
Spinach, feta, and parmesan cheese are rolled up in magic mozzarella dough to transform this classic party snack into an easy keto appetizer recipe. As pretty as they are packed with delicious flavors, you'll be sure to impress family and friends.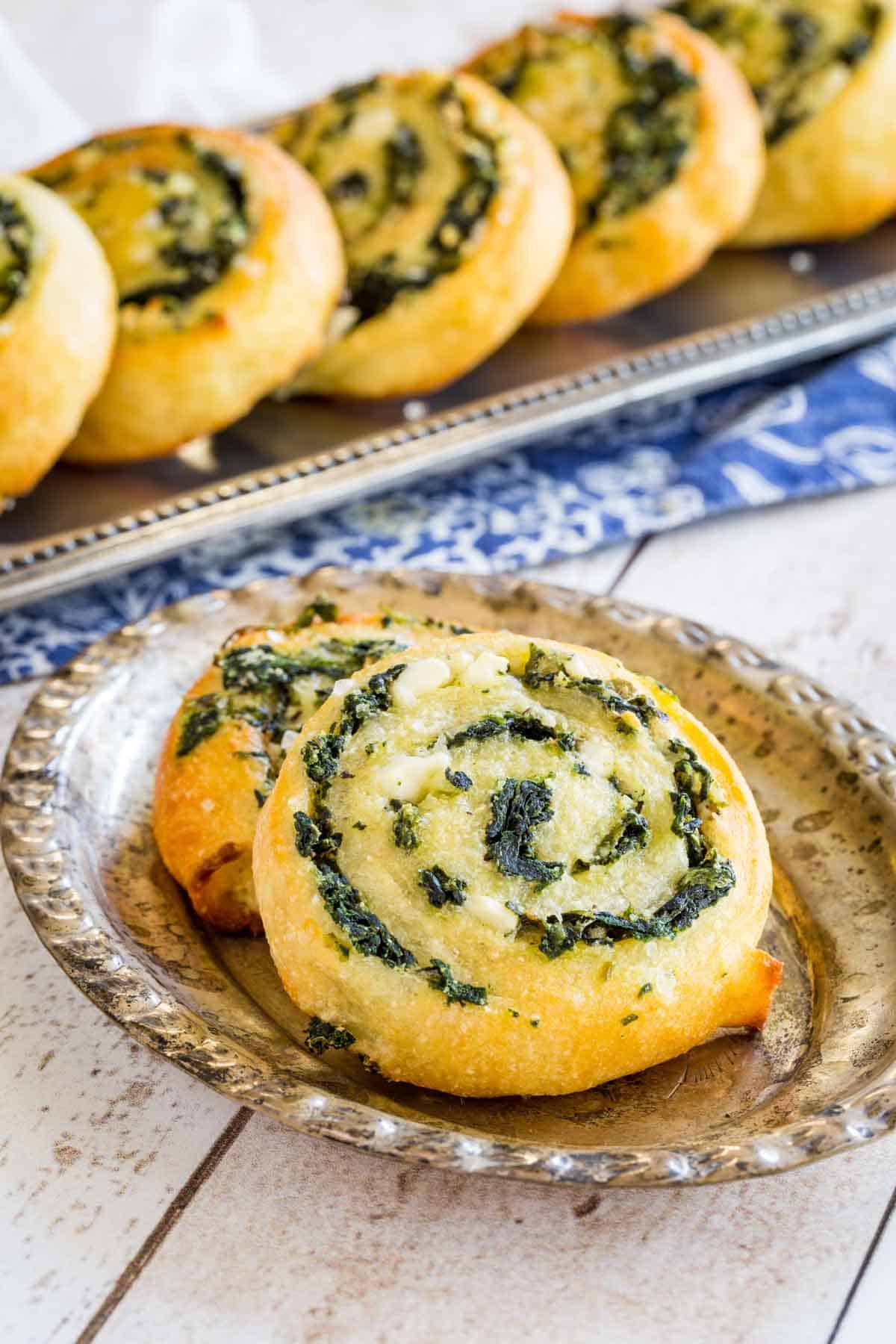 More recipes for spinach:
Leek, Garlic Scapes, and Herb Recipes
Bring the best of spring vegetables together easy healthy side dish. Add dried cherries or cranberries, goat cheese, and balsamic vinegar, and you have one flavor-packed salad you can serve hot, room temperature, or cold. It's versatile enough for a weeknight dinner, a meal-prep lunch, or even to bring to a party or holiday.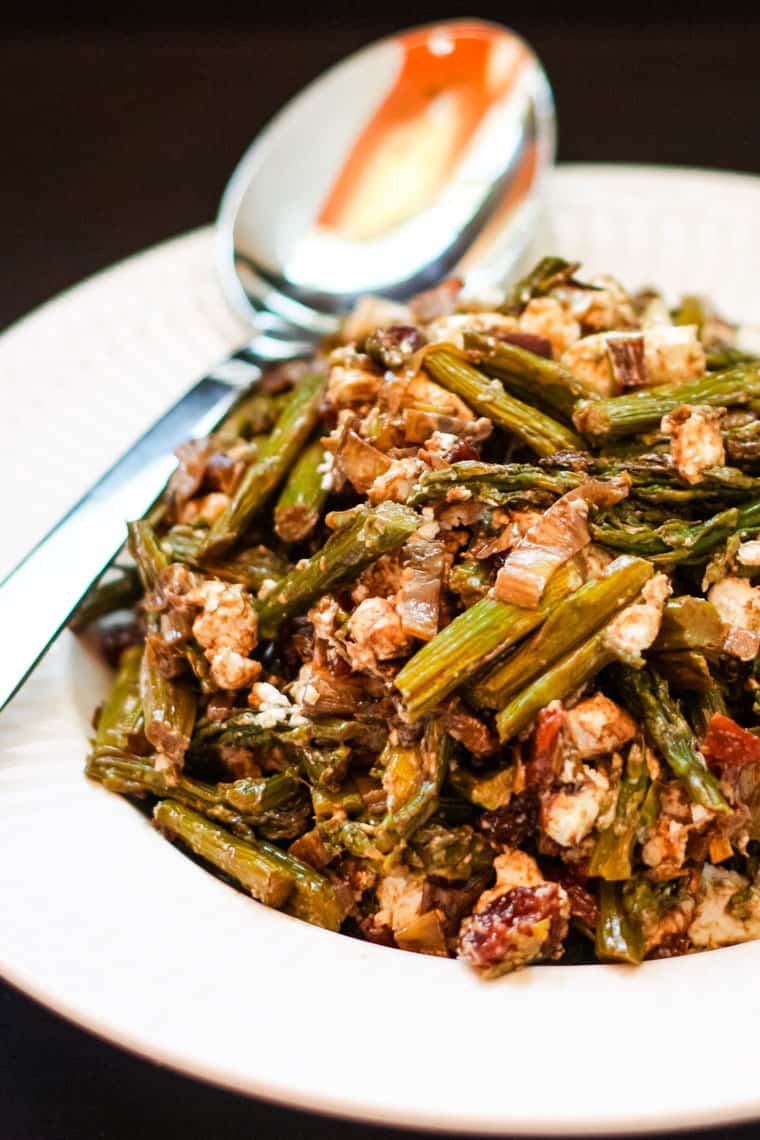 Juicy and flavorful from a simple and versatile Greek yogurt marinade with only a handful of basic ingredients. Just toss the yogurt marinated chicken on the grill and you can use it for so many easy meal ideas, from salads to wraps to rice bowls and more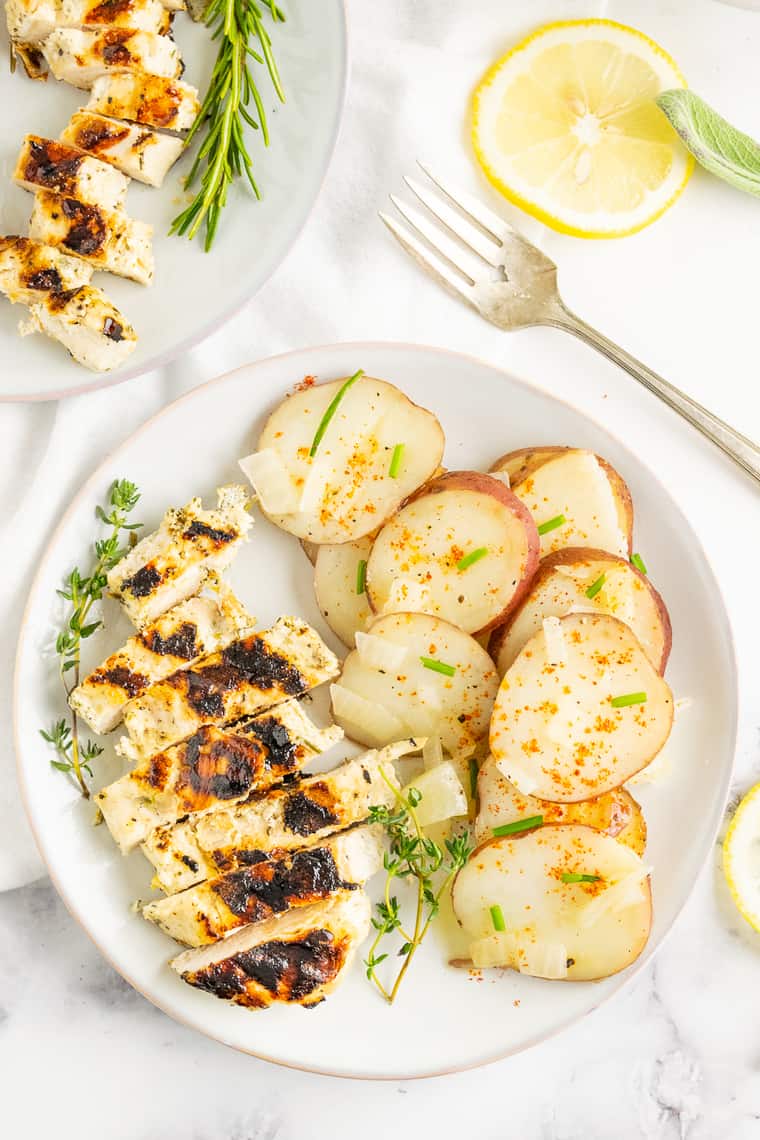 Filled with fresh herbs, garlic, and chive, this creamy dressing has the richness of avocado and tastes delicious on salads, grilled meats, or even as a dip. But it's the healthy way to enjoy your favorite dressing since it's made without mayo, eggs, or oil.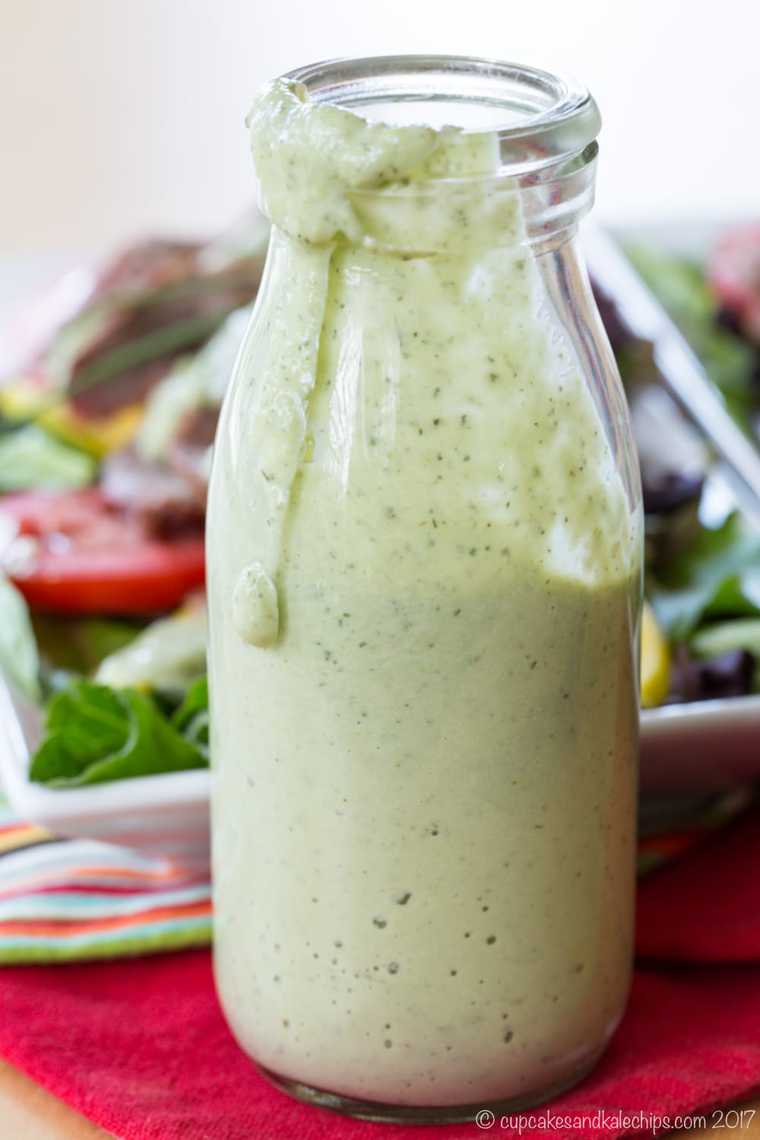 More recipes for leeks, garlic scapes, and herbs:
Peas, Artichoke and other Spring Veggie Recipes
A new spin on a favorite keto appetizer, this version tastes like your favorite gooey hot spinach artichoke dip. Put a new spin on bread sticks with this gluten free and veggie-packed version of a favorite snack, but don't forget the marinara sauce for dipping!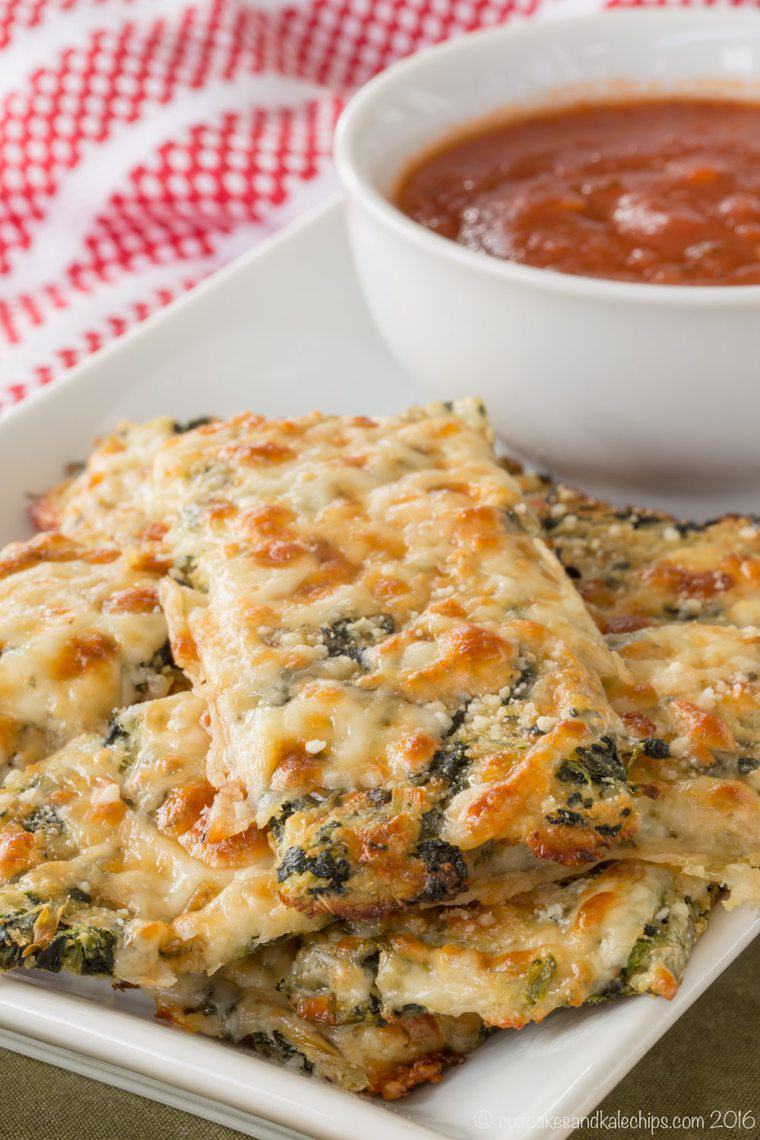 Speaking of that favorite dip, you can also add those flavors into a healthy, whole grain finger food for gluten free appetizers or an easy snack. Heat up some tomato sauce for dipping!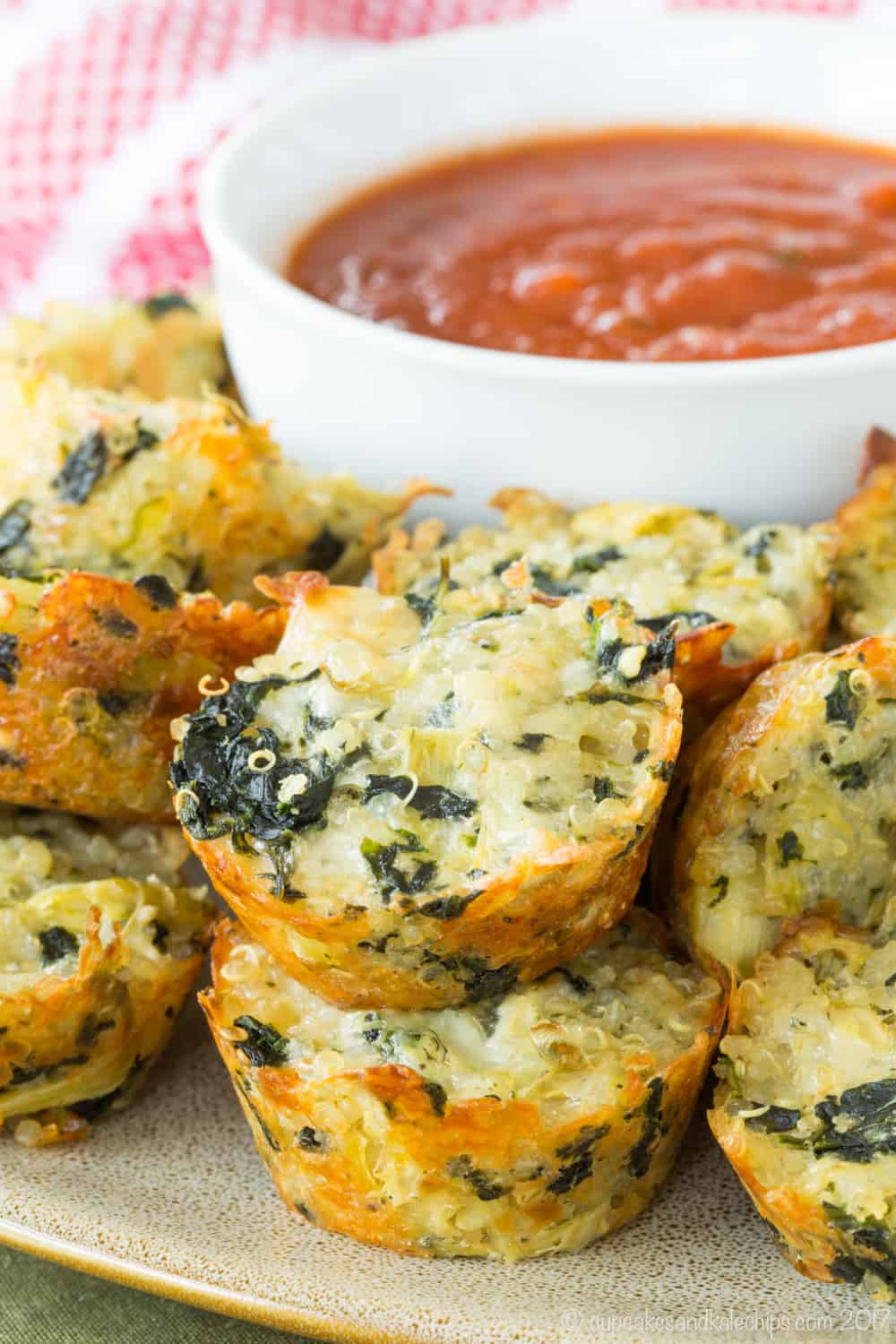 Take a classic pasta recipe and makes it a little bit healthier. It is easy enough for a weeknight dinner, but elegant enough for a special meal, plus rich and creamy without being heavy.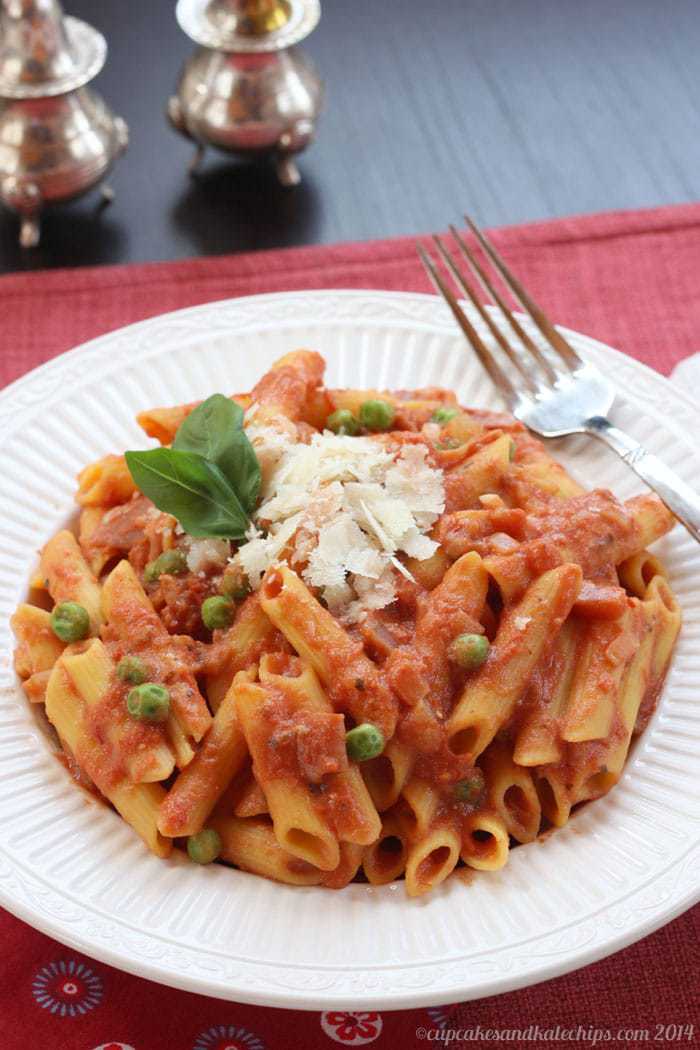 More recipes for peas, artichokes, and other spring veggies: