This post may contain affiliate links. Read my disclosure policy.
General Tso's Chicken Meatballs are an easy ground chicken meatball recipe based on Chinese takeout favorite. Get your chopsticks ready for the sweet and savory sauce coating these Asian-inspired and gluten-free meatballs that can also be made paleo.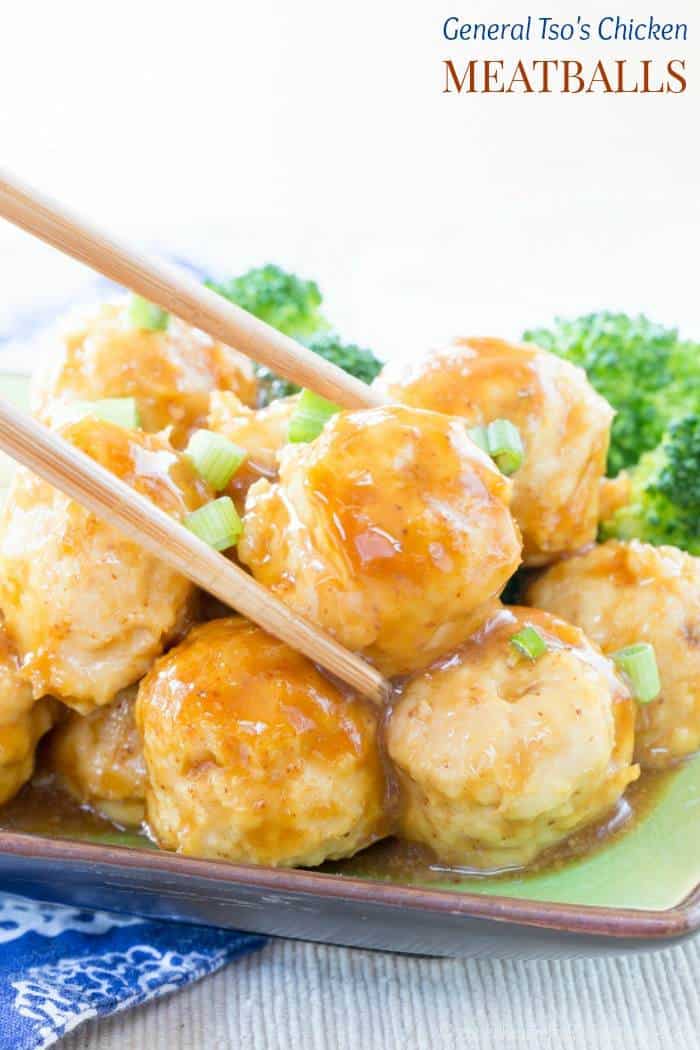 When I look back on what and how and when I ate when I was in college, I have mixed emotions.
I was still fairly picky then, so it was a steady stream of cereal or bagels for breakfast, sandwiches or wraps for lunch along with a sad excuse for a salad for lunch which was basically a little iceberg lettuce with a lot of cheese and neon yellow honey mustard dressing, and pasta or chicken fingers or grilled cheese with french fries or mashed potatoes for dinner with minimal veggies.
Each meal was accompanied by several small glasses of juice or soda, and every time I exited the dining hall, I was carrying a frozen yogurt cone or a cookie or three.
Sometimes after all of those heavy meals, we would still have late night cravings for Chinese food or pizza and would head to the student center for some takeout.
Once we had apartments with kitchens, we took full advantage of being able to make cookies and brownies and the like, rarely waiting for it to cool before polishing off the pan, and even on occasion mixing up brownie batter without eggs to eat straight up.
When we got really fancy, we made huge batches of pasta with Vodka Sauce along with plenty of garlic bread and soda. And let's not even talk about the strombolis from Stuff Yer Face and the Fat Sandwiches from the Grease Trucks.
Ah, the good old days. Today I definitely try to eat better, though I need a treat sometimes. And while this has made me overall healthier, the best thing is that I've started to like more than just the basics. I now have a passion for flavors and textures and an appreciation of more ingredients and flavors and cuisines.
It's also amazing to enjoy and be able to cook so that I can experiment to create new things and even attempt to recreate things I used to love or have discovered as an adult. And while sometimes I do make indulgent foods, for the most part, I can create them in a healthier way so that I can feel good about eating them as often as I want.
Like these…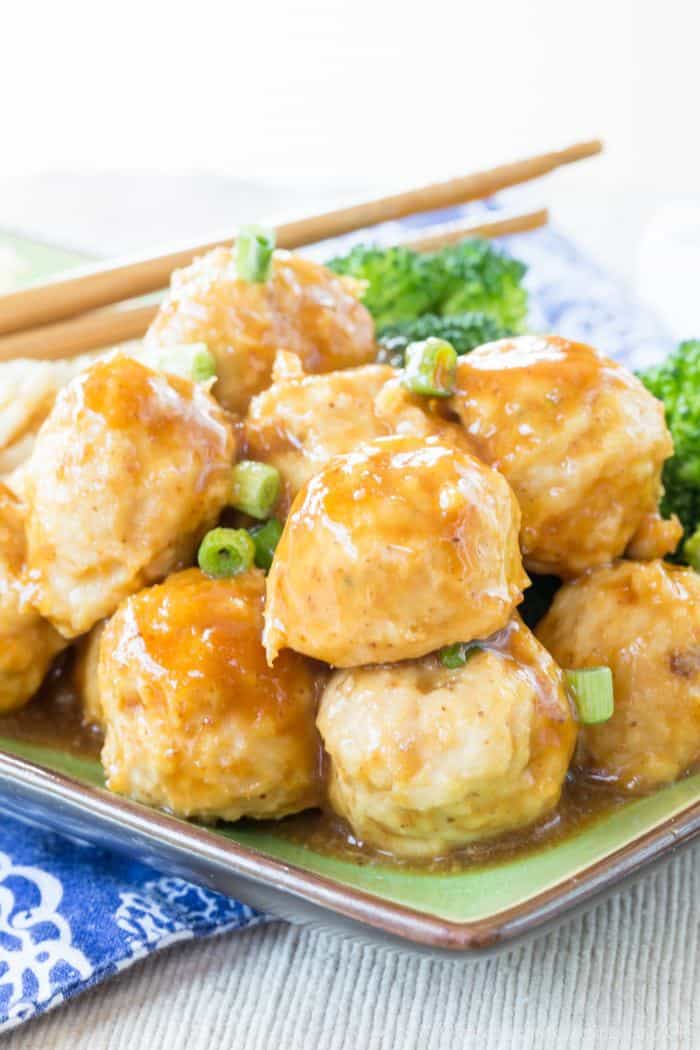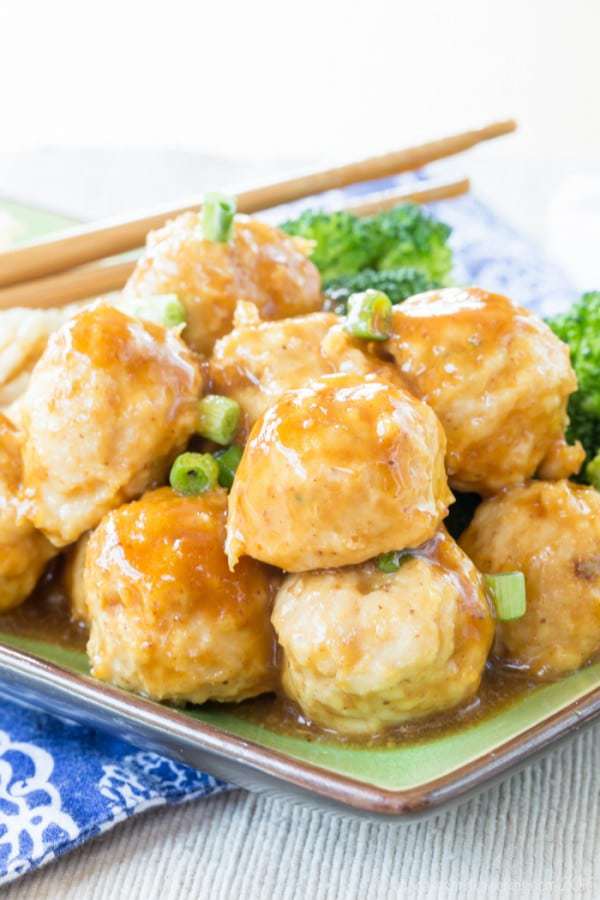 Baked General Tso's Chicken Meatballs Recipe
These General Tso's Chicken Meatballs are a nod to Chinese takeout. It's that familiar sweet and savory sauce from its greasier counterpart, with just a bit of heat that is sticky so it totally coats the meatballs.
As far as the meatballs go, I used nice, lean ground chicken breast, and even gave you options for making them gluten free or grain free. There is some honey, so I can't say they are totally low carb, but if you only have a little bit of sauce, it's actually not a ton of sugar. But they are still totally delicious.
The texture of the meatball is actually similar to those fried chicken chunks in General Tso's chicken, but without being coated in all of that batter and fried. These meatballs disappeared quickly from our dinner table – the boys kept asking for more!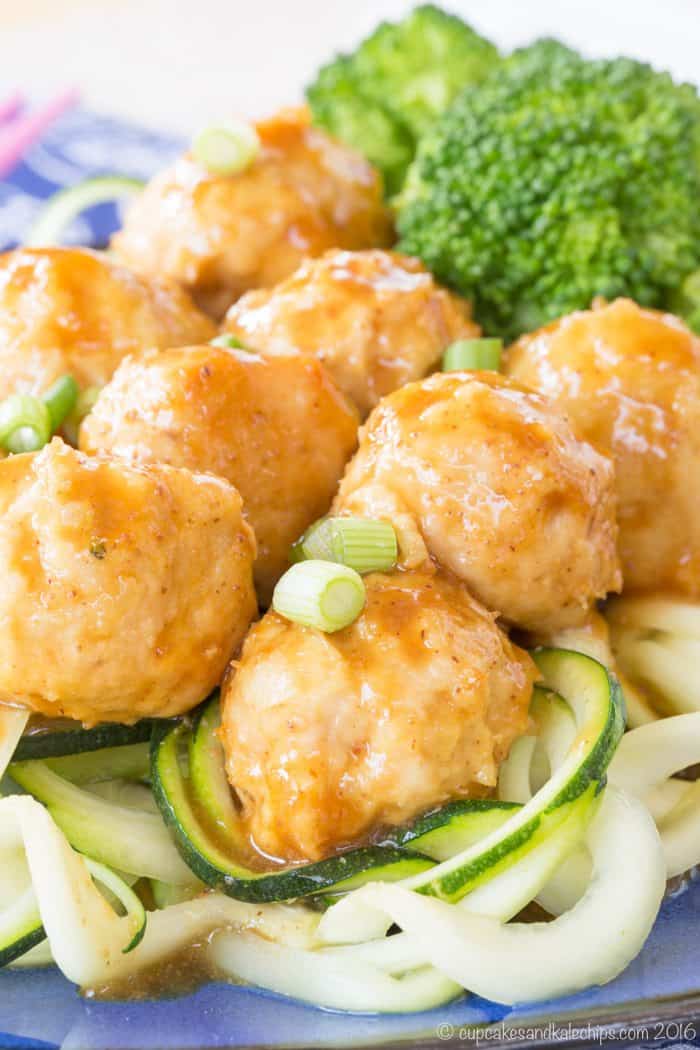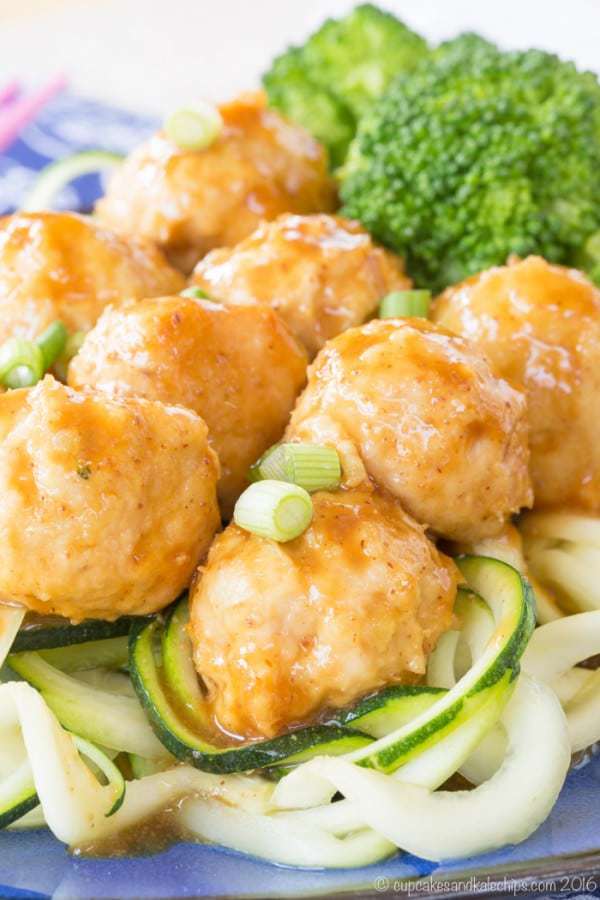 Is General Tso Chicken Gluten-Free?
No, typically the General Tso's Chicken you get from Chinese restaurants is not gluten free, but this recipe is if you use almond meal or certified gluten-free oats in these meatballs instead of bread crumbs, and tamari in place of soy sauce. You could even swap that out for coconut aminos if you'd like a paleo option forGeneral Tso's Chicken Meatballs.
If you 'd like another Asian-inspired meatball recipe with gluten-free and paleo versions, check out my Pineapple Teriyaki Turkey Meatballs.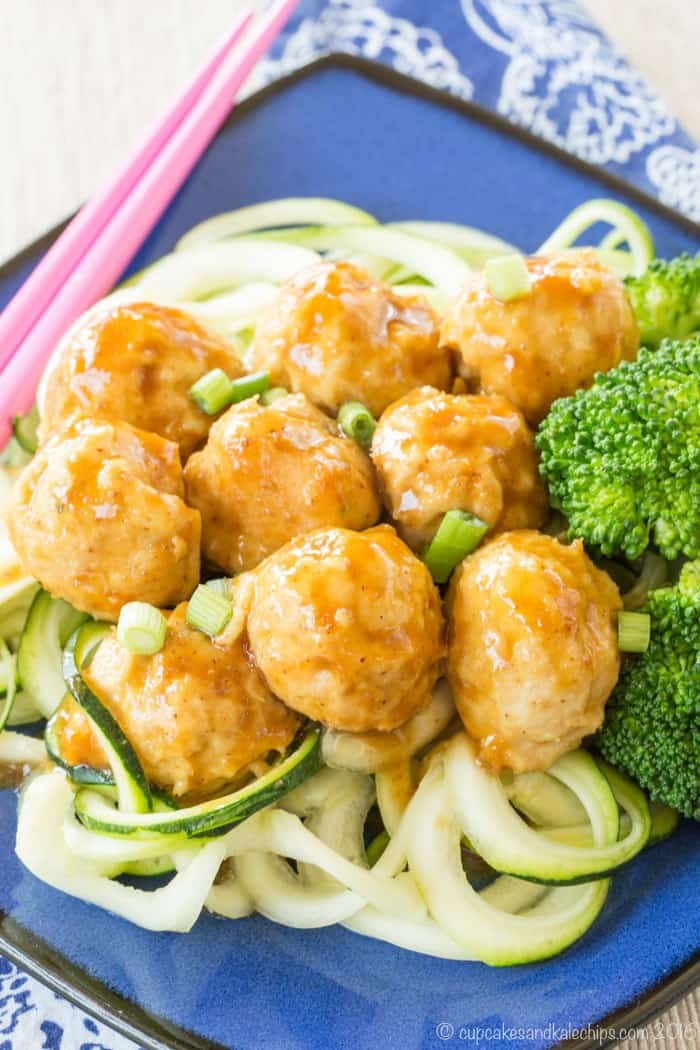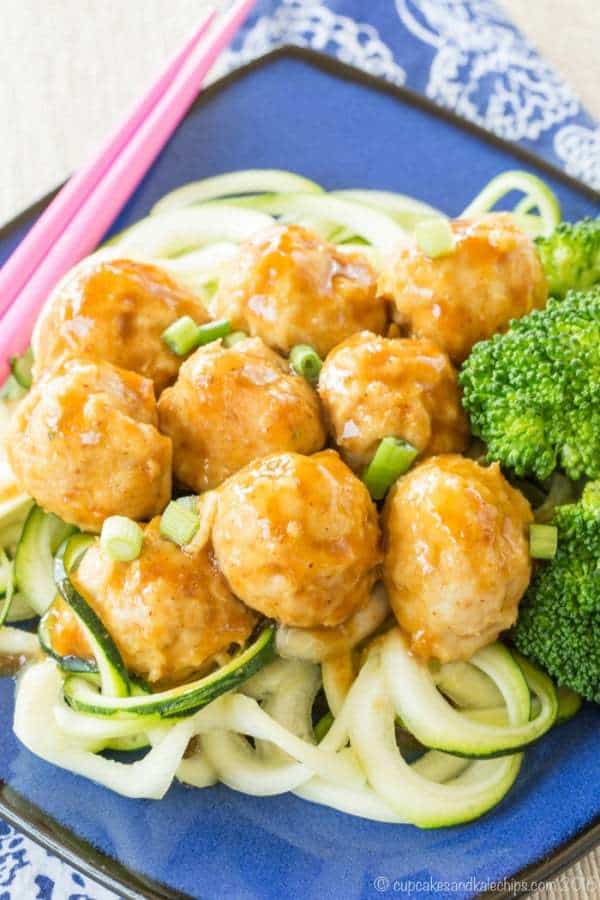 What do you serve with Asian Chicken Meatballs?
You can go classic like your favorite Chinese takeout but still make it more nutritious and lighter by serving these General Tso's Chicken Meatballs with some steamed broccoli over brown rice.
But since I'm also giving you gluten free and grain free options, maybe you want to go with the veggies option and pile them on top of some simply sauteed zoodles or alongside Sesame Zucchini Noodles. There's plenty of extra sauce to pour over the zucchini noodles.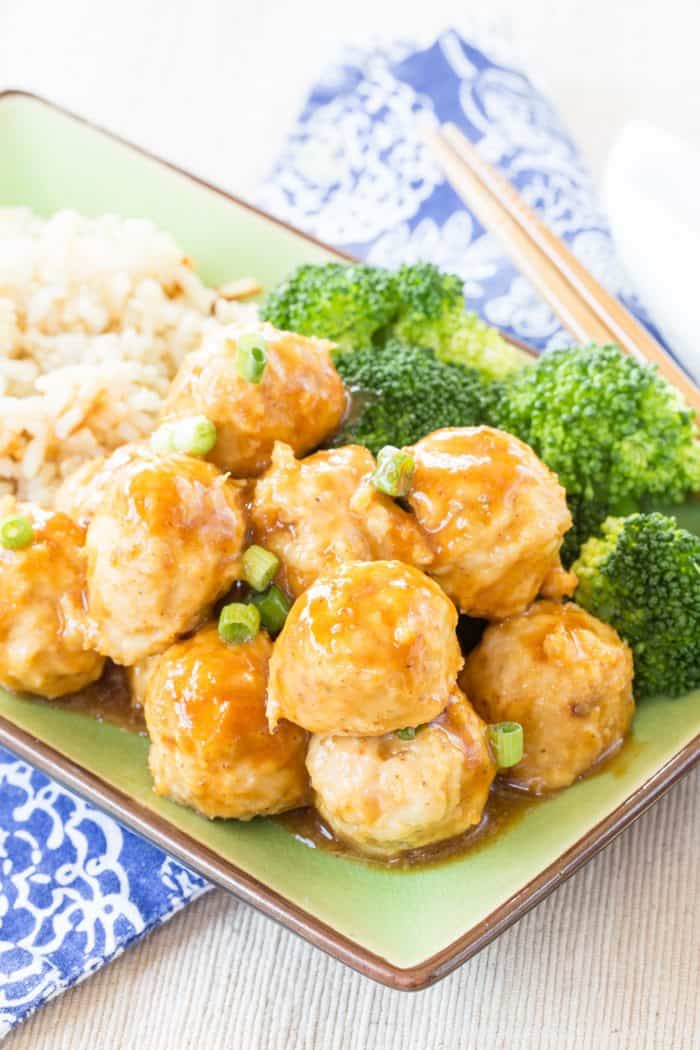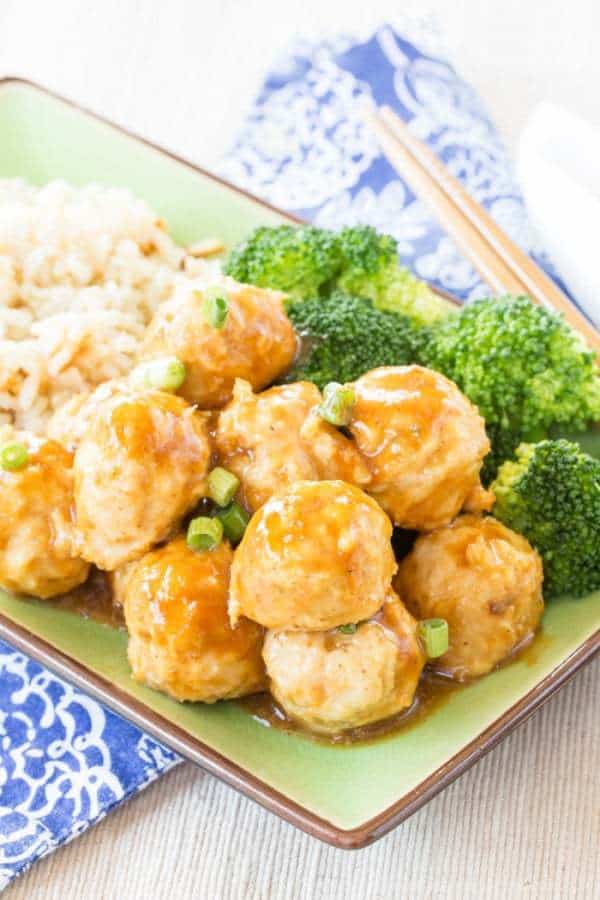 For more yumminess from me and my foodie friends, keep up with me on…
Or sign up to have Cupcakes & Kale Chips delivered straight to your Inbox!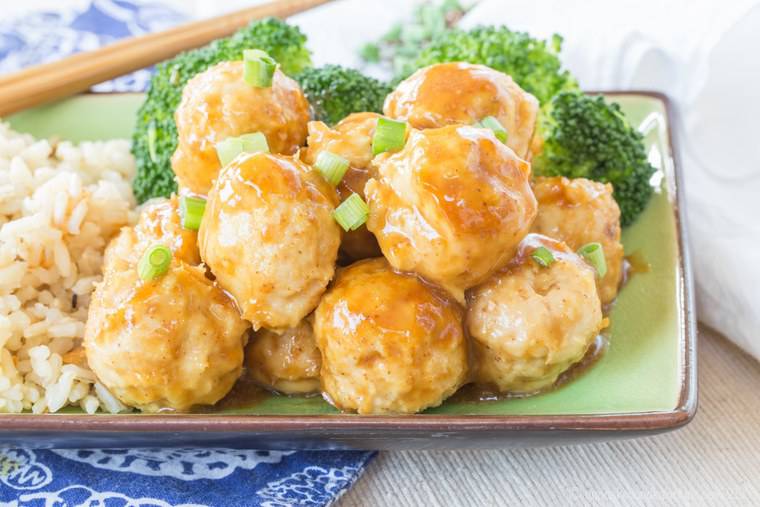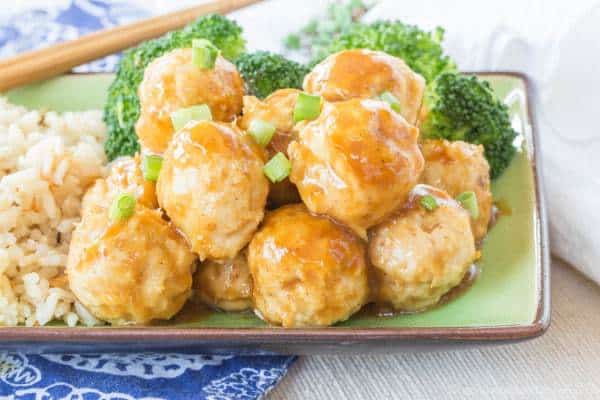 Here are more of my favorite meatball recipes…
And if you'd like more Asian-inspired recipes…
General Tso's Chicken Meatballs Recipe
Ground chicken breast is seasoned with classic Asian flavors like ginger, garlic, and red pepper flakes. Then it is rolled into balls and popped into the oven. After making a simple general tso chicken sauce, the baked chicken meatballs are added so that they get all glazed and delicious. Put them out with toothpicks at a party, spoon over rice, or serve with cauliflower rice or zucchini noodles.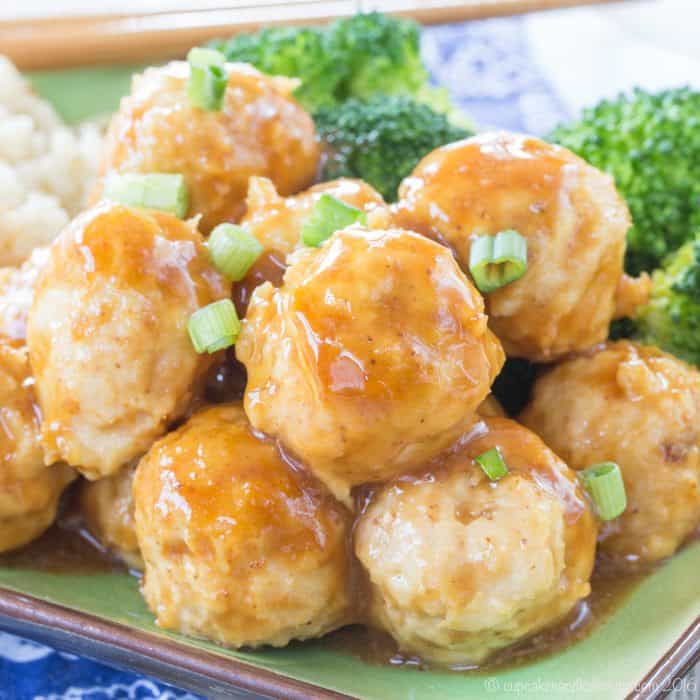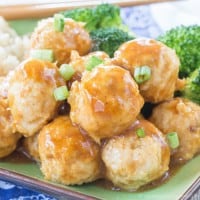 General Tso's Chicken Meatballs
Inspired by a favorite Chinese takeout dish, everyone will love the sweet and savory sauce on these meatballs served over rice or zoodles.
Ingredients
For the meatballs:
1

lb

ground chicken breast

1/4

cup

cornmeal, almond meal,

bread crumbs or ground oats

1

large

egg

1/2

teaspoon

salt

1/4

teaspoon

red pepper flakes

1

clove

garlic

finely minced or crushed

1

teaspoon

grated fresh ginger
For the sauce:
1 1/2

cups

chicken broth

1/4

cup

rice vinegar

1/3

cup

low sodium soy sauce

or tamari

3

tablespoon

honey

2

tablespoons

tapioca starch

or cornstarch

2

tablespoons

almond

or peanut butter

2

teaspoons

sesame oil

1/2

teaspoon

sriracha hot sauce
For serving:
Cooked brown rice or zucchini noodles

steamed broccoli, chopped scallions, as desired
Instructions
For the meatballs:
Preheat your oven to 400°F and lightly coat a baking sheet with oil or cooking spray

Combine the ingredients in a bowl and gently combine with your hands until well mixed.

Shape the mixture into 1 inch balls and place on the prepared baking sheet.

Bake for 15-18 minutes, or until firm and cooked through/.
For the sauce:
Add all of the ingredients to a saucepan and whisk to combine.

Bring to a gentle boil over medium heat and allow to simmer for several minutes until thickened.

Add the meatballs to the sauce and cook until heather through.

Serve over cooked rice or zucchini noodles with additional sauce, and garnish with scallions, if desired.
Nutrition Facts
General Tso's Chicken Meatballs
Amount Per Serving (2 meatballs)
Calories 77
Calories from Fat 36
% Daily Value*
Fat 4g6%
Cholesterol 32mg11%
Sodium 316mg13%
Potassium 167mg5%
Carbohydrates 4g1%
Protein 5g10%
Vitamin A 25IU1%
Vitamin C 1.5mg2%
Calcium 11mg1%
Iron 0.5mg3%
* Percent Daily Values are based on a 2000 calorie diet.
Enjoy!