This post may contain affiliate links. Read my disclosure policy.
General Tso's Chicken Meatballs are an easy baked meatball recipe based on the Chinese takeout favorite. Have your chopsticks ready and enjoy these sweet and savory, Asian-inspired, gluten-free meatballs with rice or zoodles!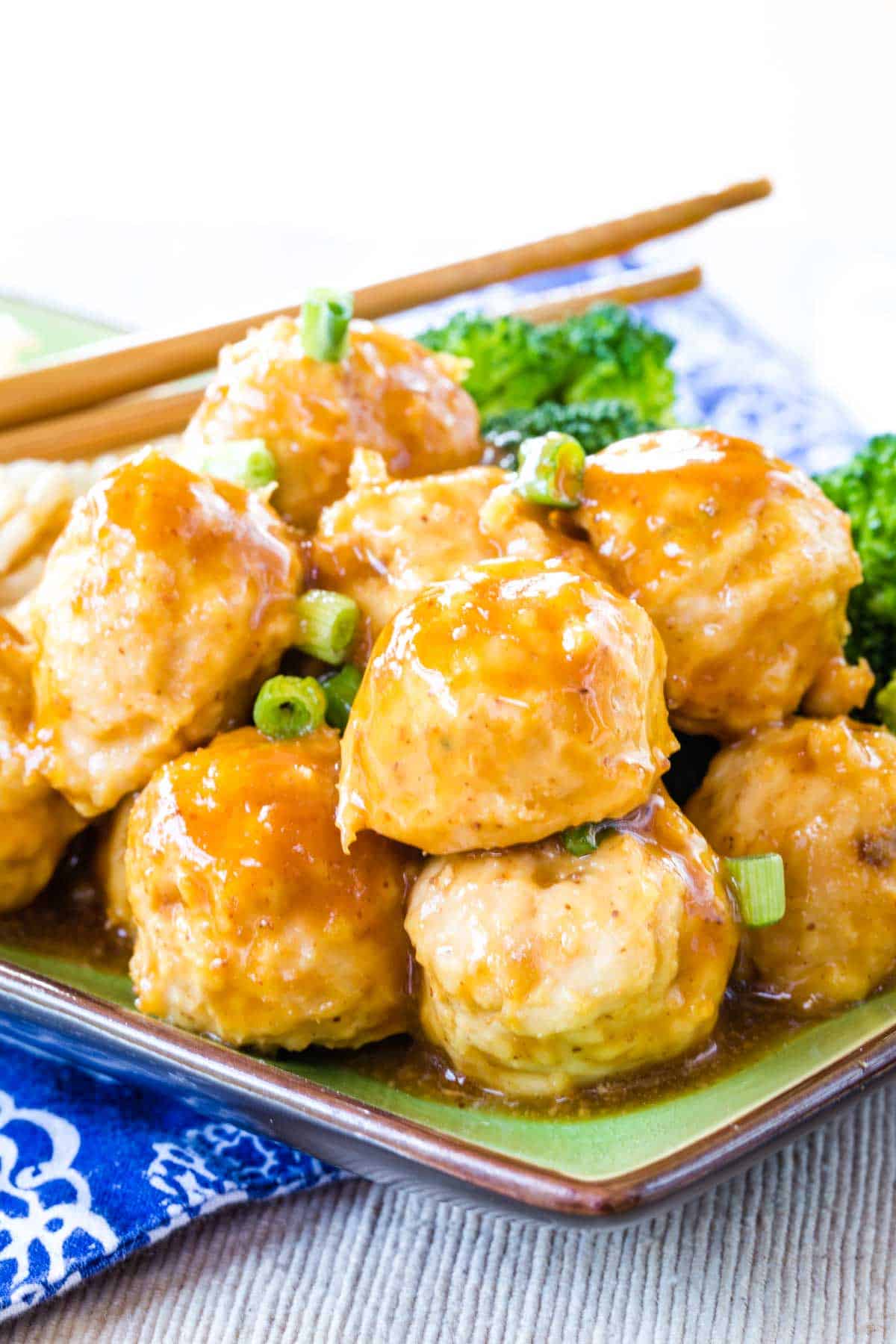 Easy Chicken Meatballs with Homemade General Tso's Sauce
These General Tso's Chicken Meatballs are a nod to Chinese takeout, and one of our favorite family meals! These meatballs are made from lean ground chicken breast, then coated in a homemade version of the familiar sticky, sweet and savory sauce with a little hint of heat.
The texture of the meatballs is similar to the fried chicken chunks in classic General Tso's chicken. Minus the batter and deep frying! And the homemade sauce, sweetened with honey, is just so delicious. They always disappear quickly from our dinner table, and as an added bonus they can be made gluten-free or grain-free.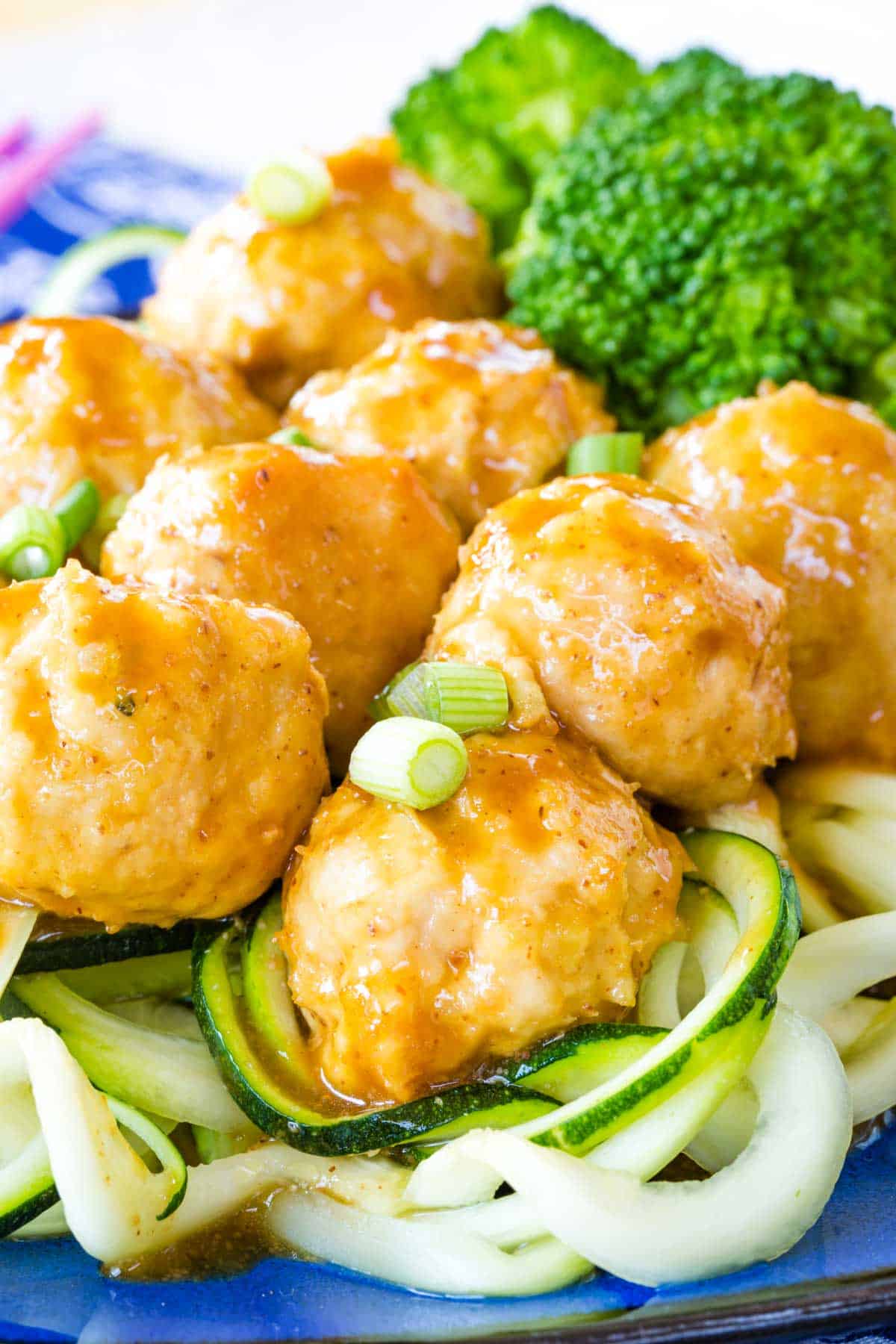 Are Chicken Meatballs Healthy?
This easy meatball recipe is made with lean ground chicken breast and can be made gluten free and grain free depending on preference and diet. Unlike classic General Tso's meals, these chicken meatballs are baked, not fried – plus, this sauce contains significantly less sugar than the original!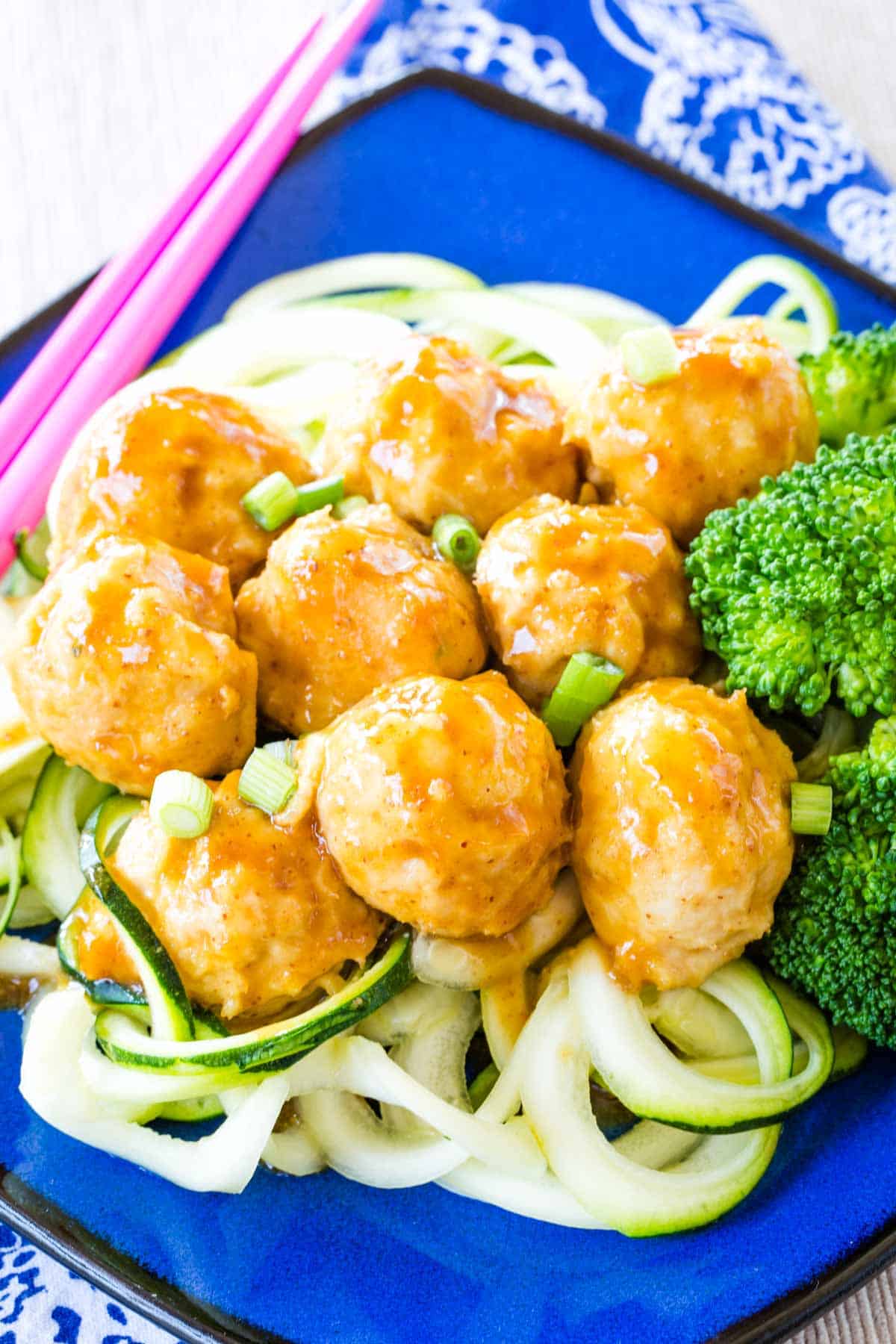 What You'll Need
Typically, General Tso's Chicken you get from restaurants is not gluten-free, or friendly for lifestyles such as paleo. However, you can adapt this homemade meatball recipe with a few easy substitutes, which I've included in the ingredients here:
​​For the Meatballs
Ground Chicken Breast: Lean ground chicken breast is what gives these meatballs a familiar texture to General Tso's chicken. You can also opt for lean turkey breast.
Bread Crumbs: Along with the egg, bread crumbs act as a binding agent that ensures the meatballs stay intact when baking! If you're making this recipe gluten free, you can substitute cornmeal, almond meal, or ground oats in place of crumbs.
Garlic: Finely minced or crushed.
Ginger: I use freshly grated ginger, but powdered ginger has a similar flavor.
Egg
Red Pepper Flakes
Salt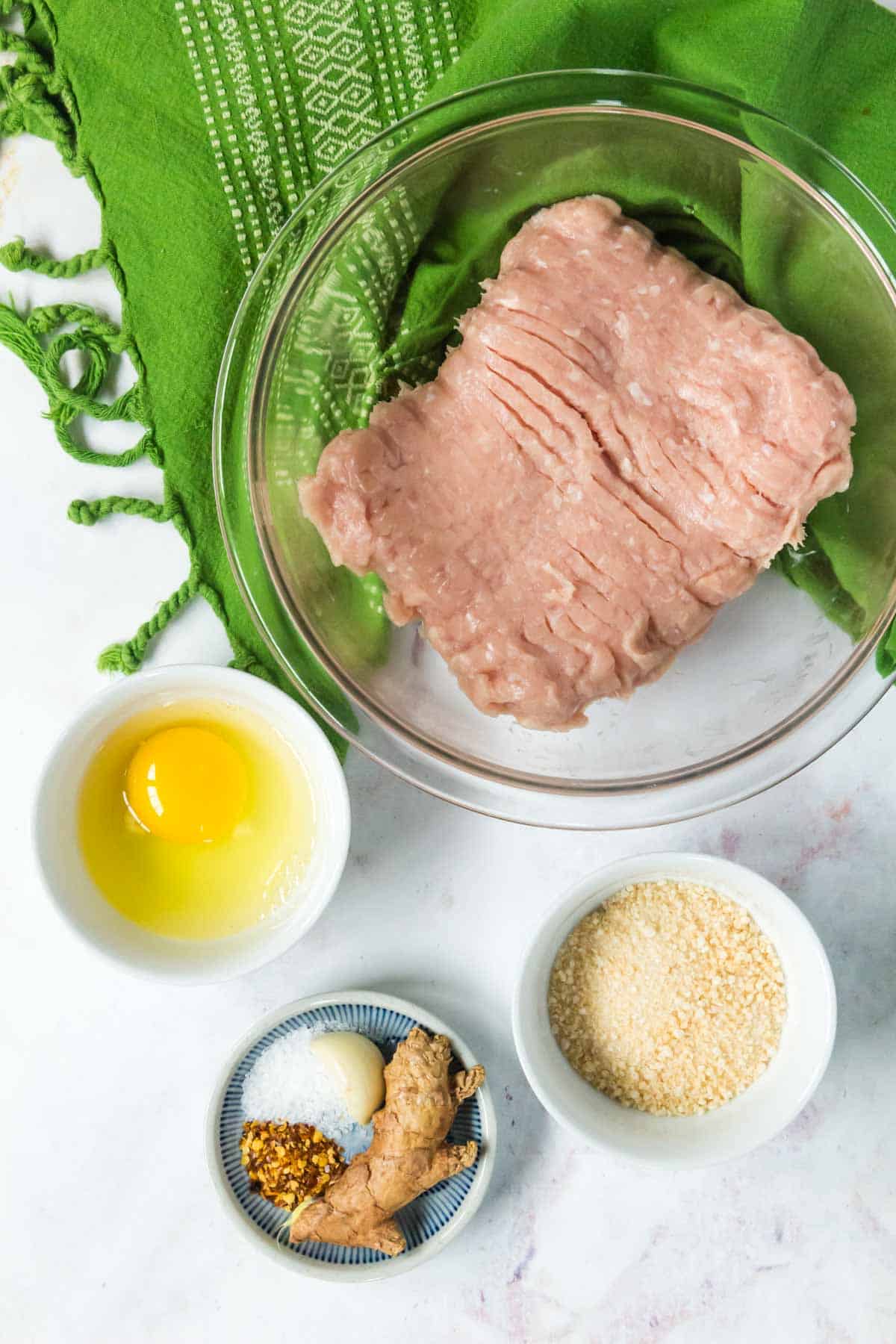 For the sauce
Chicken Broth: Or vegetable broth.
Rice Vinegar: If you're avoiding extra sugar, make sure to use plain rice vinegar and not the seasoned kind!
Soy Sauce: I use low sodium soy sauce, or tamari if I'm making these meatballs gluten-free. Coconut aminos will also work as a paleo option for these General Tso's Chicken Meatballs.
Honey: For a hint of sweetness.
Thickener: Tapioca starch or cornstarch will thicken the sauce without impacting the texture or flavor.
Peanut Butter: Alternatively, almond butter.
Sesame Oil: For the best, most authentic flavor, don't substitute the sesame oil!
Hot Sauce: My go-to is Sriracha, but you can use any hot chili sauce (or none at all!) to your preference.
How to Make Asian Chicken Meatballs
These baked chicken meatballs are a super easy and family friendly dinner idea. They're simple to make in only a few steps:
Mix the Ingredients: Combine all the meatball ingredients in a large bowl, and use your hands to gently and thoroughly combine the mixture.
Roll and Bake the Meatballs: Roll your meatballs into balls roughly 1-inch in size. Place these onto a prepared baking sheet that's coated with oil or cooking spray. Pop your meatballs into a preheated oven and bake until they're cooked through.
Make the Sauce: Whisk together all of the ingredients for the sauce in a saucepan, and bring the General Tso's sauce to a low boil. Allow it to simmer until the texture thickens a bit.
Add the Meatballs: Add the baked meatballs into your homemade General Tso's sauce, and continue to cook until they're heated through.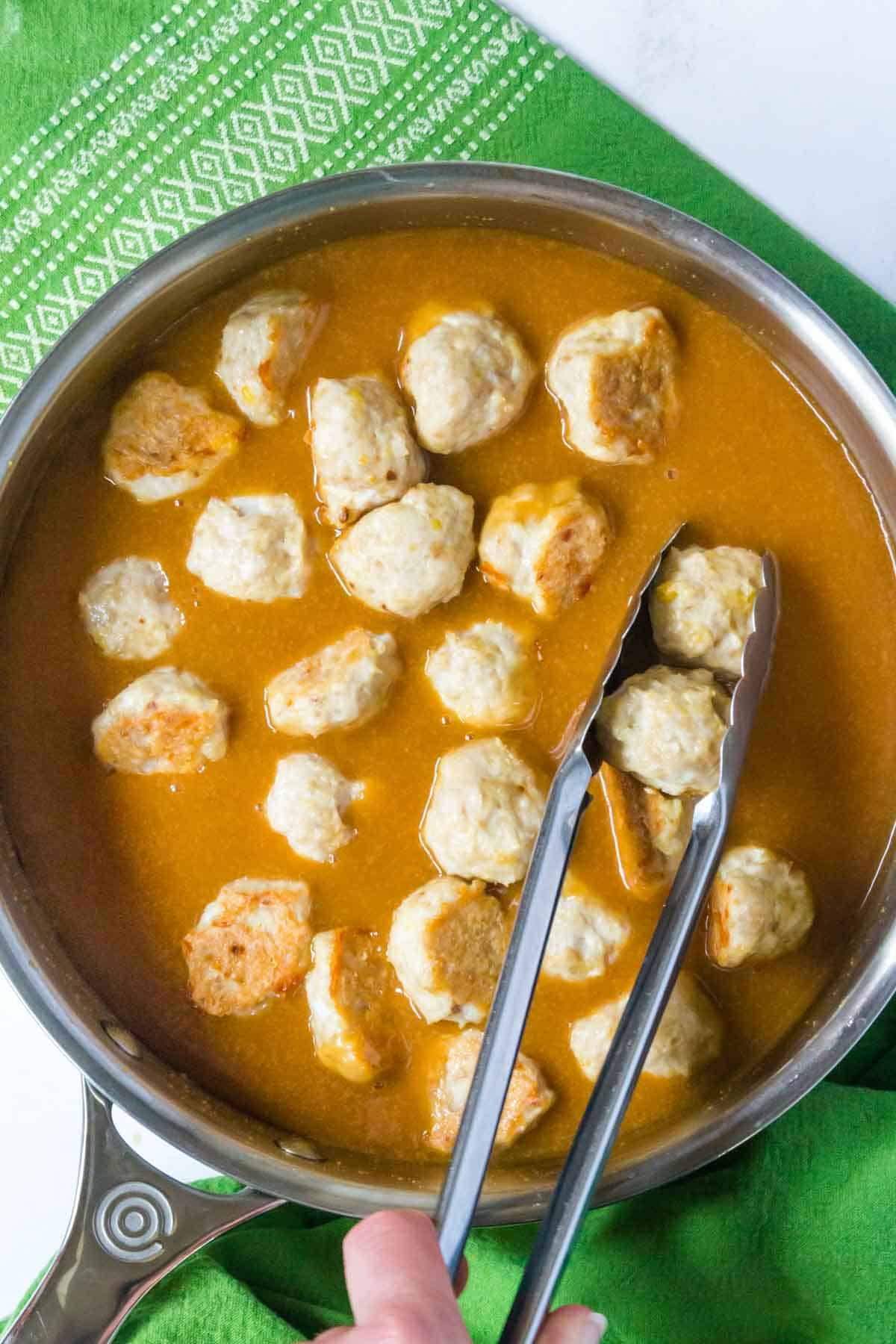 Serve: Serve your homemade General Tso's meatballs with your choice of side. If you'd like, spoon some additional sauce over top and give your meal a sprinkling of scallions.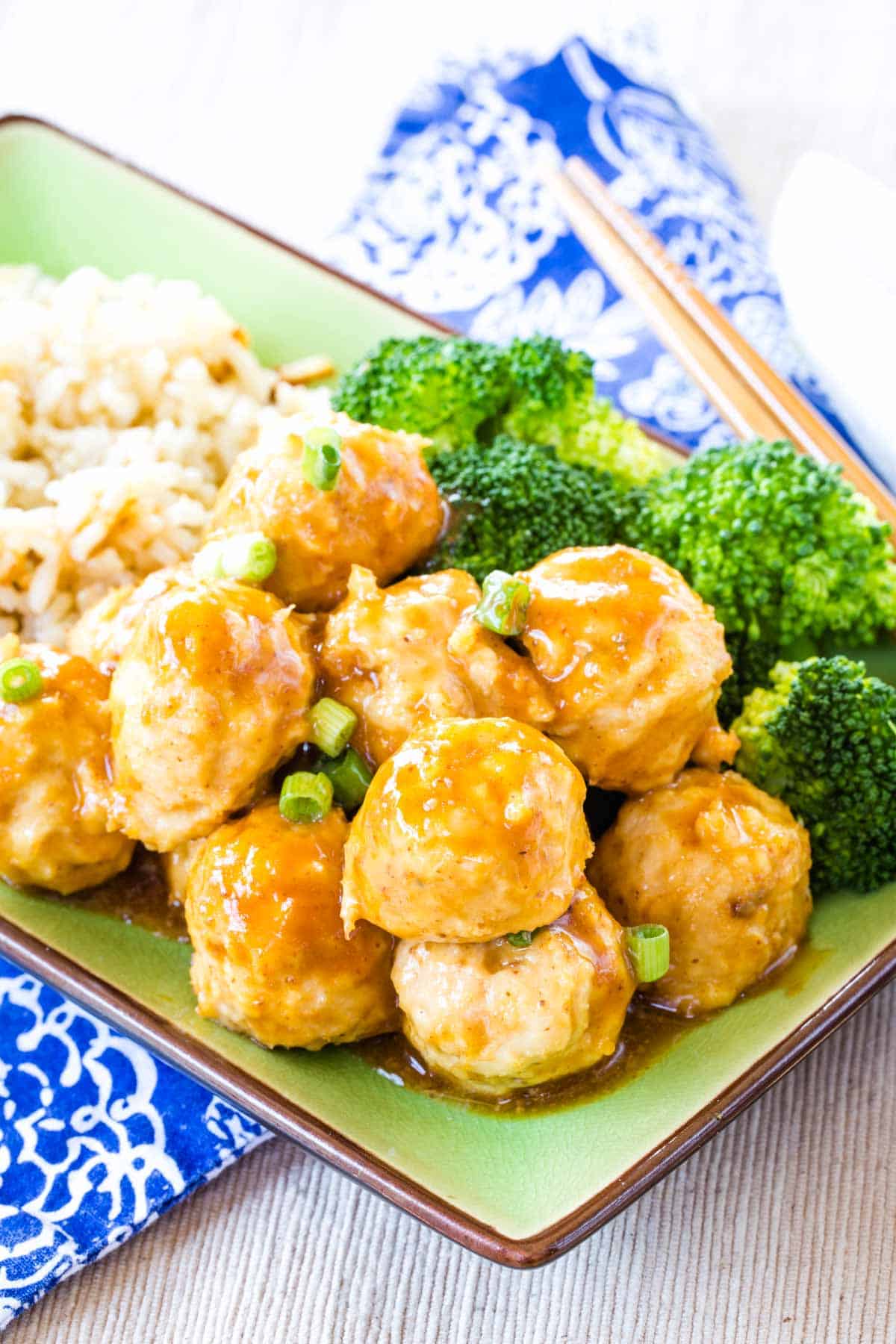 Tips for Success
Choose Your Chicken Wisely: To ensure your meat has some moisture, opt for ground chicken breast that is 93-95% lean (avoid higher percentages that will dry out easily). You can also use ground turkey with equally delicious success.
If the Meatballs Are Sticky: If you find the meat is sticking to your hands while rolling the meatballs, lightly oiling your hands with cooking oil or the like can give you smoother results.
Keep the Meatballs Moist: Make sure the ground chicken mixture is fully combined with the eggs and breadcrumbs, and don't over bake!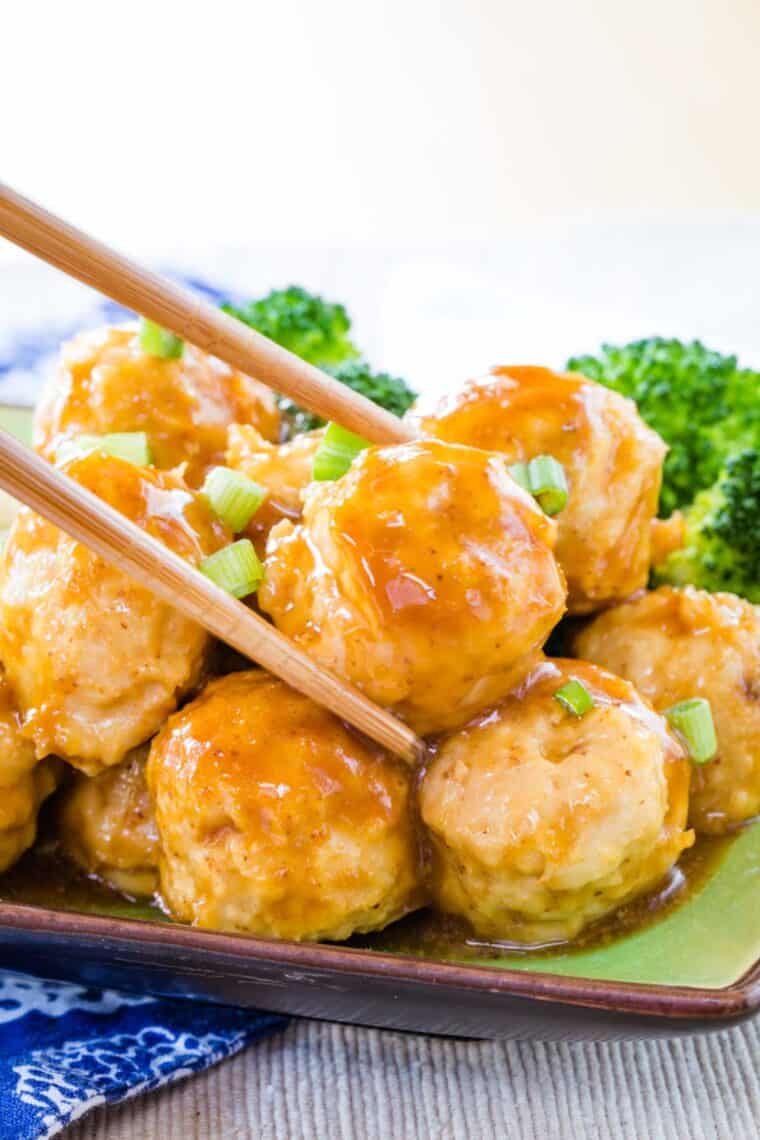 Variation Ideas
The beauty of these Asian chicken meatballs? The versatility! Not only are they easy to adapt to different diets and preferences, the buck doesn't stop there. You can change up this chicken meatball recipe with different sauces and ingredients for so many variations. Here are some to try:
For cheesy meatballs, add about one cup of shredded cheese like cheddar or mozzarella to the meatball mixture. You can also place a cube of cheese inside the meatballs when rolling them for delicious, stuffed meatballs.
Add a half cup of cooked, chopped bacon or pancetta to the meatballs.
Coat these chicken meatballs in another Asian-inspired sauce that's also gluten-free, like my Homemade Teriyaki Sauce with Pineapple.
Serving Suggestions
I love serving these homemade General Tso's Chicken Meatballs as a nutritious and light, easy dinner.
Keep it classic and serve these General Tso's Chicken Meatballs with steamed or Roasted Broccoli and chopped scallions over brown rice.
Serve with other veggies like frozen vegetables, steamed carrots, or Sugar Snap Peas.
For a gluten free and grain free option, serve these meatballs with an extra helping of sauce over sauteed zoodles, or easy Sesame Zucchini Noodles. You can also serve them over homemade Cauliflower Rice.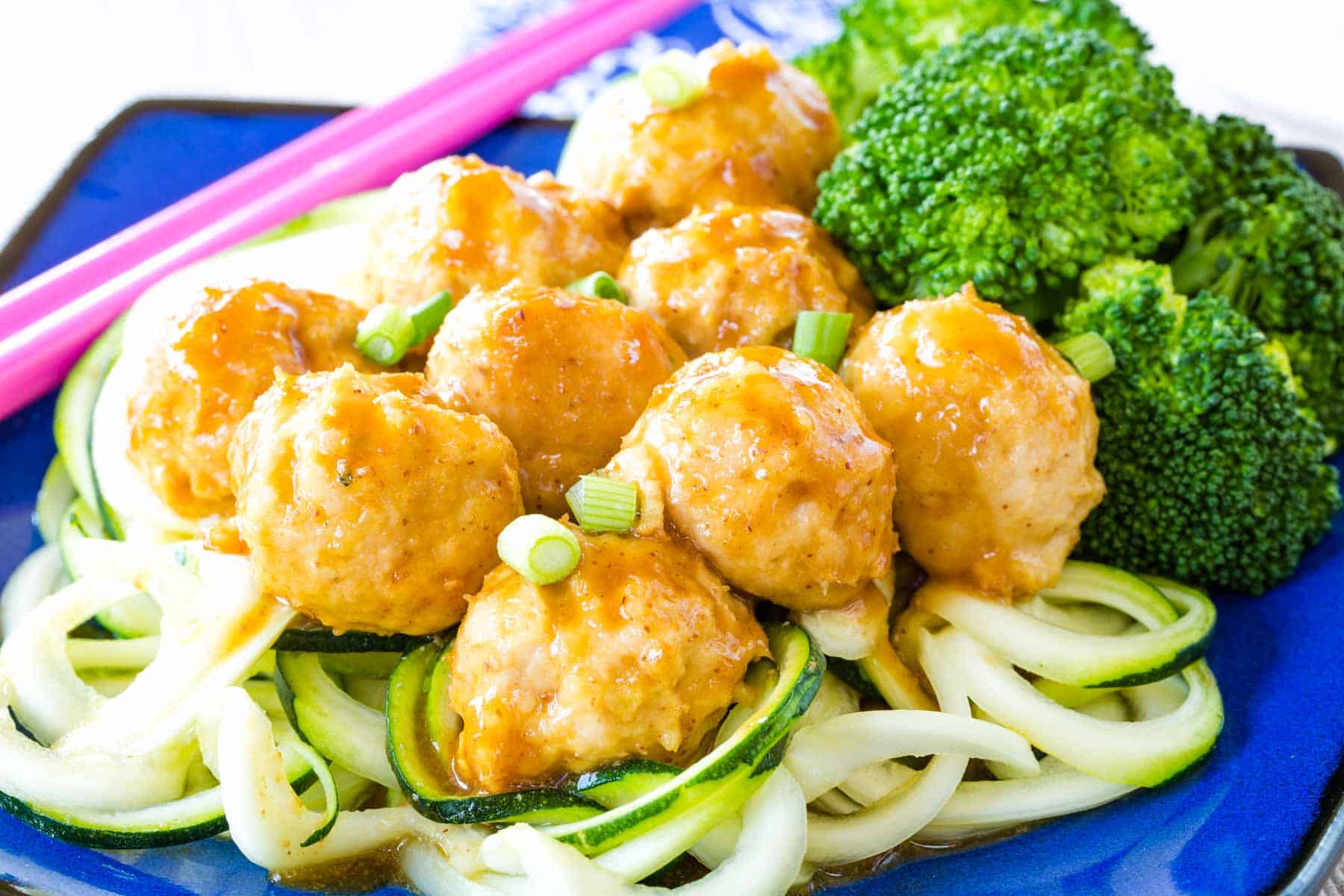 How to Store and Reheat Baked Meatballs
Store leftover cooked meatballs airtight in the fridge, wrapped tightly in plastic wrap or foil, or in a shallow container. They'll keep for about 3-4 days.
You can reheat plain meatballs on a baking sheet covered in foil to prevent drying. Warm them in the oven at 300°F until heated through. If you're using a microwave, place the meatballs in a microwave-safe dish with some sauce and heat them for a few minutes before serving.
Can I Freeze These?
You can freeze these chicken meatballs either with or without the sauce. Allow the meatballs and sauce to cool completely, then store them airtight in a freezer-safe container or sealable bag. Squeeze out the excess air and freeze flat for up to 2 months.
To reheat from frozen, thaw the meatballs in the fridge overnight and then warm them on the stovetop or in the microwave for a few minutes.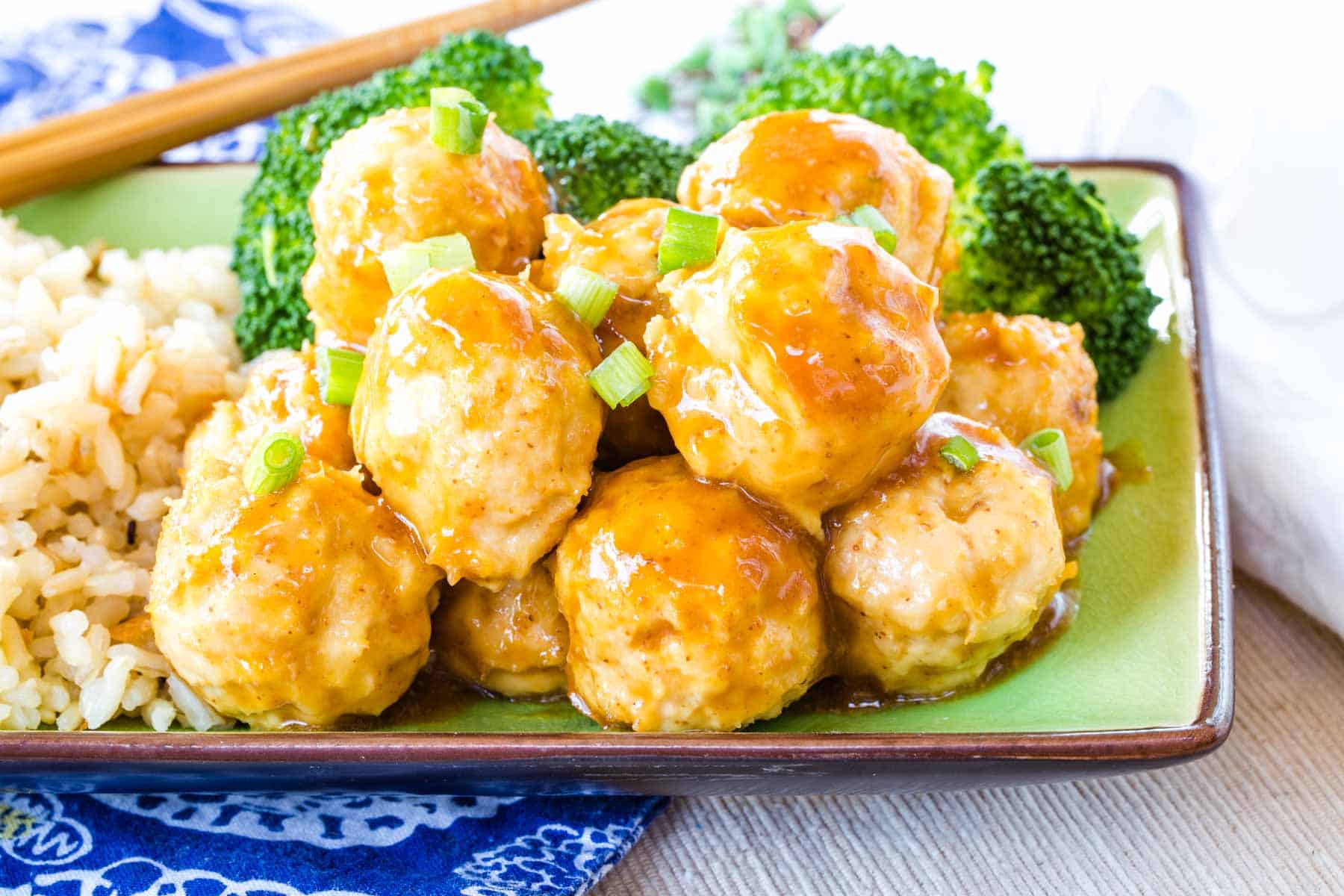 More Asian-Inspired Chicken Recipes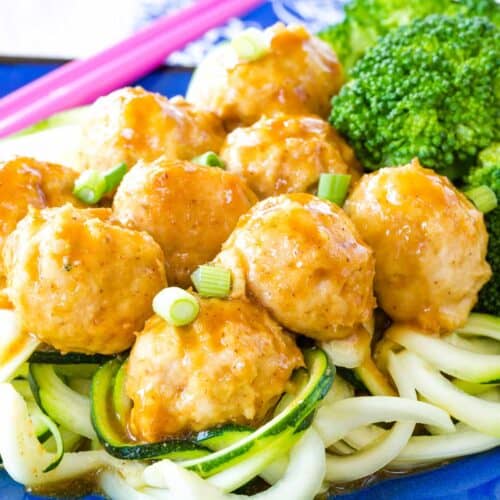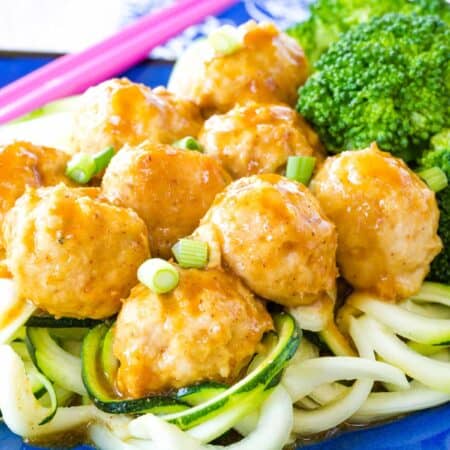 General Tso's Chicken Meatballs
Inspired by a favorite Chinese takeout dish, everyone will love the sweet and savory sauce on these meatballs served over rice or zoodles.
Ingredients
For the meatballs:
1

lb

ground chicken breast

1/4

cup

cornmeal, almond meal,

bread crumbs or ground oats

1

large

egg

1/2

teaspoon

salt

1/4

teaspoon

red pepper flakes

1

clove

garlic

finely minced or crushed

1

teaspoon

grated fresh ginger
For the sauce:
1 1/2

cups

chicken broth

1/4

cup

rice vinegar

1/3

cup

low sodium soy sauce

or tamari

3

tablespoon

honey

2

tablespoons

tapioca starch

or cornstarch

2

tablespoons

almond

or peanut butter

2

teaspoons

sesame oil

1/2

teaspoon

sriracha hot sauce
For serving:
Cooked brown rice or zucchini noodles

steamed broccoli, chopped scallions, as desired
Instructions
For the meatballs:
Preheat your oven to 400°F and lightly coat a baking sheet with oil or cooking spray

Combine the ingredients in a bowl and gently combine with your hands until well mixed.

Shape the mixture into 1 inch balls and place on the prepared baking sheet.

Bake for 15-18 minutes, or until firm and cooked through.
For the sauce:
Add all of the ingredients to a saucepan and whisk to combine.

Bring to a gentle boil over medium heat and allow to simmer for several minutes until thickened.

Add the meatballs to the sauce and cook until heather through.

Serve over cooked rice or zucchini noodles with additional sauce, and garnish with scallions, if desired.
Notes
Store leftover baked meatballs airtight in the fridge for up to 3-4 days.
Freeze meatballs with or without the sauce for up to 2 months.
Nutrition Facts
General Tso's Chicken Meatballs
Amount Per Serving (2 meatballs)
Calories 77
Calories from Fat 36
% Daily Value*
Fat 4g6%
Cholesterol 32mg11%
Sodium 316mg13%
Potassium 167mg5%
Carbohydrates 4g1%
Protein 5g10%
Vitamin A 25IU1%
Vitamin C 1.5mg2%
Calcium 11mg1%
Iron 0.5mg3%
* Percent Daily Values are based on a 2000 calorie diet.
Categories: