This post may contain affiliate links. Read my disclosure policy.
Tailgating Recipes are what you need when you are ready for some football or just ready for some football snacks. The best tailgate recipes can be everything from hot and cold dips to finger foods, chili to wings, nachos to sliders, and so much more. Sometimes you want easy tailgate snacks, and other times you want some hearty comfort food while you are watching your favorite teams. That's why you'll find over 90 recipes for easy tailgate food for all of your football parties this fall and winter and if this isn't enough, check out even more gluten free appetizers for any occasion and the best game day recipes.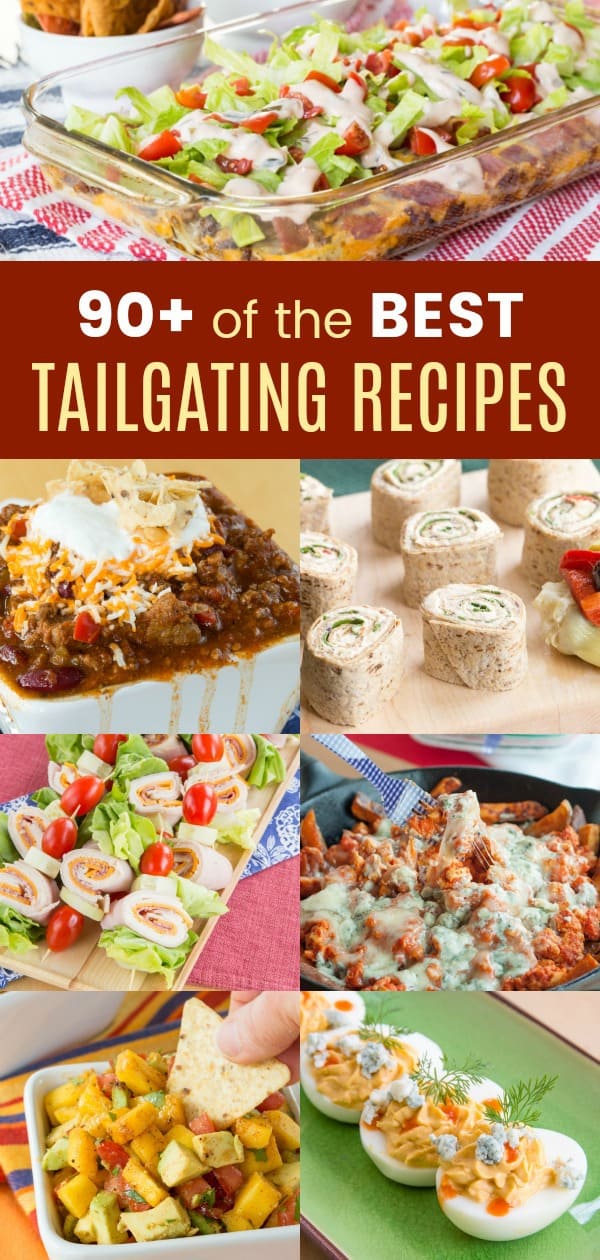 90+  of the Best Tailgate Recipes
What is your favorite tailgate food?
For some people, it's all about the dips. Whether hot or cold, cheesy and indulgent or fresh and healthy, all you want to do is break out the chips and veggies and dip to your heart's content while watching the game.
If you want to keep your hands free to grab the remote, cheer, or hold on to your favorite beverage, finger foods are the way to go. No fumbling with plate, bowls, forks, and spoons.
Maybe football season means chili season to you. Make a hearty beef chili, a tasty chicken chili, or even a veggies chili then set out your favorite toppings so everyone can serve themselves during the game.
Don't be chicken! Tailgating food often means wings and legs, and maybe even a chicken tender or two. Go classic with buffalo or barbecue, or change it up with new flavors. You can even forego the meat altogether and make cauliflower "wings".
Another way to eat your favorite meat is to snack on sandwiches, sliders, hot dogs, or anything else you can pick up with your hands.
Of course we can't forget nachos and loaded fries. Chips or fried piled with your favorite toppings makes for the ultimate game day snacking experience.
Whatever you like, you'll find nearly 100 delicious game day recipes to give you some new tailgate menu ideas. Chem them out…
Tailgating Recipes for Hot Dips
Tailgating Recipes for Cold Dips
Tailgating Recipes for Hot Finger Foods
Tailgating Recipes for Cold Finger Foods
Tailgating Recipes for Chili
Tailgating Recipes for Drumsticks and Wings and "Wings"
Tailgating Recipes for Hot Dogs, Meatballs, Sandwiches, and Sliders
Tailgating Recipes for Loaded Fries and Nachos
90+ of the Best Tailgating Recipes
When you are ready to watch the big game, I hope you'll make some of these tailgate recipes.