This post may contain affiliate links. Read my disclosure policy.
I'm mashing up two of my all-time childhood favorites: Sloppy joes, and crispy tater tots! Sloppy Joe Tater Tot Casserole is a deliciously savory, cheesy, tater-y wonder that's just hyper-loaded with flavor. A perfect weeknight family dinner and the ultimate comfort food!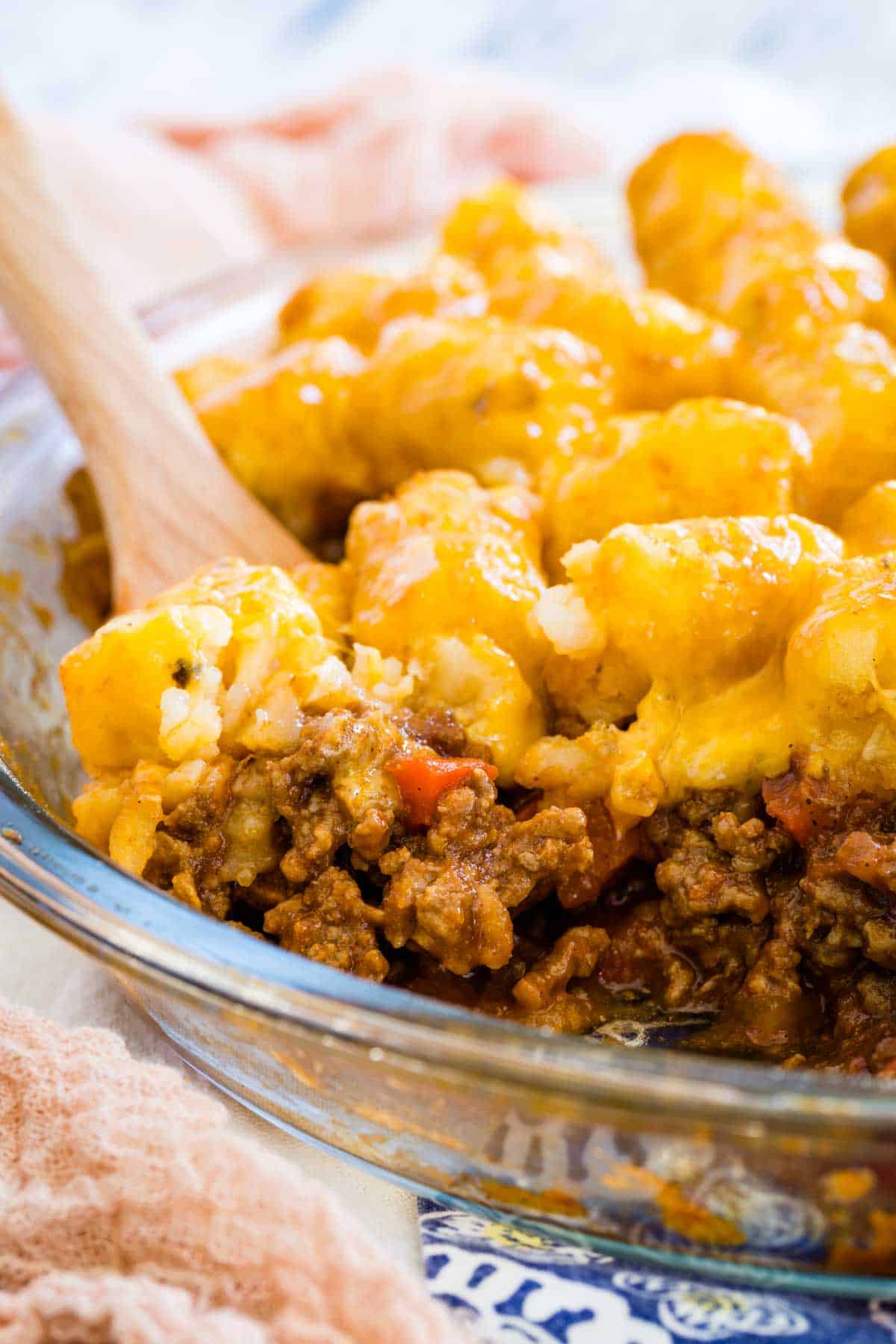 The Ultimate Comfort Food Casserole
Today I'm throwing together two of my favorite childhood comfort foods: Sloppy joes, and tater tots! This hearty sloppy joe casserole is the stuff of weeknight dinner dreams. Plus, with fall weather peeking around the corner, my kitchen is officially ramping up for casserole season.
Sure, we have our homemade Sloppy Joes served up the classic way, on gluten-free buns. Plus a scoop (or five) of tater tots on the side. But prepare yourself for the magic that is this sloppy joe tater tot casserole! It takes barely any prep and comes out of the oven all sorts of melty, crispy, cheesy, and wonderful.
If you're from the Midwest, you may already be familiar with this tater tot casserole's not-so-distant cousin: the tater tot hot dish. This recipe has all the meat, veggies, and starch, with a fun sloppy joe spin!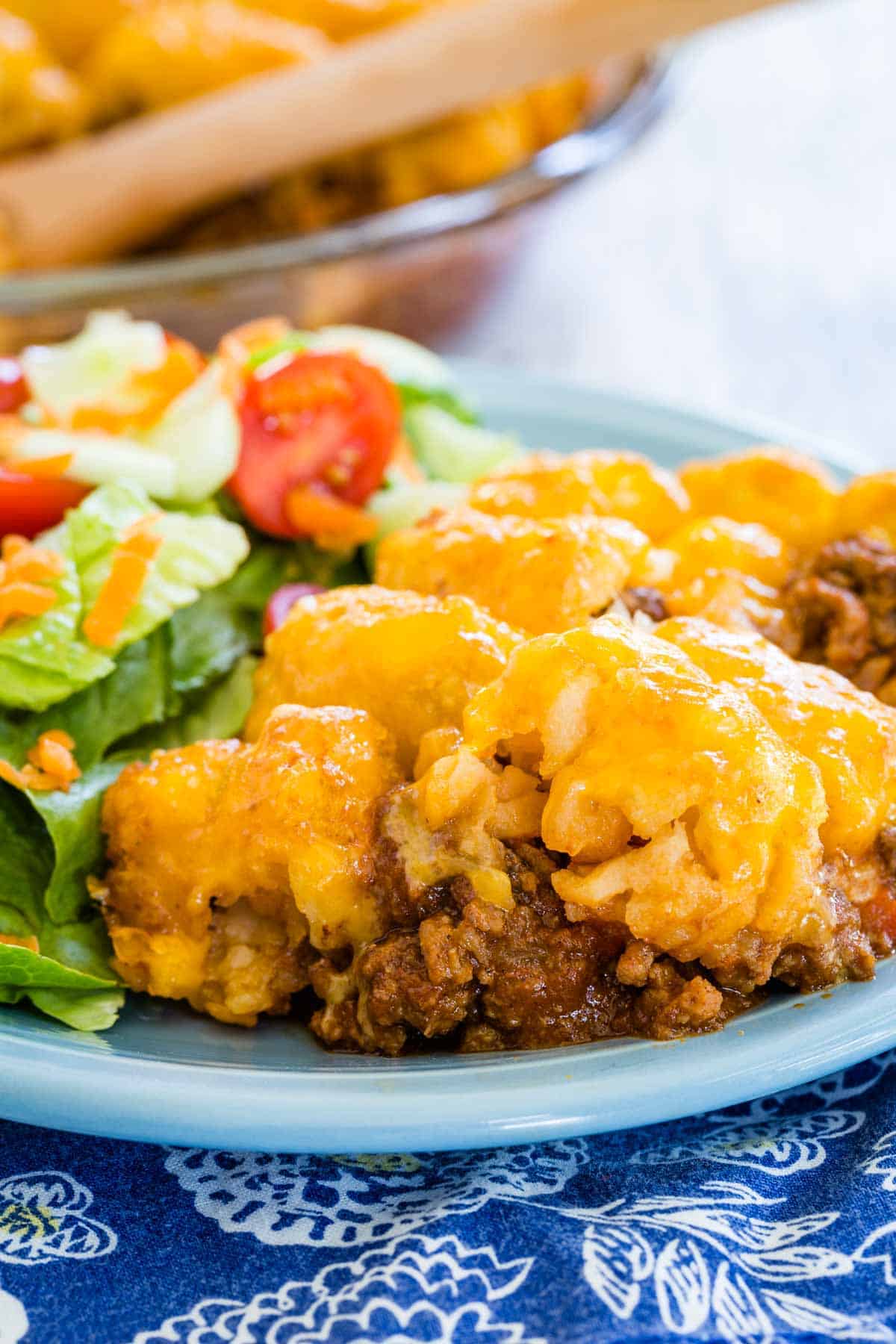 What You'll Need
We're skipping the Manwich cans from my childhood for this recipe, and making our sloppy joe sauce from scratch! It's super easy and the flavor is awesome. Here's everything you'll need, and don't forget to check out the recipe card for the full amounts:
Ground Beef: I like to use lean ground beef. You can also sub in ground turkey or chicken for a lighter casserole.
Veggies: Half an onion and half a red bell pepper, as well as freshly minced garlic. For the onion, I suggest using a sweet onion, like a Vidalia, but yellow onion will also work.
Salt and Pepper
Ketchup and Molasses: This combo forms the base for the sloppy joe sauce. The tomato ketchup gives it a nice tang, while the molasses brings richness and sweetness.
Spicy Brown Mustard: For some heat in the sauce. Use regular mustard if you prefer.
Worcestershire Sauce: For a savory umami kick.
Seasonings: I season my sloppy joe beef mixture with a combination of chili powder, paprika, and dry mustard powder.
Tater Tots: One half of a 32 oz. package of your favorite brand of frozen tater tots should be enough to cover the casserole. We'll be baking them straight from frozen, so there's no need to thaw them. Check that your brand is gluten free, like Ore-Ida.
Cheese: I recommend using freshly shredded cheddar cheese (and not pre-shredded cheese from a bag) for ultimate meltiness.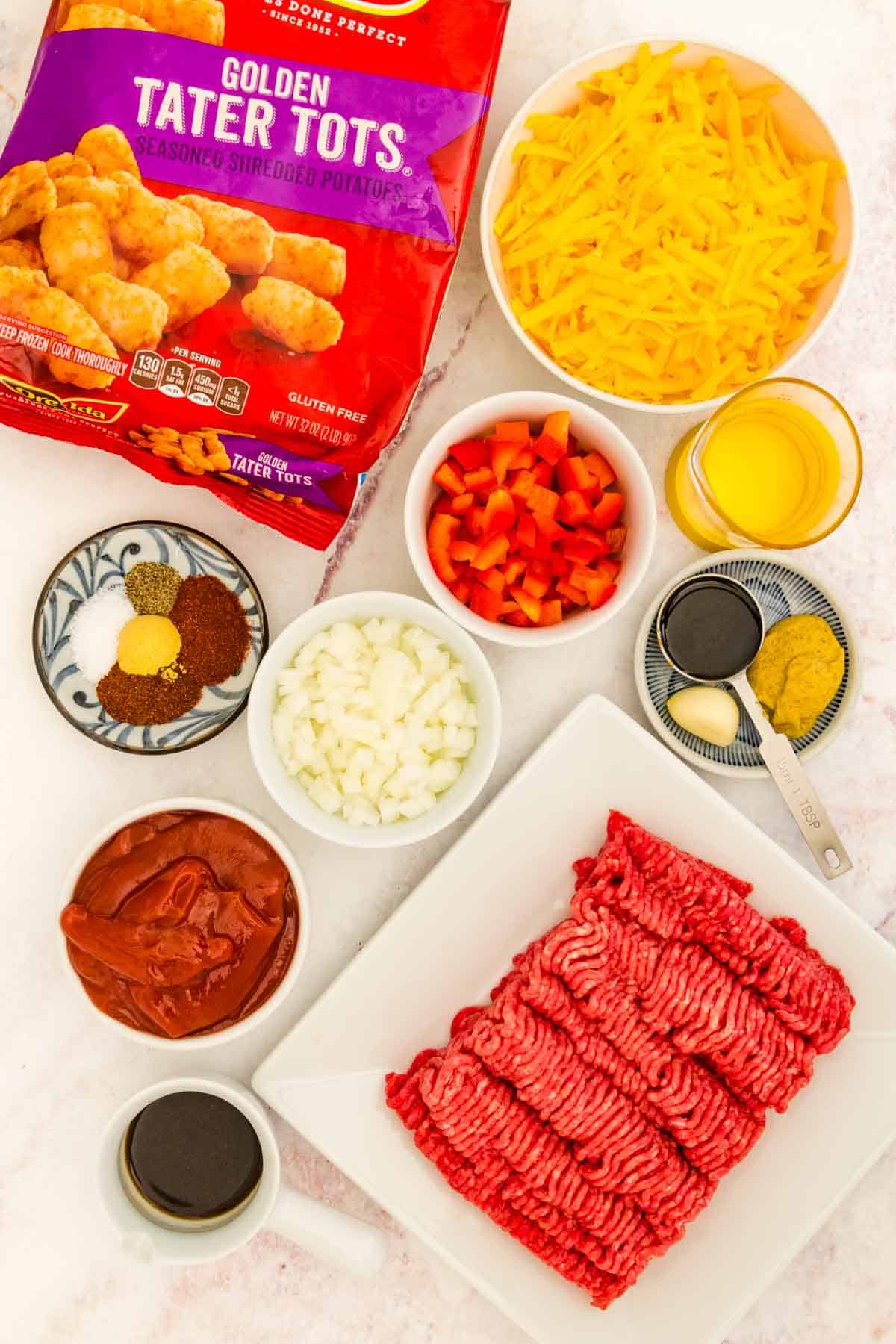 How to Make Sloppy Joe Tater Tot Casserole
To start, get your oven preheating to 450°F. Meanwhile, give a 9-inch glass pie dish a coating of cooking spray, then get started on your casserole filling:
Prepare the Sloppy Joe Mixture: In a skillet, sauté the ground beef and veggies. If there's any extra grease in the pan once the beef is browned, drain it before adding more ingredients. Next, add the sauce ingredients and seasonings into the pan, stir in some water and bring the sloppy joe mixture to a simmer. Let it cook through to thicken.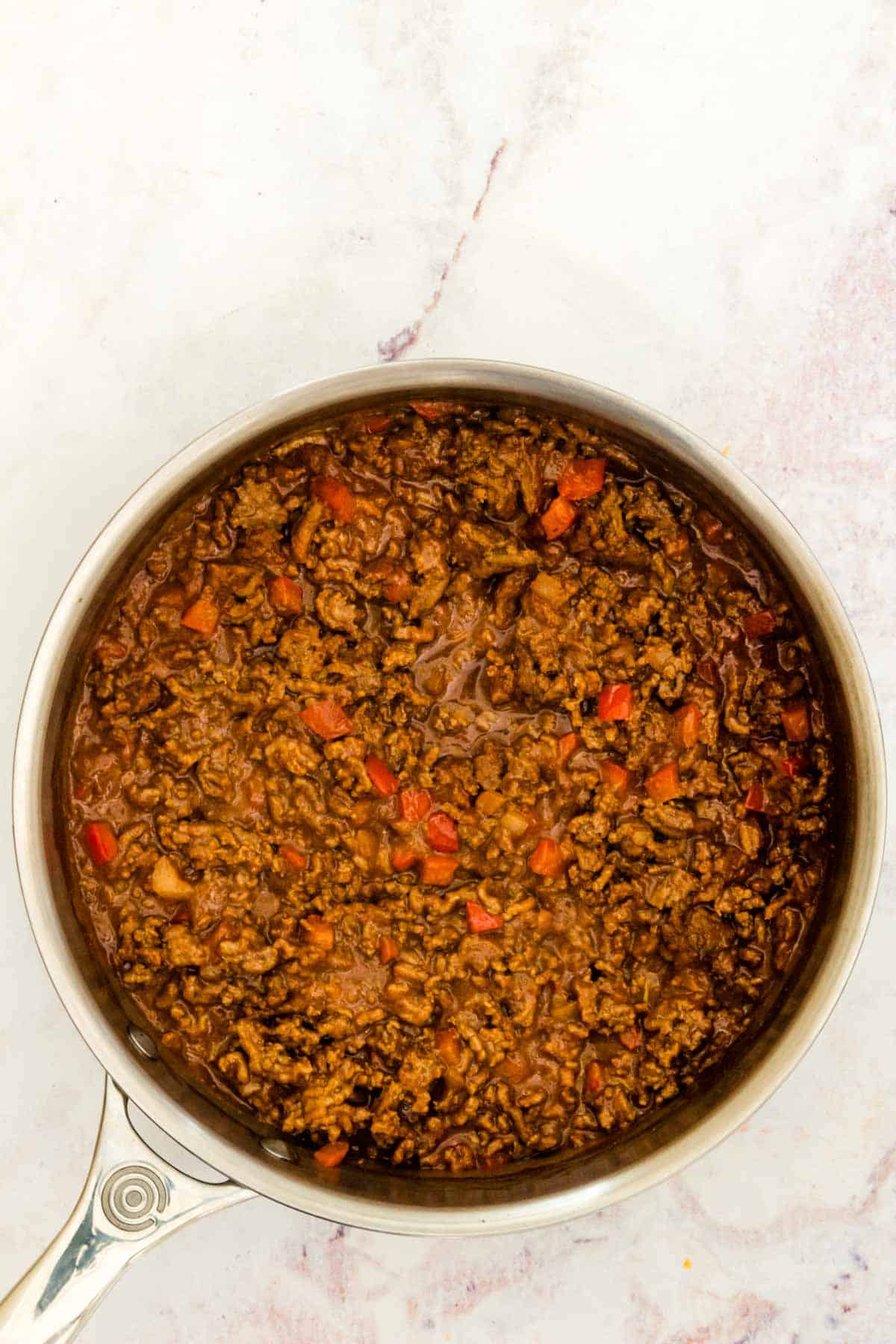 Assemble the Casserole: Once the sloppy joe filling is ready, transfer it to your greased baking dish. Go ahead and layer on those tater tots (in a single layer). Next, you'll bake the casserole to get the tater tots crispy and golden, before adding the cheese.
Bake: Place the casserole into the oven for about 25 minutes, or until the tater tots are a nice, golden brown. Take the dish out and add a generous sprinkle of shredded cheese, then return your casserole to the oven for another few minutes. When the cheese is all golden and melty, it's time to serve!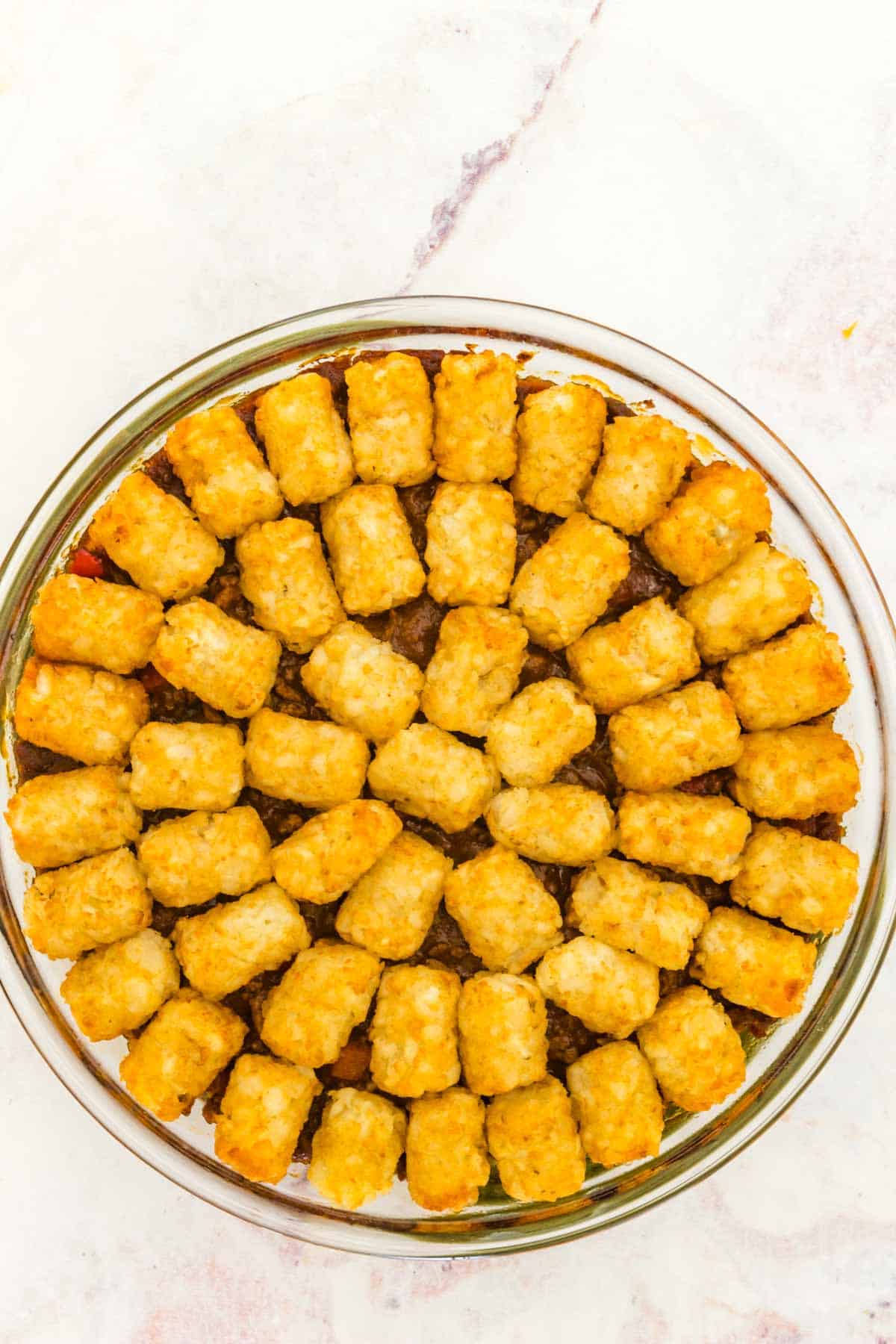 Can I Make This in Advance?
Yes! Like any casserole recipe worth its salt, this sloppy joe tater tot casserole is easy to make ahead. Simply prepare the sloppy joe filling in advance, allow it to cool, then transfer it to an airtight container to store in the fridge. Alternatively, you can add the beef mixture to the baking dish and wrap it tightly to store it. It will keep for up to 2 days. Whenever you're ready, top it with the tater tots and bake!
See the section later on for more tips on storing and freezing your casserole once it's baked.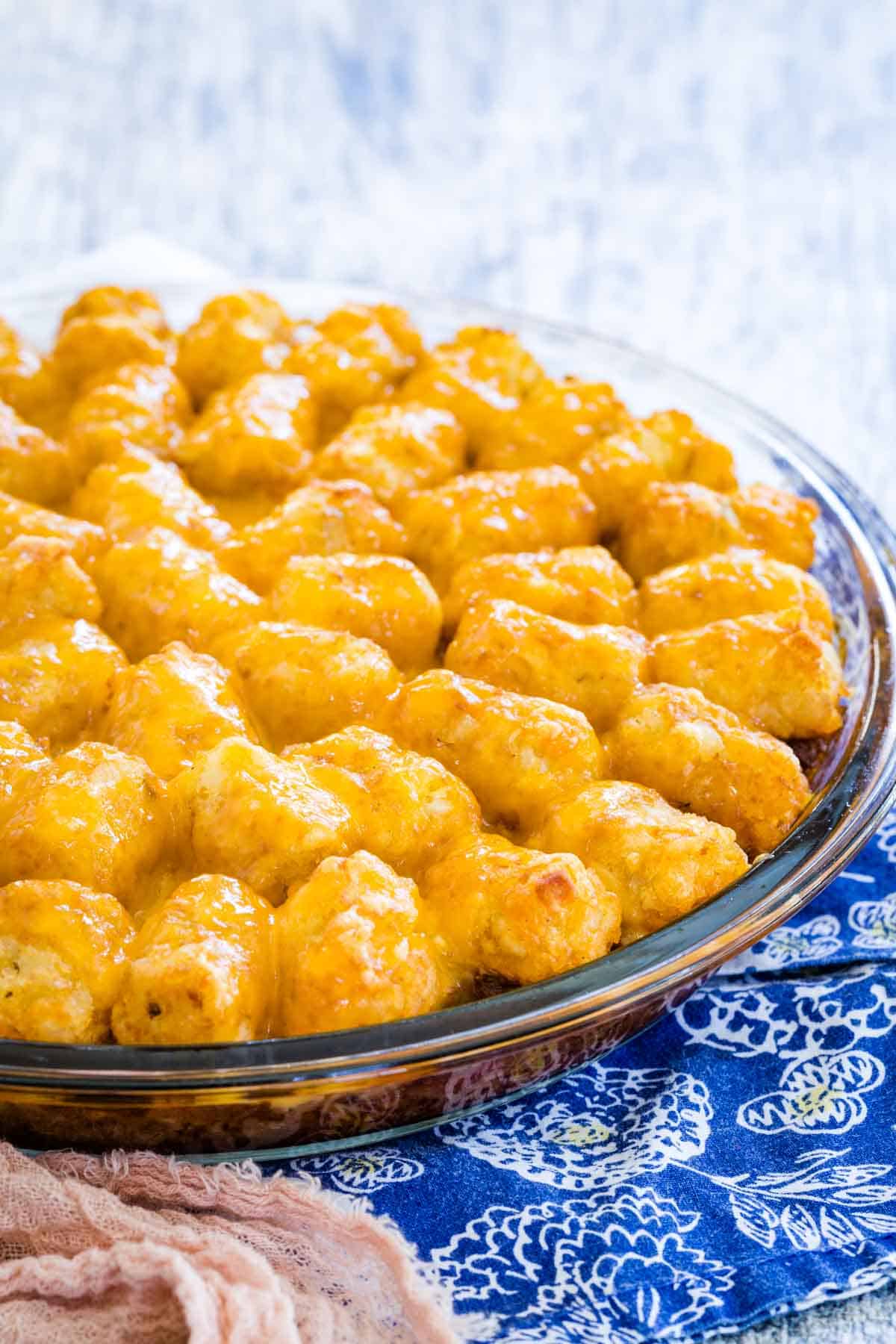 Tips for Success
Some extra guidance for making the best sloppy joe casserole:
If You Don't Have Tater Tots: If you don't have or can't find tater tots, your next best bet is to use Southern-style frozen hashbrowns or similar. You should still be able to bake the casserole as directed (keep an eye just in case), then smother it with cheese as usual. Or try spooning your sloppy joe mixture on top of a pile of Air Fryer French Fries or frozen fries that you've baked!
Can I Use Canned Sloppy Joe Sauce?: Of course! I love this recipe with homemade sauce, but if time is of the essence, by all means, go with the ready-made kind. 
Adapt To Taste: The beauty of this casserole is that you can adapt it to suit just about anyone's taste. For a milder sauce, pass on the spicy mustard and/or the chili powder. Not a fan of onions or peppers? Skip them and use onion powder for flavor instead!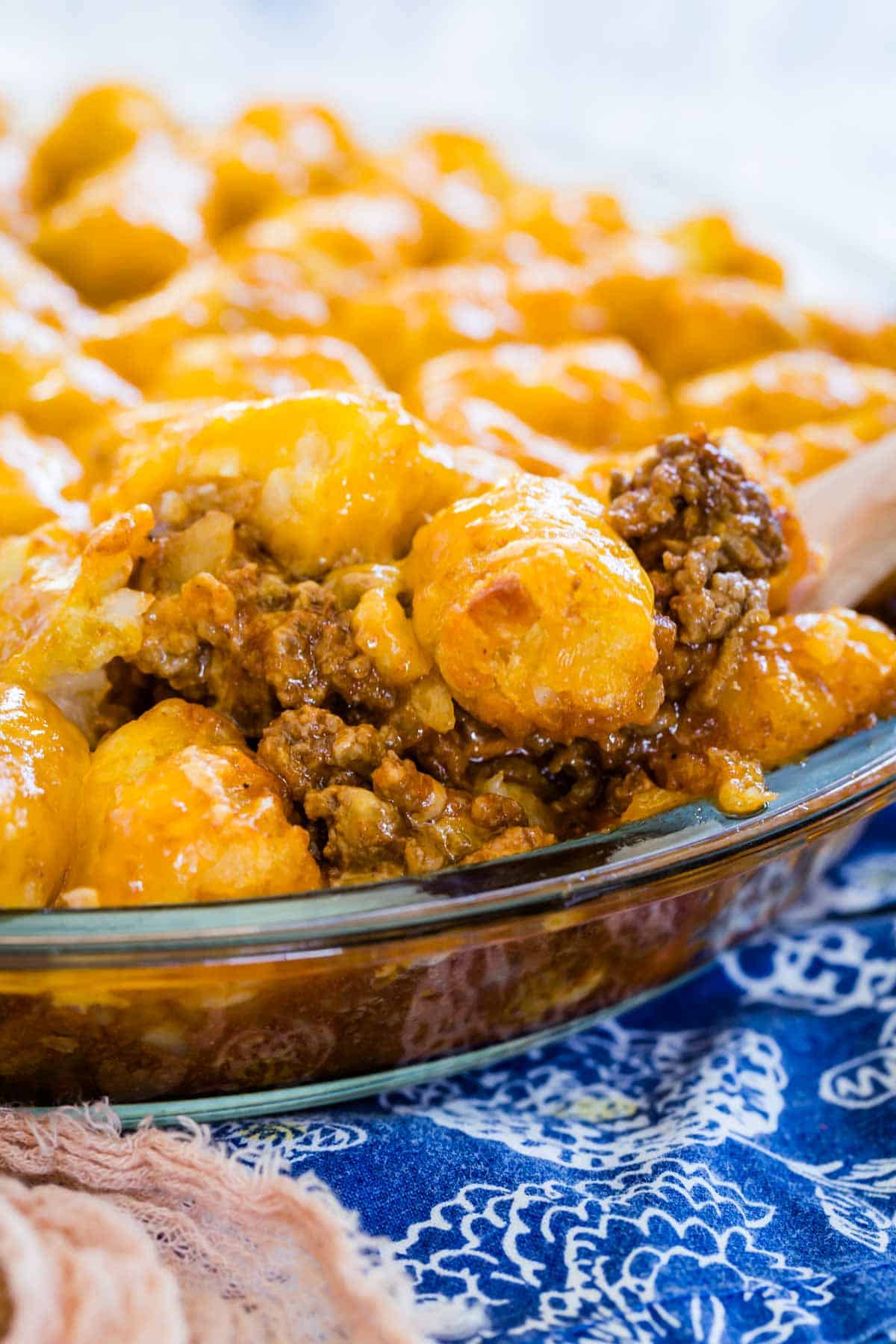 Add-Ins & Variations
Looking for more ways to spruce up this easy casserole? Here are some ideas:
More Veggies: A casserole is a perfect excuse to hide more veggies in a meal. My kids are none the wiser! Dice up other vegetables like zucchini, sweet corn, carrots, peas, or mushrooms to sauté with the ground beef, or to spread between the sloppy joe and tater tots layers.
Different Protein: As mentioned in the ingredients section earlier, it's easy to swap out the ground beef in this recipe for a lighter option, such as turkey or chicken. You could even make this casserole using my recipe for Buffalo Chicken Sloppy Joes!
Different Cheese: In place of cheddar, opt for another melty cheese variety like Monterey Jack or shredded mozzarella.
Make Vegetarian Sloppy Joe: Use your choice of vegetable protein in place of meat when making your sloppy joe mixture. Other good vegetarian alternatives are lentils and beans!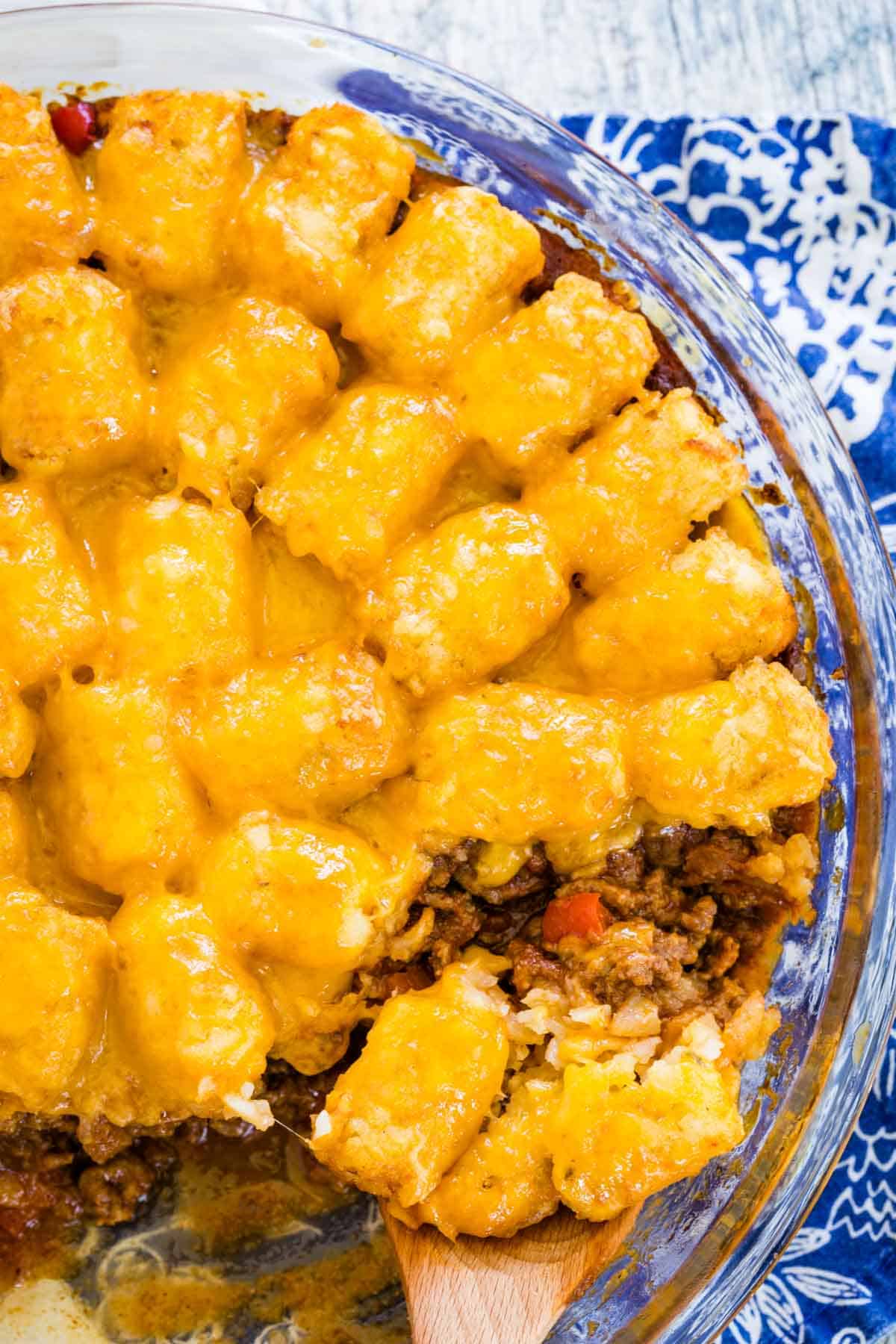 Make It a Meal
A sloppy joe tater tot casserole is loaded with protein and even some sneaky veggies. And since this recipe bakes a side of tater tots right into the dish, you're well on your way to a complete meal! I'll usually serve it with a fresh and simple green salad or Greek salad. Dinner = sorted.
If you're looking to dress up your casserole, give it a drizzle with ketchup or serve it on the side.
Potluck perfect. This casserole is a great low-effort/major flavor dish to bring out at parties, too. Serve it with easy appetizers like Chili Lime Steak Bites, Healthy Greek Yogurt Ranch Dip and cudités for dipping, and Chef Salad on a Stick.    
Heartier weeknight dinner. Enjoy a scoop of cheesy sloppy joe casserole with a side of Crispy Air Fryer Onion Rings, Gluten Free Dinner Rolls (great for soaking up extra sauce!), or Homemade Gluten Free Texas Toast.  
Add more veggies. Besides a salad, you can also pair this casserole with other veggie sides like Air Fryer Corn on the Cob, Air Fryer Cauliflower, Easy Air Fryer Green Beans or Coleslaw.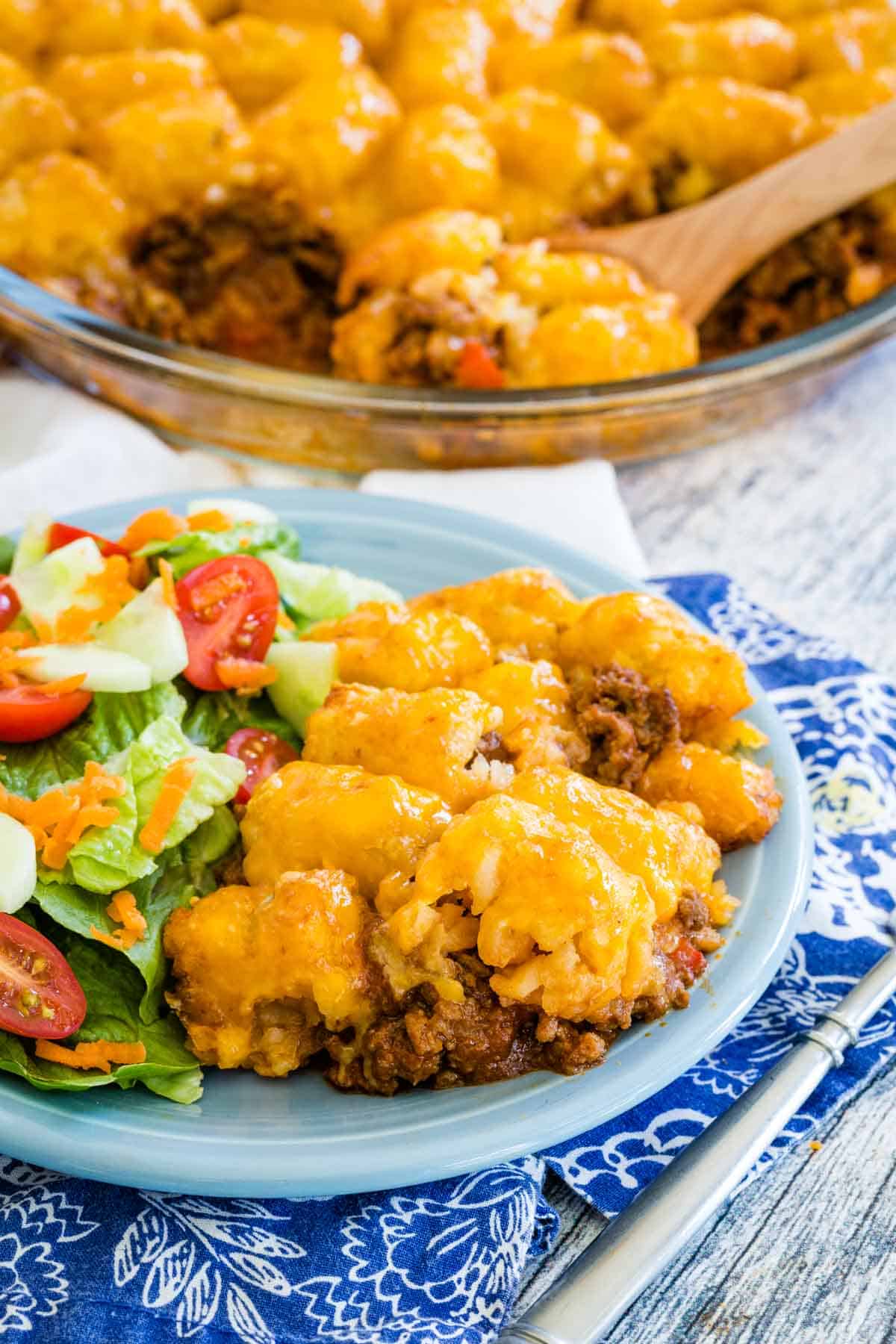 How to Store and Reheat Leftovers
Keep any leftover sloppy joe tater tot casserole stored airtight in the fridge for up to 3 days.
Since tater tots tend to soften over time (between the sloppy joe and the cheese), I recommend reheating this casserole in the oven (versus the microwave) to help get the tots crisp again. Use an oven-safe dish and heat it at 350ºF for about 15 minutes, or until warmed through.
Can I Freeze This?
Yes! This casserole can be wrapped tightly in cling wrap, plus a layer of foil, and stored frozen for up to 3 months. It will bake directly from frozen, with about 15 minutes added to the baking time.
More Savory Casserole Recipes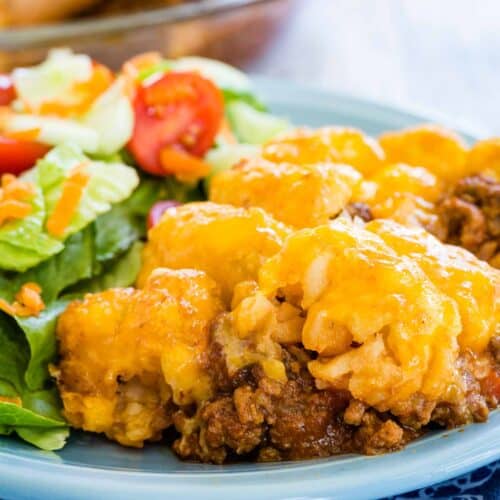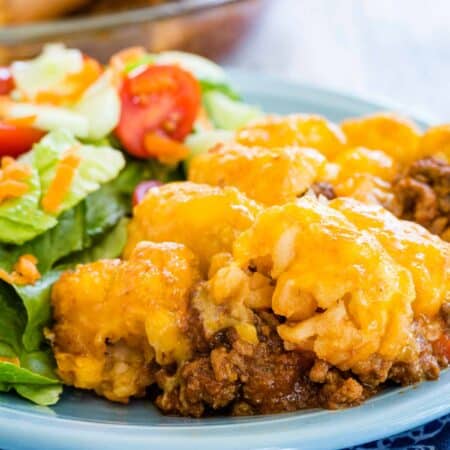 Sloppy Joe Tater Tot Casserole
A mash-up of two comfort food favorites, sloppy joes, and crispy tater tots! This Sloppy Joe Tater Tot Casserole is deliciously savory and cheesy, and so easy to make. A perfect weeknight family dinner!
Ingredients
1-1¼

lbs

ground beef

half

an onion

chopped

half

a red bell pepper

chopped

1

clove

garlic

minced

½

tsp

salt

¼

tsp

black pepper

1

cup

ketchup

1

tbsp

molasses

1

tbsp

spicy brown mustard

1

tbsp

Worcestershire sauce

1

tsp

chili powder

1

tsp

paprika

½

tsp

dry mustard powder

½

cup

water

50

tater tots

(or approx. half of a 32 oz. package)

1

cup

shredded cheddar cheese
Instructions
Preheat the oven to 450°F and coat a 9-inch glass pie dish with nonstick cooking spray.

Place the skillet over medium heat and add ground beef, onion, red pepper, garlic, salt, and pepper.

Cook until the meat is browned and the vegetables are tender, breaking up the meat as it cooks.

Drain any excess grease and return to the heat.

Add the ketchup, molasses, mustard, Worcestershire sauce, spicy brown mustard, chili powder, paprika, dry mustard powder, and water and stir until combined and evenly mixed.

Bring to a simmer and cook for another 5-10 minutes or until heated through and thickened to your desired consistency.

Transfer the sloppy joe mixture to the prepared pie dish. Place the tater tots in a single layer over the top of the sloppy joe mixture.

Bake at 450°F for 25 minutes, or until the tater tots are golden brown. Sprinkle the cheese over the top and return to the oven for another 4-6 minutes or until the cheese is melted and lightly golden. Serve immediately.
Nutrition Facts
Sloppy Joe Tater Tot Casserole
Amount Per Serving
Calories 449
Calories from Fat 207
% Daily Value*
Fat 23g35%
Cholesterol 80mg27%
Sodium 1157mg48%
Potassium 755mg22%
Carbohydrates 36g12%
Protein 26g52%
Vitamin A 975IU20%
Vitamin C 21mg25%
Calcium 180mg18%
Iron 3mg17%
* Percent Daily Values are based on a 2000 calorie diet.
Categories: