This post may contain affiliate links. Read my disclosure policy.
These are the fluffiest Gluten Free Buttermilk Pancakes of all time! Enjoy everything you love and crave about a classic, All-American buttermilk pancake breakfast, minus any gluten. This easy pancake recipe sizzles up in the skillet in under 20 minutes!
Want more pancakes? Try Gluten-Free Almond Flour Pancakes or Gluten Free Pumpkin Pancakes!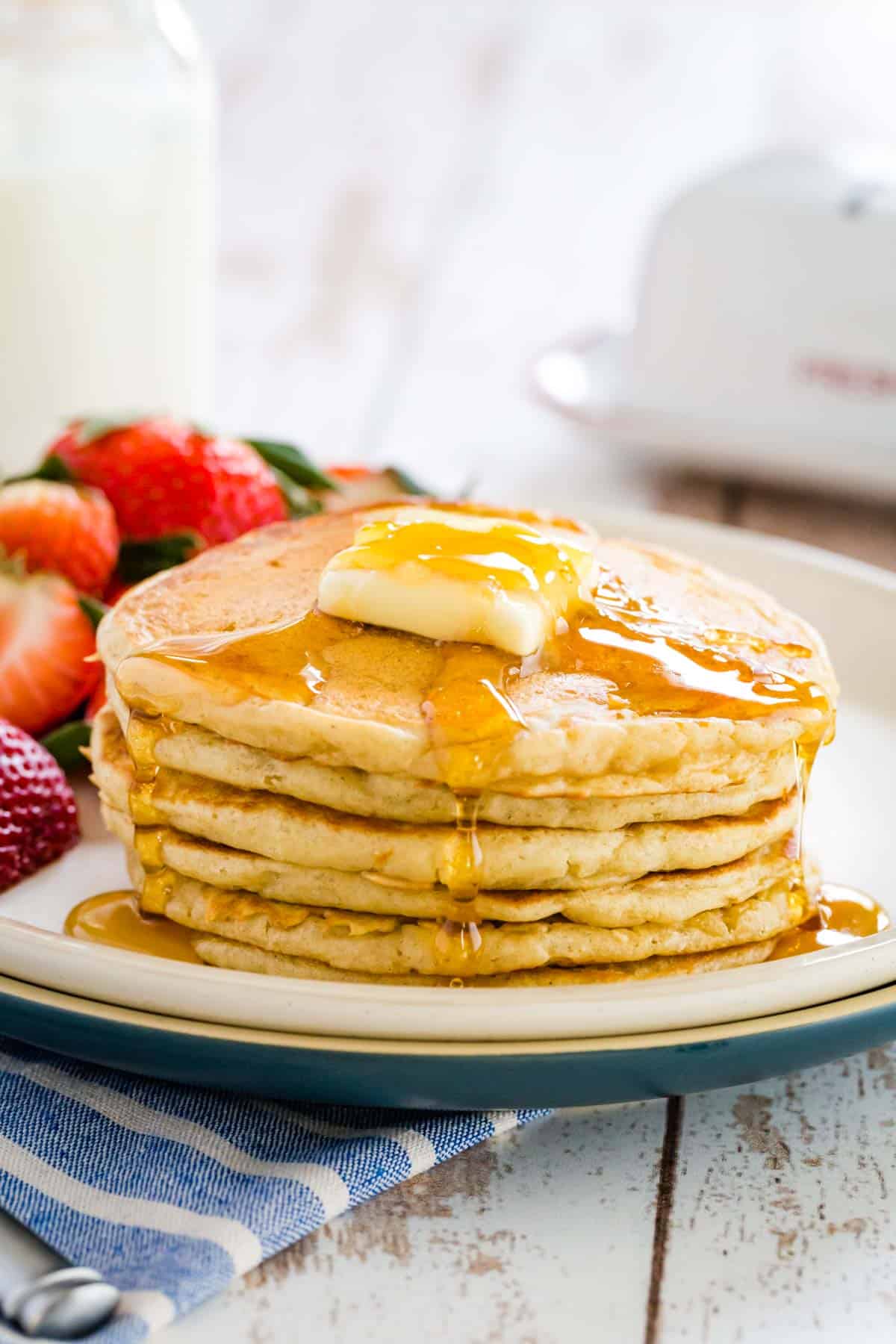 The World's Fluffiest Gluten-Free Pancakes
Mirror, mirror, on the wall, who's the fluffiest of them all? I'll tell you: It's these gluten free buttermilk pancakes!
I can't be the only one who occasionally longs for fluffy Bisquick pancakes. And if you've ever felt that gluten-free pancake mix tends to fall flat in the texture department, you can officially put that struggle behind you. This recipe is the spitting image of an All-American, Bisquick-esque, fluffy homemade pancake. You'd never think these are gluten-free!
After growing tired of gritty, dense gluten-free boxed pancake mix, I finally went the homemade route and never looked back! This pancake recipe replaces all-purpose flour with Bob's Red Mill 1-to-1 Baking Flour, amped up with buttermilk, for the fluffiest pancakes in all the land.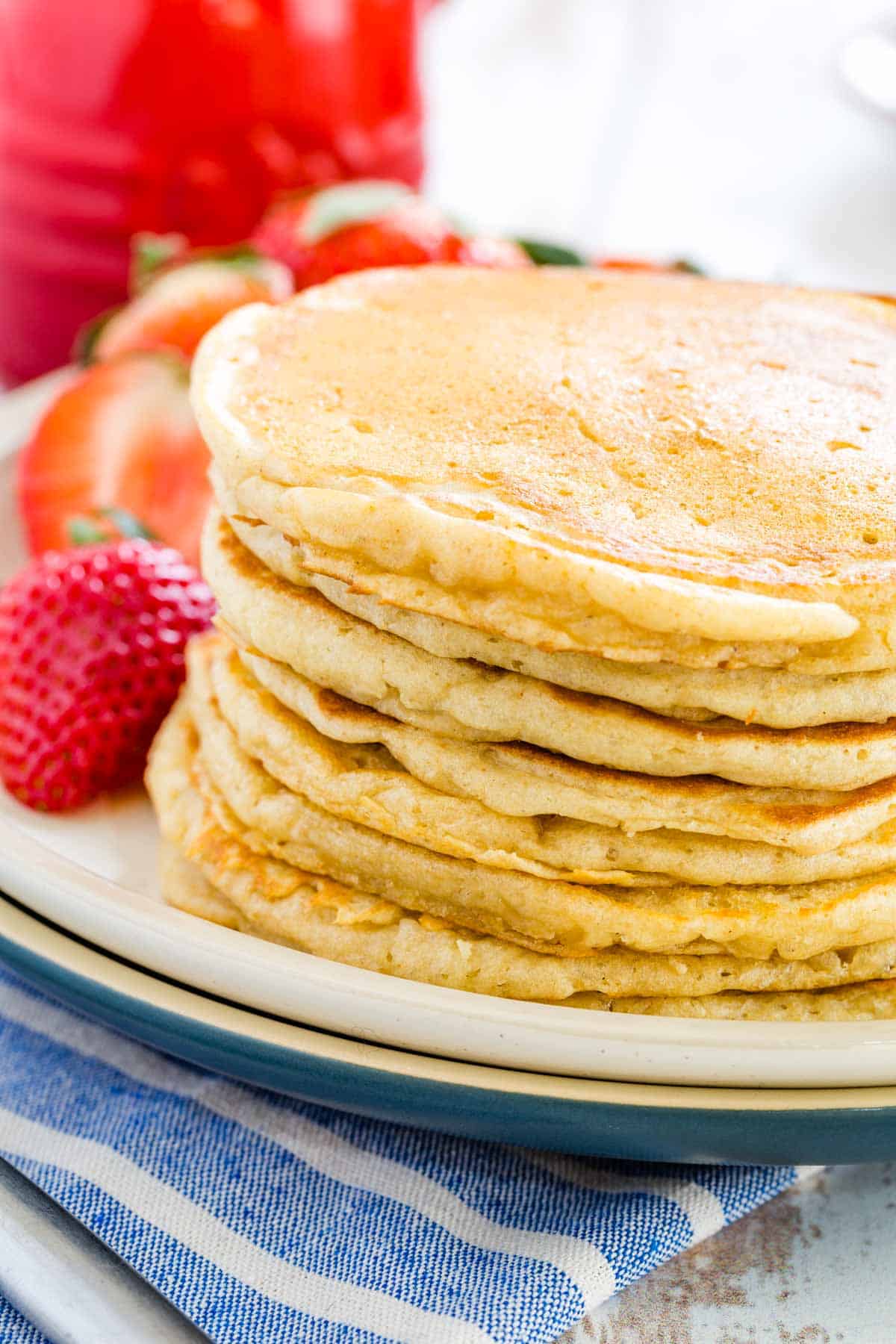 What You'll Need
Ready for the fluffiest gluten-free version of pancakes that tastes just like the original? The key is using simple, good quality ingredients that won't leave these gluten-free pancakes dense or gummy. Here's an overview of what you'll need:
Gluten Free Flour Blend: I use Bob's Red Mill 1-to-1 Baking Blend, as this is one of my favorite all-around gluten free baking flours. The next one I would recommend is King Arthur's Measure for Measure. Of course, you can play around with other flour blends but they may not yield the same outcome.
Sugar: Not only for sweetness, sugar also helps these pancakes brown up into a gorgeous golden color.
Leavening: I use a combination of both baking powder and baking soda for extra lift. Don't forget to check expiration dates!
Salt
Buttermilk: Buttermilk contributes loads of fluffy texture and a subtle, tangy flavor to your gluten-free pancakes. You can also add 1 Tablespoon lemon juice or white vinegar to a measuring cup, then add milk up to the 1 cup line. Let it sit for about 5 minutes before using.
Egg: For binding the ingredients, and for texture.
Butter: Unsalted butter that's been melted and cooled.
Vanilla: For the most natural flavoring, use pure vanilla extract.
Oil: Alternatively cooking spray, for greasing the pan.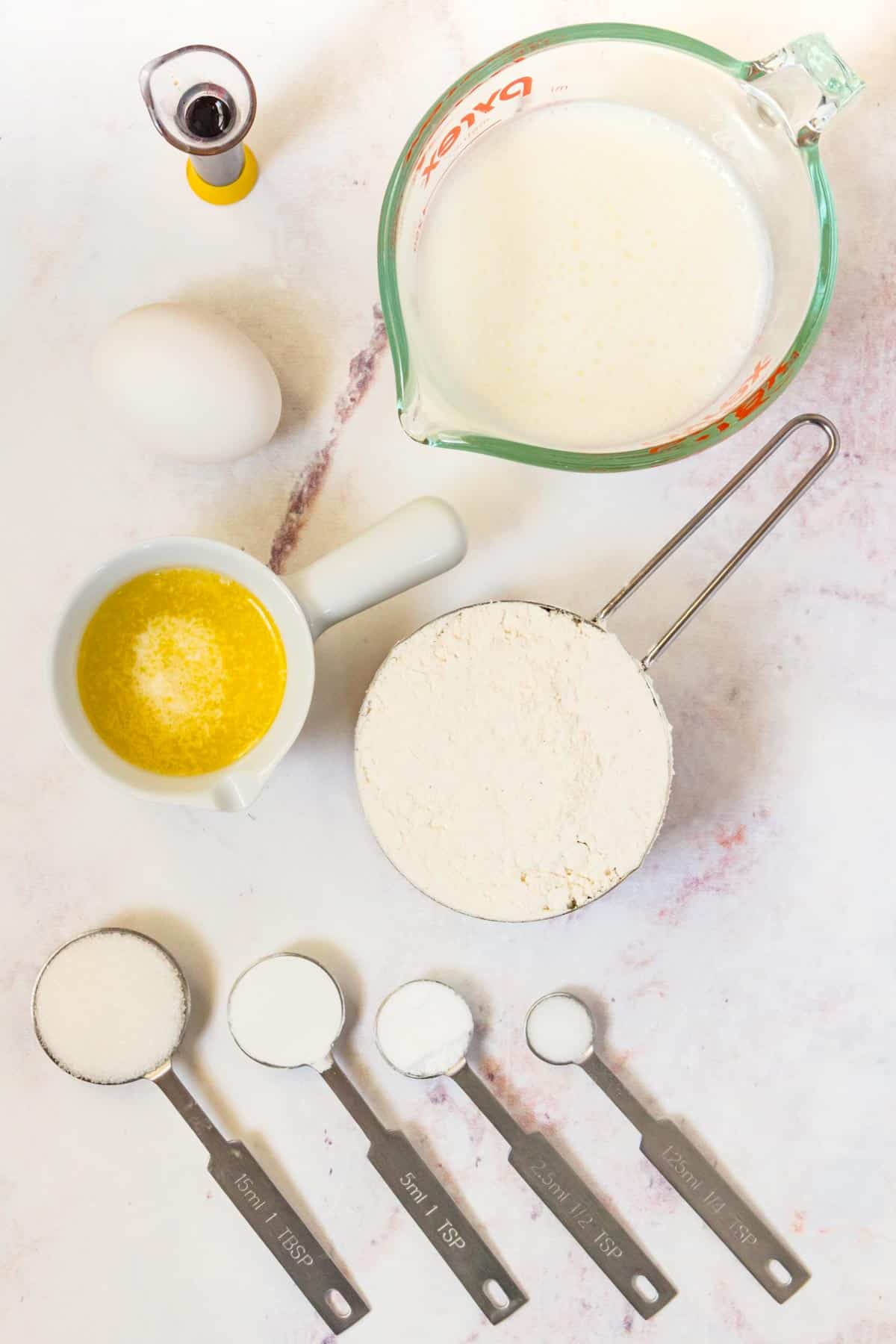 How to Make Gluten-Free Buttermilk Pancakes
In just 3 steps and only 16 minutes, you'll be well on your way to the best gluten-free pancake breakfast ever.
Make the Batter: Whisk together the flour with the dry ingredients in one bowl, and the buttermilk and wet ingredients in another. Slowly add the flour mixture to the wet ingredients and stir until the pancake batter is just combined. It will still be a little lumpy, but don't overmix! Next, cover the bowl and let the batter rest for a bit.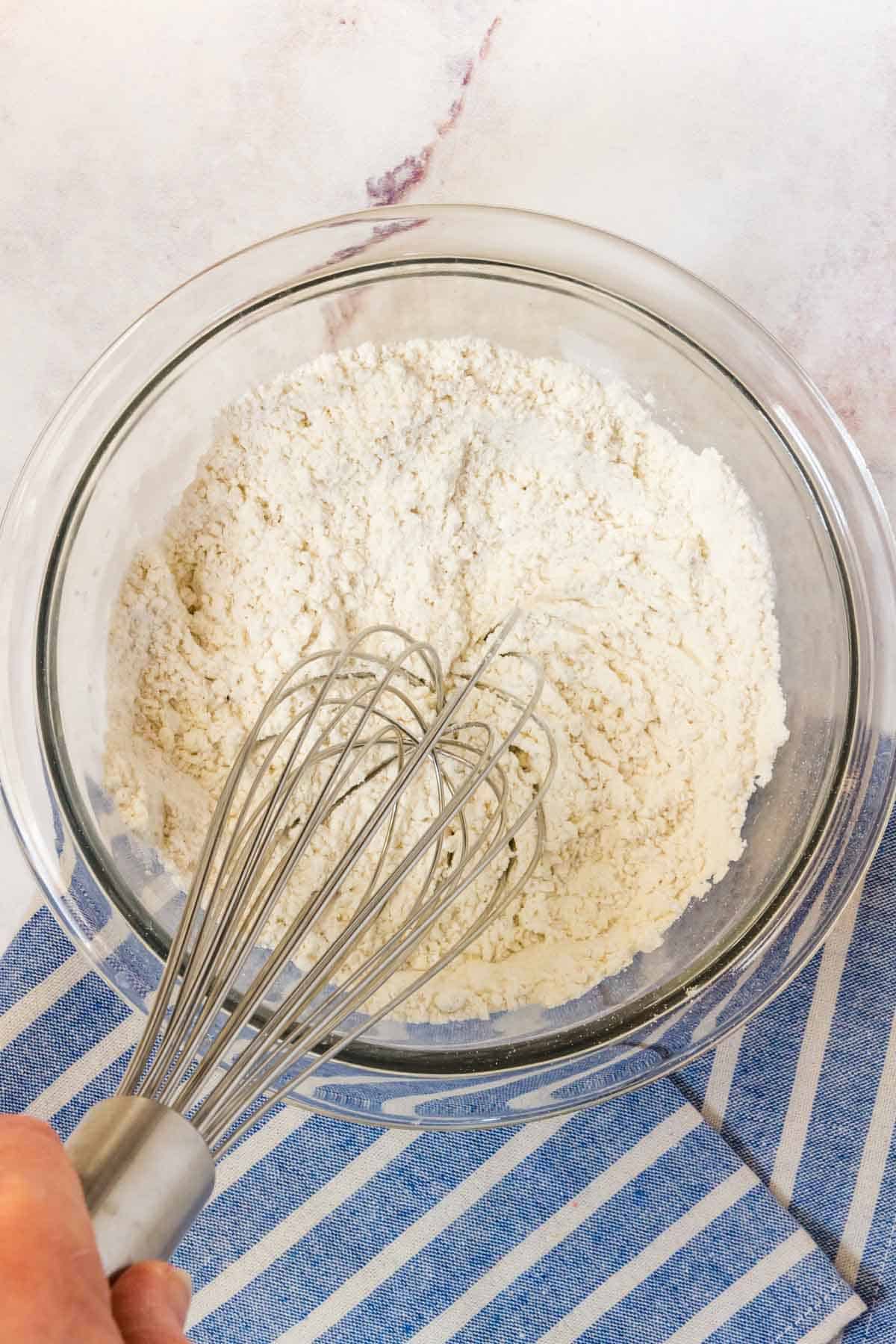 Cook: Once the batter is ready, cook your pancakes in a greased and preheated skillet. I usually use about one quarter cup of batter per pancake. Be sure to leave enough space for the pancakes to spread!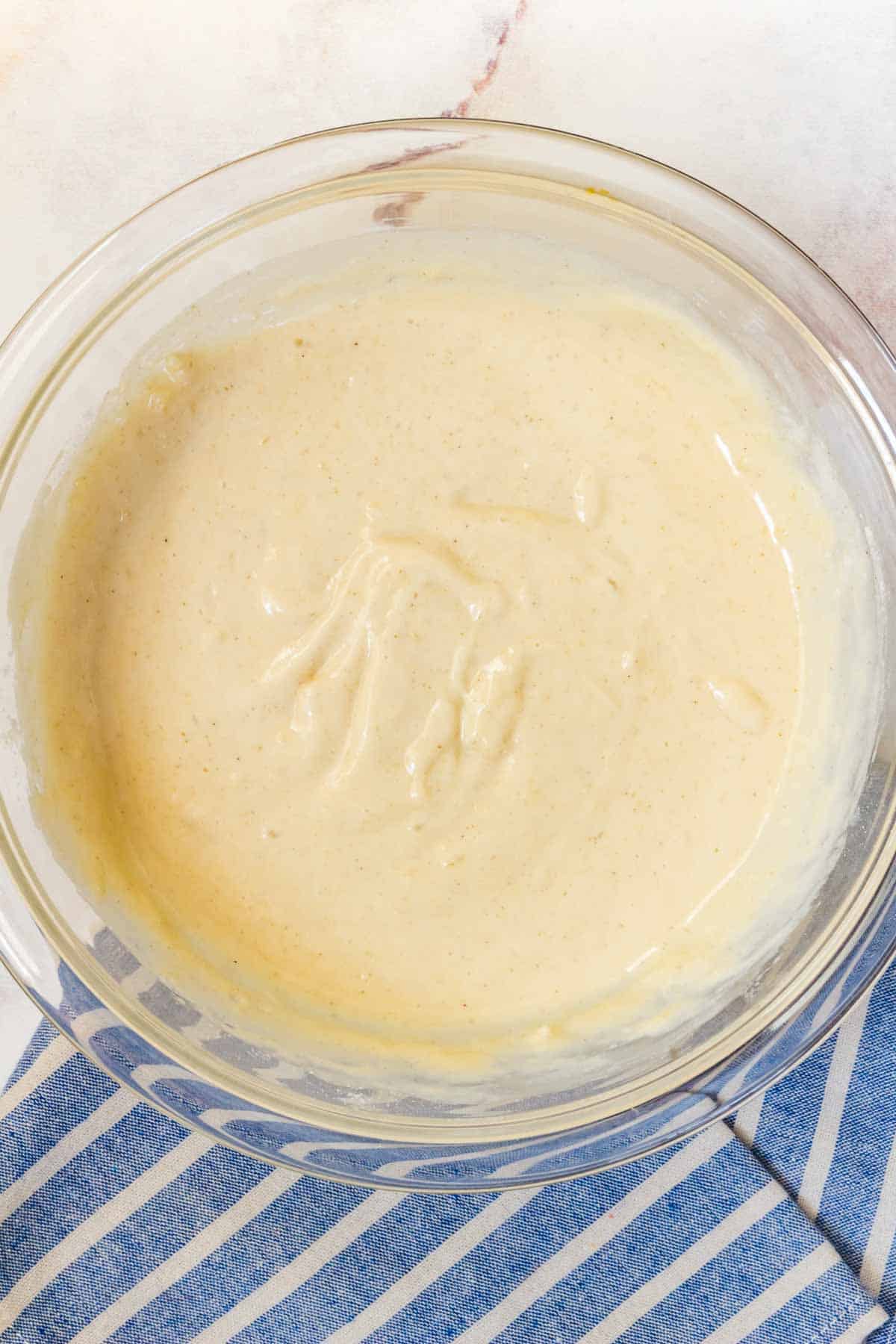 Flip & Repeat: Cook the pancakes until the edges begin to brown and small bubbles appear on the surface of the batter. Flip the pancakes and cook the other side for another minute or two. Transfer the finished pancakes to a plate or dish and then repeat with the batter that's left.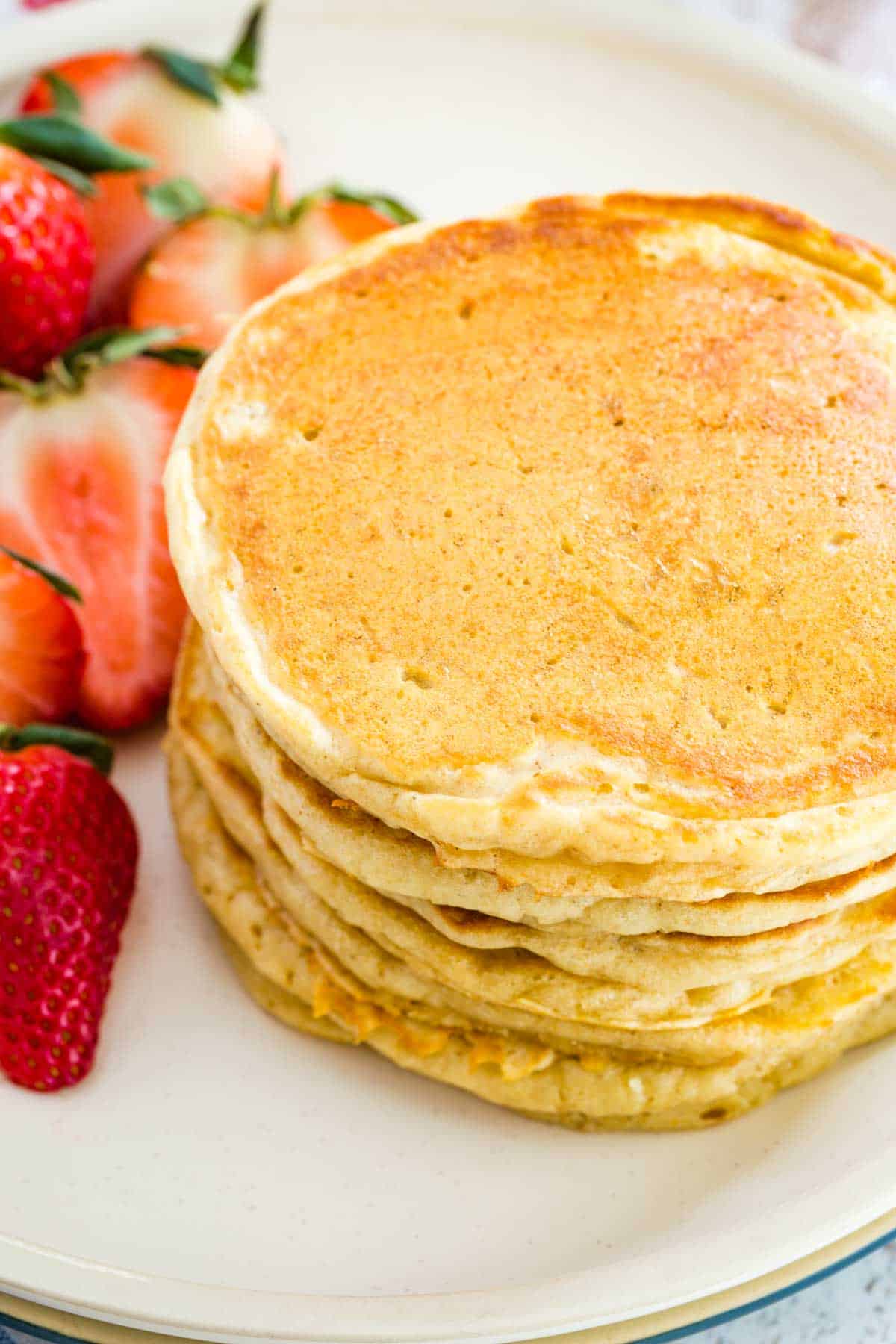 Can I Make Them Ahead of Time?
You can actually make this recipe ahead of time in more ways than one!
Make the Dry Pancake Mix Ahead: Combine and store only the dry ingredients as a ready-to-go, homemade gluten-free buttermilk pancake mix! Keep the mix in an airtight container in your pantry (away from sunlight). Combine it with the wet ingredients when you're ready to use it!
Make the Batter Ahead: You can also mix the pancake batter ahead and keep it stored airtight in the fridge for up to 3 days. Just heat your pan whenever you're ready, and cook your pancakes as usual!
Storing and Reheating Homemade Pancakes
Store leftover buttermilk pancakes in the fridge once they've cooled, either wrapped in plastic wrap or in an airtight container. They'll keep in the fridge for up to 2-3 days.
I've found that the easiest way to reheat pancakes is in the toaster! Toast the pancakes for a minute or two until they're warmed through.
Can I Freeze These?
You can freeze cooked buttermilk pancakes for up to 3 months. Let the pancakes cool completely, and then transfer them to a freezer-safe container or bag. Alternatively, you can wrap the pancakes tightly in plastic wrap, and then store them flat in the freezer.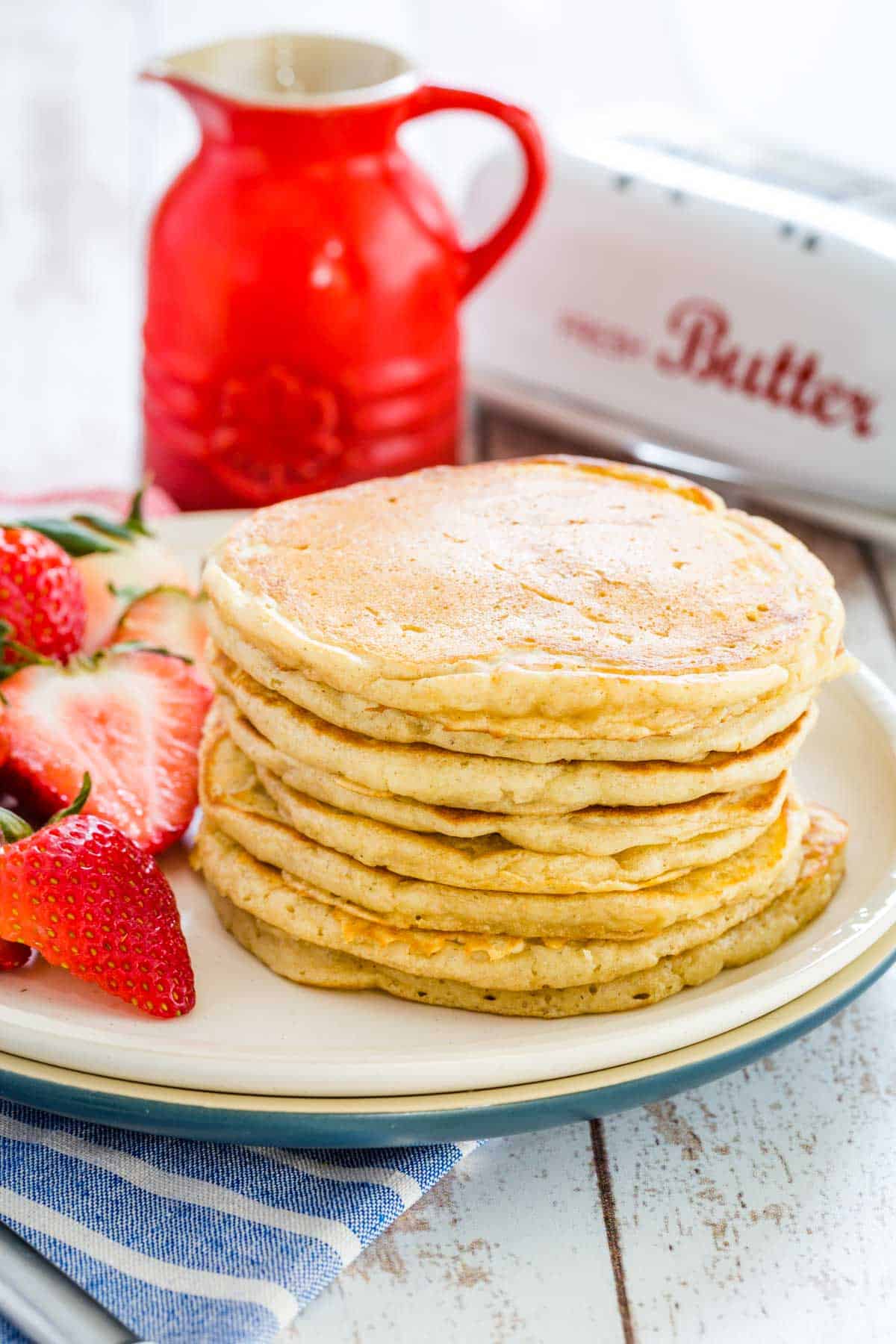 Tips for Success
Make Sure the Pan Is Hot: Cooking with a hot enough pan is the key to pancakes that are perfectly golden and crisp on the outside! To test if your pan is at the right temperature, add in a spoonful of batter. The pan is ready if your tiny "pancake" begins to sizzle and cook right away.
Avoid Too Much Xanthan Gum: Whichever gluten-free flour you choose to use, I recommend finding a blend that doesn't contain lots of xanthan gum. Too much and it changes the texture of these pancakes, in the batter and as they cook – and not for the better!
If Your Pancakes Aren't Fluffing Up: If you find that your pancakes are particularly, well, flat, this could be because your leavening ingredients have expired! Check the dates on your baking soda and baking powder just in case.
Use a Ladle: Since the buttermilk batter in this recipe is on the thicker side, I find the best way to get nice round pancakes is to use a ladle to scoop the batter into the pan.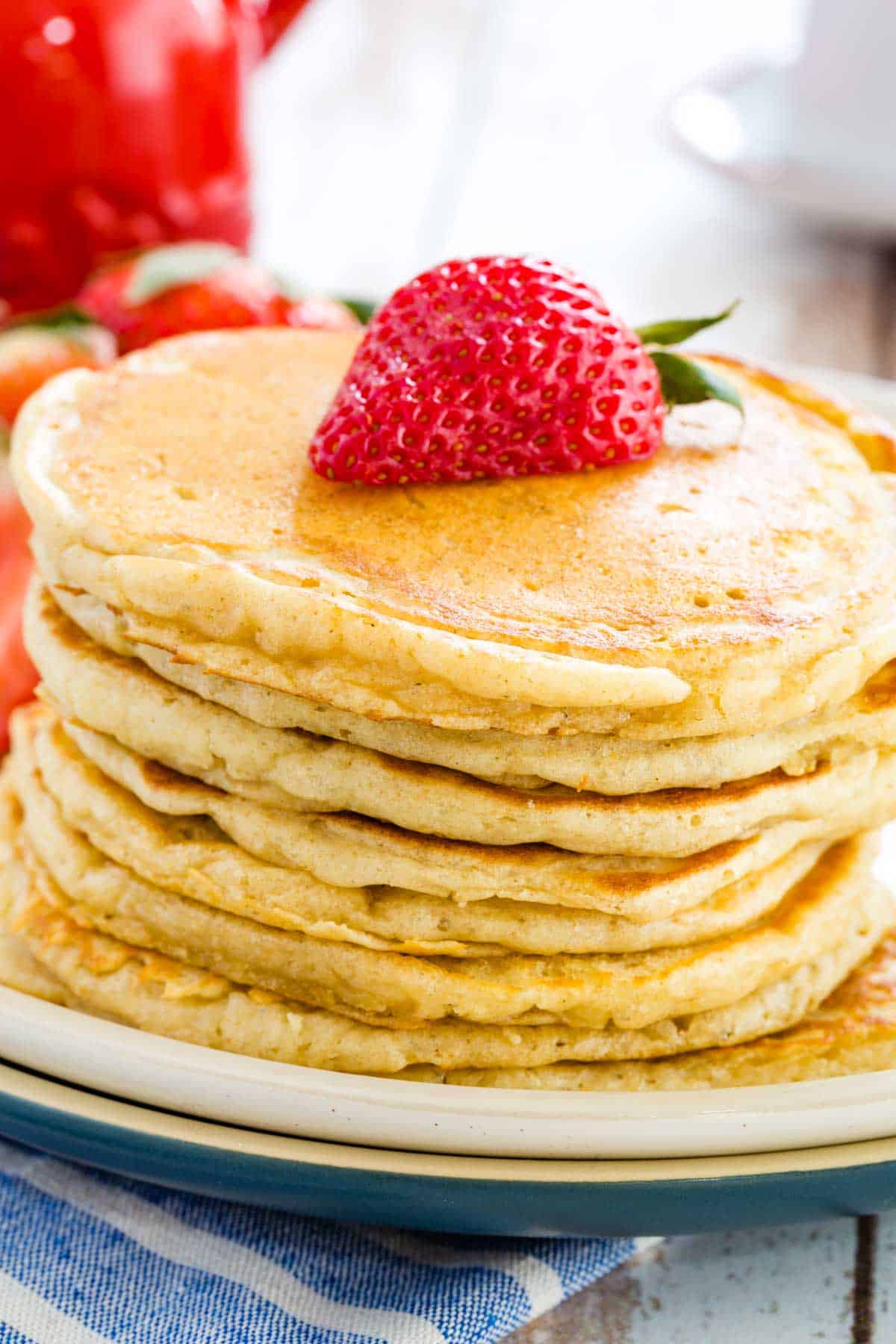 Add-In Ideas
These gluten-free pancakes are amazing all on their own. But what's a delicious buttermilk pancake recipe without the opportunity for add-ins? Here are some ideas:
Fruit: Go classic with blueberry pancakes, or try out bananas, strawberries, or cranberries.
Chocolate Chips: Add them into the batter or sprinkle them on top of the pancakes in the pan as the first side cooks.
Peanut Butter: Stir a bit of peanut butter into the batter for extra flavor and richness.
Maple Syrup: Make maple pancakes and add a spoonful of maple syrup into the batter.
Spices: Toss in a pinch or two of ground spices like cinnamon, cardamom or pumpkin pie spice.
Pancake Toppings
No pancake breakfast is complete without some toppings.
Butter: A nice pat is perfect or ad flavor with Cranberry Orange Butter.
Maple syrup: Be sure to use the real stuff
Fruit: Sliced berries or bananas are always nice.
Whipped cream: Especially if you've added fruit.
Granola: Add a little crunch with The Best Gluten Free Granola.
Nuts or nut butter: Adds a little extra protein and some salty, nutty flavor to balance the sweetness.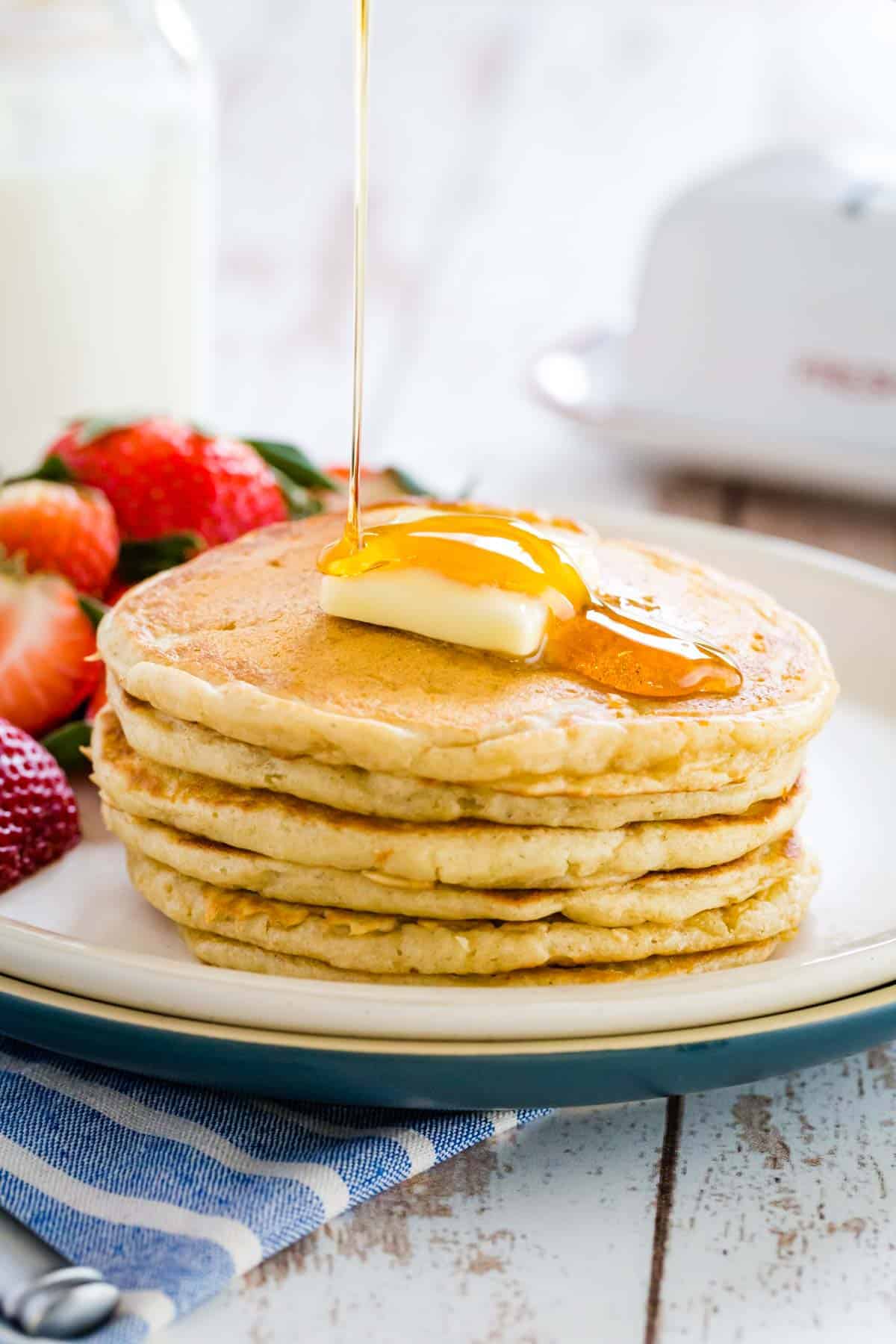 Make it a Meal
I love to serve up a classic breakfast spread of pancakes paired with crispy bacon or sausage, scrambled eggs, and fresh cut fruit or tomatoes. Here are some other easy breakfast recipes to try with your homemade buttermilk pancakes: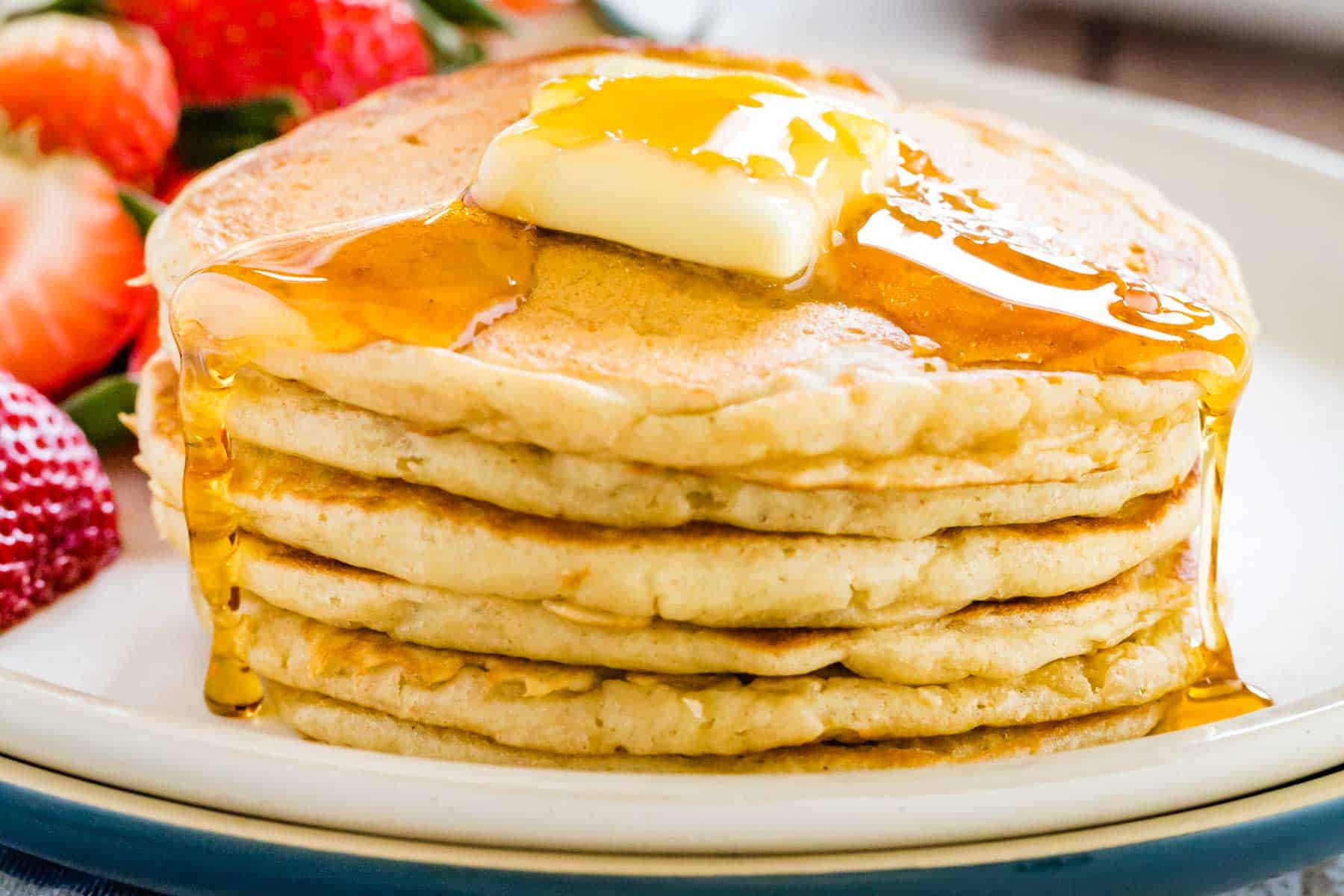 More Gluten-Free Breakfast Ideas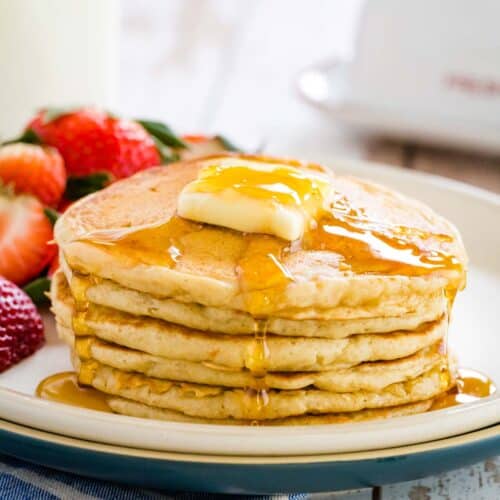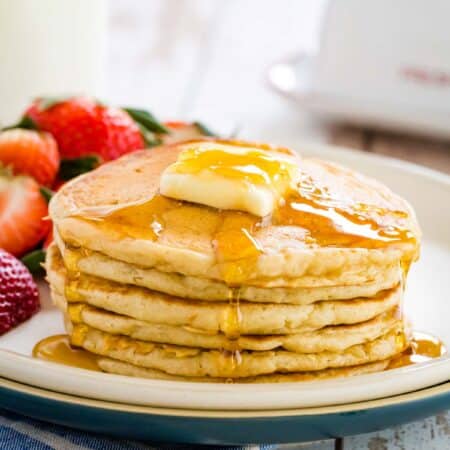 Gluten Free Buttermilk Pancakes
The fluffiest Gluten Free Buttermilk Pancakes ever! Everything you love and crave about a classic, All-American buttermilk pancake breakfast, minus any gluten. Ready in under 20 minutes!
Ingredients
1

cup

gluten free flour

(Bob's Red Mill 1-to-1 baking blend is recommended)

1

Tbsp

granulated sugar

1

tsp

baking powder

1/2

tsp

baking soda

1/4

tsp

salt

1

cup

buttermilk

or 1 Tbsp lemon juice or white vinegar plus milk to make a total of 1 cup

1

large

egg

2

Tbsp

unsalted butter

melted and cooled

1

tsp

vanilla extract

Oil or cooking spray

Optional: 1 cup of blueberries
Instructions
In a medium bowl, whisk together the gluten free flour, sugar, baking powder, baking soda, and salt.

In a large bowl, whisk together the buttermilk, egg, melted butter, and vanilla extract.

Add the flour mixture to the wet ingredients and stir together until just combined. The batter will still be slightly lumpy. Cover the bowl with plastic wrap and let rest for 20 minutes.

Heat a skillet over medium heat or a griddle to 375°F, and lightly coat the pan with oil or cooking spray. Add about ¼ cup of batter for each pancake, leaving some space between each one. Cook until you see that the edges are turning golden-brown and bubbles are appearing at the surface, about 3-4 minutes. Flip and cook until the other side is golden, about 1-2 minutes.

Remove the pancakes from the pan and repeat with the remaining batter.
Nutrition Facts
Gluten Free Buttermilk Pancakes
Amount Per Serving
Calories 177
Calories from Fat 72
% Daily Value*
Fat 8g12%
Cholesterol 55mg18%
Sodium 292mg12%
Potassium 162mg5%
Carbohydrates 23g8%
Protein 5g10%
Vitamin A 273IU5%
Calcium 113mg11%
Iron 1mg6%
* Percent Daily Values are based on a 2000 calorie diet.
Categories: