This post may contain affiliate links. Read my disclosure policy.
Broccoli, Potato & Cheese Egg Muffin Cups are easy, versatile, freezable, reheatable – you have to make up a batch!
Broccoli, Potato & Cheese Egg Muffin Cups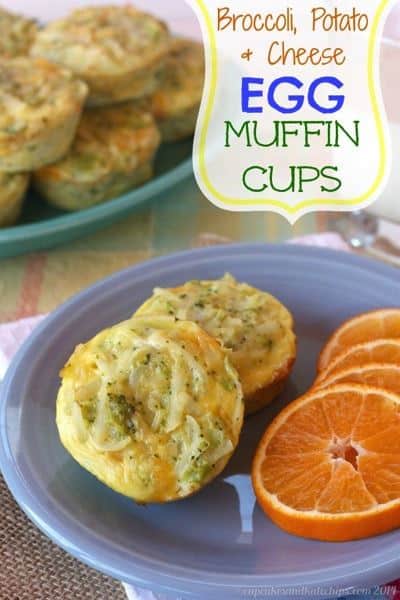 This week, as part of our birthday celebration for #SundaySupper, Isabel asked us to share our favorite recipes, themes, or moments from our time as part of this amazing group. I have a couple of favorite themes from my time as part of this amazing group – over a year and a half, minus my two blogging breaks during my first trimester and after Baby Smiles was born. One was Kids in the Kitchen, when The Bug and I made Mexican Black Bean Quinoa Burgers with Guacamole. Classic Bug, trying to shove every ingredient in his mouth instead of actually helping me. The kid is a bottomless pit, but it was fun to make, and to pick a recipe based on his love of Mexican food from a young age. Another was Breakfast for Dinner where I shared these Dark Chocolate, Orange and Pistachio Greek Yogurt Cups, because it was my first week back after my "maternity leave", and after a rough first few months with Baby Smiles, getting back to blogging really felt like getting back to life, getting out of the Baby Fog, and doing something for me again.
But honestly, my favorite moment happens every week. Truthfully, sometimes everyday. You all know I love to tell stories about my family. The Bug has been featured prominently on the blog since Day 1, and now that Baby Smiles is starting to eat real food (this is the first #SundaySupper recipe he actually got to try!), he will come into the picture more and more. Each week as I go through the comments, I undoubtedly see something from Isabel or Nicole or Renee or Liz or someone else saying either something sweet about the boys, or mentioning how it reminds them of when their kids were younger, and how things are different now.
This happens regularly as I share my daily goings-on on Facebook or Instagram, too. And I love getting these comments. Yes, of course I enjoy hearing how adorable and awesome my kids are, but what I really love is the inspiration these ladies give me, as a foodie AND a mom. Because I see the types of moms they are, I see the wonderful connection they have with their children and their kids' amazing accomplishments, and I know that it truly comes back to the family dinner table – literally and figuratively. It is setting aside that time with your family, whether it is Sunday Supper, breakfast before school, or maybe your schedule doesn't allow for a meal, but you turn off the cell phones and radio and whatever else while you are in the car and talk. You go to their football games, support their choices even if it brings them far away from you, have their friends all jammed into your living room.
And I can only hope, pray, and do my very best raising these little guys to be as wonderful as my friends' children. I can make them delicious and nutritious meals so that they grow up healthy and with a love of food to nourish their body and soul. I can sit down to enjoy these meals with them, as we have done almost since they day each of them was born, pulling up a bouncer seat or high chair to the table, in order to know what is going on in their lives, to know who they are, and to make sure they know that Daddy and I are always there for them.
That is what Sunday Supper means to me.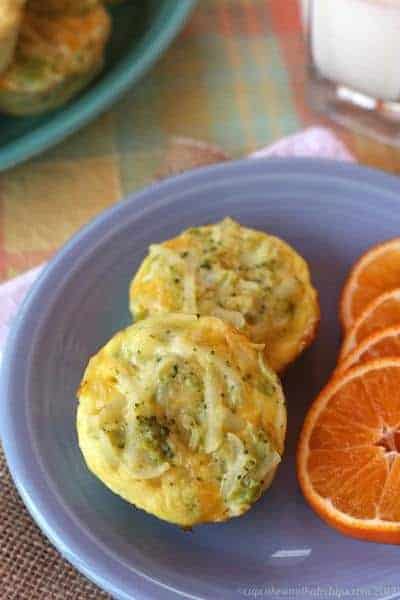 As I said, I wanted to pay tribute to the Kids in the Kitchen AND Breakfast for Dinner themes, so I scoured the recipes from those events. The Bacon Egg and Sausage Breakfast Cups from Nicole at Daily Dish Recipes popped out at me as something I could make with The Bug, but I wanted to turn it into a vegetarian recipe, so that he could take leftovers to school (his preschool is attached to a Jewish Temple, so in order to ensure that meals being eaten together at a table are Kosher – since most of the students are not Jewish and may not know all of the requirements – is to just have everyone bring in vegetarian dishes).
Well, I don't know if my broccoli took up more room than her sausage and bacon or what, but once I mixed it up, there was no way I was fitting the potato/broccoli/cheese mixture into the cups and then cracking an egg on top. Dang, I was hoping for a little runny yolk on mine! So I just whisked up all twelve eggs and combined it with the veggie mixture.
Soooo, it's nothing like Nicole's recipe, but these Potato Broccoli Cheese Egg Muffins turned out great! The hubby raved about them at dinner, I snuck one the next day as a snack, The Bug took some for lunch. Even Baby Smiles ate some! And I still have more in the freezer, so this is a perfect make-ahead meal for busy days. They can even be little appetizers! And obviously you can switch up the veggies and cheese to whatever you have or like.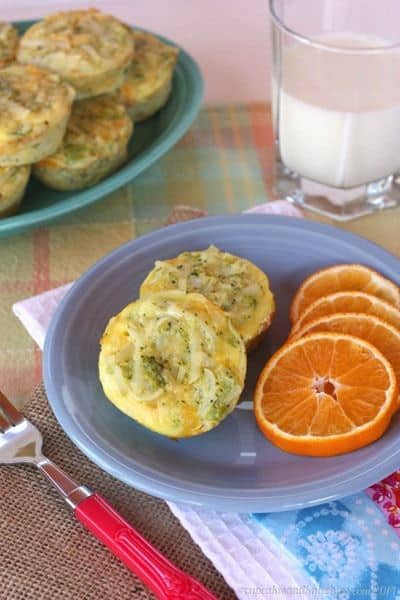 Potato Broccoli Cheese Egg Muffins Recipe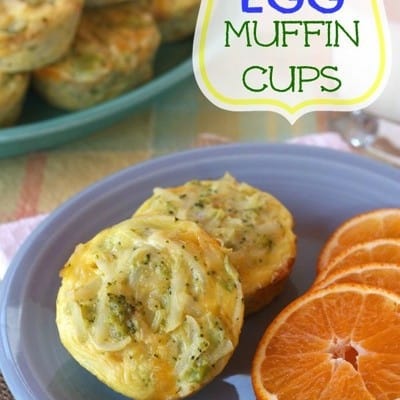 Broccoli, Potato & Cheese Egg Muffin Cups
Make your favorite omelet portable and poppable.
Ingredients
20

oz.

bag shredded potatoes

1

t

kosher salt

pepper

1

t

dry mustard

1

c

shredded cheddar cheese

1

lb

frozen broccoli florets

cooked as per package instructions

12

eggs

lightly beaten
Instructions
Preheat oven to 350°F and lightly grease or spray two muffin pans.

In a large bowl, combine all of the ingredients and mix thoroughly.

Divide the mixture evenly between 24 muffin cups.

Bake for 20-25 minutes, or until eggs are set ad top is lightly golden brown.
 Enjoy!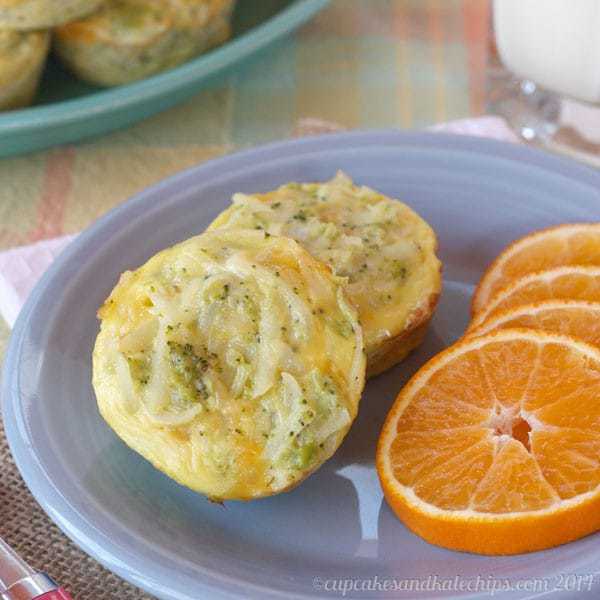 Here are a few more of my favorite #SundaySupper themes and recipes:
Plus here is the entire #SundaySupper birthday party menu…
Brilliant Breads and Breakfast Fare:
Amazing Appetizers and Cocktails:
Spectacular Soups and Salads:
Enticing Entrees:
Decadent Desserts: