This post may contain affiliate links. Read my disclosure policy.
Simple and classic, this Red Wine Vinaigrette recipe is tasty and versatile. It's as easy measuring your ingredients and giving them a shake. Then you have a homemade red wine vinegar salad dressing without all the preservatives to use for salads and more.
Red Wine Vinaigrette Dressing
From the classic Cobb Salad to an Italian Antipasto Salad, red wine vinaigrette is one of the most common types of salad dressing. It's the perfect combination of tangy and sweet that truly enhances pretty much any salad, whether you are going super savory with meats and cheeses on your lettuce, fresh and fruity with strawberries or watermelon over your greens, light and veggie-packed for a simple garden salad.
It may not have quite the popularity of Ranch dressing, but it is still a good staple to know how to whip up. And you can literally whip it up. All it takes is a few ingredients and a jar with a lid.
Then the sky is the limit. You don't have to stick to just leafy greens. It's great on grilled or roasted veggies, submarine sandwiches, or as a marinade for chicken, steak, or shrimp.
You can even use it to make other types of salads, like pasta salads, slaws, or the tomato cucumber salad that was a staple at our family dinners all summer long when I was growing up.
Only in those days, our veggies were dressed with red wine vinaigrette from a bottle. Trust me, this is much, much better!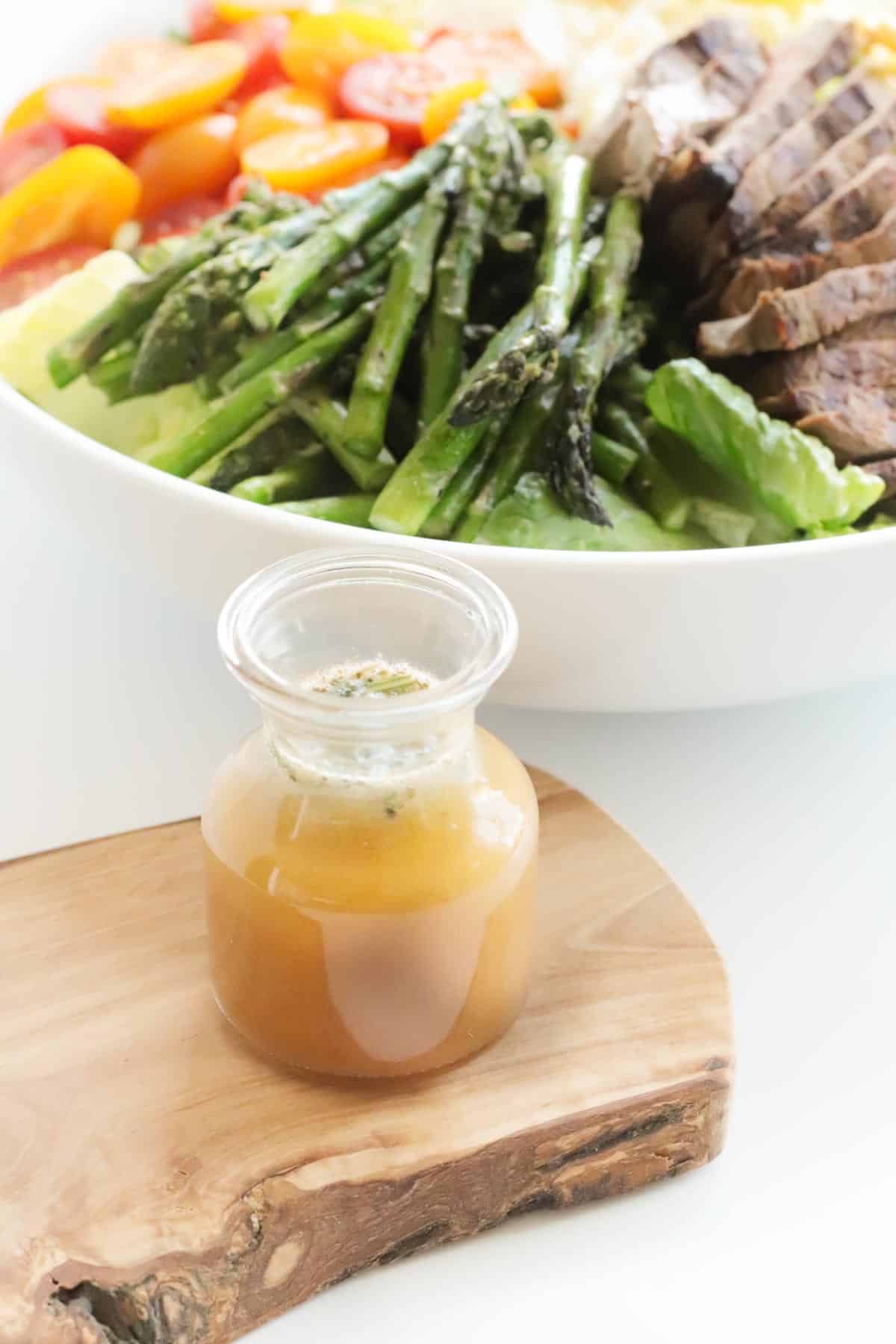 Why should I make my own salad dressing?
First things first, homemade salad dressing just tastes better! You can use the freshest ingredients, and it doesn't have any preservatives or thickeners that can affect all of the other flavors. And by making it yourself, you can even adjust the seasonings to suit your taste.
Plus it is healthier. Again, none of those pesky additives. But you also have heart-healthy olive oil giving you a good dose of omega 3's and better absorption of all of the nutrients from the veggies in your salad. Even the red wine vinegar is good for your cardiovascular system, possibly contributing towards lower blood pressure and cholesterol. And both are loaded with antioxidants.
Additionally, you know you'll have gluten free salad dressing when you make it yourself. Sometimes the binders and thickeners in bottled dressings can contain gluten. But making your own with oil, vinegar, and simple seasonings, you don't have to worry about looking for hidden gluten on those labels.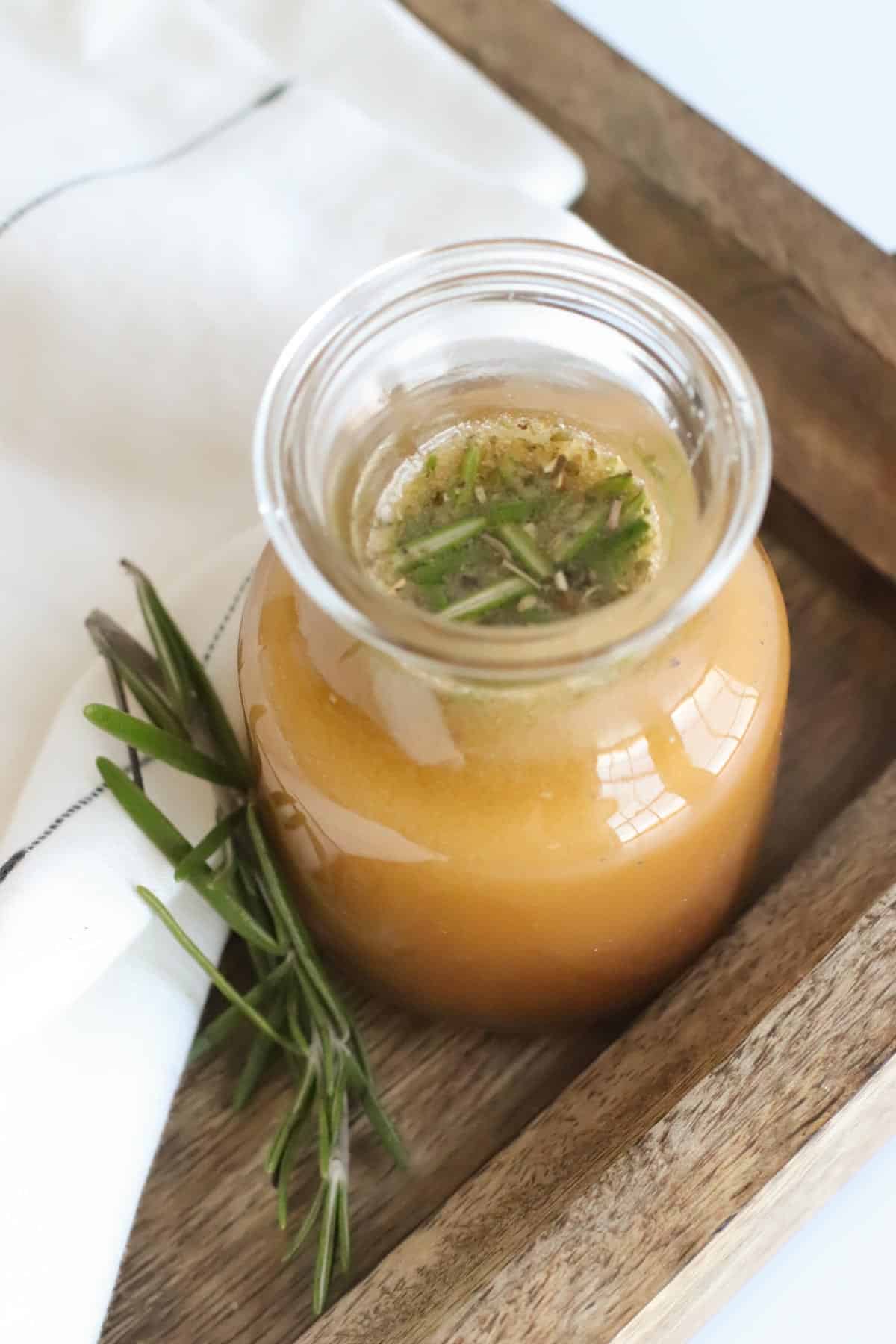 What is Red Wine Vinaigrette made of?
You only need a handful of simple ingredients to make this tangy and sweet red wine vinegar dressing.
Variations and Substitutions
Prefer it creamy? Swap out half the olive oil for plain Greek yogurt.
Avoiding refined sugar? Make it with coconut sugar or honey.
Need it low carb? I like to use Swerve Brown Sugar Substitute.
Want a different flavor? Use balsamic vinegar, sherry vinegar, or another flavored vinegar.
Don't like rosemary? Try any of your favorite fresh herbs, like parsley, basil, or oregano.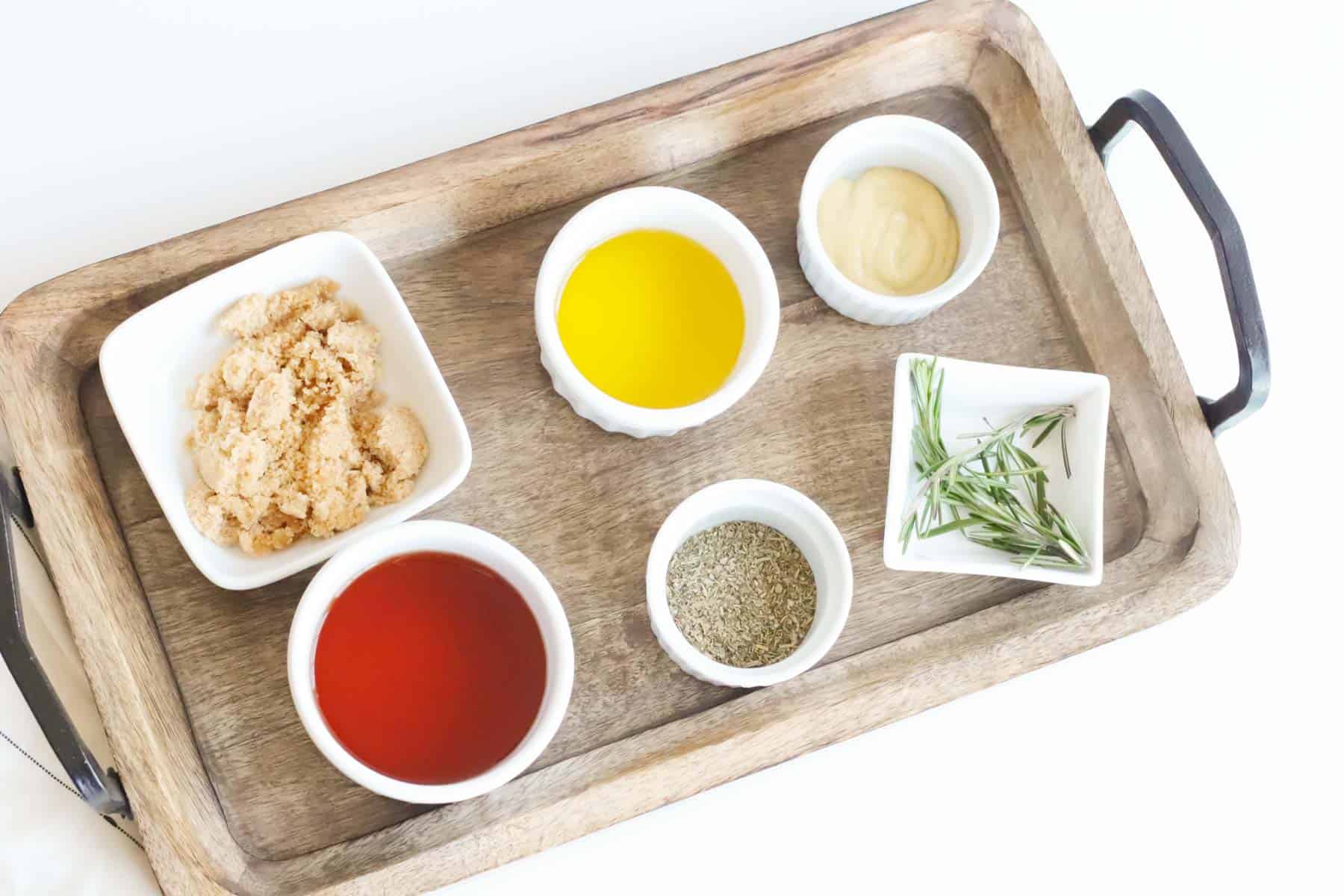 How to make it
It really doesn't get any easier. Just combine everything in a jar or container with a lid. Cover it and shake vigorously until well combined.
Alternatively, you can combine the ingredients in a bowl and whisk or blend with an immersion blender.
Storing red wine vinaigrette
For the freshest flavor, you'll want to use it right away. So if you don't need it all, you can easily cut the recipe in half.
However, in a sealed bottle or jar, you can keep it in the refrigerator for at least a week. Be sire to shake it well before using.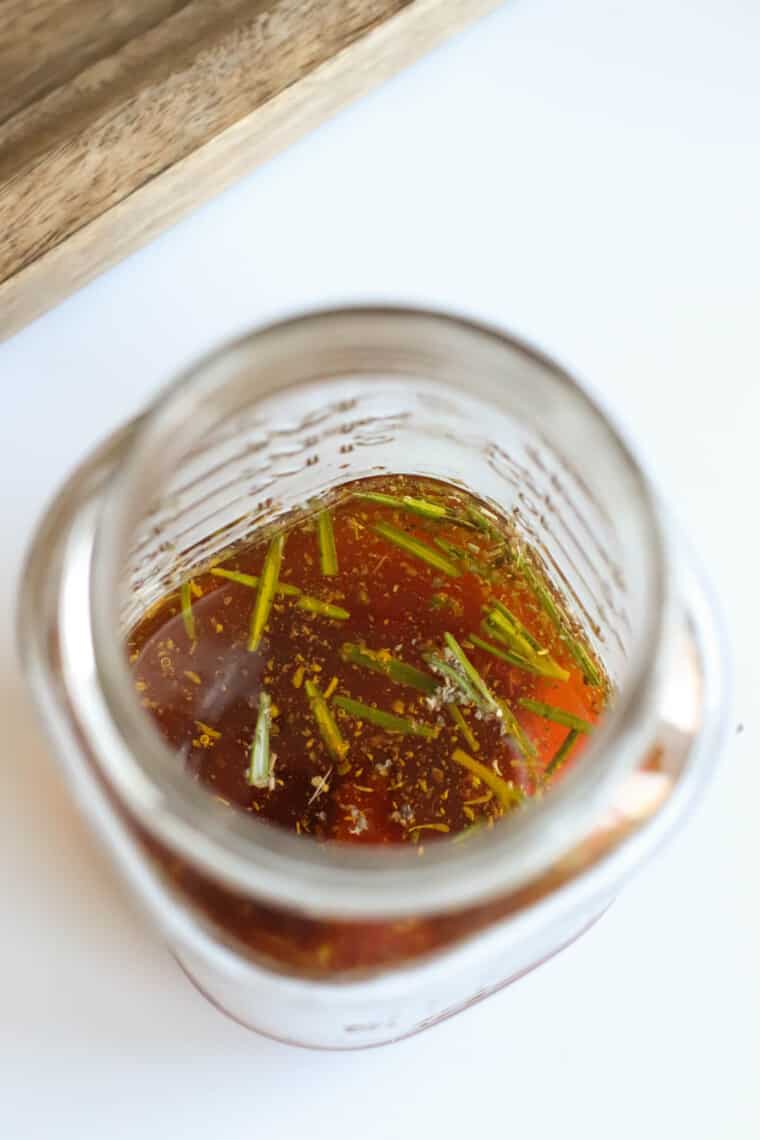 What to use it on
Red wine vinaigrette livens up almost any salad. Try it on one of these:
But here are some other ideas: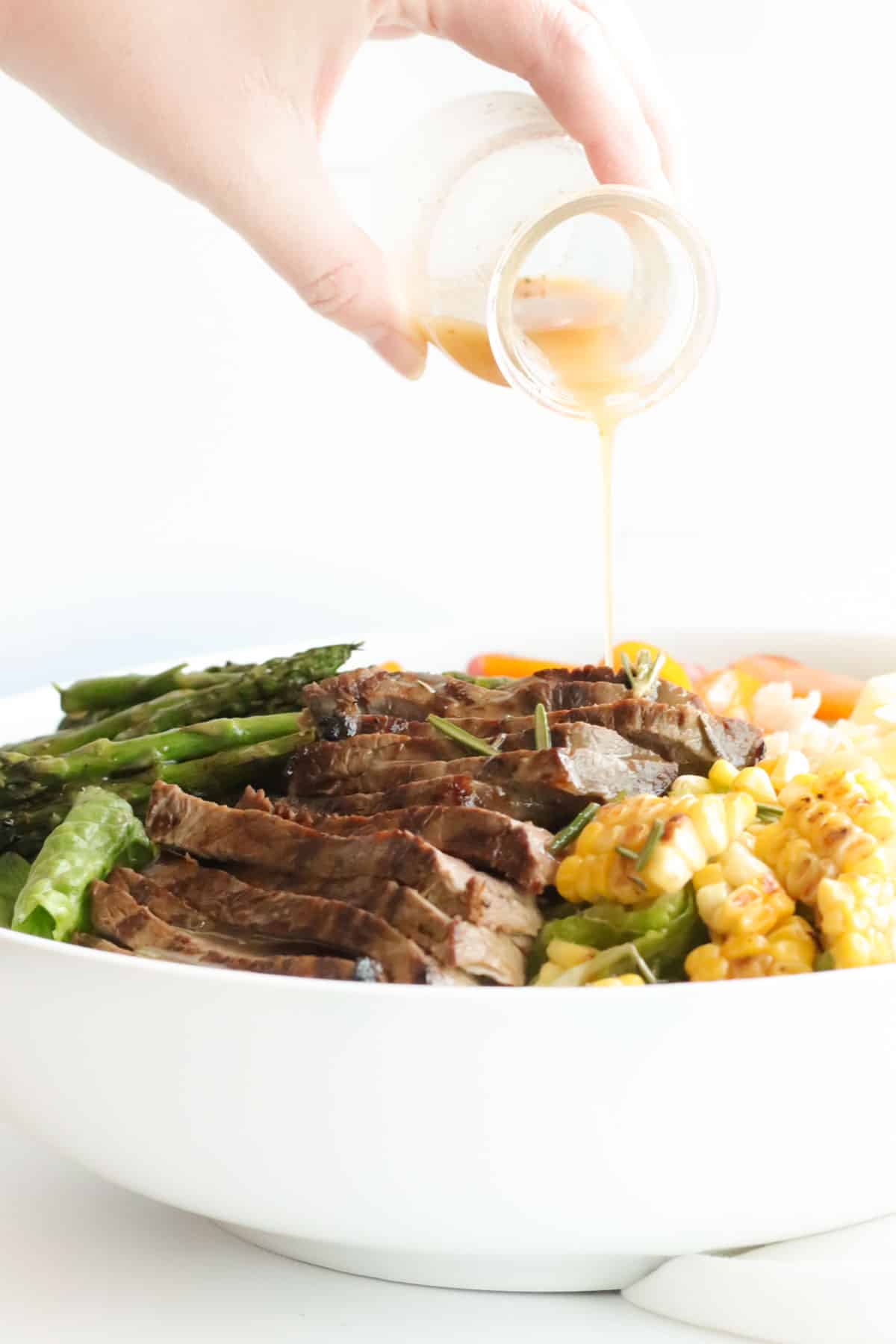 You Might Need
Brianne Recommends
I absolutely love the OXO Salad Dressing Shaker. I literally use it every week when I make dressing for my salads for lunch. It seals nicely to keep the dressing fresh all week and has an easy pour spout. However, you can definitely just use some regular mason jars.
Last updated on Dec 9, 2023 1:06 am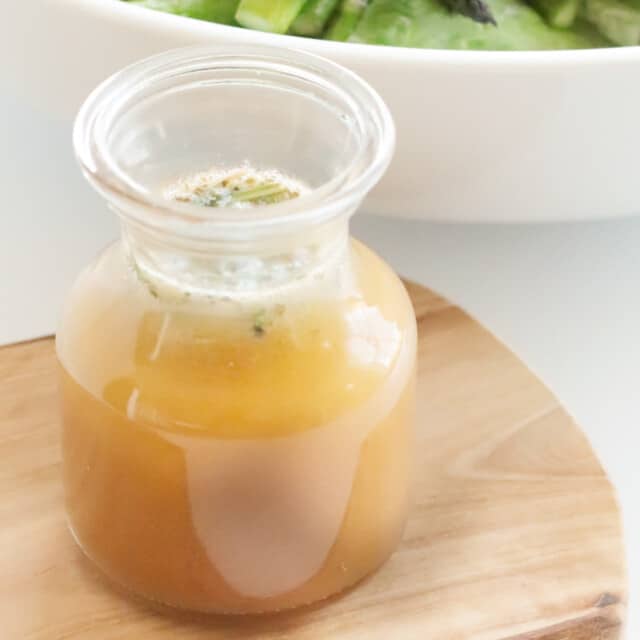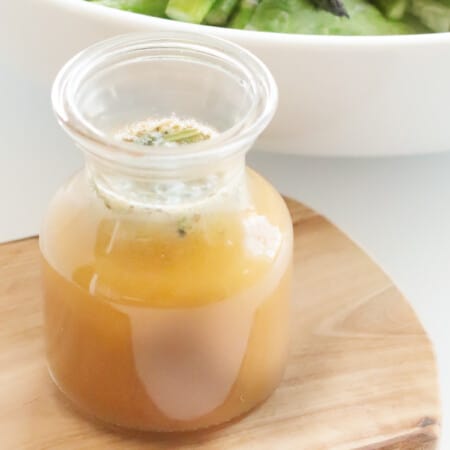 Red Wine Vinaigrette Salad Dressing
This classic homemade Red Wine Vinaigrette Salad Dressing is so easy to make and tastes better than anything from a bottle, plus it's healthier too. Just combine olive oil, red wine vinegar, Dijon mustard, and some seasonings for a homemade salad dressing you can pour over lettuce, pasta, grilled or roasted veggies, or even use as a marinade for meat.
Ingredients
1/2

cup

olive oil

1/2

cup

red wine vinegar

1/2

cup

light brown sugar

(you can use a bit less or subsititute with Swerve brown or honey, if desired)

1

tablespoon

Dijon mustard

1

teaspoon

Italian seasoning

1

teaspoon

minced fresh rosemary

salt and pepper,

to taste
Instructions
Add olive oil, red wine vinegar, brown sugar, Dijon mustard, Italian seasoning, and fresh rosemary to a jar that has a tight-fitting lid. Season with a pinch of salt and pepper.

Secure lid and shake vigorously. Adjust seasoning with additional salt and pepper, if needed.

Use immediately or store covered in the refrigerator for up to a week.
Nutrition Facts
Red Wine Vinaigrette Salad Dressing
Amount Per Serving (2 Tablespoons (approximately))
Calories 124
Calories from Fat 126
% Daily Value*
Fat 14g22%
Sodium 23mg1%
Potassium 12mg0%
Carbohydrates 1g0%
Protein 1g2%
Vitamin A 6IU0%
Vitamin C 1mg1%
Calcium 6mg1%
Iron 1mg6%
* Percent Daily Values are based on a 2000 calorie diet.
Categories:
More vinaigrette salad dressing recipes