This post may contain affiliate links. Read my disclosure policy.
Inspired by my home and my "home away from home" where we vacation every other year, I took the classic Cobb Salad, incorporated local, seasonal vegetables from the Garden State, and added some ingredients produced in the Green State to create the Vermont Meets New Jersey Ultimate Cobb Salad with Creamy Greek Yogurt Maple Dijon Dressing.
Vermont Meets New Jersey Ultimate Cobb Salad with Creamy Greek Yogurt Maple Dijon Dressing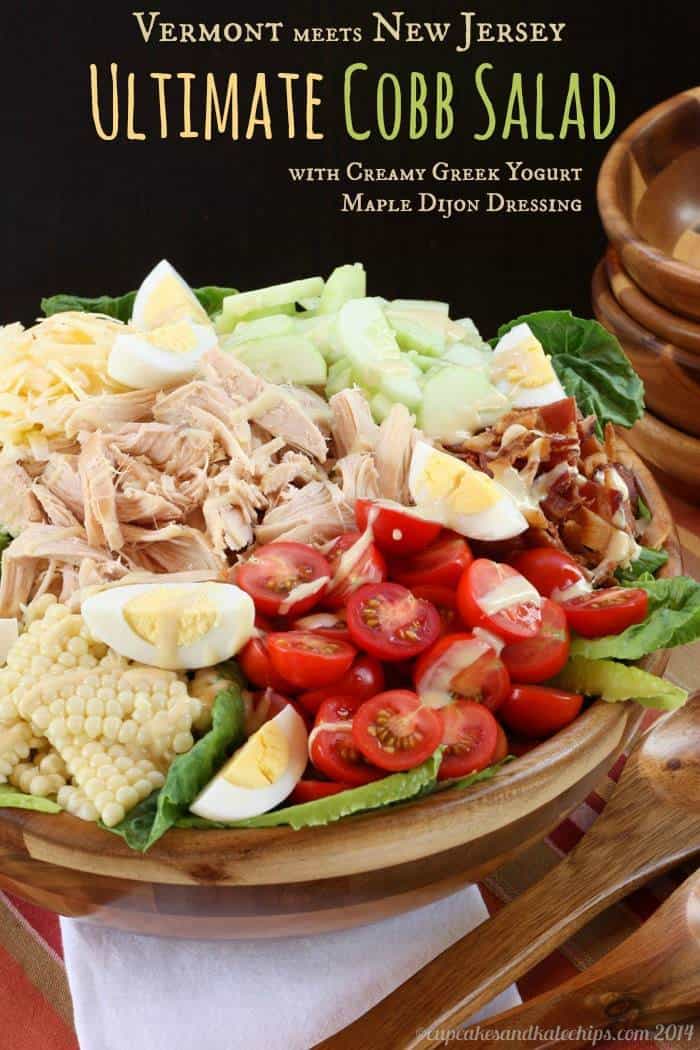 Disclosure: Samples of Farmers' Legacy Collection Cheese was provided to me by Cabot at no cost. They also helped arrange a farm tour for myself and my family in Vermont. I was under no obligation to write this post. As always, all opinions are my own.
A couple days ago I commented about being "a day late and a dollar short". This post and recipe comes preeeeeetty close to that. I've actually been meaning to tell you all summer about my vacation to Vermont. More specifically, our visit to the Missisquois Valley Farm and Couture's Maple Shop. When I told Candace, my wonderful contact at Cabot, that we would be making our biannual visit to Smuggler's Notch in Vermont, she connected me with Jacques and Pauline Couture, who welcomed us with a little visit to their farm.
The Couture's have owned their farm for well over 30 years, and raised their children there. Although their kids have now moved away, Jacques and Pauline are still there running the dairy farm, even raising some cattle for beef, producing maple syrup from the large number of maple trees on their properties, making products from this maple syrup, selling it online and in their shop, and even running a little Bed & Breakfast for those that want the agri-tourism experience. And they have even been certified organic.
Jacques' pride was evident as he showed us around the barn and told us about the daily life of running a dairy farm, from the milking to the pasturing to the cleaning. And yes, there is a lot of cleaning! Although most of the adult cows were out to pasture when we were there, we did get to see a couple of babies who were only a week old. The Bug was happy chasing around a frog, my sister was not happy that she was being chased by a duck. Then Pauline brought us right into her living room to watch a video about the process of making maple syrup, and we were sure to bring home some of that golden goodness! It was a lovely day, and a unique experience. I have been a fan of Cabot's products, business model, and support of local farmers for years, and I toured the Cabot factory on a prior trip, so it was great to meet someone who is truly a reflection of what Cabot stands for.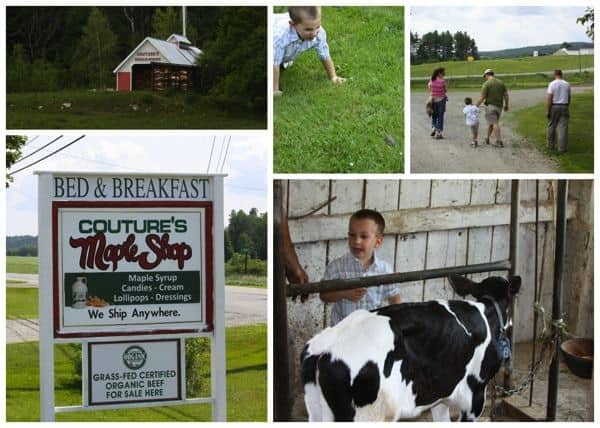 Candace and the folks at Cabot were also kind enough to stock our condo with more than a week's worth of cheese, including the new Farmers Legacy Collection. We couldn't resist. The moment we settled in, we immediately uncorked some wine and sliced up an entire bar of this amazing aged cheddar cheese. I love a good aged cheddar, and these cheeses certainly did not disappoint. All three, while each unique, were all bold, flavorful, and definitely on another level from just buying any old block of cheddar. So when I went to create a recipe with one of the cheeses, I really wanted to leave it in its original form.
Alas, salad…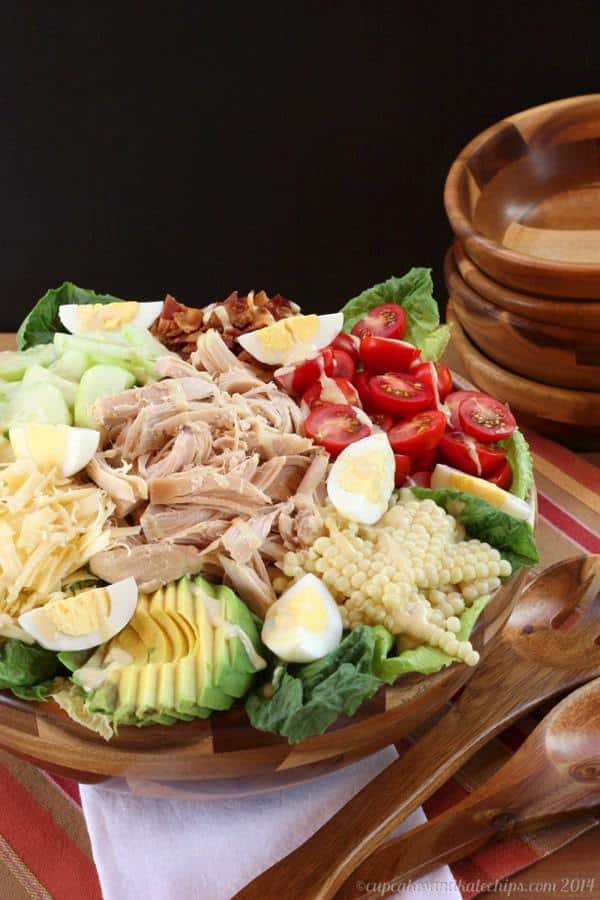 I call this the Vermont Meets New Jersey Ultimate Cobb Salad because I started with the classic Cobb and it's bacon, avocado, chicken (okay, technically I used leftover turkey, but either would suffice), and hard boiled egg, but I was inspired to swap out a few of  the traditional ingredients with some that are local and seasonal to my home state of New Jersey, and locally produced in Vermont – thus truly reflecting "farmers' legacy". For the veggies, it was all about the corn, tomatoes and cucumbers that are actually still in abundance in my local farmers' markets (and even my backyard for the tomatoes). Then to infuse a little New England, it was Cabot White Oak Cheddar instead of the usual blue cheese, and my super-duper favorite dressing, Creamy Greek Yogurt Maple Dijon Salad Dressing.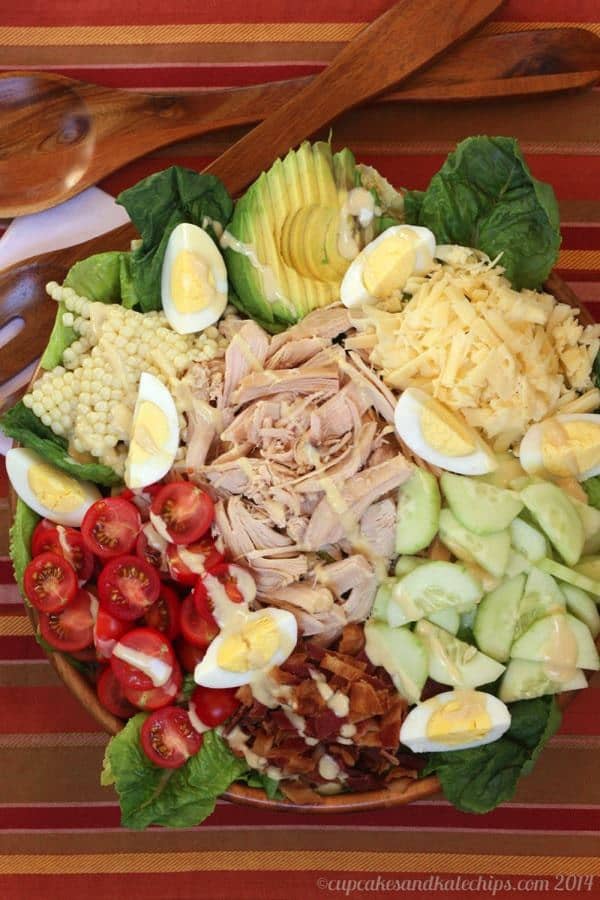 I'll be honest with you – by the time we ate the Vermont Meets New Jersey Ultimate Cobb Salad it did not look nearly this gorgeous. King Stuff and his four teeth still can chomp down lettuce and  – *GASP* – he is not the biggest cheese lover (sorry Cabot – the rest of us make up for him). The Bug, well, I've told you about his tomato issues. And The Hubby and his tummy don't really get along with bacon or cucumbers. So I dissembled and reassembled, but I, my friends, I consumed this salad in all of it's glory, every ingredient perfectly complementing the others. Salty, sweet, smoky, rich, sharp, meaty, creamy, fresh, juicy, crispy – you want it, you got it. I really hate to use the phrase "flavor explosion", but it totally was. And somehow I don't think that any of the flavors or textures got lost. Like the instruments in an orchestra, each ingredient played its own unique part in the amazing symphony that is this salad.
And come on, isn't it gorgeous…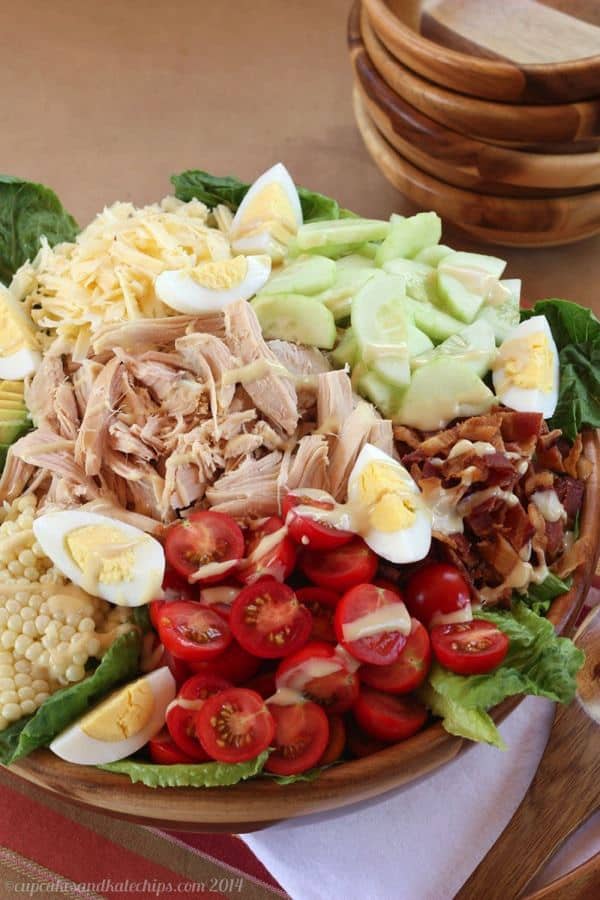 As I have learned through all of my experiences with Cabot, they are all about supporting their farmers, and these farmers have legacy of pride, dedication and quality. The Farmers' Legacy Collection celebrates this, and the Farmers' Legacy Recipe Contest is challenging everyone to incorporate one of these three cheeses into a family recipe for the chance to win some amazing prizes.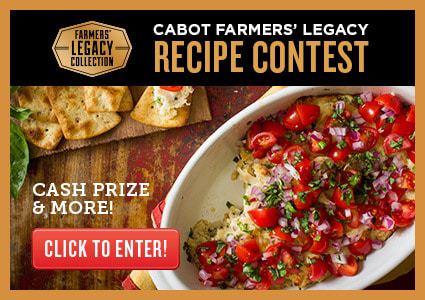 Enter now, or check out the Cabot Farmers' Legacy Recipe Collection on their website or the other entries to inspire you!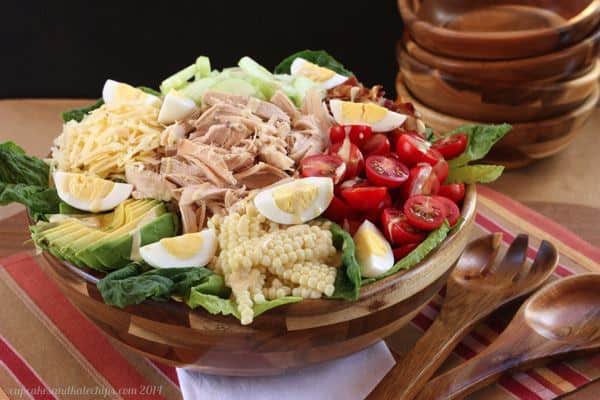 What was the best part of your summer vacation? 
You can save this or any of my recipes and those from many of your favorite brands, blogs and website to your own personal recipe box. After creating your account, simply click 'Save Recipe' below. It will then be saved in your personal recipe box which you can access at any time, and even create meal plans and grocery lists.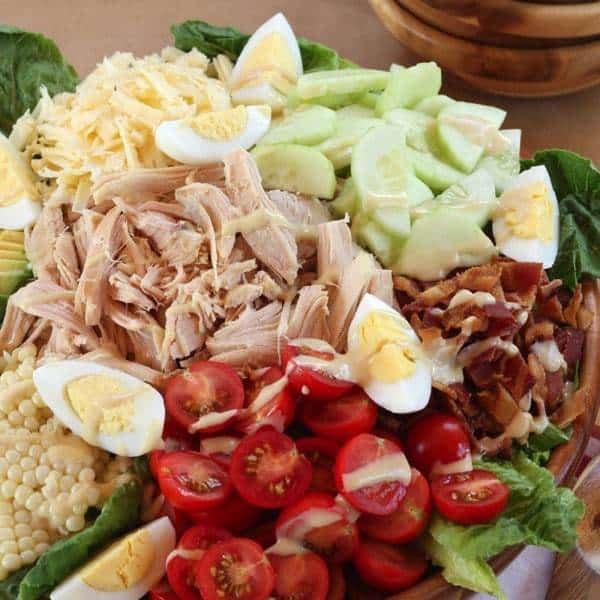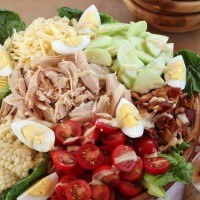 Vermont Meets New Jersey Ultimate Cobb Salad
The classic Cobb Salad is updated with fresh, local, seasonal ingredients like corn, cheddar cheese, and maple syrup.
Ingredients
2-3

hearts of Romaine

chopped

1

cup

chopped tomatoes

I used halved cherry tomatoes

1

cup

halved and sliced cucumber

about one cucumber

1/2

cup

corn

I cut the kernels from leftover corn on the cob, but frozen, thawed corn would work fine

half of an avocado

thinly sliced

2

cups

chopped or shredded chicken or turkey

4

slices

bacon

cooked and crumbled

1/2

cup

about 2 ounces shredded Cabot White Oak Cheddar Cheese (or other sharp cheddar)

4

hard boiled eggs

quartered

Creamy Greek Yogurt Maple Dijon Salad Dressing
Instructions
Fill a large salad bowl or individual serving bowls with chopped Romaine.

Top with the tomatoes, cucumber, corn, avocado slices, chicken or turkey, bacon, shredded cheese, and eggs.

Drizzle with Creamy Greek Yogurt Maple Dijon Salad Dressing.
Categories:
Enjoy!
Like this recipe? You'll love these…
And here are a few more salads from my friends…