Lightened Up Slow Cooker Butter Chicken
Disclosure: This post may contain affiliate links. Cupcakes & Kale Chips is a participant in the Amazon Services LLC Associates Program, an affiliate advertising program designed to provide a means for us to earn fees by linking to Amazon.com and affiliated sites.
Slow cooker butter chicken with a healthier twist is a simple way to enjoy Indian-inspired cuisine right in your own kitchen. Come home from work and travel around the world for dinner when you make Lightened-Up Slow Cooker Indian Butter Chicken.
Your kids will love this chicken too, so make this one of your go-to crock pot recipes!
Disclosure: This post is sponsored, through a partnership with The Great Courses and originally published on April 18. 2017. As always, all opinions are my own.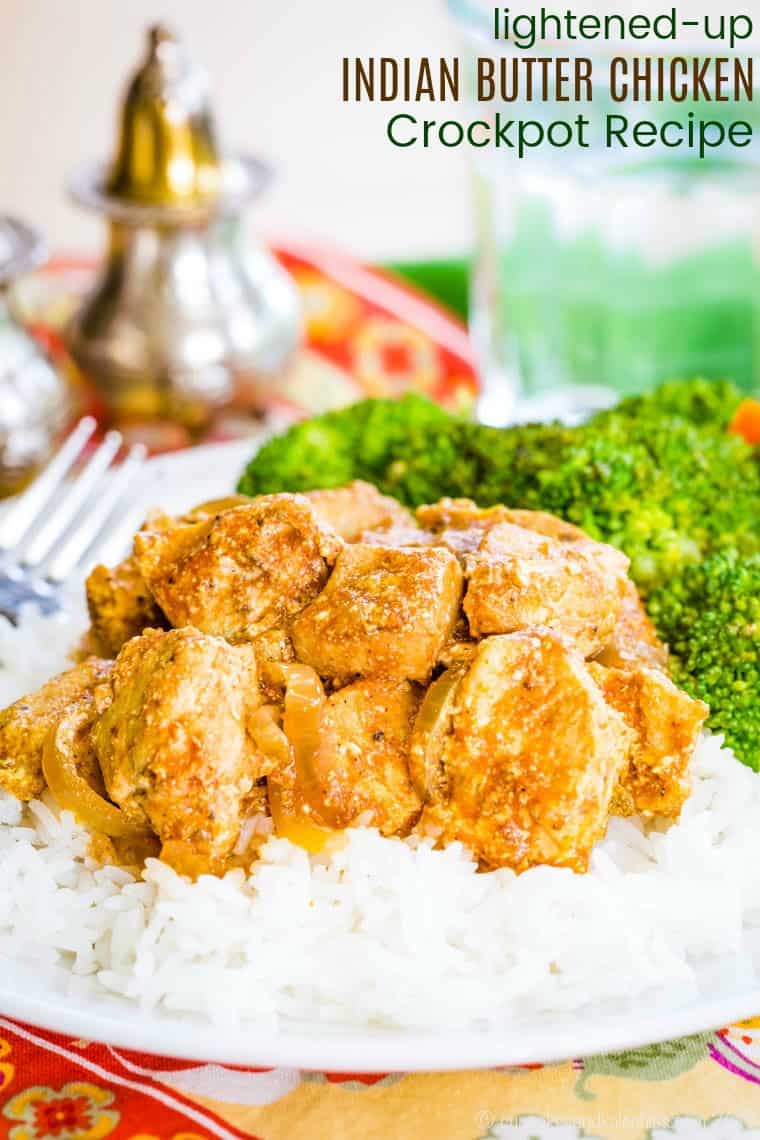 Note that this post was originally written two years ago.
I remember one Saturday a year or so back, I was doing chores around the house. Then I realized I hadn't heard any noise from my oldest son in quite a while. When you have two boys, any period of time with little or no noise is always suspicious. I looked around and found him in the basement, eyes glued to the TV.
Cartoons? Nope. Kids shows? Not this time. Heck, it wasn't even one of his favorite blockbusters. He was watching a documentary about this history of cancer research. Guys, he was six. And completely fascinated. It was one of those moments when you just don't care about screen time limits.
And it's not uncommon to find him watching nature shows or history shows or DIY shows or, my personal favorite, cooking shows. He may love TV as much as any other kid, but he also loves to learn.
I'll be honest, this former chemical engineer was never much into history. But I do love food. So when I heard about The Great Courses Plus, I thought this was a perfect way to connect my passion for food with my son's passion for learning. That's why I cooked up this tasty slow cooker Indian butter chicken dinner…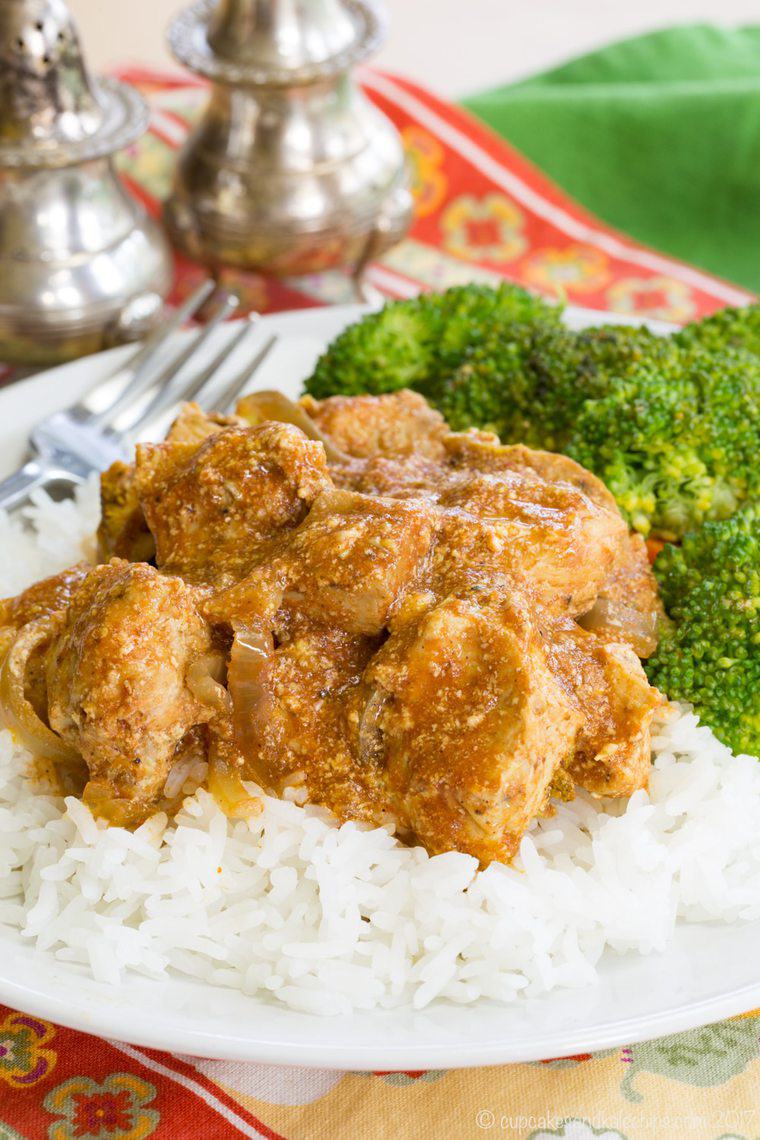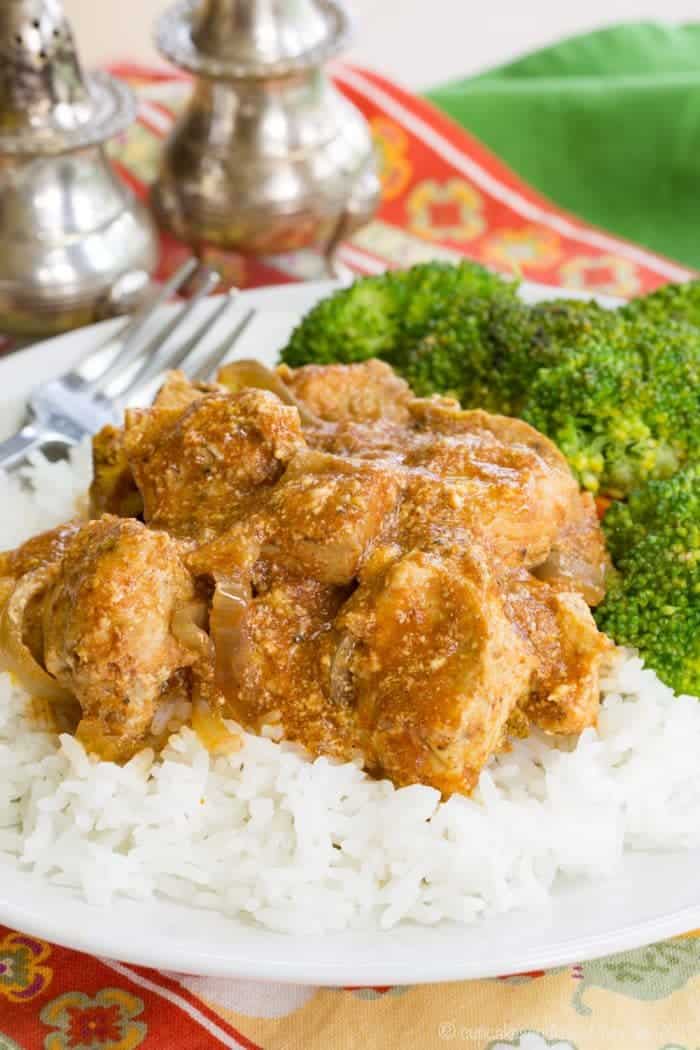 Crockpot Butter Chicken
This Indian butter chicken recipe is easy, bringing the flavors of India right into your kitchen. I love making Indian food at home because I can control the level of spices, like in these Tandoori Chicken Legs. Plus I can make it healthier too!
By cutting down on the butter and swapping heavy cream for Greek yogurt, you still get all of the exotic flavors in a healthier dish. It's as simple as adding a handful of simple, flavorful ingredients (think curry powder and garam masala) to your slow cooker. Then, let the aromas fill your home.
How do you make slow cooker butter chicken?
You can use whole boneless skinless chicken breasts if you would like a version of butter chicken that is shredded or pulled. Or cut your chicken into chunks if you prefer large pieces.
Add the chicken to your crockpot with onion, garlic, butter, tomato paste, lemon juice, and spices. Then pour over a can of light coconut milk. You can use full-fat coconut milk for a more keto-friendly dish.
Cook on low for 8 hours or on high for 4 hours.
If you are using the whole chicken breasts, at this point you will remove them from the slow cooker. Shred the chicken with two forks, then return it to the slow cooker.
About 30 minutes before serving, ensure your slow cooker is on low, then stir in the Greek yogurt until it is nice and creamy.
Is slow cooker butter chicken gluten free?
Yes, this butter chicken recipe IS gluten free! I always advise you to read labels, especially in the case of spice blends. This is just in case certain brands add fillers or manufacture where there could be cross contamination. But in general, this recipe does not use any gluten-containing ingredients.
While it cooks, you can spend your day learning about the history and culture of the country that inspired that dish by opening up The Great Courses Plus on your computer or tablet…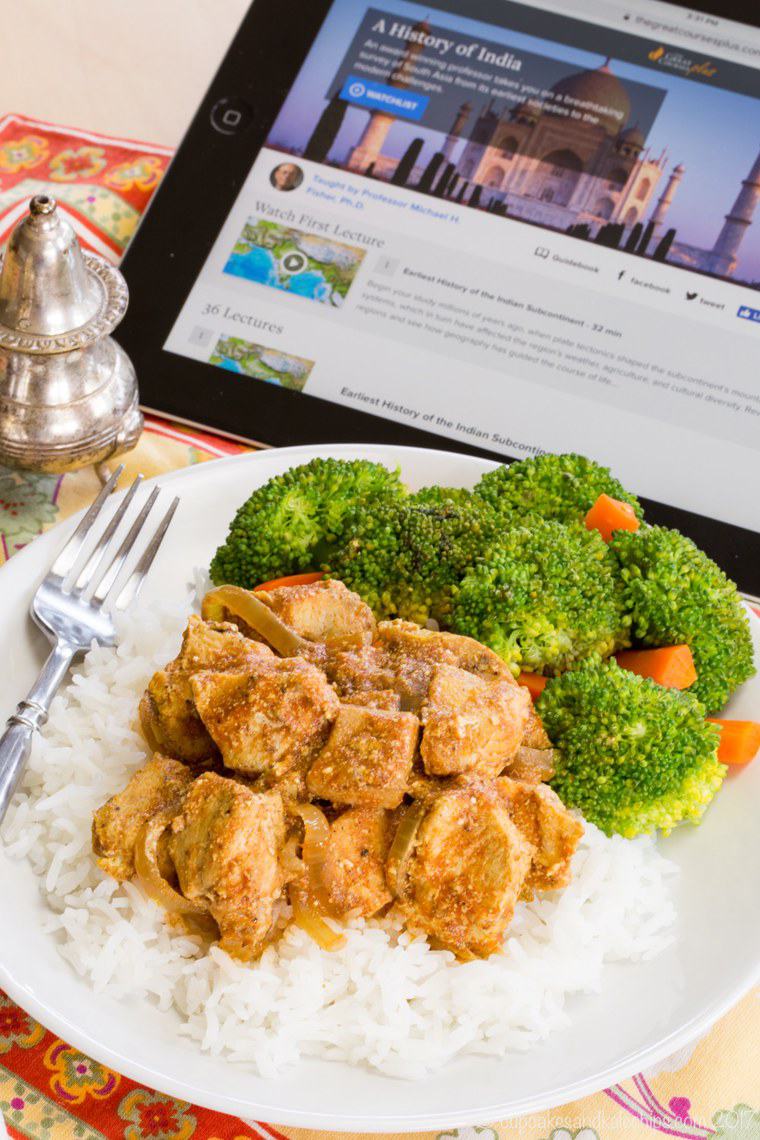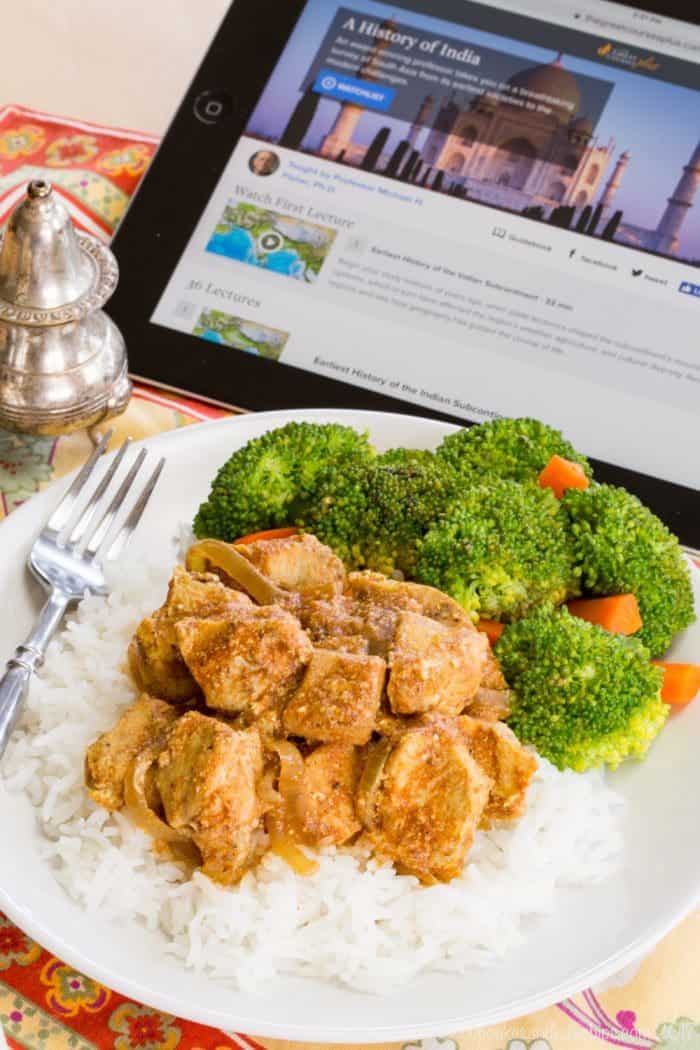 As we got ready to enjoy our Far East meal, we watched a few lessons on A History of India, just one of over seventy history courses available on The Great Courses. I knew a little about Hinduism and Gandhi and British colonialism, and I've heard of the Bhagavad Gita. But there are thirty-six lessons, so you can really dive into the full history of this fascinating country.
But you can use some of the other lessons to inspire more meals. Or use meals to inspire you to learn more about the history and culture of other nations. Maybe you'll watch The Guide to Essential Italy and want to make the World's Best Lasagna, or learn about Genghis Khan in Barbarians of the Steppes and have some Slow Cooker Mongolian Beef Stew. Have some Pork Souvlaki as you explore Ancient Greek Civilization or dig into Shepherd's Pie as you dig into The Irish Identity.
You can learn more by following The Great Courses on Facebook, Twitter, and Pinterest, and preview some of the lessons on YouTube.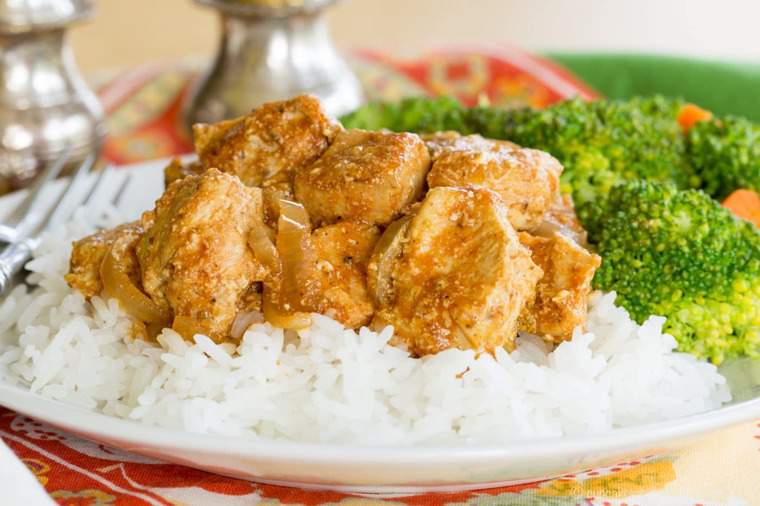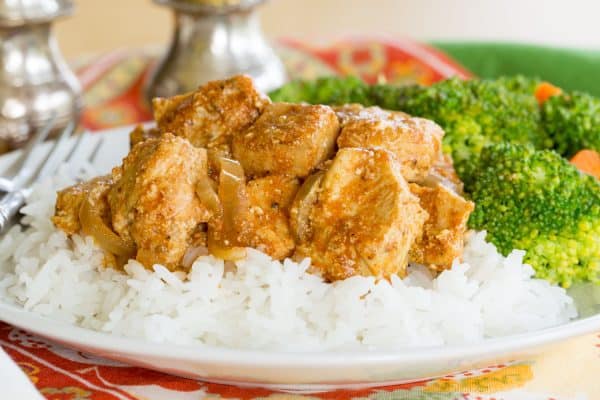 For more yumminess from me and my foodie friends, keep up with me on…
Or sign up to have Cupcakes & Kale Chips delivered straight to your Inbox!
What other chicken recipes can I make in my slow cooker?
What do you serve with butter chicken?
Lightened Up Slow Cooker Butter Chicken
With the flavors of classic Indian butter chicken, but fewer calories and fat, this slow cooker recipe is sure to become a favorite! In the video, you'll see how to make the version of crockpot butter chicken where you shred the chicken, so it's almost like a slow cooker pulled chicken. But if you want the larger pieces like in the photos, just cut the chicken into chunks before putting it in the slow cooker and don't shred it before adding the Greek yogurt.
I hope you'll leave a comment and give it a FIVE STAR rating or share a photo on this pin on Pinterest!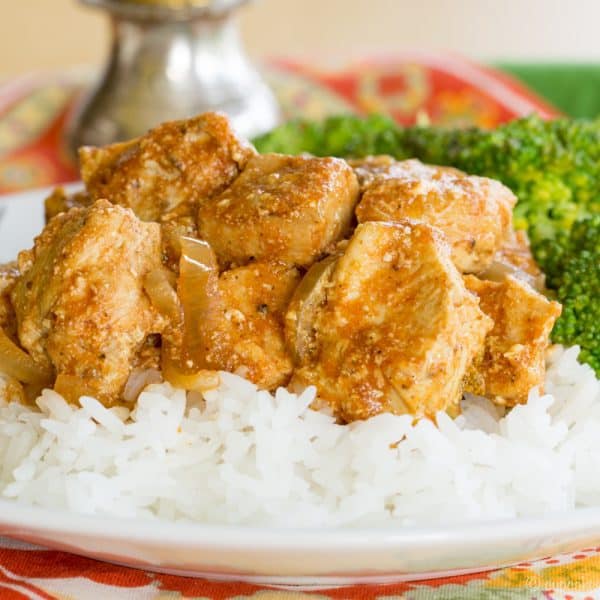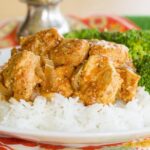 Print Recipe
Lightened Up Slow Cooker Indian Butter Chicken
Make traditional Indian Butter Chicken healthier and easier by lightening up a few of the ingredients and making it in your slow cooker.
Ingredients
2

lb

boneless skinless chicken breasts

(whole or cut into 1-inch chunks)

1

large

onion

sliced

6

garlic cloves

chopped

4

Tbl

butter

light butter, or light butter spread (I used Land O'Lakes Light Butter)

2

tsp

curry powder

1/2

tsp

cayenne pepper

2

tsp

garam masala

1/2

tsp

ground ginger

6

oz

tomato paste

2

Tbl

lemon juice

14

oz

light coconut milk

1

cup

plain nonfat Greek yogurt
Instructions
Place the chicken, onion, garlic, and dry spices in the slow cooker.

Add the butter, tomato paste, lemon juice and coconut milk.

Cover and cook on low for 8 hours, or high for 4.

If you are using whole chicken breasts, remove the chicken from the slow cooker and shred with a fork. Return the chicken to the slow cooker (if you used chinks, just leave them in the slow cooker).

Stir in yogurt about 15 minutes before serving.

Salt to taste.

Serve with brown rice, basmati rice, or jasmine rice. I also served it with steamed broccoli.
Nutrition
Serving:
4
oz
|
Calories:
272
kcal
|
Carbohydrates:
9
g
|
Protein:
28
g
|
Fat:
12
g
|
Saturated Fat:
7
g
|
Cholesterol:
89
mg
|
Sodium:
404
mg
|
Potassium:
714
mg
|
Fiber:
1
g
|
Sugar:
4
g
|
Vitamin A:
590
IU
|
Vitamin C:
9.6
mg
|
Calcium:
53
mg
|
Iron:
1.3
mg
Enjoy!