This post may contain affiliate links. Read my disclosure policy.
This creamy Classic Gluten-Free Cheesecake packs a punch in flavor and in texture! This is a rich and indulgent gluten-free dessert, flavored with vanilla and lightened up with Greek yogurt for an irresistible tang.
The Best Gluten-Free Cheesecake Recipe
Enjoy a made-from-scratch, New York-style cheesecake served with your favorite toppings! And the best part is, this recipe makes it totally gluten-free.
This baked gluten-free cheesecake is incredibly rich, yet somehow light and airy at the same time. The filling is a treat for the senses, flavored with a touch of lemon and vanilla with the richest, silky mouthfeel.
The cake also looks pretty as a picture thanks to some simple baking techniques! This is a delicious, no-frills cheesecake recipe that you'll come back to again and again.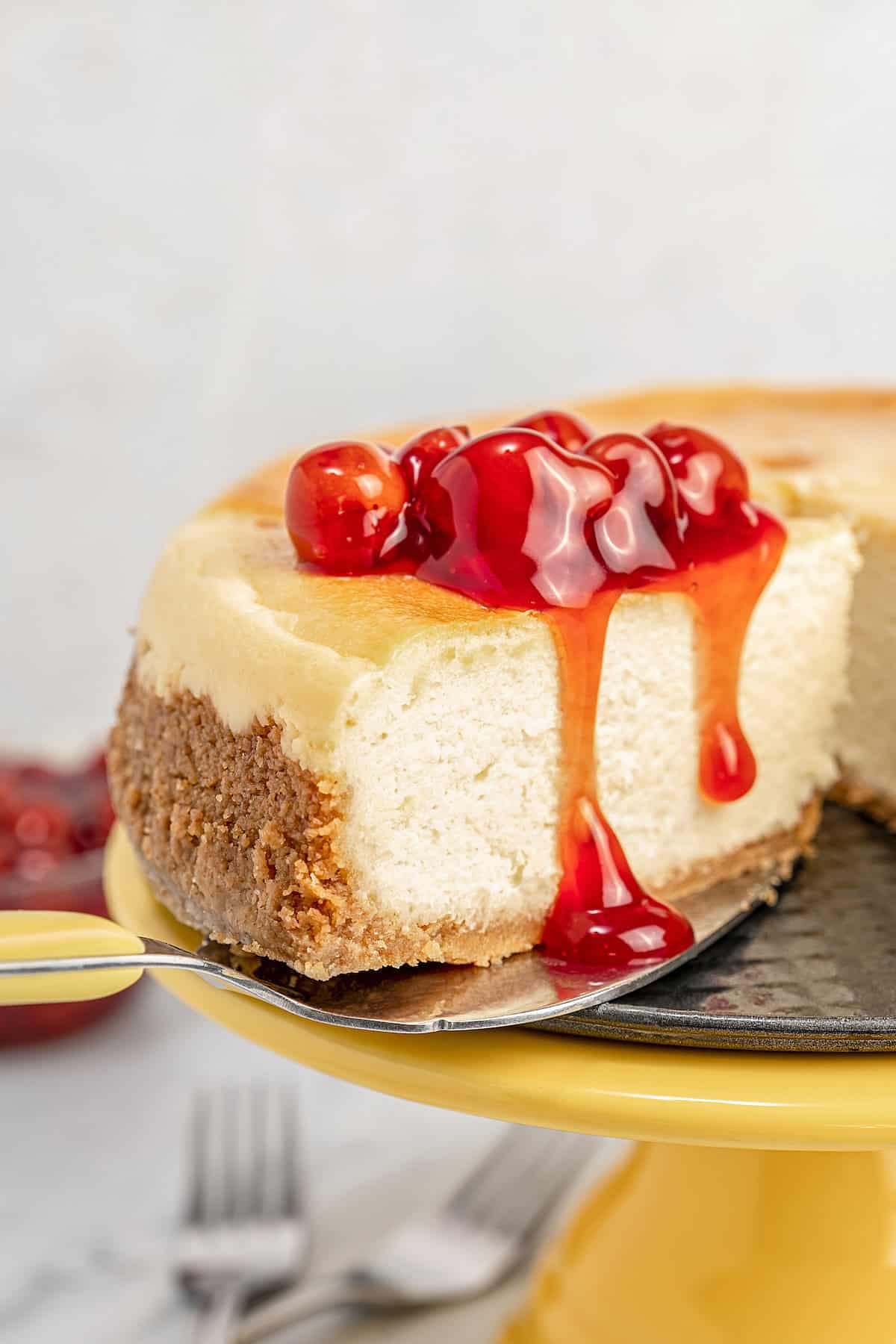 What You'll Need
I make my crust from scratch for this cheesecake, using my never-fail gluten-free Graham cracker crust recipe. Of course, you're most welcome to use your own homemade gluten-free crust or speed things up with a store-bought crust if you prefer.
Let's go over what you'll need to make this easy cheesecake. Don't forget to check out the full details in the recipe card:
For the Graham Cracker Crust
Gluten-Free Graham Cracker Crumbs: I use my homemade Gluten-Free Graham Crackers and pulse them in a food processor. You can also use your favorite store-bought brand.
Sugar and Salt: Granulated sugar or light brown sugar are both fine to use in this graham cracker crust. You'll also need a pinch of salt.
Butter: I recommend using unsalted butter, otherwise consider adding less salt separately.
For the Cheesecake Filling
Cream Cheese: You'll want to use the blocks of cream cheese, and not the kind that comes in tubs. Take it out of the fridge about a half hour before you start, to let it warm to room temperature,
Sugar
Gluten-Free Flour
Vanilla: Pure vanilla extract gives the cheesecake filling the best, authentic flavor.
Lemon Juice: Freshly squeezed lemon juice enhances the flavors and brightens up the cheesecake.
Salt
Eggs: You'll need 6 whole eggs to make the filling. Eggs are what give this classic, bakery-style cheesecake loads of richness and structure.
Greek Yogurt: I add plain, full-fat Greek yogurt to add creaminess and tang to the cheesecake while keeping the recipe light. This is one of my favorite alternatives to heavy cream or sour cream!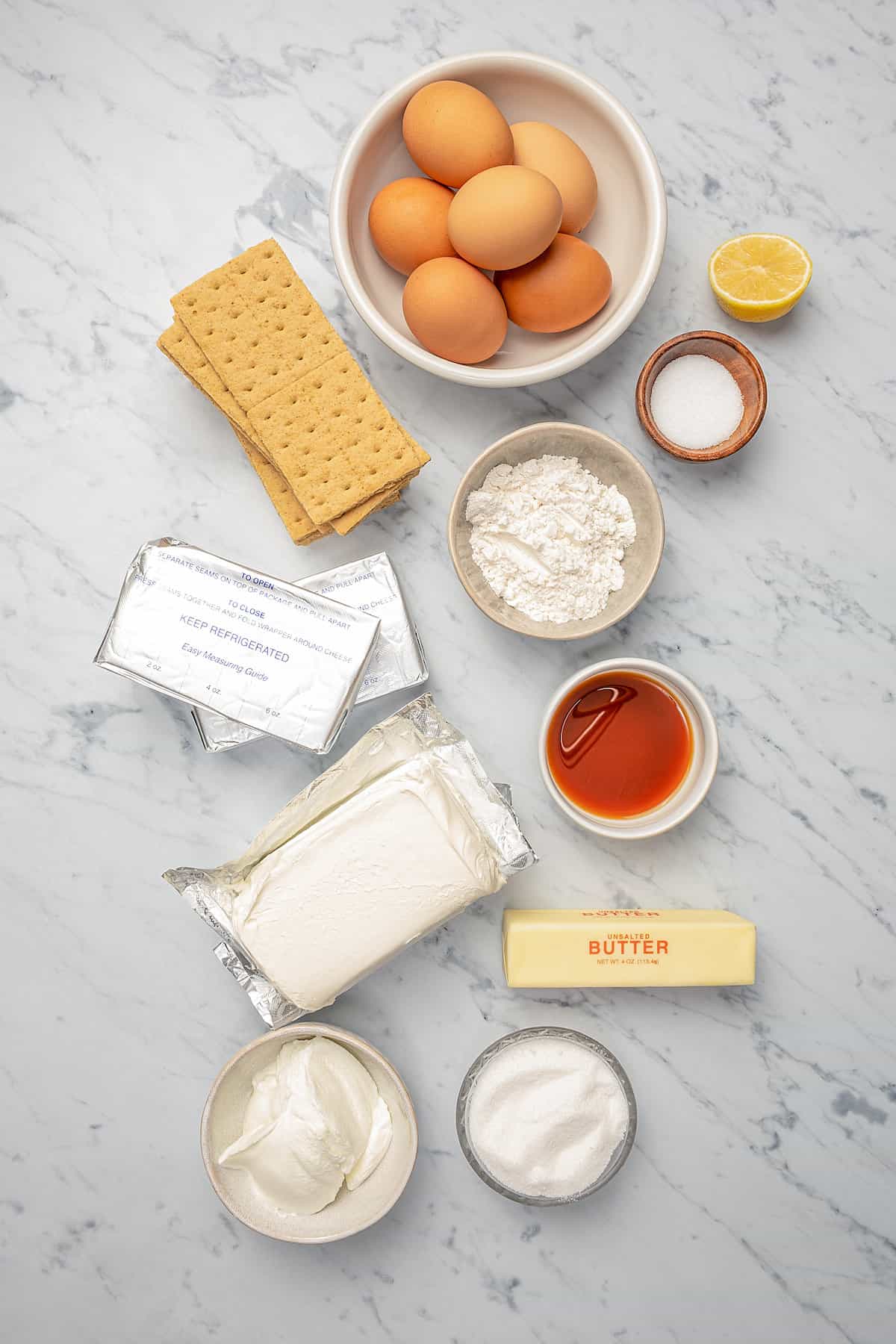 Which Brand of Cream Cheese Is Gluten Free?
Most brands of cream cheese blocks, like Philidelphia and others, are made gluten-free. As always, if you have a particularly severe gluten allergy, consult your doctor for advice. It's always a good idea to double-check labels and know that your ingredients are 100% certified gluten-free.
How to Make Classic Gluten-Free Cheesecake
First, as you'll be baking your cheesecake in a water bath, prep a 9″ or 10″ springform pan by wrapping it with a layer of aluminum foil (I recommend the heavy-duty kind). The aim is to wrap the bottom and up the sides so that there aren't any seams. I like to do a double layer just to be sure no water can seep in!
Give your prepared pan a coating of non-stick spray, then you'll get started on the cheesecake:
Prepare the Crust: Combine the Graham cracker crumbs, sugar, salt, and melted butter in a bowl. Toss the crumbs with a fork until coated and sandy. Then, press the mixture into the bottom and about 1-inch up the sides of your prepared pan. Par-bake the crust at 350ºF until golden. Once the crust is done, lower the oven to 325ºF.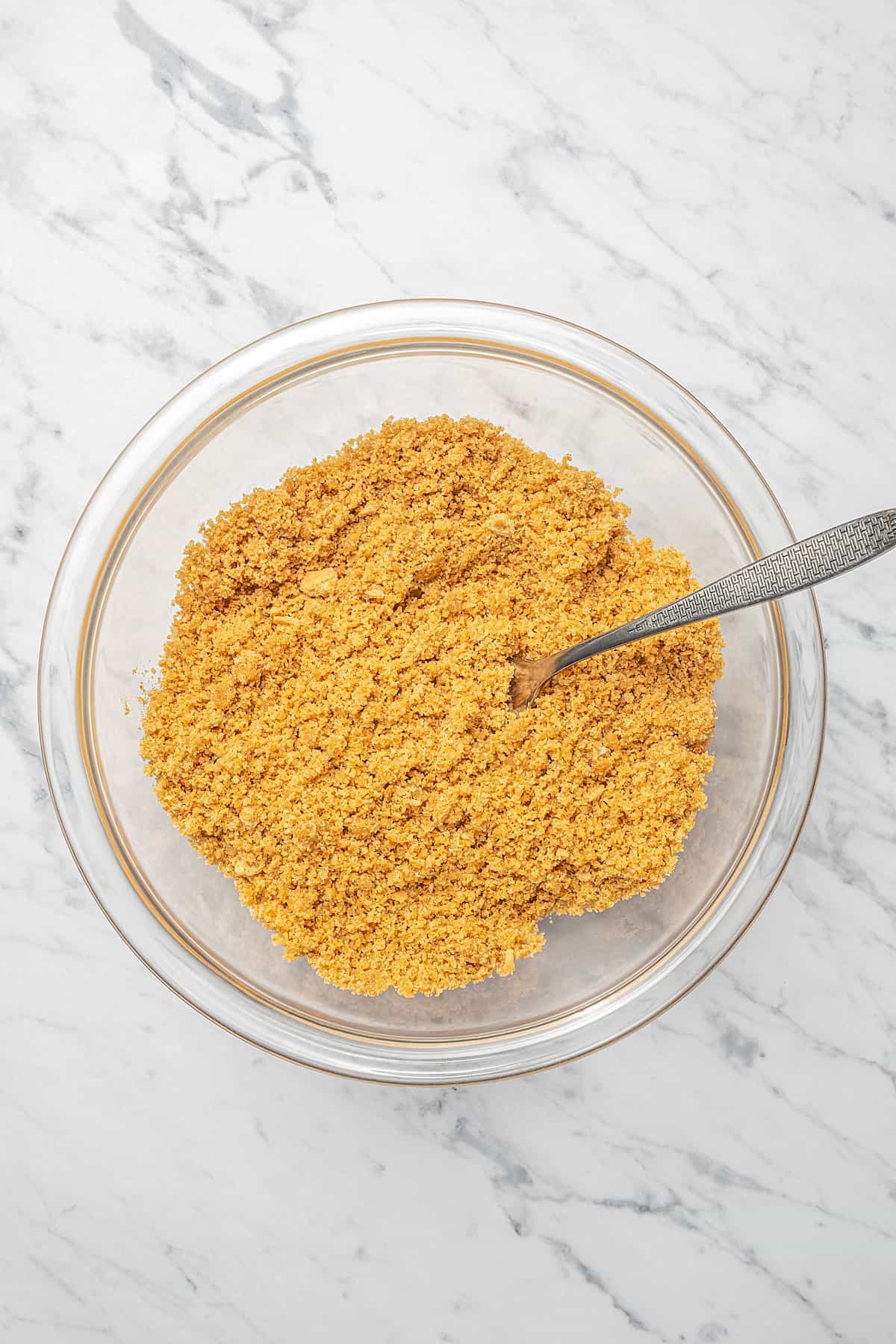 Make the Filling: Beat cream cheese, sugar, and flour in a stand mixer until smooth. Next, add the vanilla, lemon juice, and salt. Finally, beat in the eggs followed by the yogurt. Pour the cheesecake batter over the crust.
Bake: Bake the cheesecake in a water bath at 325ºF for 1½ hours. At this point, check that the cheesecake is set in the middle and golden on top. If it's still a bit runny, leave it to bake for another 15 minutes, or until set.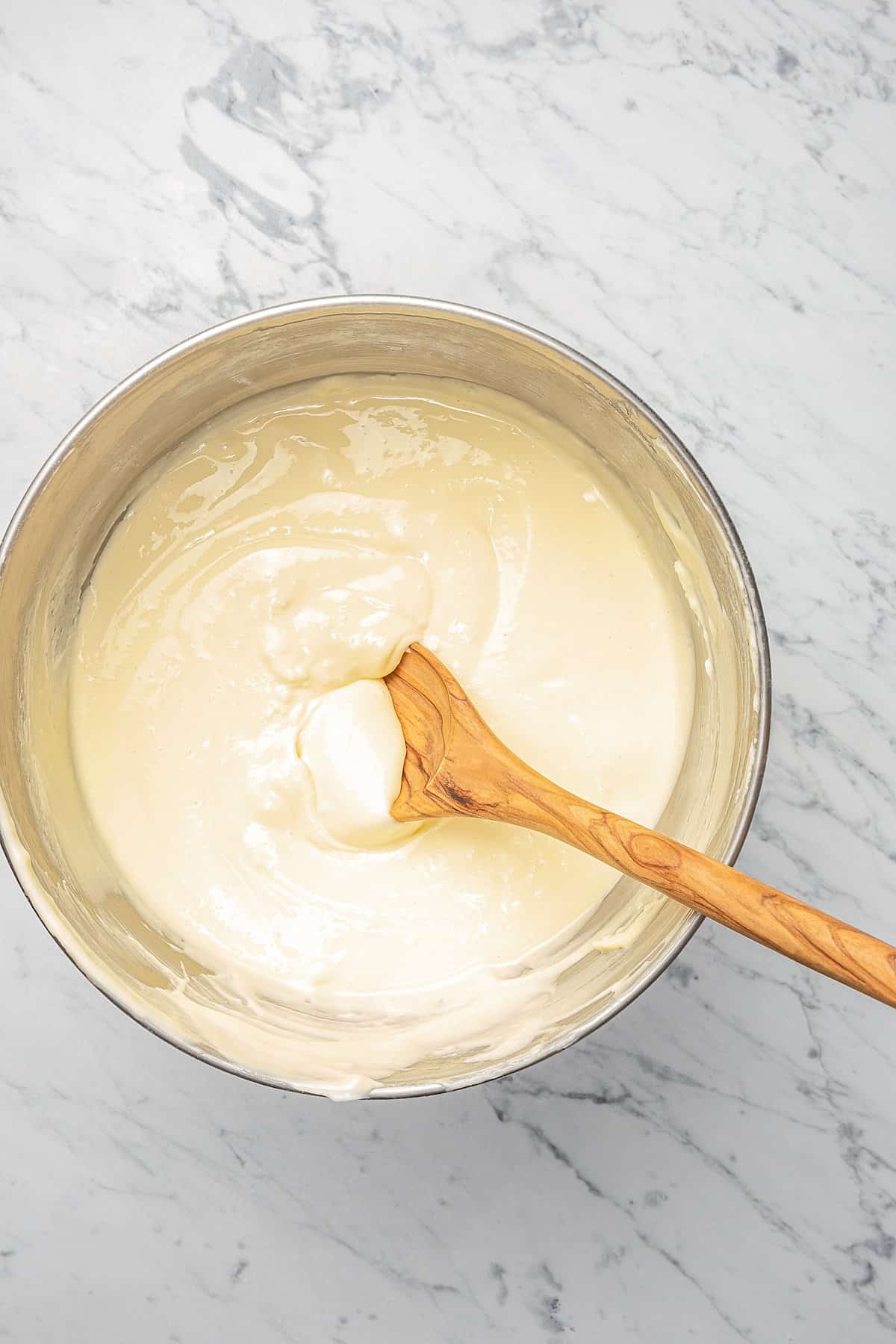 Cool: Once your cake is out of the oven, it will need to cool and then chill in the fridge overnight before you remove the pan.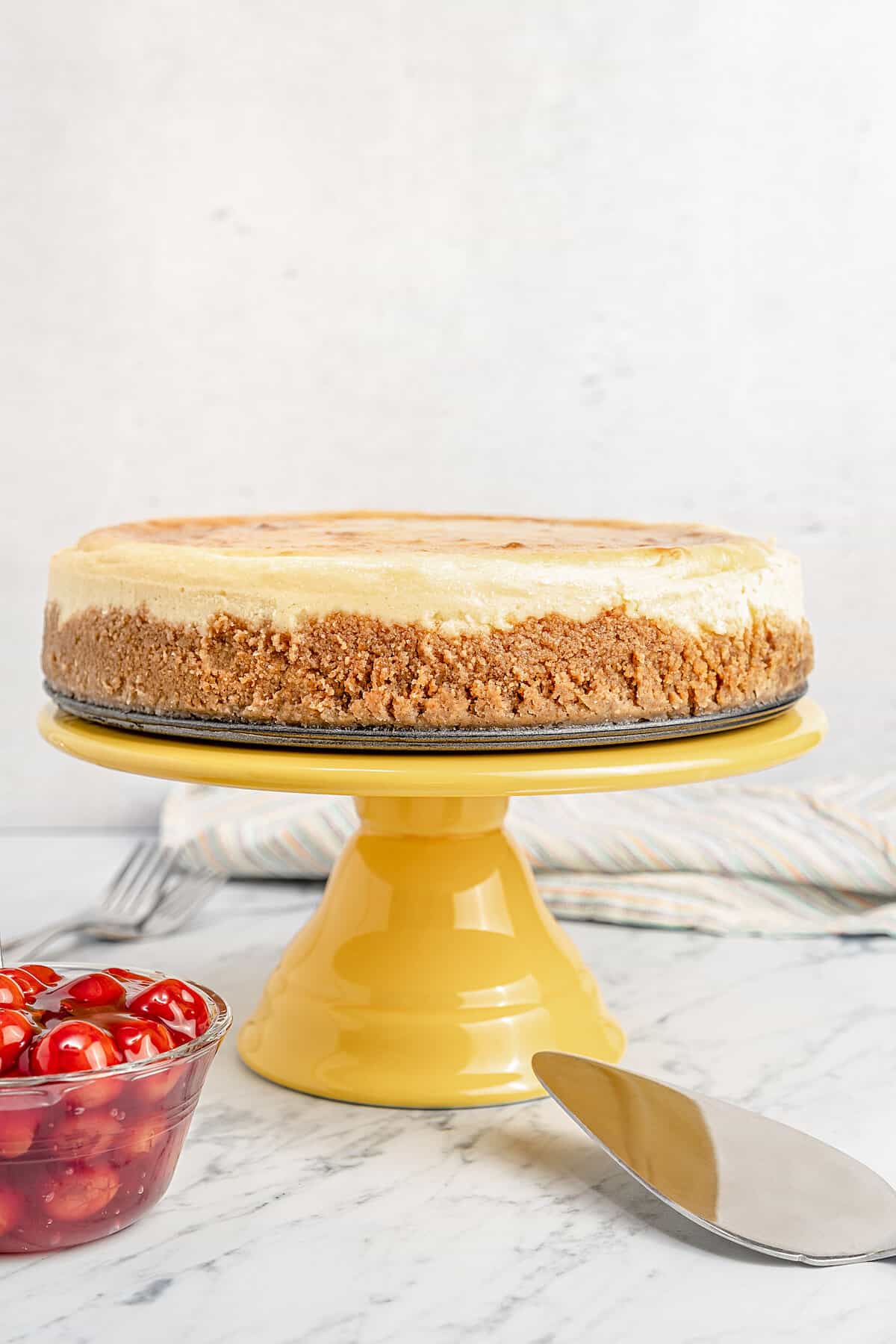 Serve: The following day, release the gluten-free cheesecake from the pan and serve! See further on for serving tips and topping ideas.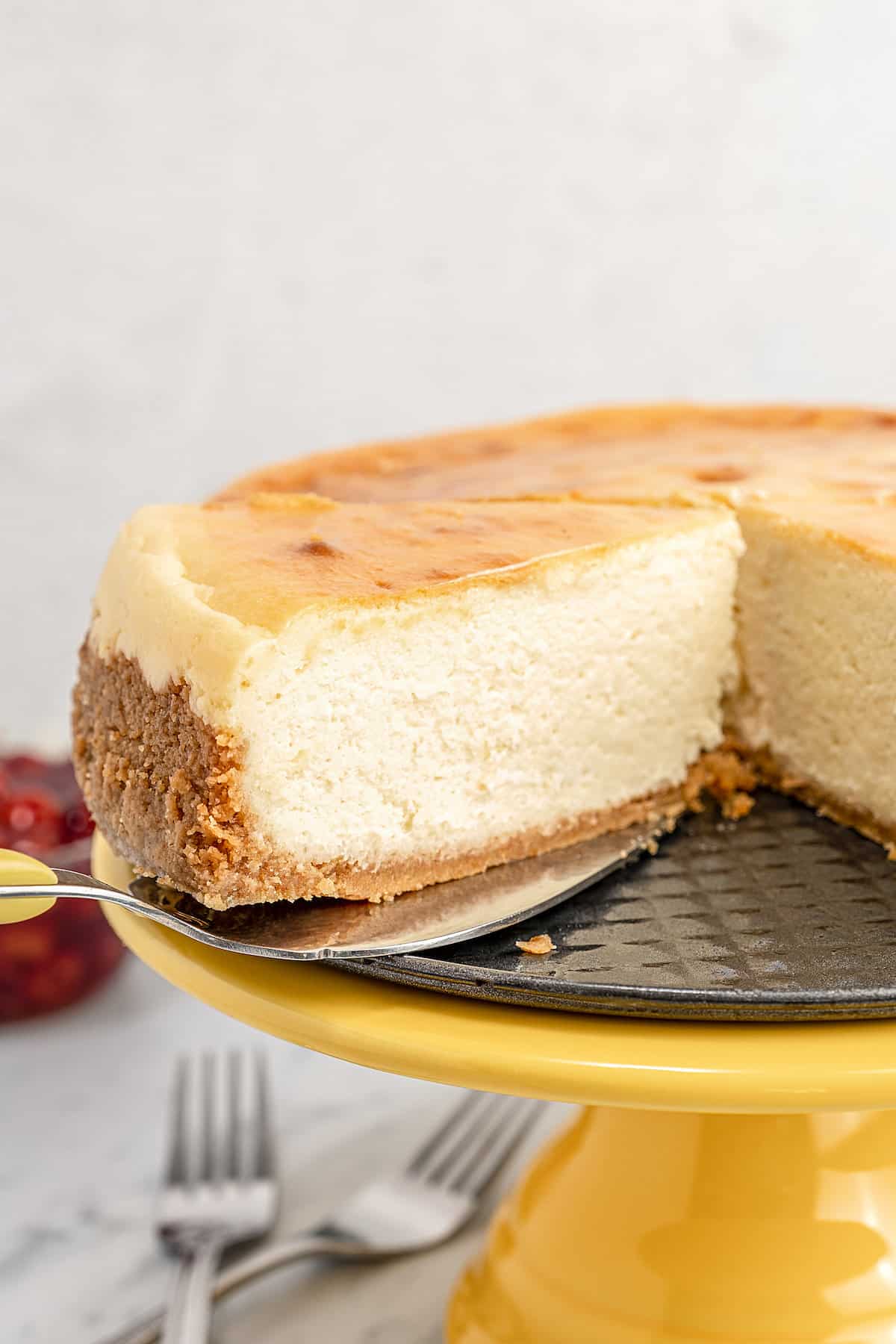 Tips for Success
Some bonus tips for the perfect gluten-free cheesecake:
Gluten-free Graham crackers vary in consistency. With this in mind, you may need to adjust the ratio of crumbs to butter as you're making your crust. Add more crumbs if the mixture is too moist, and more melted butter if it's too dry.
Don't overmix the batter. Only beat the cheesecake batter until just combined. Overly mixed batter results in a denser cake.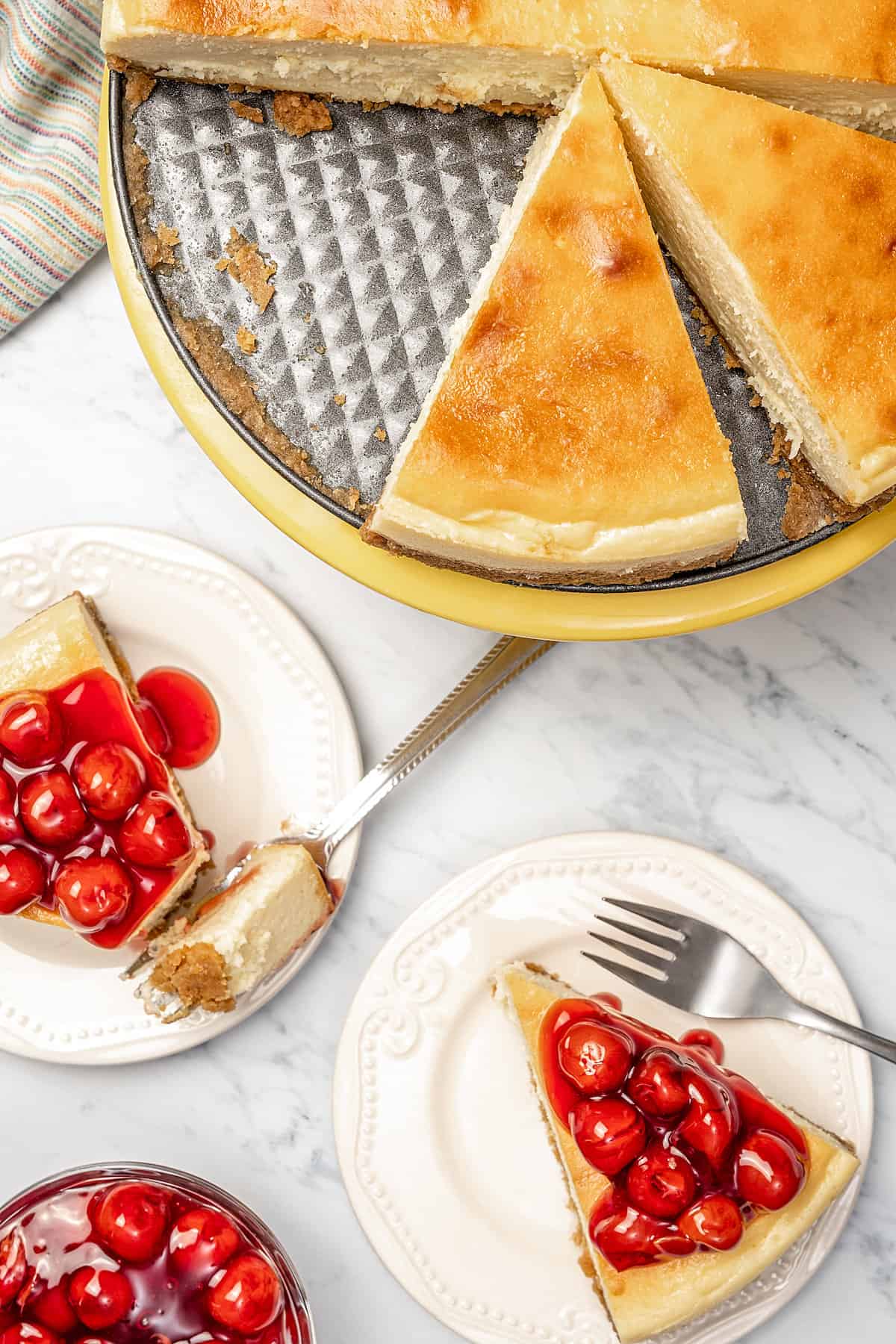 Serving Suggestions
A classic cheesecake is perfect to customize and serve with any toppings you'd like!
We love transforming ours into cherry cheesecake, topped with bright red cherries and drizzled with cherry syrup. Yes, you can use canned pie filling. Always check the labels, but many brands are gluten free.
Or, we'll enjoy slices topped with blueberry syrup (borrowed from my Gluten-Free Blueberry Crepes).
Here are more delicious cheesecake toppings ideas: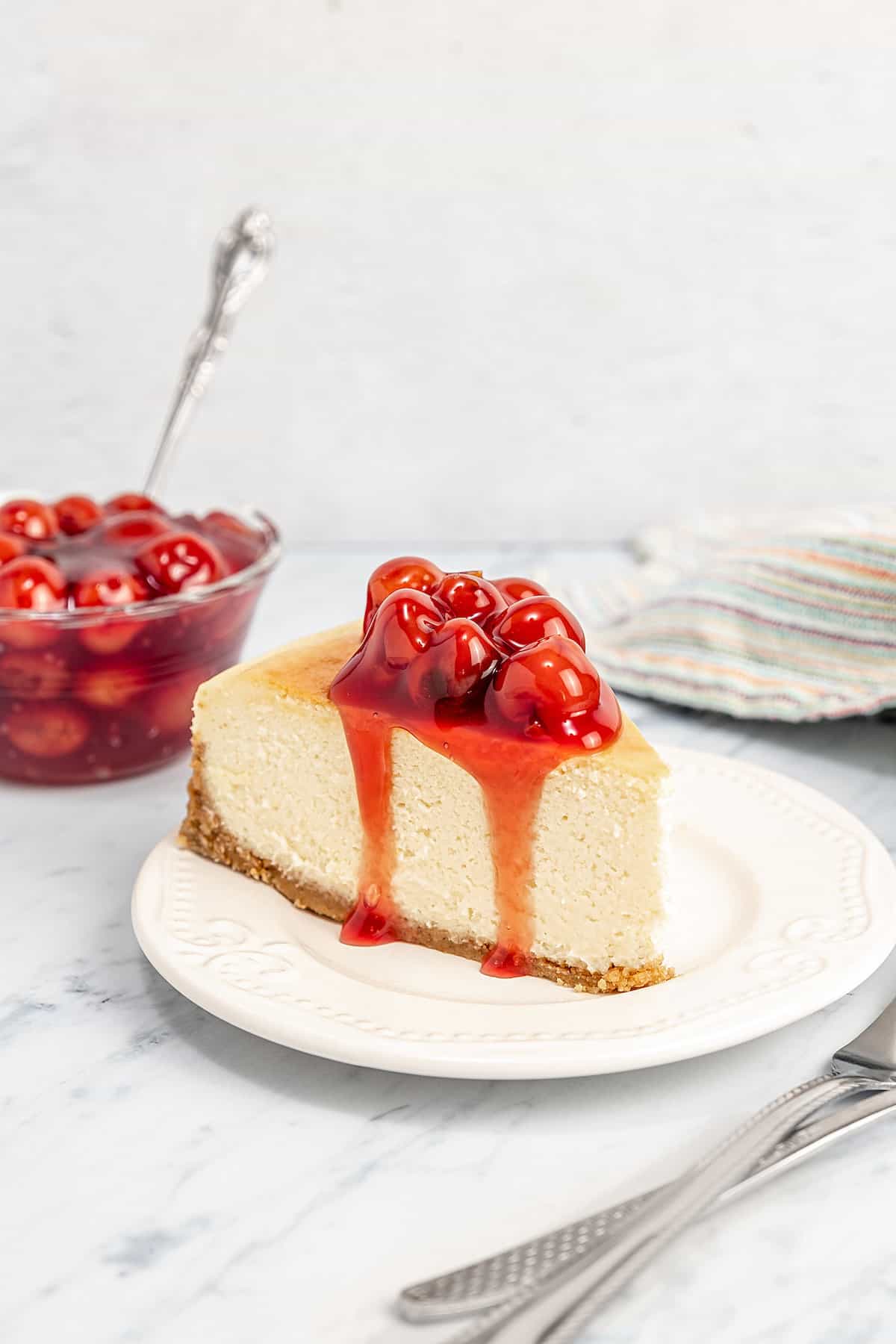 How to Store Cheesecake
Store homemade cheesecake airtight in the fridge for up to 2-3 days.
Can I Freeze Cheesecake?
Yes! This gluten-free cheesecake can be stored frozen for up to one month. Store the cheesecake whole or in slices wrapped tightly in plastic wrap, or in an airtight container. Thaw the cheesecake in the fridge before serving.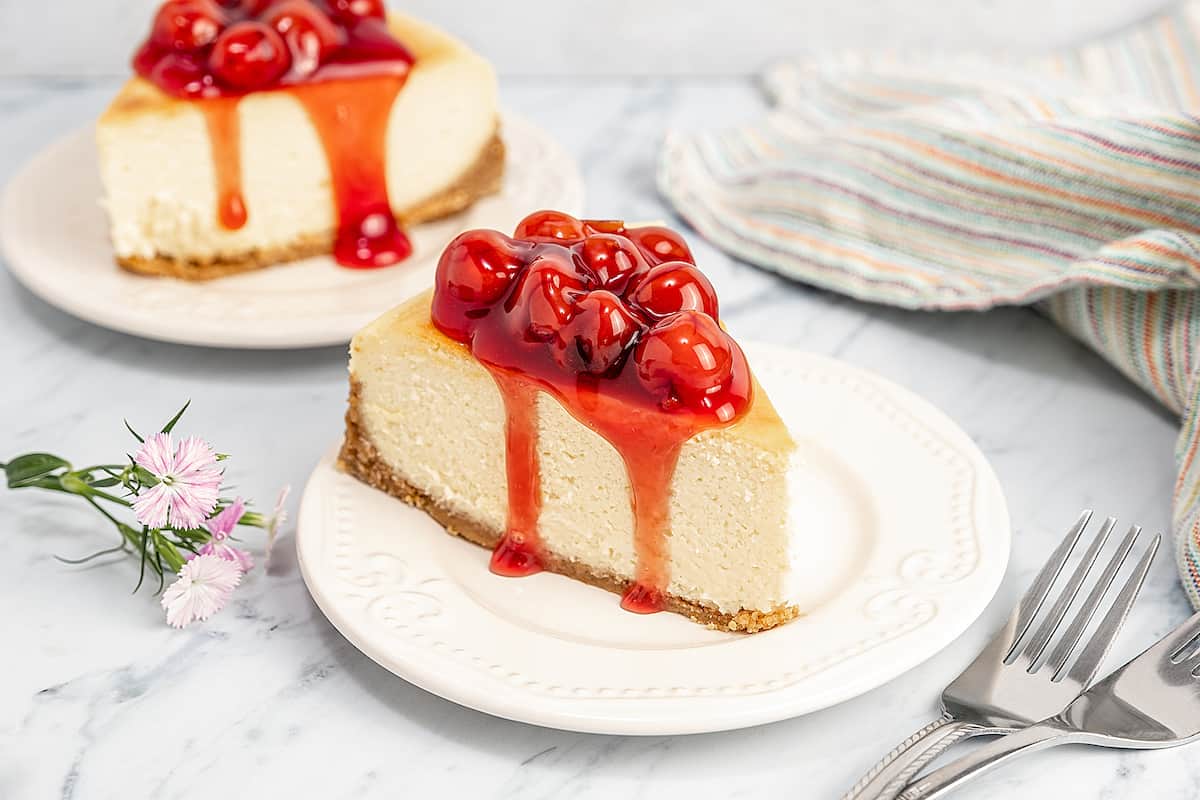 Get the Right Pan
As I said, you can bake this gluten free cheesecake in either a 9-inch or 10-inch springform pan. A while you have a choice of the size, a springform pan is essential. Since you can't flip a cheesecake out of the pan, you need this type of pan so you can remove the sides and be able to slice and serve it.
$17.00
$20.20
in stock
9 new from $7.99
1 used from $15.00
as of Dec 2, 2023 1:57 am
$22.55
in stock
as of Dec 2, 2023 1:57 am
Last updated on Dec 2, 2023 1:57 am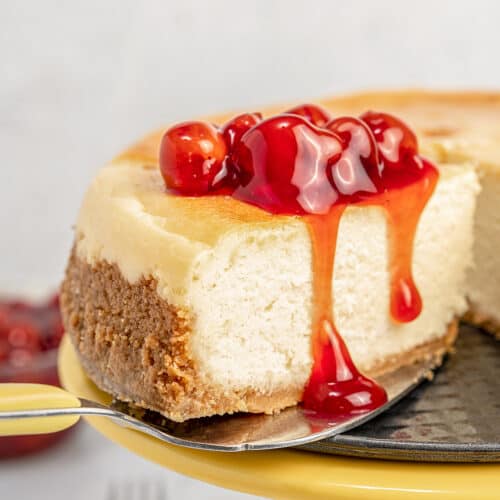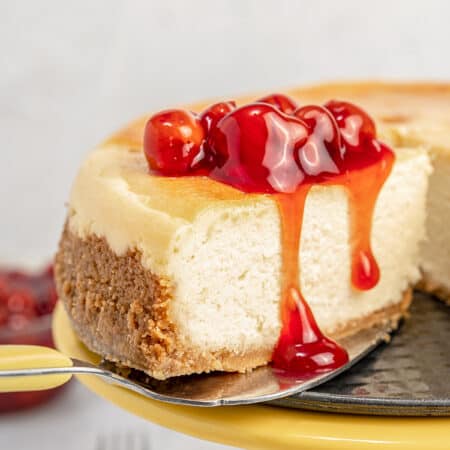 Gluten Free Cheesecake
This rich and creamy Gluten Free Cheesecake recipe is an indulgent gluten-free dessert, flavored with vanilla and lightened up with Greek yogurt! Top your slices with your favorite cheesecake toppings.
Servings:
12
-16 servings
Ingredients
For the Crust:
1 1/2

cups

gluten free graham cracker crumbs

(use my homemade Gluten Free Graham crackers or your favorite brand and pulse them in a food processor to form crumbs)

1/4

cup

granulated sugar

1/4

tsp

salt

5

tbsp

unsalted butter

, melted
For the Filling
32

oz

cream cheese

, at room temperature

2

cups

granulated sugar

3

tbsp

gluten free flour

4

tsp

pure vanilla extract

2

tsp

lemon juice

1/4

tsp

salt

6

large eggs

1/2

cup

full-fat plain greek yogurt
Instructions
Wrap the bottom of a 9" or 10" springform pan with heavy-duty aluminum foil. Be sure to cover the underside extending all the way to the top, with no seams on the bottom of the pan. Repeat this process with another sheet of aluminum foil to be sure water cannot seep in from the bottom. Spray the inside of the pan with nonstick cooking spray.

Make the crust: In a medium bowl, combine the graham cracker crumbs, sugar, and salt, and toss them together with a fork. Pour the melted butter over the top and toss until moistened evenly. It will be thick and sandy and should clump together loosely when pinched. Because gluten-free graham crackers can vary in moisture and consistency, you may need to add more crumbs if it is too moist, a tablespoon at a time, or more butter if it is too dry, about a half tablespoon at a time.

Transfer the crust mixture to your prepared springform pan. Using your hands or a glass, press it firmly into the bottom and up the sides of the pan. You will want to go about ¾- to 1-inch up the sides. Par-bake the crust at 350°F for 7-9 minutes or until golden and slightly crisp. Set aside.

Reduce the oven temperature to 325°F. Set a kettle of water to boil.

Make the batter: In the bowl of a stand mixer, fitted with a paddle attachment, beat the cream cheese, sugar, and flour together on medium speed until just smooth. Scrap the sides of the bowl down. Add vanilla extract, lemon juice, and salt and beat until just combined. Add eggs and beat on low speed until all of the eggs are incorporated into the mixture. Scrap down the sides of the bowl. Add the greek yogurt and mix until the batter is uniform.

Next, you will create a water bath by setting the cheesecake pan in a large roasting pan. Pour the cheesecake batter on top of the crust. Pour the boiling water into the large roasting pan. The water should come to about one inch on the sides of the outside of the cheesecake pan.

Bake in the oven at 325°F for 1 hour and 30 minutes to 1 hour and 45 minutes. Your cheesecake should be golden brown on top and not look runny in the center.

Carefully remove the roasting pan from the oven and set it aside to cool for 1 hour.

Remove the springform pan from the water bath and discard the foil. Run a thin-bladed knife around the edges to insure the edges are not sticking to the pan. Cover with plastic wrap and refrigerate overnight.

Remove the sides of the springform pan and serve with your favorite toppings.
Nutrition Facts
Gluten Free Cheesecake
Amount Per Serving (1 slice)
Calories 542
Calories from Fat 306
% Daily Value*
Fat 34g52%
Cholesterol 171mg57%
Sodium 439mg18%
Potassium 165mg5%
Carbohydrates 51g17%
Protein 9g18%
Vitamin A 1280IU26%
Vitamin C 0.3mg0%
Calcium 106mg11%
Iron 1mg6%
* Percent Daily Values are based on a 2000 calorie diet.
Categories:
More Easy Gluten-Free Desserts