This post may contain affiliate links. Read my disclosure policy.
Homemade Gluten Free Red Velvet Cake is a real showstopper, made ultra fluffy and moist thanks to some special ingredients! This easy red velvet cake recipe bakes up perfectly in under an hour, ready to be smothered with the best cream cheese frosting.
Craving more indulgent gluten-free cake recipes? Try my Gluten Free Chocolate Cake, too!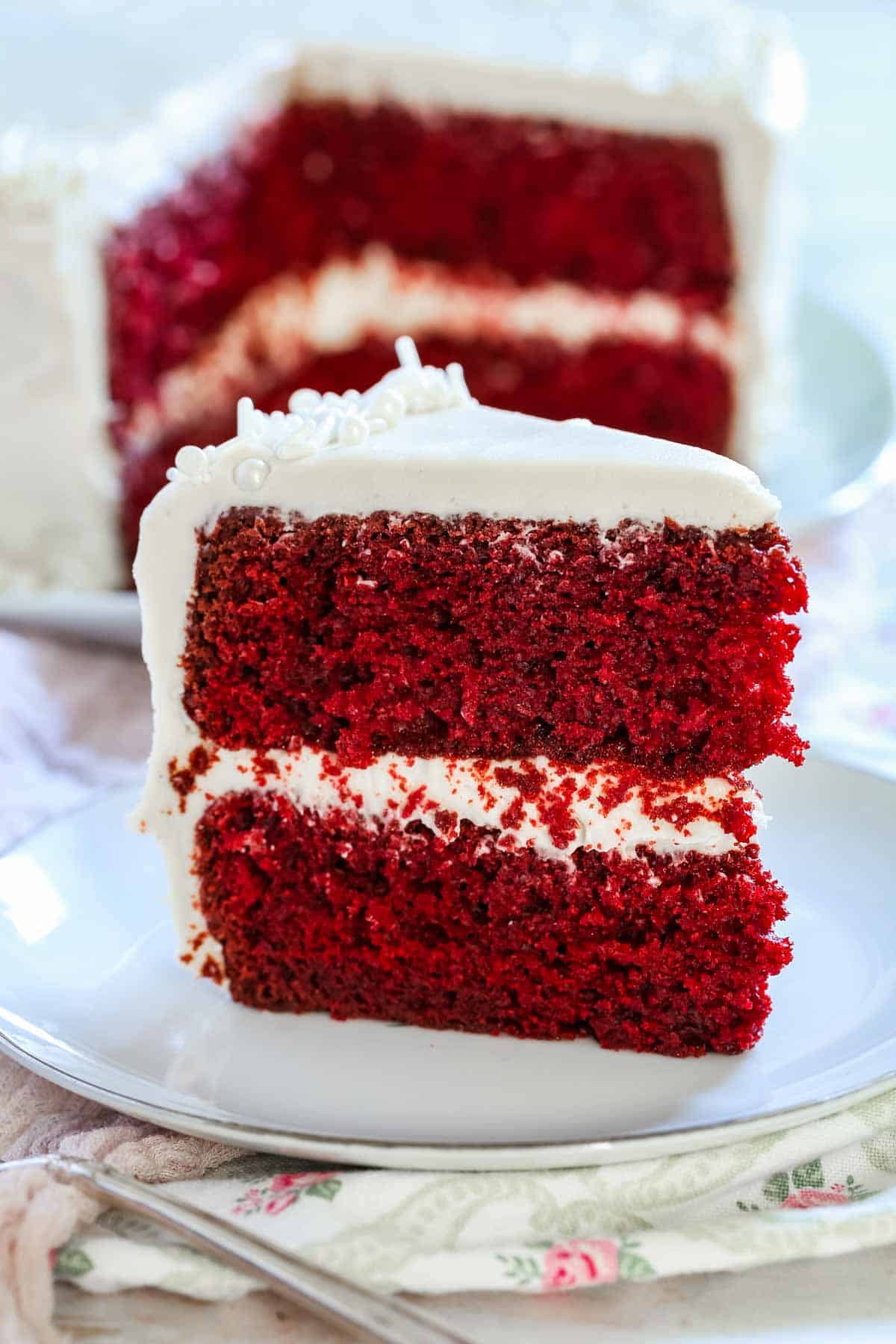 Moist Gluten-Free Red Velvet Cake with Cream Cheese Frosting
Today we're making the ultimate homemade red velvet cake that's 100% gluten-free and indescribably moist and delicious. I love everything about this easy gluten-free cake. The crumb is to-die-for, full of rich, slightly tangy flavor with a hint of cocoa. The recipe itself is straightforward, laced with some baking magic that gives this cake its gorgeous, signature red velvet color.
Topped with luscious and creamy homemade cream cheese frosting, it's a real showstopper of a cake, in looks and in flavor!
You'd never guess from looking at it just how easy this red velvet cake is to make. The end result is a beautiful and easy dessert that you can slice into for any occasion: holidays, Valentine's Day, birthdays, or simply just because.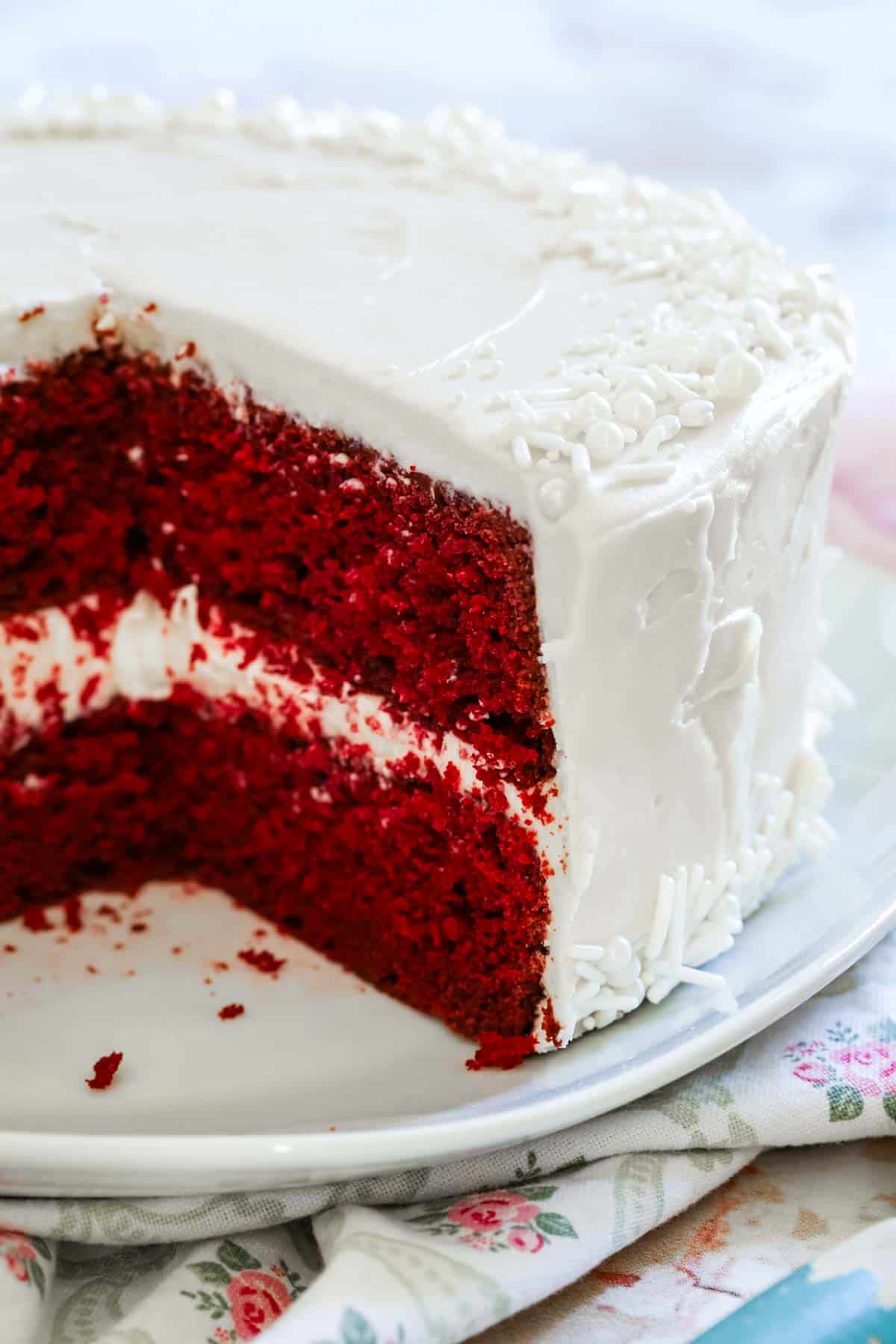 What's So Special About Red Velvet Cake?
So, what is red velvet cake, anyway? The main difference between red velvet and regular chocolate cake is in the amount of cocoa used in the recipes. While a fudgy chocolate cake calls for a good amount of cocoa powder, red velvet cakes use significantly less.
Traditional red velvet cakes weren't dyed red. Instead, their reddish coloring came from the acidity of the batter reacting with the cocoa powders of yore. Nowadays, most cocoa powder you'll find in stores is neutralized and treated, and not acidic enough to turn a cake red naturally. I add coloring to my cake, along with a few other acidity-boosting ingredients, to really bring out that eye-catching, bright red hue.
Why You'll Love This Recipe
On that note, let's discuss what's so special about this red velvet cake:
Gluten-free. This cake is made with gluten-free flour, for an easy dessert that's 100% safe for gluten-free diets.
Fluffy and moist. At the same time! Adding a small amount of vinegar to the cake batter turns out the most awesome, fluffy cake that's still insanely moist and tender.
Bright red color. This recipe yields a two-layer cake with the most deliciously vibrant, red velvet hue.
Easy to make. You can have this red velvet cake baked in under 1 hour. Then just let it cool, and get frosting.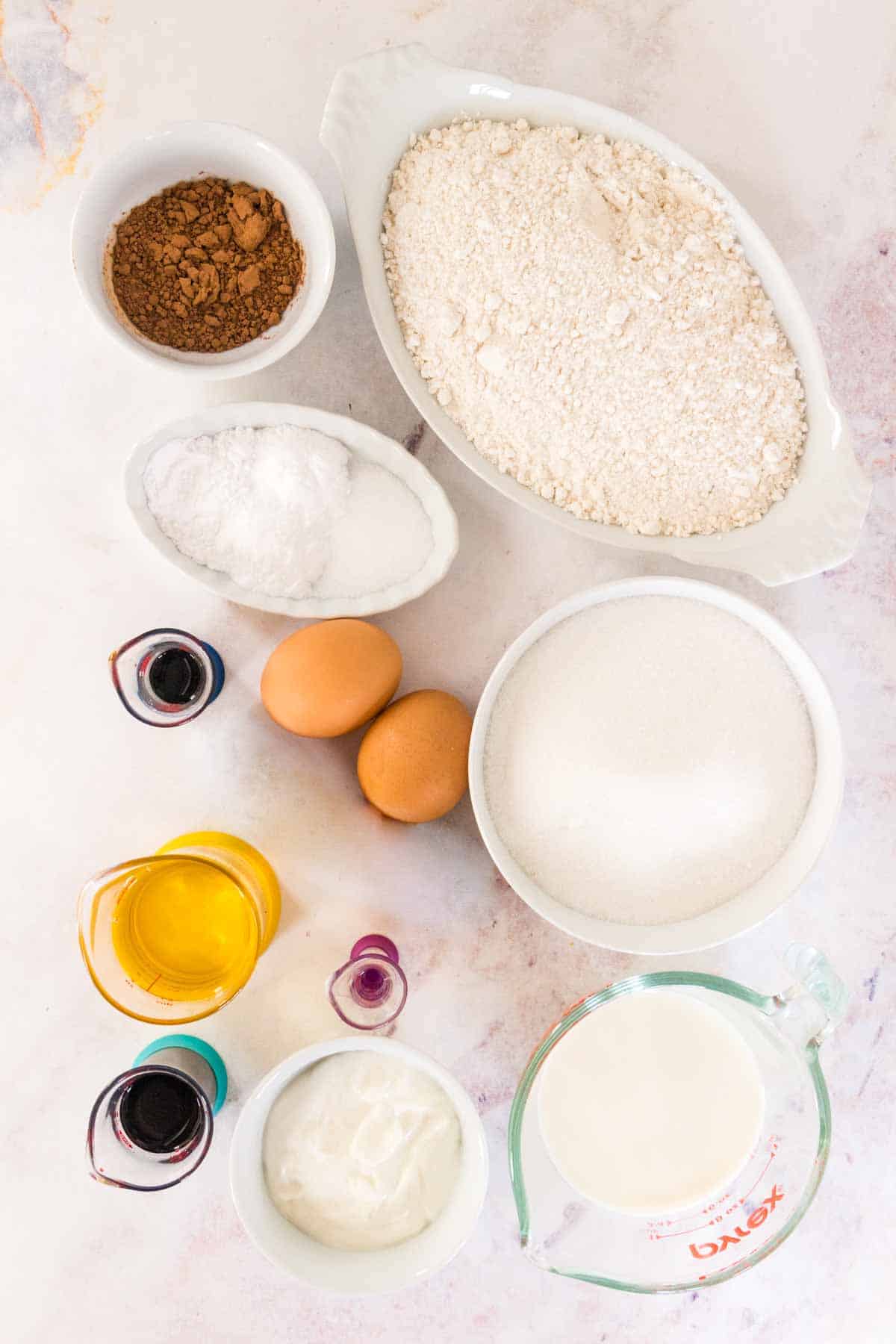 What You'll Need
Below you'll find a quick overview of the ingredients you'll need for this gluten-free red velvet cake. Remember to scroll to the recipe card for the full ingredient amounts.
Gluten-Free Flour: You'll need your preferred brand of gluten-free 1-to-1 baking flour. My go-to is Bob's Red Mill.
Cocoa Powder: You can use any variety of unsweetened cocoa powder you'd like.
Leavening: This recipe calls for a combination of baking soda and baking powder for leavening, along with salt to balance the flavors.
Sugar: For the most consistent results, use regular granulated sugar.
Oil: Vegetable oil, or another neutral-flavored oil like canola, contributes extra moisture to the cake.
Eggs: Eggs give the cake structure, and add richness to the crumb.
Vanilla: Vanilla extract adds flavor and enhances that hint of chocolate.
White Vinegar: The best vinegar to use in cakes is distilled white vinegar and not another kind, like white wine vinegar. I know, it sounds weird! But vinegar is key to making a perfect red velvet cake. See below for more details.
Milk and Greek Yogurt: Milk helps to thin out the batter, while Greek yogurt takes the place of buttermilk in this red velvet cake. This brings loads of moisture to the finished cake, not to mention an irresistible, subtle tang.
Red Food Coloring: You'll want to use liquid food dye when coloring your red velvet cake.
Cream Cheese Frosting: I have a simple and easy recipe for Fluffy Vanilla Cream Cheese Frosting that goes wonderfully with the flavors of this tangy chocolate cake. Feel free to use your own favorite frosting recipe or your preferred brand of store-bought.
What Does Vinegar Do in Baking?
A few things, but vinegar's main role in baking recipes is to encourage leavening. Adding a teaspoon of white vinegar doesn't impact the flavor much, and it reacts with the baking soda so that your red velvet cake bakes up to be moist and fluffy.
To get a little more science-y, including vinegar in a red velvet cake also lowers the pH (increasing the acidity), which in turn reacts with the pigments in the cocoa powder and the red food coloring to give the cake a more vibrant, bright red color.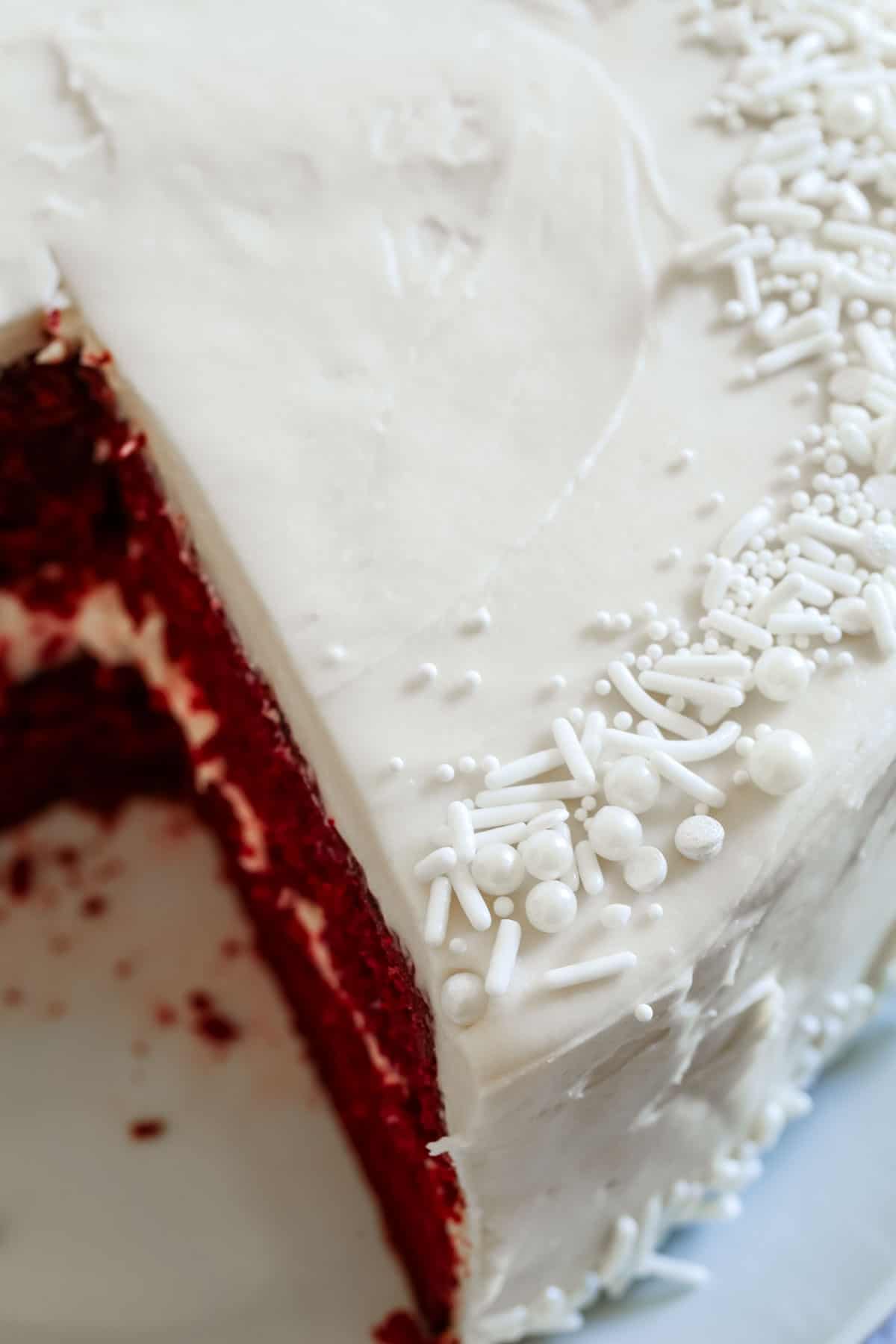 How to Make Red Velvet Cake
You don't need to be a baking master to master this easy red velvet cake recipe! This is the perfect cake to make for a celebration because it's really visually stunning yet so incredibly simple. Here's how to make the best gluten-free red velvet cake:
Sift the Dry Ingredients: You'll start by sifting together the flour, cocoa powder, and leavening ingredients into a large bowl.
Mix the Wet Ingredients: Next, beat together the sugar with the wet ingredients until well combined.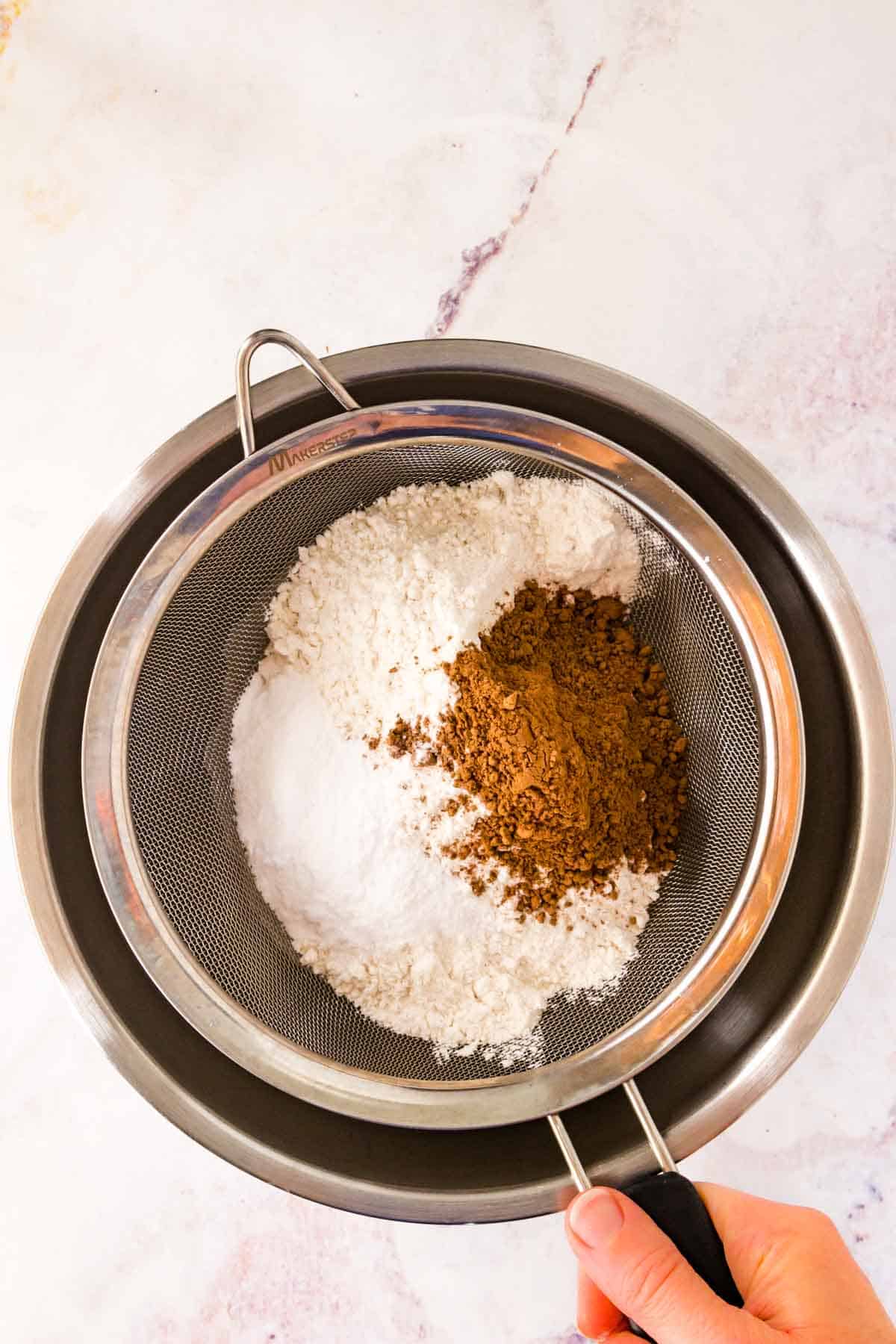 Make the Milk Mixture: In a container with a spout, whisk the milk with Greek yogurt and a few drops of red food coloring. This mixture will put the "red" in your red velvet cake.
Combine: Blend about one-third of the dry ingredients into the wet ingredients at a time, alternating with the red milk mixture. Once well mixed, you'll beat the batter for another minute or two so that everything is fully combined.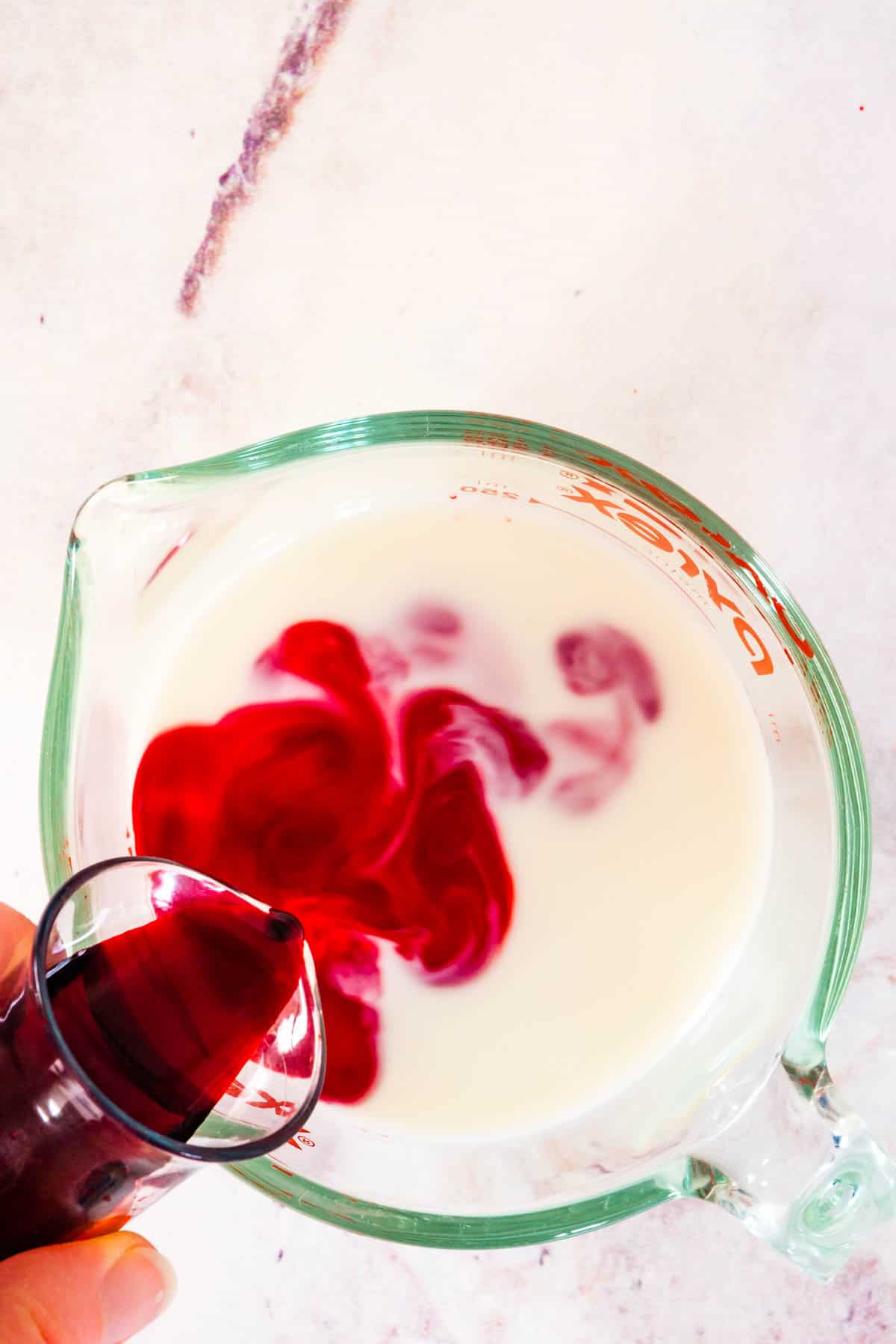 Fill the Pans and Bake: Now, divide the batter evenly between two greased and lined 8" round cake pans. Bake your red velvet cakes for 35 to 40 minutes at 350ºF.
Cool: Once your cakes are out of the oven, allow them to cool in the pans for about 10 minutes, before removing them. If needed, run a knife around the edges to help loosen the cakes from the pan, then turn them out to cool completely.
Frost the Cakes: When your gluten-free red velvet cake is cooled, get frosting! I frost this cake with my best-ever Cream Cheese Frosting, but you can use any frosting you prefer. See further down in this post for more easy frosting suggestions.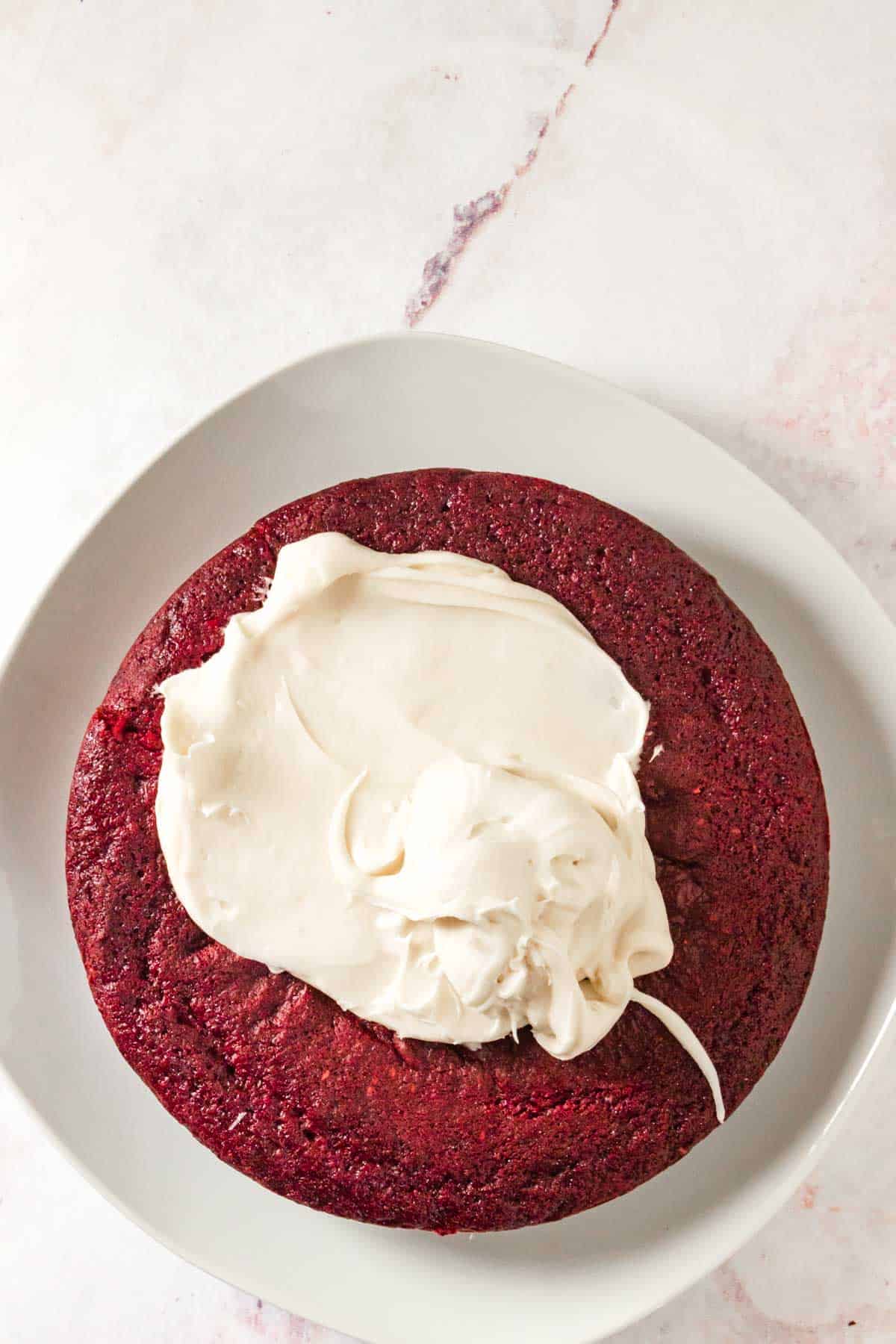 Tips for Success
Ready to bake some cake? Here are my additional tips and tricks for this easy gluten-free red velvet cake:
How do you keep this gluten-free cake moist? The key to this ultra-moist gluten-free red velvet cake is in the combination of ingredients like Greek yogurt, oil, and vinegar. It's also important to store your cake properly so that all that moisture is preserved. See below for tips on how to store a red velvet cake.
Can I make this in a different pan? Yes. If you bake this cake in 9" round pans, it will still turn out great, though the layers will be thinner. Alternatively, this recipe should yield enough batter to fill a 10" bundt pan for a red velvet bundt cake. Keep an eye on the cakes while they're in the oven and adjust the baking time as needed.
To check if your red velvet cake is done, use the toothpick test. Insert a toothpick into the center of the cake, and if it comes out clean, the cake is done.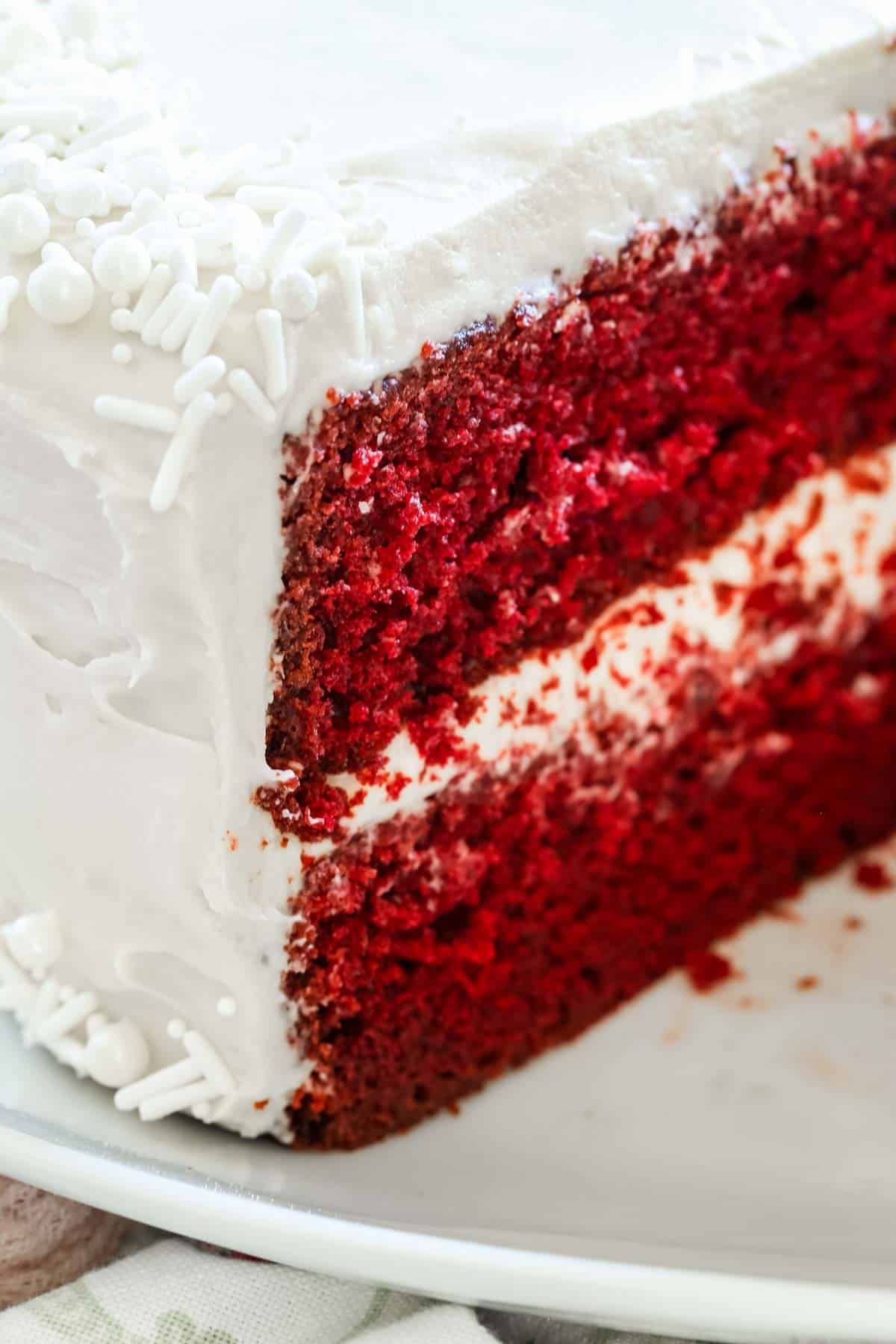 More Frosting and Variation Ideas
You can frost and decorate your gluten-free red velvet cake any way that you'd like. Try garnishing it with piped frosting swirls, or top it with fresh fruit like strawberries (go glam with White Chocolate Covered Strawberries). You can even go all out and drizzle your cake with toppings like caramel or chocolate sauce (or try my 5-Minute Bailey's Hot Fudge Sauce).
If you'd like to frost your cake with something different than cream cheese frosting, here are more easy frosting recipes that pair nicely: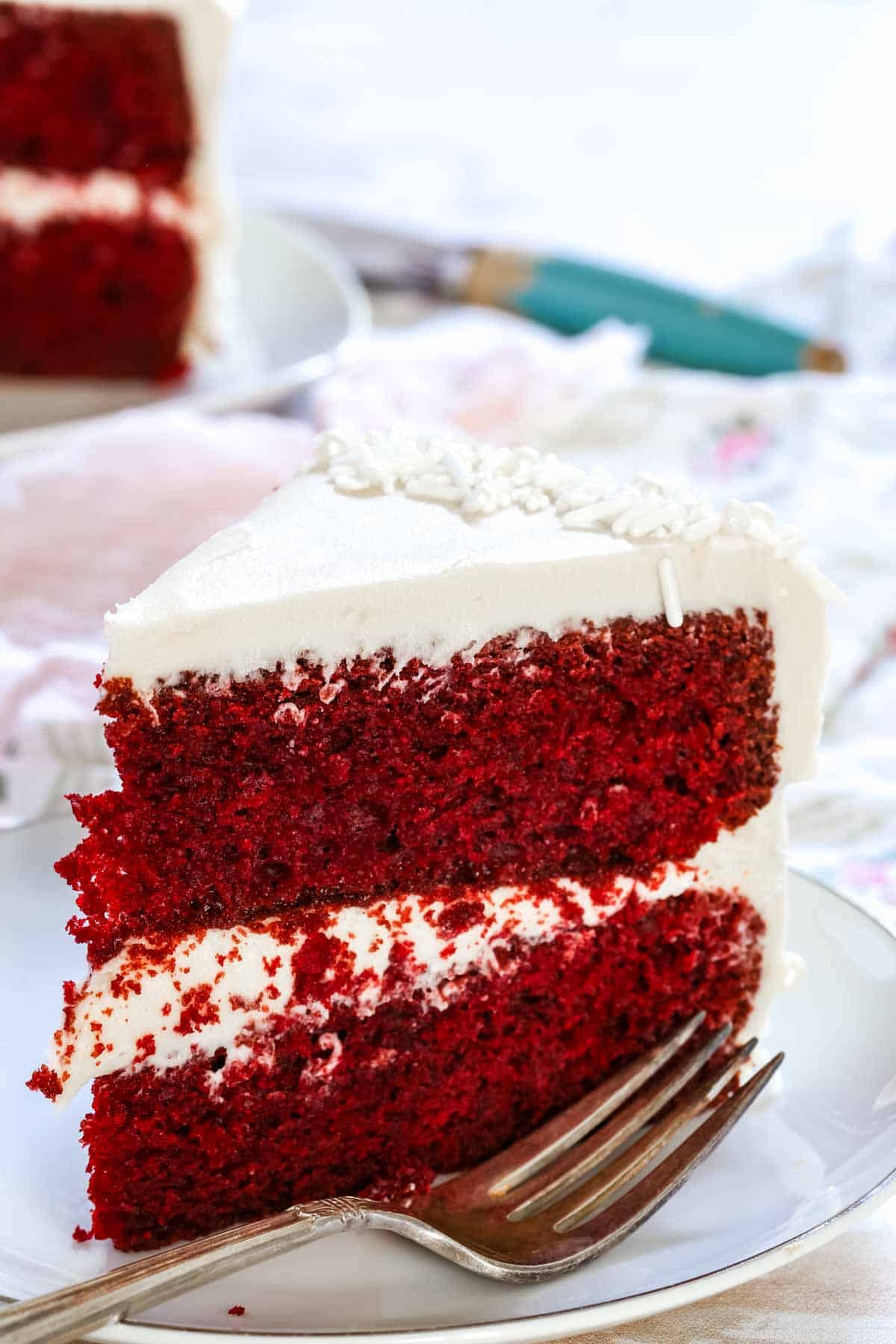 How to Store Gluten-Free Red Velvet Cake
Store your red velvet cake airtight in the fridge for up to 3-4 days. You can take the cake out of the fridge 15 minutes ahead of serving, to take the chill off.
Can I Freeze Red Velvet Cake?
While I don't recommend freezing the frosted red velvet cake, the individual cakes can be wrapped airtight and kept frozen for up to 3 months.
Thaw the cakes overnight in the fridge, then take them out to frost as usual.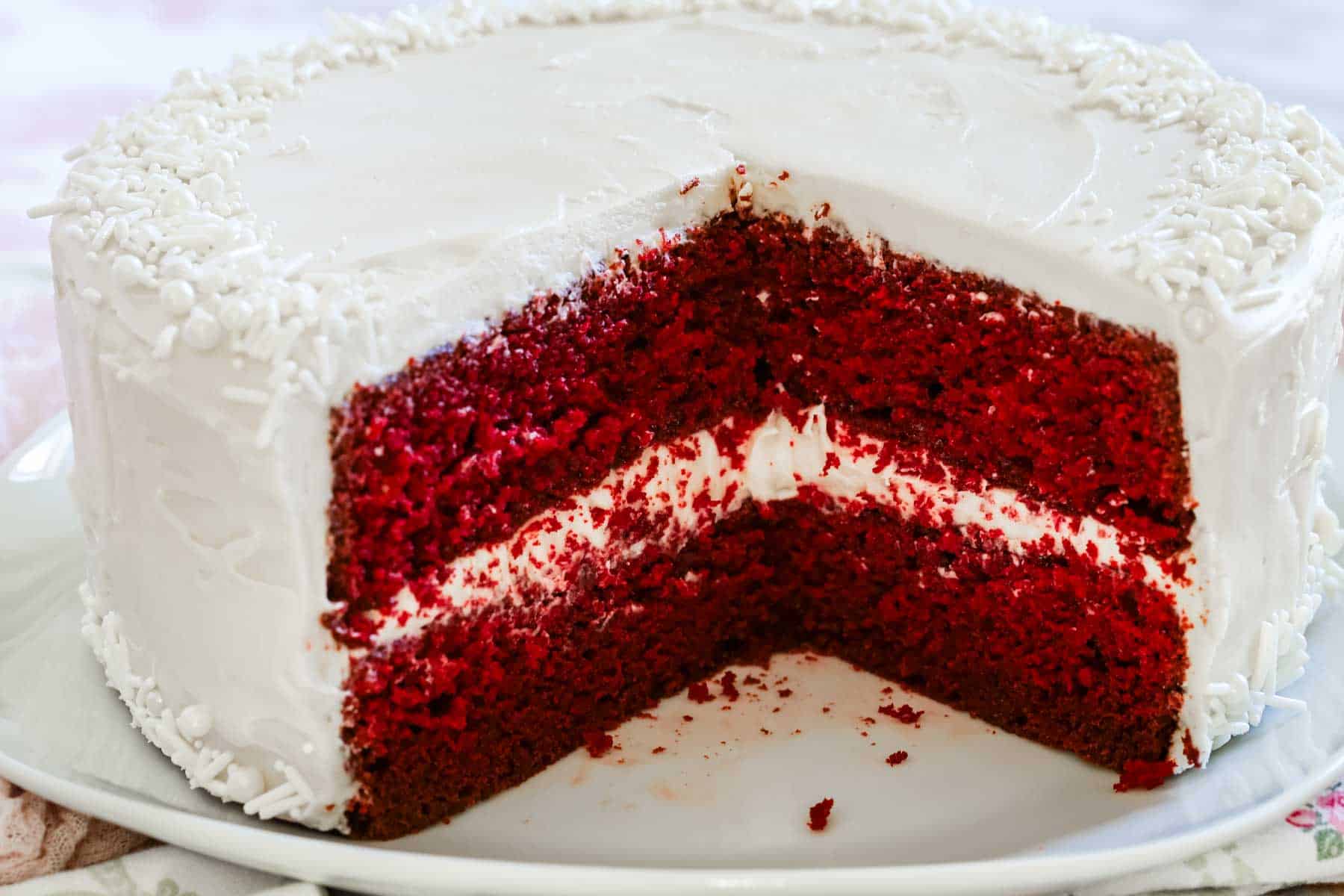 Things You'll Need
Last updated on September 22, 2023 9:52 am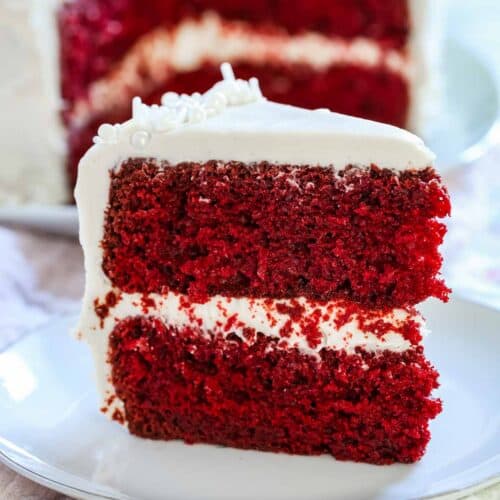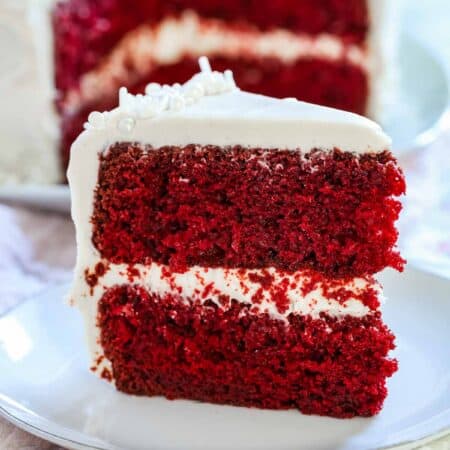 Gluten-Free Red Velvet Cake
This Gluten Free Red Velvet Cake bakes up in under an hour, made extra moist and fluffy thanks to some "secret" ingredients! Decorate your homemade red velvet cake with your favorite cream cheese frosting.
Ingredients
2

cups

gluten free 1-to-1 flour

(recommended; Bob's Red Mill 1-to-1 Baking Flour)

2

Tablespoons

unsweetened cocoa powder

2

teaspoons

baking soda

1

teaspoon

baking powder

1

teaspoon

salt

1 1/2

cups

granulated sugar

1/2

cup

vegetable oil

2

large eggs

(at room temperature)

2

teaspoons

vanilla extract

1

teaspoon

white vinegar

2/3

cup

whole milk

1/3

cup

plain Greek yogurt

2

Tablespoons

red liquid food coloring
Instructions
Preheat the oven to 350°F. Line two 8-inch round cake pans with rounds of parchment paper and spray them with nonstick cooking spray. Set aside.

In a bowl, sift together the gluten-free flour, cocoa powder, baking soda, baking powder, and salt. Set aside.

In a large mixing bowl or the bowl of a stand mixer, combine the granulated sugar, oil, eggs, vanilla extract, and vinegar. Using a hand mixer or the paddle attachment of a stand mixer, beat at medium speed for about 2 minutes, until well combined.

In a measuring cup or another container with a pour spout, stir together the milk, Greek yogurt, and food coloring.

Reduce the mixer speed to low and add about one-third of the dry ingredients. Blend in completely, then blend in about one-half of the milk mixture. Add another third of the dry ingredients, followed by the rest of the milk mixture and the remainder of the dry ingredients, fully incorporating between each addition. Increase the speed to medium and beat for another 2 minutes.

Divide the batter between the two 8-inch round pans and bake for 35-40 minutes until a toothpick can be inserted and comes out with a few moist crumbs.

Remove the cakes from the oven and place the pans on a cooling rack. Cool the cakes in the pans for about 10 minutes. Run a butter knife around the edge and turn the cakes out of the pans to cool completely on the racks before frosting.

Frost the cake with cream cheese frosting or your preferred frosting.
Nutrition Facts
Gluten-Free Red Velvet Cake
Amount Per Serving
Calories 203
Calories from Fat 72
% Daily Value*
Fat 8g12%
Cholesterol 22mg7%
Sodium 296mg12%
Potassium 59mg2%
Carbohydrates 31g10%
Protein 3g6%
Vitamin A 49IU1%
Calcium 43mg4%
Iron 1mg6%
* Percent Daily Values are based on a 2000 calorie diet.
Categories: