Healthy Apple Candy Bar Salad
Disclosure: This post may contain affiliate links. Cupcakes & Kale Chips is a participant in the Amazon Services LLC Associates Program, an affiliate advertising program designed to provide a means for us to earn fees by linking to Amazon.com and affiliated sites.
Apple candy bar salad gets a healthier twist without missing out on any of the sweet flavors by making it with Greek yogurt, chopped dark chocolate, and peanuts instead of the usual whipped topping and candy. Nutritious enough for a healthy snack but indulgent enough for dessert, your new favorite fruit salad will be this Healthy Apple Candy Bar Salad.
Healthy Apple Candy Bar Salad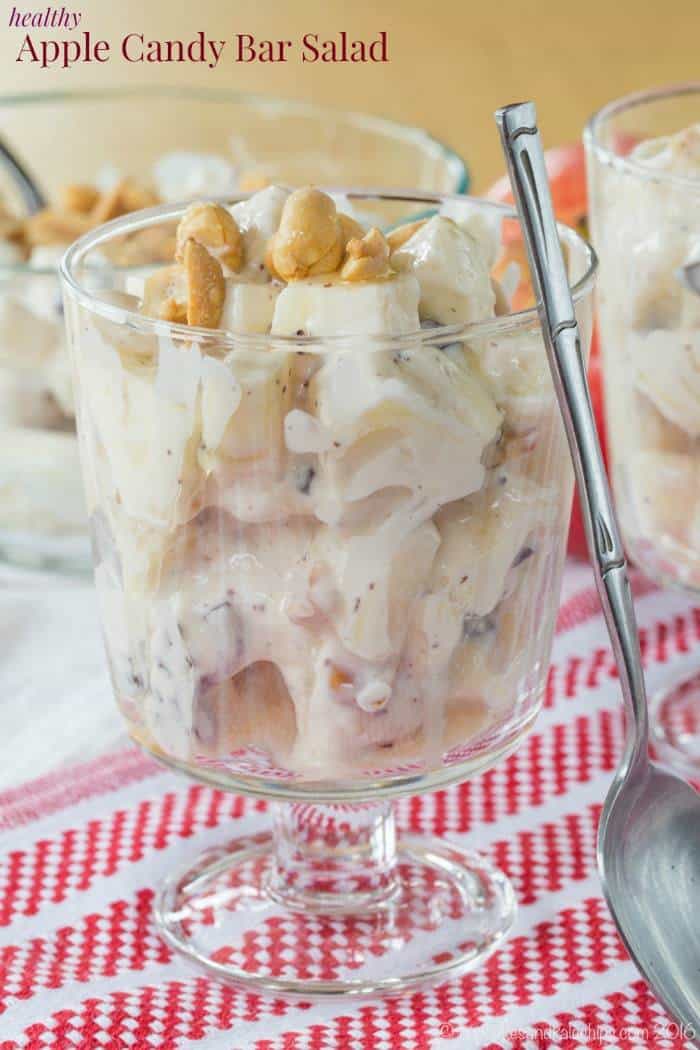 I grew up in the same small town where my mom and my grandfather grew up. It was a mostly Polish and Italian town long before the days of the Food Network and the internet. So other than my mom's hankering for enchiladas, I knew nothing of what people ate in other parts of the country, much less the world.
Of course I ate jello, but to me, something like a Creamsicle Jello Mold was dessert. Fruit salad was also usually found on the dessert table at barbecues as well. So in my world, floating fruit in Jello didn't make it a salad or a side dish. Don't get mad at me, but really, I thought it just made it gross. When my mom moved to Delaware, she discovered Pretzel Salad, with its layers of strawberry jello and pretzels and Cool Whip, at a local restaurant, and there was a mutual misunderstanding between her and the Delwareans. She couldn't figure out why it was on the list of sides and they were baffled when she ordered it to-go for dessert later in the evening.
As I started blogging, meeting people from all over the country, and perusing Facebook and Pinterest for recipes, I discovered that there's this whole segment of our fine nation that eats gelatin-based dishes as part of their main courses. This is apparently a thing! And then there's the whole world of fluff and sea foam and candy bar salad. That people eat with their meal! Like seriously, Snickers with dinner.
Mind blown, people. Mind blown.
And I'll be honest, I'm not sure I can get on that gravy train (jello train?) just yet, but maybe, just maybe if I made it a wee bit healthier while still keeping the sweetness (and the CHOCOLATE!) you might convince me that this can at least be part of breakfast or brunch…
While I might prefer to enjoy it as dessert, if you want to serve this Healthy Apple Candy Bar Salad with your dinner, go for it!
Why? Well this Healthy Apple Candy Bar Salad still has the creaminess, chocolate, and peanuts from the usual Snickers salad, but I swapped out the whipped topping and the actual Snickers bars. Greek yogurt, cream cheese, and honey make up the sweet, creamy "dressing", and besides the apples, the fruit salad is loaded with chopped dark chocolate (hello antioxidants!), chopped peanuts (hello protein!), and a drizzle of honey for that bit of sticky goodness. So you see, all the best parts of a candy bar, but you can totally feel good about eating this candy bar salad any time of the day or night!
Healthy Apple Candy Bar Salad is the stuff fruit salad dreams are made of!
If you like this recipe, you'll love these…

Want to chat with fellow foodies? Join my No-Fuss Food and Fun group on Facebook. Everyday we have fun topics, share recipes and ideas, ask and answer questions, and see all of my new Cupcakes & Kale Chips creations! If you'd like to check it out, you can request to join HERE.
For more yumminess from me and my foodie friends, keep up with me on…
Or sign up to have Cupcakes & Kale Chips delivered straight to your Inbox!

Some things you might need…
 Here's the recipe for Healthy Apple Candy Bar Salad…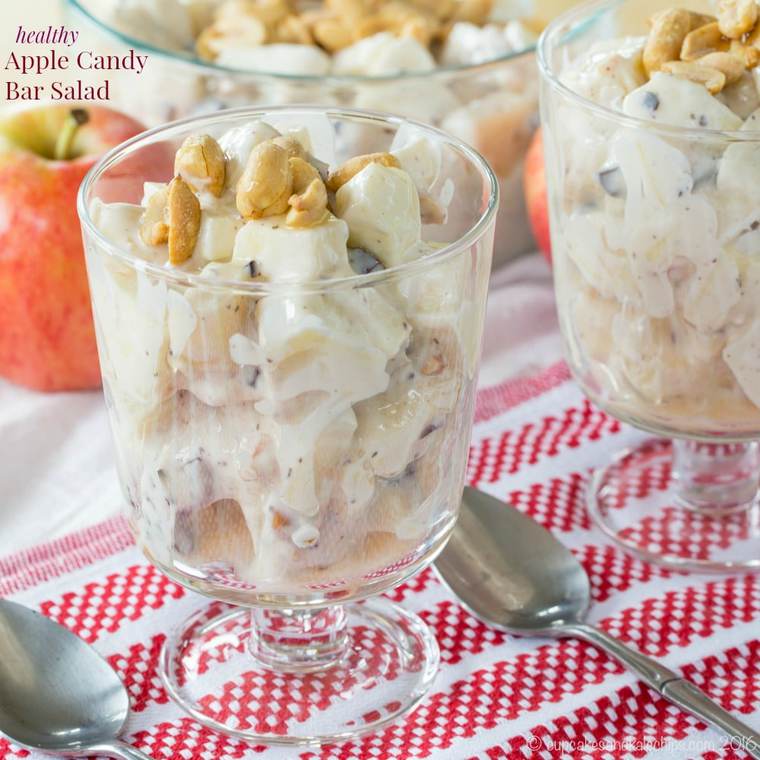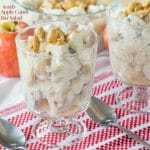 Print Recipe
Healthy Apple Candy Bar Salad
A healthier version of Snickers salad, you'll love this fruit salad recipe for breakfast, brunch, snack, or dessert.
Ingredients
1

cup

plain Greek yogurt

4

oz

cream cheese

light is fine to use, at room temperature

1

Tablespoon

vanilla extract

1/4

cup

honey

plus extra for drizzling

5

medium

apples,

peeled and chopped, about 5-6 cups

1/4

cup

chopped peanuts

1/4

cup

whole roasted peanuts

1

oz

chopped dark chocolate

or 1/4 cup mini chocolate chips
Instructions
In a bowl, combine the Greek yogurt, cream cheese, vanilla, and honey, and stir or blend with a hand mixer until smooth.

Fold in the apples, chopped peanuts, and chocolate.

Transfer to a serving bowl or individual cups or glasses and sprinkle with whole peanuts and drizzle with additional honey, if desired.
Nutrition
Serving:
1
g
|
Calories:
276
kcal
|
Carbohydrates:
40
g
|
Protein:
10
g
|
Fat:
9
g
|
Saturated Fat:
2
g
|
Cholesterol:
4
mg
|
Sodium:
220
mg
|
Potassium:
344
mg
|
Fiber:
5
g
|
Sugar:
31
g
|
Vitamin A:
115
IU
|
Vitamin C:
7
mg
|
Calcium:
132
mg
|
Iron:
1.1
mg
Enjoy this Healthy Apple Candy Bar Salad!