This post may contain affiliate links. Read my disclosure policy.
Rich and fudgy brownies with a ripple of sweet and tangy Italian-inspired cheesecake for a little twist on your usual cheesecake brownies, for a simple chocolate dessert that's right in between classic and classy (and gluten free too), try these Flourless Ricotta Cheesecake Swirl Brownies.
Flourless Ricotta Cheesecake Swirl Brownies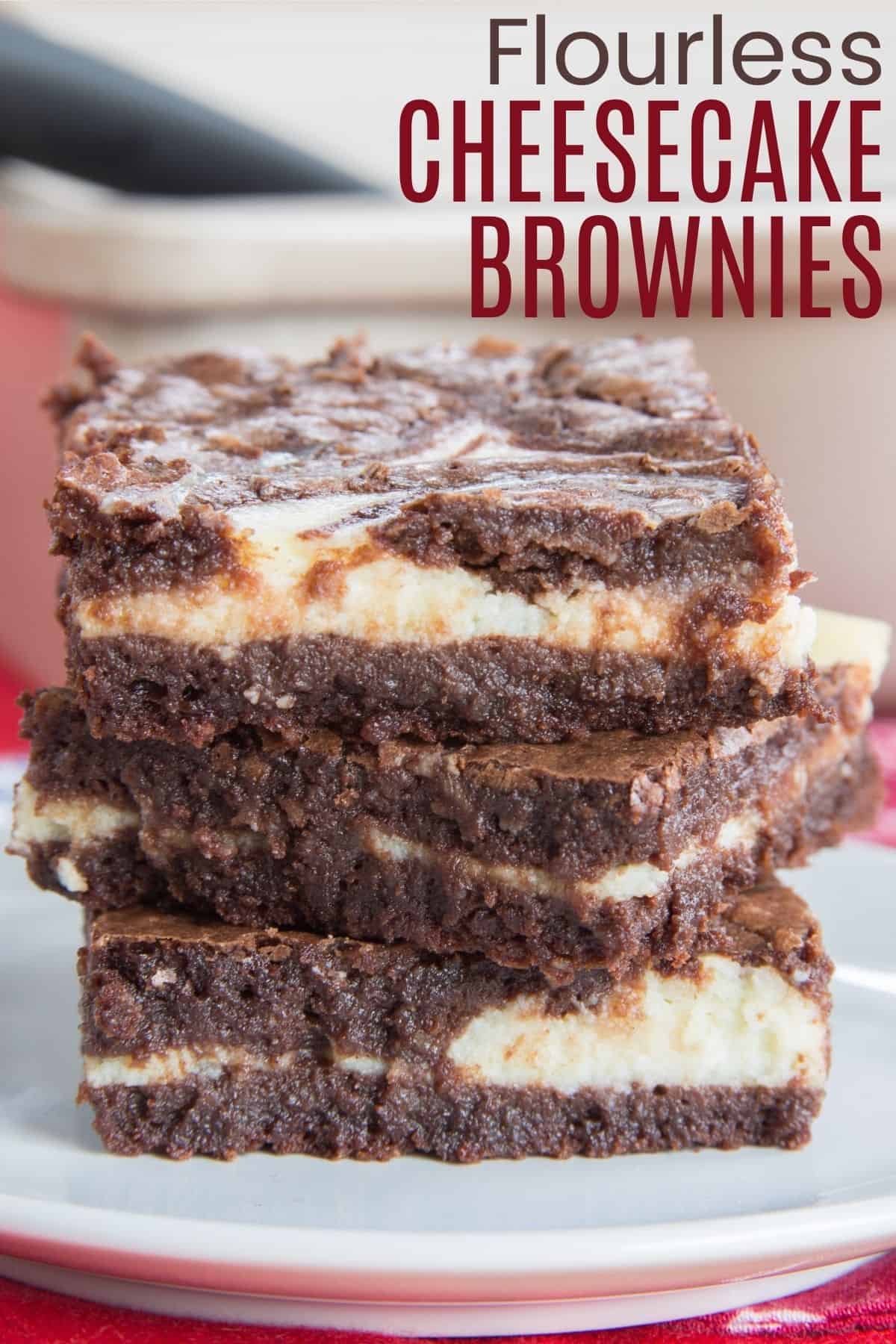 A few weeks ago I had to take The Bug to Children's National Hospital in Washington, DC, for some testing. Everything is fine, and I pretty much had a feeling everything would be fine, so I really wasn't too concerned during our time there. So as we got lunch before his tests and as I walked the halls, I saw parents with kids who were really sick. I heard the father extending his visitor's pass for another month so that he could continue to come visit his newborn baby. I saw the playrooms for the kids who were there for long periods of time. I read the brochures for parents with kids that would be staying there for awhile about establishing a routine for when you would be coming and going so that the child knew what to expect everyday.
I can't even fathom it. I pray to God I never have to. So far, we have been very blessed to have two healthy boys. But that could change at any instant. At any moment I could be experiencing what these parents are experiencing. One of my children could be dealing with the testing and medications and treatments. My heart goes out to all of these parents and children. They are in my prayers always. Even in the moments when they feel the most weak and vulnerable, they are stronger than I have ever been.
But then I also thought about all of the healing going on inside those walls. The kids getting stronger, getting better, going home. That's why those kids and parents have to be strong – so that they can always keep the hope that they will see that day. And everyday doctors and researchers are learning something new and saving lives. That is why there is hope. I'm going to focus on the hope.
But I wish there were more I could do. I wish I knew what to say. For now, though, one little, teeny, tiny thing I can do is make some brownies…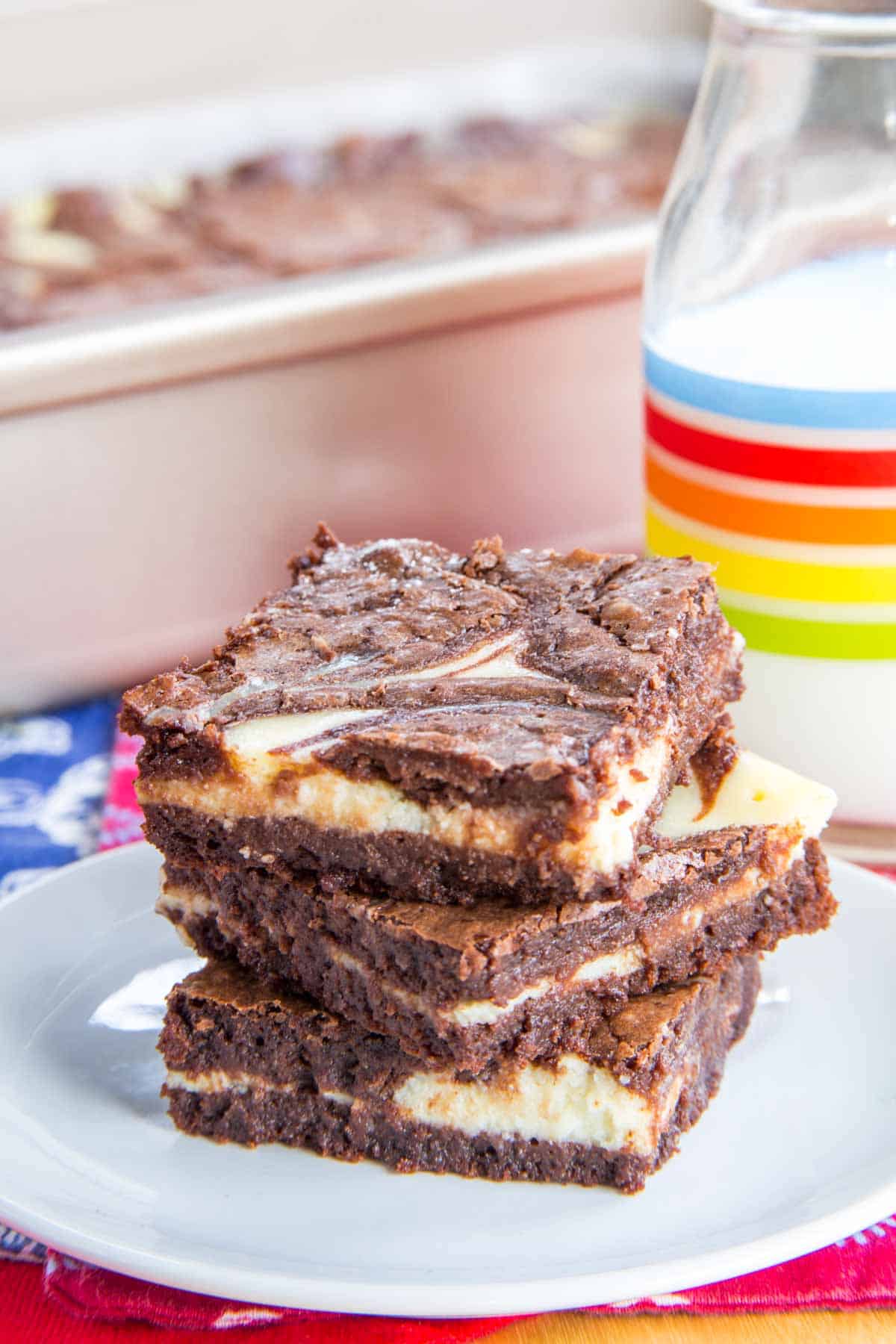 Flourless Ricotta Cheesecake Swirl Brownies are inspired by my friend Liz's Ricotta Cheesecake Brownies. Ever since I saw her gorgeous treats, I knew I had to add that luscious cheesecake swirl to my favorite flourless brownie recipe. It's been a long time coming, but I am so thrilled I finally made it. While both batters are rich, the slightly tangy and creamy ricotta cheesecake is a perfect complement to the rich and fudgy brownies. I literally had to send them to work and wrap some to hide in the freezer (for a potential future use, since I love repurposing brownies). It's a perfect balance between a much-loved childhood sweet and an elegant adult dessert.
[Tweet "Flourless Ricotta Cheesecake Swirl Brownies – classic and classy!"]
But what makes these brownies so special isn't how wonderful they taste. It's the wonderful campaign that I made them for…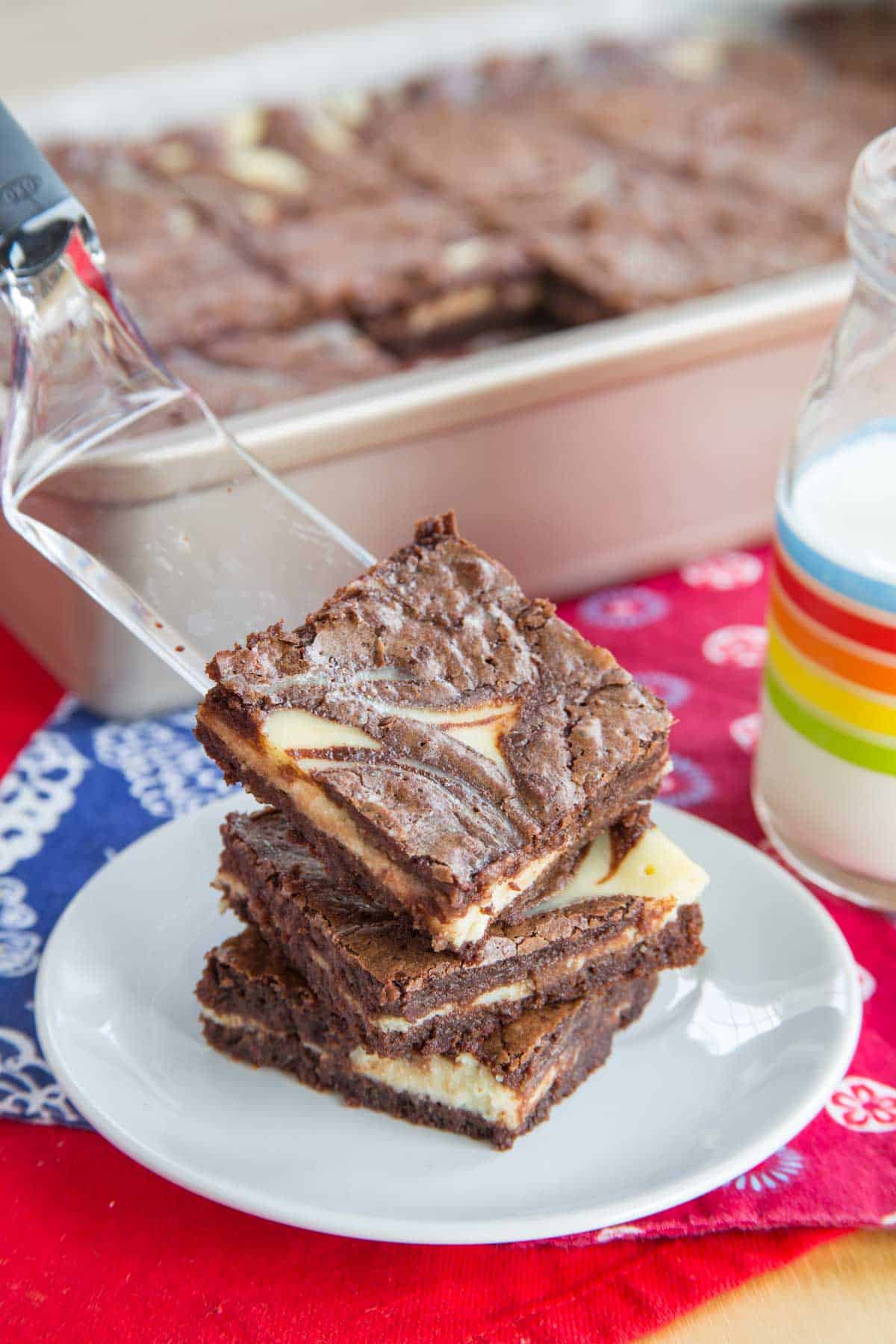 OXO is back again this year with their annual campaign to support Cookies for Kids' Cancer. This charity was founded by two OXO employees after their son's battle with pediatric cancer. Their aim is to provide inspiration and support for anyone to easily get involved in raising money to help find a cure for this disease that claims then lives of more children in the U.S. than any other disease.
Once again, OXO is donating $100 to Cookies for Kids' Cancer for each blog post dedicated to this campaign in October. What Cookies for Kids' Cancer does is huge and inspiring, and I am thrilled to have even a small part in supporting this organization and OXO's annual campaign to Bake a Difference.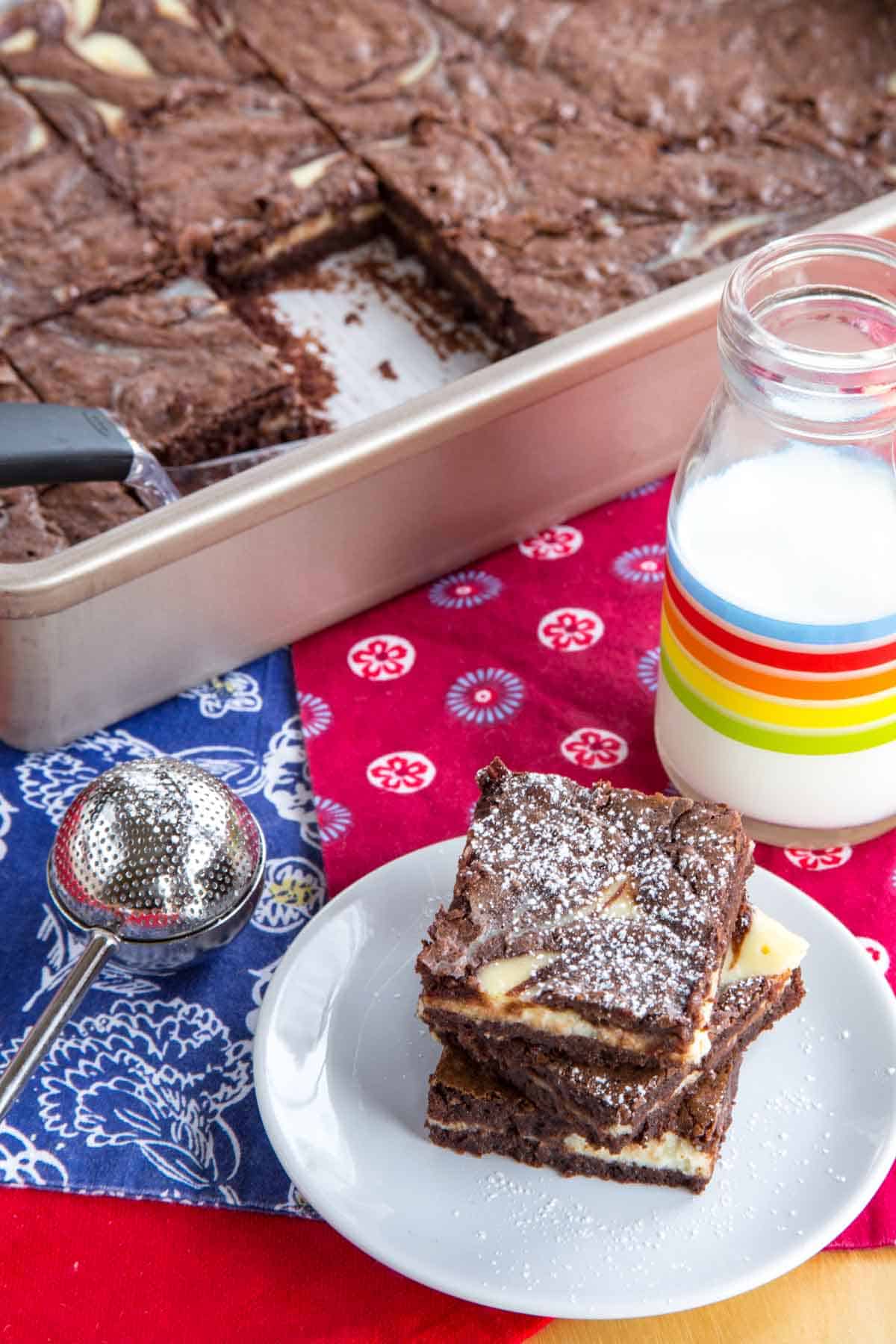 In addition to the donations for all of the blog posts by the bloggers participating in this year's event, OXO will also donate twenty five cents for every product purchased that has this logo: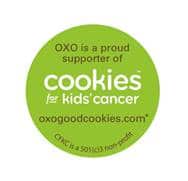 So make sure you look for it when you are buying any gadgets and goodies for your upcoming holiday baking, like the products that I used to make these brownies: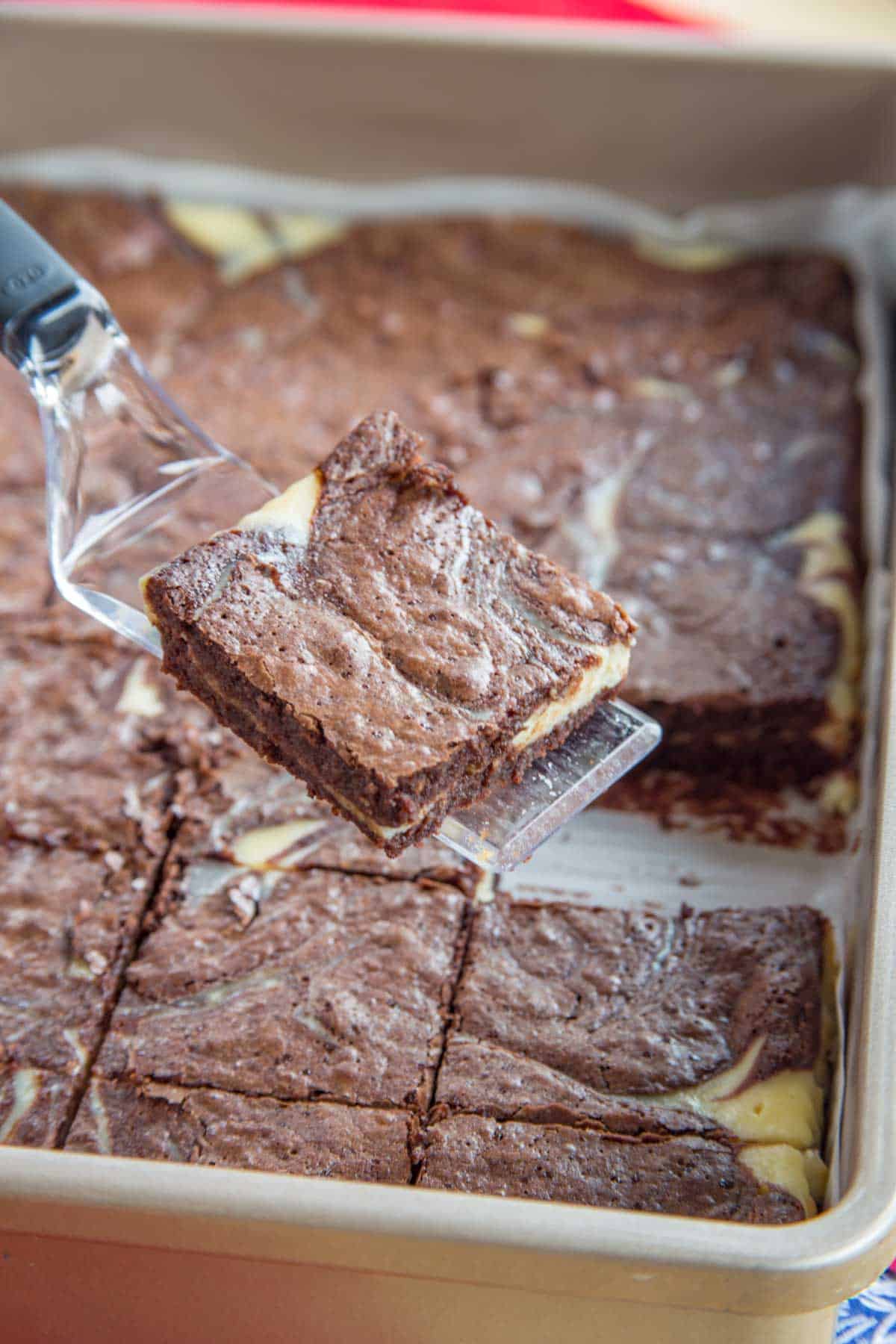 I can't forget the fine print:
Cookies for Kids' Cancer is a recognized 501c(3) public charity duly incorporated under the laws of the state of New Jersey. Your donations are tax deductible to the fullest extent allowable by law. 100% of proceeds raised by Cookies for Kids' Cancer fund pediatric cancer research.
OXO will be donating $100 to Cookies for Kids' Cancer for each blog post dedicated to this campaign in October (up to our $100,000 commitment*.)
*In 2015, OXO will donate up to $100,000 to Cookies for Kids' Cancer through product proceeds, bake sale matches and other fundraising efforts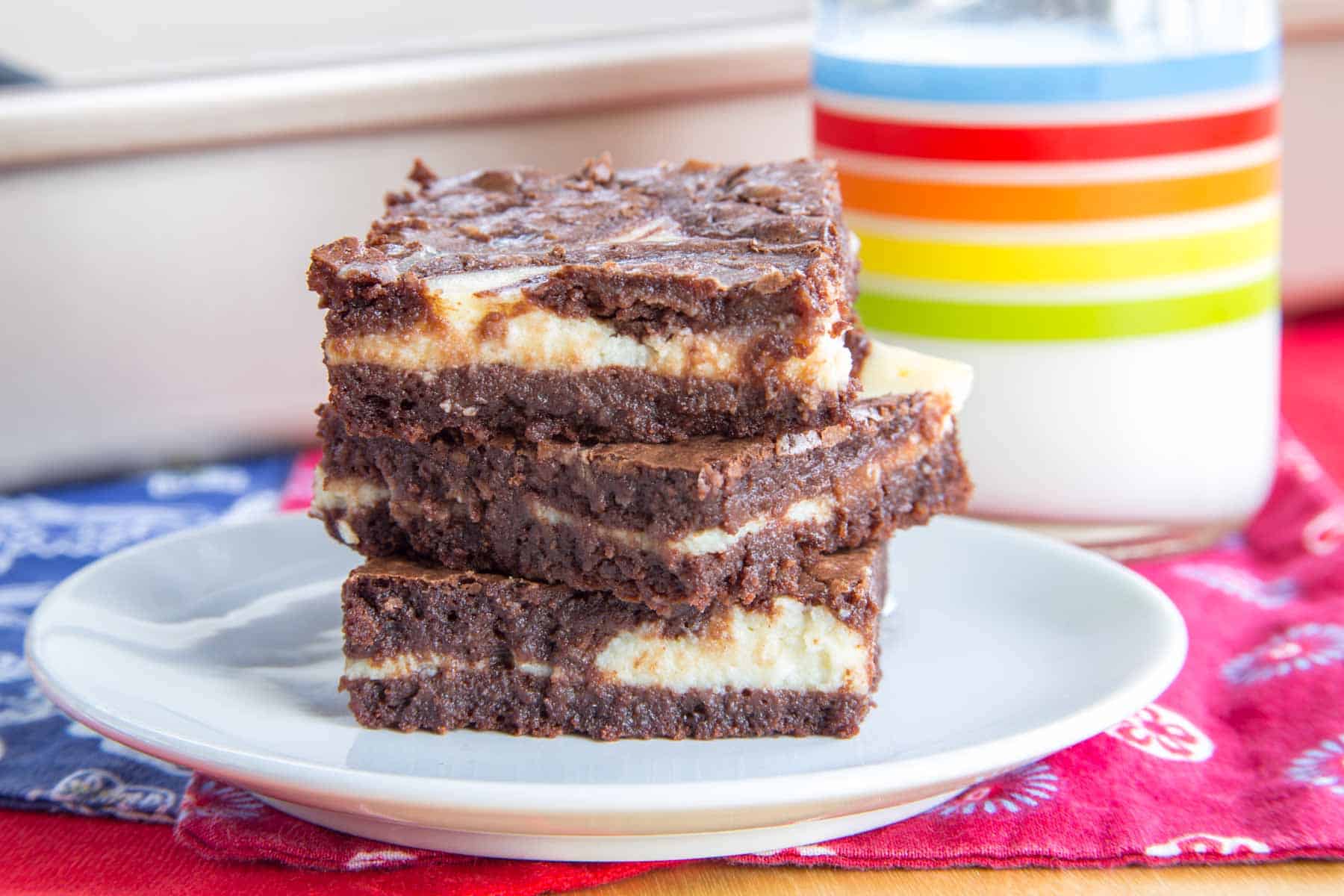 How have you been touched by kids' cancer?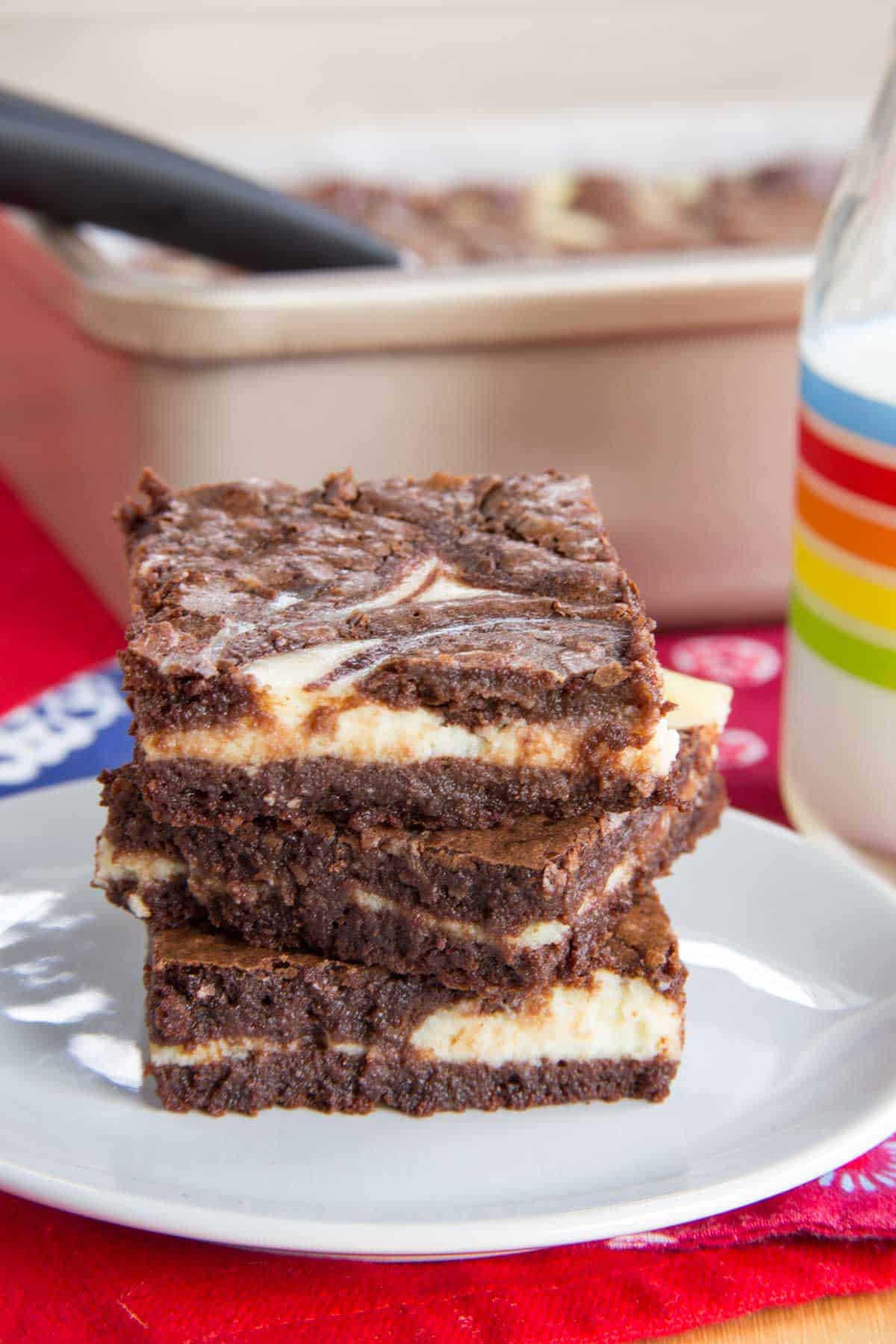 Flourless Ricotta Cheesecake Swirl Brownies
A classic and classy chocolate dessert with ripples of cheesecake through rich and fudgy brownies.
Ingredients
Ricotta cheesecake batter:
½

cup

whole milk ricotta cheese

3

ounces

cream cheese

at room temperature

1

teaspoon

cornstarch

1/4

cup

sugar

1

large

egg

1/2

Tablespoon

milk

1/2

teaspoon

vanilla extract

1

Tablespoon

lemon juice

1

pinch

salt
Instructions
Preheat your oven to 350°F and line a 13x9 inch pan with parchment paper.

In a double boiler or a bowl set over a simmering pan of water, melt the butter, then add the chocolate chips, stirring until melted. Set aside to cool slightly.

In a large bowl, whisk together the eggs and sugar for a minute or two.

Add melted chocolate mixture a little at a time, whisking well after each addition.

Whisk in the cocoa powder, almond meal, salt, and vanilla. Set the batter aside.

Combine the Ricotta cheesecake ingredients in a bowl and beat until smooth.

Pour about two thirds of the batter into the prepared pan and spread evenly.

Drizzle the cheesecake mixture over the batter, then dollop the rest of the brownie batter on top, and swirl with a butter knife.

Bake at 350°F for 25-30 minutes, or until just set in the middle.

Cool completely in the pan before cutting.
Nutrition Facts
Flourless Ricotta Cheesecake Swirl Brownies
Amount Per Serving (1 brownie)
Calories 164
Calories from Fat 81
% Daily Value*
Fat 9g14%
Cholesterol 52mg17%
Sodium 96mg4%
Potassium 99mg3%
Carbohydrates 16g5%
Protein 3g6%
Vitamin A 200IU4%
Vitamin C 0.2mg0%
Calcium 42mg4%
Iron 1mg6%
* Percent Daily Values are based on a 2000 calorie diet.
Categories:
Here are some more treats for a cause that I've made…
The Bug's Ultimate Healthier Funky Monkey Cupcakes
White Chocolate Cranberry Cashew Oatmeal Cookies
Snowballs
Plus some #OXOGoodCookies from my friends…