This post may contain affiliate links. Read my disclosure policy.
Gluten Free Almond Crescent Cookies are a tender, buttery cookie with a hint of almond flavor, dipped in dark chocolate, and made extra festive with sprinkles. And this easy gluten free cookie recipe has only four ingredients plus the decorations! Whether you are gluten free or just baking for someone who is, you'll love how I updated Almond Crescents so that I can still enjoy favorite Christmas cookies.
Don't need a gluten-free cookie recipe? Check out my classic Almond Crescent cookie recipe made with regular all-purpose flour.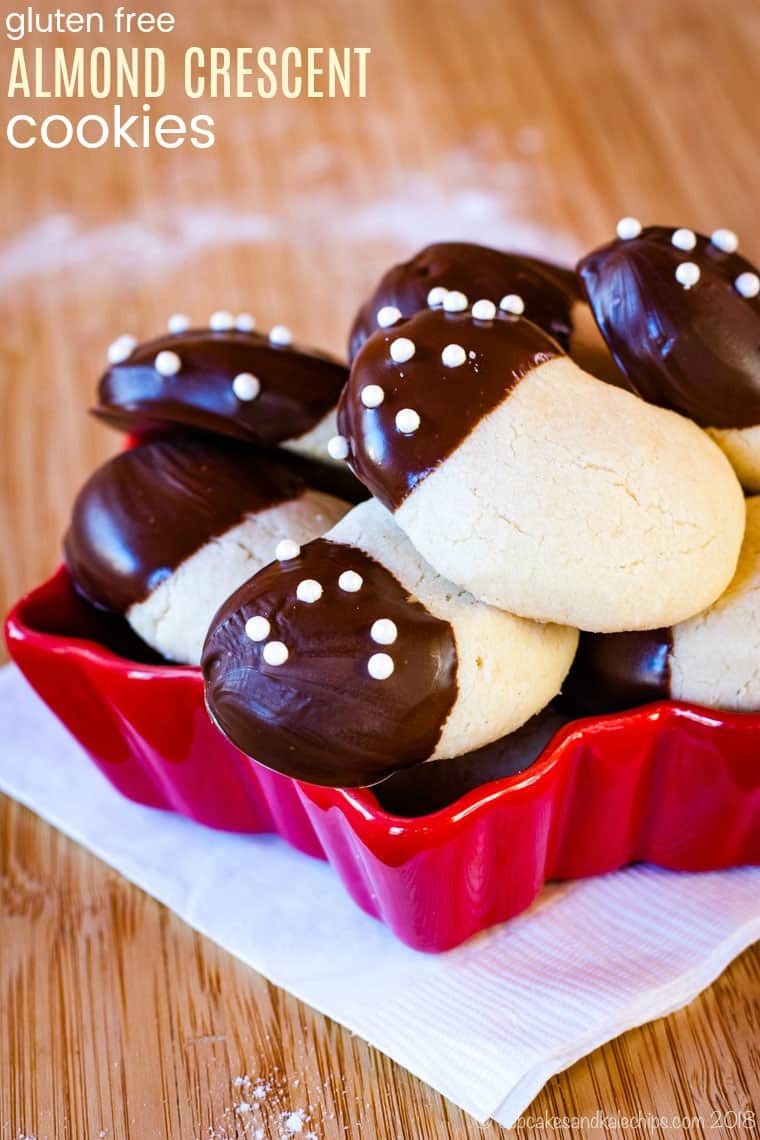 How to Make Gluten-Free Almond Crescent Cookies
Until relatively recently, I've been a gluten free "dabbler". I sort of dipped my toes in the shallow end of living a gluten free lifestyle. I was diagnosed with a wheat allergy a few years ago, but since the only symptom I could see or feel was some belly discomfort, I never really committed to the change, even though I knew from blood tests that it was causing an immune response in my system and increasing my antibody levels. I'd stay away from wheat most of the time, unless I really, really wanted a boli or a bagel or my favorite cake or pancakes.
At Christmas, all bets were off. I had to have pierogies and cookies, and I'd just deal with feeling generally cruddy for a few days afterwards. I just wasn't ready to take the dive into the deep end and give up those favorite and traditional foods. Or spend the time, effort, and money to make them gluten free.
I've also been a gluten free baking "dabbler". You see, my foodie snob side also kicked in. I didn't want to use some pre-made flour blend. If I was going to bake gluten free, I wanted to make everything from scratch. So I bought all of these flours, and then just got scared of messing up. So I stuck to flourless cookies, like these Peanut Butter Cup Blossom Cookies, or a few simple recipes where I only used nut and oat flours, like this Gluten Free Chocolate Hazelnut Crumb Cake, or made Gluten Free Hot Fudge Brownies for Two and other small batches, so total screw-ups were not a total waste.
However, about six months ago, something clicked in me, and I felt I needed to make the change permanently. So I did, and finally gave up gluten. And while I still have some tummy troubles that we are working on diagnosing, I don't have that ever-present bloat and ache quite as often. And the proof was in the bloodwork – all of my gluten antibody levels were back in the normal range. Plus a few other things going on with my body have me convinced that this is a permanent lifestyle change. While at this point it does not appear that I have to worry about sneaky trace gluten or accidental exposure like people with celiac disease or more severe allergies, gluten free is now a way of life for me.
But I'm also a busy mom, so as I learn more about converting all of my favorite recipes to get rid of the gluten, I also need to some help and shortcuts. So I am thrilled to have discovered Bob's Red Mill Gluten Free 1-to-1 Baking Flour.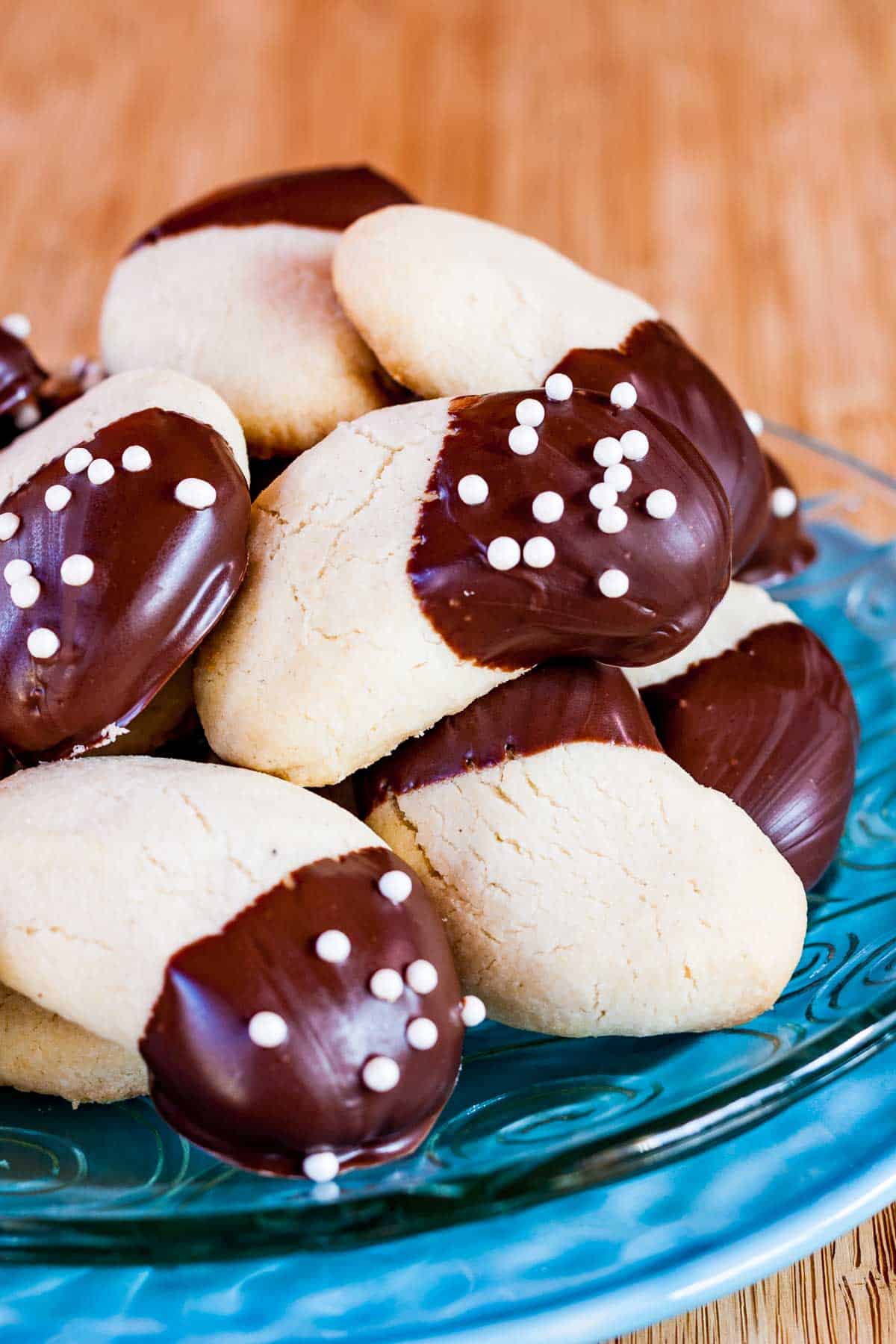 Bob's Red Mill has already been my go-to for brown rice flour and almond flour, so I knew that they were the company I could trust when seeking out a ready-made gluten free flour blend. And Bob's Red Mill Gluten Free 1-to-1 Baking Flour is amazing – literally all you have to do is take your favorite baking recipe and replace the wheat flour with an equal amount of this extraordinary blend of finely ground brown rice flour, sweet white rice flour, whole grain sorghum flour, potato starch, and tapioca flour with a touch of xanthan gum. This mixture is formulated so that you don't have to mess around with your recipe or seek out any special ingredients in order to get the taste and texture of traditional baked goods.
Since it's nearly holiday baking time and the protein in the sorghum flour helps with providing a wheat-like texture and browning perfectly golden cookie, naturally I had to try it out with my favorite Christmas cookie recipe to make my Almond Crescent cookies gluten free…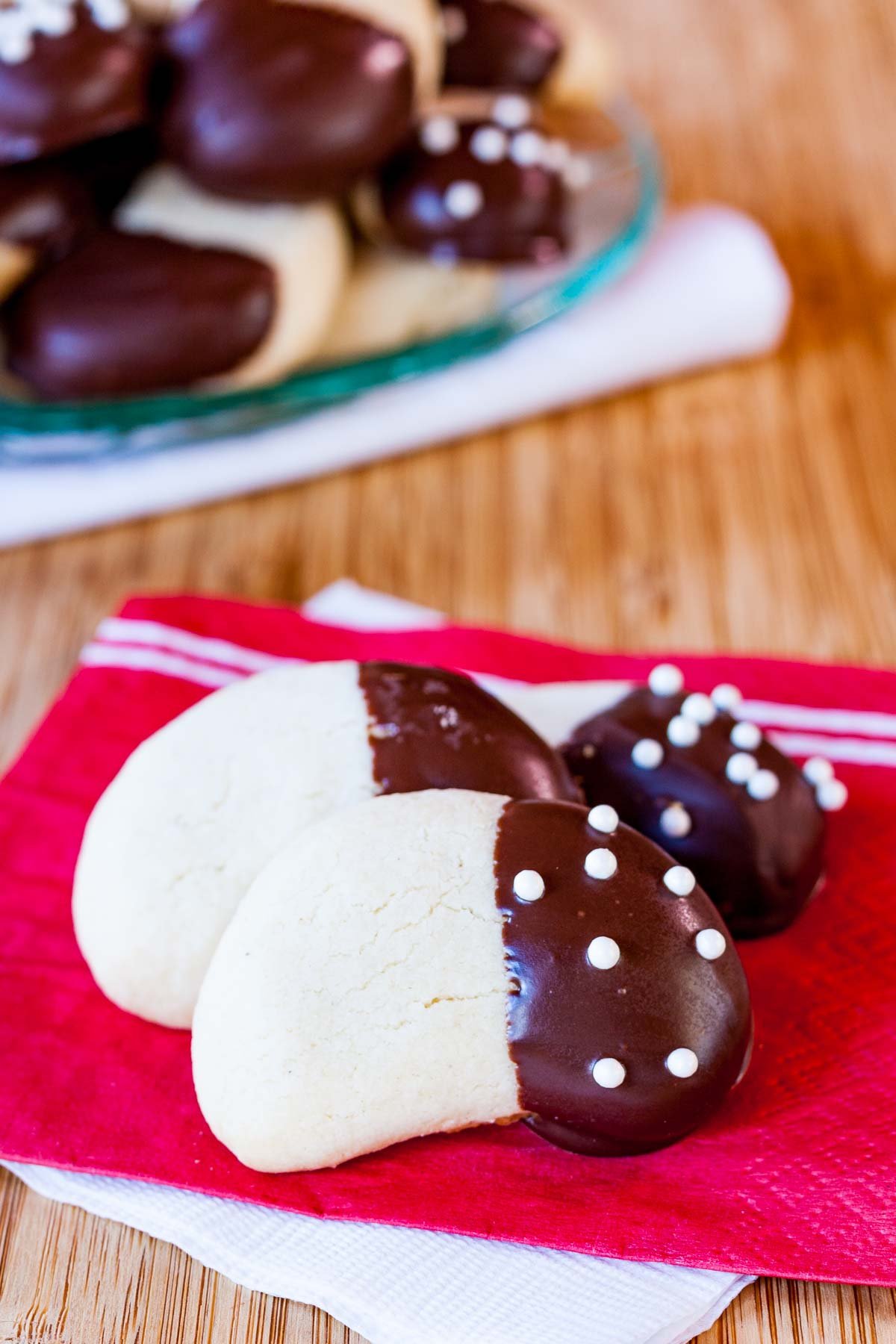 These Gluten-Free Almond Crescents totally retained their buttery, slightly nutty flavor, without any strange aftertastes.
[adthrive-in-post-video-player video-id="g7wNfOMm" upload-date="Tue Nov 14 2017 00:00:00 GMT+0000 (Coordinated Universal Time)" name="Almond Crescents" description="Almond Crescents are classic Christmas cookies. With both traditional and gluten-free recipes, soft, buttery, and full of nutty almond flavor, they will be a favorite on your holiday cookie platter."]
Not only did I use Bob's Red Mill Gluten Free 1-to-1 Baking Flour, but instead of the ground almonds from the original recipe, I substituted Bob's Red Mill Almond Meal, which, likely due to my impatience, is more finely ground than when I grind up almonds in my food processor. This meant the cookies didn't have as much variation in texture as the original version, so if you like that, stick with grinding your own almonds. But I actually enjoyed this subtle difference in texture from how I used to make it. It was a more "smooth" cookie, if you will.
Only a couple of slight differences that I noticed in these Gluten-Free Almond Crescent Cookies compared to the original. The first is that, as sometimes happens with gluten free baking, I found it better to bake at a slightly lower temperature to get the cookies baked through and set but also lightly browned, without overbaking them. The second is that these cookies were just a bit crumblier than the original version. Almond Crescents already are a tender, crumbly cookie anyway. Plus they have no eggs, and in many gluten free baking recipes, there is extra egg to help with the binding in the absence of gluten. So they did have a slightly higher crumb factor, and you could detect the finer texture of the flour. But dunking them in chocolate certainly isn't a bad way to hold them together a little better!
I've definitely found a new way to make my old favorite, and will be using Bob's Red Mill Gluten Free 1-to-1 Baking Flour every Christmas for years to come to make Gluten-Free Almond Crescents! And if you aren't looking for gluten free baking product,
Bob's Red Mill
also has Organic Whole Wheat Flour and Organic Unbleached All-Purpose White Flour milled from organic hard red wheat for all of your holiday baking needs.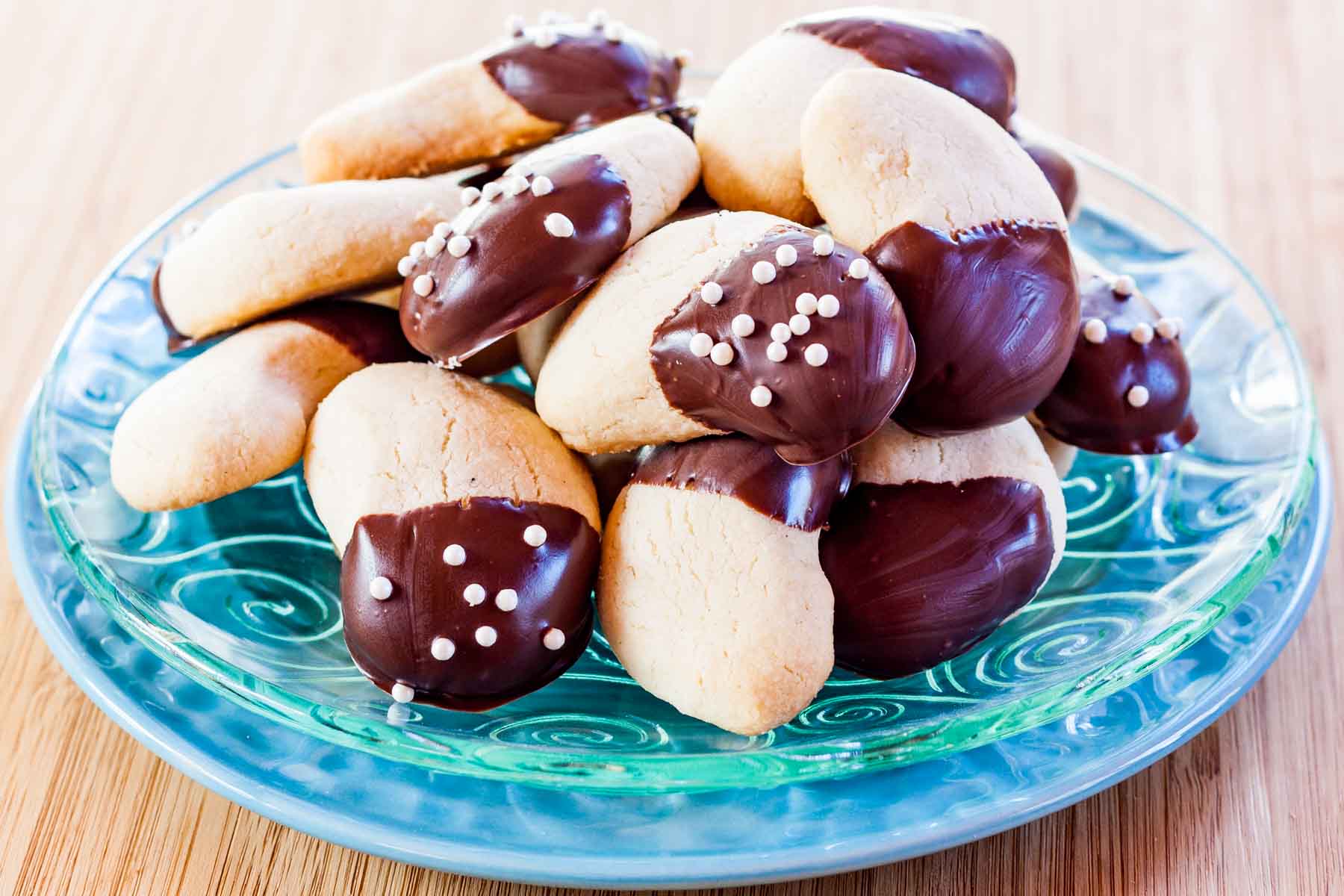 For more yumminess from me and my foodie friends, keep up with me on…
Or sign up to have Cupcakes & Kale Chips delivered straight to your Inbox!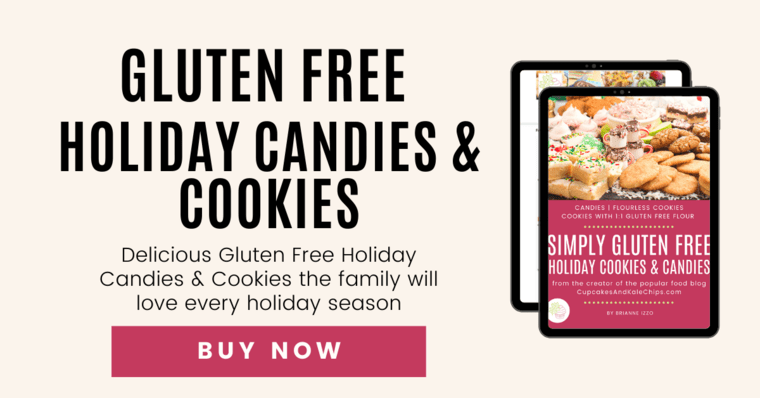 Gluten Free Almond Crescents Dipped in Chocolate
It's easy to make a wheat free version of this classic Christmas cookie recipe with buttery, nutty flavors and tender texture. You only need four ingredients to bake them before they are dipped in chocolate and decorated with sprinkles. Make sure this Almond Crescent recipe is part of your holiday baking plans!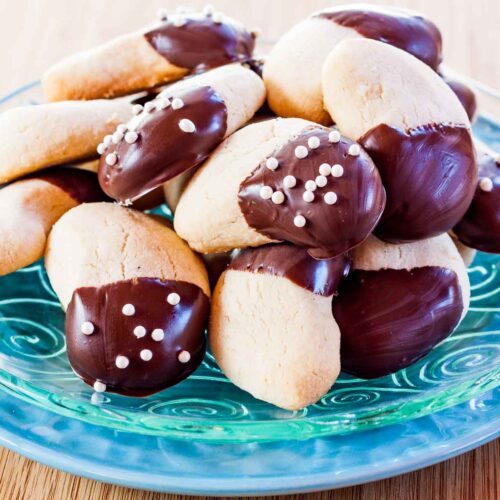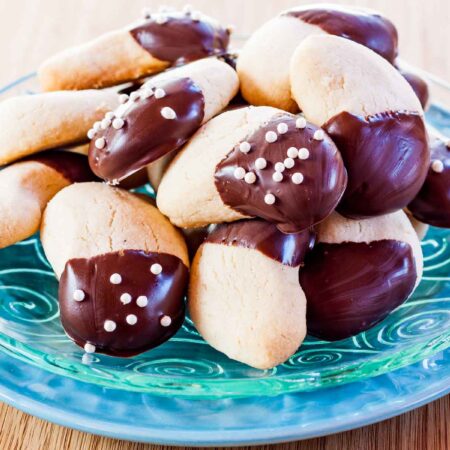 Gluten Free Almond Crescent Cookies
A tender, buttery gluten free Christmas cookie with a hint of almond flavor, enhanced by a little dip in dark chocolate.
Ingredients
2

cups

unsalted butter,

softened

1

cup

powdered sugar

4

cups

Bob's Red Mill Gluten Free 1-to-1 Baking Flour

1

cup

Bob's Red Mill almond meal

or finely ground almonds

8

oz.

dark chocolate

milk chocolate, and or white chocolate

sprinkles,

colored sugar, mini chips, etc. for decorating, if desired
Instructions
Preheat oven to 325°F.

Place butter and sugar in large bowl or the bowl of your stand mixer, and cream together at medium high speed.

Reduce speed to low, and gradually add flour.

Stir in almond meal or ground almonds.

Refrigerate dough for about 15-20 minutes, or until easier to handle.

Using about 1 Tablespoon dough for each cookie, shape into crescents, and place onto baking sheets.

Bake for 13-15. or until lightly browned.

Cool on baking sheets 2 or 3 min. Remove to wire racks; cool completely.

Melt chocolate in the microwave or over a double boiler.

Dip one end of each cookie in chocolate, then decorate with sugar, sprinkles, etc., as desired.

Place cookies onto wax paper until chocolate is firm.
Nutrition Facts
Gluten Free Almond Crescent Cookies
Amount Per Serving (1 cookie)
Calories 152
Calories from Fat 99
% Daily Value*
Fat 11g17%
Cholesterol 20mg7%
Sodium 2mg0%
Potassium 36mg1%
Carbohydrates 12g4%
Protein 1g2%
Vitamin A 240IU5%
Calcium 17mg2%
Iron 1mg6%
* Percent Daily Values are based on a 2000 calorie diet.
Categories:
Enjoy!