This post may contain affiliate links. Read my disclosure policy.
Gluten-Free Chocolate Chip Cookies for Two is the recipe you have to make if you love a soft and chewy, rich and buttery chocolate chip cookie fresh out of the oven, but don't want four dozen of them sitting around all week. Whether you share this dessert for two with someone special or keep them both for yourself, this deep dish chocolate chip cookie recipe is sure to be one of your favorite gluten-free desserts for two.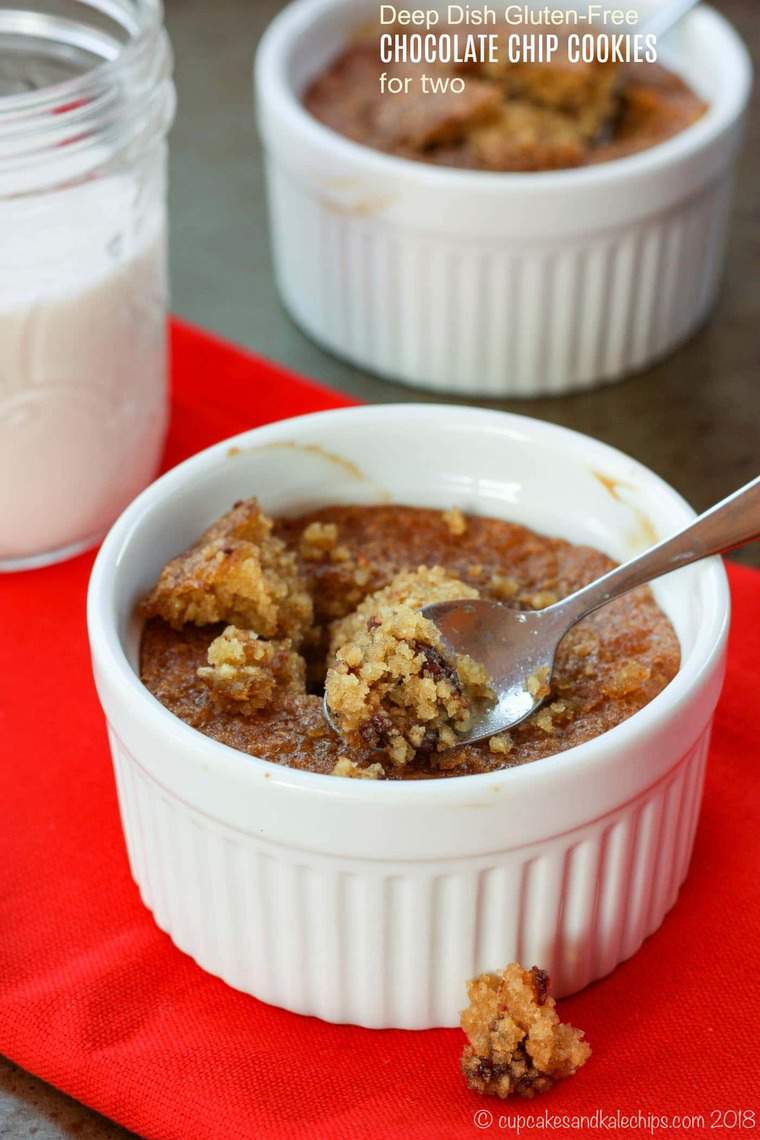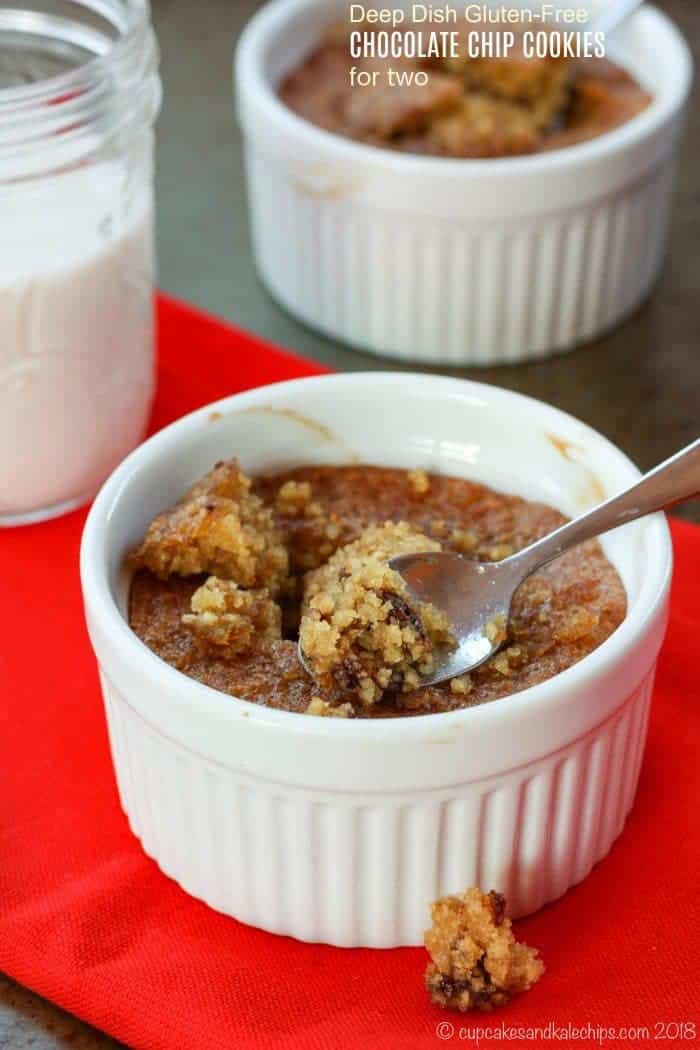 I hope you guys enjoy these gluten-free chocolate chip cookies for two because dang, they cost me some time, ingredients, and, well, calories. Because even the ones that got messed up were still suuuuuper delicious. Trust me. And it took me several tries to get this one right. And I may or may not have been working on the recipe for Gluten-Free Brownies for Two at the same time.
Oh, the calories. That whole idea of single serving, portion-controlled desserts doesn't work when you eat, like, six of them.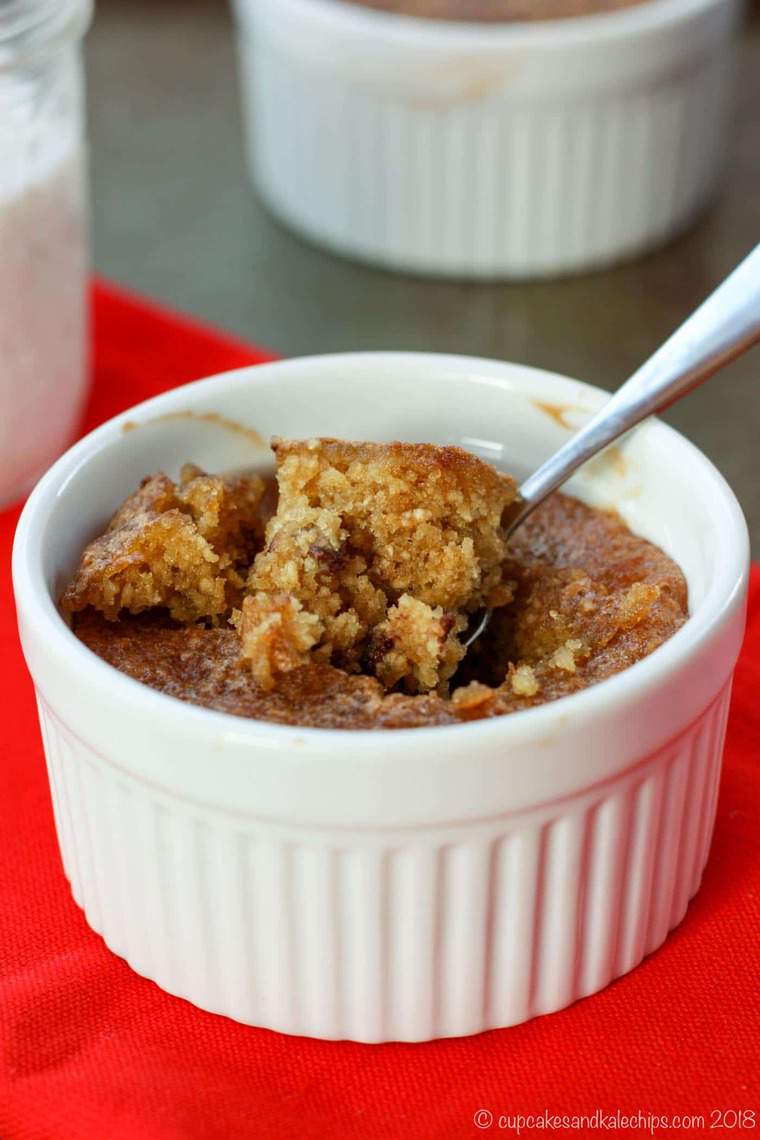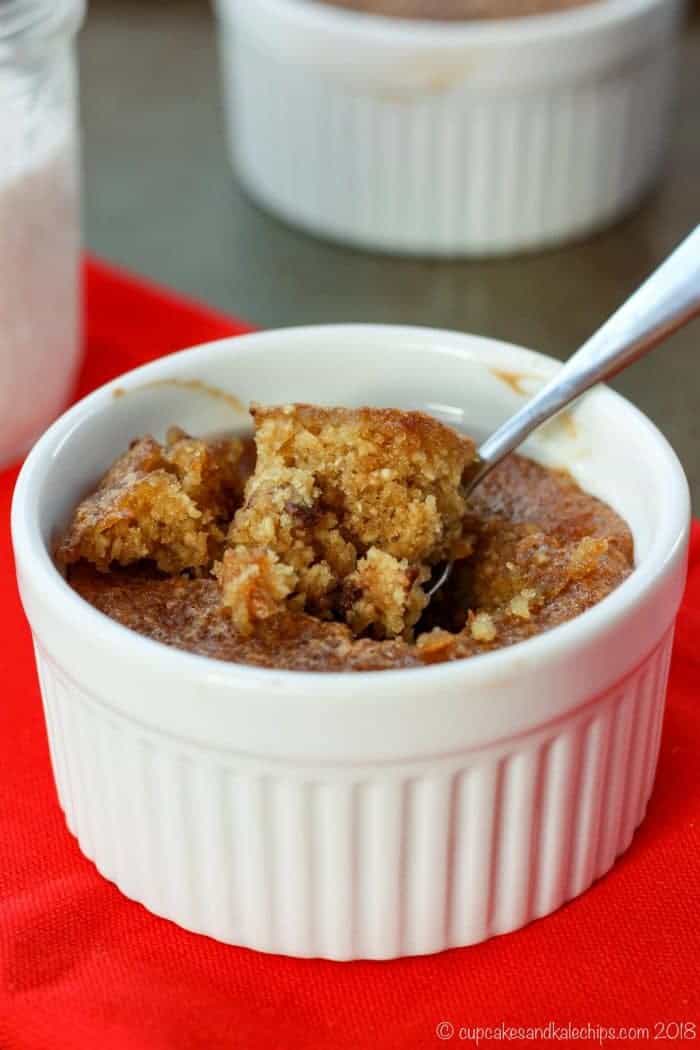 The first attempt – I added an egg that was not in the original recipe, since I figured it would need more binding without gluten, and I was making two instead of one, and increased the baking powder. Near explosion, albeit a yummy one.
The second attempt – left out the egg. Puffing, puffing, puffing, collapse! Oops.
Third attempt – Egg and less baking powder. Jussssst right!
These gluten-free chocolate chip cookies for two are darn near perfect. As I mentioned, the dough is more like a batter, so even though I sprinkled the chips on top, they still sunk a bit. What does this mean?
Well, you won't be baking these on a pan, but you have your delicious little crock of cookie all to yourself. And this cookie is moist, buttery, and delicious.
Despite sprinkling the chips on top, they will sink a bit. So just sink your spoon through this soft cookie and hit a goldmine of smooth, melty semi-sweet chocolate. Really, what's so wrong about this?
Ohhh, these cookies…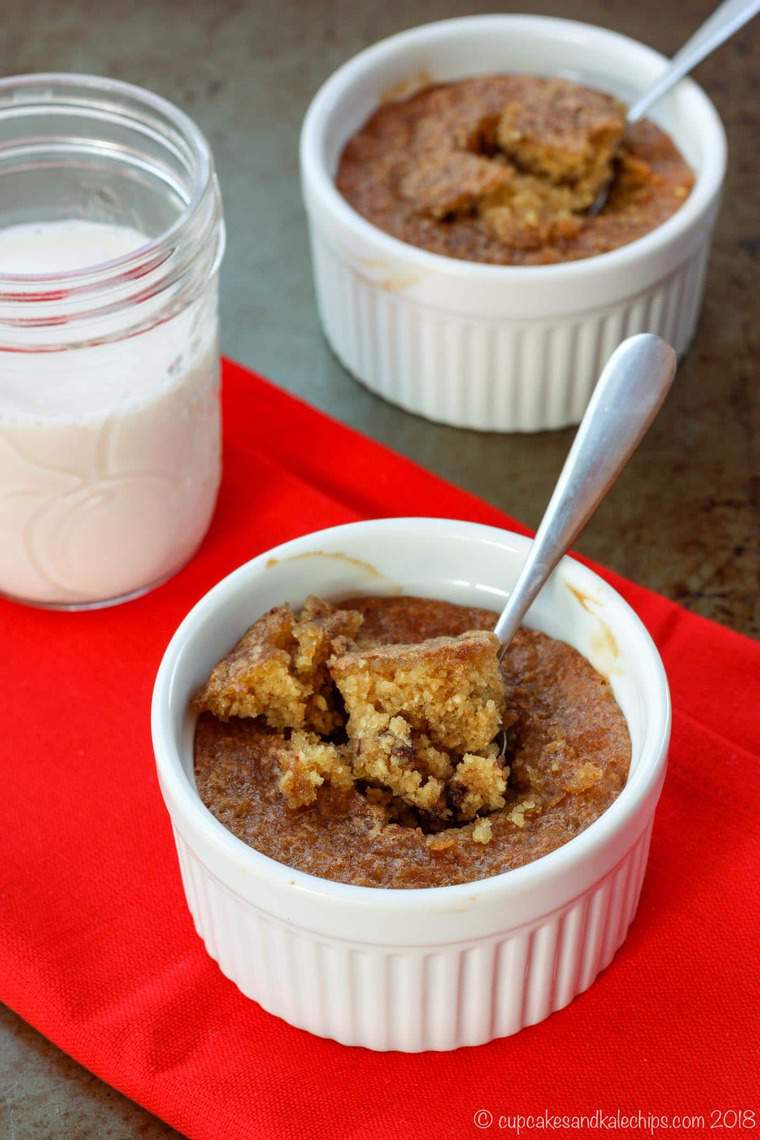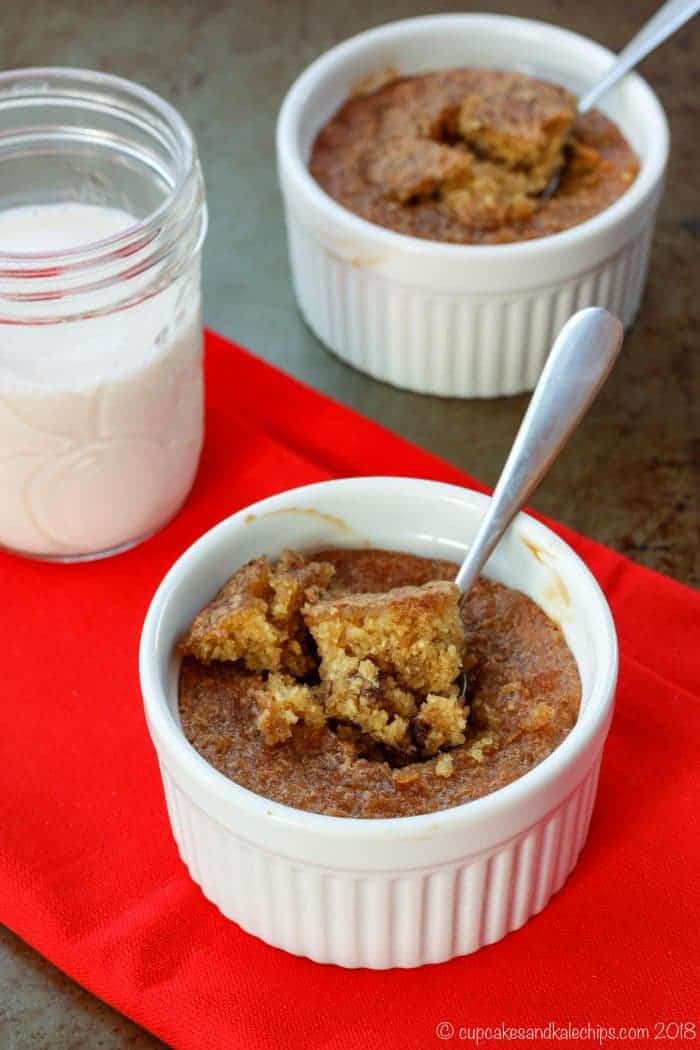 How to Make Gluten-Free Chocolate Chip Cookies for Two
Made simply with almond meal and oat flour (just oatmeal ground to a powder), these cookies are baked in ramekins to make two individual desserts. All you have to do is stir together the ingredients. You'll find the mixture to be more like a batter than a dough, which is why you sprinkle the chocolate chips over the top instead of mixing them in to keep them from settling to the bottom.
[adthrive-in-post-video-player video-id="2MUgu1pz" upload-date="Wed Mar 28 2018 00:00:00 GMT+0000 (Coordinated Universal Time)" name="Gluten Free Deep Dish Chocolate Chip Cookies for Two" description="Gluten-Free Chocolate Chip Cookies for Two is an easy recipe to make two soft and chewy, rich and buttery deep dish chocolate chip cookies."]
Tips to Make Gluten-Free Chocolate Chip Cookies Recipe for Two:
No need to break out the hand mixer. You can stir everything together with a small whisk.
You don't have to grease the ramekins. You probably want to put the ramekins on a cookie sheet, just in case you get any spillover. I did not with 6 ounce ramekins, but any smaller and you might be on the border.
While these are incredible while still warm, the best part is that this cookie STAYS SOFT. You don't HAVE to eat it straight out of the oven (though that's never a bad idea). Might I suggest a scoop of Gluten Free No-Churn Chocolate Chip Cookie Dough Ice Cream or one of my other easy No-Churn Ice Cream recipes.
They also freeze well and stay soft. Heck, you don't even have to warm it up. How do I know this? Well, I may have eaten one directly out of the freezer. Guess what – I didn't even let it thaw and it was still perfectly soft and crumbly, but not at all dry.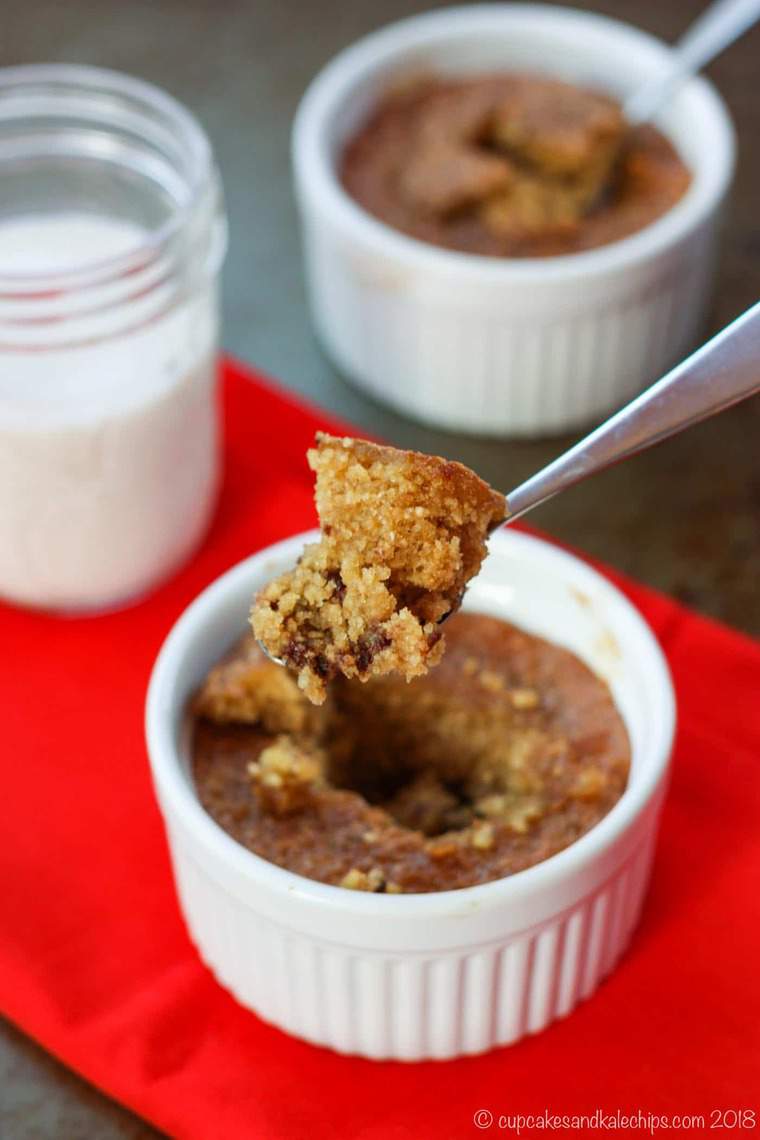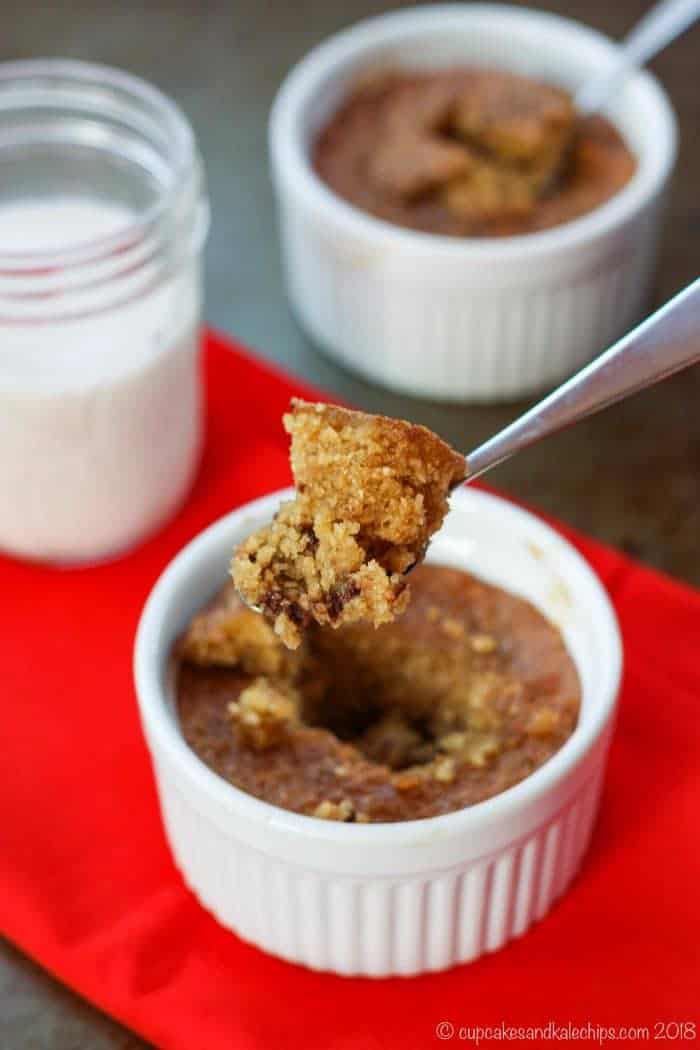 For more yumminess from me and my foodie friends, keep up with me on…
Or sign up to have Cupcakes & Kale Chips delivered straight to your Inbox!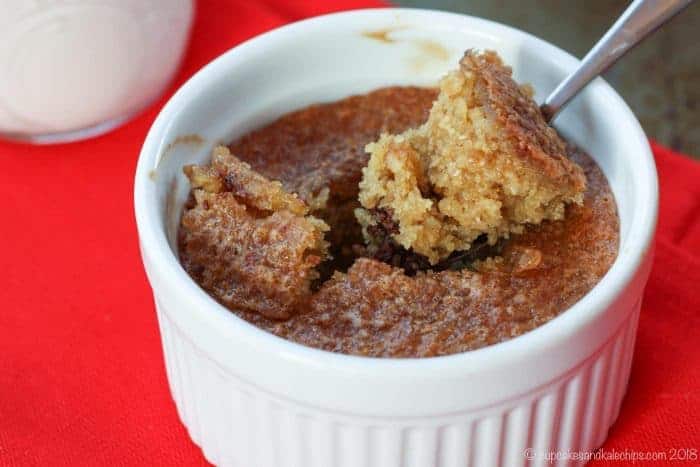 Looking for more non-traditional gluten-free chocolate chip cookies?
Gluten-Free Monster Cookies from Crazy for Crust are fully-loaded and always a favorite. You get the perfect trio of flavors in Gluten-Free Vegan Banana Peanut Butter Chocolate Chip Cookies from Two Peas and Their Pod. Or combine two classics in these Flourless Oatmeal Chocolate Chip Cookies from The BakerMama.
Gluten-Free Chocolate Chip Cookies Recipe for Two
Even if you don't need a gluten-free dessert, you'll still love these single-serving chocolate chip cookies for their perfectly crumbly texture and a slightly nutty flavor. Put them over the top by adding a scoop of your favorite ice cream.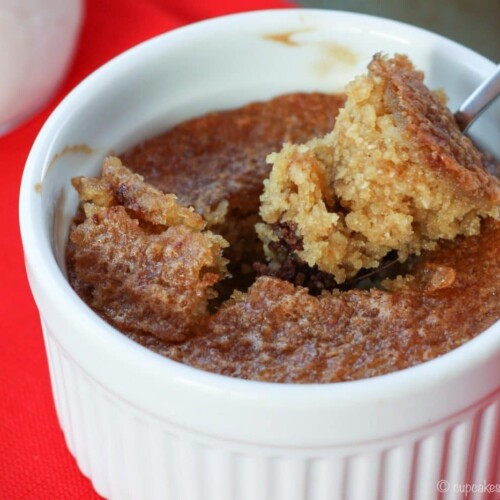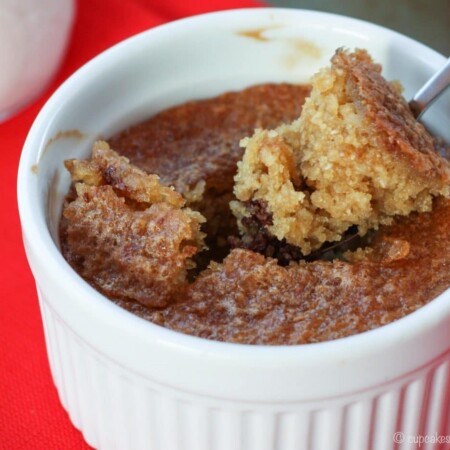 Gluten-Free Deep Dish Chocolate Chip Cookies for Two
If you love a soft, buttery chocolate chip cookie, but don't want dozens, then make these Gluten-Free Deep Dish Chocolate Chip Cookies for Two.
Ingredients
2

Tbsp

unsalted butter

melted

2

Tbsp

sugar

1

Tbsp

brown sugar

1

egg

1/4

tsp

vanilla extract

1/8

tsp

salt

1/4

tsp

baking powder

2

Tbsp

almond meal

1/4

cup

oat flour

oats ground into a powder or meal

1/4

cup

semisweet chocolate chips
Instructions
Preheat oven to 350°F degrees. Have two 6-ounce ceramic ramekin ready.

Whisk together butter and both sugars and vanilla for at least 1 minute.

Whisk in the egg, and vanilla, then the salt, baking powder, almond meal, and oat flour.

Divide the batter between the two ramekins.

Divide the chocolate chips between the ramekins, sprinkling on top of the batter.

Bake 16-20 minutes or until the top is fgolden brown.

Let cool for a few minutes before serving.
Categories:
Enjoy!