This post may contain affiliate links. Read my disclosure policy.
Flourless Fluffernutter Cookies are super peanut-buttery, tender, slightly crumbly thumbprint cookies. But they are even better because instead of jam, these flourless peanut butter cookies are filled with… MARSHMALLOWS. Yes, just like the classic fluffernutter sandwich, these peanut butter and marshmallow cookies are a naturally gluten free peanut butter cookie recipe that brings together that sweet and salty, fluffy and nutty combination everyone loves. Your kids and the kid inside of you will absolutely flip for this Flourless Fluffernutter Cookies recipe.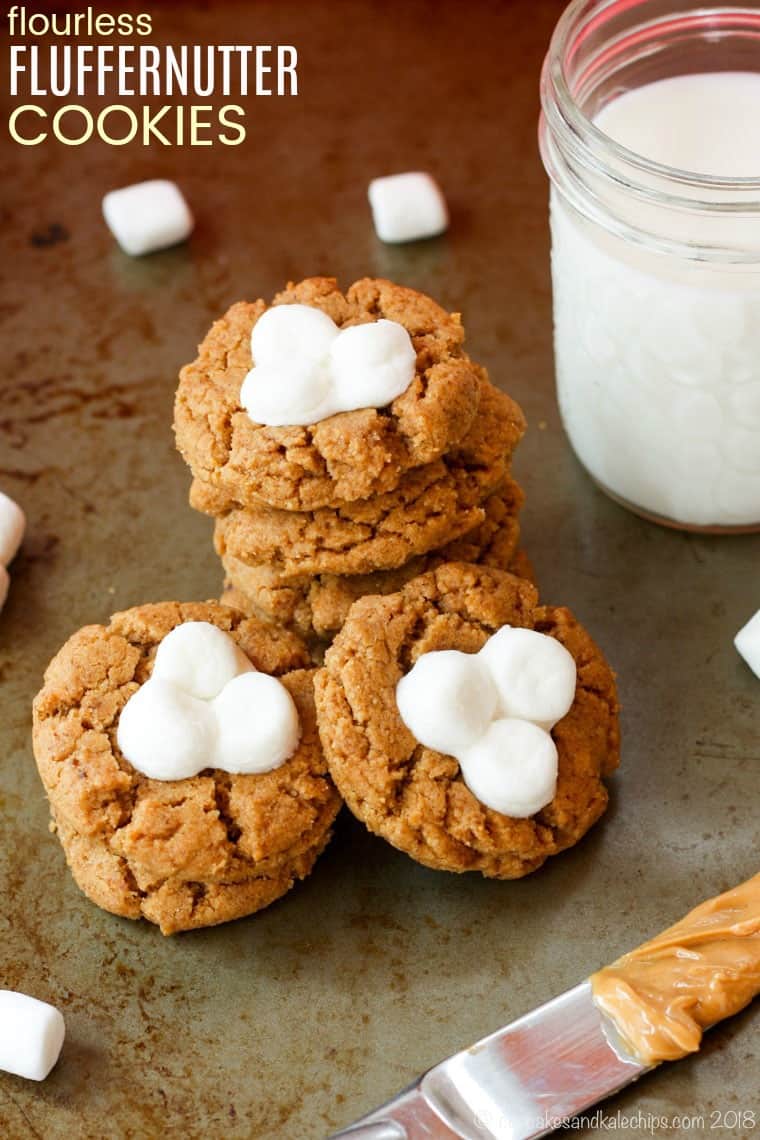 Flourless Peanut Butter and Marshmallow Cookies
Flourless peanut butter cookies are delicious on their own. Made with just peanut butter, sugar, brown sugar, baking soda, an egg, and vanilla, these are gluten free peanut butter cookies that can be dressed up in countless ways. In the video you will see that you can use Reese's to make Peanut Butter Cup Blossom Cookies or you can even stir in chips to make Triple Chocolate Chip Peanut Butter Cookies. In fact, check out all of my Flourless Peanut Butter Cookies variations. But keep watching and reading to find out how to turn those peanut butter cookies into Flourless Fluffernutter Cookies!
Have you ever had a Fluffernutter sandwich? Gonna be honest, I'm not sure that I have. Hmm, maybe once my mom gave me one as a treat, but I was always a ham or turkey sandwich kind of girl. I've mentioned my food ruts before. The ham sandwich on a potato roll rut. Yeah, that lasted from about sixth to twelfth grade. A ham sandwich with an apple sauce cup and a Jell-O or pudding cup. Maybe I'd buy an occasional Fudge Round or Rice Krispie treat as a snack, or a bagel for lunch in high school. But I don't think even a peanut butter and jelly ever really made a lunch bag appearance. Then when I started to bring lunch to work, it was all turkey all the time, till I moved on to pita and hummus.
But I don't need to be a regular consumer of Fluffernutters to know that MARSHMALLOWS + PEANUT BUTTER = AWESOME. I mean, I'm a former engineer. That's just simple math.
And that simple math adds up to these…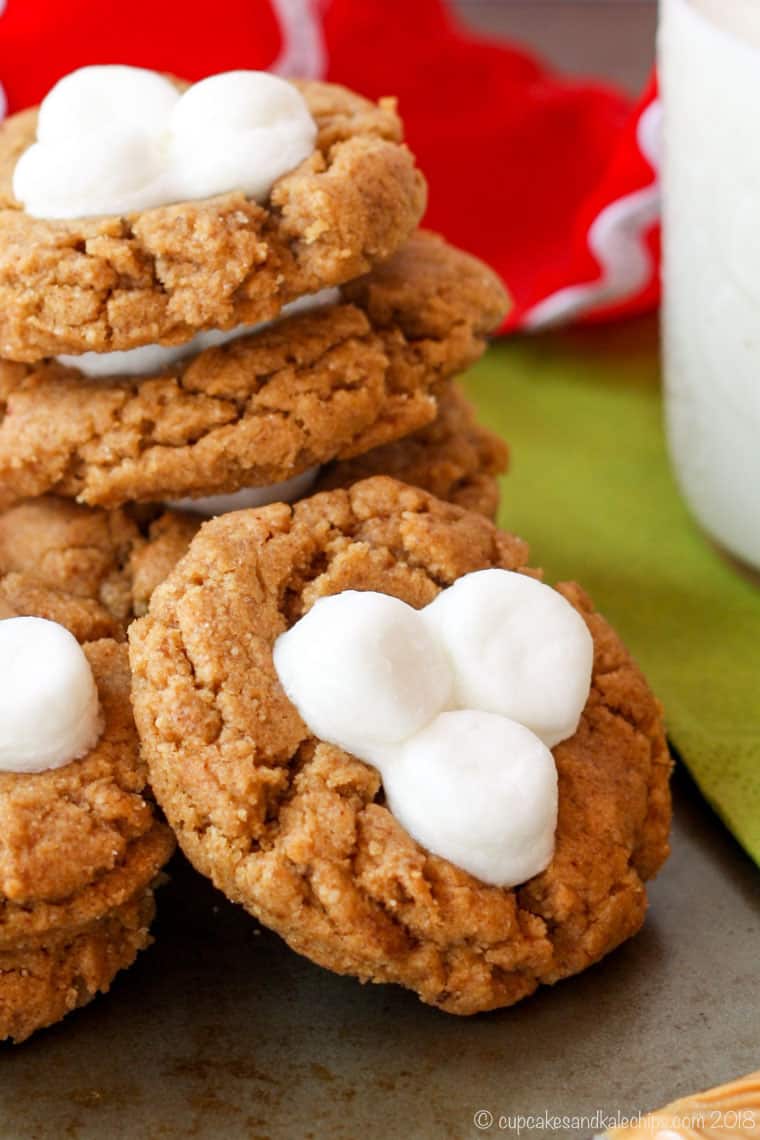 About These Flourless Fluffernutter Cookies
These flourless peanut butter cookies into the mix are perfect because the peanut butter flavor is so much more pronounced without any dang flour getting in the way. Who needs that? Especially when you have a wheat allergy like me and don't feel like dealing with rice flour and potato starch and millet flour and tapioca starch. I mean, sometimes I'll make a Gluten Free Strawberries and Cream Cake. But really I'd just rather make desserts that don't have any flour at all.
I am kind of the master of just bypassing flour altogether. I mean, when it comes to cake, I'll take a Flourless Peanut Butter Cup Cake Roll, thank you very much. Flourless Coconut Almond Dark Chocolate Chunk Cookies don't let any flour get in the way of the chocolaty goodness. Flourless Peanut Butter Cup Swirl Brownies are the ultimate. And of course I can forget Flourless White Chocolate Macadamia Nut Cookie Dough Dip with a secret healthy ingredient.
Then just like these Jam Thumbprint Breakfast Cookies, which are similar to the classic thumbprint cookies, when they are nearly done baking just make a little indentation with your thumb and instead of boring old jam, well, you got it… marshmallows! Yay!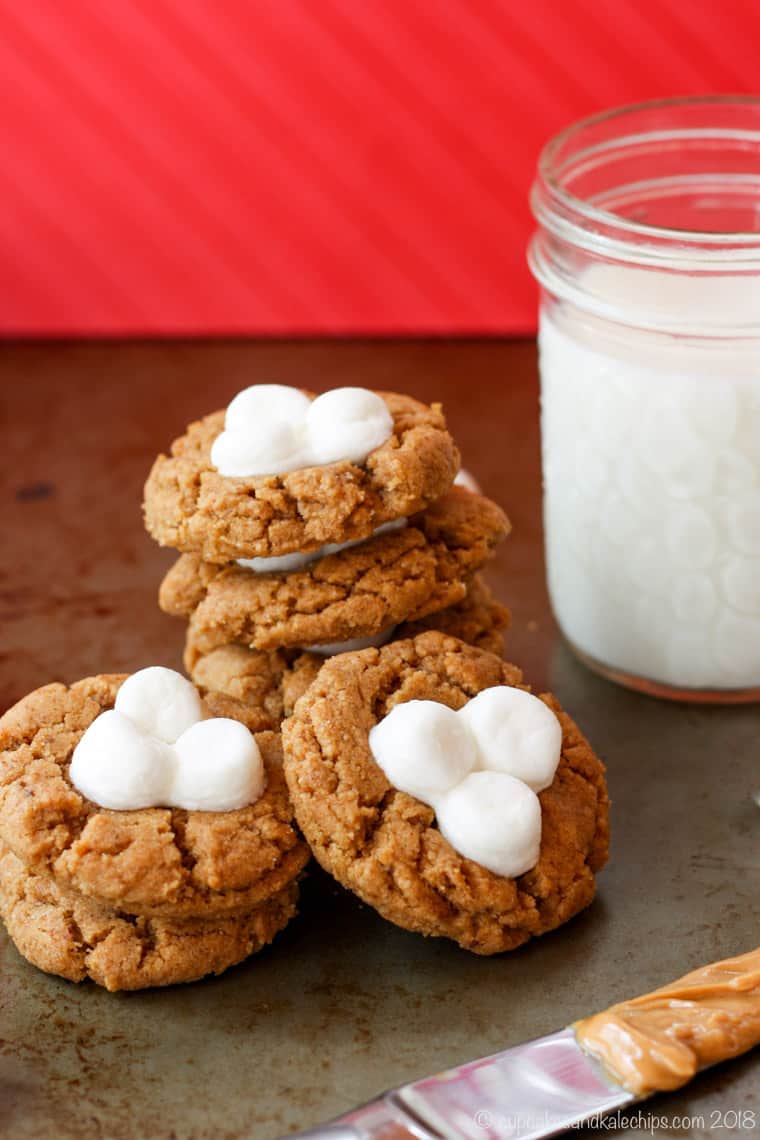 Flourless Fluffernutter Cookies Recipe Tips…
You can use regular or natural peanut butter in these flourless peanut butter cookies, but with natural peanut butter they will be slightly more crumbly, but with a stronger peanut butter flavor.
A cookie scoop helps ensure your cookies are all the same size and a sheet of parchment on your cookie sheet will keep them from sticking. This is especially helpful if you do use natural peanut butter.
Roll the dough tightly into a ball and press down with the pads of your fingers slightly. Flattening them ensures they spread just the right amount.
You'll want to take them out of the oven about 2 or 3 minutes early while they are still soft, then work quickly to make a thumbprint in each cookie and drop three mini marshmallows in the indentation. Then just pop them back in the oven for another couple of minutes to slightly melt the marshmallows so they stick to the cookies.
As you can see by the lovely holiday decor, these also make great Christmas Cookies. Sorry, I originally posted this recipe in November 2013 and I thought the photos were just too cute so I couldn't ditch them despite resharing this recipe in the middle of the summer.
| | |
| --- | --- |
| | |
How about some more flourless dessert recipes?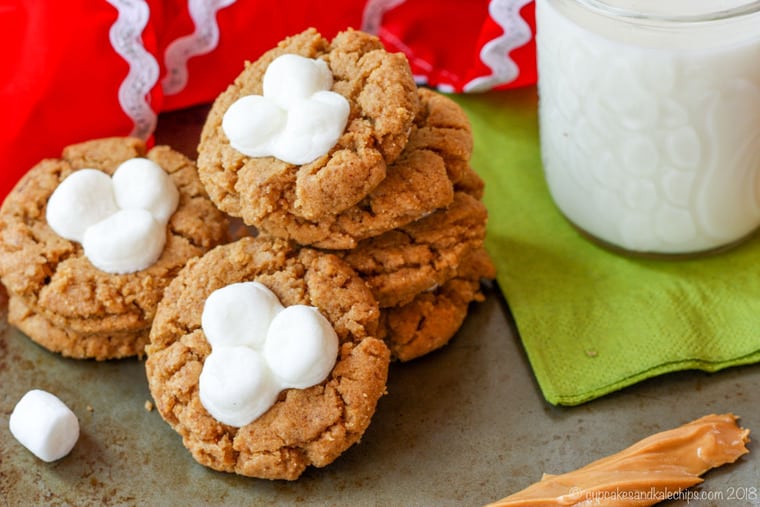 For more yumminess from me and my foodie friends, keep up with me on…
Or sign up to have Cupcakes & Kale Chips delivered straight to your Inbox!
Flourless Fluffernutter Cookies
Flourless peanut butter cookies with a thumbprint filled with marshmallows to remind you of a childhood favorite – the fluffernutter sandwich! Kids of all ages will love these soft and tender and super peanut buttery cookies especially when they have gooey and sweet marshmallows in the middle. These aren't plain old peanut butter cookies, but they are still super easy to make and super fun to eat.
I hope you'll leave a comment and give it a FIVE STAR rating or share a photo on this pin on Pinterest!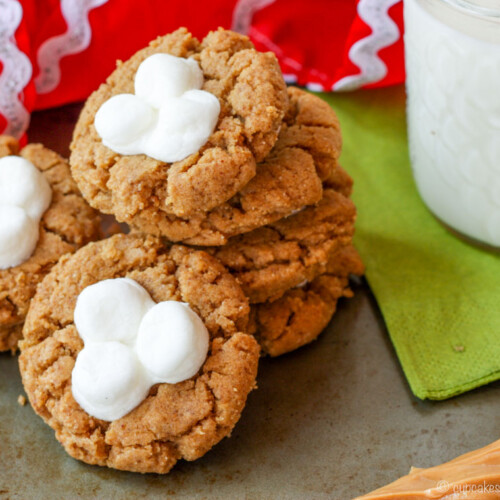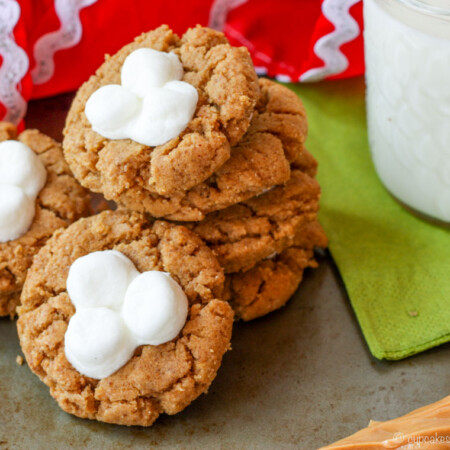 Flourless Fluffernutter Cookies
Flourless peanut butter cookies with a thumbprint filled with marshmallows to remind you of a childhood favorite - the fluffernutter sandwich!
Ingredients
1/2

cup

sugar

1/2

cup

dark brown sugar

1

teaspoon

baking soda

1

cup

creamy peanut butter

(natural works too)

1

egg

1

teaspoon

vanilla

About 90

mini marshmallows

(three per cookie)
Instructions
Preheat your oven to 350°F. Line cookie sheets with parchment paper.

Using a fork, mix together the sugar, brown sugar, and baking soda in a bowl.

With a hand mixer or stand mixer, beat in the peanut butter until cream.

Add the egg and vanilla and mix thoroughly.

Form balls using about 1 tablespoon of dough, place on the cookie sheet and flatten slightly with you hand.

Bake for 8 minutes, remove from oven, and make an indentation in each cookie with your thumb.

Place three marshmallows in the indentation on each cookie and return to the oven for 2-3 minutes, or until lightly browned and set.

Cool on the baking sheet for several minutes before transferring to a rack to cool completely.
Notes
Recipe can easily be doubled.
Nutrition Facts
Flourless Fluffernutter Cookies
Amount Per Serving (1 cookie)
Calories 85
Calories from Fat 36
% Daily Value*
Fat 4g6%
Cholesterol 5mg2%
Sodium 80mg3%
Potassium 62mg2%
Carbohydrates 9g3%
Protein 2g4%
Vitamin A 10IU0%
Calcium 8mg1%
Iron 0.2mg1%
* Percent Daily Values are based on a 2000 calorie diet.
Categories:
Enjoy!