Almond Joy Puppy Chow (GF and Vegan Option)
Disclosure: This post may contain affiliate links. Cupcakes & Kale Chips is a participant in the Amazon Services LLC Associates Program, an affiliate advertising program designed to provide a means for us to earn fees by linking to Amazon.com and affiliated sites.
Add the flavors you love from the Almond Joy candy bar to the classic muddy buddies recipe for a sweet snack.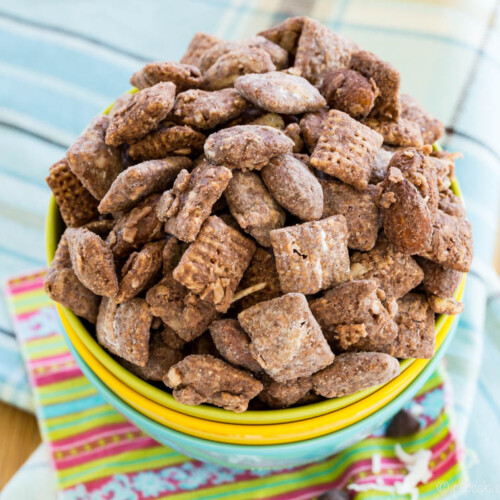 Almond Joy puppy chow combines the almond and coconut flavors of a favorite candy bar with a classic muddy buddies recipe. It's a sweet no bake snack, and in fact, one of the best gluten-free no bake dessert recipes you can make!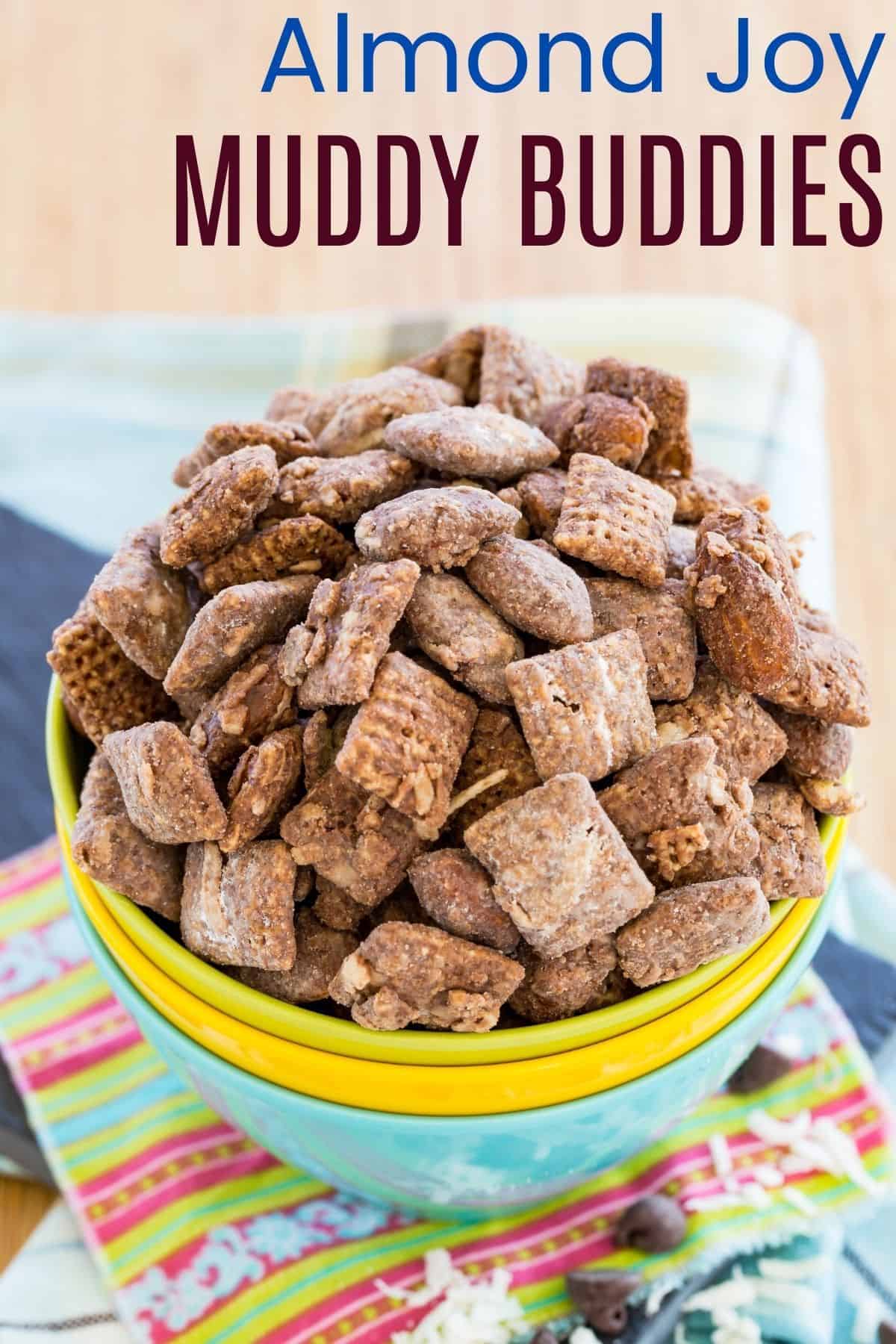 Almond Joy Puppy Chow
I like to convince myself that my friends and I were actually really cool in middle school, and that it was everybody else who, well, just wasn't.  So they just could not comprehend and appreciate our level of coolness.  As adults, not much has changed, except now our get-togethers are less frequent (the last one was five years ago – we can't let that happen again) and involve alcoholic beverages.  Yes, we were your typical goody-two-shoes – no bending the rules.  Our strongest drink back then was probably Dr. Pepper.

MY LATEST VIDEOS
One thing that has changed is our selection of food.  When we were kids, our party snacks of choice were Bugles, Cheetos, and Onion Dip.  We may not have matured all that much, but our snacks have gotten a bit more sophisticated.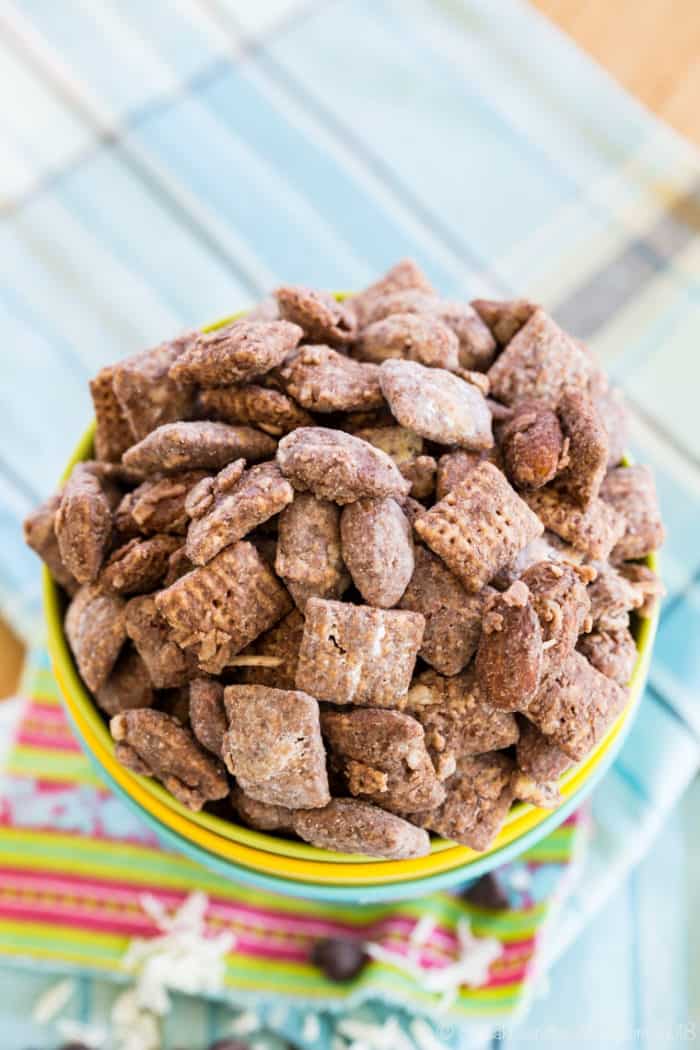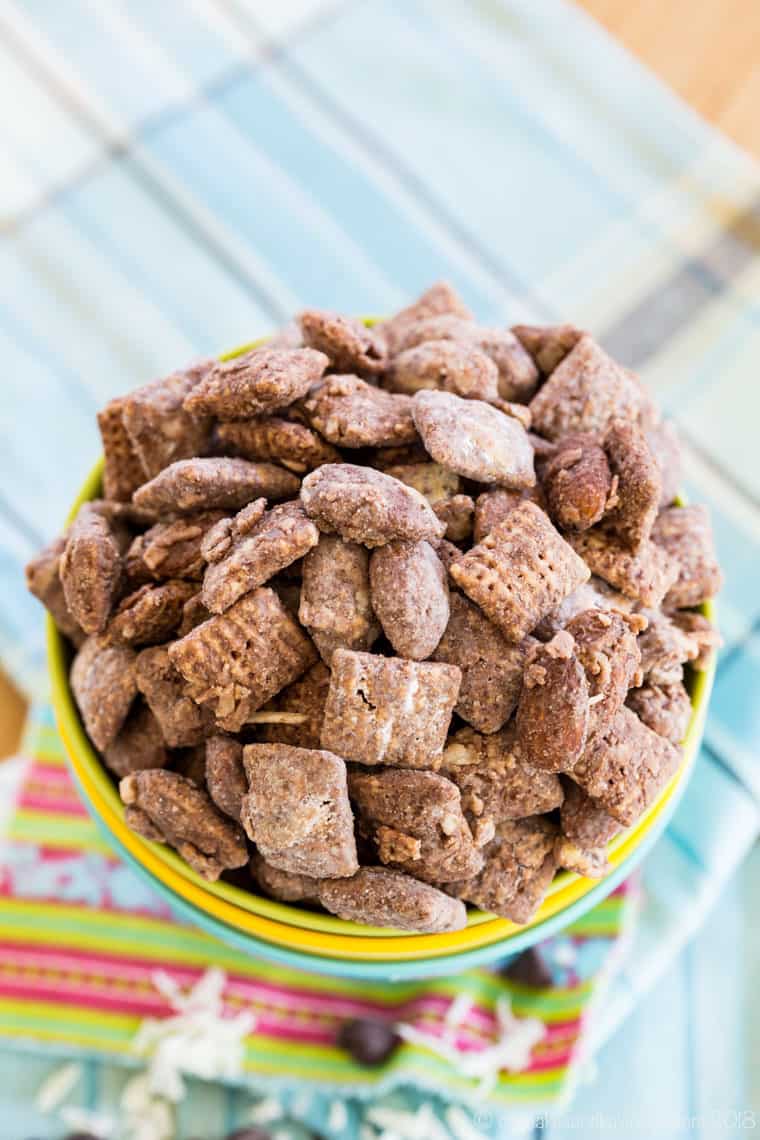 Almond Joy Puppy Chow!
a.k.a. Coconut Almond Muddy Buddies
a.k.a. Insane Chocolaty Nutty Goodness
Almond Joy puppy chow is addictive, and I mean, seriously addictive.  But I managed to control myself at the party and then proceeded to devour a lot of the leftovers in the car on the ride home.  Sorry, oops, that never happened.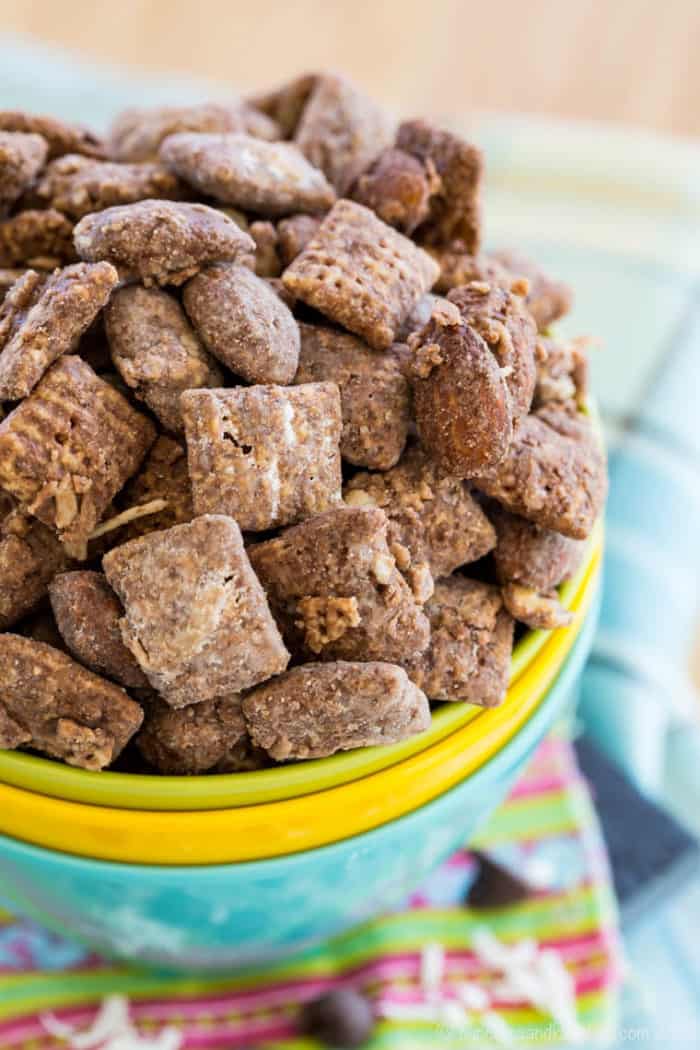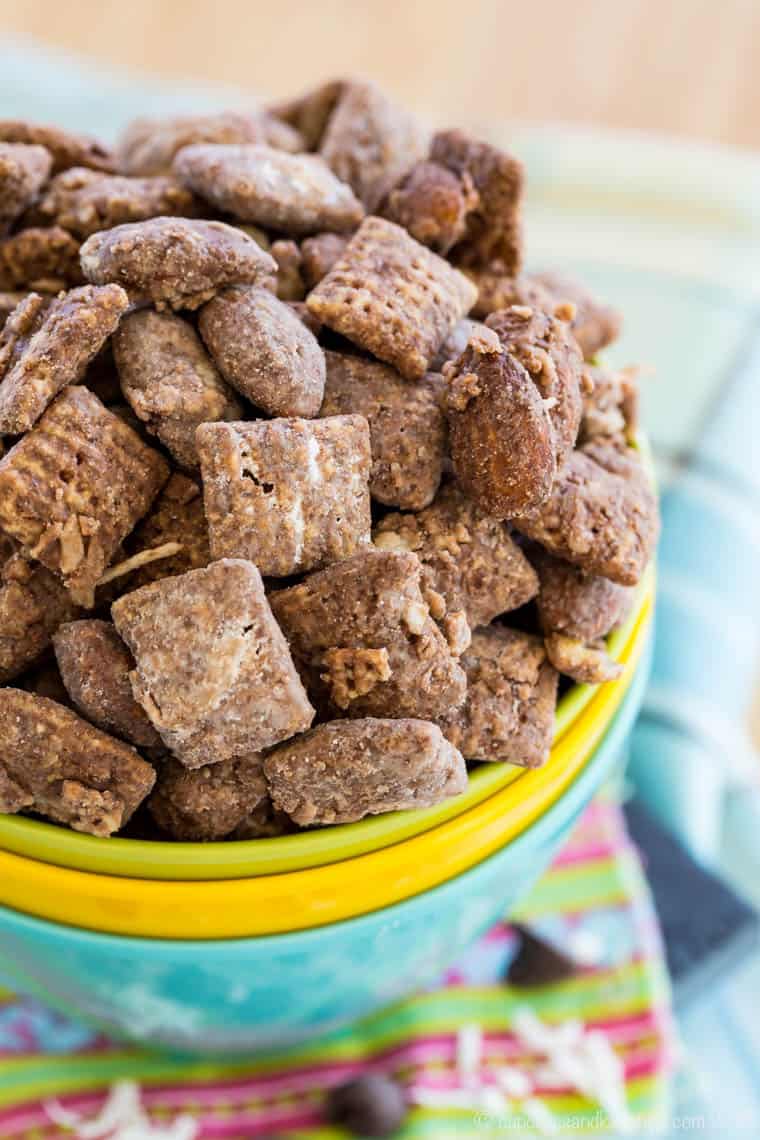 FYI – since we were a small group and there were going to be a few desserts, I actually only made up a half batch of this, but I put the full amounts in the recipe here.  So you could definitely cut this in half, if you don't want to make so much.
Oh, and bonus! Since several varieties of Chex are gluten-free, this is an easy sweet treat for anyone who has to avoid gluten.  And if you want to make it vegan, that is an option too.  Just make sure to use gluten-free and/or vegan chocolate chips, powdered sugar, and vanilla.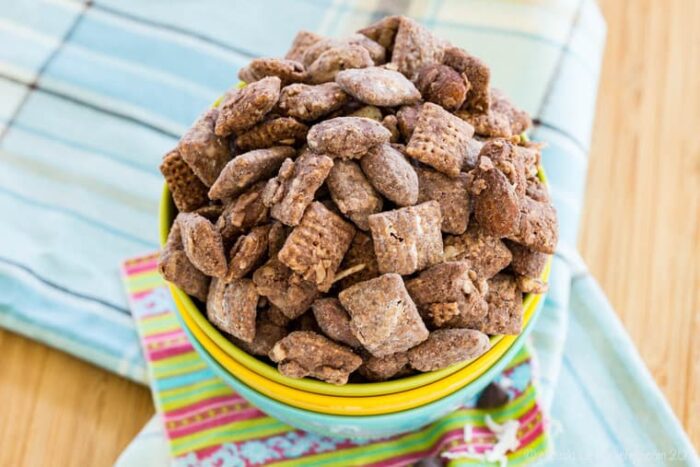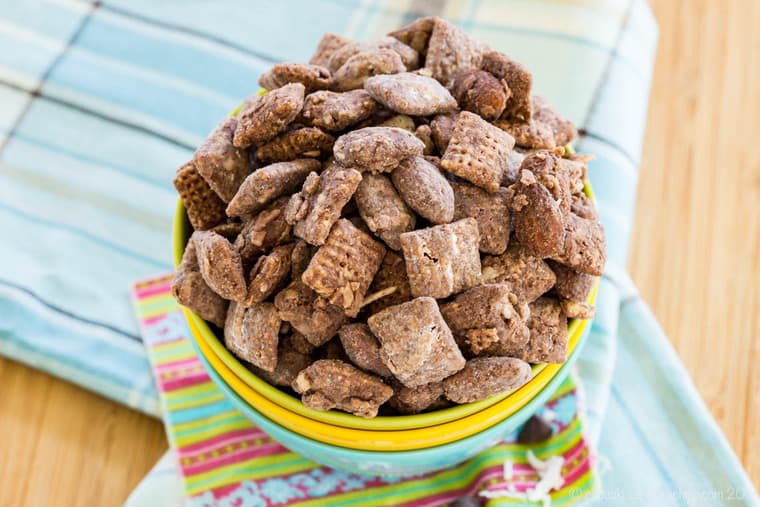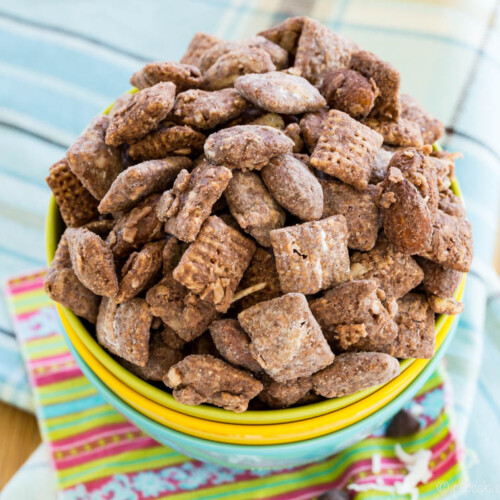 Print Recipe
Almond Joy Puppy Chow (GF and Vegan Option)
Add the flavors you love from the Almond Joy candy bar to the classic muddy buddies recipe for a sweet snack.
Ingredients
1

c

powdered sugar

1

c

shredded sweetened coconut flakes

8

c

Chex

any variety, or a combination

2

c

unsalted almonds

1

c

semi-sweet chocolate chips

use vegan and/or gluten-free chocolate chips, if needed

1/2

c

almond butter

4

T

coconut oil*

see note below

1

t

vanilla extract
Instructions
In a food processor or Magic Bullet, combine the powdered sugar and coconut, and chop until the mixture is mostly a powder.

Place the sugar-coconut mixture in a large plastic storage bag.

Combine the Chex and almonds in a large bowl, and set aside.

Combine the chocolate chips, almond butter, and coconut oil in a medium bowl and microwave on High for 1 minute (or melt on the stove over low heat, preferably in a double boiler).

Stir until completely melted, then stir in the vanilla extract.

Pour the chocolate mixture over the Chex and almonds, and stir until the cereal is completely coated.

Dump the mixture into the bag with the sugar and coconut, seal,and toss until the cereal and almonds are evenly coated.

Pour onto wax paper to cool and dry. Stir in an airtight container in the refrigerator.
Notes
*If you don't have coconut oil, you could use butter, and maybe a little coconut extract for that additional coconut flavor)
This recipe was adapted from Chex Muddy Buddies.
Enjoy!