Key Lime Pie Puppy Chow (Muddy Buddies)
Disclosure: This post may contain affiliate links. Cupcakes & Kale Chips is a participant in the Amazon Services LLC Associates Program, an affiliate advertising program designed to provide a means for us to earn fees by linking to Amazon.com and affiliated sites.
This Key Lime Pie Puppy Chow recipe features all of the flavors of classic Key Lime Pie in a sweet, yummy snack mix. Quick and easy, these Muddy Buddies take less than 10 minutes to make! It's a no-bake snack that is impossible to resist and perfect to bring to a party. That is if you don't eat all of this Key Lime Pie sweet Chex mix before you get there!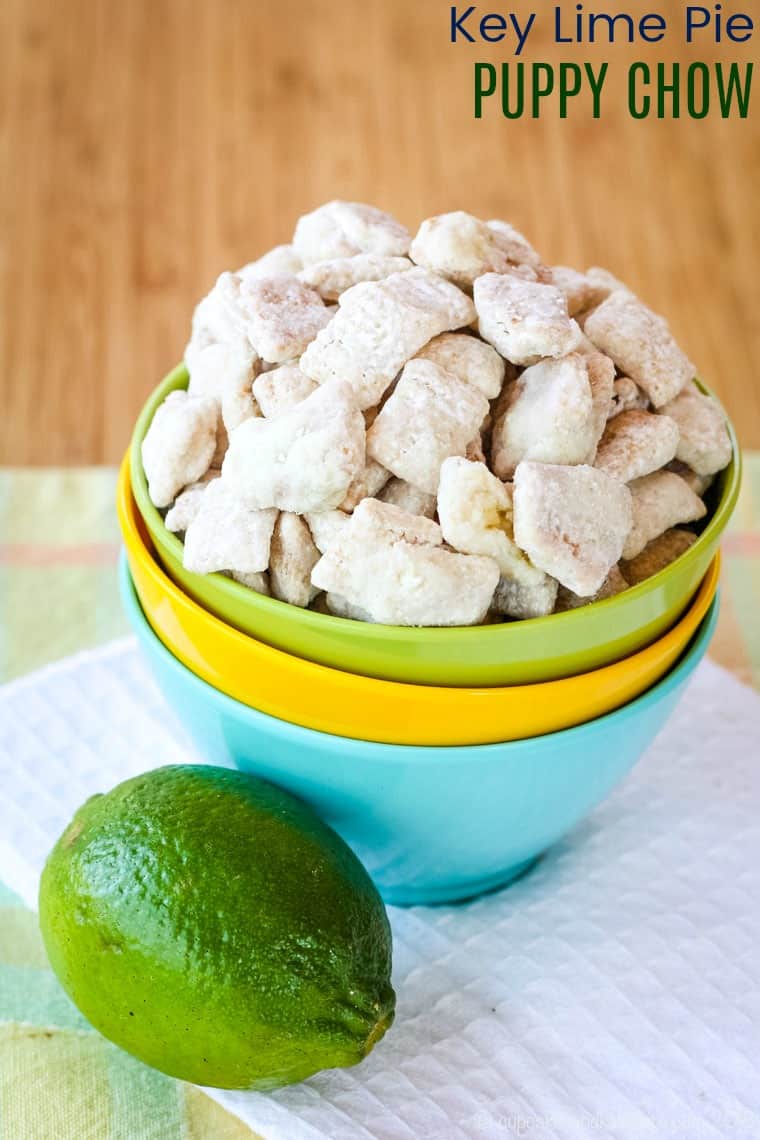 Is it called puppy chow or muddy buddies?
OK, let's talk about this Key Lime Pie Puppy Chow Recipe. Or do you call them Muddy Buddies? You know, the cereal squares coated in melted chocolate and peanut butter, then shaken all up with powdered sugar. Or, as I like to call them – Crack!
Honestly, I never know what to call this stuff. I mean, I suppose Muddy Buddies work when you use dark or milk chocolate because they do have kind of a muddy look about them. But really, the name isn't all that appealing. And then when you make them out of white chocolate, it totally doesn't work.
I have a Chai Tea White Chocolate Puppy Chow recipe that I originally called "Snow Buddies." For that flavor, it works. Key Lime? Snow? I don't think so.
And then there is the ever-popular Puppy Chow recipe. Except maybe it isn't so popular. I brought some to a mom's group, said it was Puppy Chow, and somebody asked me if it was for people to eat. Disclaimer: this was before she tasted it. #fail
So there is also just Chex Mix, but to me, that conjures up images of pretzels and peanuts and something salty for snacking while watching football. And you know, trademarks and all. Cereal Treats – those are the bars made with melted marshmallows. Not gonna work.
Sugary Cereal Square Snack Bites Treats Mix Awesome Deliciousness?
Oh gosh, I'm done. I went with Key Lime Pie Muddy Buddies. Then changed it to puppy chow. Oh gosh. Maybe I should have gone with Key Lime Crack. Because for you citrus lovers out there – seriously addictive, people! And the fact that it takes about five minutes to make. Umm, yeah…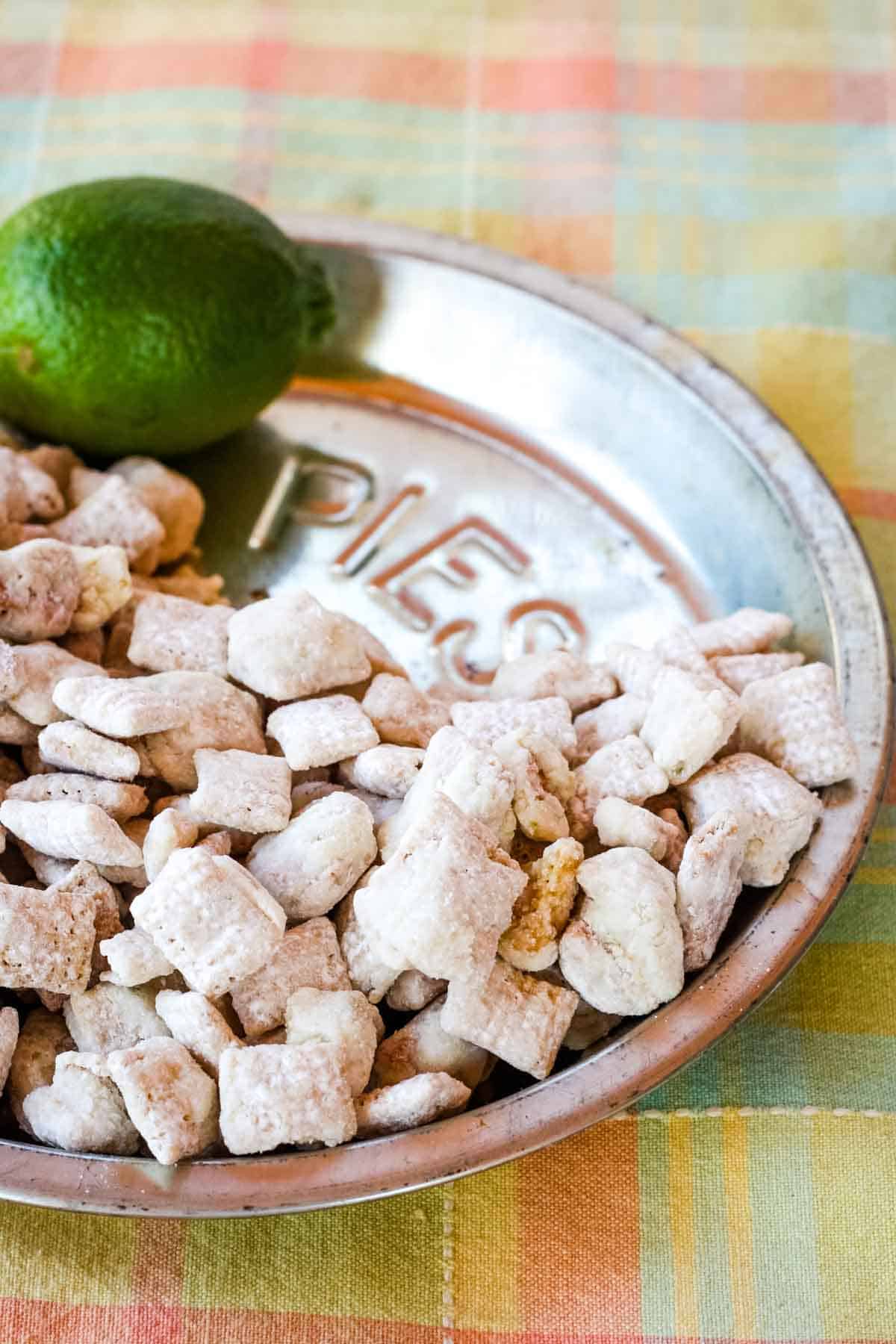 How do you make puppy chow that tastes like Key Lime Pie?
The Key Lime Pie puppy chow recipe is super duper easy to make.
From the traditional Muddy Buddy recipe, I swapped out the milk or semisweet chocolate chips and peanut butter for white chocolate chips and butter.
Then I added some lime juice and zest (don't get all up on me – I know they aren't technically key limes. Sorry.).
As for the cereal part, I swapped some of the Chex for graham cracker pieces. This gives it a bit of "crust".
Melt the chips and stuff, stir together with the cereal, toss in a big old Ziploc bag with powdered sugar and let the 3-year old shake it up. Definitely, a fun snack to make with the kids.
One disclaimer, I often find that white chocolate melts a little weird, Between that and the lime juice, it looks a little thick when you melt it. Just pour it over the cereal and toss around a bit. It'll get coated enough to make it sticky for the powdered sugar to cling to all the pieces in a sweet and yummy coating.
How do you make muddy buddies gluten free?
Want to make this key lime pie puppy chow recipe gluten free? Instead of the cup of graham cracker pieces, just use all Chex (I think even a cup of the Cinnamon Chex would be awesome for a little graham-cracker-ish-ness). Or simpler yet, grab some gluten free graham crackers. Easy peasy!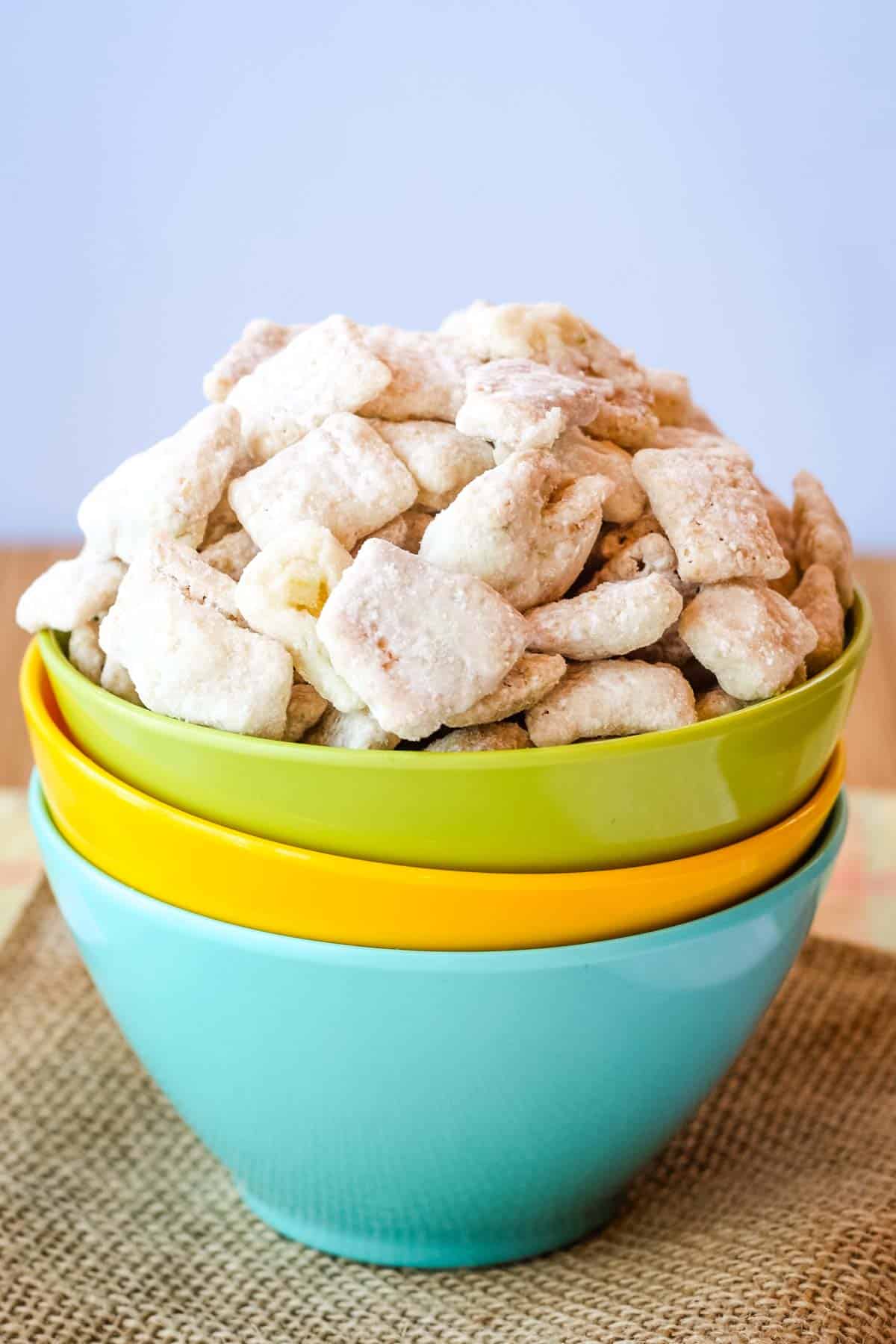 If you like this key lime pie puppy chow recipe, you can see 30 more puppy chow recipes here! I bet you'll love these no-bake snacks, too:
Plus a few from my friends…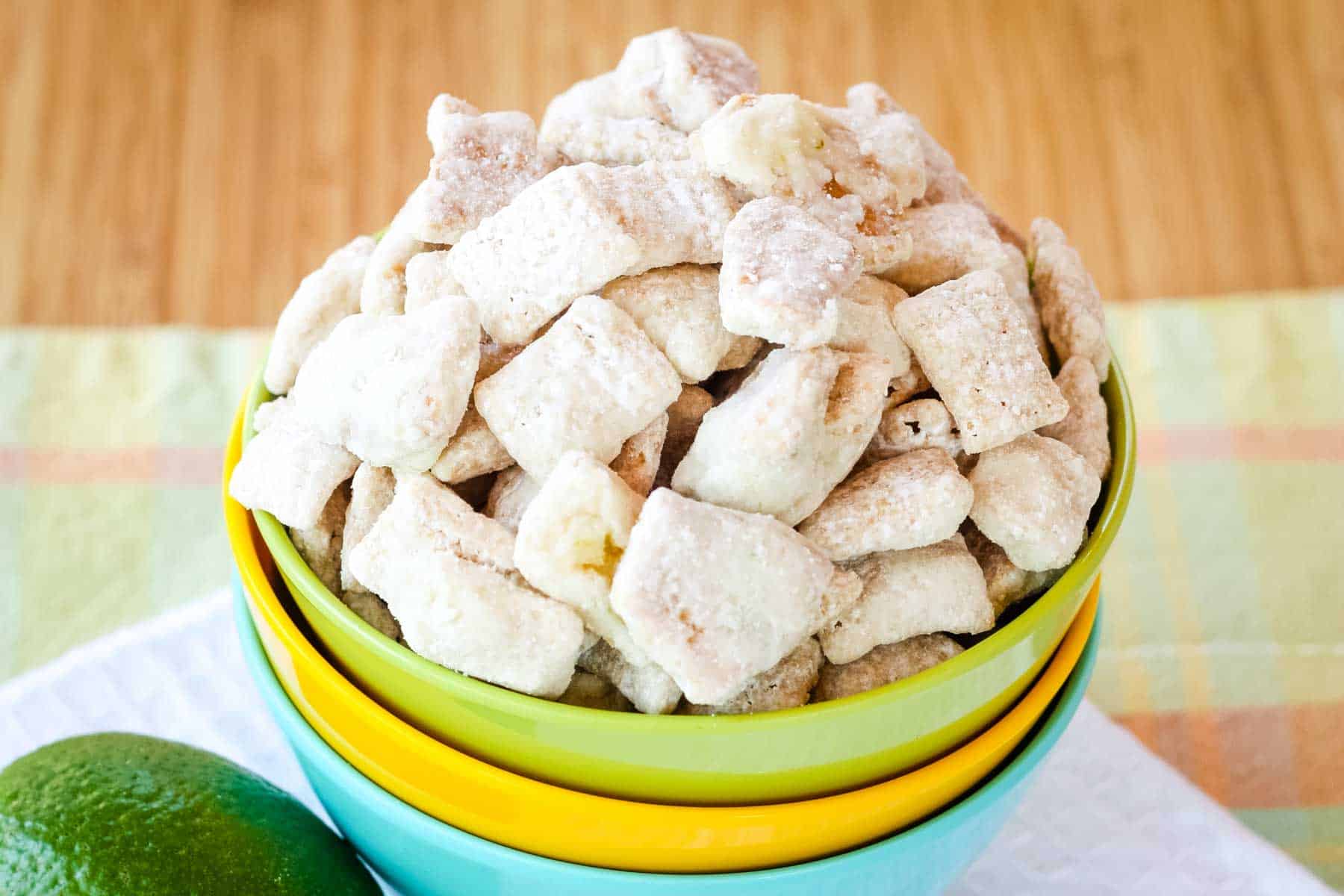 For more yumminess from me and my foodie friends, keep up with me on…
Or sign up to have Cupcakes & Kale Chips delivered straight to your Inbox!
Where can I get the Ziploc bag holder from the video?
One of the best gadgets to make this simple snack even easier is the plastic storage baggie holder. Clip on your large Ziploc bag, fill it with cereal, and pour in the white chocolate and powdered sugar without making a mess. The just unclip it, zip it up, and shake.
Key Lime Pie Puppy Chow Recipe
The no-bake snack mix with a name that confuses people, but a taste that is incredibly addictive! The classic Chex snack mix gets a citrusy makeover with white chocolate, lime, and even some graham cracker crust pieces. Whip up a batch in minutes for your next party and the bowl will be empty in no time.
I hope you'll leave a comment and give it a FIVE STAR rating or share a photo on this pin on Pinterest!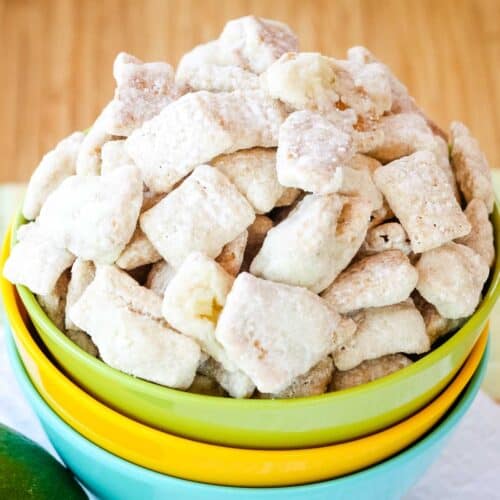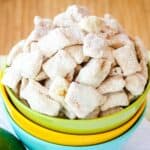 Print Recipe
Key Lime Pie Puppy Chow (Muddy Buddies)
All the flavor of the classic Key Lime Pie in a sweet and yummy snack mix that takes only minutes to make! Make sure you double the recipe to feed the whole gang!
Ingredients
1

cup

powdered sugar

4

cups

Chex cereal

your favorite variety

1

cup

graham crackers

broken into pieces similar in size to the Chex (see Note for a gluten free option)

1 1/2

cups

white chocolate chips

2

Tablespoons

unsalted butter

1

teaspoon

vanilla

2

teaspoons

lime zest

1

Tablespoon

fresh lime juice
Instructions
Place powdered sugar in a large zip top plastic bag and set aside.

Gently toss together the Chex and graham cracker pieces in a large bowl.

Combine the white chocolate chips, butter, vanilla, lime zest and lime juice in a bowl and gently melt in the microwave or over a double boiler. If doing it in the microwave, use 50% power and stir every 15-30 second until melted. It may look slightly thick and clumpy.

Pour chocolate mixture over the Chex mixture and gently stir and toss until fully coated, breaking up any large clumps that may form.

Transfer the cereal mixture to the plastic bag with the powdered sugar seal and toss until fully coated.

Pour out onto a sheet pan lined with a nonstick baking mat or wax paper and allow to cool and harden.

Store in an airtight container.
Notes
To make this gluten free, use another 1 cup Chex (perhaps try the Cinnamon Sugar Chex), or gluten free graham crackers.
Nutrition
Serving:
0.5
cup (approximately)
|
Calories:
241
kcal
|
Carbohydrates:
39
g
|
Protein:
3
g
|
Fat:
8
g
|
Saturated Fat:
4
g
|
Cholesterol:
8
mg
|
Sodium:
161
mg
|
Potassium:
131
mg
|
Fiber:
2
g
|
Sugar:
23
g
|
Vitamin A:
245
IU
|
Vitamin C:
2.8
mg
|
Calcium:
81
mg
|
Iron:
5.7
mg
Enjoy!