This post may contain affiliate links. Read my disclosure policy.
Warm up your weeknights with a cozy bowl of Gluten-Free Chicken and Dumpling Soup! This comforting, homemade soup is full of rich flavor, made with juicy chicken and fluffy gluten-free dumplings swimming in a creamy broth.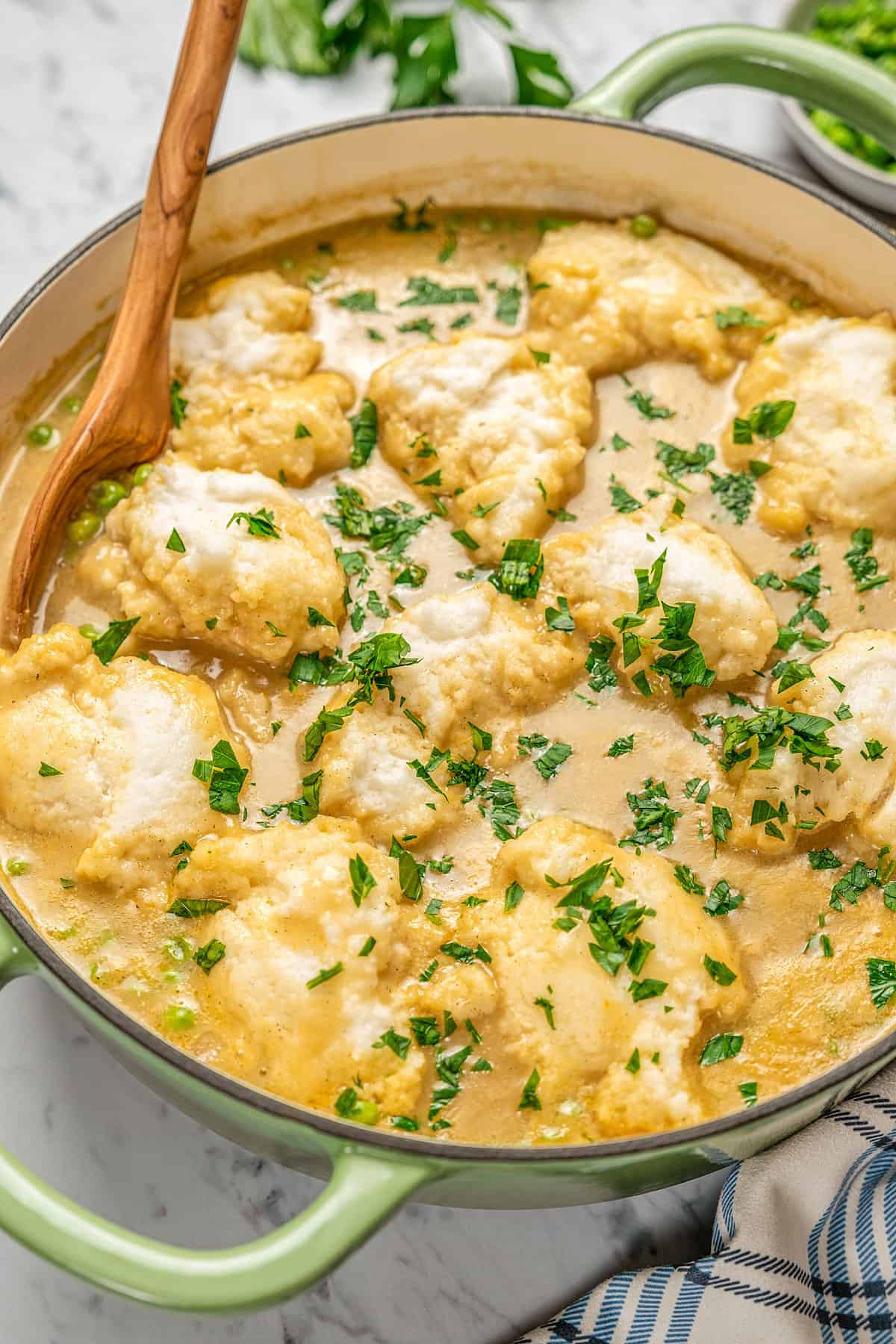 Cozy Gluten-Free Chicken and Dumpling Soup
Like Biscuits and Gravy, this chicken and dumpling soup is everything we love about Southern comfort food. My recipe is cozy and creamy like a hug in a bowl, packed with tender chicken and soft dumpings languishing in a savory broth.
I love the drop dumplings in this recipe because they're just SO easy. The gluten-free batter comes together with two ingredients and you literally just drop it into the hot soup to cook.
The result is some seriously simple yet irresistibly light and fluffy dumplings that float among chunks of juicy chicken while soaking up all that rich, creamy broth. This chicken and dumpling soup is a hearty, crave-able bowlful that's quick enough to make on weeknights, and guaranteed to warm the cockles.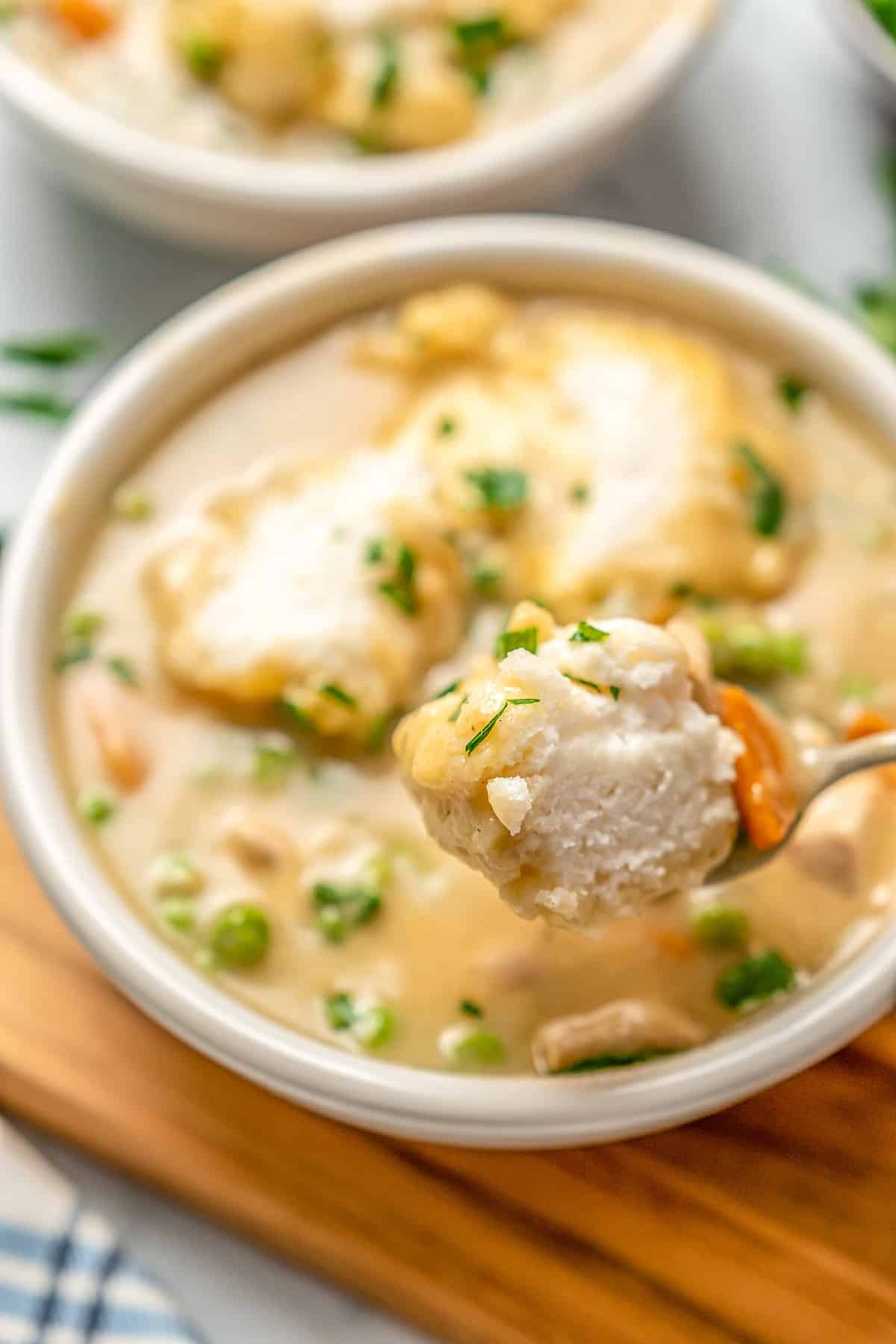 What You'll Need
Below are the ingredients you'll need to make the most glorious chicken and dumping soup, complete with gluten-free dumplings. Be sure to refer to the recipe card for the full recipe details.
Chicken: I make this recipe with boneless, skinless chicken breasts. I'm sure it would turn out great with boneless chicken thighs as well. Cube the chicken into small, similar-sized pieces so that they'll cook evenly.
Onion and Carrot: Aromatics that create the flavor base for the soup, along with garlic.
Butter: Unsalted butter is best. You can season the soup with additional salt to taste.
Gluten-Free Flour: You'll combine flour with the butter to create a roux, which helps to thicken the creamy soup.
Broth: Use low-sodium chicken or vegetable broth or stock, whichever you prefer.
Heavy Cream: I love using heavy cream for an absurdly creamy soup. You could use whole milk, but go big or go home, as they say.
Herbs: Dried thyme (or fresh thyme if you have it) and bay leaves complement the chicken and cream.
Frozen Peas: For an attractive pop of green, and some extra veggies. I also garnish my soup with fresh chopped parsley.
Gluten-Free Pancake Mix: The dumpling batter for this recipe is as simple as combining pancake mix with milk. You can also use Gluten-Free Bisquick or liveGfree Baking Mix.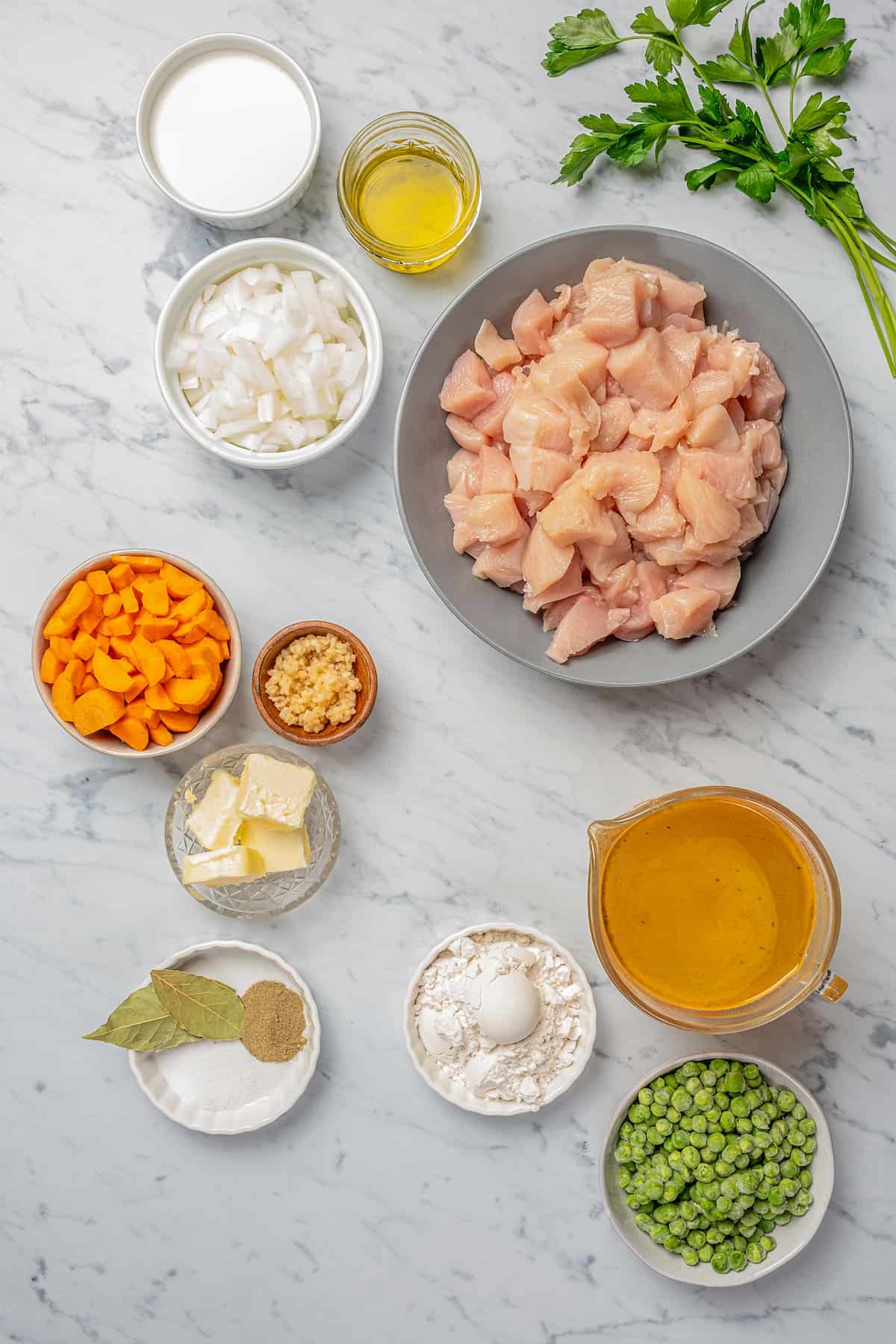 How to Make Chicken and Dumpling Soup
This classic chicken and dumplings recipe starts with a flavorful soup base and ends with some fluffy floating dumplings. Both are crazy-easy to pull together on the stovetop. Let's start with the creamy chicken soup:
Sauté: First, brown the chicken in a large pot with oil. Once the chicken pieces are browned on both sides, scoop them out and set them aside. Add chopped onions and carrots to the pot and sauté until softened, then stir in the garlic.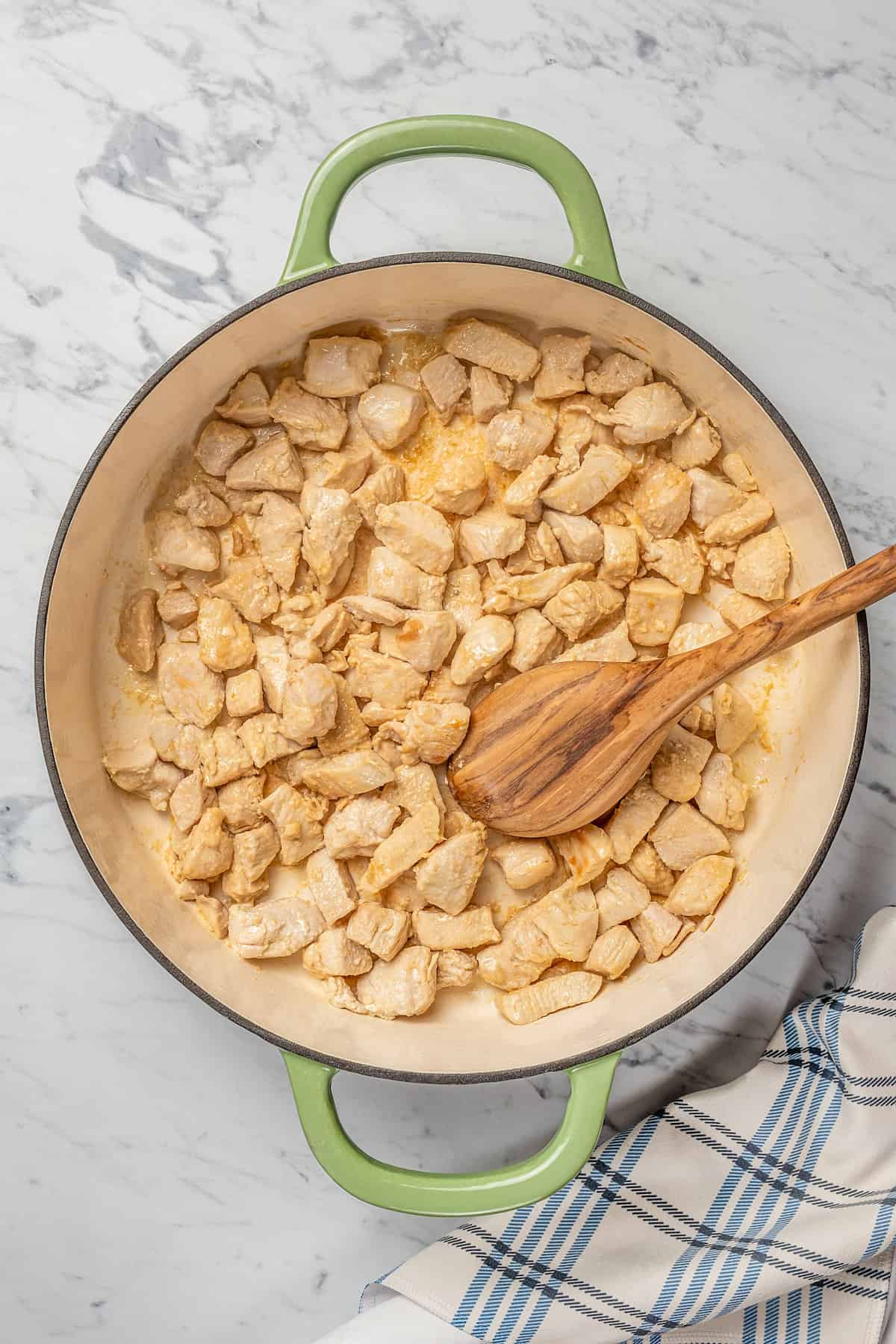 Add Butter and Flour: Next, add butter to the pot along with gluten-free flour, and stir as the flour cooks off. This creates what you call a "roux", and it's the base that thickens the soup.
Combine and Cook: Add the chicken back to the pot, followed by broth, heavy cream, and herbs, and bring to a simmer. Stir in the frozen peas, then cover and cook for about 15 minutes.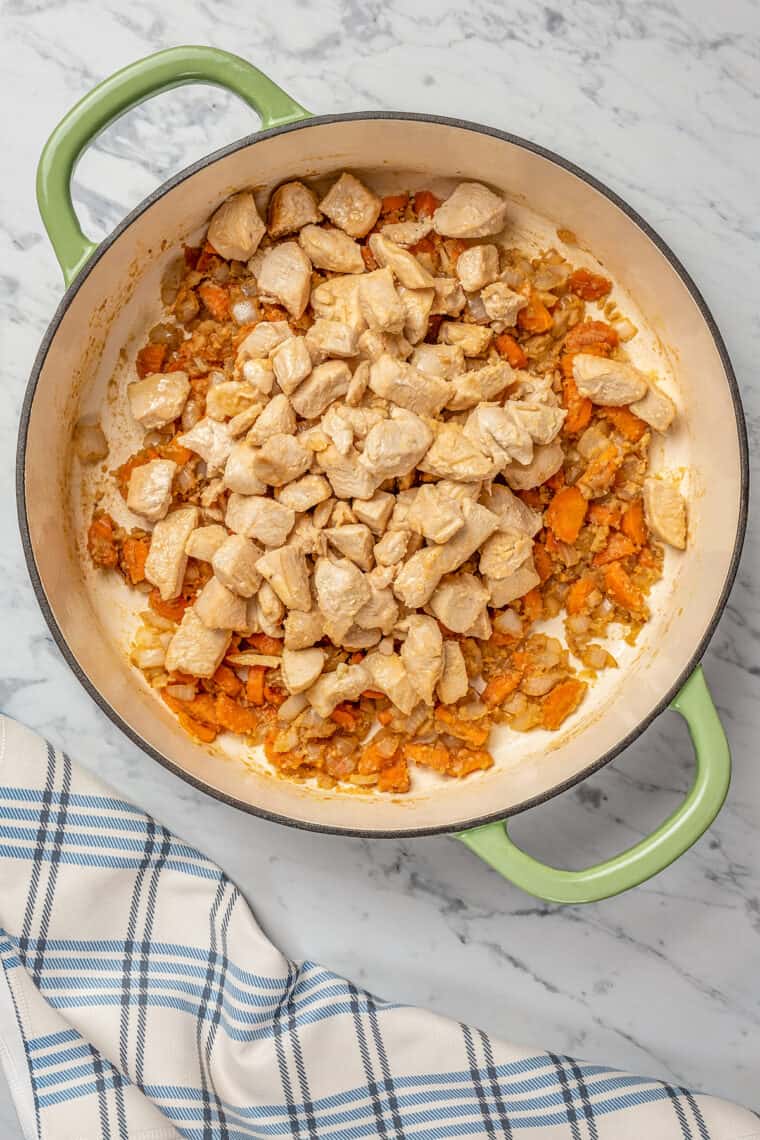 Making the Drop Dumplings
While the soup is simmering, you'll have loads of time to prepare your dumplings. Whip up a quick batter, and then all you need to do is drop it right into the soup!
Prepare the Batter: Whisk together gluten-free pancake mix with milk until combined.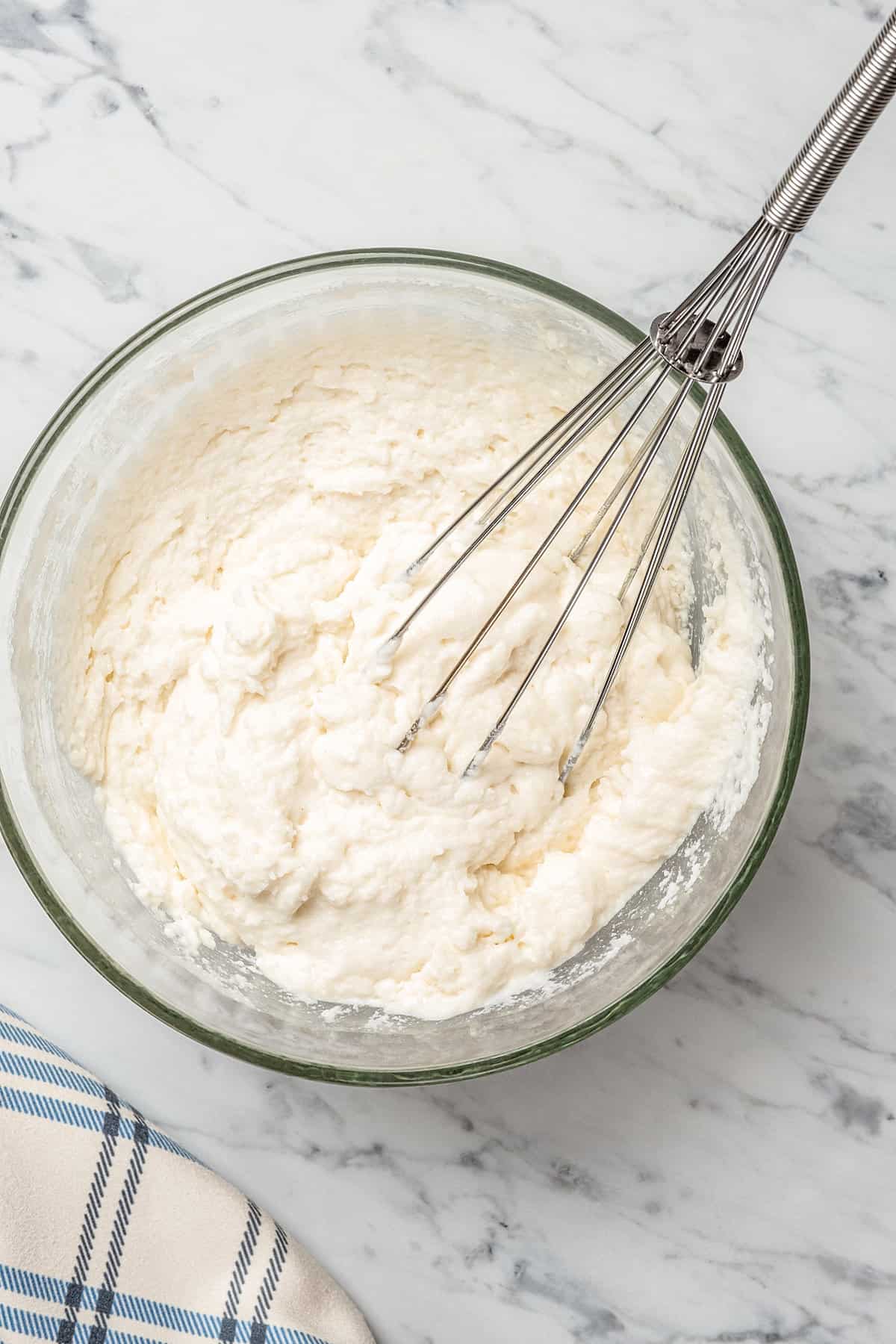 Drop and Cook: Scoop balls of dumpling batter into the simmering soup. You should have enough batter for 10 to 12 dumplings. Once they're all in there, cover the pot and leave the dumplings to cook. After about 15 minutes, your chicken and dumpling soup is ready to serve.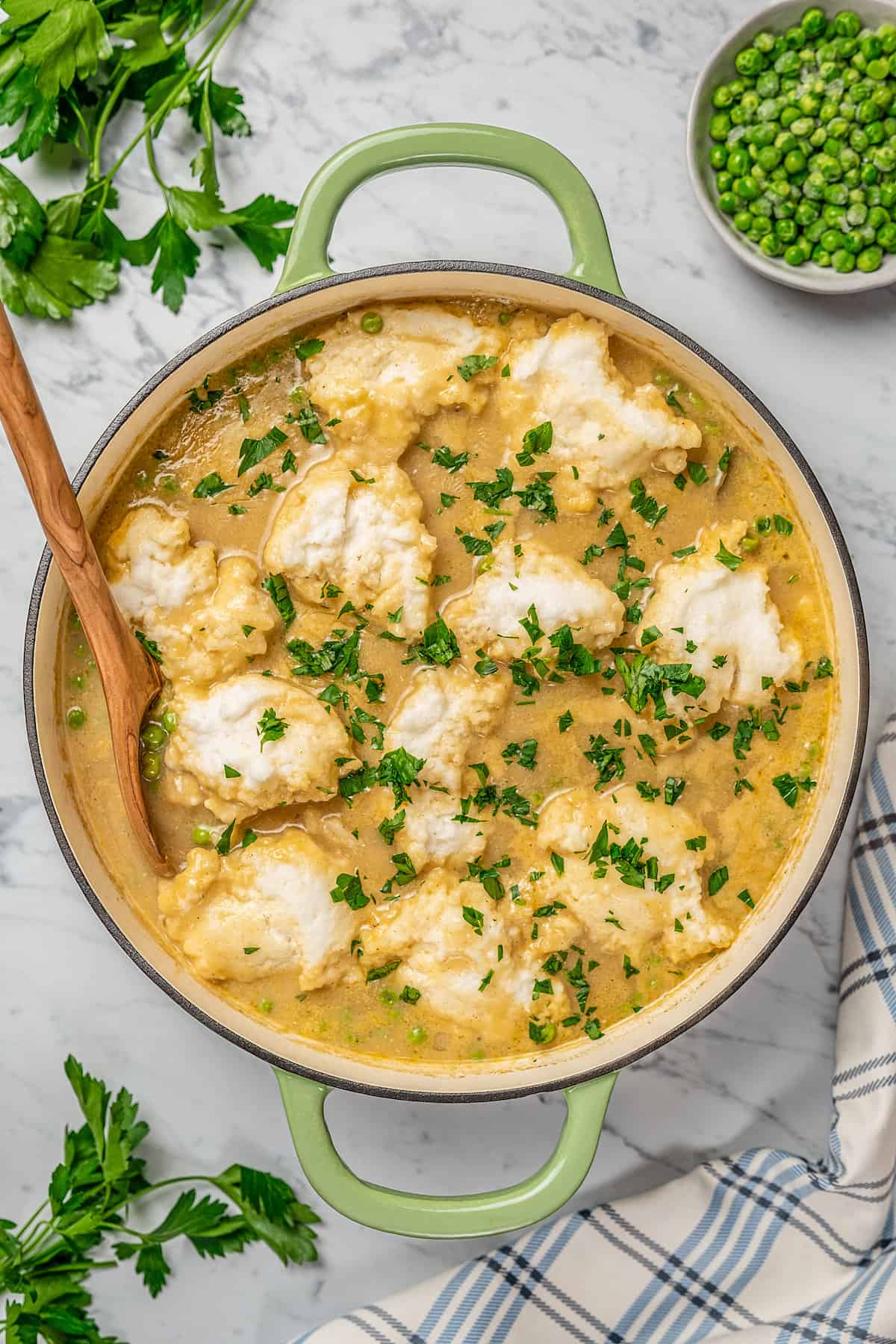 Tips for Success
Here are some additional helpful tips for the best chicken and dumpling soup:
The secret to extra creamy soup is the roux. This is the "paste" that's created when you sauté flour with butter. The roux forms a base that thickens the soup and makes the broth rich and creamy.
Use an ice cream scoop to portion the dumpling batter. This is super helpful for portioning out dumplings that are the same size. You want your dumplings to be about 1 to 1 ½" in size, so they cook through evenly.
Wait until the soup is at a steady simmer before adding the dumplings. This is important. If you drop the dumpling batter in before the soup is hot enough, the gluten-free dumplings will likely turn out mushy, or undercooked. On the other hand, make sure the soup isn't at a hard boil either, as this might cause the dumplings to break up. A gentle, continuous boil with some bubbles is the goal.
Don't stir after you've dropped in the dumplings. I repeat, do not stir! Stirring after the batter has been dropped into the soup will cause the dumplings to dissolve.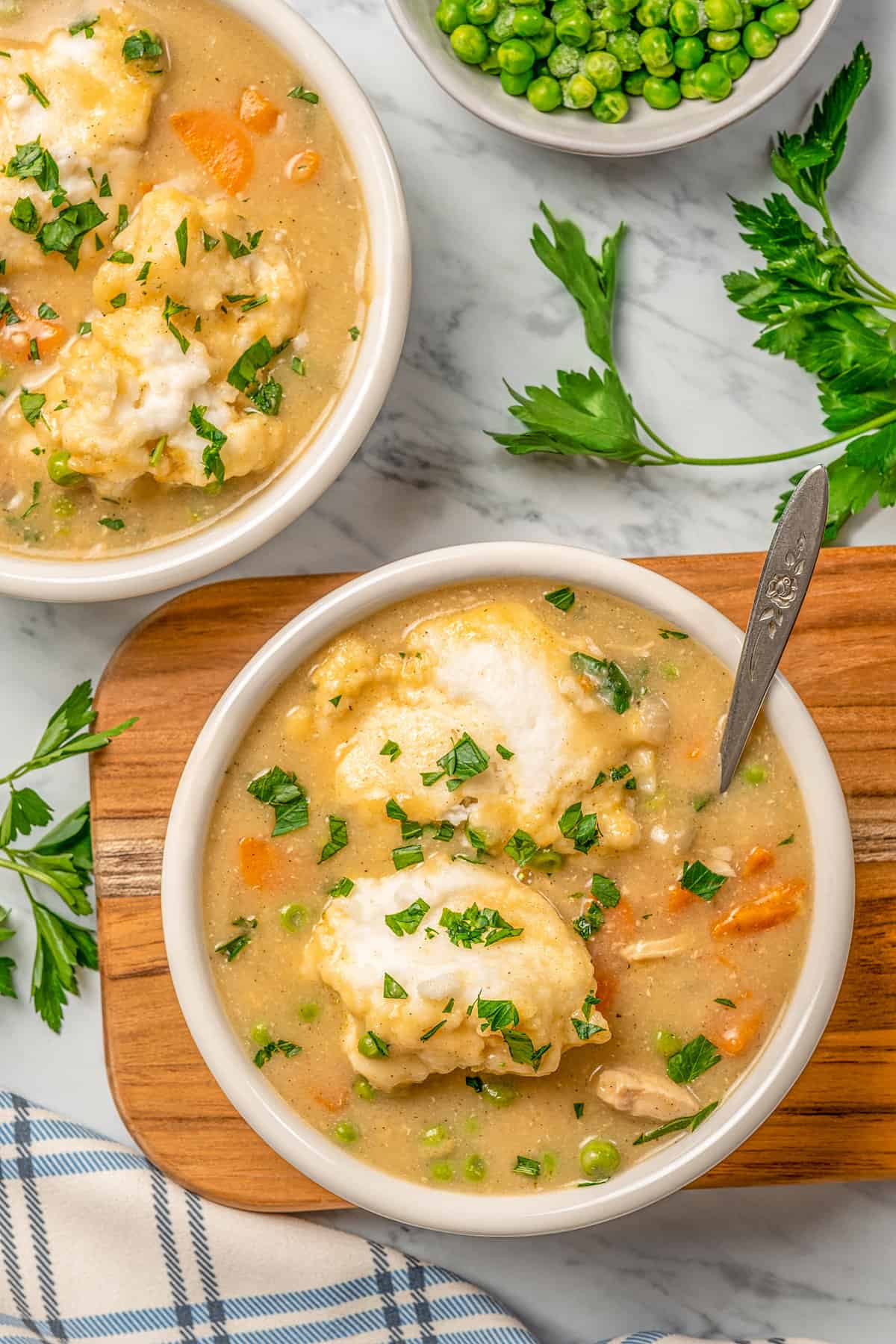 Make It a Meal
On a cold day, it doesn't get better than a bowlful of hearty chicken and dumpling soup paired with a side of crusty Gluten Free French Baguette for dunking. We often enjoy this soup as a meal in itself since it's super filling, but it's just as great to serve with a light side of Green Salad.
For a fuller meal, serve chicken and dumplings with Gluten-Free Cornbread, Crispy Air Fryer Brussels Sprouts, or Bacon Green Beans. Or even scoop it into Gluten Free Bread Bowls.
And for a true Southern-style feast, pair your soup with Corn Pudding Casserole.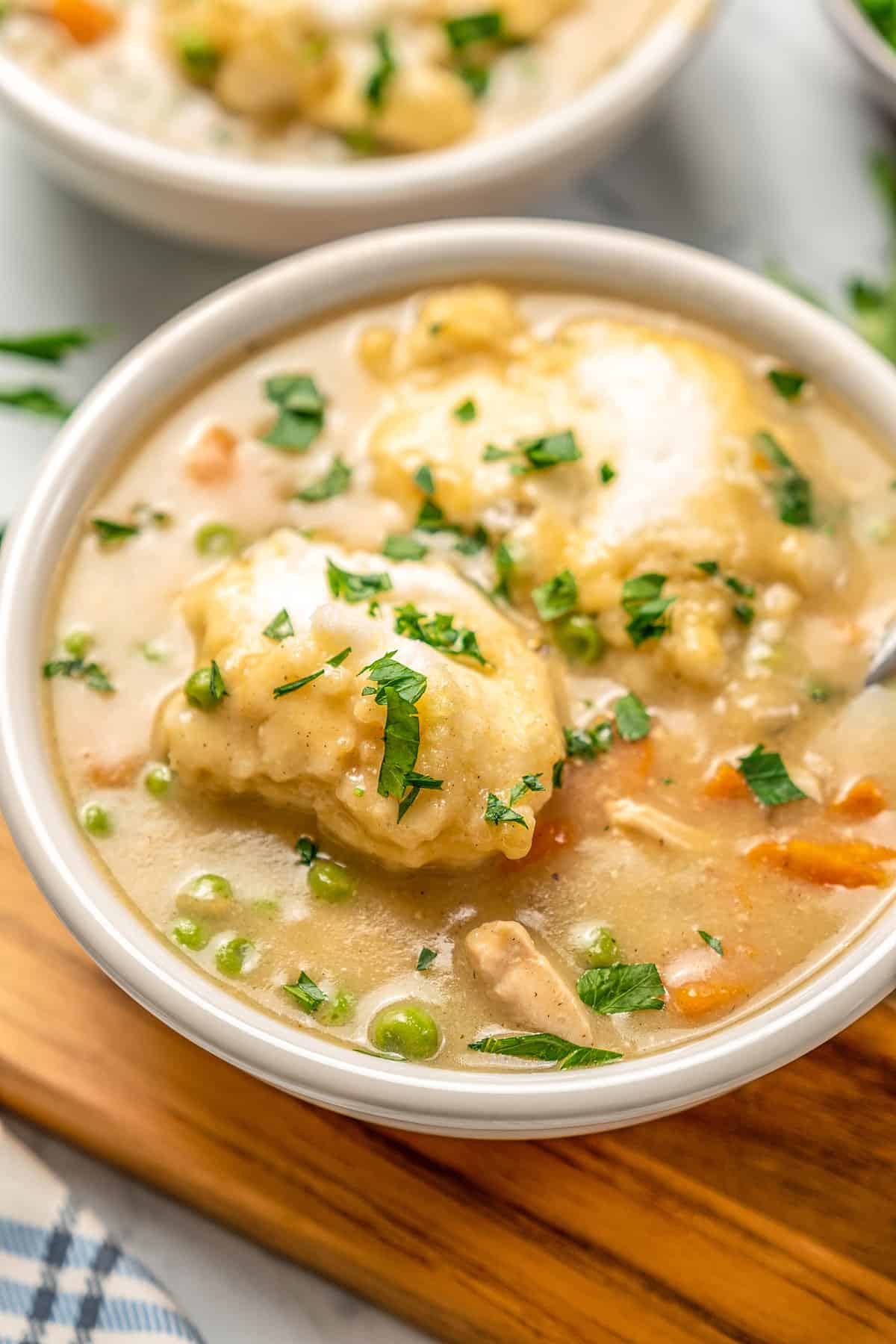 Storing and Reheating Leftovers
This recipe makes a decent amount of soup. The dumplings will also continue to absorb the broth the longer they sit, making this soup ideal for saving and reheating leftovers. Store your gluten-free chicken and dumpling soup airtight and refrigerate it for up to 3-4 days.
I always reheat my soup on the stovetop versus in the microwave, as it's the best way to preserve the texture of the dumplings. Place leftovers in a saucepan over medium-low heat until warmed through, and enjoy.
Can I Freeze Chicken and Dumpling Soup?
Yes! This dumpling soup freezes well. I love keeping portions in my freezer for a cozy last-minute meal. Make sure to wait until the chicken and dumpling soup is completely cool, and freeze it airtight for up to 3 months. Thaw the soup in the fridge, and reheat it on the stovetop for best results.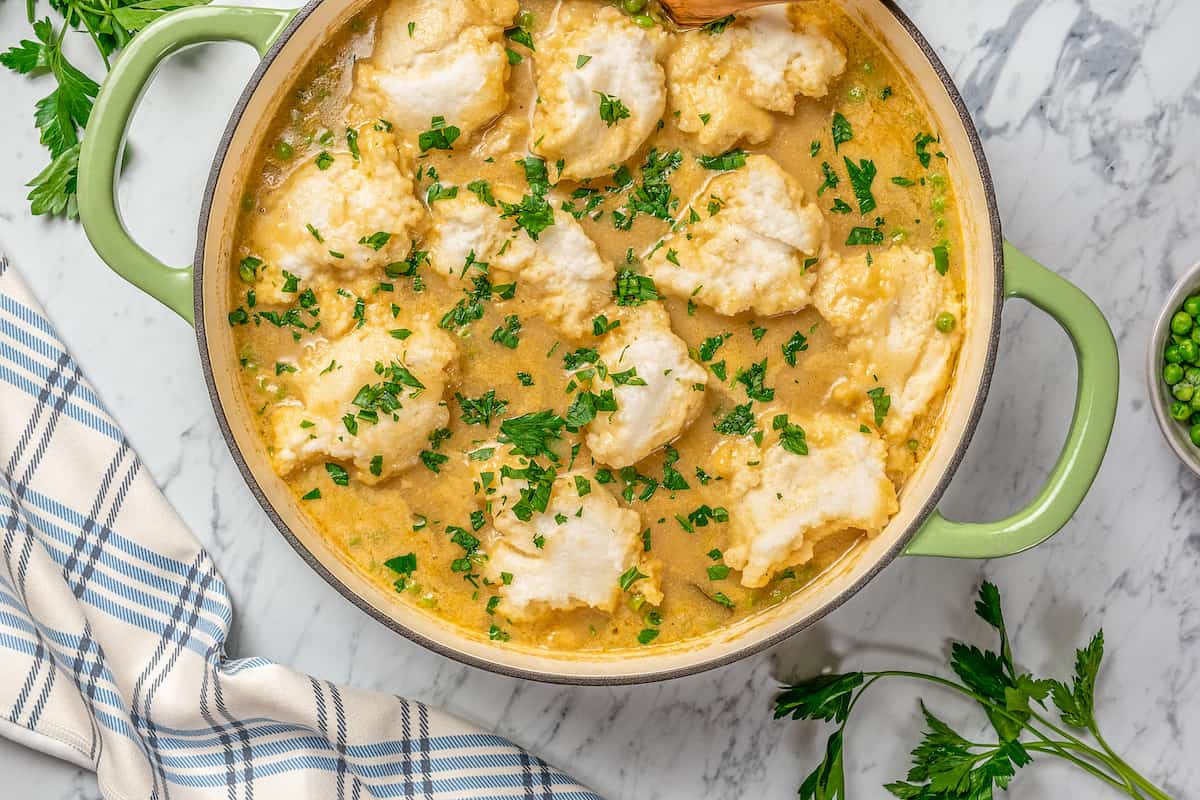 The Best Pot for Chicken and Dumpling Soup
When you are going to simmer a soup or stew like this, you need a good, heavy-bottom pot. I like an enameled cast iron Dutch oven. They distribute the heat evenly so nothing gets burned. And cleanup is always a breeze. Plus, they come in lots of colors so you can choose one to match your decor.
$79.90
$133.00
in stock
38 new from $79.90
22 used from $52.70
as of September 21, 2023 12:57 pm
Last updated on September 21, 2023 12:57 pm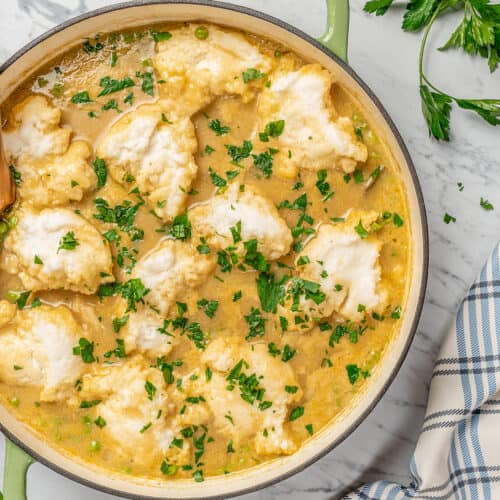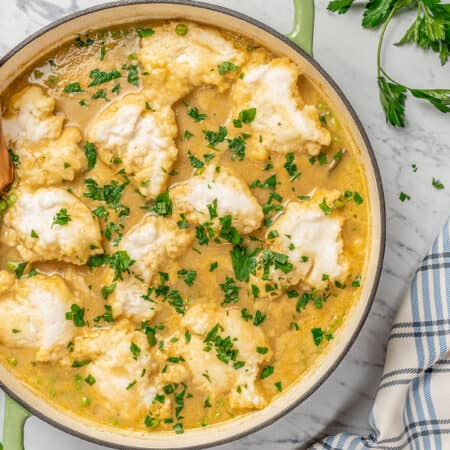 Gluten Free Chicken and Dumpling Soup
This stick-to-your-ribs Chicken and Dumpling Soup is filled with juicy chicken and fluffy gluten-free dumplings swimming in a rich and creamy broth. An easy and classic comfort food!
Ingredients
For the Soup:
3

tbsp

olive oil

2

lb

boneless skinless chicken breast

, cubed

1

small yellow onion

, chopped

1

medium carrot

, sliced

4

cloves

garlic cloves

, minced

1

tsp

kosher salt

5

tbsp

unsalted butter

6

tbsp

gluten-free all-purpose flour

6

cups

chicken or vegetable broth

1/2

cup

heavy cream

1/2

tsp

dried thyme

2

bay leaves

1 1/2

cups

frozen peas

4

tablespoons

fresh parsley

, chopped fine
For the Dumplings:
2

cups

gluten-free pancake mix

, Gluten-free Bisquick, or liveGfree Baking Mix

2/3

cup

of milk
Instructions
In a large dutch oven or heavy bottom stock pot, heat the oil over medium-high heat.

Add cubed chicken breast and cook until browned on both sides. Remove chicken from the pot and set aside.

To the same pot over medium-high heat, add onions and carrots. Cook until just tender. Add more oil if needed.

Add in garlic and stir for another minute, until fragrant. Do not burn the garlic.

Reduce the heat to medium-low and add butter and Gluten Free flour. Stir constantly to prevent lumps from forming. Cook for 3 minutes.

Then add the cooked chicken back to the pot. Stir until well combined.

To the pot, add broth, heavy cream, thyme, and bay leaves. Bring soup to a boil. Reduce heat to a simmer and stir in the frozen peas, cover, and cook for 15 minutes.

To make the dumplings: In a large bowl, combine the Gluten Free pancake mix and milk. Stir until mixture is combined.

Using a large spoon or ice cream scoop, drop a 1 to 1 1/2 inch ball of dumpling batter into the simmering soup. Repeat until you have used up your batter (make sure they don't touch). You will have about 10-12 dumplings. Cover and let the soup simmer for 15 minutes, or until the dumplings are cooked through.

Ladle into bowls, giving 1-2 dumplings per serving.
Nutrition Facts
Gluten Free Chicken and Dumpling Soup
Amount Per Serving
Calories 656
Calories from Fat 315
% Daily Value*
Fat 35g54%
Cholesterol 208mg69%
Sodium 1862mg78%
Potassium 993mg28%
Carbohydrates 40g13%
Protein 45g90%
Vitamin A 3080IU62%
Vitamin C 23mg28%
Calcium 267mg27%
Iron 3mg17%
* Percent Daily Values are based on a 2000 calorie diet.
Categories:
More Cozy Soup Recipes to Love