Flu Buster Vegetable Soup
Disclosure: This post may contain affiliate links. Cupcakes & Kale Chips is a participant in the Amazon Services LLC Associates Program, an affiliate advertising program designed to provide a means for us to earn fees by linking to Amazon.com and affiliated sites.
Flu Buster vegetable soup is full of delicious, antiviral goodness. It will help to chase the sickness right out of your body, while filling you up with healthy veggies! So creamy, but made without cream, so it's gluten-free, vegan, paleo, and Whole 30 friendly.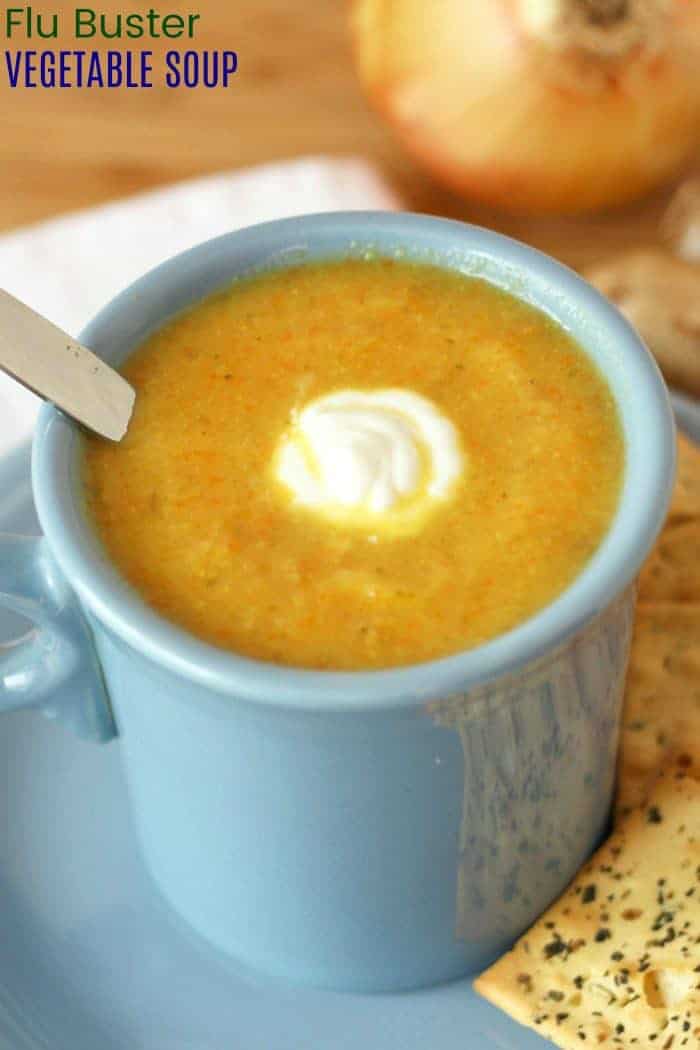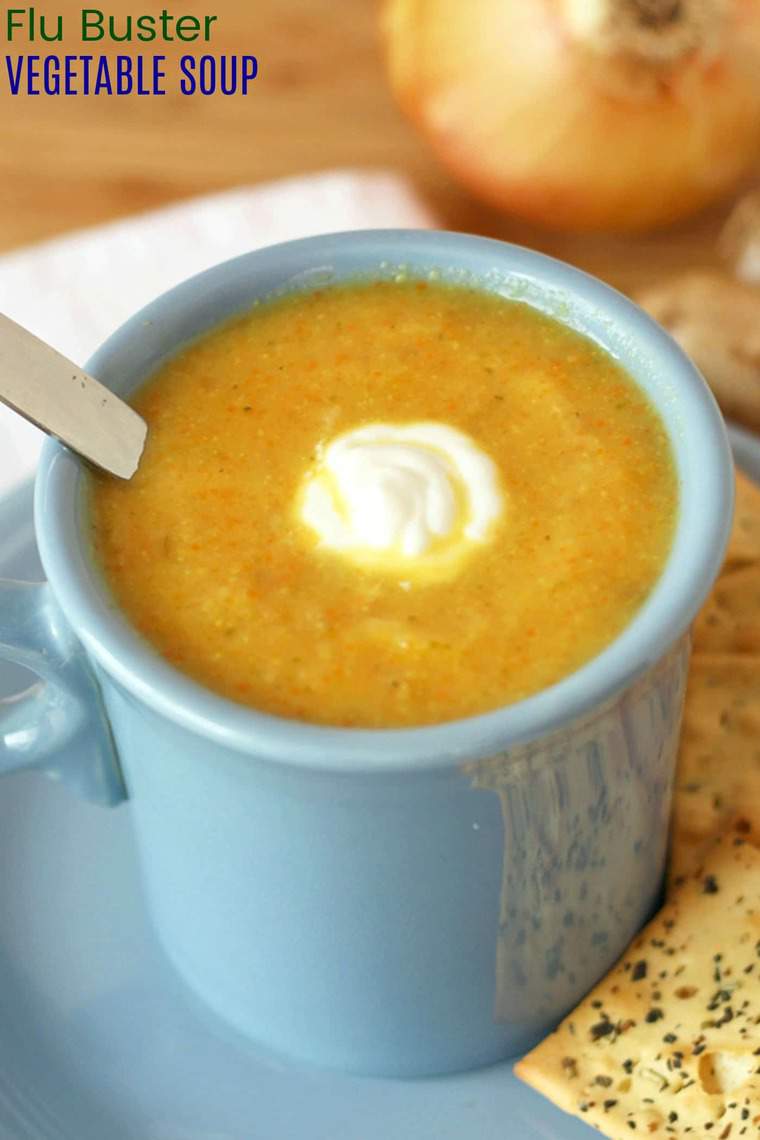 MY LATEST VIDEOS
Healthy Vegetable Soup
Are you sick of being sick yet?  Or sick of your kids being sick?  I am.  Colds, the flu, ear infections, strep throat, pinkeye, stomach big.  Yeah, I am pretty much over it.  It is time for a soup full of all kinds of delicious antiviral goodness! It's my "Flu Buster" Vegetable Soup recipe.

Well, I can't guarantee this will cure you, but a steaming mug full of veggies and vitamins that tastes amazing certainly can't hurt, especially if you are sipping a Cold Toddy Whiskey Mule at the same time for more germ-fighting ingredients – just don't give that one to your kids unless you leave out the whiskey.  And during the winter with the flu and all kinds of other viruses and bacteria running rampant, I thought I would bring you this vegetable soup recipe based on the Virus Busting Soup from My Foodie Universe. I changed it just a bit and used a little less garlic, plus ground turmeric instead of turmeric root (just because it's more common in most people's pantry). Also, for more fiber and nutrients, I didn't peel the potatoes or carrots.
Flu buster vegetable soup is smooth and creamy, without using any actual cream. You simply saute a delicious mix of vegetables that are nutrient powerhouses on their own, like cauliflower, onions, carrots, zucchini, but then with some superfood spices in the mix, you really kick up the goodness. Then with an immersion blender or a regular or high-powered blender, you whizz it all up till it's velvety and hot and everything you want on the coldest winter days.
There is a bit of heat (which you can adjust with the amount of cayenne you use), and I personally like to balance the spice with a little dollop of Greek yogurt. However, if you leave off the Greek yogurt, this vegetarian soup recipe is also vegan, and fits in with your paleo diet or that Whole 30 you decided to start.
With the addition of antiviral ingredients like garlic, onions, ginger, and turmeric, Flu Buster Vegetable Soup is sure to help fight anything that is attacking your immune system.  And, even if it doesn't, just kick up the heat level with more cayenne pepper to help clear the sinuses!
If you aren't sick, you can still reap the benefits of a big bowl of creamy goodness, especially with the comfort food factor on cold winter days. Plus the blend of ingredients taste amazing together, and that silky texture from blending it all together just soothes the body and soul. Serve it with a piece of Gluten Free Apple Butter Corn Bread or Gluten Free Cheddar Crackers to round out your meal.
The family thought it was quite delicious, and I was so happy to see my boys happily devouring their veggies!!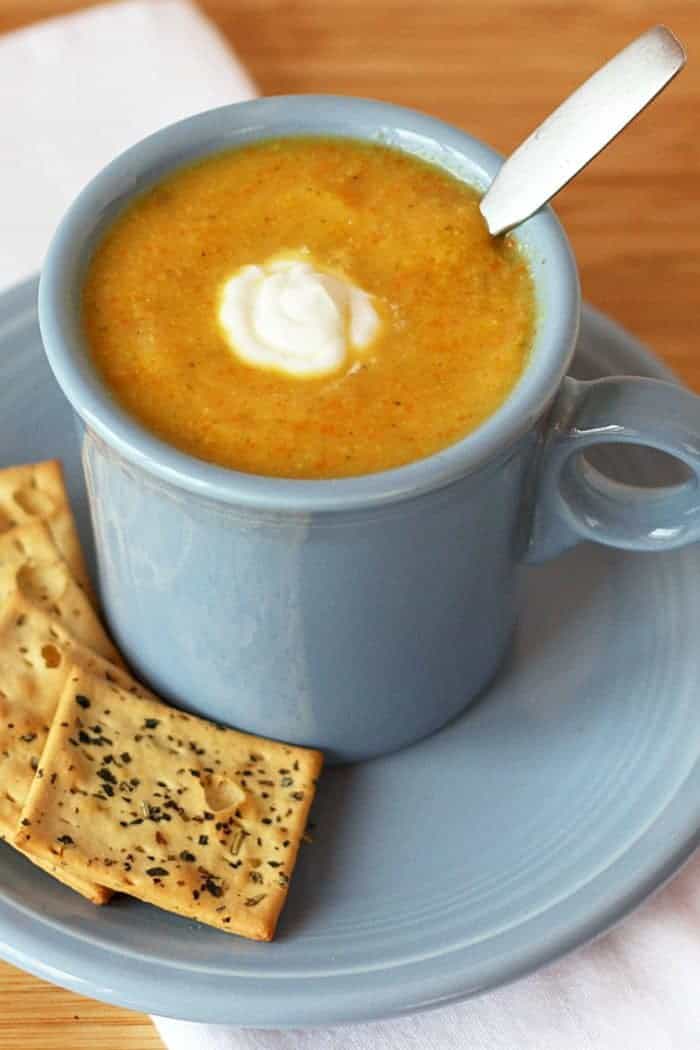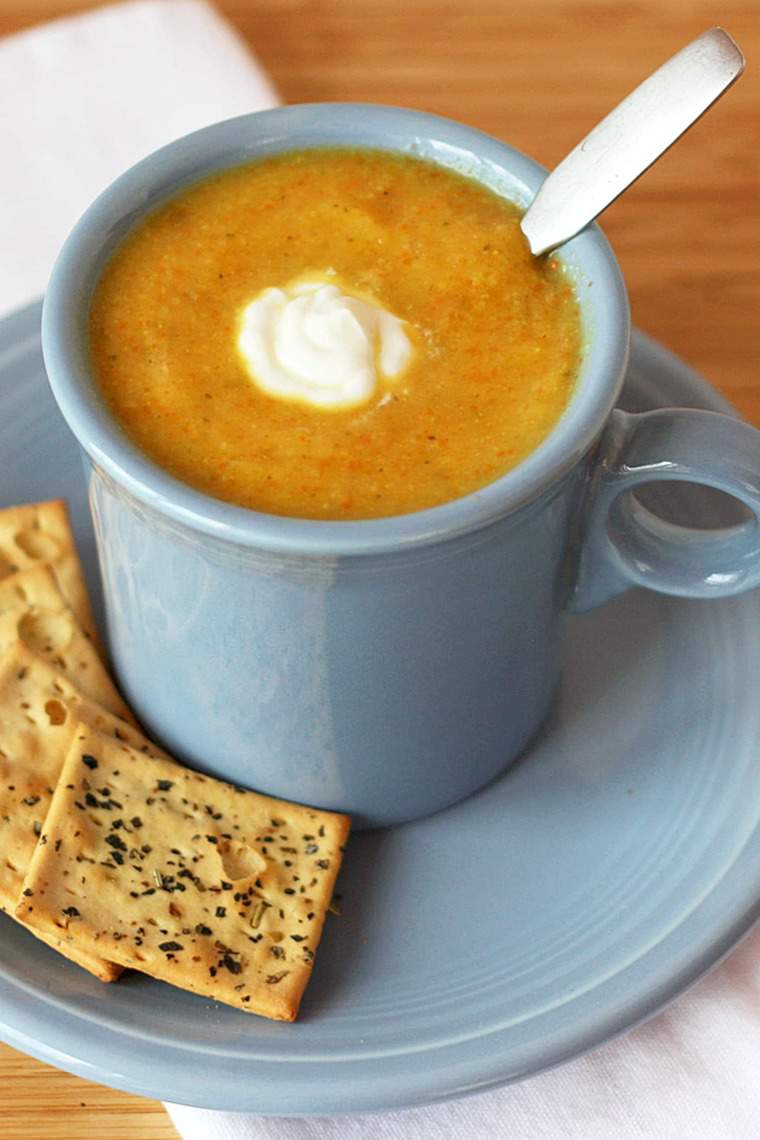 Here are some more healthy soup recipes for you…
My friends also have some recipes to help cure all those nasty bugs. Try this Homemade Cough Remedy from Barefeet in the Kitchen. Or pop some Homemade Cough Drops in your mouth from The View From Great Island. Foodie With Family is also going to kick those germs to the curb with Fire Cider Health Tonic.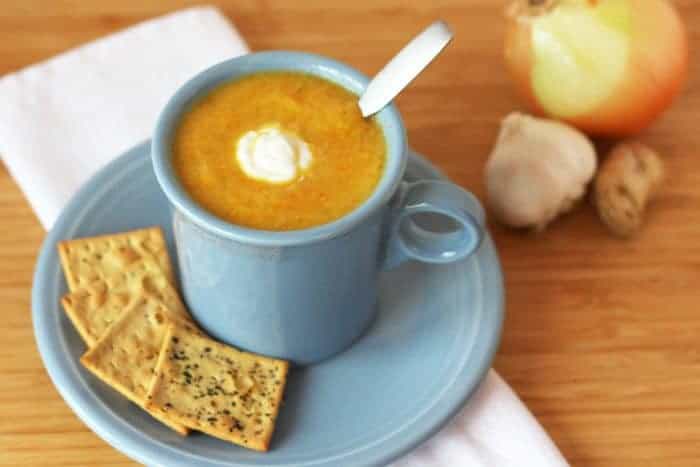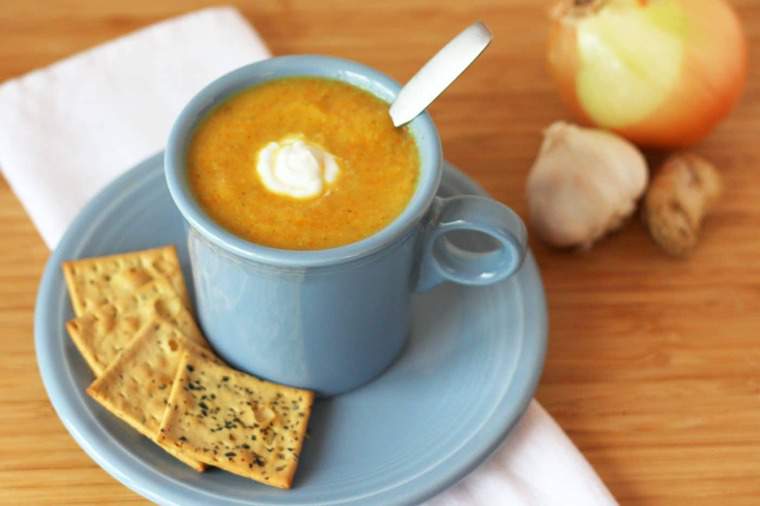 For more yumminess from me and my foodie friends, keep up with me on…
Or sign up to have Cupcakes & Kale Chips delivered straight to your Inbox!
Here's a few things you might need to make this Flu Buster Vegetable Soup…
Products from Amazon.com
‹
›
 I hope this flu buster soup chases away any signs of a bug in your system!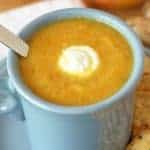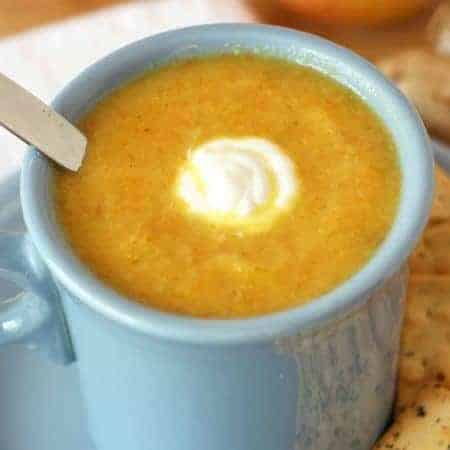 Flu Buster Vegetable Soup
A delicious, creamy vegetable soup without any cream, this gluten-free, vegan, paleo, and Whole 30-friendly recipe is packed with lots of antiviral goodness.
Ingredients
1

Tablespoon

olive oil

1/2

small onion

chopped

2-3

cloves

garlic

peeled and minced

1/4

teaspoon

ground turmeric

1

teaspoon

peeled

diced ginger root

2

small potatoes

chopped (peeled, if you like)

1/2

head of cauliflower

chopped

1

medium zucchini

chopped

2

large carrots

chopped

2

stalks of celery

chopped

salt and pepper

to taste

juice of one lemon

about 2 Tablespoons

4

cups

vegetable and/or chicken broth

1/4-1/2

teaspoon

cayenne pepper

adjust to preferred level of spice

Greek yogurt

if desired, for serving
Instructions
In a large pot, heat the olive oil over medium heat.

Saute the onion, garlic, ginger, and turmeric for a few minutes, until onions start to soften and become translucent.

Add the remaining veggies, and salt and pepper, and saute for several minutes longer.

Pour in the lemon juice, and stir to coat the vegetables.

Add the broth, cayenne and additional salt and pepper, if desired bring to a boil, cover and boil for 10-15 minutes, or until the veggies are soft.

Use an immersion blender, or add the contents of the pot to a blender of food processor (in portions, if needed, based on the size of your blender), puree until smooth and creamy.

Return the soup to the pot, and heat through.

Serve with Greek yogurt, if desired.
Enjoy! (Originally published on Jan 21, 2013)