This post may contain affiliate links. Read my disclosure policy.
Full of delicious healthy veggies and spices, this Creamy Vegetable Soup recipe is the best soup for a cold, the flu, or any time you are sick. But with all the delicious flavors and silky smooth texture, this is a recipe you'll want to make to fill your belly any time. Move over Chicken Noodle, because the antiviral ingredients in this immune-boosting Flu Buster Soup will help chase the germs away.
Creamy Vegetable Soup Recipe – The Best Flu Buster Soup when You Are Sick
Are you sick of being sick yet? Or sick of your kids being sick? I am. Colds, the flu, ear infections, strep throat, pinkeye, stomach big. Yeah, I am pretty much over it.
It is time for a soup full of all kinds of delicious antiviral goodness! And during the winter with the flu and all kinds of other viruses and bacteria running rampant, I thought I would bring you this creamy and healthy vegetable soup recipe. With all of the virus-fighting ingredients, it is definitely a Flu Buster Vegetable Soup!
Technically I can't guarantee this will cure you, but a steaming mug full of veggies and vitamins that tastes amazing certainly can't hurt. And the added bonus is that it is also gluten free, paleo, and Whole 30, so it is healthy all around.
Even if you aren't sick, you can still reap the benefits of a big bowl of creamy vegetable soup, especially with the comfort food factor on cold winter days. The combination of veggies and spices taste amazing together. Also, the silky texture from blending it all together soothes the body and soul.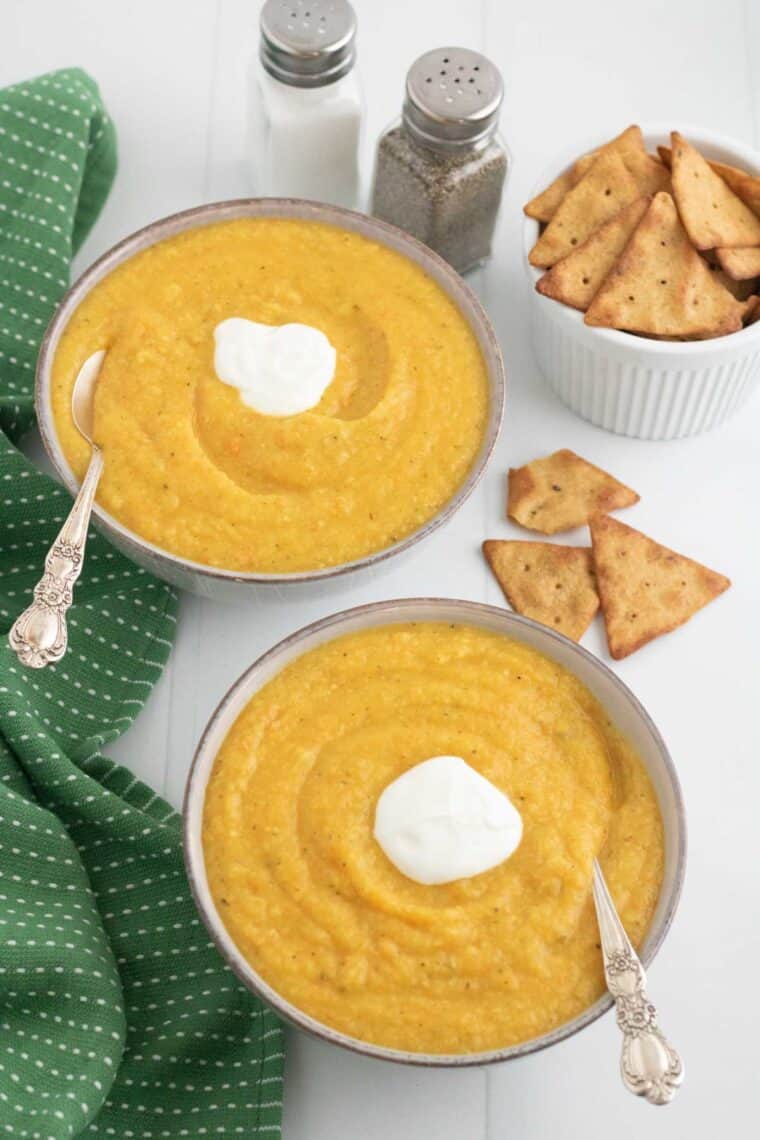 Why is this the best soup for a cold?
Many people swear by Chicken Noodle Soup when it comes to soup for colds. Or maybe even Avgolemono Greek Chicken Zoodle Soup for a low carb version of the classic. But I prefer this healthy vegetable soup. Why?
Flu buster vegetable soup is smooth and creamy, without using any actual cream. So none of that dairy that can increase congestion.
Each of the vegetables are nutrient powerhouses on their own, like cauliflower, onions, carrots, and zucchini. Put them together and you'll have soup-er powers.
Since the soup is going to be blended, you don't have to peel the carrots or potatoes. This make it less effort, which is key when you are under the weather. Plus it adds additional fiber and nutrients.
Onions, garlic, ginger, and turmeric all have antiviral properties with immune-boosting benefits.
The addition of cayenne pepper for a little heat will help clear the sinuses.
And it is so creamy, but made without cream, so it's gluten-free, and can easily be made vegan, paleo, Whole 30, and keto friendly.
Of course, this is a gluten free vegetable soup recipe, but as always, please read all of your ingredient labels to ensure they are gluten free and not affected by cross-contamination or hidden sources of gluten. Since this is mostly vegetables and spices, you'll just need to be sure you use gluten free broth or stock from a box or that you've made yourself.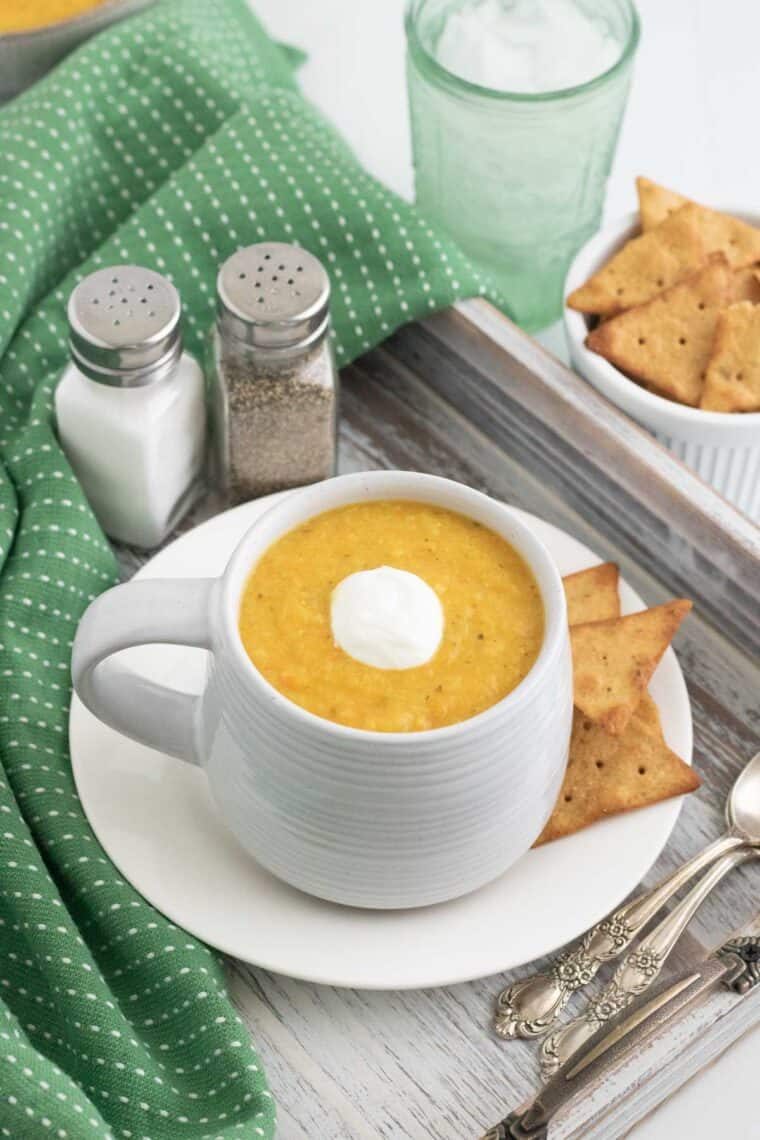 Healthy Vegetable Soup Ingredients
Each ingredient in this flu buster soup does double duty – it helps make it taste delicious and has antiviral properties, antioxidants, vitamins, or other healthy ingredients to help you fight off those germs.
Olive oil
Onions and garlic – both contain compounds believed by some scientists to fight and even prevent the common cold.
Turmeric – gets its orange color from curcumin, an antioxidant with healing properties.
Fresh ginger – clears congestion and soothes your throat, and it might even block the common cold virus.
Vegetables – potatoes, cauliflower, zucchini, carrots, and celery will provide plenty of antioxidants, vitamins, and minerals.
Salt and pepper
Lemon juice – citrus contains Vitamin C that can help you feel better faster.
Vegetable broth or chicken broth – helps hydrate you.
Cayenne pepper – while it won't fight viruses, the heat from capsaicin can help clear stuffy sinuses
Greek yogurt – an optional topping, and despite claims that dairy increases mucus production, it can actually be quite soothing on sore throats.
Source: WebMD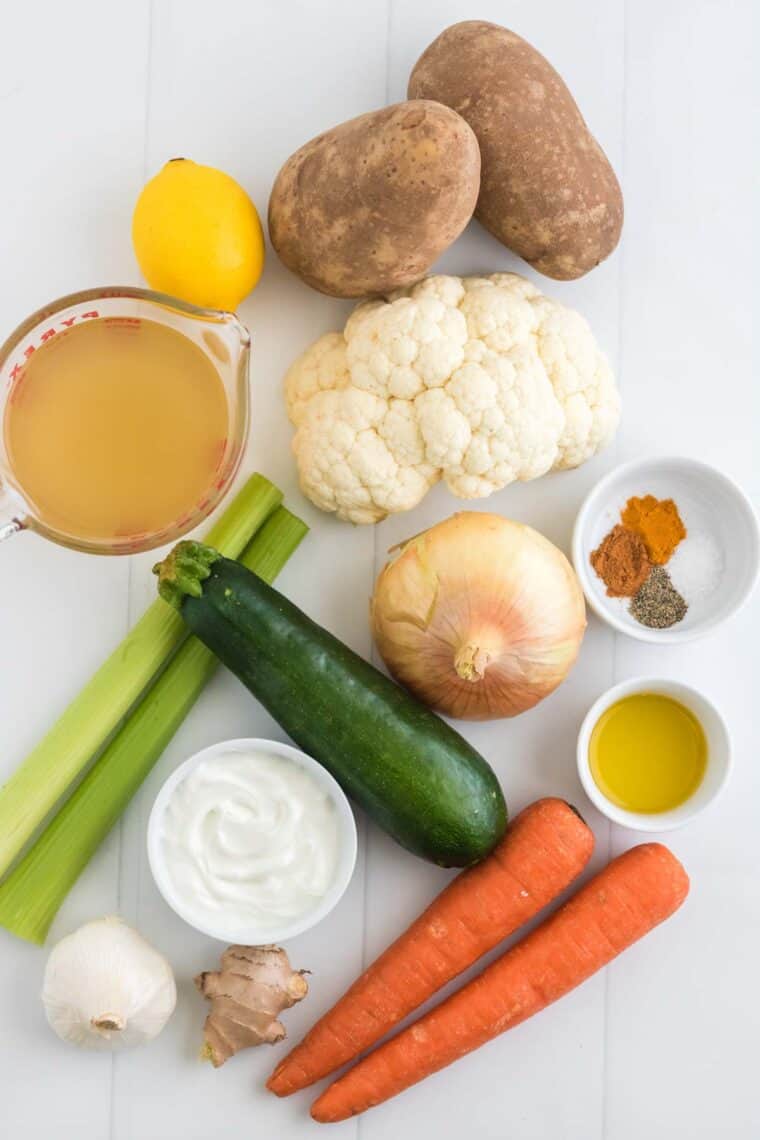 How to Make Creamy Vegetable Soup
Saute the veggies. In a large heavy-bottomed pot, heat the olive oil over medium heat. Add the onion, garlic, ginger, and turmeric, and saute for several minutes until the onions start to soften and become translucent. Add the remaining vegetables, and salt and pepper, and saute for several minutes longer.
Simmer till soft. Add the lemon juice, and stir to coat the vegetables. Pour chicken or vegetable broth into the pot, cayenne, and additional salt and pepper, if desired. Bring to a boil, cover, and simmer for 10-15 minutes, or until the veggies are soft.
Puree the soup. Use an immersion blender or regular blender to puree the soup until it is smooth and creamy. Return the soup to the pot, and heat it through before serving. Swirl in some plain Greek yogurt or coconut milk if desired.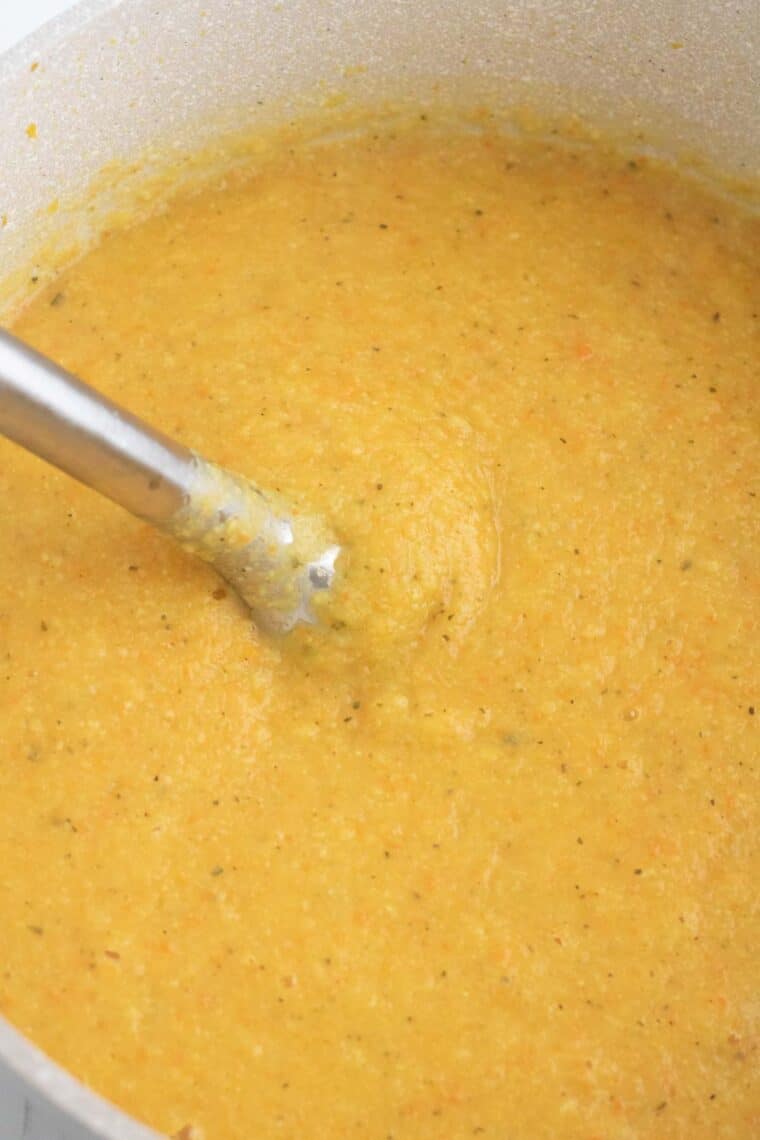 How do you make soup smooth?
You have a couple of options to puree the veggies to make an ultra creamy vegetable soup:
Immersion blender – you'll have fewer dishes to wash when you puree your soup right in the pot you are using to cook it when you use a stick or hand blender.
Blender – you'll need to blend it in portions because you don't want to overfill the blender to avoid spilling hot soup on yourself. Also, to avoid burns, blend slolwy to start, holding a towel over the top and venting the steam occasionally so that the hot steam does not build up and cause the pressure to pop the lid off.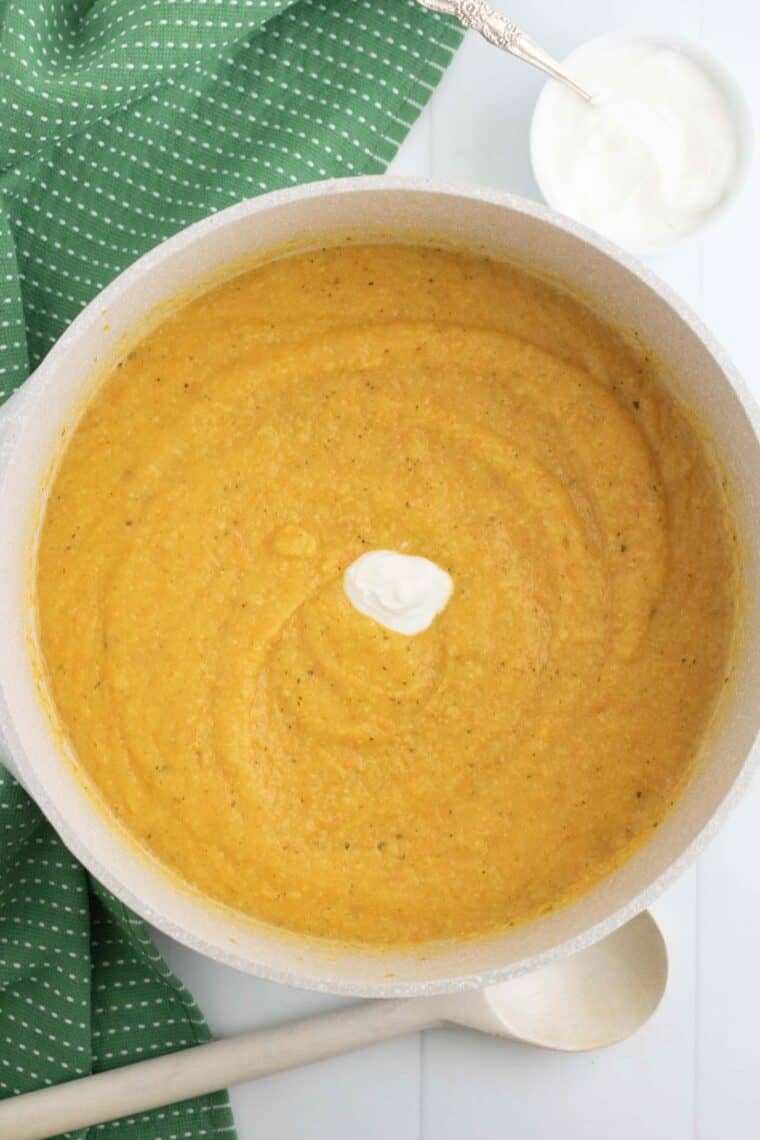 What to Serve with Vegetable Soup
Variations
Make it vegetarian or vegan. Be sure to use vegetable broth, and if you want to add a creamy swirl, try coconut milk or coconut yogurt instead of Greek yogurt.
Make it low carb. Skip the potatoes and use a full head of cauliflower instead of a half head.
Make it chunky. Only puree half of the vegetables and add it back to the pot with the rest of the cooked veggies that you haven't pureed.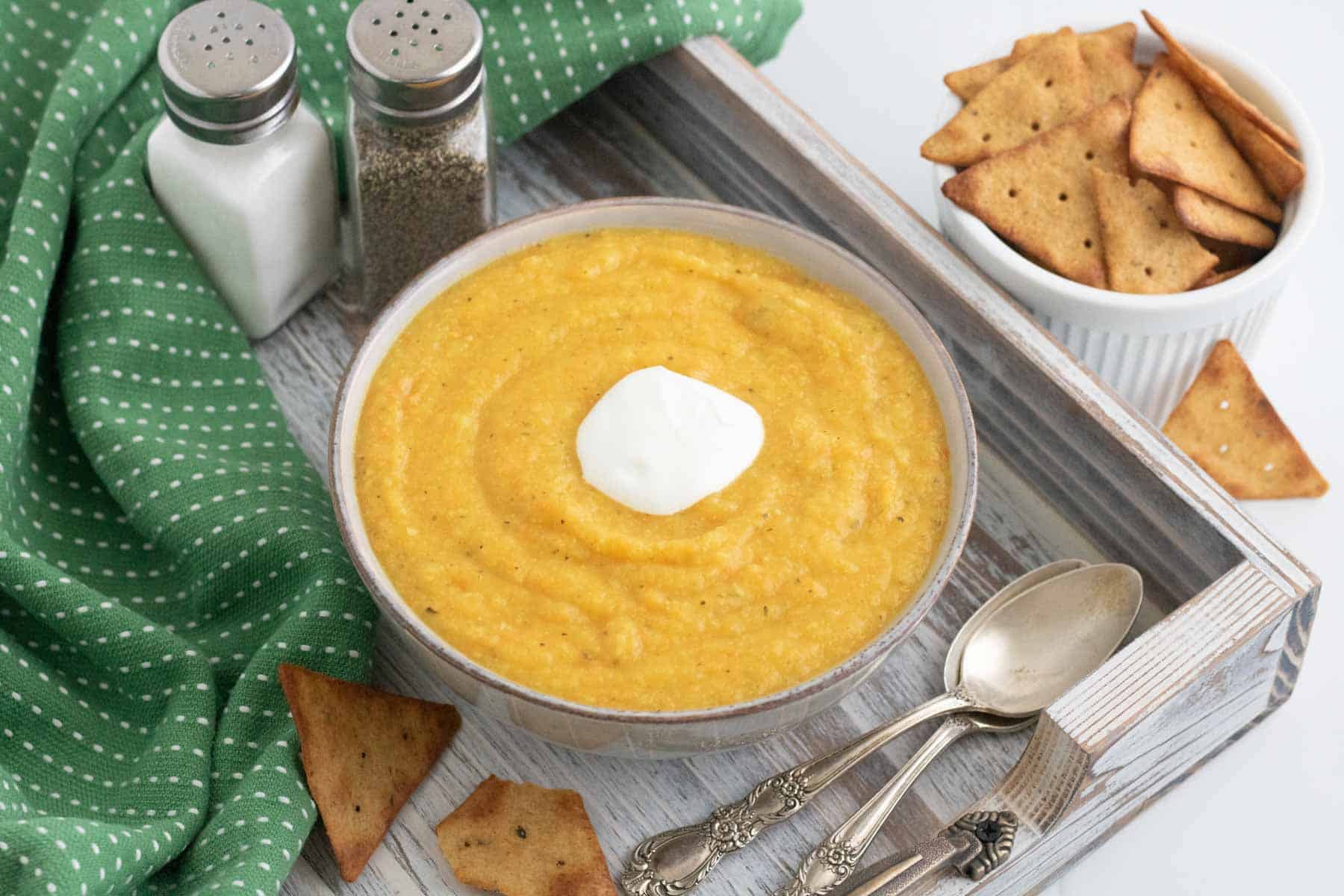 Shop the Recipe
Brianne Recommends
SOUP POT: I like a large, heavy-bottomed enameled cast iron Dutch oven for simmering soups.
IMMERSION BLENDER: The easiest and safest option for pureeing hot soup.
TURMERIC: Adds great color, flavor, and immune-boosting benefits.
SOUP BOWLS: There's nothing better than hot soup from a cozy bowl.
Last updated on Dec 1, 2023 1:57 pm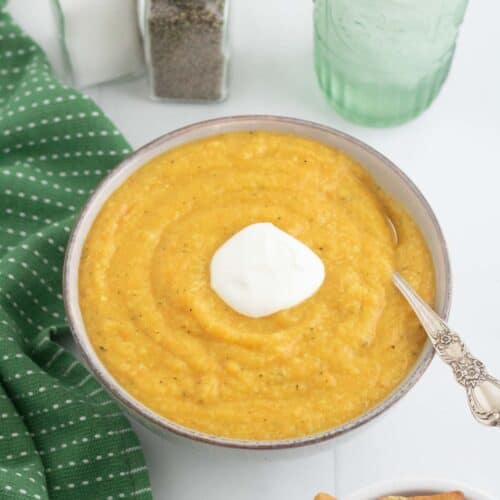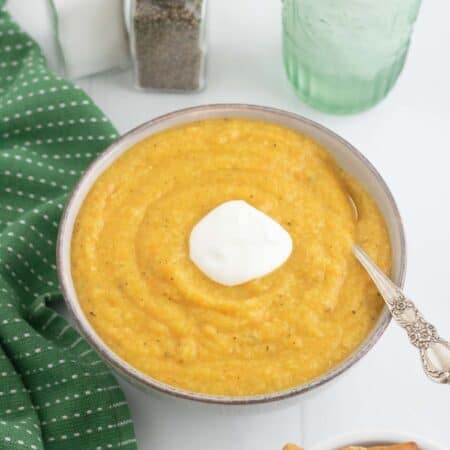 Flu Buster Vegetable Soup
Creamy Flu Buster Vegetable Soup – made without any cream – is a must-make winter soup recipe! This gluten-free, vegan, paleo, and Whole 30-friendly recipe is packed with lots of antiviral goodness.
Ingredients
1

Tablespoon

olive oil

1/2

small onion,

chopped

2-3

cloves

garlic,

peeled and minced

1/4

teaspoon

ground turmeric powder

1

teaspoon

peeled, minced fresh ginger root

2

small potatoes,

peeled and chopped (you can substitute another half head of cauliflower for a low carb option)

1/2

head of cauliflower,

chopped (about 1 1/2 cups)

1

medium zucchini,

chopped

2

large carrots,

chopped (no need to peel)

2

stalks of celery,

chopped

salt and pepper,

to taste

juice of one lemon

(about 2 Tablespoons)

4

cups

vegetable broth

or chicken broth

1/4-1/2

teaspoon

cayenne pepper

(adjust to preferred level of spice)

Greek yogurt,

if desired, for serving
Instructions
In a large pot, heat the olive oil over medium heat.

Saute the onion, garlic, ginger, and turmeric for a few minutes, until onions start to soften and become translucent.

Add the remaining veggies, and salt and pepper, and saute for several minutes longer.

Pour in the lemon juice, and stir to coat the vegetables.

Add the broth, cayenne and additional salt and pepper, if desired bring to a boil, cover and boil for 10-15 minutes, or until the veggies are soft.

Use an immersion blender, or add the contents of the pot to a blender of food processor (in portions, if needed, based on the size of your blender), puree until smooth and creamy.

Return the soup to the pot, and heat through.

Serve with Greek yogurt, if desired.
Nutrition Facts
Flu Buster Vegetable Soup
Amount Per Serving (1 cup)
Calories 57
Calories from Fat 9
% Daily Value*
Fat 1g2%
Sodium 498mg21%
Potassium 287mg8%
Carbohydrates 9g3%
Protein 1g2%
Vitamin A 2920IU58%
Vitamin C 19.7mg24%
Calcium 23mg2%
Iron 0.4mg2%
* Percent Daily Values are based on a 2000 calorie diet.
Categories:
Best Soup Recipes When You Are Sick
I love this healthy vegetable soup when I am sick. But if you prefer something different, try one of these.