This post may contain affiliate links. Read my disclosure policy.
Salted ripple chip no-churn ice cream is one of the easiest and most delicious no-churn ice cream recipes on this website!
"Your Love is Better Than Ice Cream…"  Even better than Salted Ripple Chip No-Churn Ice Cream. Make that Salted (!) Dulce De Leche (!!) Fudge Ripple (!!!) Chocolate Chip (!!!!) No Machine Needed (!!!!!) Ice Cream!!!!!! But I had to shorten it up because, just like a hit song, recipes title have to be catchy. And this certainly applies today since this week's #SundaySupper is all about recipes inspired by music.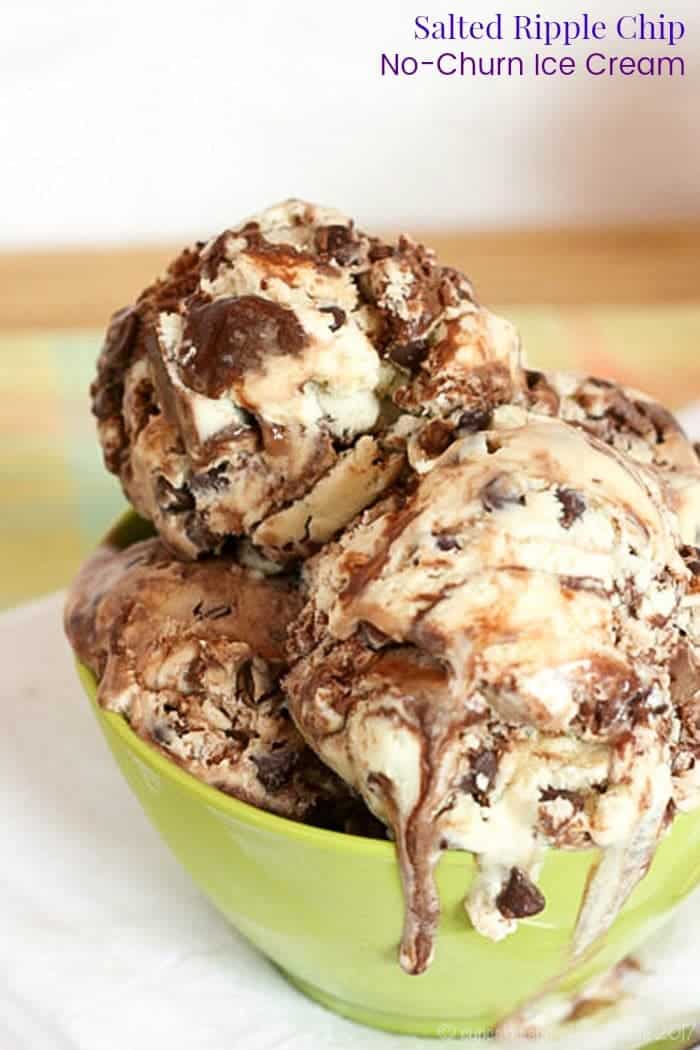 Originally published on August 4, 2013, and updated on July 10, 2017.
And there aren't many things that I love more than ice cream. Except my boys, and especially The Hubby. And guess what?!?! August 10th, 2013 marks 10 YEARS (!!!) since The Hubby and I started dating.
Before we jump into the salted ripple chip no-churn ice cream recipe, I have a sappy happy love story to share.
I've gotta tell you, at first, I totally couldn't stand the guy. Heck, I like strawberry ice cream (which I don't like at all) more than I liked him. We worked together (shhh… I actually worked for him for a short time) and he was 10 years older than me and gruff and serious and totally geeky. Absolutely, 100%, definitely someone with whom I would never ever ever be anything more than coworkers, or possibly friendly acquaintances.
But then the "Summer of Softball and the Shore" happened. We had a softball league at work. A few guys from our department started a team, and both The Not-Yet-The Hubby and I decided to play. Our team was awful, but we had a blast laughing at our awfulness, and even more of a blast during our post-game dinners and drinks at The Waiting Room. Then the group started planning weekend trips down the shore (yes, I am from New Jersey. We don't go to the beach. We go down the shore). And during all of these fun times, The Not-Yet-The Hubby and I started talking more and more, getting to know each other better and better. And in the summer warmth, just like melting ice cream, all the things I thought I didn't like about him started melting away.
Somewhere in the middle of the summer, he declared his feelings for me in a handwritten note. I just wasn't ready. But he didn't back off completely. He gave me just enough space to come around. And one day he asked me if I wanted to catch a movie with him. Then afterwards he took me to my (unbenownst to him) favorite ice cream place, Thomas Sweet. I don't know what changed that night. Maybe it was the fact that he totally guessed what I was going to order, even though I decided to order something completely different from what I usually get. All I know is that was the beginning of a lifetime together. And the first of lots and lots of ice cream dates, which we still do to this day.
He may still be all of those things – 10 years older than me and gruff and serious and totally geeky. But instead of those things freaking me out or turning me off, those are the things that I love about him, because it is who he is. He may be 10 years older and more mature in some ways, but I've always gotten along better with people older than me. He may be gruff on the outside, but he is a softie on the inside. He is serious, but that makes him awesome at taking care of busine
ss – job, house, bills, kids – he's always on top of things and getting stuff done. And geeky is cute, right?!
But you know how I knew he was a keeper? See these wedding favors? And those teensy-eensy bows? Yeah, he and his big ol' fingers helped me tie 150 of 'em. Without complaining. Because it made me happy. And all he ever wants, even in our hardest times, when our kids have us wound up and exhausted, when we disagree about where to go and what's a priority and what color siding we should get for the house, when we think we want to strangle each other, is really just for me to be happy.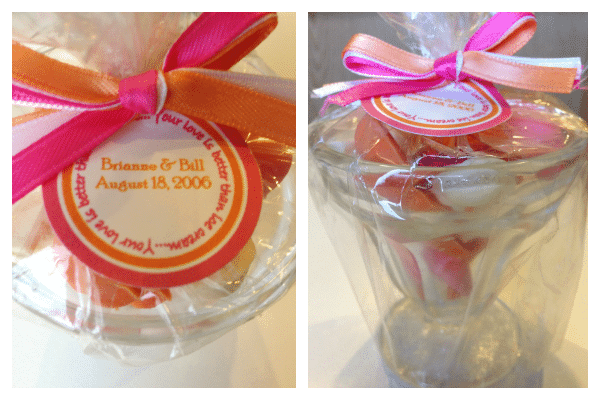 Notice the little nod to our first ice cream date with the lines from Sarah McLachlan's song? Yep, The Hubby's love may be better than ice cream and chocolate.
But, this SALTED RIPPLE CHIP NO-CHURN ICE CREAM, you guys.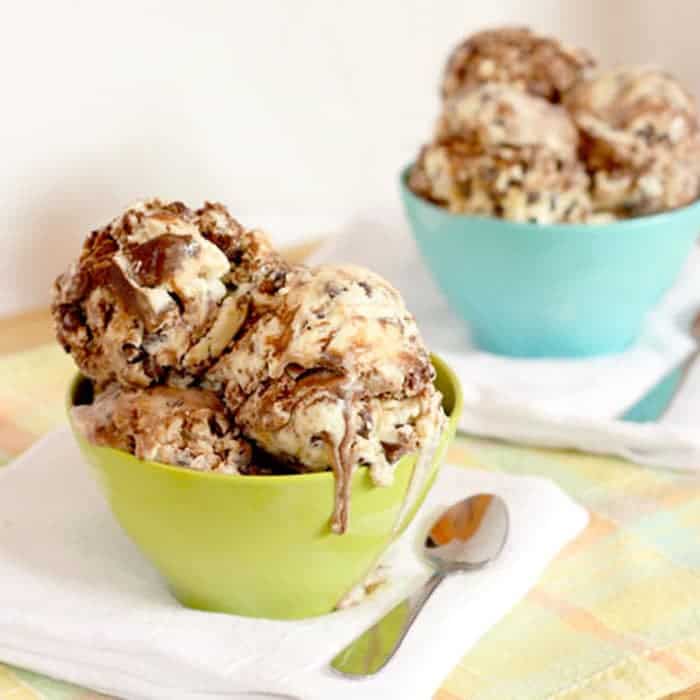 Oh my goodness oh my goodness. So rich and creamy. Sweet, but with the perfect balance of saltiness (kinda like The Hubby). Chocolaty ribbons with some fudgy chunks. Loads of chips, because I am weird, and like to crunch my ice cream. Holy cow, it is almost embarrassing how much of this no-churn ice cream recipe I consumed myself.
But not really, because it is that phenomenally good. Seriously! Make it! Today! That is all…
Oh, and food blogger tip – attempting to photograph ice cream while your 4 month old is napping will almost certainly mean that he will wake up while this is happening… #foodbloggerproblems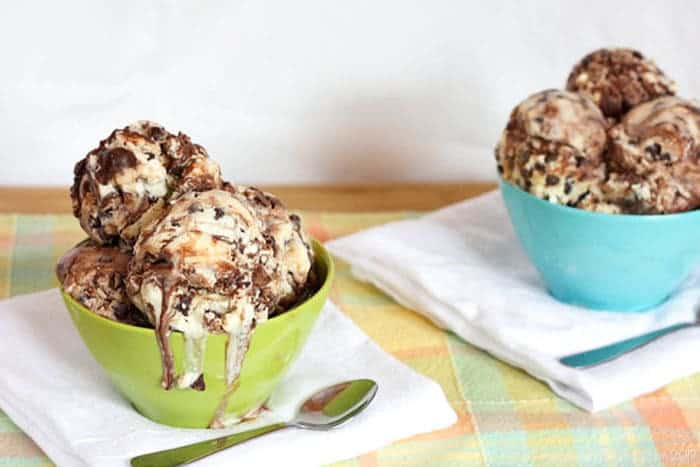 Love may be better than ice cream and chocolate, but these recipes are pretty darn good: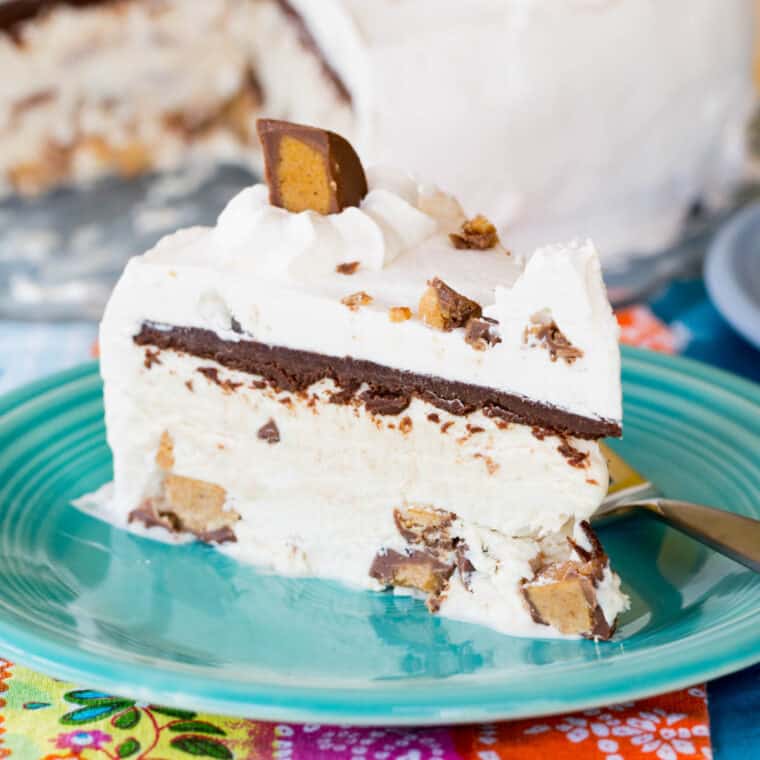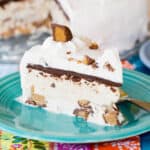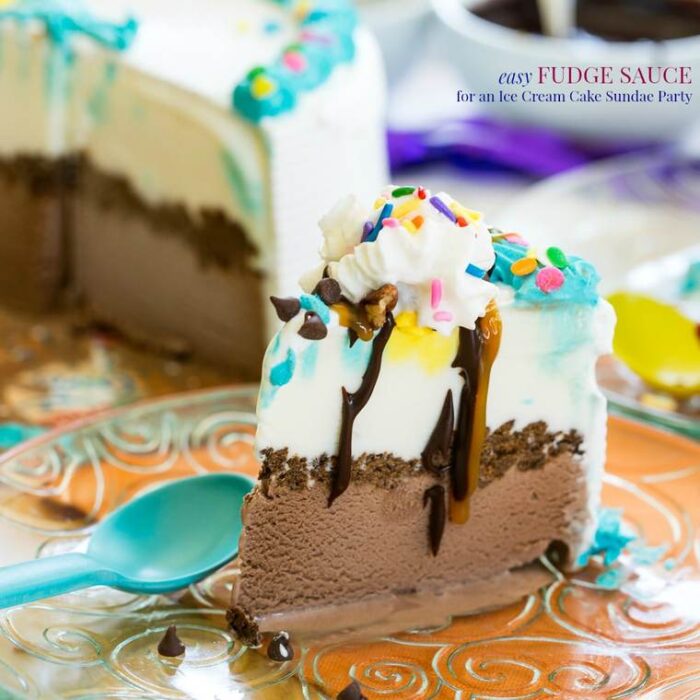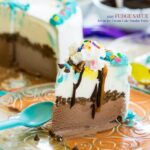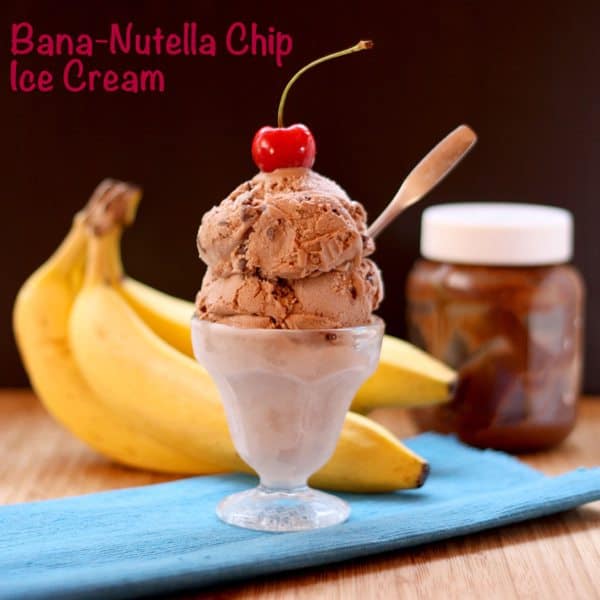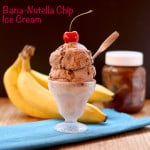 And of course my friends have more ice cream and chocolate goodness for you, like these Chocolate Chip Cookie Cones from Love from the Oven. Double Chocolate Chip Cookie Ice Cream Sandwiches from foodiecrush are doubly delicious. And this Cherry Chocolate Chip Ice Cream Cake Roll from Barbara Bakes, well, that's how I roll.
I think it's safe to say that this salted ripple chip no-churn ice cream recipe will withstand the love test.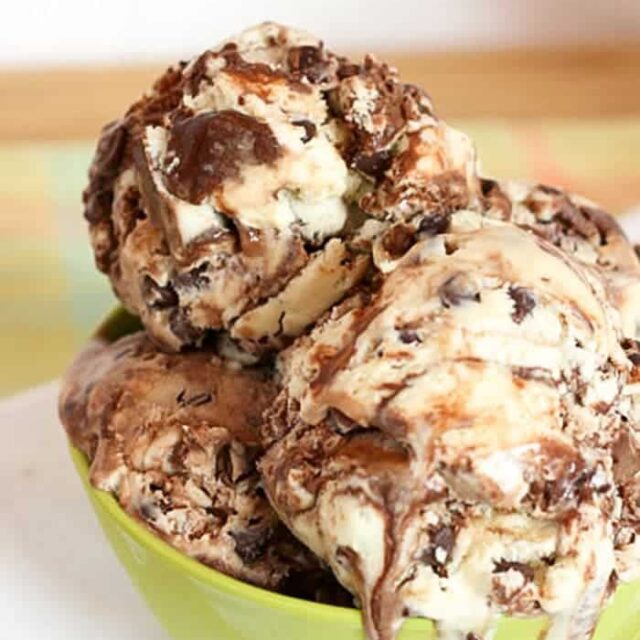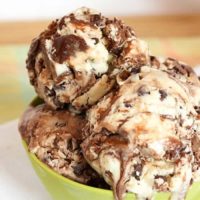 Salted Ripple Chip No-Churn Ice Cream
A creamy no churn sweet and salty dulce de leche ice cream with chocolaty ripples and chips.
Ingredients
For the dulce de leche
13.5

oz

sweetened condensed milk

(1 can)

1

teaspoon

coarse sea salt

1/2

cup

heavy cream
For the ice cream
1 1/2

cups

heavy cream

1 1/4

cups

mini chocolate chips

(remainder of 10 oz. bag)
Instructions
For the dulce de leche:
Pour the entire can of sweetened condensed milk in a bowl on top of a double boiler and place over a pot of simmering water.

Cook over low heat, stirring occasionally, for 1-1½ hours, or until thick and light caramel colored.

Cool to room temperature (about an hour). Stir in the sea salt and ½ cup heavy cream.
For the fudge ripple:
Whisk together the water, cocoa powder, and corn syrup in a small pot.

Bring to a boil, stirring frequently, then reduce heat to low and simmer for about 5 minutes.

Remove from the heat and add the chocolate chips. Stir until smooth.

Place in the refrigerator until ready to use, cooling at least to room temperature (it will be fairly liquidy, not thick).
For the ice cream:
Pour the 1½ cups heavy cream in a large bowl and, using the whisk attachment of a stand mixer or a hand mixer, beat until stiff peaks are formed.

Gently fold in the cooled dulce de leche, then gently fold in the chocolate chips.

Pour half of the ice cream mixture into a freezer-safe container and top with about half of the fudge ripple mixture. Swirl with a knife or skewer.

Top with the remaining ice cream mixture and fudge ripple mixture, and swirl with a knife or skewer.

Cover and freeze for 4-6 hours, or overnight.
Nutrition Facts
Salted Ripple Chip No-Churn Ice Cream
Amount Per Serving (0.5 cup)
Calories 395
Calories from Fat 207
% Daily Value*
Fat 23g35%
Cholesterol 69mg23%
Sodium 272mg11%
Potassium 175mg5%
Carbohydrates 42g14%
Protein 4g8%
Vitamin A 725IU15%
Vitamin C 1.2mg1%
Calcium 150mg15%
Iron 0.6mg3%
* Percent Daily Values are based on a 2000 calorie diet.
Categories:
Enjoy!!

Enough talk of my salted ripple chip no-churn ice cream! Here's the rest of the #SundaySupper musical menu for this week.
Prelude (Beverages):
Calimocho (Red Red Wine Cocktail)
  from La Cocina de Leslie inspired by Red Red Wine by UB40 Dark & Stormy Cocktail Recipe from An Appealing Plan inspired by Thunder Road by Bruce Springsteen
Horchata
 from Treats & Trinkets inspired by Horchata by Vampire Weekend
Orange Crush
 from Magnolia Days inspired by Orange Crush by REM
Pineapple Lemonade Slushy with Coconut Water
 from Sue's Nutrition Buzz inspired by Lemon Tree by Peter, Paul & Mary
Strawberry Tequila
 from Shockingly Delicious inspired by Strawberry Fields Forever by The Beatles
Overture (Appetizers):
Mustard Dill Beer Bread
 from Curious Cuisiniere inspired by In Heaven There Is No Beer a German Polka
Intermezzo (Entrees & Sides):
Chicken and Bacon Cheddar Waffles
 from I Run For Wine inspired by Glady's Knight
Classic Fried Chicken
 from The Food Army Wife inspired by Chicken Fried by Zac Brown Band
Margarita Chicken
 from In The Kitchen With KP inspired by Margaritaville by Jimmy Buffet
Meatball Duet from Cindy's Recipes and Writings
 inspired by On Top of Spaghetti by Tom Glazer
Pan-Seared Halibut with Corn Hash and Asparagus Puree
 from Crazy Foodie Stunts inspired by Saturday Night Fish Fry by Louis Jordan
Slow Cooker Sweet and Spicy BBQ Pulled Pork
 from Neighborfood inspired by Something Like That by Tim McGraw Spaghetti and Pork Meatballs from Family Foodie inspired by On Top of Spaghetti by Kidsongs
Teriyaki Burger
 from Juanita's Cocina inspired by Cheeseburger in Paradise by Jimmy Buffet
Finale (Desserts):
Banana Cream Pie Bars
 from
Peanut Butter
and Peppers inspired by Tra La La Song by The Banana Splits
Banana Pancake Ice Cream with Maple Brittle
 from Foxes Love Lemons inspired by Banana Pancakes by Jack Johnson Cherry Pie from My Cute Bride inspired by Cherry Pie by Warrant
Cherry Marshmallows
 from Pies and Plots
Chocolate Cappuccino Cream Puffs
 from Runner's Tales inspired by Choux Pastry Heart by Corinne Bailey Rae Chocolate Chip, Walnut and Caramel Banana Bread Ice Cream Sandwich from Ruffles & Truffles inspired by  Hollaback Girl by Gwen Stefani
Chocolate Covered Caramels
 from Big Bear's Wife inspired by At Last by Etta James Coconut Rum Blondies from Gotta Get Baked inspired by I've Got A Lovely Bunch of Coconuts by Danny Kaye
Easy Blueberry Recipe: Fruit Tart
 from Growing Up Gabel inspired by Blueberry Hill by Fats Domino Espresso Nib Ice Cream from Vintage Kitchen Notes inspired by Black Coffee by Ella Fitzgerald
Fancy Watermelon Lime Popsicles
 from Daily Dish Recipes inspired by Watermelon Crawl by Tracy Byrd
Fresh Peach Pie
 from Killer Bunnies, Inc. inspired by Sweet Sweet Pie by PWEI
Jammin' Oatmeal Cookies
 from What Smells So Good? inspired by Jammin' by Bob Marley
Many Flavors Whipped Cream
 from Noshing with the Nolands inspired by Whipped Cream and Other Delights by Herb Albert and the Tijuana Brass
Peach Basil Pie
 from The Girl In The Little Red Kitchen inspired by Peaches by POTUSA
Pina Colada Poke Cake
 from Cookin' Mimi inspired by Two Pina Coladas by Garth Brooks
Peach Donuts with Brown Sugar
 from Hezzi-D's Books and Cooks inspired by Peaches by POTUSA
Peach Strudel with Honey Bourbon Frozen Yogurt
 from A Kitchen Hoor's Adventures inspired by My Favorite Things from The Sound of Music & Wild Honey by U2 Rainbow Pops from The Urban Mrs inspired by Ice Ice Baby by Vanilla Ice Salted Ripple Chip No-Churn Ice Cream from Cupcakes & Kale Chips inspired by Ice Cream by Sarah McLachlan
Salted Peanut Swirl Peanut Butter Ice Cream
 from girlichef inspired by Salt Peanuts by The Quintet
Shall We Dance? Fairy Cakes 
from The Ninja Baker inspired by Shall We Dance from the Japanese Film
Sugar Crusted Zucchini Bread 
from That Skinny Chick Can Bake inspired by Sugar, Sugar by the Archies
Tangerine Sorbet
 from Webicurean inspired by Tangerine Speedo by Caviar
Yeasted Banana Bread
 from Jane's Adventures in Dinner inspired by I Like Bread and Butter by The New Beats