Browned Butter Pecan Fudge Ripple No-Churn Ice Cream
Disclosure: This post may contain affiliate links. Cupcakes & Kale Chips is a participant in the Amazon Services LLC Associates Program, an affiliate advertising program designed to provide a means for us to earn fees by linking to Amazon.com and affiliated sites.
Browned butter pecan fudge ripple no-churn ice cream has nutty, buttery pecans scattered through a creamy no-churn ice cream base, swirled with ripples of chocolate fudge. All of this is made without an ice-cream maker. Put a smile on everyone's face, especially mom, when dessert is a big bowl of Browned Butter Pecan Fudge Ripple No-Churn Ice Cream.
I love my mom. Even when she drives me crazy. I mean, I think that is part of a mom's job, and most of the things that make me nuts are also the things that I love most about her.
No matter where we go, we see someone she knows, and she just has to stop and talk. And talk. And talk. And talk. But it is because she is so friendly, approachable, and truly cares about people.
She is always giving my boys food and toys and stuff that I think they don't need. But that is because she just adores them so much.
If I am cooking or eating or doing anything in the kitchen, she starts cleaning up before I am even done, not even asking if I am still using the stuff that is out. But, hey, she's cleaning up after me, so I'll take it.
Honestly, these are some of the traits I wish I had inherited from her. While we are very much alike in some ways, in other ways, we are complete opposites. I tend to be an introverted, rigid, somewhat selfish (if we are being honest here), messy person, and I wish I had her more laid back, outgoing, giving, neat-freak personality. Well, maybe these things don't come naturally to me, but I hope I have a least a little of them, and can continue to work to improve myself based on her amazing example.
What did I inherit from her? A total love of ice cream. Especially Browned Butter Pecan Fudge Ripple No-Churn Ice Cream!
So it's Holiday Food Party time again, and if you haven't already figured it out, we are celebrating Mother's Day. Naturally, in honor of my mom, I had to make ice cream. Butter pecan ice cream, to be exact, since that is her favorite. But when I was chatting with her and brainstorming the recipe, she said she wanted chocolate, too. It might have been because it was still during Lent, and she gives up chocolate every year. But whatever. She wanted it.
So I added it in the form of a swirly ripple of fudge just winding it's way through the rich, creamy, dreamy ice cream studded with crunchy pecans that had been toasted in some lightly browned butter for added nuttiness and a little salty flavor to balance all of the sweet goodness.
Oh yessssss!
My mom has pretty amazing taste in desserts, doesn't she?! Wait, hold up a second. I think you need to take a closer look at this…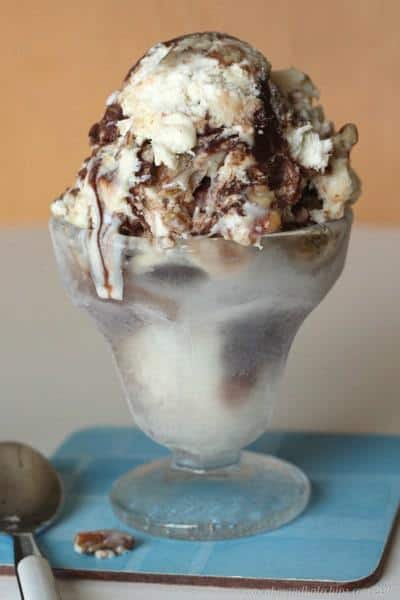 As Mother's Day approaches, I'm sure you are also thinking of just the right recipe to serve your mom or any special mom in your life, or to have your kids make for you. I'm sure you'll find inspiration from this amazing drop of bloggers that come together for the Holiday Food Party, hosted by Jen from Jen's Favorite Cookies. This time around there are thirteen fabulous recipes any mother will love…
So brown some butter, whip some cream, and throw a batch of Browned Butter Pecan Fudge Ripple No-Churn Ice Cream in the freezer.
While it freezes, you can plan an entire Mother's Day menu from these tasty selections created by some of my amazing food bloggy friends…
1. Coconut Cupcakes from That Skinny Chick Can Bake
2. German Apple Cake from Magnolia Days
3. Baked Lemon Pasta with Broccoli and Shrimp from What Smells So Good
4. Cinnamon Pear Cake from Roxana's Home Baking
5. Strawberry Whiskey Sour from Girl in the Little Red Kitchen
6. Huevos Rancheros from Crumb Blog
7. Triple Lemon Cake from Created by Diane
8. Banana Chocolate Chip Bread from Chocolate Moosey
9. Lemon Thyme Shortbread from Jen's Favorite Cookies
10. Pineapple Coconut Sweet Rolls from Pineapple and Coconut
11. Caramilk Stuffed No-Knead Brioche from Gotta Get Baked
12. Mom's World Famous Sponge Cake from Hungry Couple NYC
13. Browned Butter Pecan Fudge Ripple No-Churn Ice Cream from Cupcakes and Kale Chips
And seriously, people, try this easy ice cream recipe. Yeah, it's rich. Yeah, it's indulgent. But these are the sacrifices I make for my mom.
What is/was your mom's favorite dessert?
Print Recipe
Browned Butter Pecan Fudge Ripple No-Churn Ice Cream
Ice cream filled with buttery pecans and swirls of chocolate, and you don't need a machine.
Ingredients
For the butter pecans:
3

Tbsp

unsalted butter

1

cup

halved pecans

or chopped

1/2

tsp

Kosher salt
For the ice cream:
one can sweetened condensed milk

1

tsp

pure vanilla extract

one pint heavy cream
Instructions
For the butter pecans:
In a small pan over low heat, gradually melt the butter and continue to cook, stirring occasionally, until it turns a light golden brown. Watch closely to ensure the butter doesn't burn.

Add the pecans and salt, and toss until the pecans toast slightly, another few minutes, again watching closely to avoid burning the butter.

Remove from the heat and set aside to cool.
For the fudge ripple:
Whisk together the water, cocoa powder, and corn syrup in a small pot.

Bring to a boil, stirring frequently, then reduce heat to low and simmer for about 5 minutes.

Remove from the heat and add the chocolate chips. Stir until smooth.

Place in the refrigerator until ready to use, cooling at least to room temperature.
For the ice cream:
In a small bowl, stir together the butter pecans and the vanilla.

Pour the heavy cream in a large bowl and, using the whisk attachment of a stand mixer or a hand mixer, beat until stiff peaks are formed.

Gently fold in the pecan and sweetened condensed milk mixture.

Pour half of the ice cream mixture into a freezer-safe container and top with about half of the fudge ripple mixture. Swirl with a knife or skewer.

Top with the remaining ice cream mixture and fudge ripple mixture, and swirl with a knife or skewer.

Cover and freeze for 4-6 hours or overnight.
Enjoy!
Looking for more no-churn ice cream recipes?
And here are some delicious ice cream recipes from my friends…