This post may contain affiliate links. Read my disclosure policy.
Nutella brownie cheesecake no-churn ice cream is an easy no-churn ice cream recipe! Nutella and crumbled brownies swirled in ripples of chocolate goodness through a no churn cheesecake ice cream base. No ice cream machine is required! All of the sweetest people in your life will love a scoop (or three) of Nutella Brownie Cheesecake No-Churn Ice Cream.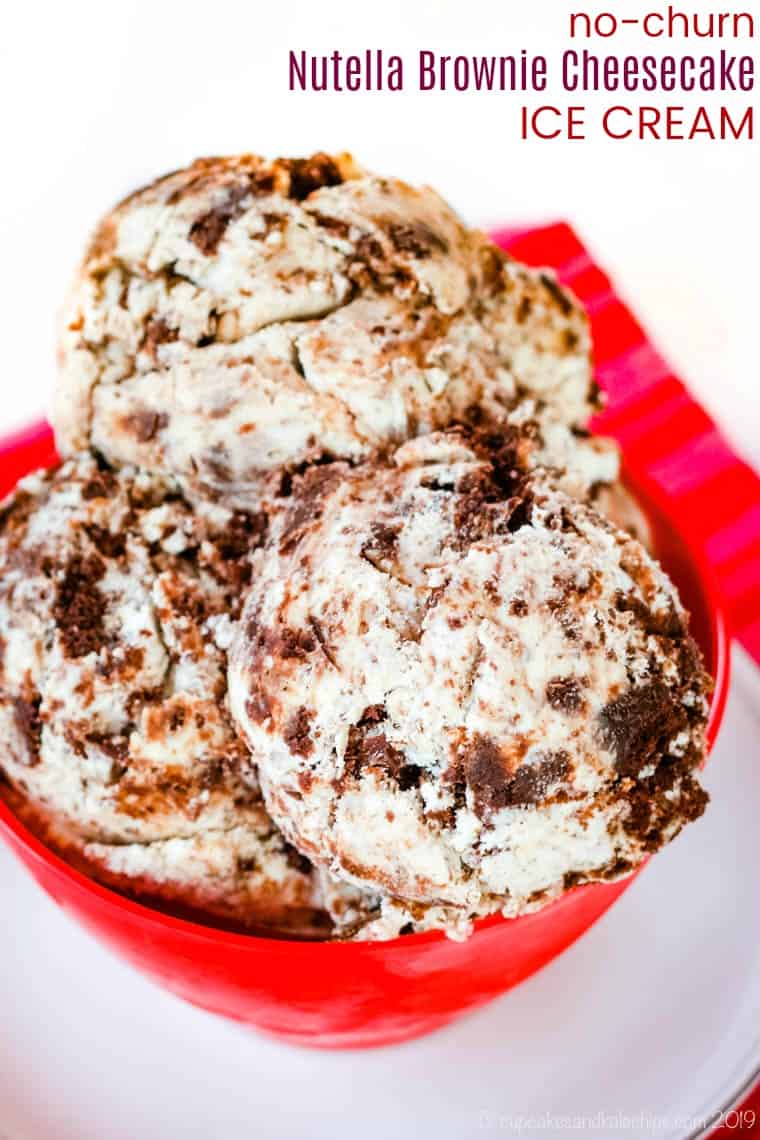 As Valentine's Day approaches, it's time to think about and acknowledge all of those special people in your life. You know how much I love my Hubby and my boys. I talk about them all the time, and I'm sure in the next week I'll be sharing that love some more. But for now, I've got to tell you about some other special people now in my life – my bloggy buddies.
Although we live all over the country and the world, some have grown children and others have wee ones, some are single and some have been married for decades, older, younger, sugar-loving, clean-eating, vegan, gluten free, carnivorous, carb-loving – we all unite over a love of food (and sometimes crafts or DIY stuff) and a sense of community.
And though we are always sharing each others' recipes, asking technical questions, commiserating about bad lighting and photos site rejections, or uniting to take down photo and recipe stealers, these relationships often grow to become more. Celebrating each others' birthdays, weddings, and babies, congratulating accomplishments, sending condolences, and just being interested in the day-to-day. While I love connecting online, I am so excited that this year I'll actually be meeting some of my friends in person!!
We also inspire each other. Take this no-churn ice cream recipe. I posted my brownie fail on Instagram. They weren't inedible, they were just unbloggable. When I took them out of the oven, thinking they were done, they were totally runny in the middle. I realized this after they had cooled and I had hacked off on side of them. I popped them back in the oven in an effort to avoid salmonella, and slightly over baked them, making them more cake than fudgy. Luckily I have great and inspiring bloggy buddies – Heather suggested topping them with ice cream (brilliant!), and Lisa suggested stirring them into ice cream (genius!). And tot top it all off, I had pinned this Red Velvet Cheesecake Ice Cream from Ashton, and remembered it because a few of us had an entire discussion about photo collages and sizes optimal for Pinterest based on this pin.
And so, this Nutella brownie cheesecake no-churn ice cream was born…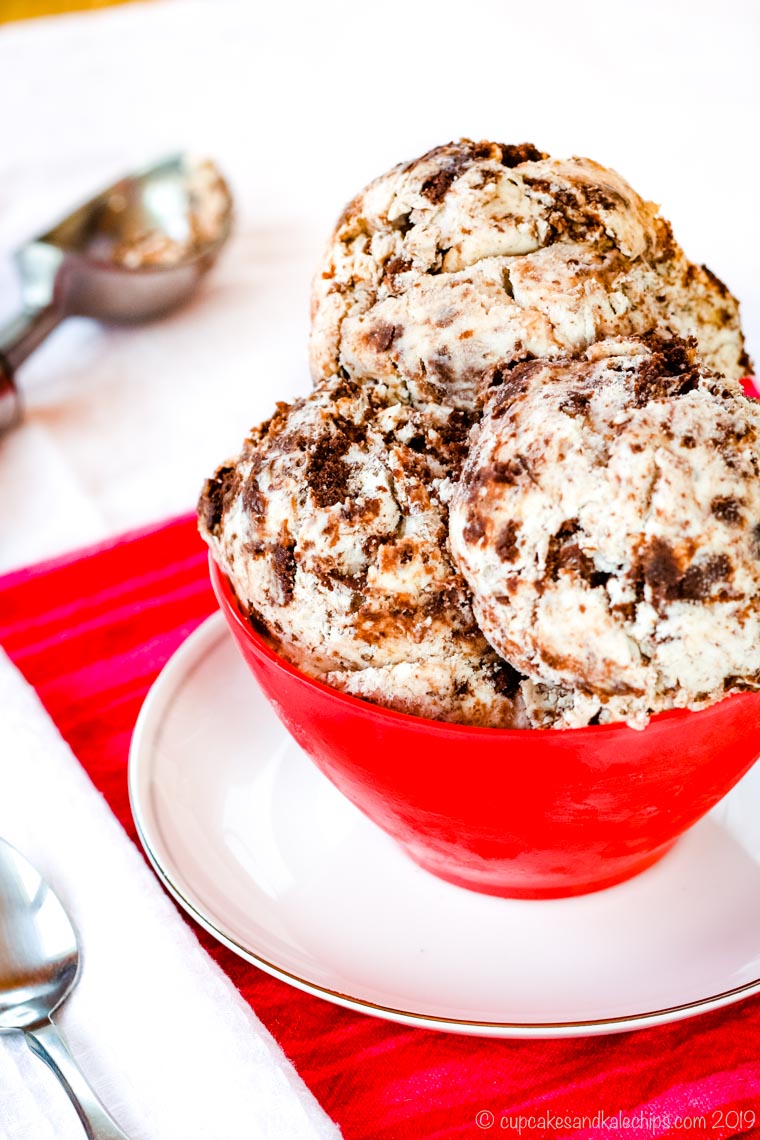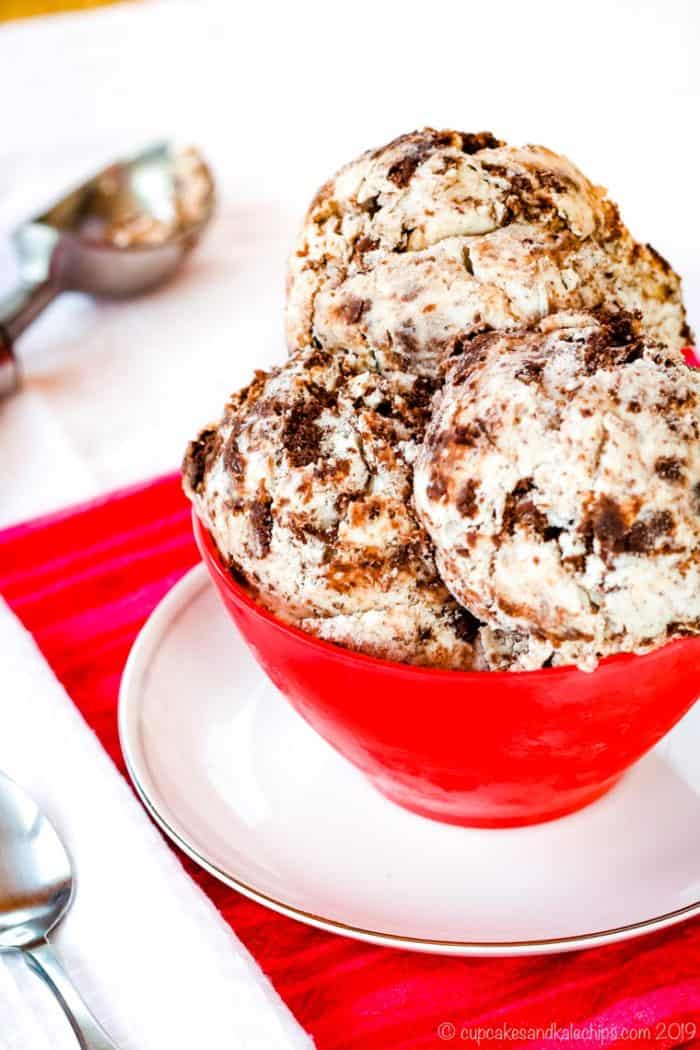 So whip up a batch of brownies (might I recommend these Flourless Nutella Cheesecake Swirl Brownies for an extra dose of Nutella Cheesecake swirly goodness).
Then whip some cream, and throw a batch of Nutella Brownie Cheesecake No-Churn Ice Cream in the freezer.
Seriously – no words! This ice cream is, like, beyond all ice cream. I mean, first, you don't need to separate eggs and cook and churn and freeze. And it has swirls and chunks and ribbons of brownie gooeyness. Actually, ice cream is quite an awesome way to salvage some overbaked brownies, since they will absorb moisture and get all fudgy again. Then there's Nutella. And the ice cream tastes like cheesecake. HELLOOOOO!
The hubby thought there might have been too much brownie in it. Is there really such thing? OK, if you agree with him, use less brownie. It's cool. If he seriously has a problem with the level of brownie lusciousness, then I'll just finish the rest of the container that is left in the freezer.
So for Valentine's Day or the next time you over bake brownies, here ya go. Problem solved…
Nutella brownie cheesecake no-churn ice cream, anyone?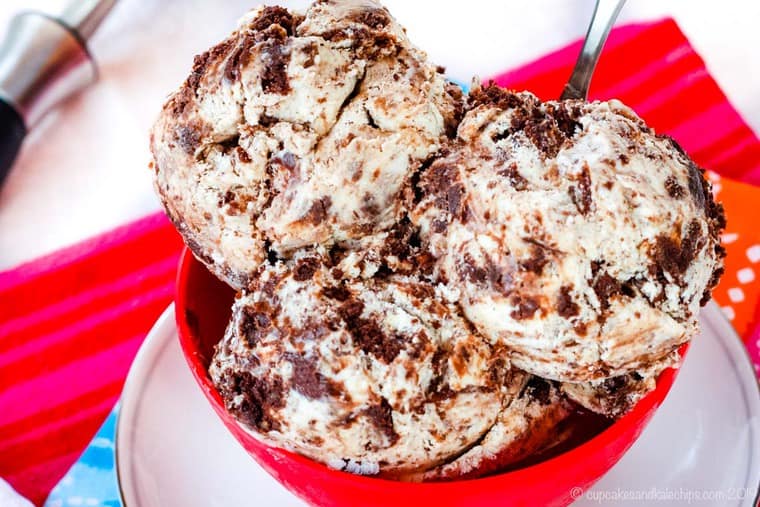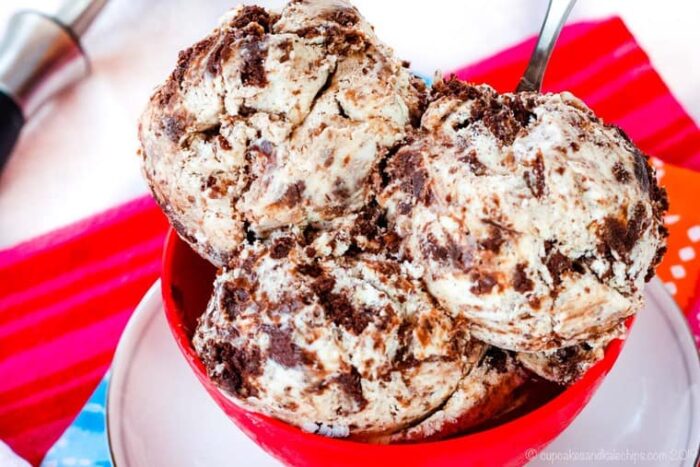 Do you have online friends? Have you met them in person?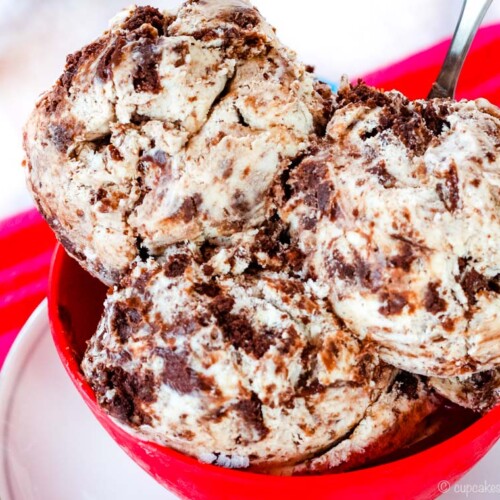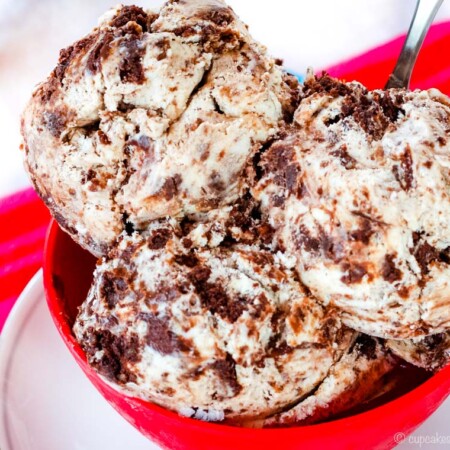 Nutella Brownie Cheesecake No-Churn Ice Cream
Nutella and crumbled brownies swirled in ripples of chocolate goodness through a cheesecake ice cream base that doesn't require an ice cream maker.
Ingredients
One 8 oz. bar of cream cheese

light or regular softened

One 14.5 oz. can of sweetened condensed milk

regular or fat free

1

tsp

vanilla

One pint heavy cream

well chilled

About half of a pan of prepared brownies

homemade or from a box mix (see Note for a gluten free option)

About 1/3 cup Nutella
Instructions
Place a large glass or metal bowl in the refrigerator or freezer for whipping the cream.

Using an electric mixer or whisk attachment, beat together the cream cheese, sweetened condensed milk until smooth. Set aside.

In the chilled bowl, using an electric mixer or whisk, beat the heavy cream to soft peaks.

Gently fold the cream cheese mixture into the whipped cream.

Crumble about half of the pan of brownies (more or less, as desired) into to cream mixture, top with small dollops of Nutella, and gently fold in to create brownie and Nutella swirls.

Pour the mixture into a container that you can freeze and has an airtight lid, cover, and place in the freezer until frozen.
Enjoy!
Want more frozen dessert recipes??
And how about some from my friends?