This post may contain affiliate links. Read my disclosure policy.
Bring the best flavors to your dinner table this summer with these easy grilling recipes. It definitely time to fire up the grill for more than just basic burgers and hot dogs. You'll love these ideas for chicken, steak, and seafood as well, plus even some veggies and fruit. And they are all gluten free too!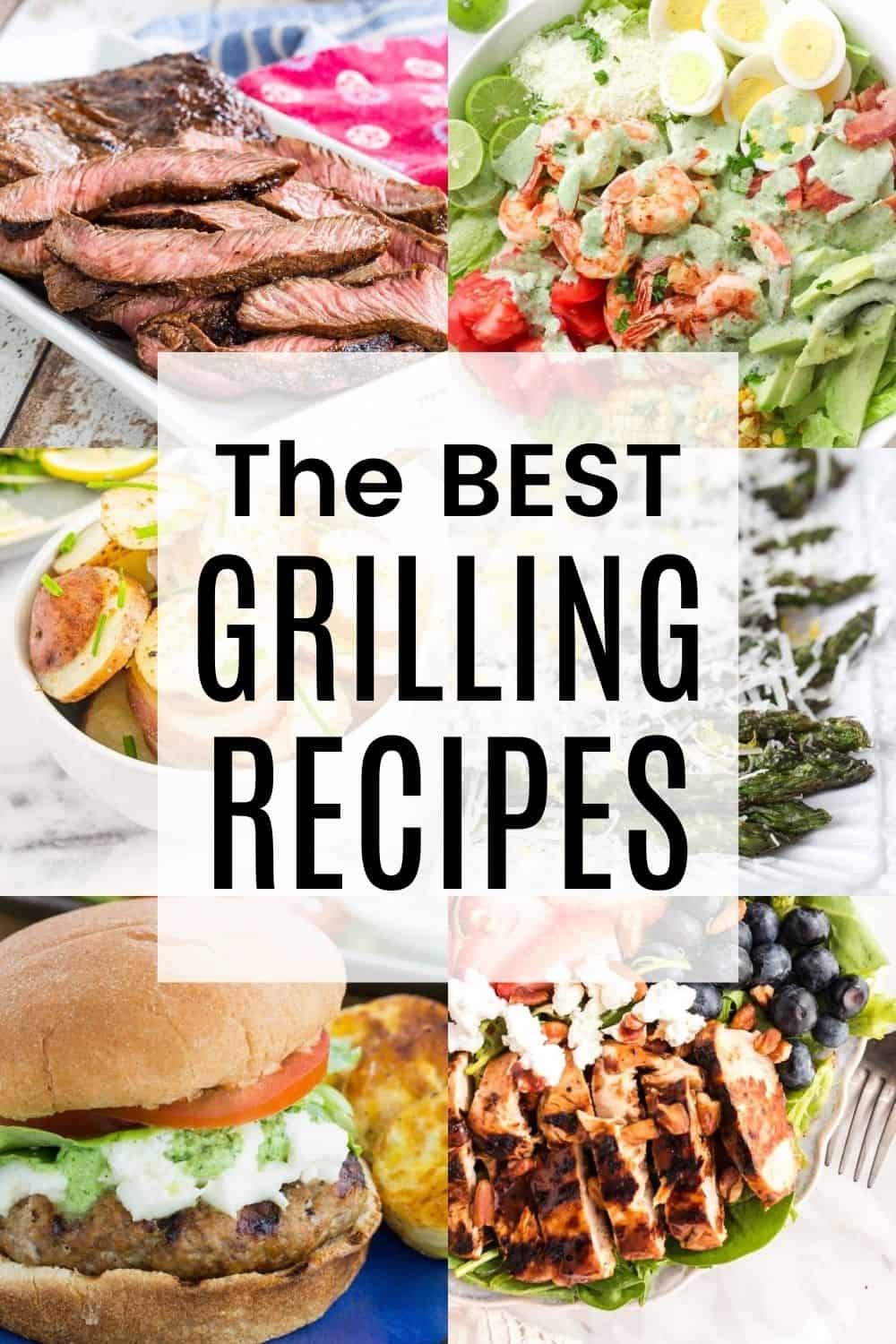 Want to know what is good for grilling?
Let's be real – you can cook pretty much anything on the grill. That open flame gives the bit of char and subtly smoky flavor that makes grilled food so irresistible. And when you add marinades, rubs, sauces, and condiments, you can create flavor profiles that everyone loves.
That's why all of your favorite meats are basically a blank slate when grilling. Sure you can make basic burgers and dogs, but you can also get creative with them. Chicken, steaks, and pork are always great just slathered with barbecue sauce. But try soaking them in a marinade or making kabobs.
What can I grill besides meat?
Certainly, seafood is an option when considering grilling recipes. Shrimp slid onto skewers, whole lobsters or just the tails, and any kind of fish you can imagine can be grilled too. Cooking fish in foil packets is a great option to keep it moist and prevent it from breaking up and falling through the grates.
You can also grill vegetables as a side dish, or as something tasty to pile them on sandwiches and salads. Grilled fruit makes a great dessert, but also complements many savory dishes. And there are also plenty of other grilled dessert recipes as well.
Is grilled food gluten free?
The meats, fruits, and veggies you cook on the grill are gluten free. You'll have to watch if you buy pre-made marinades or seasoning mixes, as those may contain gluten. Be sure to read the ingredients. And if you are making a marinade that uses soy sauce or beer, you'll need to replace it with tamari or hard cider.
Of course, if you want a roll for your hamburgers and hot dogs, you'll need gluten free buns. And do remember to refresh your memory on reading food labels for those hot dogs and any pre-made burgers to avoid gluten-containing ingredients.
Best Grilling Recipes
One of the best things about summer is cooking dinner on the grill. If you are also getting tired of your go-to grilling recipes, here is an amazing collection of ideas for you to try, from chicken and steak to burgers and kabobs, and even everything from seafood to fruits and veggies.