This post may contain affiliate links. Read my disclosure policy.
Sausage meatballs with red gravy is a crowd pleasing, gluten free, comfort food dinner that the whole gang will love!
Before sharing the delicious sausage meatballs with red gravy recipe, I have a Christmas poem to share.
'Twas the Sunday before Christmas Eve

and the house was all snug.

But I still had to feed Hubby, Mom

Sam, Mom-in-Law and The Bug.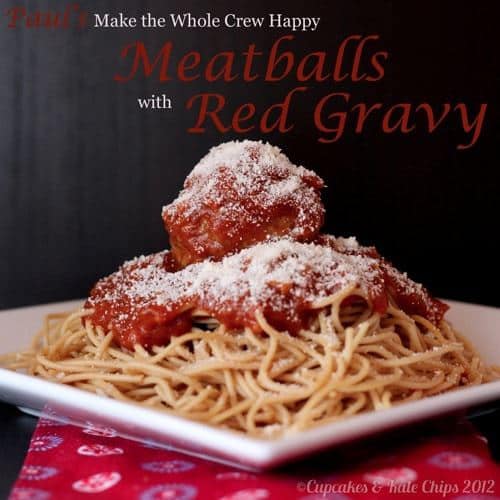 I had to satisfy this group

Before we got into our beds,

With Christmas Eve preparations

Spinning in our heads.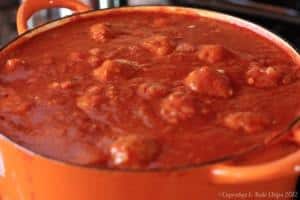 But #SundaySupper came to the rescue

With Emeril's Potluck book.

I went through the list,

To find just what to cook.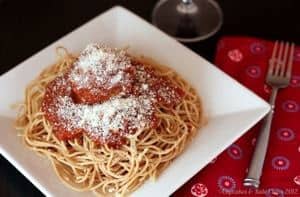 It's pierogies, fish, and cookies

That the next day we will eat.

So for today what would be perfect

Is garlic, spice, sauce and meat!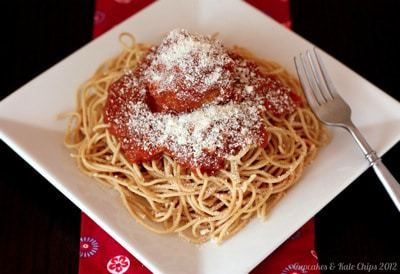 What could I make in advance,

so I would not go crazy?

Why, it's "Paul's Make the Whole Crew Happy

Sausage Meatballs with Red Gravy"!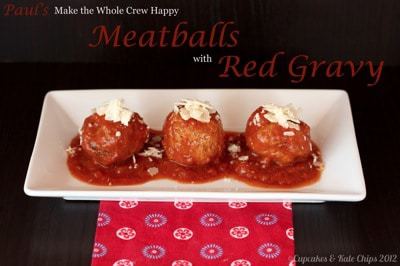 OK, enough with the cheesy rhyme, because it's #SundaySupper time! (oops, sorry, I really meant to stop). This week, we are having a New Year's Eve Potluck, featuring recipes by the amazing Emeril Lagasse from Emeril's Potluck and Emeril's Kicked-Up Sandwiches cookbooks! If you have ever watched Emeril on television (and really, who hasn't?), you know that he is all about celebrating any special event with food and family. So it makes perfect sense for #SundaySupper to celebrate something as fun and exciting as ringing in a 2013 with Emeril and his kicked up recipes.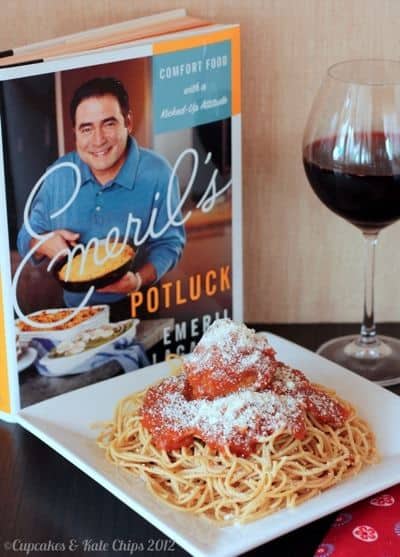 As you probably know by now, not only do we share wonderful recipes every week for #SundaySupper, but we also chat on Twitter every Sunday evening. Well, this week's #SundaySupper chat is going to be an absolutely blast! I mean, it is nearly New Year's Eve, a time to celebrate all of the excitement that 2012 has brought, and to look forward to everything that 2013 has in store. We'll be talking parties and potlucks, sammies and snacks, family and fun! Because isn't that what the holiday season is all about?!
Come get some ideas for what to bring to any upcoming gatherings you have, not only for New Year's but for the entire year. I mean, we all get together with family and friends throughout the year, right? Well, Emeril has a book and a recipe for every occasion – appetizers and snacks for cocktail parties during the holidays, comfort food for feeding the entire family during the cold winter months, lighter salads for summer gatherings in the backyard, and all kinds of delicious sandwiches for packing up for a springtime picnic or a fall tailgate. And I know everyone has their favorite Emeril recipe that they have made, want to make, or have just enjoyed watching him prepare on TV – let's share those, too.
So join us on Sunday December 30th, at 7 pm EST. All you have to do is follow the #SundaySupper hashtag or you can follow us through TweetChat. And not only do I promise you'll have a great time and get lots of awesome ideas and inspiration, but by participating, you'll also have an opportunity to win your own copy of one of these cookbooks. You'll find more details below.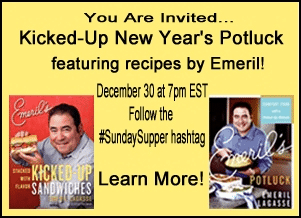 Also check out the other awesome potluck recipes from Emeril shared by my #SundaySupper friends, and look out for more chances to win copies of the cookbooks on some of their blogs. The entire list is at the bottom of this post.
I was so excited to receive the Emeril's Potluck cookbook! I haven't even paged through the entire book yet, and I have already marked several recipes I am excited to try. In fact, I already made the Spiced Almonds. There are many great ideas for dishes that you can bring to a party, or just use to feed a large group at your house.
I decided "Paul's Make the Whole Crew Happy Sausage Meatballs and Red Gravy" would be the perfect Christmas Eve Eve Sunday Supper.
Especially since we don't eat meat on Christmas Eve, consuming a big carb-fest instead. With all the cooking going on to serve dinner for 11 people the next day, this was actually something I could prep a day in advance. Just reheat it and boil up some pasta when it's time to eat. What really draws me to the sausage meatball recipe is that it doesn't not call for breadcrumbs, like most meatball recipes I've seen . So it's gluten free, without needing to make any changes or buy special ingredients!!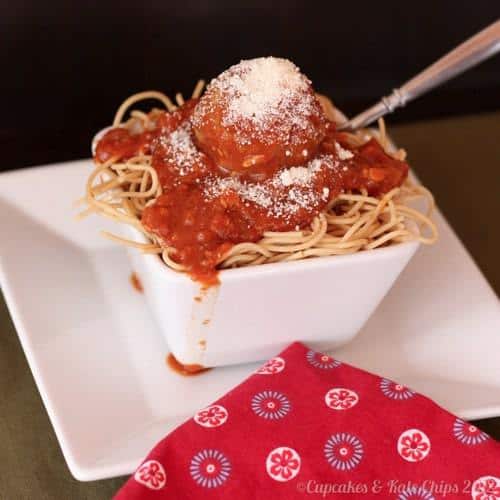 I made a few minor adjustments to the sausage meatball recipe, though.
The Hubby can't eat too much pork, so I used turkey sausage. I was a little short on the anise seed, and am not a huge anise person anyway, so I cut that down a bit. And, unfortunately, my grocery store did not have Emeril's Italian Essence, so I had to use Italian seasoning. Yes, I did chop five cups of onions and thirty (yes, thirty) cloves of gaahhhlic! And boy oh boy, if you came near any of us you would know that I did.
But oh my goodness, these meatballs are tasty!! Everyone loved them, and the recipe made A TON! It makes 22 large meatballs, feeding the six of us, plus some meatballs for my mom's when she took The Bug for a few days. I froze enough meatballs to make some sammies for the three of us one night, AND I still have a huge plastic storage bag full of sauce in my freezer. But any mama who is 6 months pregnant loves having yummy, homemade food like this stored away. So nope, not gonna say that you could cut the recipe in half. If you are going to make them, just make it all and freeze the leftovers – totally worth it!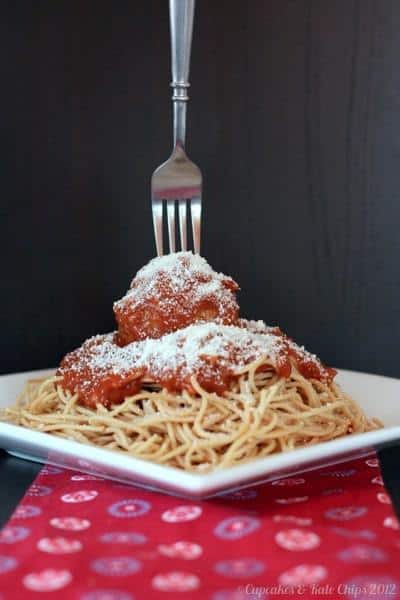 And Emeril, I thought you might like to know, these sausage meatballs…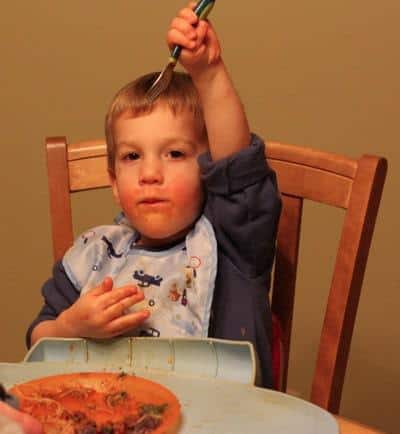 are totally Bug-Approved!!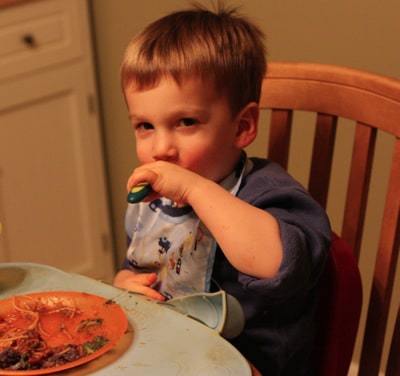 I mentioned an opportunity for you to win an Emeril cookbook of your own. Well, all you have to do is join us during our #SundaySupper chat (oh, and be a resident of the United States or Canada). In order to submit your entry, I need you to do two things:
1 – Leave a comment answering the question below, and give me your Twitter handle and email address.
2 – During the chat (between 7pm and 8pm EST), just tweet "@CupcakeKaleChip – Enter me to win an @Emeril cookbook from #SundaySupper. Find out how to win: https://cupcakesandkalechips.com/?p=3308". Once I have verified eligible entries by their chat participation, I will randomly draw a winner from one of the eligible entries, and contact you within 48 hours from the end of the chat.
And if you can't wait to find out if you've won to get your hands on these cookbooks, you can use these links to purchase your own copies of Emeril's Potluck and Emeril's Kicked-Up Sandwiches.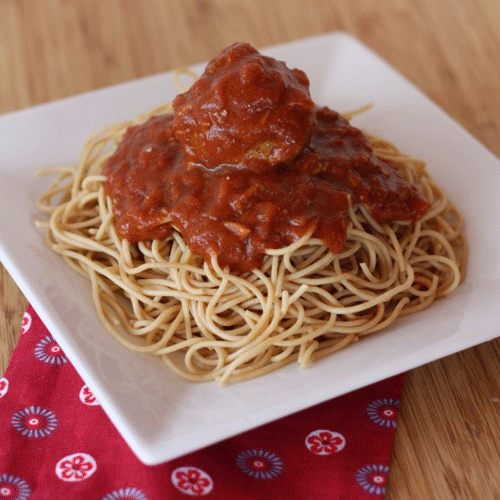 What is your favorite dish to bring to a potluck? Do you have a favorite Emeril recipe?
I know you will love these sausage meatballs with red gravy!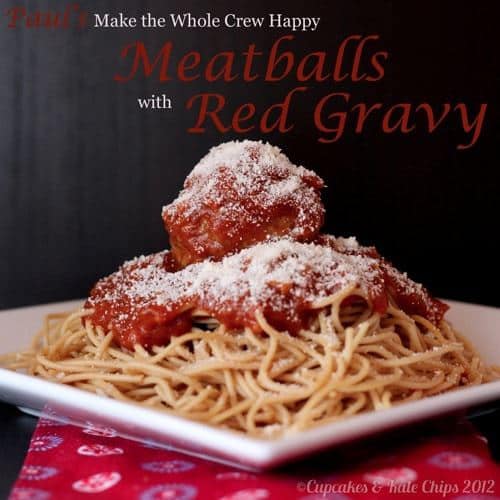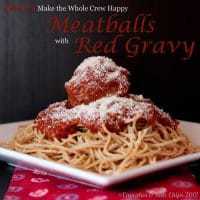 Paul's Make the Whole Crew Happy Sausage Meatballs with Red Gravy for #SundaySupper New Year's Eve Potluck with @Emeril (#glutenfree)
Large, delicious meatballs in a flavorful sauce, perfect for serving over pasta or in a meatball sandwich.
Servings:
6
hearty servings, plus leftover meatballs for sandwiches the next day.
Ingredients
Red Gravy:
3

tablespoons

vegetable oil

5

cups

chopped yellow onions

2

teaspoons

Emeril's Italian Essence

1

teaspoon

salt

1/2

teaspoon

crushed red pepper

20

cloves

garlic

minced (about 1/3 cup)

2

tablespoons

whole anise seeds


Two 6-ounce cans tomato paste


Four 15-ounce cans tomato sauce

One 28-ounce can whole tomatoes

pureed with their juice

2

teaspoons

Emeril's Original Essence
Sausage Meatballs:
1 1/2

pounds

ground chuck

1 1/2

pounds

sweet Italian sausage

removed from casings

1

pound

fresh hot sausage

removed from casings

10

cloves

garlic

minced
2 large eggs, lightly beaten

4

teaspoons

Emeril's Original Essence

1/2

teaspoon

salt

1/2

teaspoon

freshly ground black pepper

1

pound

spaghetti

cooked according to package directions

1

cup

grated Parmesan cheese

for serving
Instructions
Make the Red Gravy:
In a very large saucepan or Dutch oven, heat the oil over medium-high heat. Add the onions, Italian Essence, salt, and crushed red pepper and cook, stirring, until the onions are soft, 6 minutes. Add the garlic and anise seeds and cook, stirring, for 2 minutes. Add the tomato paste and cook, stirring frequently, until the paste begins to brown, about 5 minutes. Add the tomato sauce, pureed tomatoes, 2 1/2 cups of water, and the Original Essence and bring to a boil. Reduce the heat and simmer for 45 minutes, stirring occasionally.
Make the Sausage Meatballs:
In a large bowl, combine the ground chuck, Italian sausage, hot sausage, garlic, eggs, Original Essence, salt, and black pepper, and mix briefly but thoroughly to distribute the seasonings. Shape into about 20 large meatballs, about 1/3 cup each, and set aside in the refrigerator.

Add the Sausage Meatballs to the Red Gravy and do not stir until the meatballs float to the surface, about 10 to 12 minutes. Stir well and simmer the meatballs in the sauce for 30 minutes, stirring occasionally, and skimming off any fat that rises to the surface. Taste, adjust the seasoning if necessary, and serve immediately over hot pasta. Pass the grated Parmesan at the table.
Notes
I made a few slight substitutions and modifications:
I substituted a 1 1/4 pound package of sweet turkey sausage and a 1 1/4 pound package of hott turkey sausage for the 1 1/2 pounds sweet Italian sausage and 1 pound hot sausage, since hubby can't eat too much pork.
I used 1 tablespoon whole anise seeds, because I ran out.
I substituted Italian seasoning for Emeril's Italian Essence, because my grocery store did not carry the Italian Essence.
Enjoy!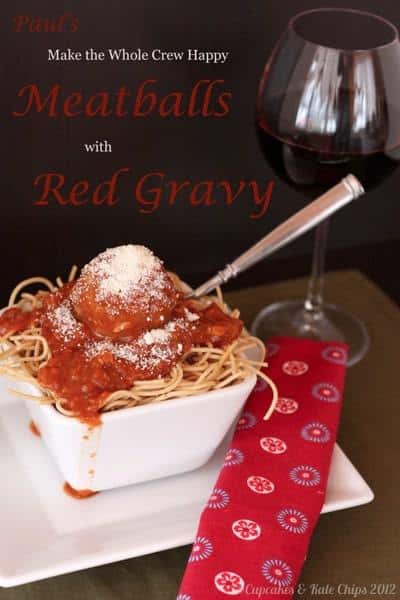 There are more opportunities to win. Remember there are 25 bloggers giving away an Emeril cookbook. Be sure to visit each one of these blogs, check out their post, and enter to win. There are duplicate recipes in the list however each post will be different. It is worth it to visit them all, especially for more chances to win a cookbook.
Sunday Supper NYE Potluck Drinks:
Sunday Supper NYE Potluck Starters:
Sunday Supper NYE Potluck Dishes and Sandwiches:  
Sunday Supper NYE Desserts:
Join the #SundaySupper conversation on twitter each Sunday. We tweet throughout the day and share recipes from all over the world. Our weekly chat starts at 7:00 pm ET and you do not want to miss out on the fun. Follow the #SundaySupper hashtag and remember to include it in your tweets to join in the chat. Check out our #SundaySupper Pinterest board for more fabulous recipes and food photos.