This post may contain affiliate links. Read my disclosure policy.
Flavorful Gluten Free Cube Steak with Gravy is a quick one-pan dinner, made from tender steak smothered in gluten-free brown gravy with savory mushrooms and onions. It's a comforting and easy beef recipe that's perfect to serve over fluffy mashed potatoes!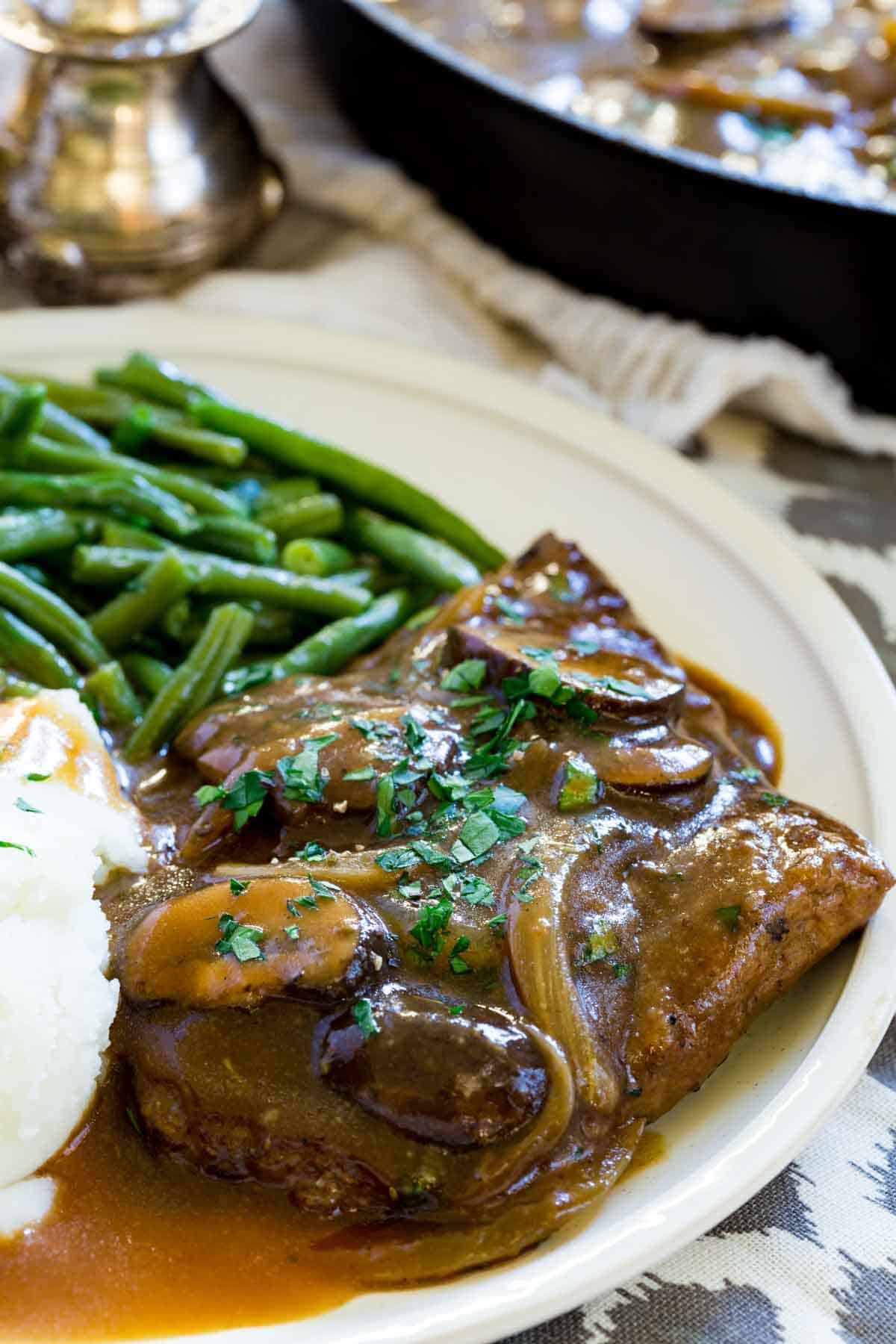 Easy Cube Steak Recipe With Gluten Free Gravy
If the thought of cube steak conjures up memories of TV dinners with chewy, hard beef and a side of runny mashed potatoes, you can relax. Cube steaks aren't just for TV dinners!
This recipe for gluten-free cube steak with gravy is a far cry from a microwave meal. It doesn't take a lot of TLC for this smothered steak to come out tender and flavorful. Meanwhile, the homemade gluten-free gravy is rich and velvety, filled with tender mushrooms and onions.
To top it all off, everything cooks up in one skillet in just 30 minutes. When prepared at home, cube steaks are inexpensive, quick to cook, and perfectly tender. Just see for yourself!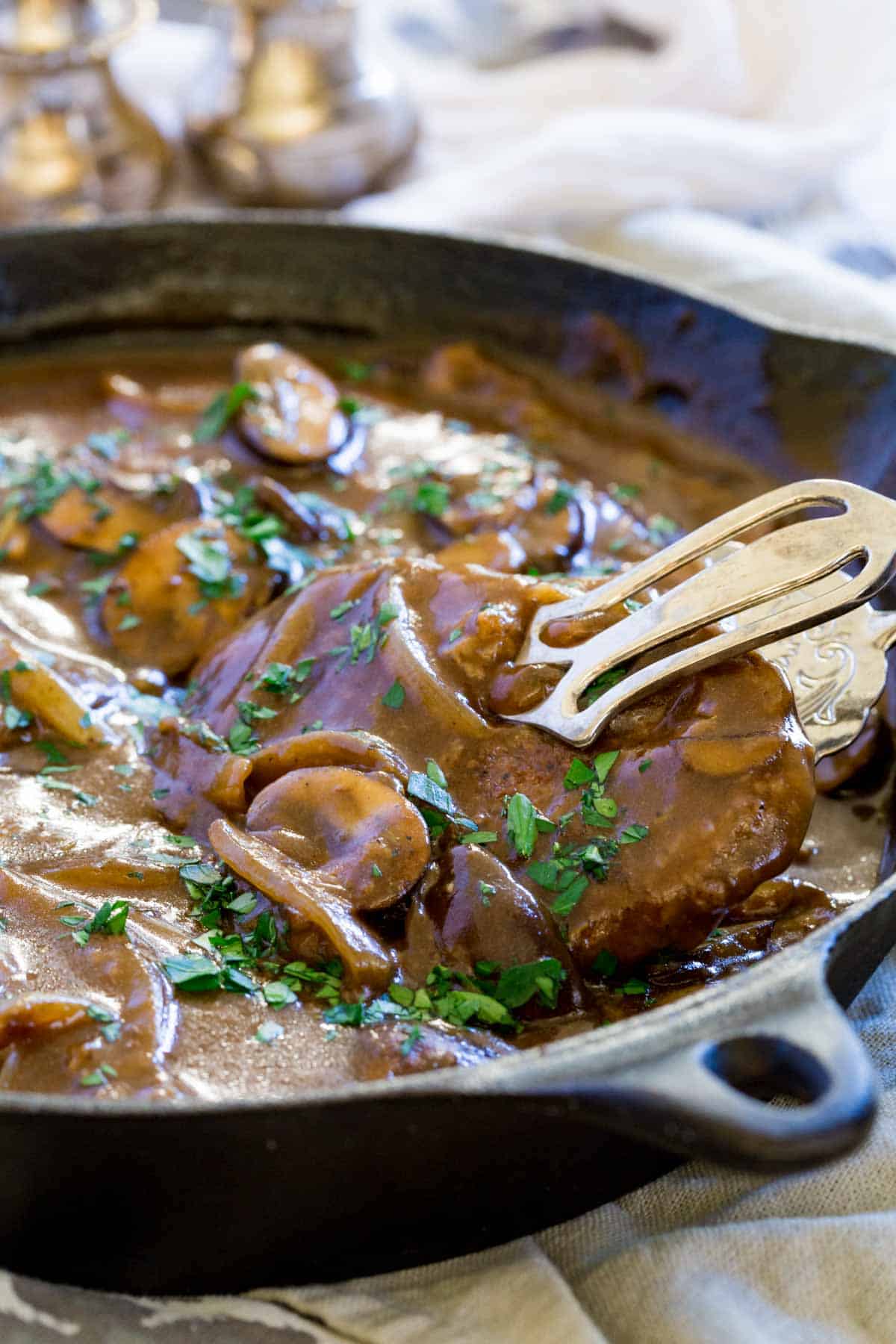 What Is Cube Steak?
Cube steak is a cut of steak (usually top round or top sirloin) that's been pounded thin with a meat mallet. Tenderizing the steak makes it less tough, and also leaves small indentations shaped like cubes, which is where a cubed steak gets its name. You'll sometimes see cube steak referred to as minute steak because of how quickly it cooks.
Cube steaks are often served with gravy, and they're often mistaken for Salisbury steaks. And while a cube steak's pounded texture looks similar to ground beef, cube steaks are actual steaks and not hamburger meat.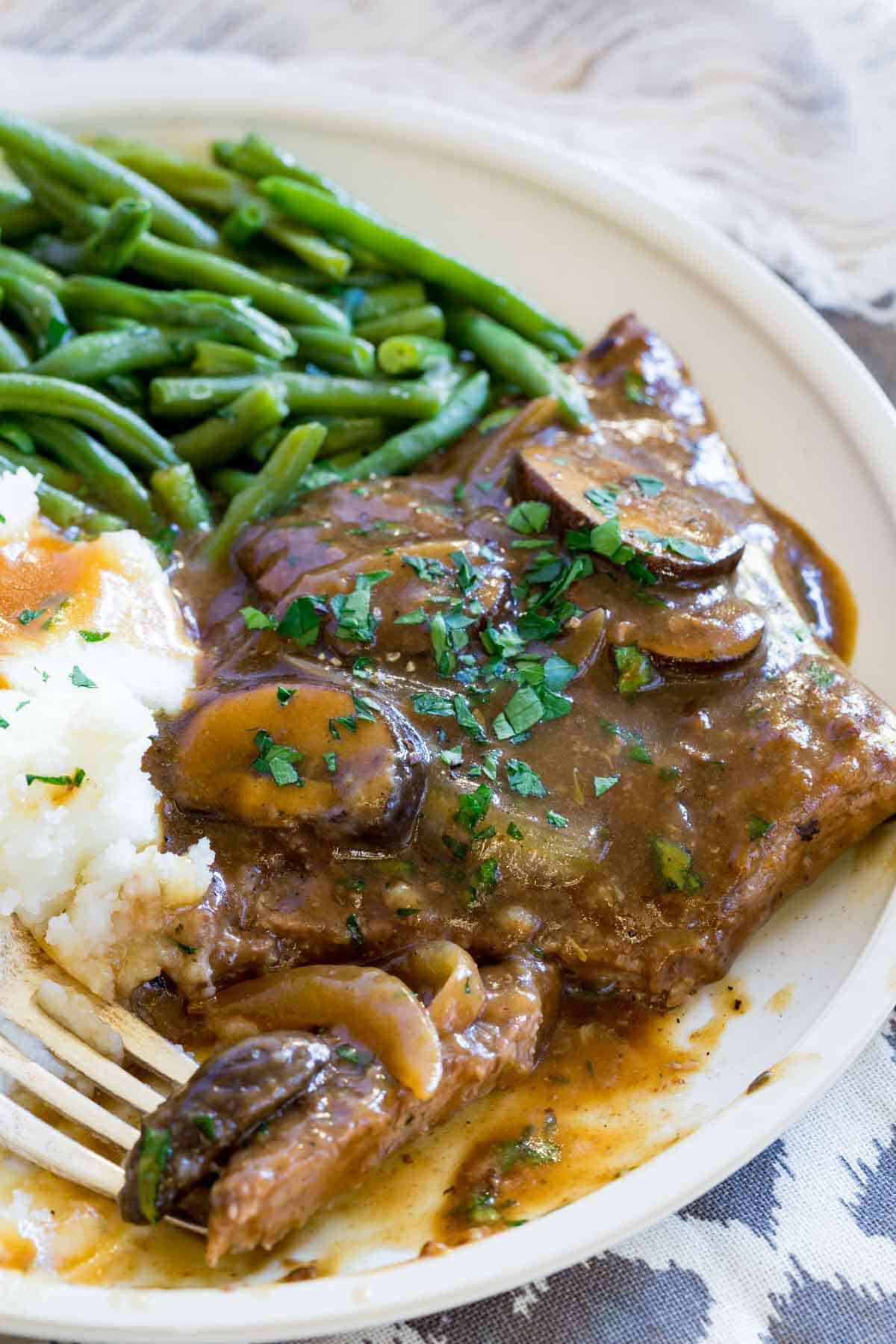 What You'll Need
Below is a brief round-up of the ingredients needed to make savory cube steak with gravy. Don't forget to visit the recipe card for the full amounts:
Sweet Rice Flour: For dredging the steaks. Sweet rice flour is milled from sticky rice, found in Asian supermarkets or in the Asian food aisle. It's a bit different than regular rice flour, which you can substitute if needed. You can also use all-purpose gluten-free flour, though the consistency won't be quite the same.
Seasoning: I season my flour with a combination of onion powder, garlic powder, salt, and pepper.
Cube Steaks: You can use fresh or frozen cube steaks, though make sure to thaw frozen meat completely.
Olive Oil: Since we'll be pan-frying these cube steaks, use high-quality extra virgin olive oil to get a good sear. You'll also need it for sauteeing the onions and mushrooms.
Onion: Use white or yellow onion, cut thin.
Mushrooms: You can use your favorite kind of mushrooms. I like to slice up white mushrooms, baby Bella, or cremini mushrooms.
Thyme: Dried or fresh thyme compliments the earthiness of the mushrooms.
Butter: I prefer to cook with unsalted butter. You can also use dairy-free butter if you're making this dish dairy-free.
Beef Broth: Choose your favorite low-sodium, gluten-free beef broth or stock. Alternatively, you can use chicken stock (the color of the gravy will be a little lighter).
Worcestershire Sauce: Added for more depth of flavor. Not all Worcestershire sauce is gluten-free, so make sure to check labels and use one that's certified.
Fresh Parsley: For optional garnish.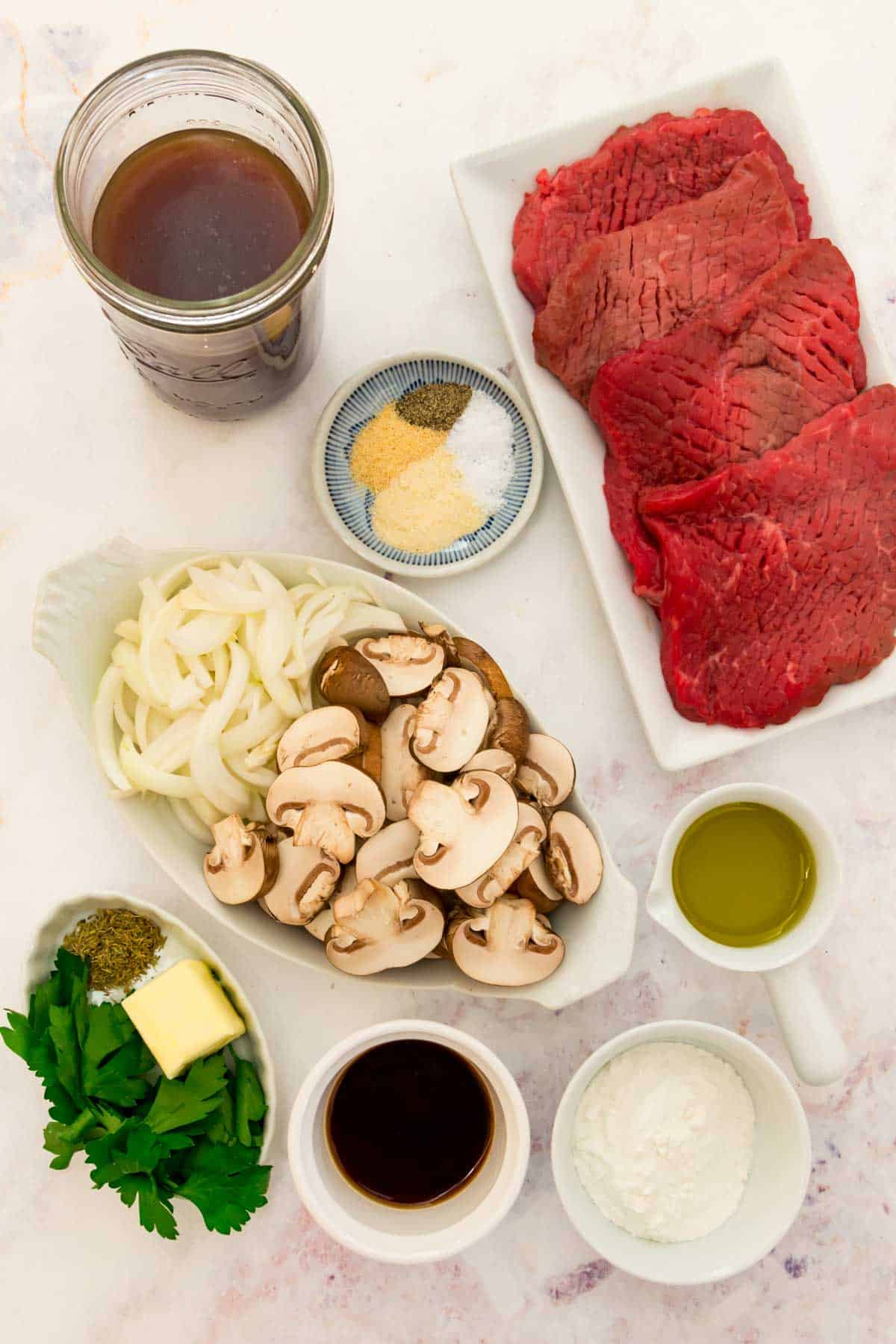 How to Cook Cube Steak and Gravy
This easy cube steak recipe comes together quickly on the stovetop. You'll sear the beef, cook the veggies, and whisk up the gravy all in one pan:
Dredge the Beef: First, whisk sweet rice flour together with the seasonings. Dip the cube steaks into the flour mixture to lightly coat.
Sear: Sear the floured cube steaks in a hot skillet with a bit of olive oil, about 2 minutes per side. You can set aside the browned steaks for now.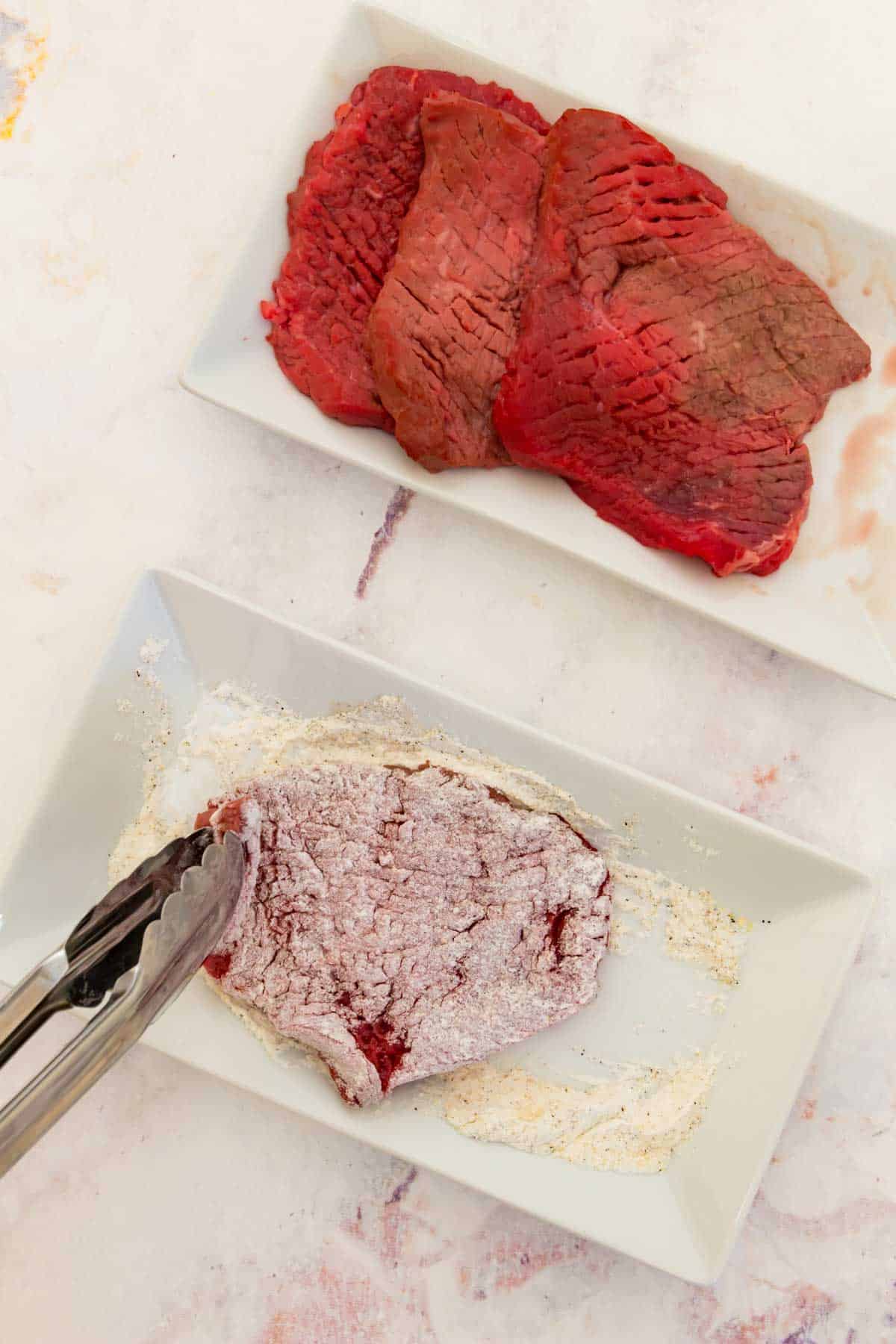 Cook the Onions and Mushrooms: Next, in the same skillet, saute the onions and mushrooms with additional olive oil and a sprinkle of thyme. When the veggies are tender and caramelized, transfer them to a plate and set them aside also.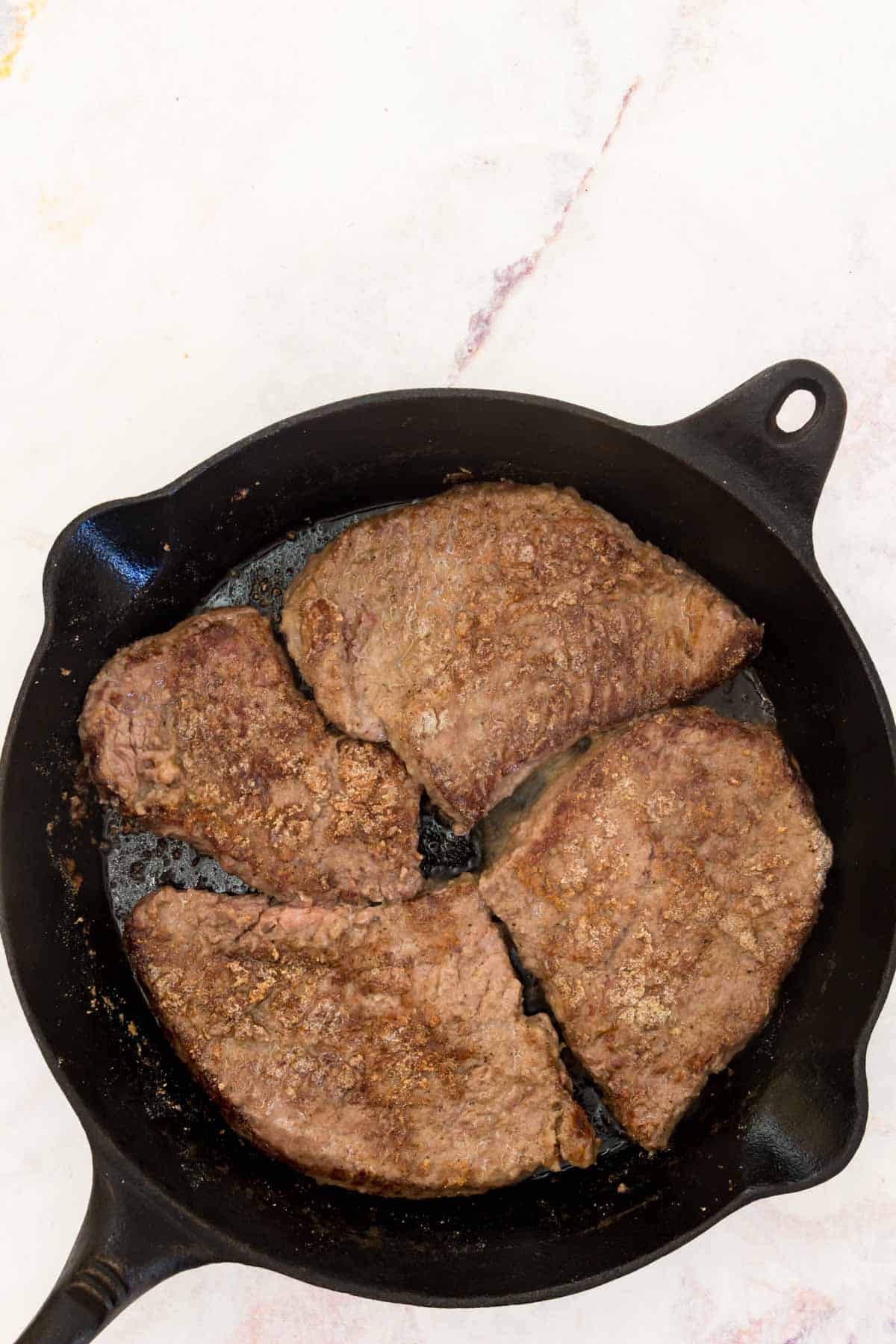 Prepare the Gravy: Once more in the same skillet, whisk together melted butter with a bit of sweet rice flour to form a paste. Continue to whisk while adding beef broth a little at a time, and finally stir in the Worcestershire sauce. Now, you'll let the gravy simmer and thicken.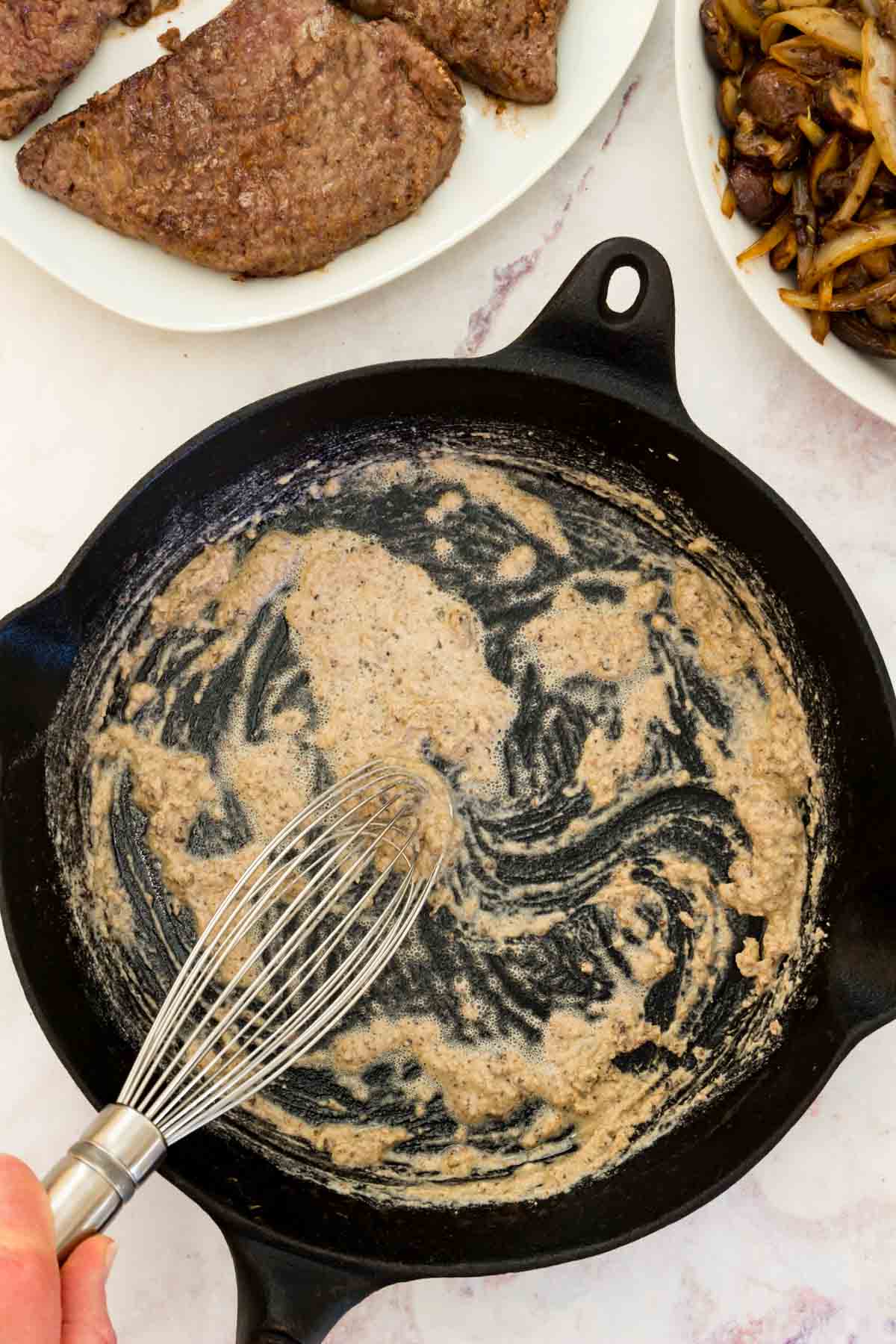 Combine: After a few minutes, add the cube steaks to the pan, followed by the cooked veggies. Cover and simmer to warm the steaks, then season to taste and garnish with parsley. Your cube steaks and gravy are ready to serve! Dish up your steaks over a bed of Mashed Potatoes, and spoon over the gravy for a savory dinner. See below for more serving ideas!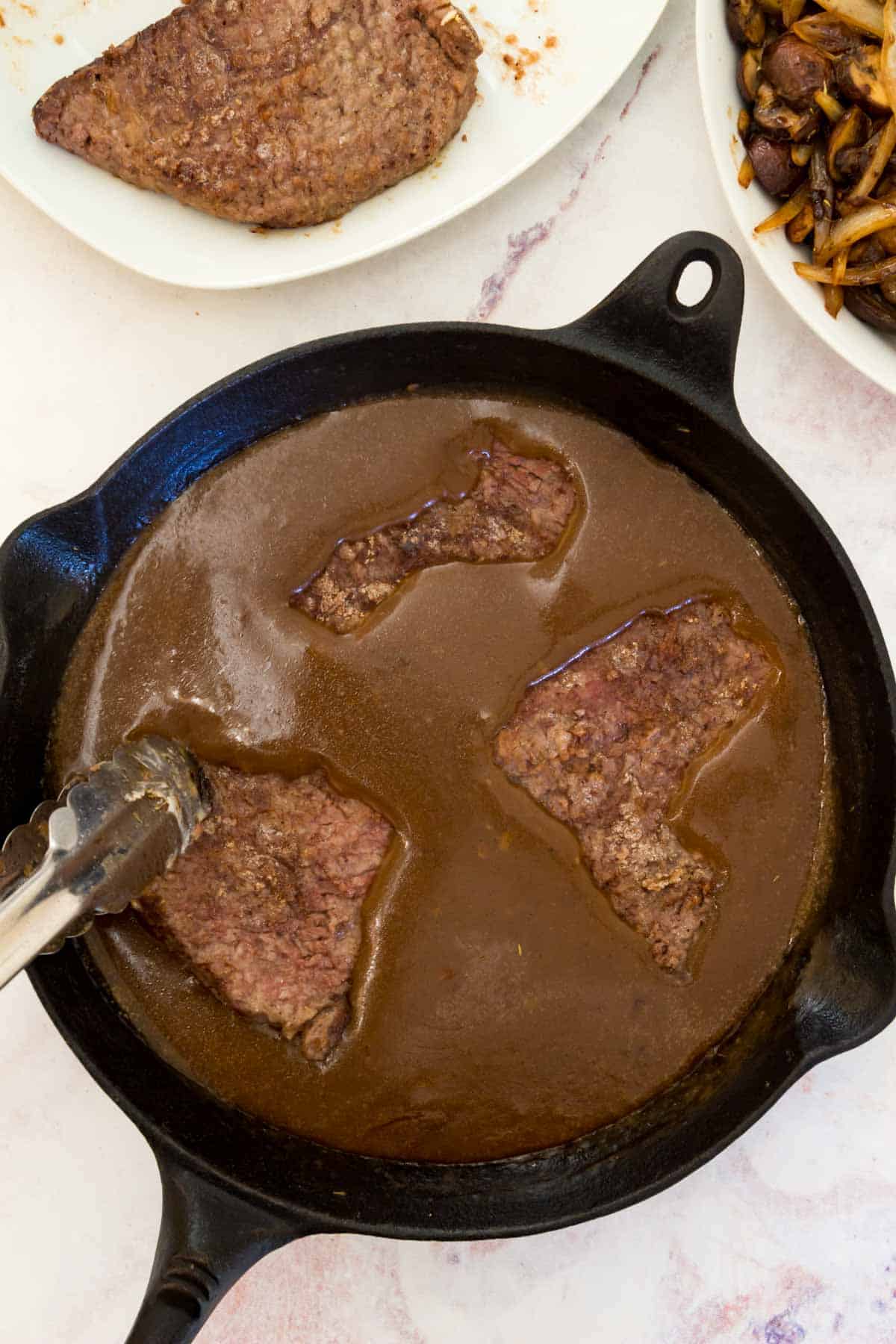 Tips for Success
Try these tips for extra tender and delicious gluten-free cube steak with gravy:
For extra tenderness, give your steaks another quick pounding with a meat mallet before coating them in flour.
Be careful to not overcook your steak, especially when you're getting the sear. A couple of minutes per side is all these thin steaks need, and you'll heat them through again later in the gravy. See my post on How to Cook Cube Steak in a Cast Iron Skillet.
To know when your cube steak is done: Your steak is ready when the internal temperature reads 125ºF. Keep in mind that the steak will continue to cook in the gravy even after it's taken off the heat.
Whisk the gravy continuously. This helps dissolve any lumps and prevents the gravy from burning while it thickens.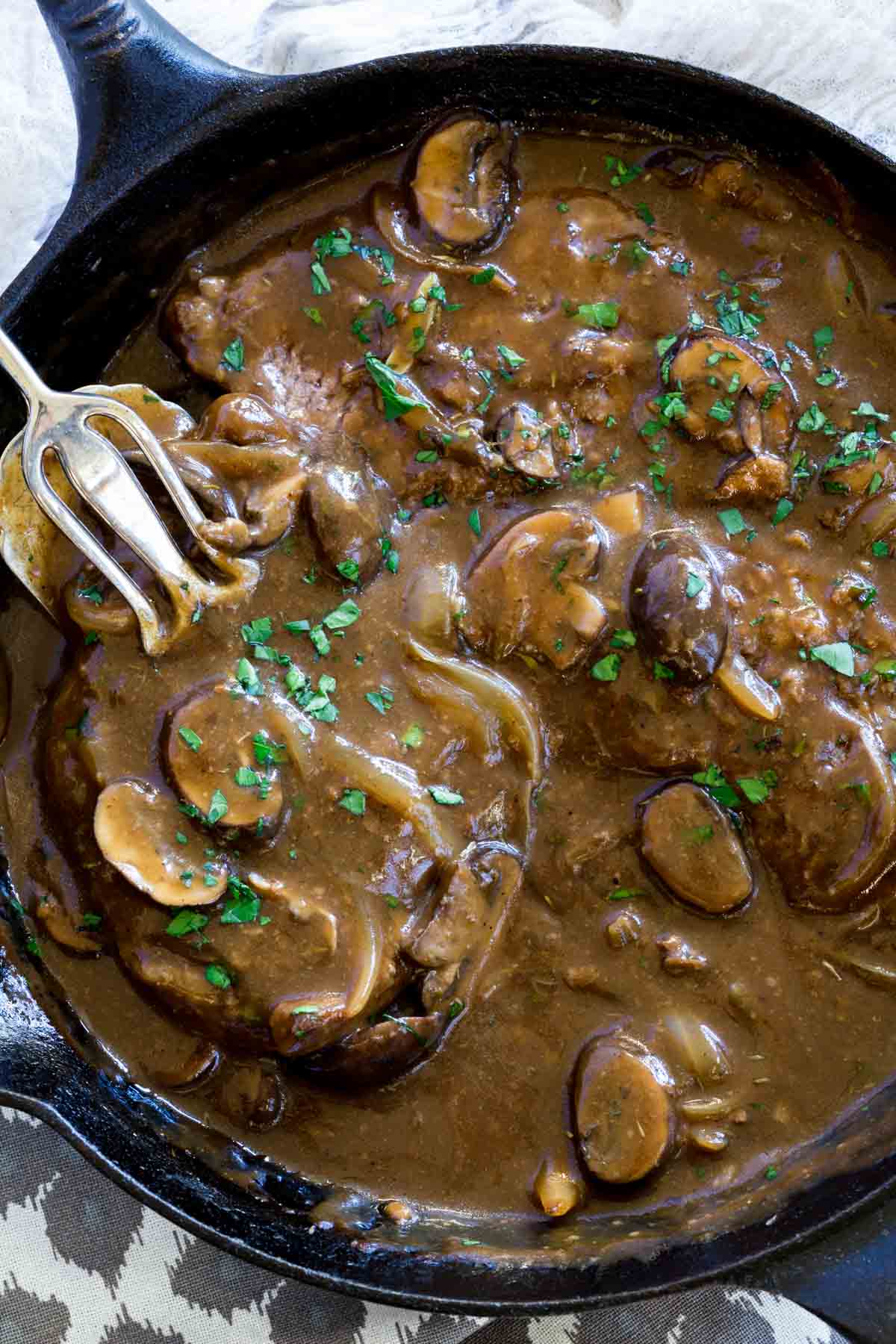 Make It a Meal
We love serving our gluten-free cube steak smothered in gravy overtop a mountain of fluffy Mashed Potatoes. For a simple, well-rounded meal, I'll serve beef with a side of Gluten-Free Dinner Rolls and Sauteed Green Beans. It's a family-favorite meal on busy weeknights.
What else can you serve with cube steak? Try one or more easy sides: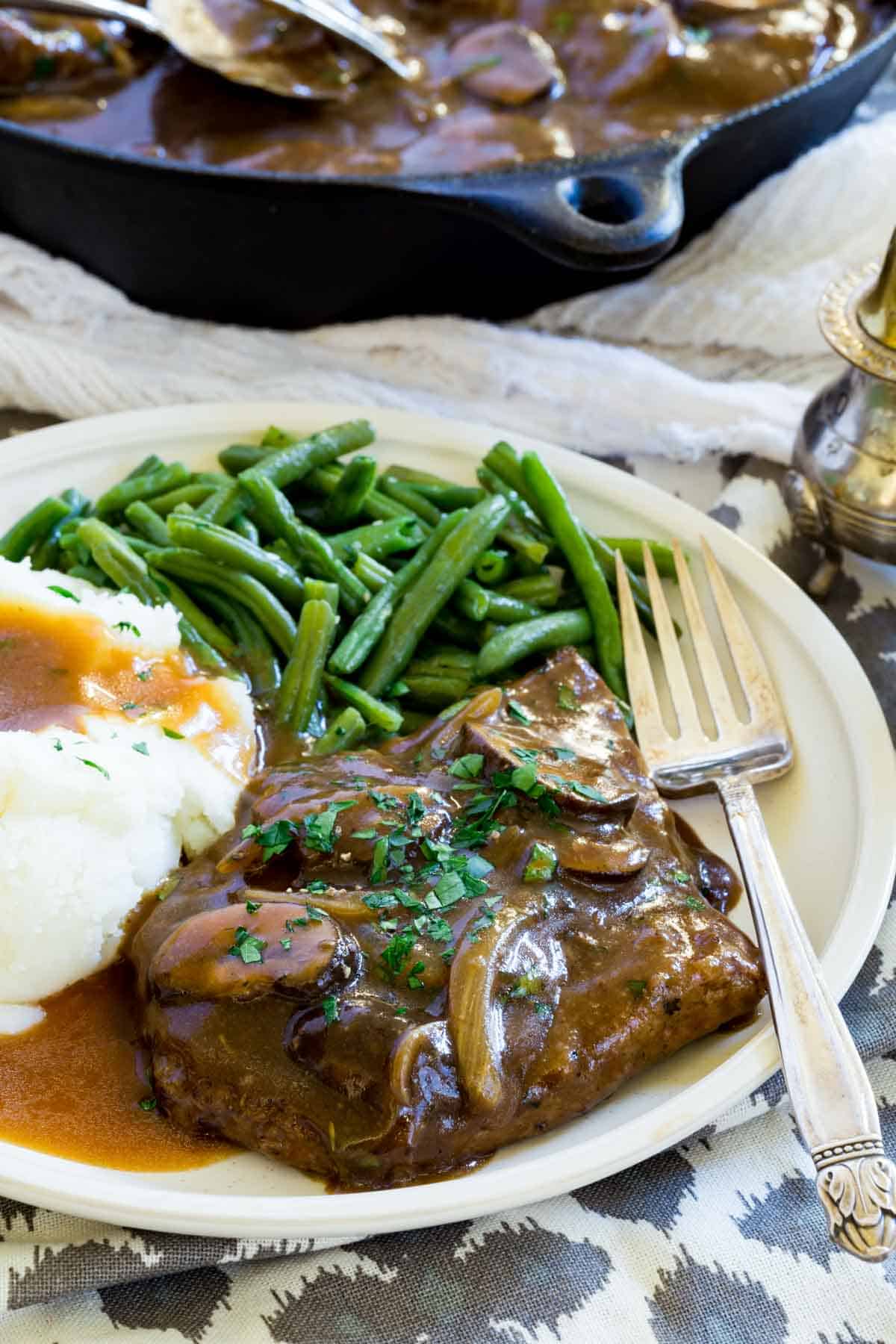 Storing and Reheating Leftovers
Store your cube steak and gluten-free gravy altogether in an airtight container, and refrigerate leftovers for up to 3 days. Leftover cube steak is great for reheating and making sandwiches. Reheat the steak on the stovetop, with a bit of beef broth added to loosen up the gravy.
This beef recipe also freezes well for longer-term storage, see below.
Can I Freeze Cube Steak?
Yes! The cube steak and gravy can be frozen together or separately. Once the steak and gravy have cooled to room temperature, store them airtight and freeze them for up to 3 months. Defrost the cube steak and gravy (if separate) in the fridge, and reheat on the stovetop.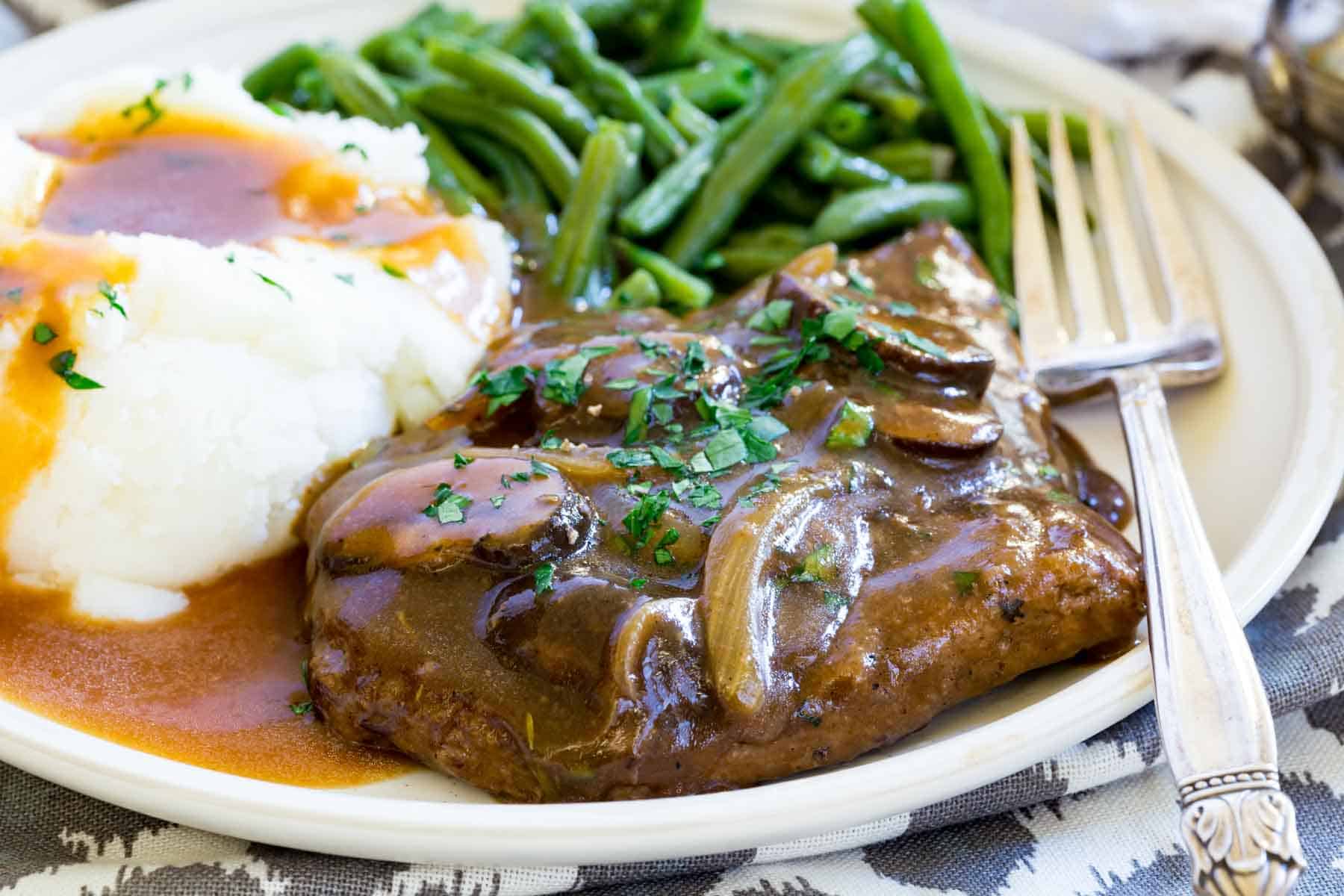 What You'll Need
I highly recommend preparing this cube steak recipe in a cast iron skillet. You can get it screaming hot to give the steaks a nice sear. Then the gravy can be made in the same pan, and then it is super easy to clean. A pan like this is an affordable kitchen essential that you can use for everything from making an easy skillet meal on to stove top to a beef roast in the oven.
$19.90
$34.25
in stock
43 new from $19.90
2 used from $17.90
as of June 9, 2023 5:45 pm
Last updated on June 9, 2023 5:45 pm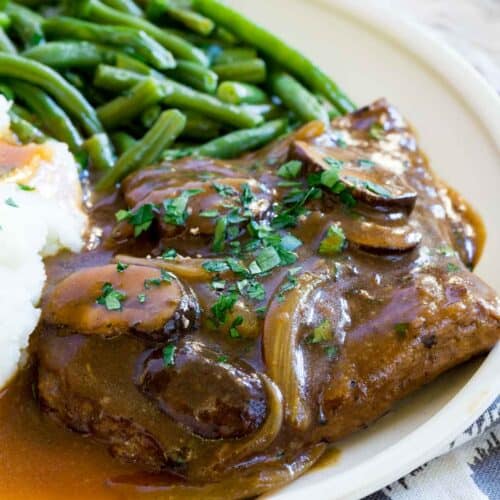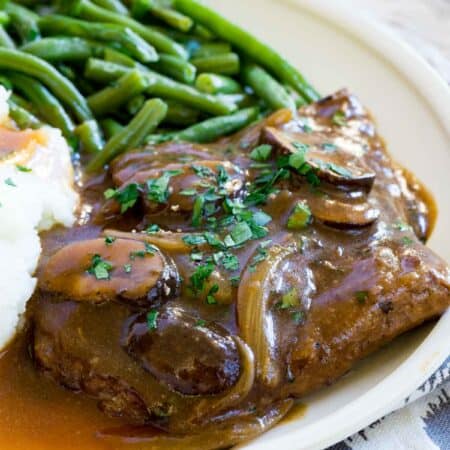 Gluten Free Cube Steak with Gravy
Tender Gluten Free Cube Steak with Gravy is a quick and flavorful one-pan dinner. Made from pan-seared beef smothered in a rich gluten-free brown gravy loaded with savory mushrooms and onions.
Ingredients
4

Tablespoons

sweet rice flour

, divided

1/2

teaspoon

kosher salt

1/2

teaspoon

onion powder

1/4

teaspoon

garlic powder

1/4

teaspoon

black pepper

4

cube steaks

, about 1 pound

2

Tablespoons

olive oil

, divided

Half of a large onion

, thinly sliced

8

oz.

mushrooms

, sliced (white, baby bella, cremini, or your favorite)

1/2

teaspoon

dried thyme

2

Tablespoons

unsalted butter

2

cups

low sodium beef broth

1

Tablespoon

Worcestershire sauce

Salt and pepper

, to taste

Fresh parsley for garnish

, optional
Instructions
In a shallow dish, stir 2 Tablespoons of the sweet rice flour, salt, onion powder, garlic powder, and pepper together until combined. Dredge the cube steaks in the flour mixture.

Heat 1 Tablespoon of the olive oil in a 10-inch skillet over medium-high heat. Sear the cube steaks for 2-4 minutes per

side, until browned. Remove the steaks from the pan to a plate and set aside.

Return the skillet to the heat, reduce to medium, and heat the remaining 1 Tablespoon of oil. Add the onion,

mushrooms, and thyme. Season with a pinch of salt and pepper. Cook, stirring frequently, for 6-8 minutes, scraping

up any bits on the bottom of the pan as it cooks, until the mushrooms and onions are browned and tender. Remove

the mushrooms and onions from the pan to a plate or bowl and set aside.

Return the skillet to the heat and add the butter. Swirl and let it melt. Sprinkle the remaining 2 Tablespoons of sweet rice

flour over the butter or oil in the pan, and whisk constantly until it forms a paste and turns light beige. You do not want

to let it brown as much as a traditional roux.

Reduce heat to low and, while whisking, pour in a splash of the broth and whisk until incorporated. Continue slowly

adding the liquid while whisking until it is all incorporated. Stir in the Worcestershire sauce, then let it simmer for 5-10 minutes, until thickened.

Return the cube steaks and vegetables to the pan, cover and simmer for 5 minutes, or until heated through. Season to

taste with salt and pepper. Garnish with parsley, if desired.
Notes
Sweet rice flour can be found in Asian markets or in the Asian section of
the grocery store. You can substitute white rice flour or gluten free
all-purpose flour if that's all you have, but the consistency will be slightly
different.
Nutrition Facts
Gluten Free Cube Steak with Gravy
Amount Per Serving
Calories 488
Calories from Fat 288
% Daily Value*
Fat 32g49%
Cholesterol 137mg46%
Sodium 673mg28%
Potassium 1059mg30%
Carbohydrates 10g3%
Protein 40g80%
Vitamin A 184IU4%
Vitamin C 3mg4%
Calcium 55mg6%
Iron 4mg22%
* Percent Daily Values are based on a 2000 calorie diet.
Categories:
More Gluten-Free Steak Recipes to Try