This post may contain affiliate links. Read my disclosure policy.
Marshmallow Cereal Treats get a deliciously spooky twist with the addition of Count Chocula cereal and peanut butter. These no-bake dessert bars are quick and easy with only four ingredients and the irresistible combination of chocolate and peanut butter. You'll have a monster of a good time when you spookify the traditional cereal squares recipe to make this chocolate, peanut butter, and marshmallow treat!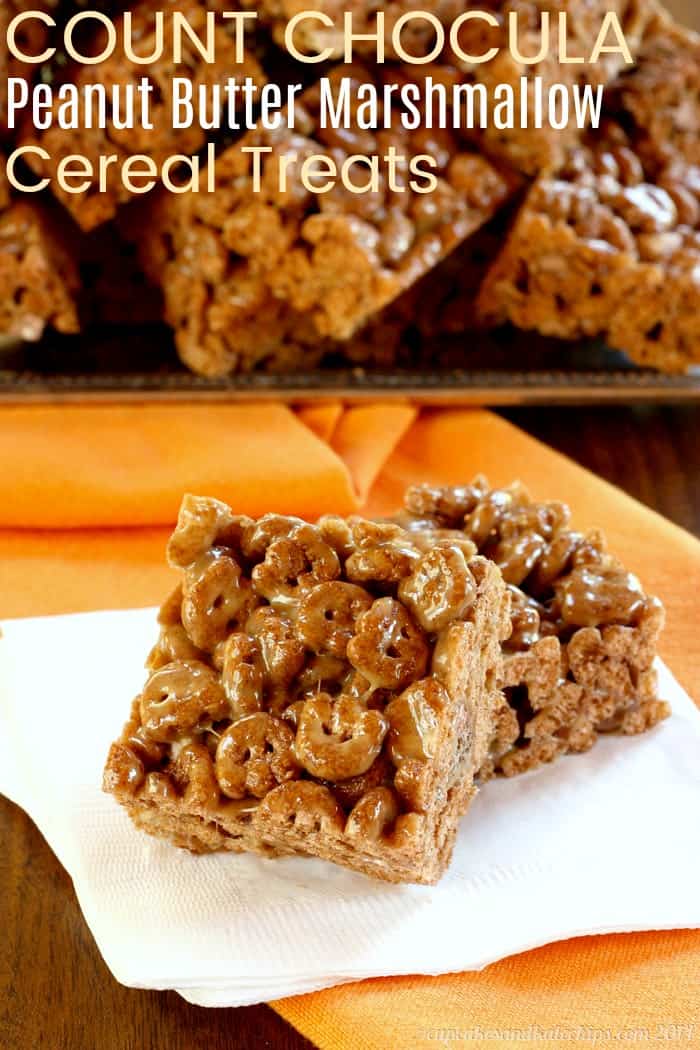 Disclaimer: General Mills provided me with samples of Monster Cereals at no cost. I was under no obligation to write this post, and received no additional compensation. As always, all opinions are my own.
Originally published on Oct 8, 2014
Fall is my favorite season. And I don't know if it is climate change, the inevitable speeding up of life as one gets older, or if there is really that vast of a different in the weather between Maryland and New Jersey, but every year it seems like autumn gets shorter and shorter.
The heat of summer drags later into the year, and those perfectly crisp, cool days take longer to arrive and then turn ove rto the cold figity of winter before you even have the chance to enjoy it.
And let's not even talk baout Autumn 2014, which I officially deemed as "the season that wasn't." Selling out house, hubby working out of state trying to survive alone with a baby and a toddler, moving, all of that nonsense.
That year I really wanted to go all cupcake and pumpkin crasy for both my boys and my readers. But all I could muster up was cereal treats.
But maybe you, too are just as insanely busy as I was that year. Maybe you want some Halloween-y goodness, but only have the time/energy/inclination to make a dessert that only has fourn ingredients and takes about ten minutes of work.
So, cereal treats. But these are not just any cereal treats. These are…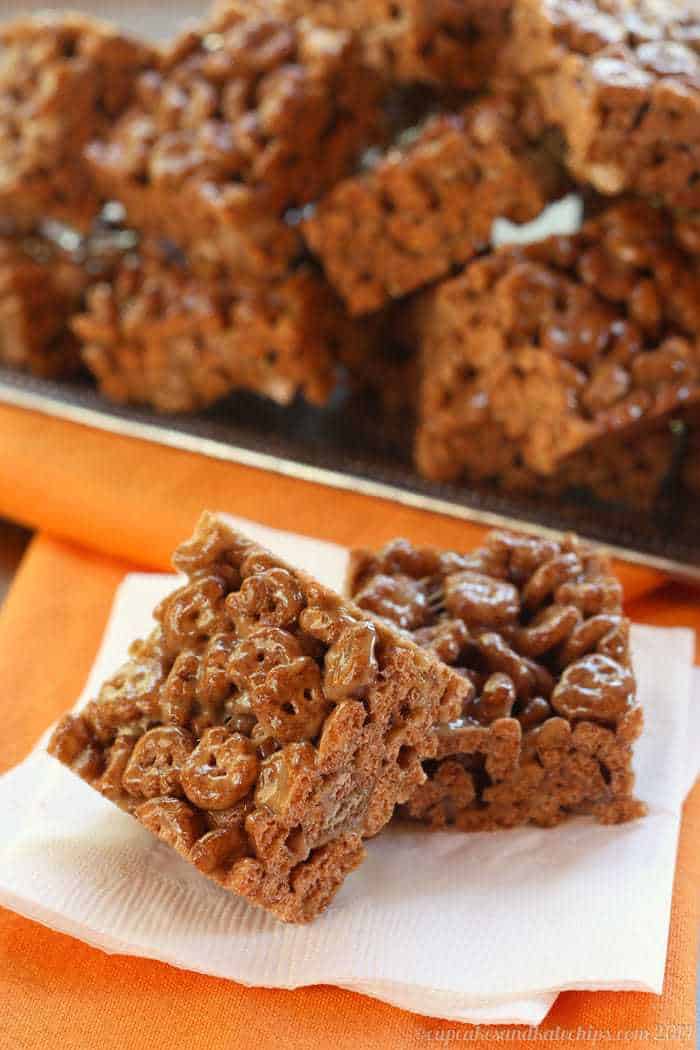 Count Chocula Cereal Treats
Yes, they are made with Count Chocula cereal, because when it's Halloween, you gotta have spooky shapes. And chocolate. And of course what makes chocolate better? Peanut butter, of course! But these aren't in-your-face peanut butter. Just a hint so you know it's there, but really you're just focused on the chocolaty, marshmallowy, sticky goodness.
Let me tell you, my little monsters were not happy campers when, after letting them sample one, I sent the rest off to work with daddy. But me, two little boys and a big bowl of these babies alone in the house all week while the Hubby was away – dangerous territory there!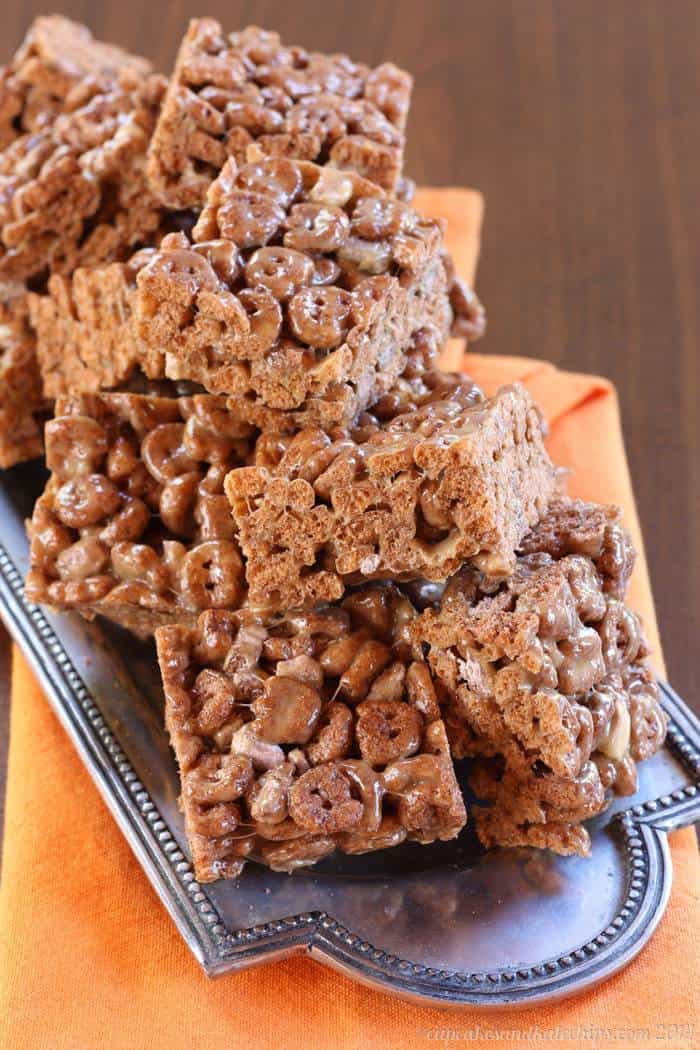 What do you need to make chocolate peanut butter marshmallow cereal treats?
Ingredients:
Butter
Marshmallows – regular or mini
Creamy peanut butter
Equipment:
9×13 inch pan – I prefer a metal pan, but glass works too. I recommend lining it with aluminum foil and coating liberally with butter or cooking spray to make the squares easy to remove
Heavy bottom saucepan – I actually like to use my enameled cast iron, as it is thick enough to keep the heat even and prevent burning, and the marshmallow doesn't stick too much.
Heat-proof spatula – a wooden spoon works too, but I prefer using a spatula because I can also coat it with butter or cooking spray for pressing the bars into the pan without them sticking to the spoon.
How to make Count Chocula cereal bars?
Melt the butter, marshmallows, and peanut butter in a saucepan over low heat.


PRO TIP: You'll want to be stirring almost constantly to keep the marshmallows from burning.

Remove the pan from the heat. Add the Count Chocula cereal and stir until thoroughly coated.


PRO TIP: Work quickly so the marshmallows in the cereal don't melt.

Press the cereal mixture into the prepared pan.


PRO TIP: I rub butter on the spatula, a piece of wax paper, or even my hands to be able to press the mixture into the pan without the marshmallow from sticking too much. You can even use the wrapper from the stick of butter.

Let cool to room temperature and cut into squares.
Store in an airtight container at room temperature for several days, if they last that long.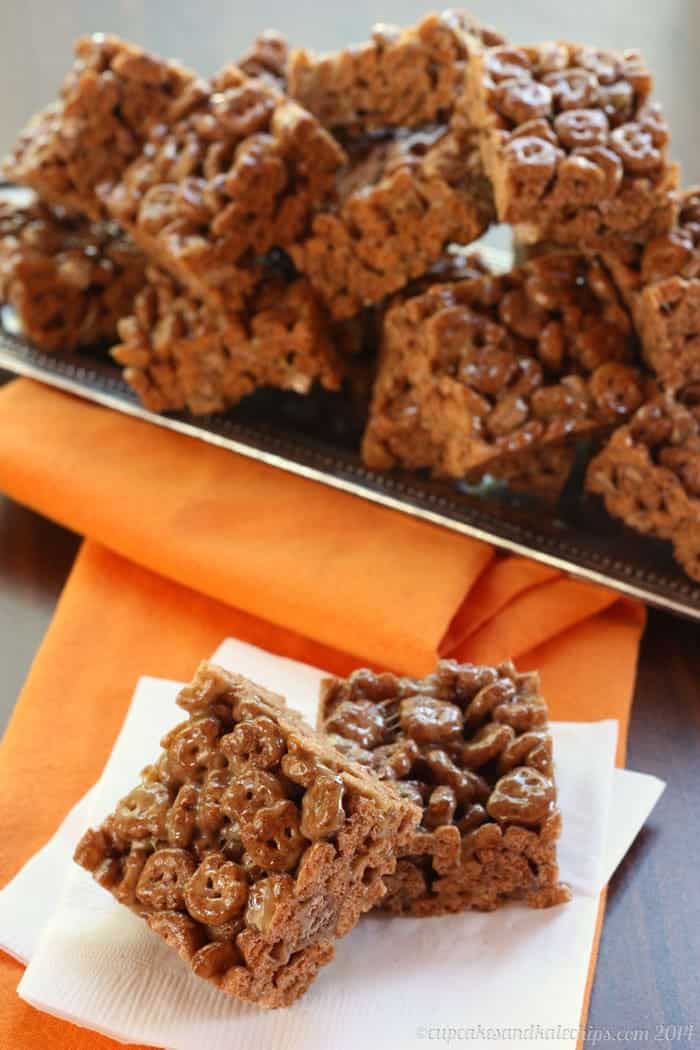 What else can you serve at a Halloween Party?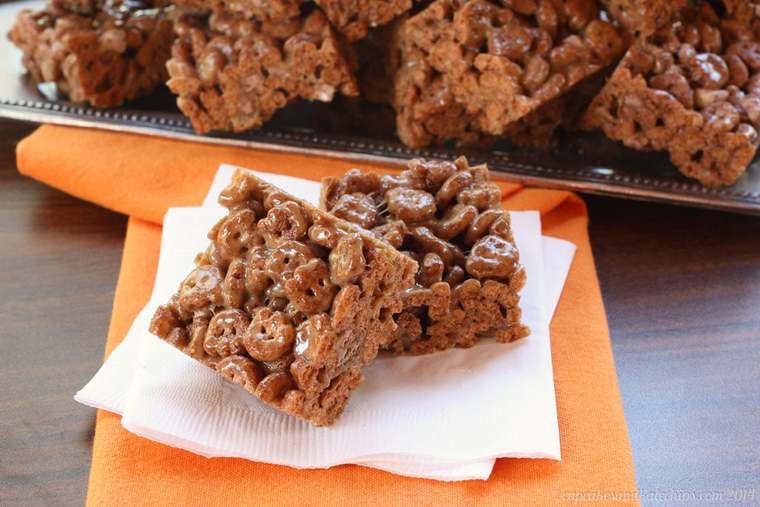 For more yumminess from me and my foodie friends, keep up with me on…
Or sign up to have Cupcakes & Kale Chips delivered straight to your Inbox!
Here are more recipes to make with your favorite cereal…
Count Chocula Peanut Butter Marshmallow Cereal Squares
This fun and easy recipe puts a monstrously delicious twist on the classic marshmallow cereal treats recipe. Made with Count Chocula cereal and with the addition of peanut butter, the classic no-bake dessert becomes anything but basic. Nobody can resist these gooey, marshmallow bars, and this is especially true when you add the combination of chocolate and peanut butter!
I hope you'll leave a comment and give it a FIVE STAR rating or share a photo on this pin on Pinterest!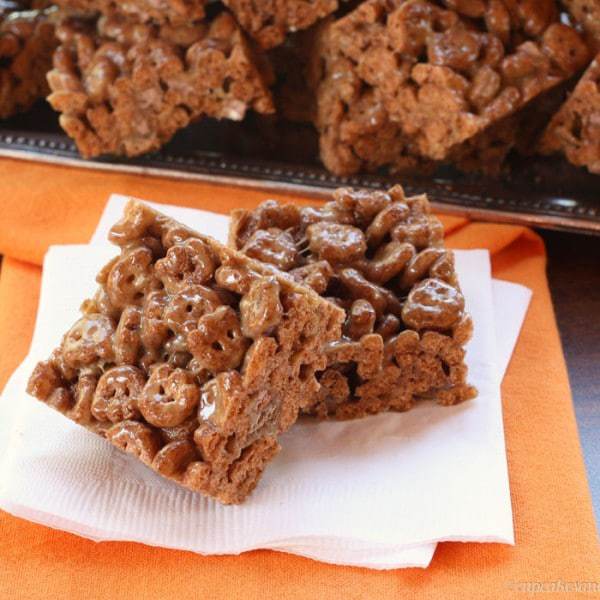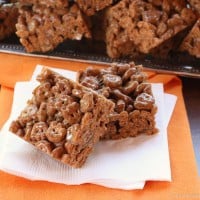 Count Chocula Peanut Butter Marshmallow Treats
Fun and easy no-bake Halloween cereal treats with peanut butter, marshmallows, and chocolate.
Ingredients
3

Tablespoons

butter

10

oz.

package of large marshmallows

(about 40) or 4 cups miniature marshmallows

1/3

cup

creamy peanut butter

8

cups

Count Chocula cereal

(about one 10.4 oz box)
Instructions
Line a 13x9 inch baking pan with aluminum foil and coat with cooking spray or butter.

In a large saucepan, combine the butter, marshmallows and peanut butter and melt over low heat, stirring frequently.

Add the Count Chocula, and stir until well coated.

Using a buttered spatula or wax paper (or the wrapper from your butter), press the cereal mixture into the prepared pan.

Let cool to room temperature and cut into squares.
Nutrition Facts
Count Chocula Peanut Butter Marshmallow Treats
Amount Per Serving (1 square)
Calories 117
Calories from Fat 36
% Daily Value*
Fat 4g6%
Cholesterol 4mg1%
Sodium 106mg4%
Potassium 56mg2%
Carbohydrates 20g7%
Protein 2g4%
Vitamin A 266IU5%
Vitamin C 3mg4%
Calcium 46mg5%
Iron 2mg11%
* Percent Daily Values are based on a 2000 calorie diet.
Categories:
Enjoy!