This post may contain affiliate links. Read my disclosure policy.
The warm flavors of Pumpkin and Spice come together in a simple single-layer cake perfect for snacking! Topped with a tangy Greek Yogurt Cream Cheese frosting, this tender, moist, and gluten-free Pumpkin Snack Cake is the easiest and healthiest treat you'll bake this fall. Definitely one of Fall's best gluten-free pumpkin recipes!
Easy Homemade Pumpkin Snack Cake
Look no further for your next healthy snack this fall, because I promise, you've found it! This easy and gluten free recipe for homemade Pumpkin Snack Cake is so tender and moist, topped with a pleasantly tangy greek yogurt cream cheese frosting. Even better, there are no funky specialty blends or substitutes necessary to make it gluten free! While it looks like a cake and tastes like a cake, this snack cake is made with almond meal and oat flour, and naturally sweetened with maple syrup for some extra nutritional value.
This Pumpkin Snack Cake is perfect to make for healthy snacking, for a hearty breakfast, or an easy dessert, too. Satisfying at any time of the day! You can have your cake, and eat it, too— even better, as a snack!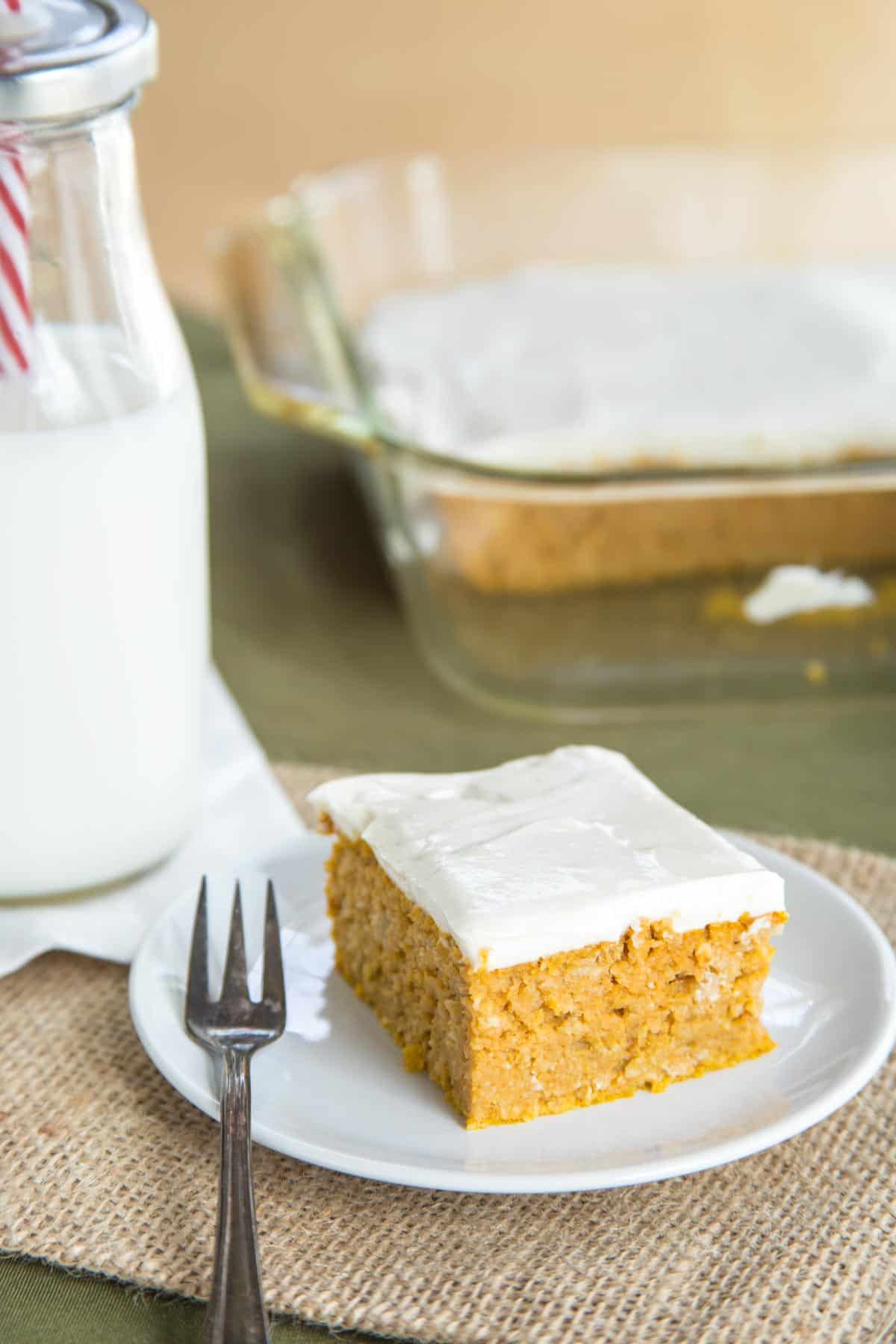 What is a Snack Cake? Is that a Thing?
Ok, ok, so technically any slice of cake can be a snack. Point taken! When it comes to snack cakes though (or "snacking cakes", depending on who you ask), there are a couple of things that make a cake qualify as a snack cake specifically:
A snack cake is a single layer, cut into squares
The baking process is uncomplicated in the best of ways (often just needing a whisk, a bowl, and a pan!)
Often topped with a simple glaze or frosting
Snacking cakes are perfect for the kind of no-strings-attached baking that I love for an easy fall day at home. Despite how simple it is to make, this easy pumpkin cake is delicious in its own right! Not overly sweet, not overly-spiced, and with just the right amount of pumpkin puree; a humble but delicious gluten free snack cake that's a real winner.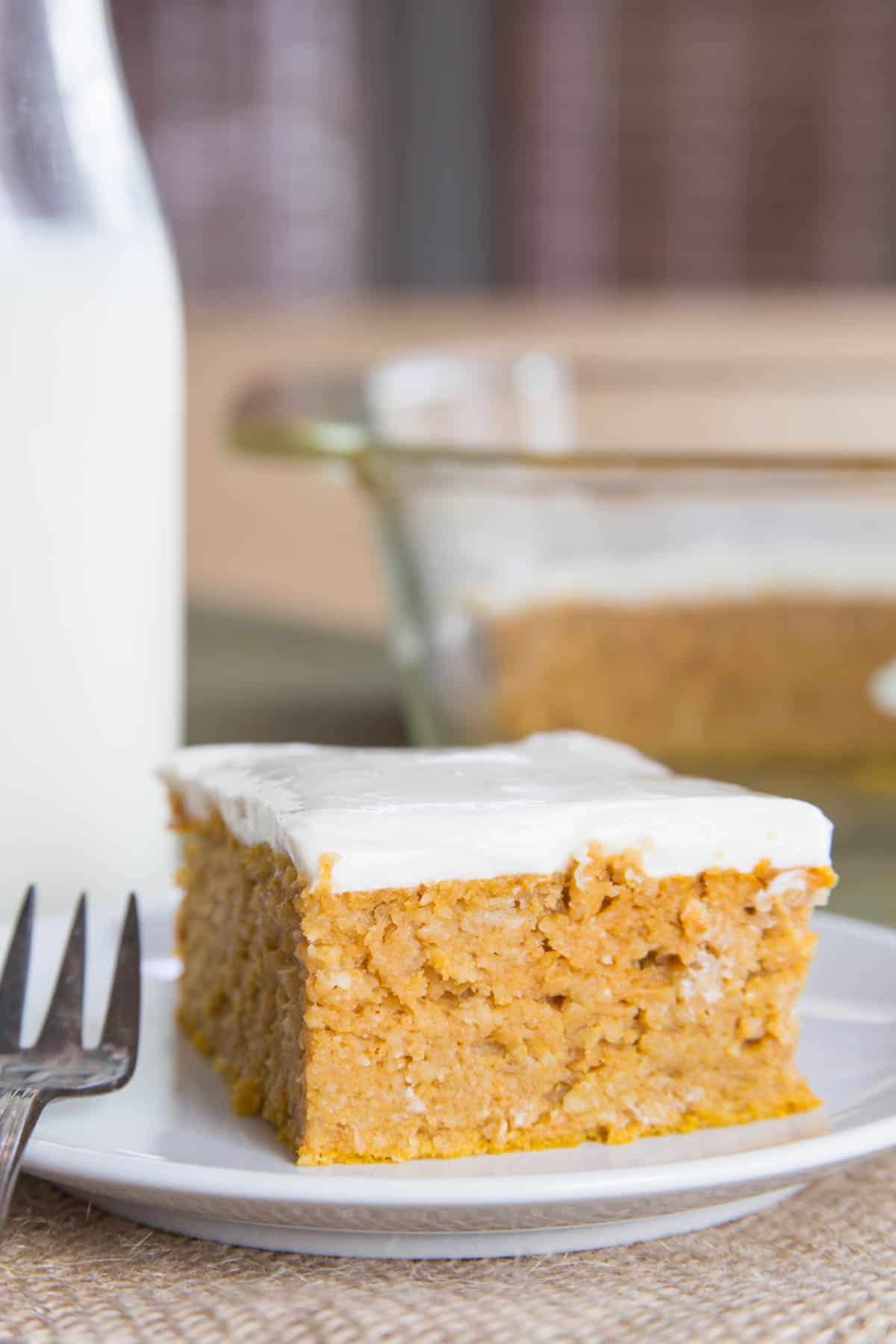 Recipe Ingredients
"Fuss-free" is the name of the game when it comes to a snack cake. This simple but unbelievably tender Pumpkin Snack Cake is no exception! The below ingredients are easy to come by in supermarkets, and many may be staples in your kitchen already.
For the Cake
Sugar: I personally love using coconut sugar when baking; it gives a deep, caramelized flavor that is totally amazing, with the bonus of being unrefined and a bit healthier. Of course, if you don't have coconut sugar available to you, regular granulated white sugar or brown sugar are both fine to use.
Flour: You need both Oat Flour and Almond Flour for this gluten-free recipe. You can easily make your own Oat Flour at home, too! Blitz old-fashioned oats into a fine flour using a blender or food processor.
Eggs: Room temperature eggs are best for this cake, to ensure that the yolks blend easily with the other ingredients.
Vegetable Oil: Alternatively, avocado oil.
Pumpkin Pie Spice: A cozy blend of fall favorites including cinnamon, ginger, nutmeg and other spices that comes pre-mixed, found in most spice aisles.
Milk: Like the eggs, allow your milk to reach room temperature for the best results.
Pumpkin Puree: Pure pumpkin puree, and not pumpkin pie filling!
Baking Powder: For that spongy bounce (certified gluten-free if needed).
Salt: Kosher Salt, or another salt suitable for baking balances out the sweetness.
For the Frosting
Cream Cheese: Regular or light, at room temperature.
Greek Yogurt: Plain Greek yogurt gives the frosting an extra creamy tanginess, and you can use either full fat or nonfat.
Vanilla Extract: For the best flavor, pure extract is always the first choice!
Sugar: Coconut sugar, alternatively you can use a sweetener or classic powdered sugar.
How to Make Pumpkin Snack Cake
All you need to make this easy single-layer cake is 3 bowls, a whisk, and a pan (I use a 9-inch square). The batter comes together quickly, and you and the family will have a delicious Pumpkin Snack Cake in next to no time.
Prep for Baking: While you preheat the oven to 350°F, lightly cover a 9-inch square pan with cooking spray, or a thin coating of oil.
Combine Dry Ingredients: In your first bowl, whisk together the almond meal, oat flour, sugar, baking powder, and salt.
Combine Wet Ingredients: In a separate bowl, whisk together the eggs, oil, milk and pumpkin until thoroughly combined and smooth.
Add the Wet Ingredients to the Dry Ingredients: Pour the wet mixture into the bowl with the dry ingredients and gently fold in until everything is combined.
Bake: Spread the batter evenly into the pan that was prepped earlier and place this in the oven. Bake until the cake is lightly browned and firm to the touch, about half an hour. While your cake is baking, you can mix up the cream cheese frosting.
Make the Frosting: Combine the ingredients for the frosting in a bowl and beat with an electric mixer until the mixture is whipped and smooth.
Remove the cake from the oven and let it cool to room temperature before frosting! Spread the Greek yogurt cream cheese frosting over top of the cake and serve right away, or store it for easy snacking another time.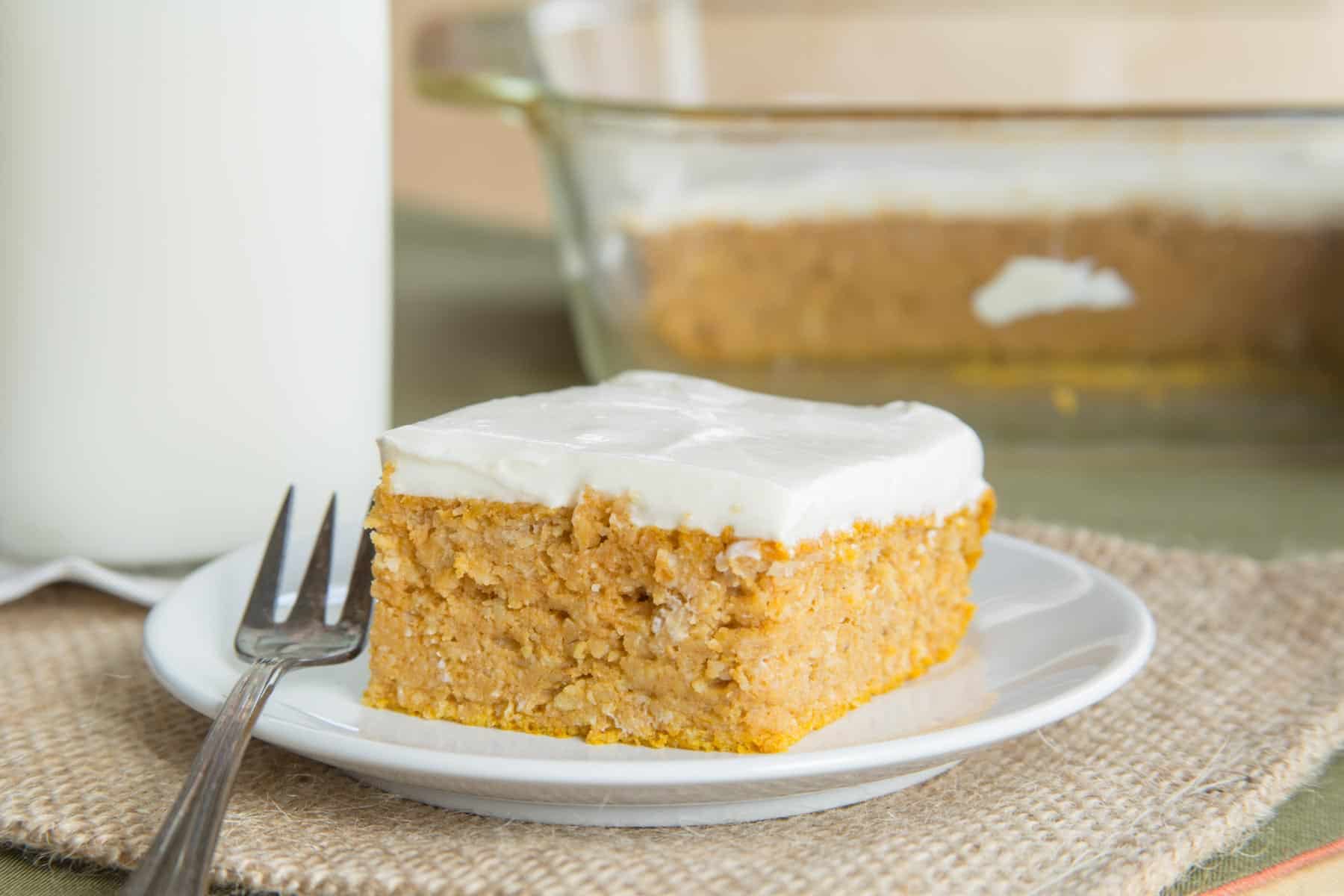 Tips for Success
Store in the Fridge: I love to make this snack cake in advance and let it sit in the fridge for a day or more. This way, the flavors really come together over the extra time and the cake absorbs some of the moisture from the frosting, giving it a deliciously gooey, finger-licking texture!
Make Your Own Pumpkin Spice: If you have cinnamon, ginger, nutmeg, ground cloves, and allspice already in your spice rack, combine 1 part each to make your own Pumpkin Pie Spice at home.
How to Store a Frosted Cake
This cake will keep for 4-5 days at room temperature when stored in an airtight container.
For the reasons mentioned above, I also love to store this frosted snack cake in the refrigerator. First I let the cake chill, uncovered, for 15 minutes so the frosting will harden a bit, before covering it with plastic wrap (or with a lid if it's in an airtight container). Not only will your cake keep for longer, but I find storing the cake in the fridge kicks the flavor and texture up a notch, too!
Can I Freeze This?
For best results, freeze your baked cake once it's completely cooled but before it's been frosted. To do so, remove the cake from the pan and wrap it well in plastic wrap (add a layer of foil overtop as extra protection against freezer burn!). This way, your cake can be stored flat in the freezer for up to 3 months.
Defrost your cake overnight in the fridge before serving, and frost it with the cream cheese icing it once it's completely thawed.
Brianne Recommends
Almond Flour: While you can make your own oat flour with gluten free oats, it's definitely easiest to grab a bag of Bob's Red Mill almond flour.
Pumpkin Pie Spice: If you don't want to make your own, keep a small bottle on hand. McCormick is gluten free.
Square Cake Pan: I like to bake this in a glass baking dish. Having one with a lid makes it easy to keep in the fridge for snacking all week.
Bowls: You will need a few bowls for this. I love to keep a stacking set in my cabinet.
Last updated on Dec 2, 2023 12:27 pm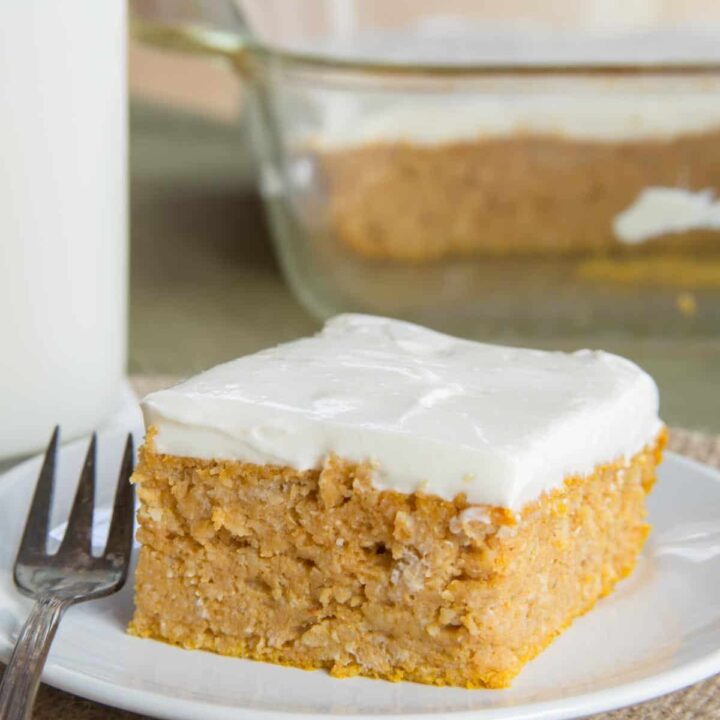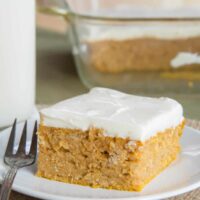 Gluten Free Pumpkin Snack Cake
A healthy gluten free pumpkin cake that's perfect for fall. Topped with tangy cream cheese frosting.
Ingredients
For the cake:
¾

cup

almond flour

(I used Bob's Red Mill)

3/4

cup

oat flour

(old fashioned oats that have been ground to a flour in a food processor or blender, certified gluten-free, if necessary)

1/2

cup

coconut sugar

or Swerve granular erythritol sweetener or brown sugar

1½

teaspoons

baking powder,

certified gluten-free, if necessary

1/2

teaspoon

kosher salt

1

teaspoon

pumpkin pie spice

3

large

eggs

at room temperature

1/4

cup

vegetable oil

or avocado oil

1/4

cup

milk

at room temperature

1

cup

pumpkin puree,

(not pumpkin pie filling)
For the frosting:
4

oz

cream cheese,

at room temperature (I used light)

1/4

cup

plain Greek yogurt

(I used nonfat)

1

teaspoons

vanilla extract

1/4

cup

coconut sugar

or Swerve Confectioners erythritol sweetener or powdered sugar
Instructions
For the cake:
Preheat oven to 350°F. Spray a 9-inch square pan with cooking spray or mist with oil.

In a large bowl, whisk together the almond meal and oat flour, sugar, baking powder, and salt until combined.

In a medium bowl, whisk together the eggs, oil, milk and pumpkin.

Add the wet ingredients to the dry ingredients and fold gently to combine.

Pour the batter into the prepared pan and bake for 30-35 minutes, or until slightly browned and firm to the touch.

Let cool to room temperature.

Frost with Greek yogurt cream cheese frosting.
For the frosting:
Combine all of the ingredients in a medium bowl and beat with an electric mixer until thoroughly combined and smooth.
Nutrition Facts
Gluten Free Pumpkin Snack Cake
Amount Per Serving (1 slice)
Calories 136
Calories from Fat 63
% Daily Value*
Fat 7g11%
Cholesterol 35mg12%
Sodium 159mg7%
Potassium 122mg3%
Carbohydrates 13g4%
Protein 4g8%
Vitamin A 2435IU49%
Vitamin C 0.7mg1%
Calcium 74mg7%
Iron 0.9mg5%
* Percent Daily Values are based on a 2000 calorie diet.
Categories:
More Pumpkin Recipes
Looking for healthy pumpkin snacks to try this fall? Here are more easy recipes: