This post may contain affiliate links. Read my disclosure policy.
Sweet Pumpkin Hummus with Chocolate Chips is a healthy dessert dip recipe that kids love. This sweet snack tastes like pumpkin chocolate chip cookie dough, but it's packed with protein and fiber. A treat parents can feel good about giving their kiddos that is perfect for dipping everything from carrots and apples to graham crackers and pretzels. Pack it in their lunchbox or have it ready for an after school snack. Also makes a quick and easy party snack.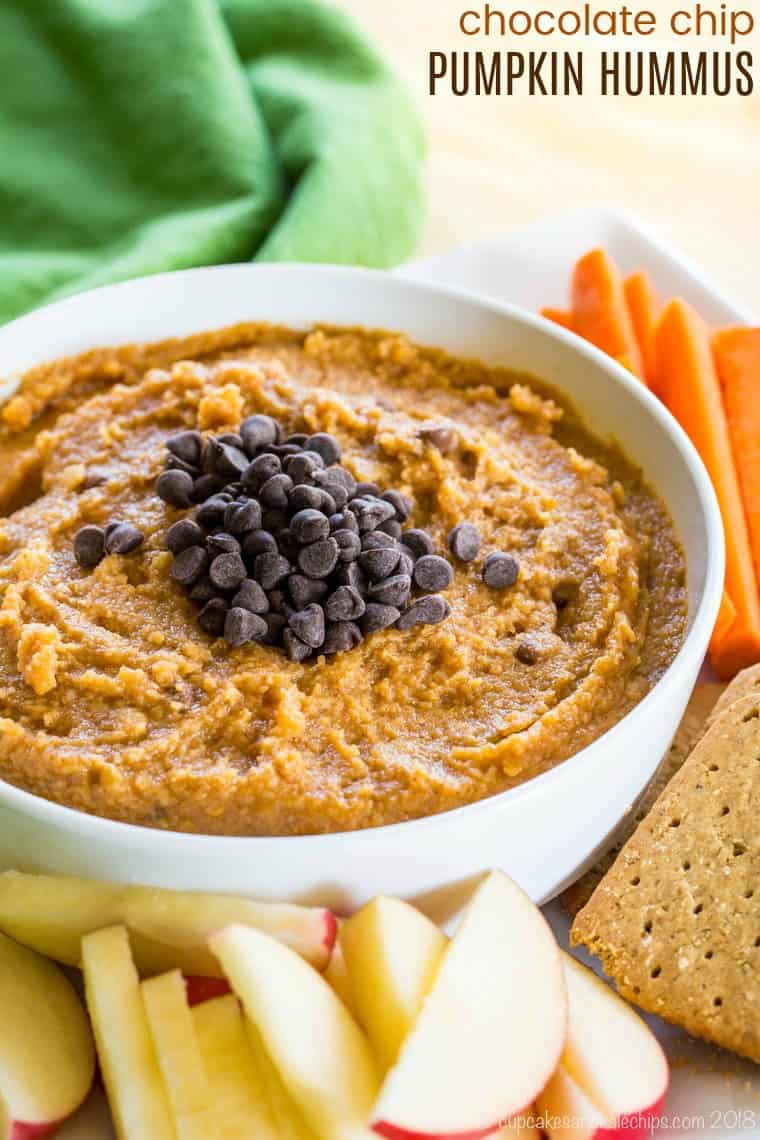 I'm usually one of those that doesn't want to rush through the seasons and holidays and such. Let's enjoy the summer before rushing into fall. Have fun during the spooky atmosphere and all-around fun of Halloween. Spend a few weeks planning the perfect Thanksgiving menu (might I suggest Corn Pudding?) before the stores have decked the halls to the nines.
Oh, and yeah, my birthday is the end of November so let's not rush past that 😉
And when it comes to food, I don't want to be near anything pumpkin until we are regularly seeing highs of sixty to sixty-five degrees.
For some reason I feel totally different this year. On November 1st I may or may not have listened to a Christmas CD while taking down the Halloween decorations. I haven't jumped into breaking out the Christmas decorations or put up the tree yet, and I haven't started making Toffee Almond Snowball Cookies or Almond Crescents. But I am tempted. Totally tempted.
But I'll try to keep it under control and maybe even sneak in another pumpkin recipe or two before switching over to full-on Christmas mode…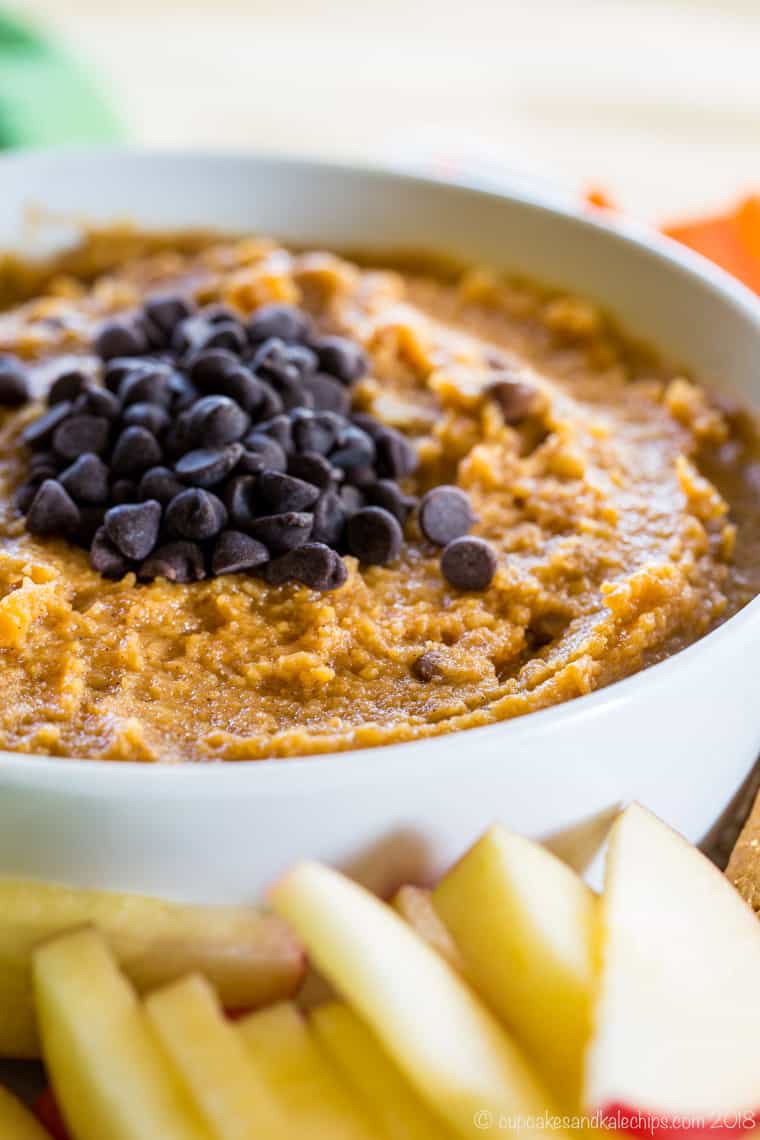 Healthy Pumpkin Chocolate Chip Cookie Dough Dip
What is sweet hummus?
Hummus, the classic Middle Eastern dip made with pureed chickpeas, garlic, lemon juice, and tahini has been a popular healthy snack for ages. But lately, hummus has taken a turn away from the savory to become a sweet treat. While it started with just a hint of sweetness, like Maple Walnut Sweet Potato Hummus, they now are made to taste more like cake batters and cookie doughs.
These sweet and secretly healthy dessert hummus dips still typically start with chickpeas, but instead of the traditional ingredients, they are flavored with honey or sugar, chocolate, peanut butter, chocolate chips, and more. However, they still start with the basic chickpeas, so despite tasting like an unbaked dessert, they are both safe and healthy. There are no raw eggs or raw flour, and chickpeas are a good source of protein and fiber.
Whether it's White Chocolate Macadamia Cookie Dough Dip or a Chocolate Peanut Butter Cookie Dough Ball, you are sure to be hooked on dessert hummus just like you are on traditional hummus. Especially since you feel like you are totally indulging.
Of course, you could incorporate pumpkin into a savory recipe like a smoky and slight spicy Pumpkin Black Bean Hummus, but this sweet pumpkin hummus takes things in a different direction.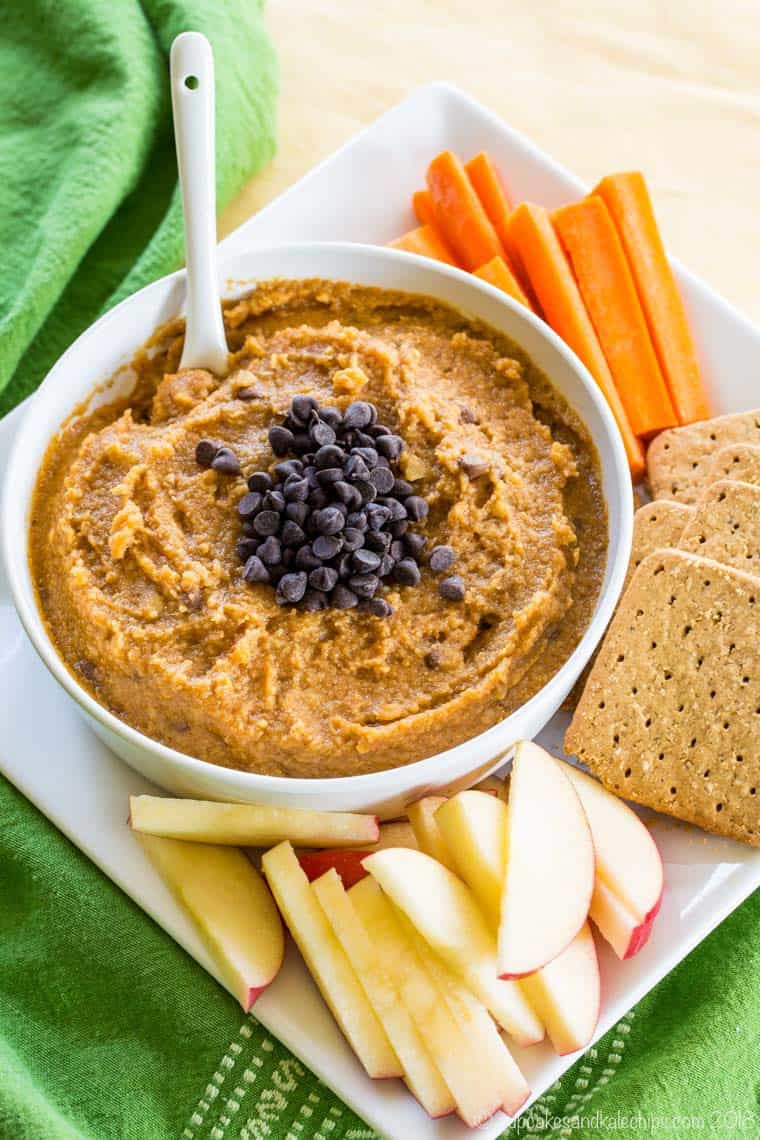 Chocolate Chip Pumpkin Hummus Recipe
A delicious autumn dip that everyone will love for dipping their apples and graham crackers. With the delicious taste of pumpkin, the perfect hint of pumpkin spice, and a bit of sweetness, plus a few chocolate chips for good measure, this healthy snack totally taste like dessert. I bet you'll have the kids thinking they are eating pumpkin chocolate chip cookie dough!
Here is a brief overview so you can see just how easy it is to make. Scroll down to the printable recipe card for the full quantities and details.
But don't skip my PRO TIPS below!
What You'll Need
Canned chickpeas – rinsed and drained. You can also remove the skins to make your hummus more smooth.
Pumpkin puree
Honey – you can use maple syrup or agave to make it vegan
Vanilla extract
Pumpkin pie spice
Salt – just a pinch
Mini chocolate chips – vegan, if needed
FOOD PROCESSOR – A food processor is the best appliance for making hummus. I use an older model of this Hamilton Beach Stack and Snap, but I would like to get that newer model. You can use a blender, but it is definitely harder to clean out, and doesn't always give you the desired texture. The only exception would be if you have a Blendtec with a Twister Jar, as that has an attachment to help stir things around while it is blending.
MINI SPATULAS – I have these mini spatulas that I use all the time. There are three different shapes and each works better for different things. They are so convenient for scraping things like hummus out of the corners of your food processor.
CRINKLE CUTTER – I don't know why, but my kids are way more inclined to eat fruits and veggies with their dip when I cut them with a crinkle cutter.
Directions
Start by draining your can of chickpeas, but reserve the liquid. You can use it in combination with some oil to adjust the texture of your hummus. Then rinse and drain the chickpeas.
For an extra smooth hummus, I like to rub the chickpeas between my fingers or a paper towel to remove the thin skin. This step isn't necessary, but it does improve the texture.
In a food processor, combine the chickpeas, pumpkin, honey (or other sweetener), pumpkin pie spice, and salt, and puree until smooth.
You can then add the chickpea liquid a little at a time while pulsing to achieve the desired texture.
Stir in mini chocolate chips, reserving some to sprinkle on top, if desired.
Serve with your favorite things to dip, and enjoy!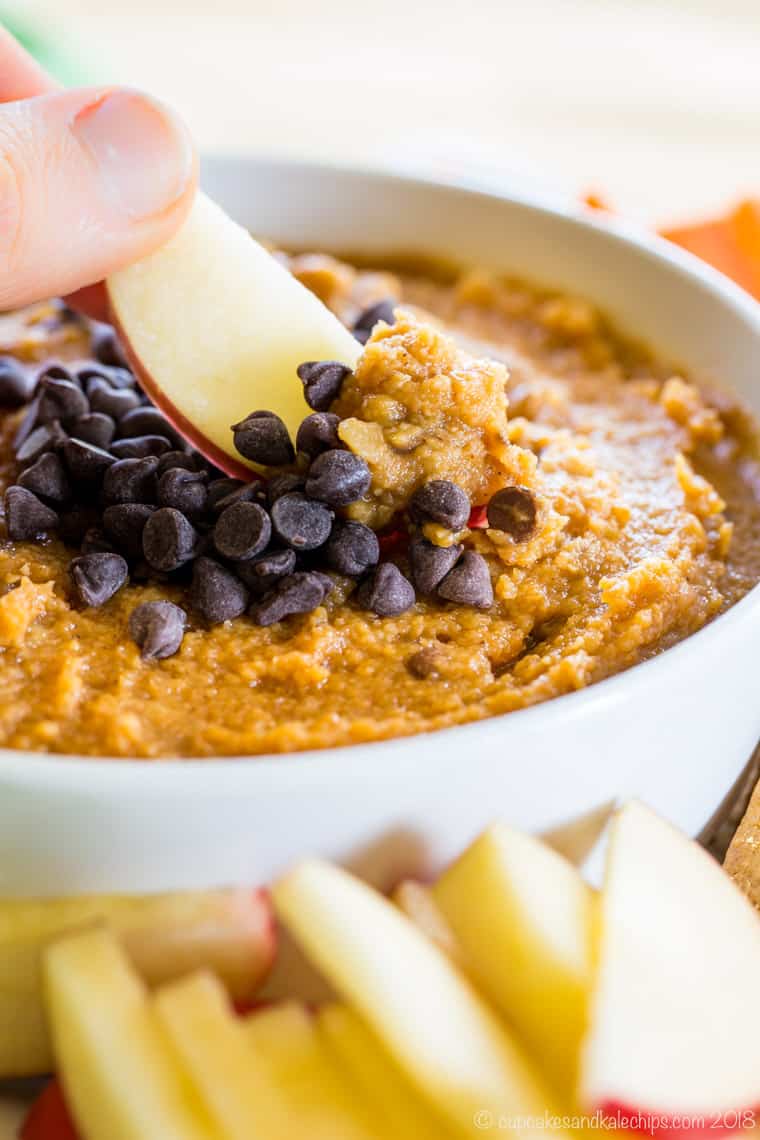 What can you serve with Sweet Pumpkin Hummus with Chocolate Chips?
Whether you are packing Chocolate Chip Pumpkin Hummus in a school lunch or setting it out on a platter for a party snack, there are plenty of things that you can use to scoop it up.
You can start with vegetables like carrots or celery.
Fruits are an obvious choice, especially apple or pear slices. You can even try banana chips.
Graham crackers are also a perfect dipper since then it will taste like pumpkin pie. You can buy or make gluten free graham crackers. Shortbread cookies or animal crackers work too.
For a little salty to go with your sweet, try pretzels, pretzel crisps, or whole wheat crackers.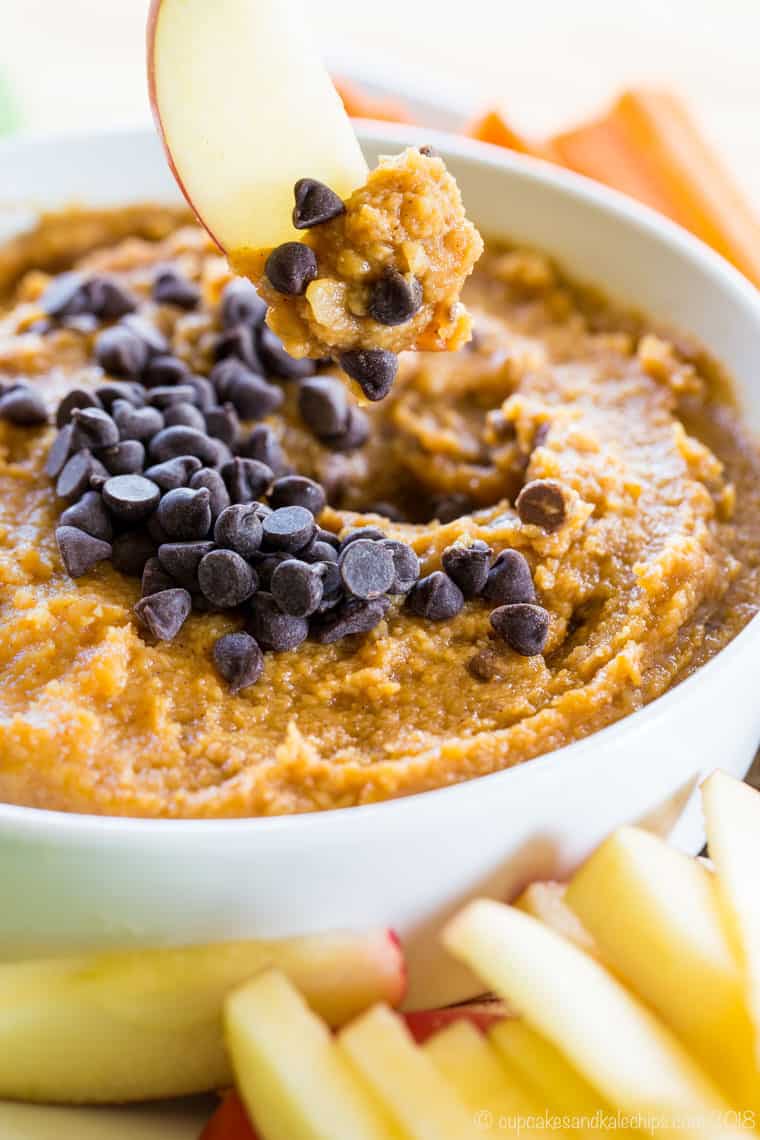 Pumpkin Hummus FAQs
Is it gluten free?
If you have celiac disease or a gluten intolerance, you wouldn't want to go eating just any cookie dough. But this recipe is made without flour or any other gluten-containing ingredients. That means that yes, this flourless cookie dough dip is gluten free. The only thing I'd recommend looking out for is your pumpkin pie spice in case it is manufactured in a facility where there could be cross-contamination. You can make your own with safe spices, or stick with a trusted brand like McCormick Pumpkin Pie Spice.
Is it vegan?
While the recipe specifically calls for honey as a sweetener, it can be made with maple syrup or agave as well. Enjoy Life Mini Chocolate Chips are a great choice for vegan chips, and they are also allergen free. That means this recipe is also peanut free and nut free!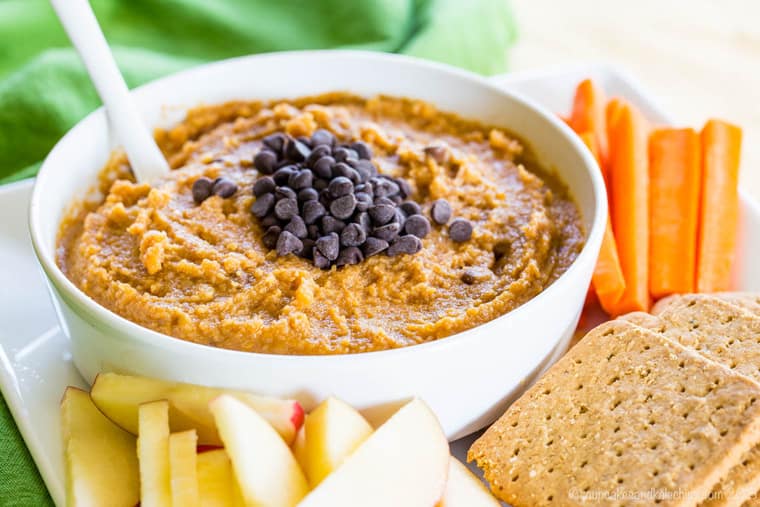 Recipes to make with leftover pumpkin puree
So you've opened a can of pumpkin and only used a little bit of it. You can put it in a storage container or cover the opened can with plastic wrap and pop it in the fridge for a few days. But it does go bad quickly, so you need some more recipes that only use part of a can of pumpkin.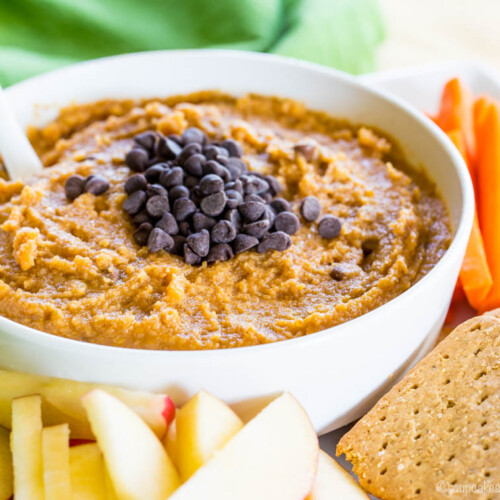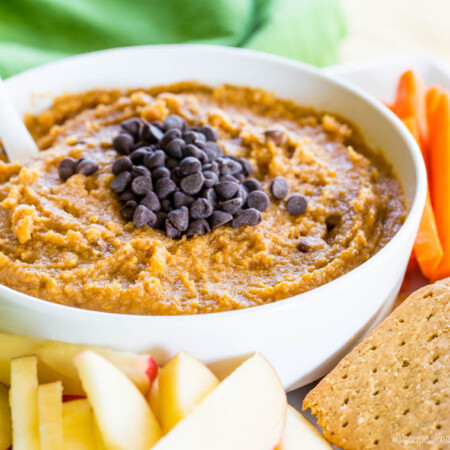 Sweet Pumpkin Hummus with Chocolate Chips
A healthy dessert dip recipe that kids love. Dip apples, graham crackers, pretzels, or carrots for a perfect fall snack that tastes like cookie dough.
Servings:
14
servines (about 2 Tablespoons each)
Ingredients
15 

oz. 

can chickpeas, 

rinsed, drained, and dried on a paper towel (reserve liquid)

1/2

cup

pumpkin puree

3 

Tablespoons 

honey

, agave, or maple syrup

1 

teaspoon 

vanilla extract

1

teaspoon

pumpkin pie spice

1/4 

teaspoon 

salt

½ 

cup 

mini chocolate chips,

reserve about a tablespoon for sprinkling on top, if desired.

bananas

, apples, graham crackers, pretzels, etc. for dipping
Instructions
Place the chickpeas, pumpkin puree, honey, vanilla, pumpkin pie spice, and salt into a food processor or high-powered blender, and process until smooth. Add additional chickpea liquid if needed to achieve the desired texture.

Scoop the mixture into a bowl, add the chocolate chips, and mix in completely. Top with reserved chocolate chips, if desired.

Serve with bananas, apples, graham crackers, pretzels, etc. for dipping.
Nutrition Facts
Sweet Pumpkin Hummus with Chocolate Chips
Amount Per Serving (2 Tablespoons)
Calories 83
Calories from Fat 18
% Daily Value*
Fat 2g3%
Cholesterol 1mg0%
Sodium 124mg5%
Potassium 61mg2%
Carbohydrates 13g4%
Protein 2g4%
Vitamin A 1385IU28%
Vitamin C 0.3mg0%
Calcium 24mg2%
Iron 0.6mg3%
* Percent Daily Values are based on a 2000 calorie diet.
Categories:
More dessert hummus recipes
Enjoy!