Pina Colada Mule Cocktail and Mocktail
Disclosure: This post may contain affiliate links. Cupcakes & Kale Chips is a participant in the Amazon Services LLC Associates Program, an affiliate advertising program designed to provide a means for us to earn fees by linking to Amazon.com and affiliated sites.
Pina Colada Mule combines two favorite drinks into one delicious tropical cocktail or mocktail. It's the bright and refreshing combination of pineapple and coconut from a classic pina colada infused with the zingy spiced goodness of the ginger beer and lime from the traditional Moscow Mule.
Break out the copper mugs to chill out with this cocktail on a hot summer day, or swap the coconut rum for coconut water to make a mocktail so everyone, including the kids, can enjoy the sweet and sassy flavor in a Pina Colada Moscow Mule.
Disclaimer: This recipe was developed through a sponsored partnership with Dole Packaged Foods. As always, all opinions are my own.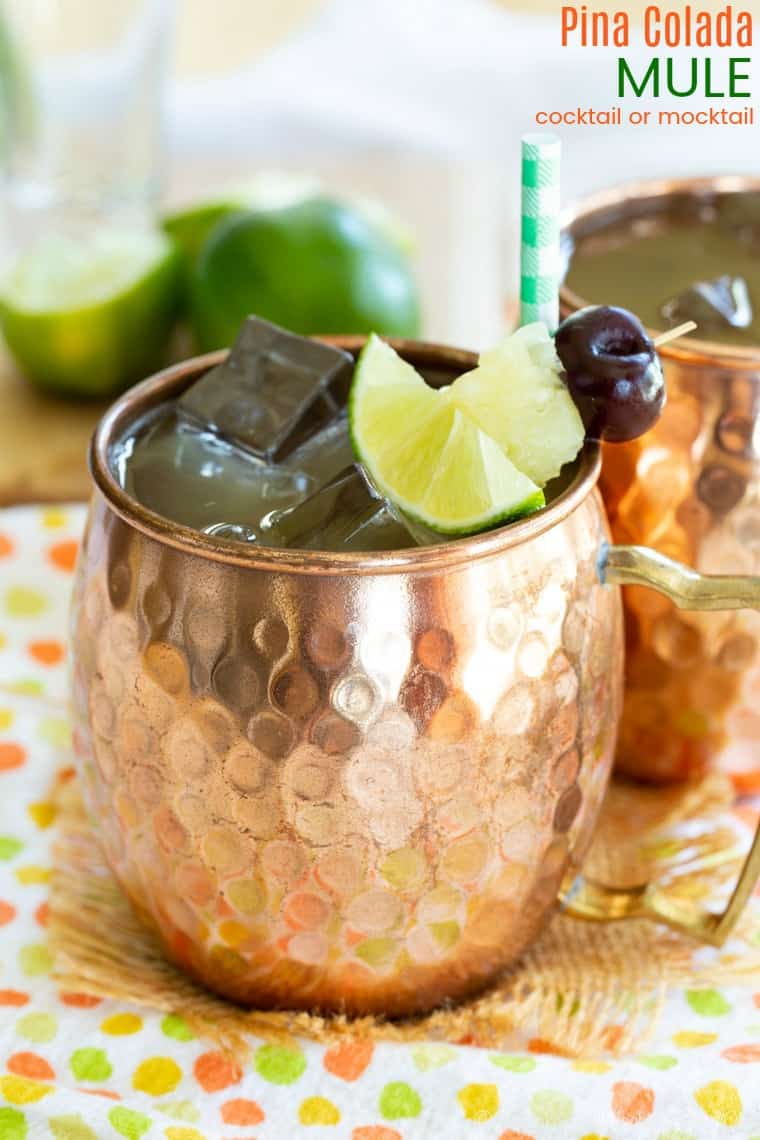 Happy Summer! Or Happy Middle of Summer! Or Happy End of Summer! (OK, OK, so that last one isn't so happy.)
Back in the pre-social media days when I spent my life surrounded by people who lived near me, the seasons felt, well, normal. "Normal" in New Jersey was being hot but not completely miserable while we finished the school year during the first two or three weeks of June. And since we didn't start school again until after Labor Day, things like back-to-school shopping and finding out our teachers didn't even cross our minds until maybe the last week of August. Heck, even summer reading was basically ignored through most of July.
Now I have friends all over the country. Their kids are celebrating the end of the school year while mine in Maryland still have weeks to go. And when we get out, my friends in New Jersey still have another week or so.
We haven't even gone on our summer vacation yet and I'm already thinking about ordering backpacks and seeing the school supplies in the stores. And the day we get home from vacation, I'm pretty sure I'll be seeing First Day of School photos on Facebook and Instagram while they are all at least a little envious that we still have a few more days to spend at the beach.
Even the weather has been bizarre. It was cold and rainy all spring, and now it's as hot as the surface of the sun. And naturally, since I'm looking at our upcoming vacation I see basically two straight weeks of rain on my weather app.
Seriously, it messes with my head.
But whether you feel like summer is already half over, it's barely begun, or school is right around the corner, there is one thing we can all agree on.
Bright and summery tropical cocktails and mocktails!
And this Pina Colada Moscow Mule is just the drink for you…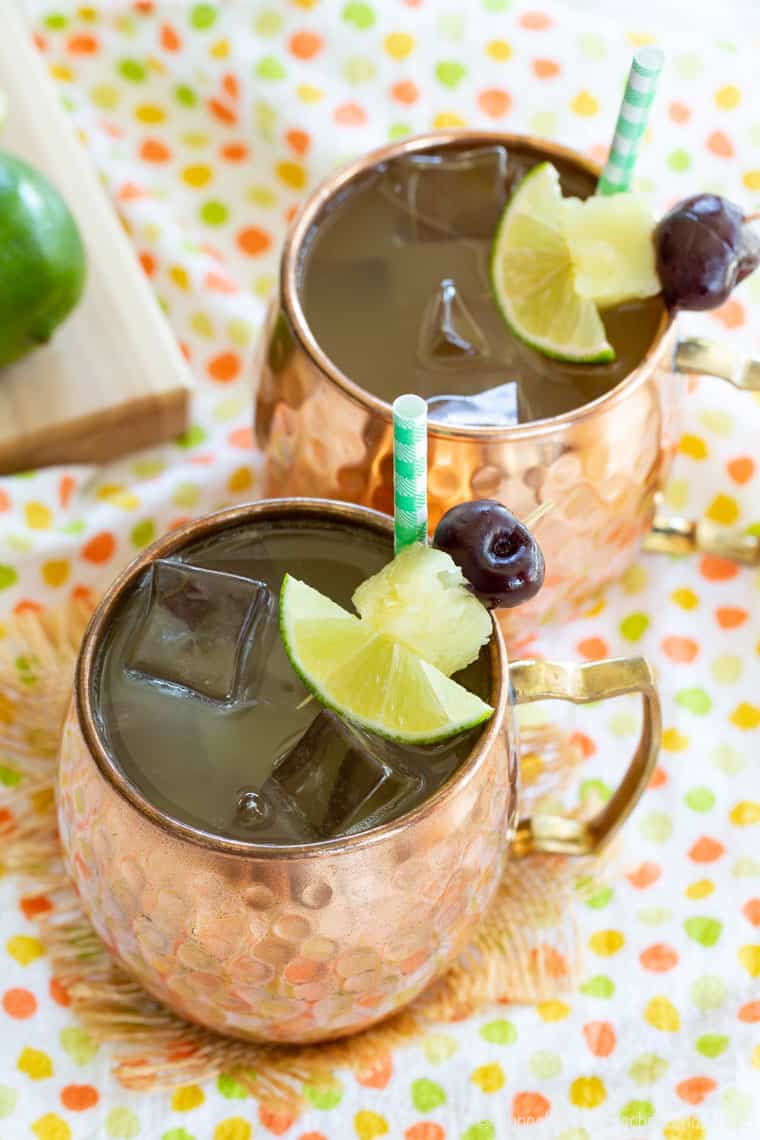 How to Make a Pina Colada Moscow Mule Cocktail or Mocktail
A classic Moscow Mule contains ginger beer, vodka, and lime juice, while a traditional Pina Colada is a blend of pineapple juice, coconut cream, and coconut rum. To get the essence of these two popular cocktails in one exotic cocktail, simple combine ginger beer with the King of Juices, Dole 100% Pineapple Juice over ice, and add coconut rum and a squeeze of lime. A garnish of a cherry, pineapple chunk, and lime wedge instantly transports you to the tropics. Want to make a drink the kiddos can enjoy? Just swap the coconut rum for coconut water!
Pina Colada Mule Recipe Tips:
A traditional Moscow Mule is typically made with vodka. This is made with coconut rum, perhaps making it more akin to the cousin of the Moscow Mule, the Dark and Stormy. A Dark and Stormy is made with dark rum, but since this is made with coconut rum, not dark rum, in place of the vodka, I opted to put it in the Mule family.

This recipe calls for ginger beer, not ginger ale. You can usually find ginger beer in the regular grocery store near either bottled root beers or other cocktail mixers like tonic water. It has a stronger ginger flavor to give it that kick that defines a Moscow Mule.

Mules are traditionally served in a copper mug as some people say it keeps the drink colder and enhances the taste. While not necessary, they do make for a gorgeous presentation. I opted for glasses for the mocktails.

Speaking of mocktails, you can eyeball the coconut water and add more to taste if you want to substitute that for the coconut rum.

All good tropical cocktails need a festive fruity garnish. The garnish on these is a Dole Pineapple Chunk, a thawed Dole Frozen Cherry, and a lime wedge.

And of course I make my cocktails with Dole 100% Pineapple Juice.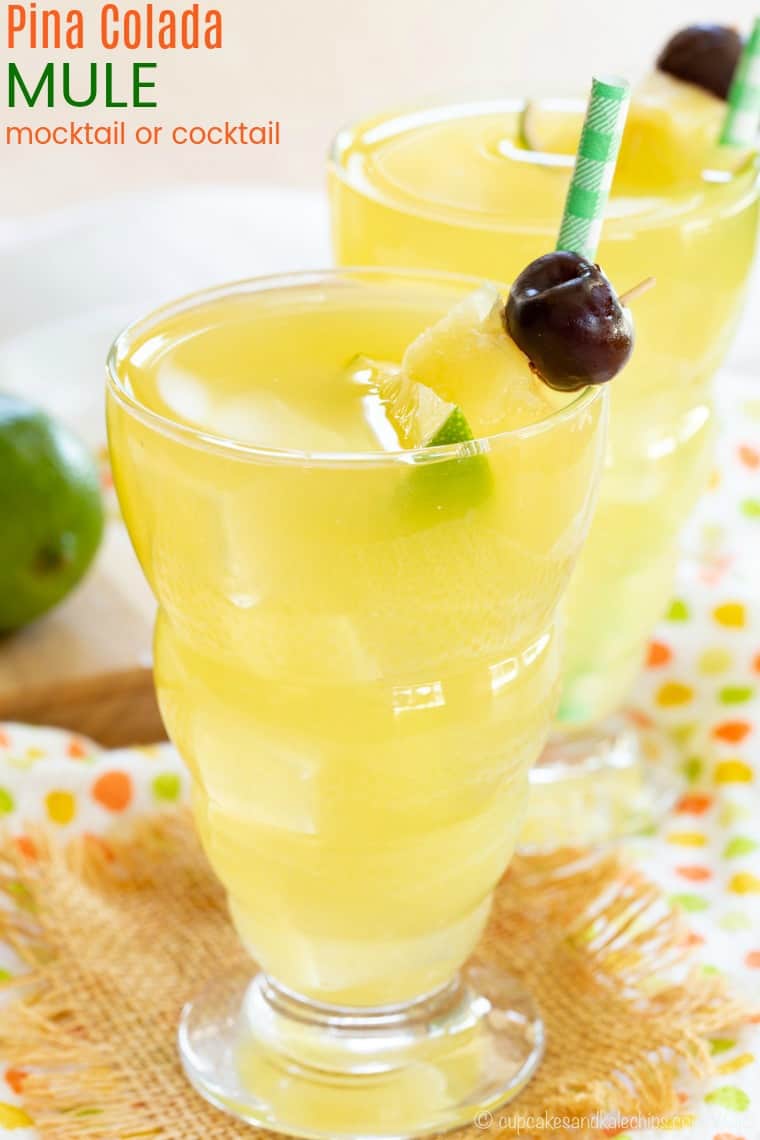 I am proud to be partnering with Dole Packaged Foods to celebrate summer with Dole Pineapple Juice. My freezer and pantry is always well-stocked with GMO-free fruits and veggies from Dole, and I am always thrilled to share ways to use their products to make it easy to get more fruits and veggies in your diet in a no-fuss way.
While you usually see Dole Fruit Bowls, canned fruit, or frozen fruit in the #BugsLunchbox, or for whole snack recipes like these Pineapple Coconut Energy Balls or Fruit Yogurt Snack Hack Jars, this summer I'm excited about adding Dole Pineapple Juice to marinades for the steak and chicken I am throwing on the grill, party drinks like a Pineapple Lime Luau Slushy Punch from Tatertots and Jello, or cocktails like a Strawberry Pineapple Margarita from Dietitian Debbie or this Pina Colada Mule recipe.
Dole Pineapple Juice is 100% juice with plenty of vitamins A, C, and D. There is no added sugar or GMOs. You can purchase Dole Pineapple Juice in a pack of six 6 oz. cans or one 46 oz. can, making it convenient to keep whatever size you need on hand. The larger can is great for a party punch or if you are making some marinades, and the small cans are great if you are just mixing up a cocktail or two.
Find out more about their products by following Dole Sunshine on Facebook, Twitter, Instagram, and Pinterest.
For more yumminess from me and my foodie friends, keep up with me on…
Or sign up to have Cupcakes & Kale Chips delivered straight to your Inbox!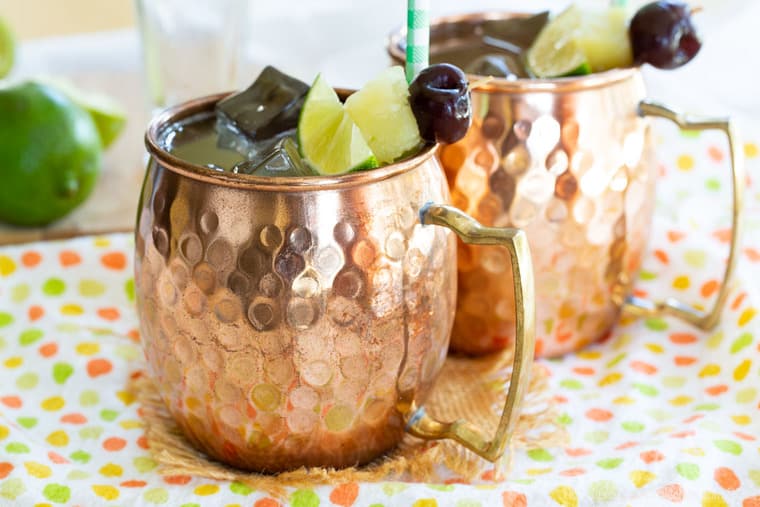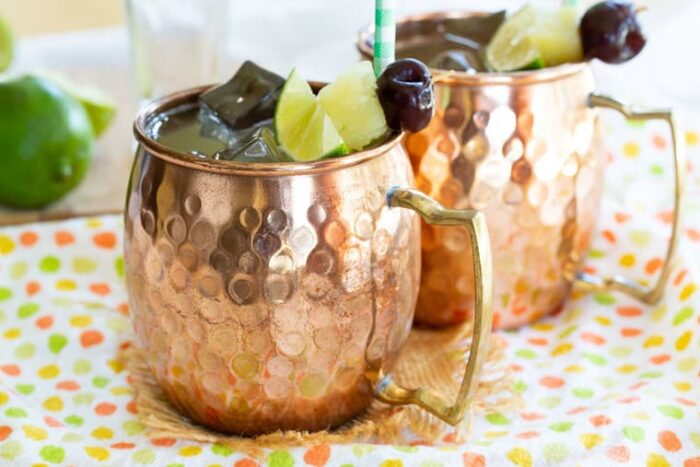 Here are some more summery dishes using products from Dole…
Pina Colada Mule Cocktail or Mocktail Recipe
With versions everyone can enjoy, you'll be mixing up these Pina Colada Mules all summer long. Whether you make a mocktail or a cocktail, the exotic flavors will keep you refreshed on a hot day. When you mix the tropical sweetness of a Pina Colada and the bubbly zing of a Moscow Mule, you get one cool drink that nobody can resist.
I hope you'll leave a comment and give it a FIVE STAR rating or share a photo on this pin on Pinterest!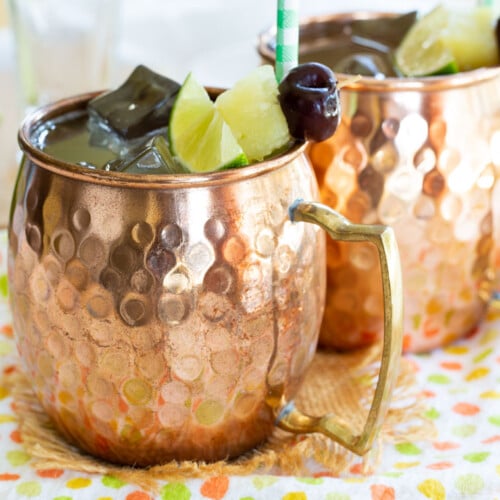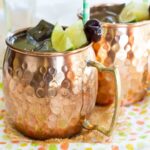 Print Recipe
Pina Colada Mule Cocktail or Mocktail
A refreshing cocktail or mocktail that combines the bright and fruit flavors of the classic Pina Colada with the spicy zing of a traditional Moscow Mule.
Ingredients
8

oz.

ginger beer

4

oz.

Dole 100% Pineapple Juice

3

oz.

coconut rum

or coconut water

1

lime

thawed frozen cherries, pineapple chunks, and lime wedges for garnish
Instructions
Add ice to your copper mugs or glasses.

Pour about 4 oz. ginger beer in each mug and add about 2 oz. pineapple juice and 1 1/2 oz. (one shot) coconut rum (or coconut water for a mocktail)

Squeeze half a lime into each drink.

Garnish with a cherry, pineapple chunk, and lime wedge on a cocktail pick.
Nutrition
Serving:
1
drink
|
Calories:
176
kcal
|
Carbohydrates:
20
g
|
Sodium:
10
mg
|
Potassium:
107
mg
|
Sugar:
16
g
|
Vitamin C:
15.4
mg
|
Calcium:
18
mg
|
Iron:
0.6
mg
Enjoy!