This post may contain affiliate links. Read my disclosure policy.
Tater Tot Shepherd's Pie is an easy and cheesy ground beef casserole that's always a hit with the whole family. Made from a savory beef and vegetable filling baked beneath a layer of crispy tater tots and melty cheese.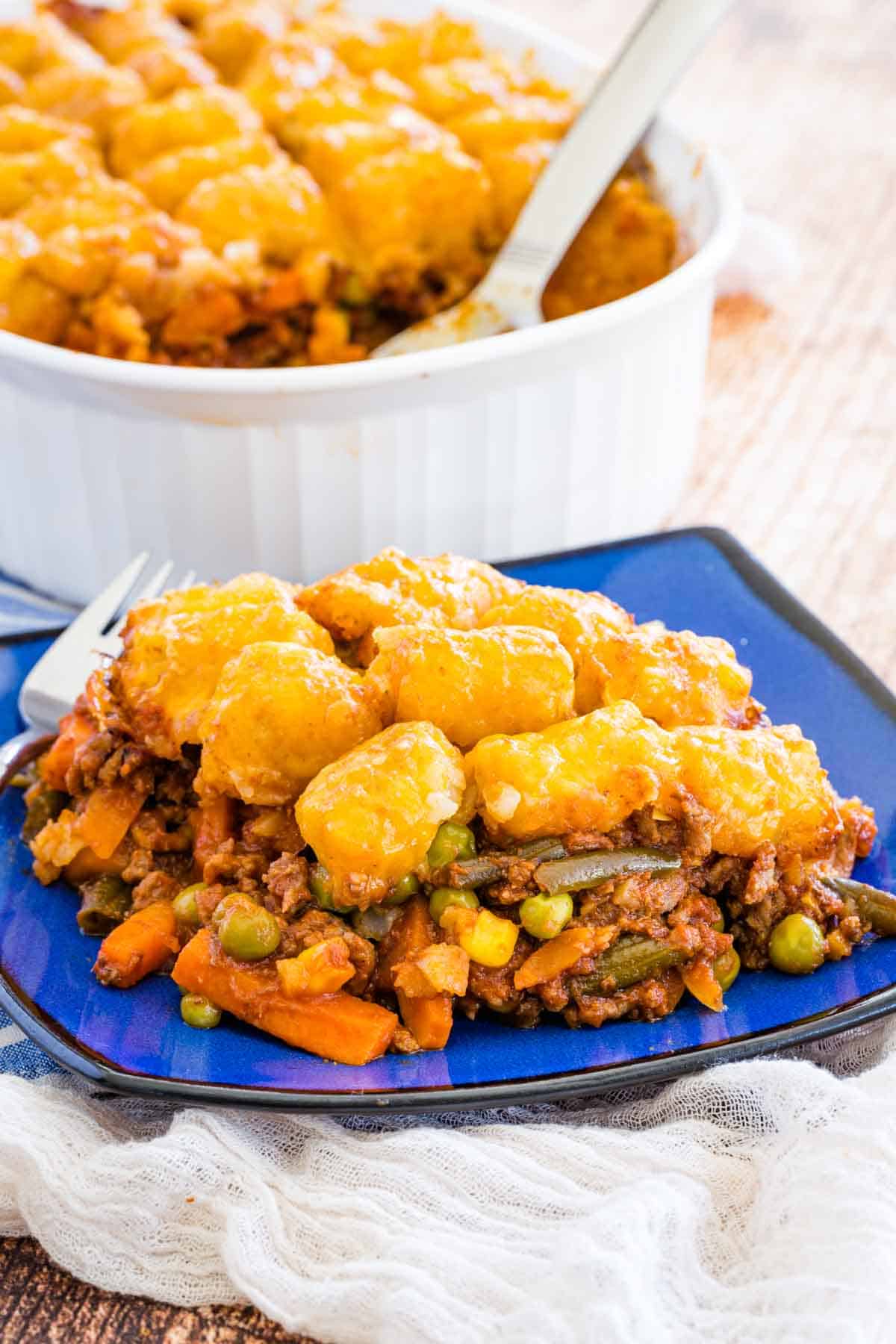 Easy Shortcut Shepherd's Pie with Tater Tots
This tater tot shepherd's pie is an easy ground beef casserole recipe and a new spin on a classic! It's meaty, it's cheesy, and the kids can't get enough of it. All of this makes it a total win in my books.
This recipe combines all the beloved flavors of my family's Best Shepherd's Pie, made with the convenience of my Sloppy Joe Tater Tot Casserole. It's the best kind of comfort food, filled with basic, easy-to-come-by ingredients (is it just me or is it a total mom thing to have at least one package of tater tots and several bags of frozen veggies in my freezer at all times?).
If you love shepherd's pie, prepare to be obsessed with this fun twist made with crispy baked tater tots! It's perfect for weeknights, potlucks, or entertaining a crowd.
What is Shepherd's Pie?
Shepherd's Pie, also called a cottage pie, is a classic casserole recipe made from ground beef or lamb (hence the "shepherd" in its name) that's cooked in gravy with veggies, then topped with mashed potatoes.
Tater tot shepherd's pie is a fun twist that sees the filling covered in a layer of crispy tater tots instead of mash. This easy, gluten-free dinner idea has all the flavor of a traditional shepherd's pie, and it's always a hit with the kids.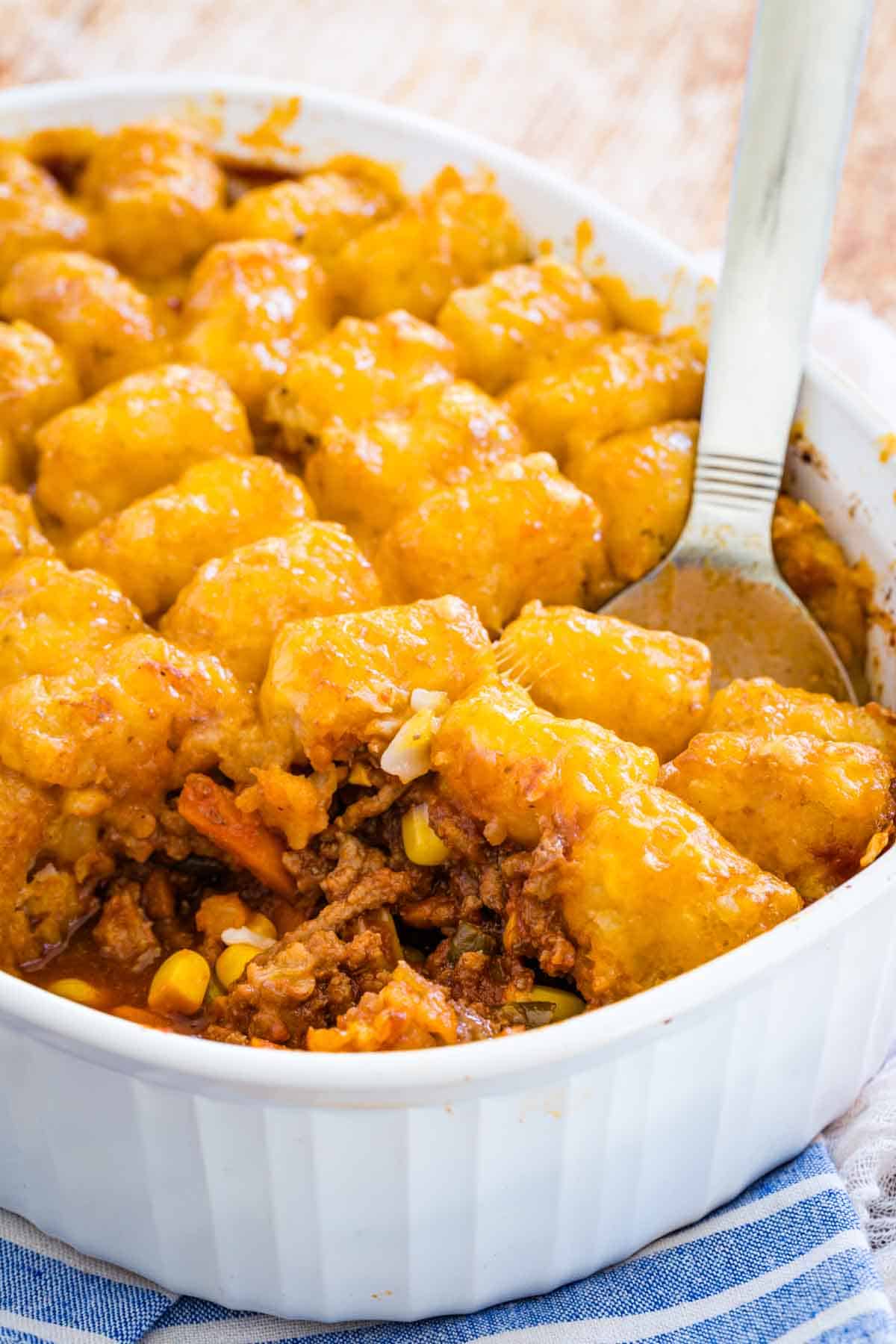 Why This Recipe Works
So, why mash up a shepherd's pie with a tater tot casserole? Here's what makes this recipe the pinnacle of comfort food:
A shortcut to shepherd's pie. As much as I love mashed potatoes, some nights I also love having dinner on the table in a hurry. Tater tots are the perfect shortcut that tastes great and cuts the prep time in half.
Cheesy and delicious. A layer of melty cheddar cheese kicks the flavors of this homemade shepherd's pie up a notch. Not to mention, it makes this recipe even more kid-friendly!
Gluten-free. This recipe uses easy gluten-free ingredients. Of course, always check the labels on the tater tots you're using, to make sure they're 100% gluten-free.
Freezer-friendly. Tater tot shepherd's pie is easy to make in advance and freeze for longer-term storage. Don't forget to check out the make-ahead directions later on!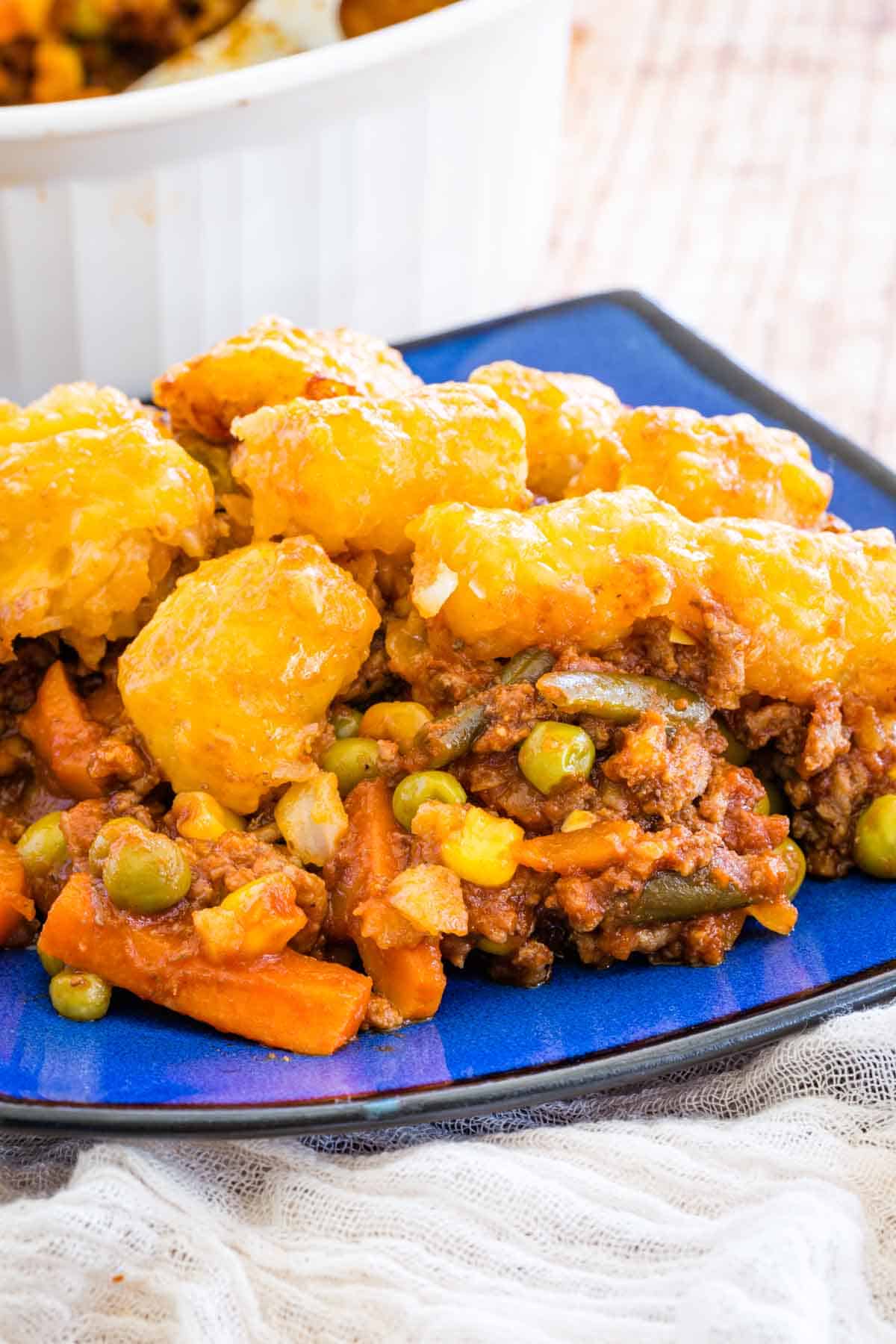 What You'll Need
Many of the ingredients you'll need to make this tater tot shepherd's pie are likely already in your fridge and freezer. Below you'll find a rundown of what you'll need, with the full amounts available in the recipe card:
Ground Beef: I like to use lean ground beef, as it has a high enough fat content to make the filling flavorful, without being overly greasy.
Onion and Garlic: Chopped onion and fresh minced garlic are essential aromatics.
Tomato Paste: Adding a bit of tangy tomato paste gives the filling a nice hint of acidity.
Worcestershire Sauce: To bring out the beefy flavors.
Beef Broth: Or stock. I recommend the low-sodium kind so that you can adjust the filling's seasoning to taste.
Mixed Vegetables: I'll pick up a couple of packages of my favorite frozen vegetable medley from the freezer aisle. I like the mix with diced carrots, peas, green beans, and sweet corn.
Tater Tots: You'll need enough tater tots to cover the top of your shepherd's pie. About half a package of frozen tots should do it.
Cheddar Cheese: I melt a layer of shredded cheddar over the whole casserole. So delicious!
Salt and Pepper
Are Tater Tots Gluten-Free?
Even though tater tots are made from potatoes, not all brands of tater tots are gluten-free. Make sure that the tater tots you're using are certified and labeled 100% gluten-free.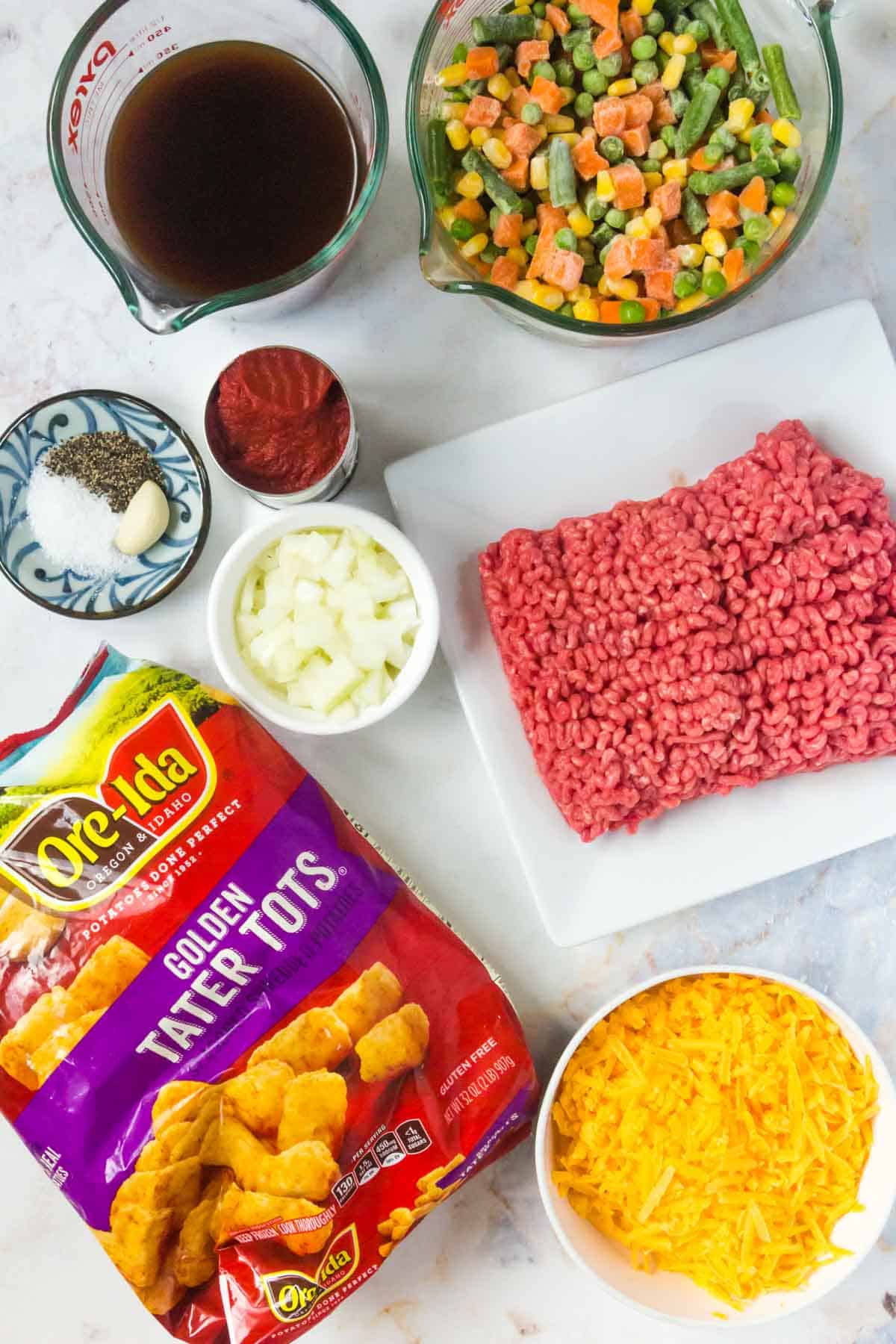 How to Make Shepherd's Pie Tater Tot Casserole
This recipe borrows the filling from my family-favorite Shepherd's Pie and, in a few quick steps, turns it into a beefy tater tot casserole. Here's how easy it is to make a golden-baked shepherd's pie with tater tots:
Cook the Beef: First, break up and brown the ground beef in a skillet with onion and garlic.
Combine: Next, add tomato paste, Worcestershire sauce, and beef broth, followed by the mixed veggies. Bring everything to a simmer so it can reduce and thicken a little. Don't forget to season your filling with salt and pepper!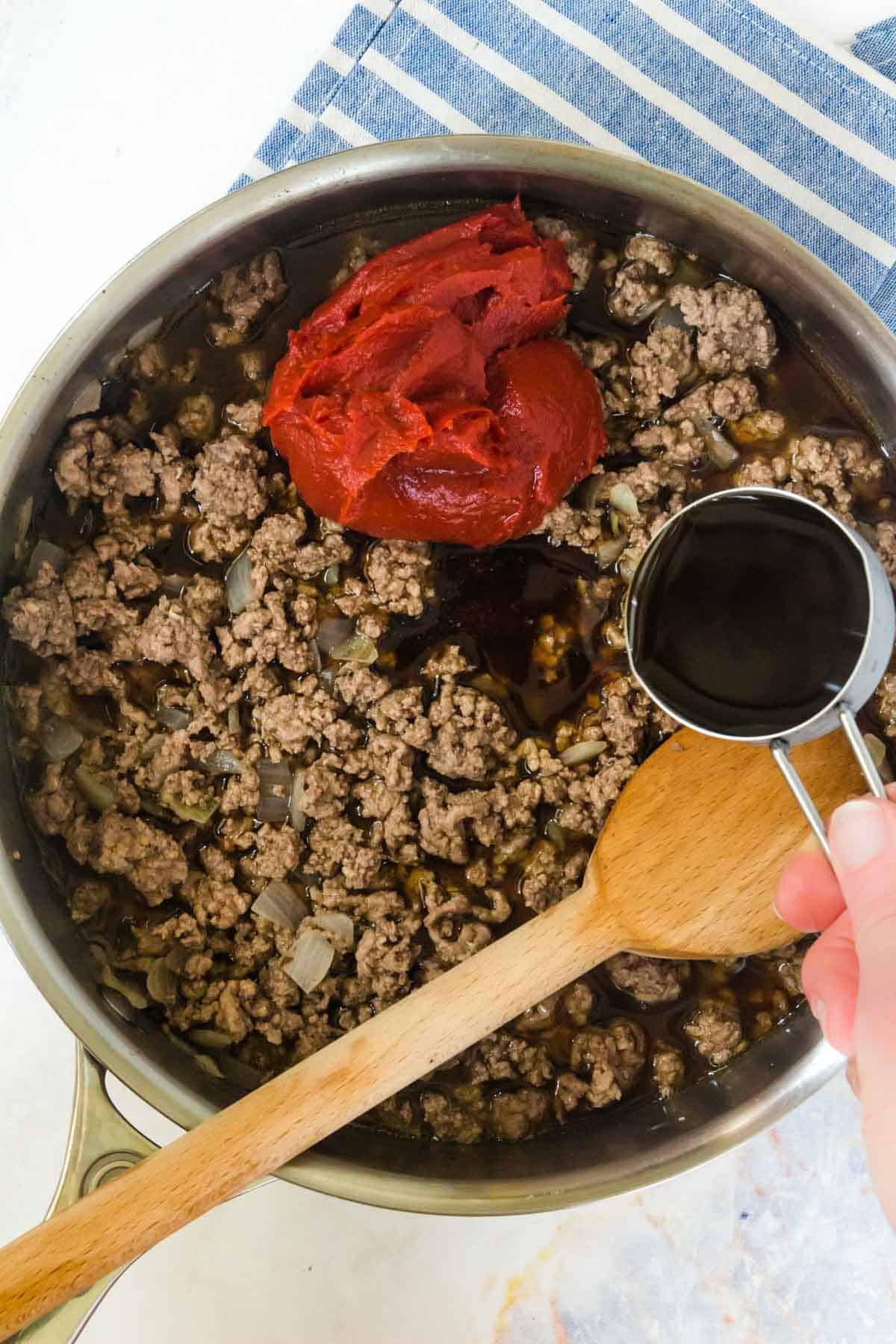 Transfer to a Casserole Dish: After about 15 minutes, scoop the ground beef filling into a greased casserole dish. Arrange the tater tots in a single layer over top.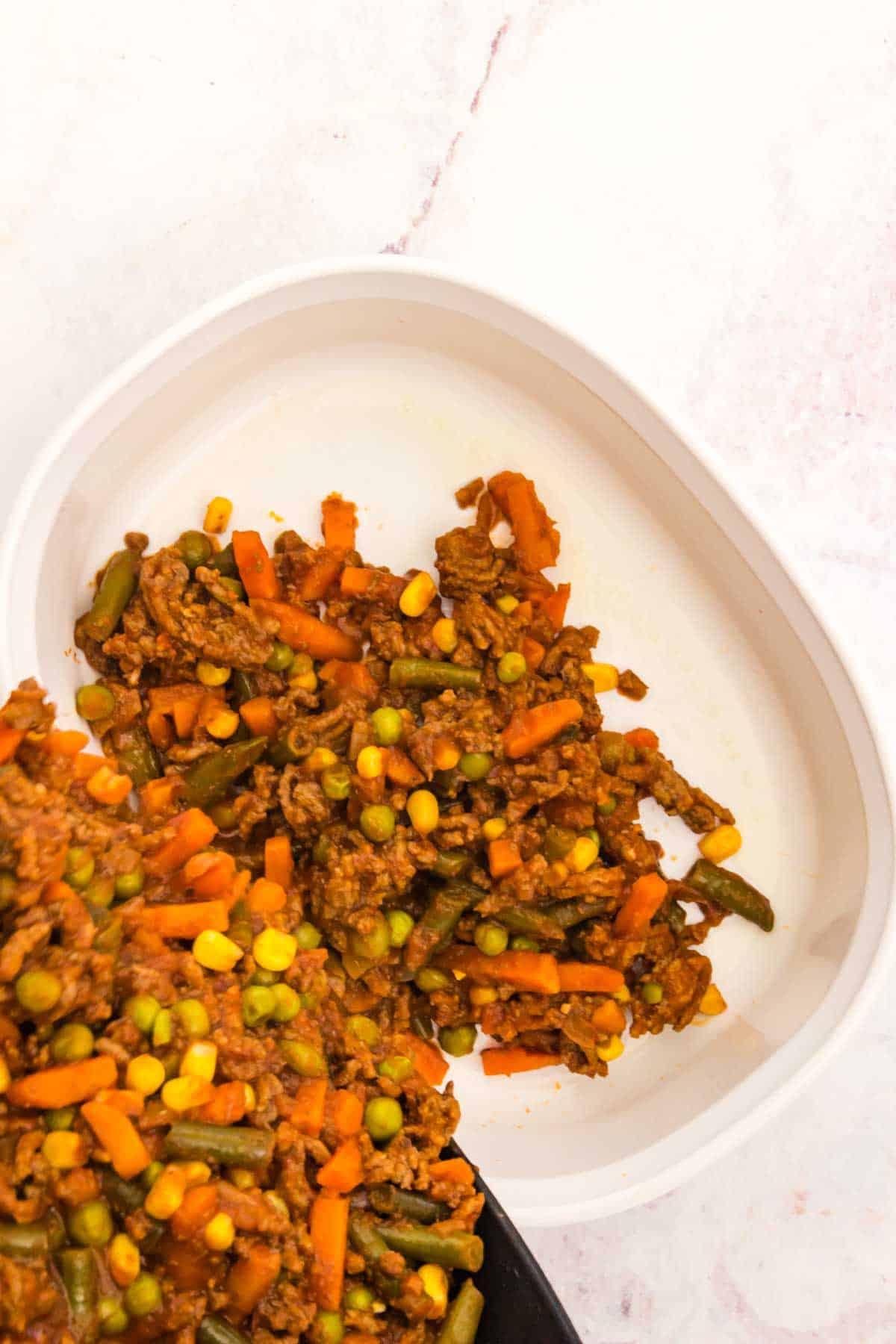 Bake: Bake the shepherd's pie at 450ºF for 25 minutes, until the tops of the tots are golden and crispy. Lastly, sprinkle on some shredded cheddar and return the casserole to the oven to melt the cheese. Then, it's time to dig in. See below for easy serving suggestions!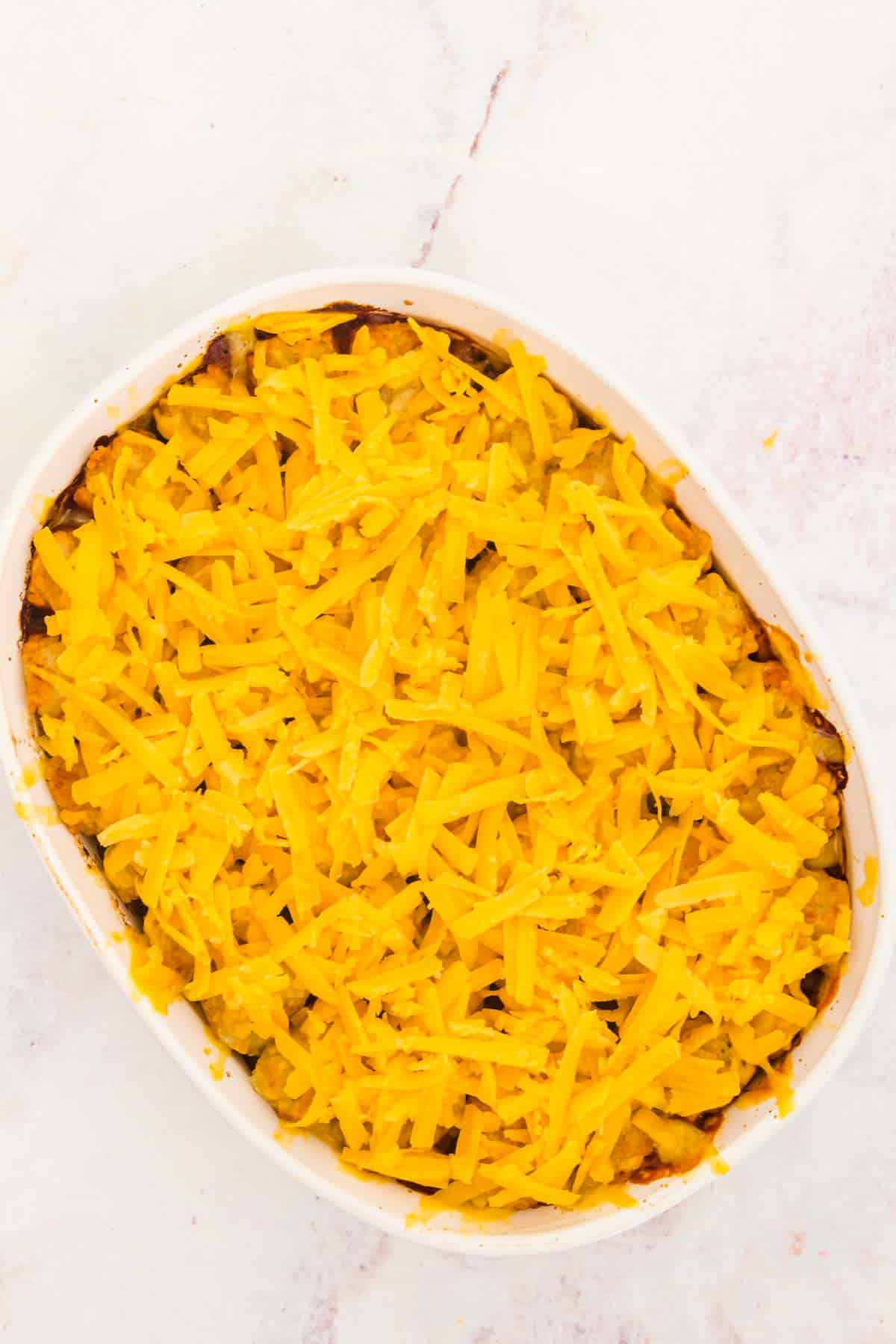 Can I Make This Ahead of Time?
The ground beef shepherd's pie filling can be prepared up to 2-3 days in advance and stored airtight in the fridge. You can also assemble the unbaked casserole up to 1 day ahead, then bake it as directed. Note that you may need to add a few extra minutes to the baking time if you're baking the casserole straight from the fridge.
To freeze the unbaked casserole, assemble the shepherd's pie in a freezer-safe casserole dish and then wrap it or cover it airtight. Freeze your tater tot shepherd's pie for up to 3 months. Whenever you're ready, bake the casserole right from frozen, increasing the baking time by 15-20 minutes. See below for more casserole storage and freezing tips!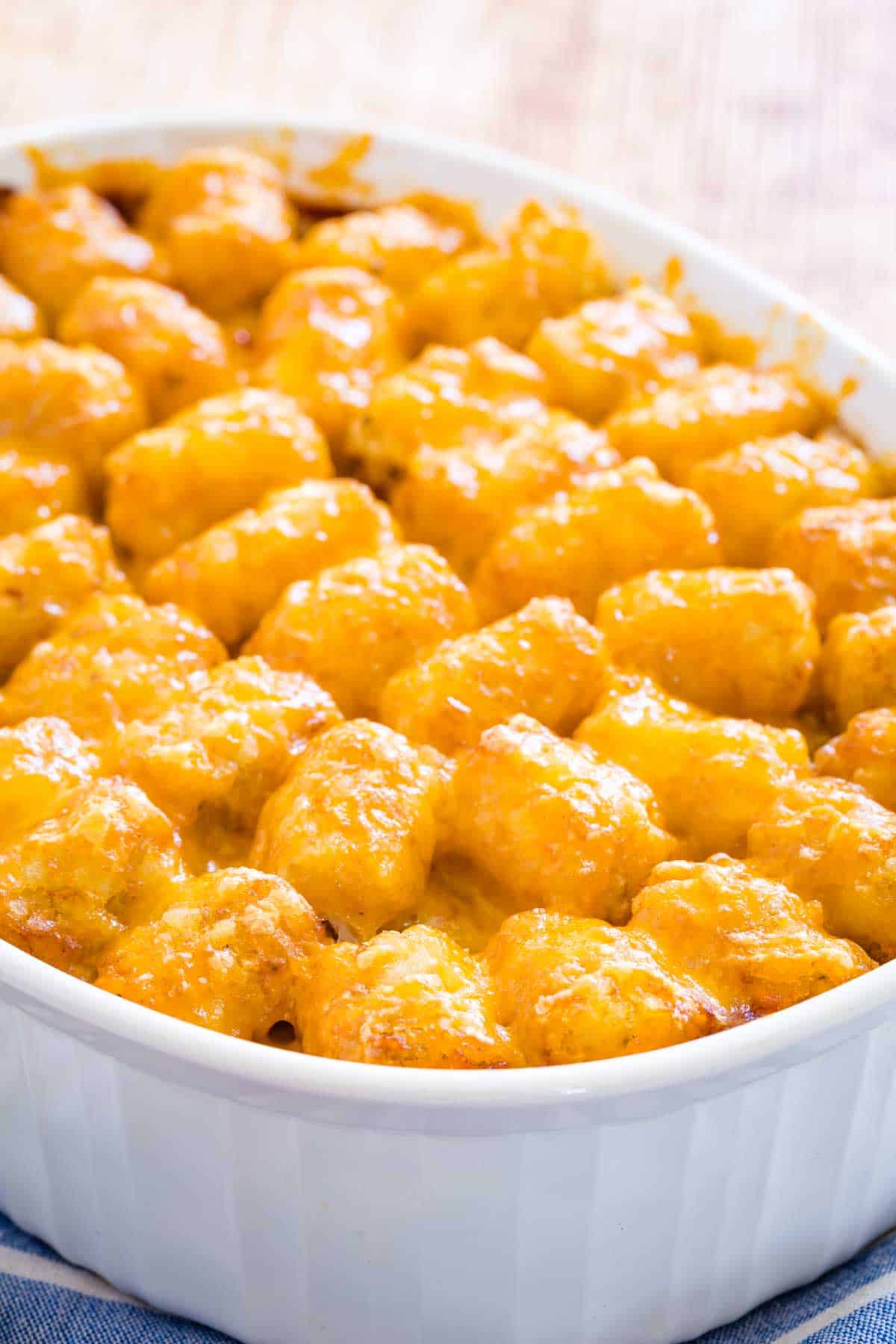 Tips for Success
Try these easy tips when making this hearty tater tot casserole recipe:
Not a fan of onions? No problem. Skip the diced onions and flavor the filling with onion powder instead. This hack is especially handy if you have little ones who are onion-opposed.
Make it in a skillet. Use an oven-safe cast-iron skillet if you have one. This way you can prepare the beef filling on the stove, lay the tater tots over top, and then bake the casserole all in one pan.
Drain the grease. Remember to drain any excess grease after browning your ground beef, so that the filling doesn't come out oily.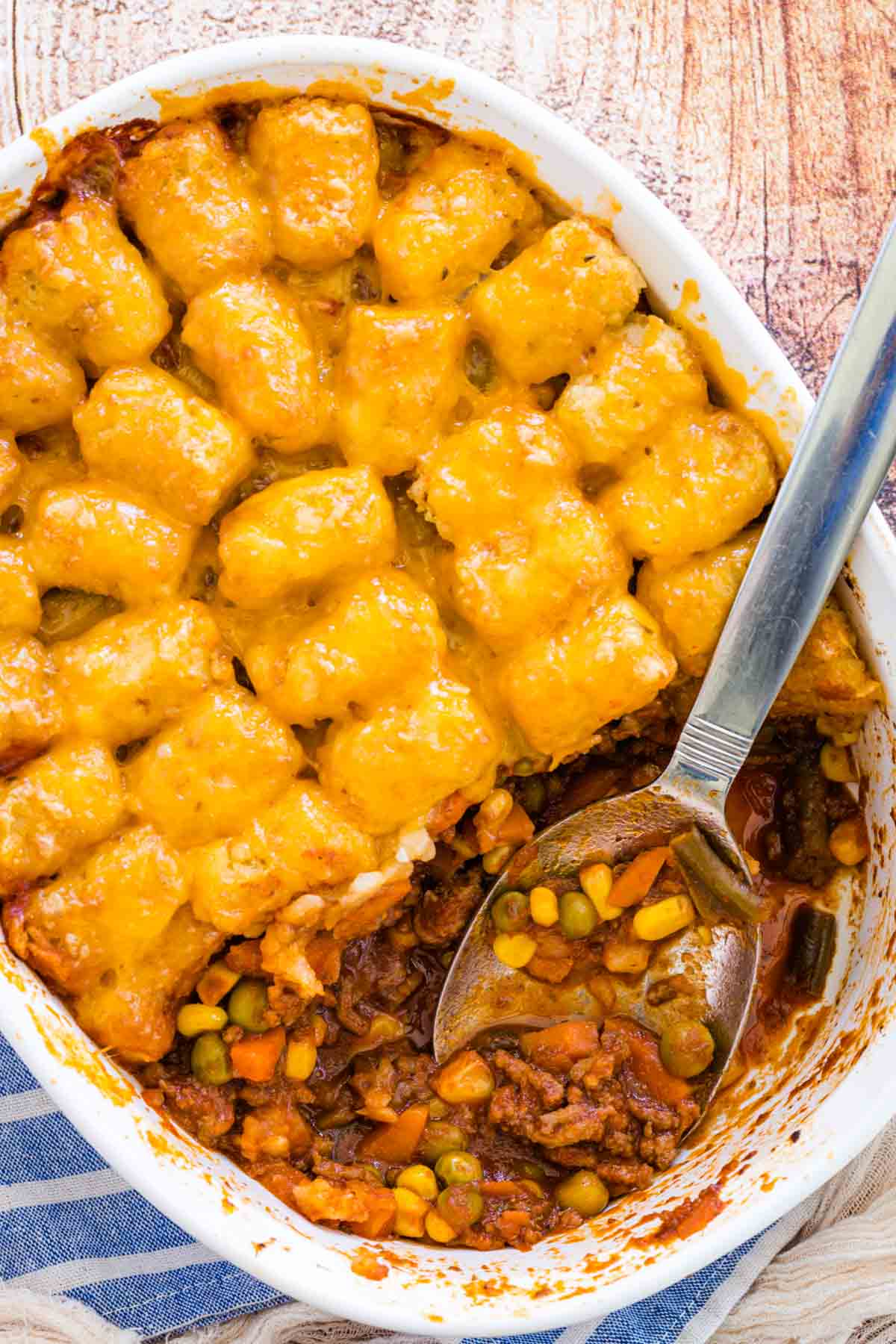 Shepherd's Pie Variations
Shepherd's pie is an easy casserole to make your own with different add-ins and variations. Here are some ways that you can customize this recipe to suit your family's needs:
Different Protein: Substitute ground beef with ground chicken or ground turkey, or use a combination.
Sweet Potato: Trade regular tater tots for sweet potato tater tots for a lower-carb option.
More Veggies: Stir in chopped mushrooms, diced zucchini, butternut squash cubes, bell peppers, or edamame beans. You can really use any leftover veggies you have in the fridge!
Skip the Cheese: If you're making this a dairy-free casserole, omit the shredded cheese or replace it with your choice of vegan or dairy-free cheese.
Vegetarian: To make this into a vegetarian shepherd's pie, substitute ground beef with more veggies, lentils, or chickpeas.
You can also double the filling and save half of it for later to make one of these other versions of the classic dish.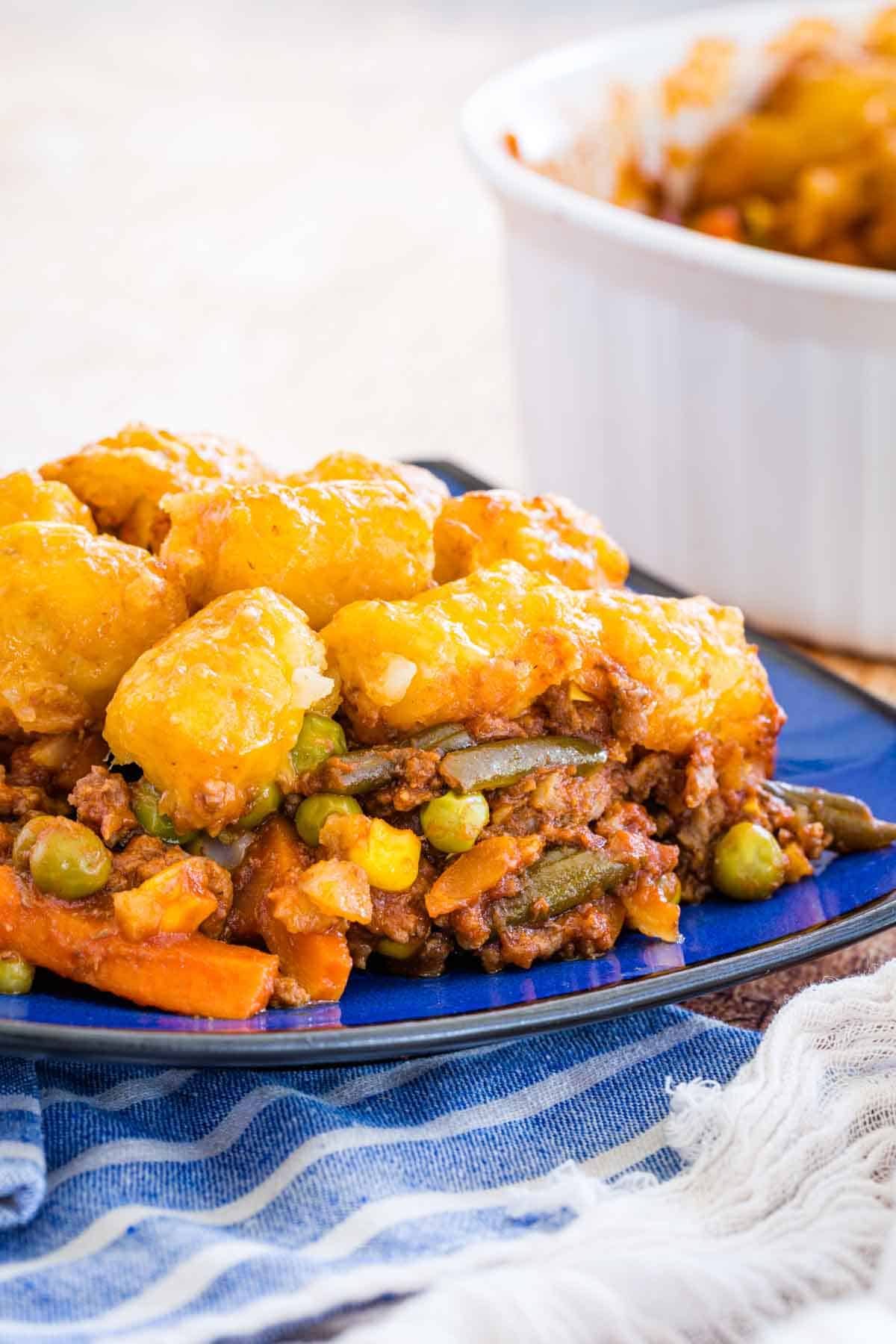 Make It a Meal
Turn your cheesy tater tot shepherd's pie into a complete meal, and serve it with a side of fresh green salad or homemade coleslaw.
For something heartier, pair it with Gluten-Free Cornbread or Garlic Dinner Rolls that you can dunk into the saucy beef filling. My kids even love drizzling their shepherd's pie with homemade ketchup.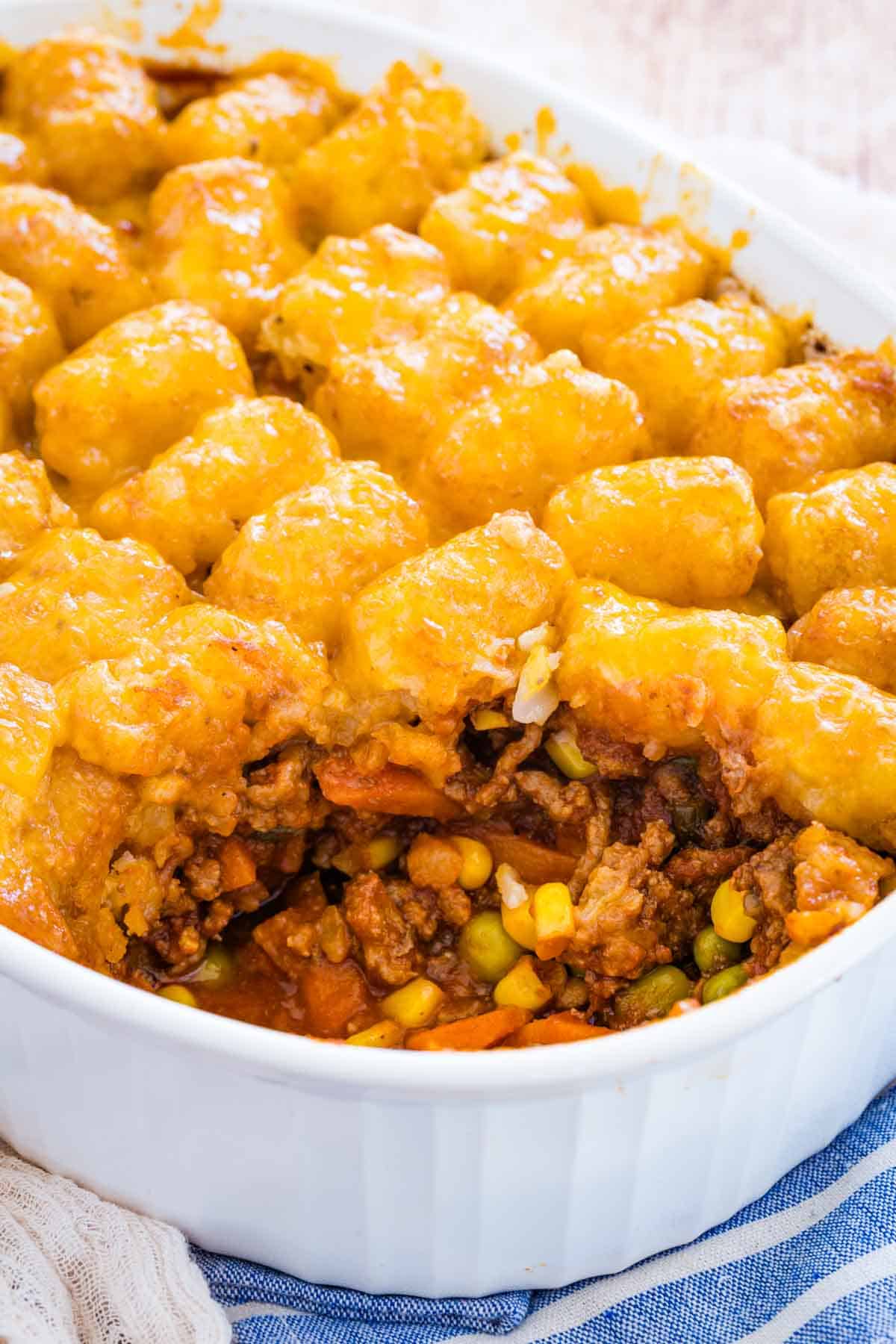 Storing and Reheating Leftovers
Store your leftover tater tot shepherd's pie refrigerated airtight for up to 3 days.
I've found that it's best to reheat this casserole in the oven (compared to the microwave), to really get the tots crisped up again. Reheat the shepherd's pie in an oven-safe dish, at 350ºF for about 15-20 minutes, until warmed through.
Can I Freeze Tater Tot Shepherd's Pie?
Yes! This shepherd's pie recipe freezes well. This makes it great to prepare ahead and have on hand for easy thawing and baking/reheating.
Wrap the casserole airtight in a freezer-safe casserole dish, and keep it frozen for up to 3 months. Tater tot shepherd's pie can be baked straight from the freezer, just add about 15 minutes to the baking time.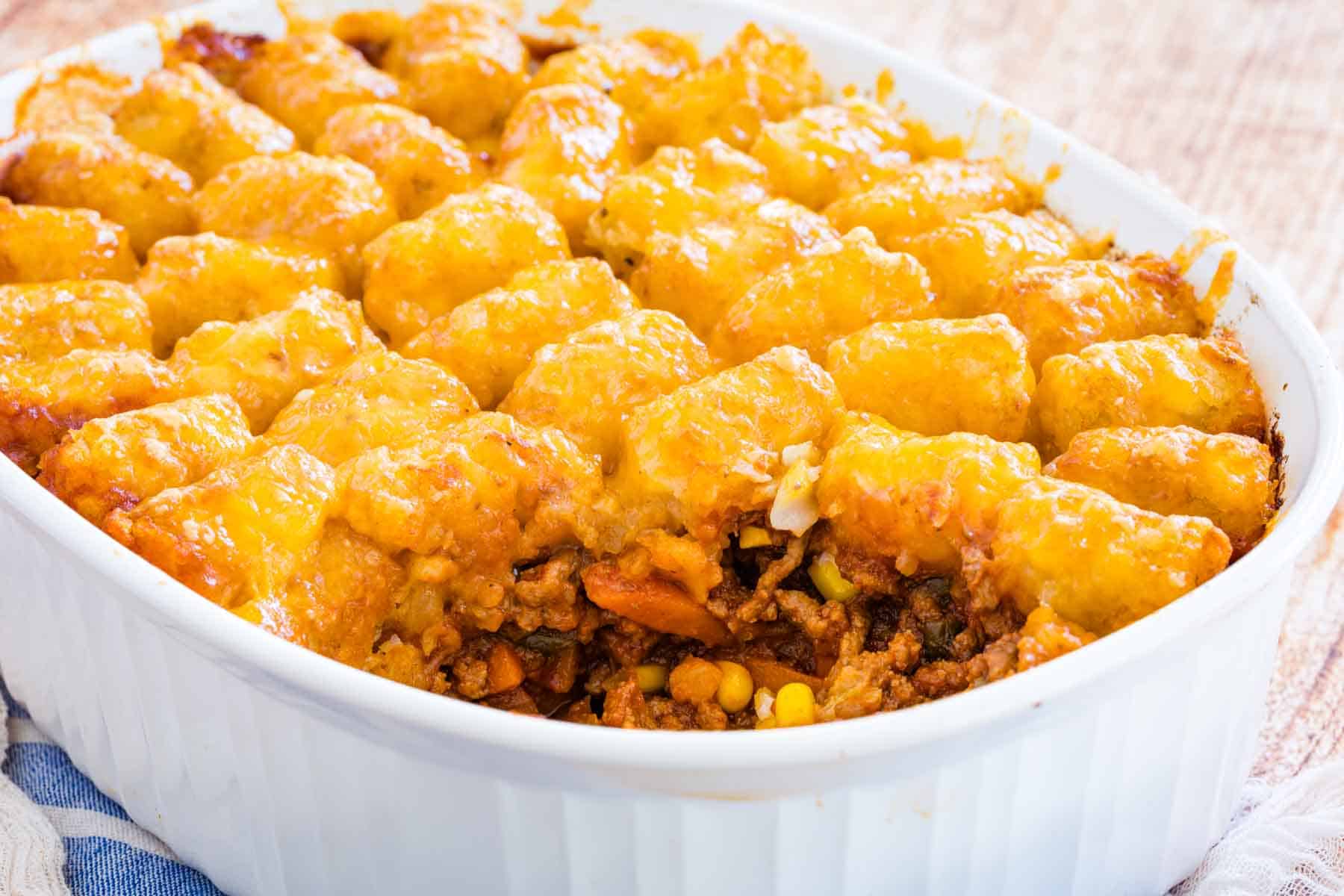 What Size Casserole Dish to Use
I use my Corningware French White Round and Oval Bakeware all the time. For this recipe, I used the smaller 1.5-quart casserole dish shown here and keep it on a sheet pan to catch any drips. If you don't mind it not being filled to the top and don't want it bubbling over a bit, try the 2.5-quart casserole.
$27.99
in stock
4 new from $15.99
as of September 23, 2023 10:44 pm
Last updated on September 23, 2023 10:44 pm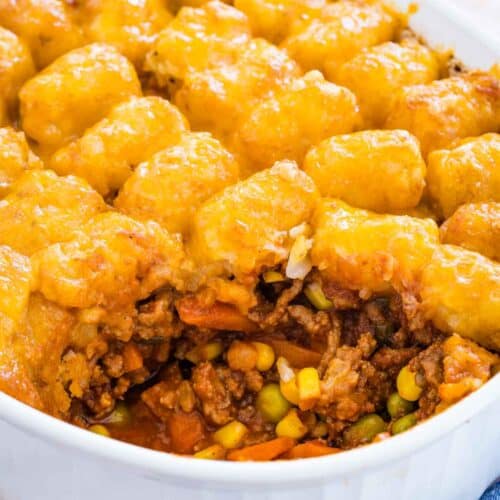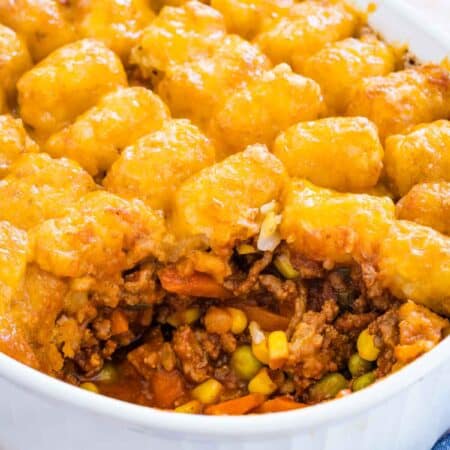 Tater Tot Shepherd's Pie
Tater Tot Shepherd's Pie is the ultimate comfort food with a twist! This is an easy and cheesy ground beef casserole made from a savory beef and vegetable filling baked beneath a layer of crispy tater tots and melty cheese.
Ingredients
1

pound

ground beef

1/2

medium onion chopped

(roughly 1/2 cup)

1

garlic clove

, crushed or minced

3/4

cup

tomato paste

(one 6-ounce can)

1/4

cup

Worcestershire sauce

1 1/2

cups

beef broth

4

cups

frozen mixed vegetables

or about two 10 oz. packages frozen vegetable medley, thawed (carrots, peas, corn, and green beans)

Salt and pepper

, to taste

40

– 45

tater tots

, or about half of a 32 oz. package

1

cup

shredded cheddar cheese
Instructions
Preheat the oven to 450°F and coat a 1.5-quart casserole dish with nonstick cooking spray.

Heat a large skillet over medium heat. Add the ground beef, onion, garlic, and a pinch of salt and pepper to the skillet and cook, breaking up the meat, until it is browned. Drain any excess grease.

Stir in the tomato paste, Worcestershire sauce, and beef broth. Add vegetables, bring to a simmer, and cook for 10-15 minutes or until thickened slightly. Season to taste with salt and pepper.

Transfer the ground beef mixture to the prepared casserole dish. Place the tater tots in a single layer over the top of the ground beef mixture.

Bake at 450°F for 25 minutes, or until the tater tots are golden brown. Sprinkle the cheese over the top and return to the oven for another 4-6 minutes or until the cheese is melted and lightly golden. Serve immediately.
Nutrition Facts
Tater Tot Shepherd's Pie
Amount Per Serving
Calories 341
Calories from Fat 135
% Daily Value*
Fat 15g23%
Cholesterol 68mg23%
Sodium 891mg37%
Potassium 990mg28%
Carbohydrates 27g9%
Protein 26g52%
Vitamin A 6859IU137%
Vitamin C 22mg27%
Calcium 202mg20%
Iron 5mg28%
* Percent Daily Values are based on a 2000 calorie diet.
Categories: